Writer Alan Moore's run on Swamp Thing is undoubtedly one of the most seminal and surreal DC comic book runs of all time, inspiring not only scores of other comic creators, but also DC Universe's live-action Swamp Thing series. But for all its horror and dark fantasy, its' peak just might be a single issue that is romantic, moving, and trippy and more than a little erotic. An issue that perfectly showcases Moore's work, along with that of the book's entire creative team, including artists Stephen Bissette and John Totleben, colorist Tatjana Wood, and letterer John Costanza. The result is perhaps the most perfect ode to love ever created for a mainstream comic book. And an epic exploration of the mind and soul.
Saga of the Swamp Thing #34, a.k.a. "Rite of Spring," came little less than a year after Alan Moore took over the writing duties with issue #20 ("Loose Ends"). Moore utilized the first arc of his run to reimagine the origin of the titular creature a being that had absorbed the memories of the late Alec Holland, rather than -- as had been previously established -- an alter-ego or mutated version of Holland himself. As the Swamp Thing came to terms with this horrifying discovery he resided in The Green (an elemental force connecting all creatures on Earth), in a near comatose state until he awakened to rescue Abby Cable from her evil father Anton Arcane. Braving the fires of Hell itself to save her soul. 
Swamp Thing's connection to Abby led him to find a peace in his new state of being, and by issue #34 of the heretofore horror-heavy series the pair had come to realize that they share a deep connection. As Abby's corrupted husband Matt languishes in a hospital, unlikely to ever wake, she comes to realize that she loves Swamp Thing, and heads to his forested home to tell him her true feelings. It's a beautiful moment that sparks a wildly imaginative issue, which sees Moore and team reimagine what it means to share intimacy with another.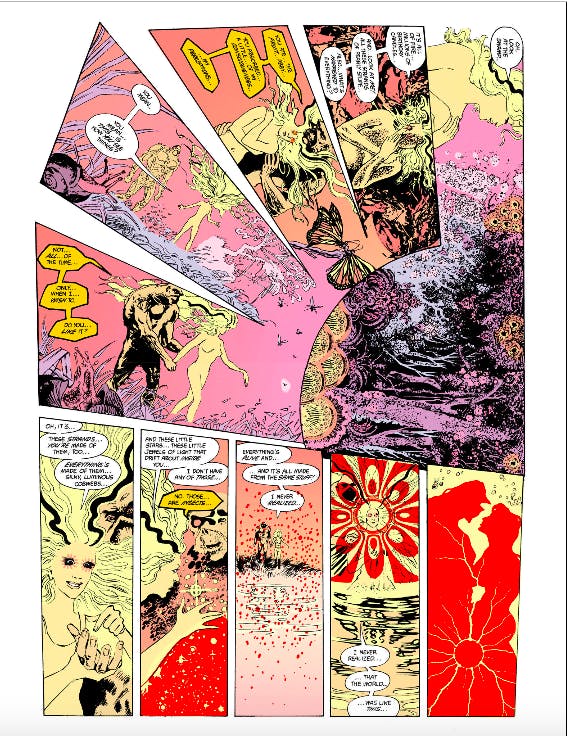 Romance has long been a pillar of what humanizes the heroes we love, and "Rite of Spring" is an exercise in how that can still work even when our protagonist is made of plants, flowers, and elemental magic. Though DC couples like Clark and Lois or Bruce and Selina might be more well known, Swamp Thing and Abby have their own special kind of relationship which plays on a "Beauty and the Beast"-style trope, albeit with more consent and less Stockholm syndrome. It's a romance that works against the odds between creature and human, and it's all the more special for it.
Saga of Swamp Thing was the first time that most American comic book readers were introduced to Moore's storytelling, and Bissette, Totleben, and Wood brought his tale of the pair's personal sacrement to joyous life. After Abby reveals her feelings to Swamp Thing, the two kiss, followed by Abby revealing that the creature tastes "like lime"; to which the melancholy monster responds with the iconic line "You are human. You need more from love than the taste of lime." He's talking of course about the physical side of romance, and when Abby says she wants to explore that aspect of the relationship with him, he offers up an unusual idea.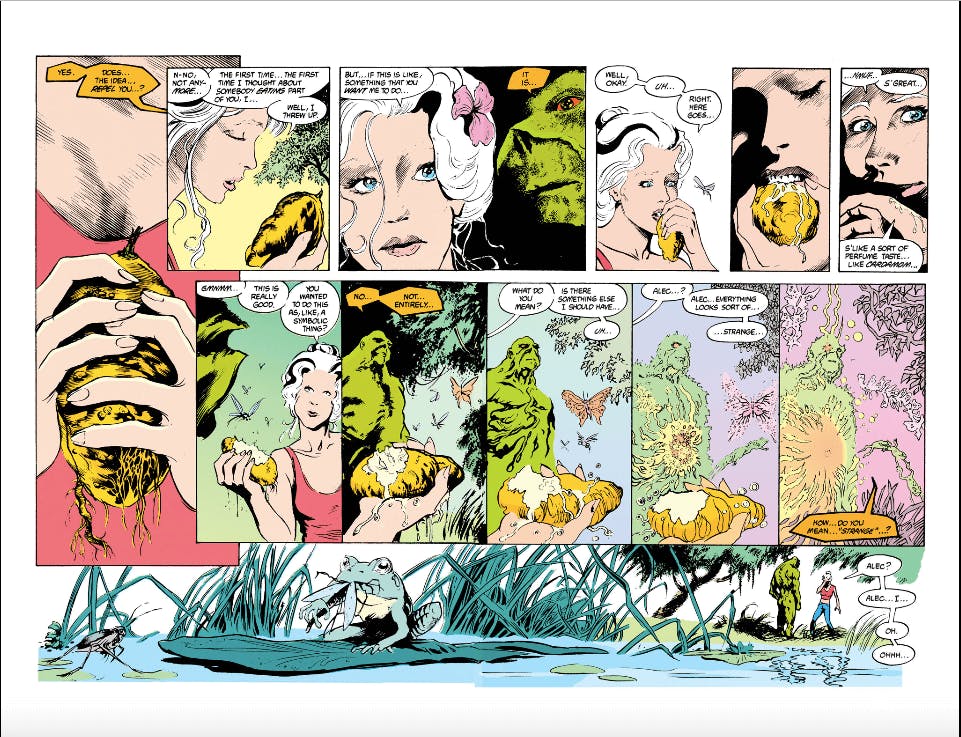 When we talk about giving part of ourselves to the ones we love, we're rarely talking literally. But in the case of "Rite of Spring" that's exactly what Swamp Thing suggests -- offering a piece of his body for Abby to eat, so that she can get see the world through his eyes. That's where things get wonderfully weird. As Abby imbibes a mouthful of her beloved she begins to take a psychotropic journey through nature and Swamp Thing's mind. Bissette, Totleben, and Wood create a spectacular landscape, which utilizes creative layouts and panel designs, technicolor splash pages, and panoramic double-page spreads to immerse readers in the pair's cerebral coupling. 
It's the ultimate meeting of minds as Abby and Swamp Thing ecstatically journey through The Green, with Abby experiencing every aspect of nature, life, death, and rebirth. It's an exhilarating, hallucinatory read as Swamp Thing guides his beloved through a reality-altering expedition. The concept of completely putting your trust in someone and allowing yourself to become totally lost in them is terrifying, but Abby does it and it expands her view of the world, as well as allowing her to connect with the being she's fallen for. As their voyage through time, space, and each other concludes, the two are irrevocably changed. They affirm the communion they've shared with a kiss...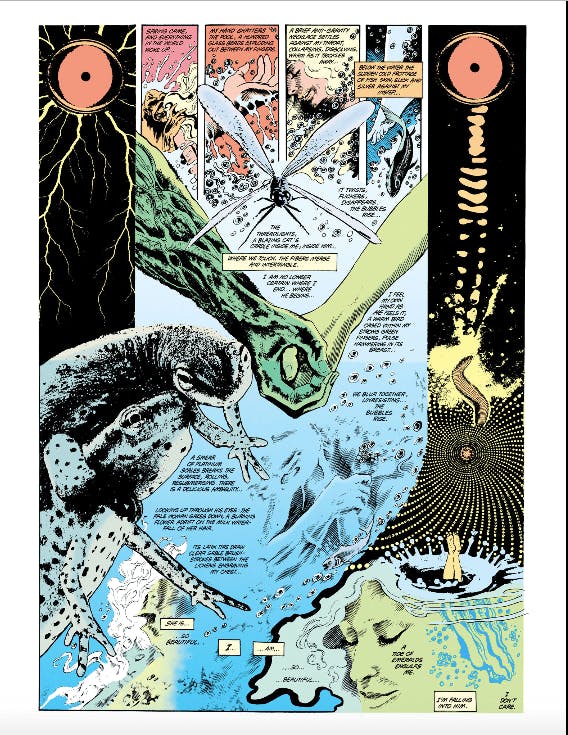 The book's creative team executes a setup which on paper sounds ludricruous -- and, to some, maye even twisted -- but they turn it into a thing of beauty, fully utilizing the possibilties of their chosen medium. If you're looking for a boldly unique take on love and romance this Valentine's Day, look no further than "Rite of Spring," It's not only a gorgeous piece of sequential storytelling, it also represents a vital moment in comic-book history, one in which DC fans the entire world of western comics found their eyes and minds ripped open as wide as Abby's.  
Have you read "Rite of Spring"? Let us know in our Community!