There have been many creative runs in the Dark Knight's 80-year history. One of the most memorable premiered in 2002, when writer Jeph Loeb and artist Jim Lee joined forces for the landmark "Hush" storyline; all 12 issues of which, starting with Batman #608, are now available to read on DC Universe. "Hush" revitalized Bruce Wayne and his rogues gallery, while introducing a new member to its infamous ranks. 16 years later, "Hush" remains a dynamic reading experience.
"Hush" was highly anticipated from the moment it was announced. Loeb was one of DC's top writers at the time; having written Batman: The Long Halloween and Superman For All Seasons. Lee had already made his name in the industry at Marvel and Image, and through his own company Wildstorm. But "Hush" was the first time that Lee had committed to a multi-issue run on a DC monthly title, and he took the time to ensure that it would be uninterrupted by fill-in artists. Scott Williams, Lee's longtime inker, joined him on the project. Colorist Alex Sinclair and letterer Richard Starkings rounded out the all-star creative team; and their contributions also helped "Hush" make its mark.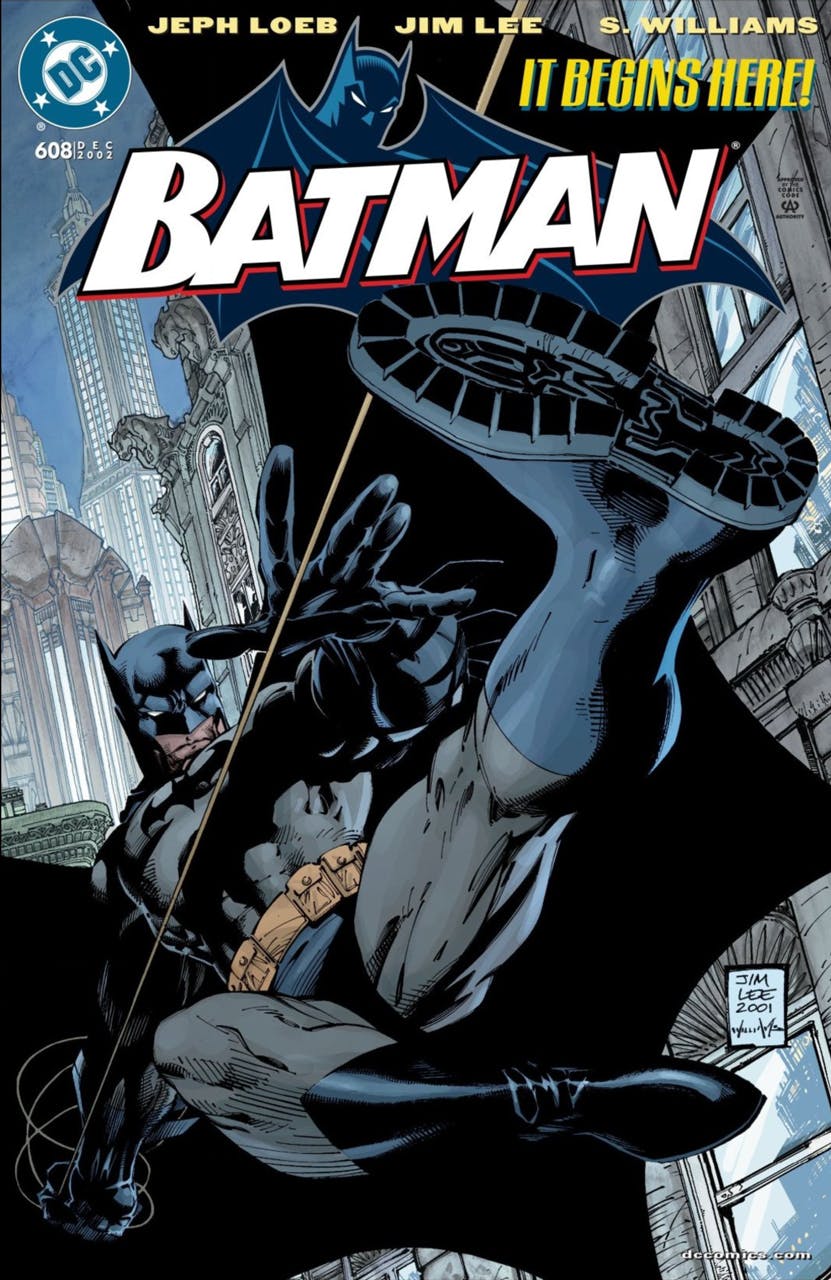 One of the most significant decisions behind-the-scenes was the choice to run "Hush" within the ongoing Batman series. A powerhouse creative team like Loeb and Lee could have easily launched a new standalone Batman title or limited series. Instead, "Hush" was held back until it was ready to launch in Batman #608. It was a strong statement that reaffirmed the series as one of DC's flagship titles.
Within the story, the creative duo crafted a tale that allowed Lee to draw almost every character within the Batman mythos. It also put Bruce Wayne's alter ego through a gauntlet that included his greatest foes, as well as the titular character of Hush. The central mystery of the series revolved around Hush's identity. The only thing readers knew for sure was that Hush was armed with the knowledge that Wayne was Batman, and he used that info to attack Wayne's life from various angles.   
Loeb's first-person narration allowed us to get inside Batman's head as he followed the mystery. That gave readers a more intimate connection with the Dark Knight. As they read the series, they experienced it with Batman. Wayne's deepest thoughts were laid bare on the page, while Lee's impactful art dazzled our collective imaginations.
Lee and Williams were at the top of their game in "Hush", and that's why the book reads like it was crafted yesterday. They captured a sense of excitement in every panel, and Lee even changed his art style for a string of flashbacks to Wayne's childhood during his brief moments of reflection. This was more than just another comic book. It was a definitive take on Batman for the new century.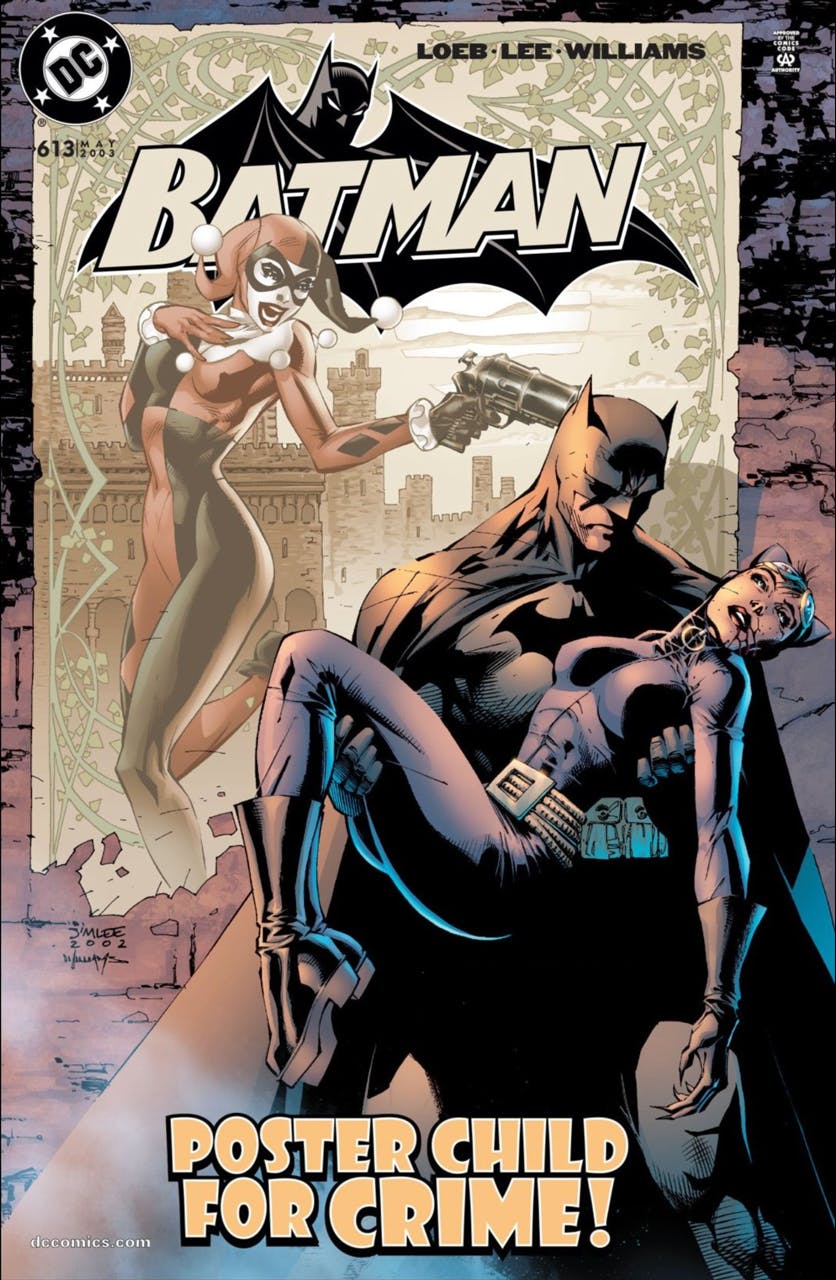 Loeb also wrote towards Lee's strengths, with several splash pages and opportunities to show off his vibrant compositions. Additionally, Loeb took a greatest-hits approach to his storytelling, and found roles for each of the major Batman villains of the era. The Joker, Harley Quinn, Two-Face, Riddler, Killer Croc, Ra's al Ghul, Poison Ivy, and Lady Shiva were just the tip of the iceberg. Hush remained in the shadows, and fans shared their theories about who was lurking beneath his mask. Was it someone new? Or was Hush someone from Batman's past who was out for revenge? At the time of its release, one of the popular theories was that Hush was none other than Jason Todd, the second Robin. Todd was murdered by the Joker years before (in 1988's "A Death in the Family" storyline), but so clever was the story that even Batman was forced to consider Jason a suspect. 
Loeb and Lee also redefined the relationship between Batman and Catwoman by re-igniting their passion for each other. In the post-Crisis on Infinite Earths era, Selina Kyle and Bruce Wayne didn't have roles in each other's lives when they weren't in costume. Even their smoldering romantic tension had cooled down considerably. "Hush", however, rebuilt their connection and reunited one of comics' greatest couples. In many ways, it laid the foundation for Batman and Catwoman's romance in Tom King's current Batman title. 
Even Superman had a role to play in "Hush", as both an ally and an enemy. Poison Ivy used her powers to seize control of the Man of Steel's mind; which led to an all-out battle between the Dark Knight and Superman. But it's the friendship between Superman and Batman that makes their connection unique. In the aftermath of their battle, they remained close, with Batman calling upon Superman for help in the final issue of the story. Demonstrating that there's no one he trusts more.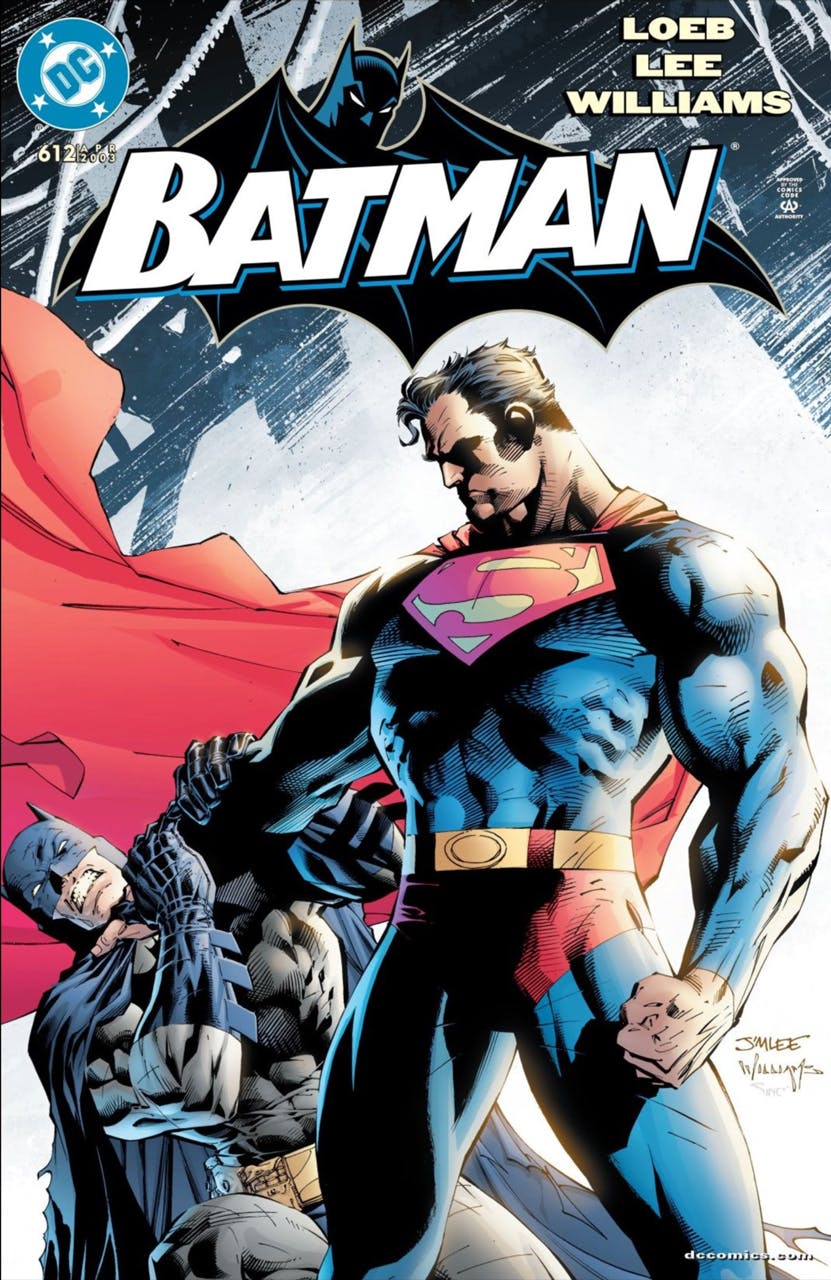 It's rare for a new villain to catch on with readers immediately. Yet the evil Hush had staying power in the aftermath of his debut tale. Other creators -- most notably writer Paul Dini and artist Dustin Nguyen in "Heart of Hush", "Hush Money", and "The House of Hush" -- fleshed out Hush's backstory and motivations, while giving him new ways to torment Batman. Thus, Loeb and Lee's tale also functions as an epic origin story. Its legacy endures, with a Batman: Hush animated movie scheduled to arrive this summer. 
You can now read the original and complete "Hush" on DC Universe. We've purposely refrained from spoiling the story's biggest surprises, as well as the revelations that shook Batman to his core. Those are for you to enjoy when you read this tale...
Are you a "Hush" fan? Let us know in our Community!