Suffering Sappho! The Invisible Jet has just delivered tens of thousands of digital comics to the DC Universe library! And where better to start your reading adventure then with the world's first female superhero? Whether you first discovered Wonder Woman when Lynda Carter played the Amazon Princess in the 1970s Wonder Woman TV show, or when you thrilled to Gal Gadot's adventures in the recent blockbuster movie, there's a comic here for you. So grab your Golden Lasso, while we suggest the best place to start reading Wonder Woman…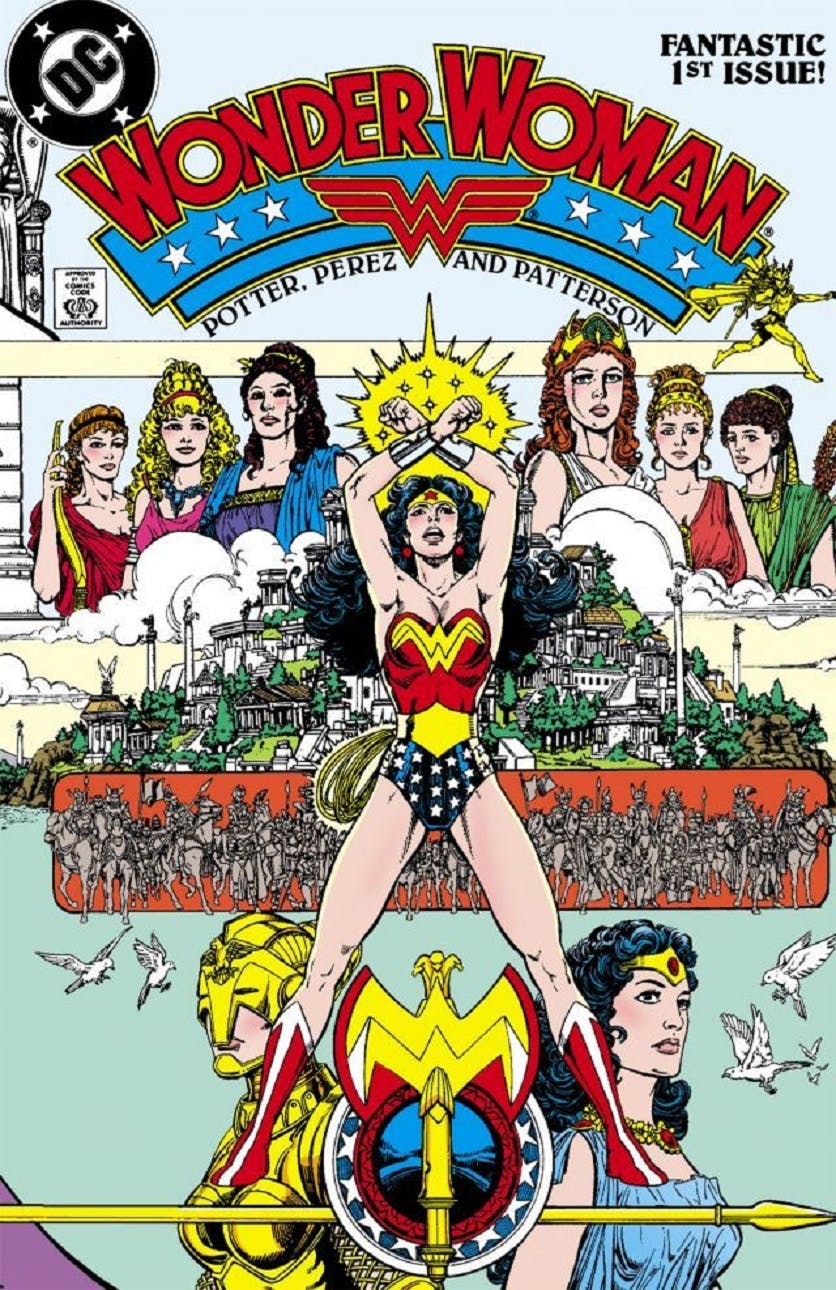 THE STORY: After the reality-altering events of 1985's Crisis on Infinite Earths, writer-artist George Perez reimagined Wonder Woman for the next age of comics. In addition to revamping the character, Perez expanded upon the mythology of Themyscira in a way no creator had done before. In Perez's first story arc, readers can witness the birth of Diana and accompany her on her journey to Man's World as she battles Ares. Perez's rich reboot introduced many of the character's definitive elements, and has remained one of her most iconic interpretations.
FOR FANS OF: The Gal Gadot Wonder Woman movie took its cues from this tale, which will also appear to students of Greek mythology and Perez's work on New Teen Titans and Crisis on Infinite Earths.
WHAT'S NEXT: Read the Legends limited series to see Diana's first Post-Crisis encounters with the heroes of the DC Universe, and the rest of Perez's long run on the 1987 Wonder Woman title.
WHERE TO FIND IT: Wonder Woman (1987) #1-7
BONUS: Watch the acclaimed 2009 Wonder Woman animated movie, which adapts this storyline.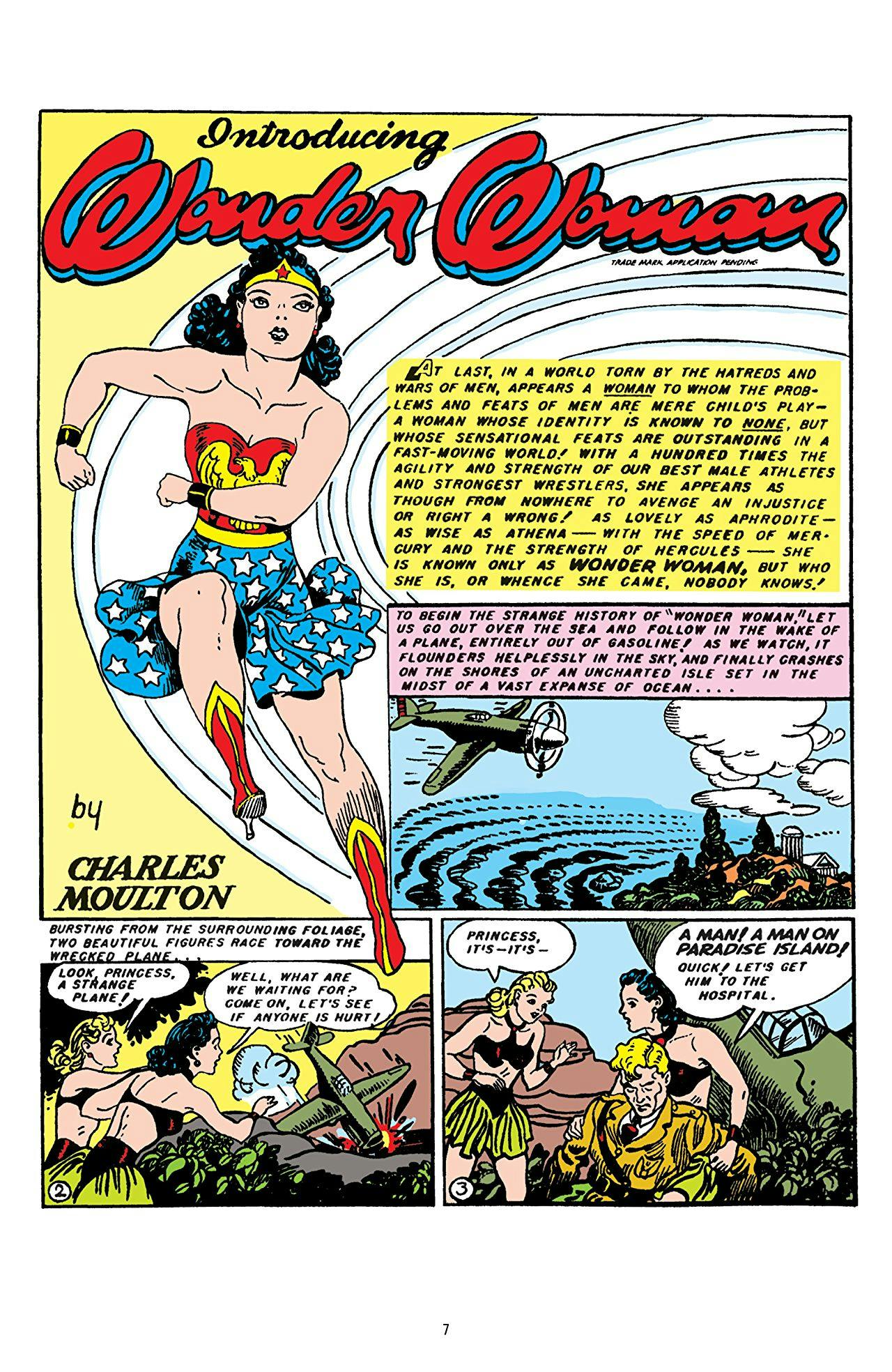 THE STORY: Read the tales that started the legend! See the first appearance of Diana, Steve Trevor, the Invisible Plane, Paradise Island, and more! Some of Wonder Woman creator William Moulton Marston's stories might be a little dated by today's standards, but they were written not all that long after women received the right to vote, and, in addition to being a fascinating look at the World War II era, they're full of the female empowerment that helped build Wonder Woman into the icon she is today.
FOR FANS OF: Light-hearted comics, Golden Age adventures, World War II action and espionage films,
WHAT'S NEXT: Read Wonder Woman #98 and beyond to see how Diana transitioned from the Golden Age to the wacky fun of the Silver Age.
WHERE TO FIND IT: All-Star Comics #8, Sensation Comics #1-48 and Wonder Woman (1943) #1-15
BONUS: If you want more of Diana's adventures from the 1940s, check out the first season of Lynda Carter's Wonder Woman TV series, which also places the heroine in World War II.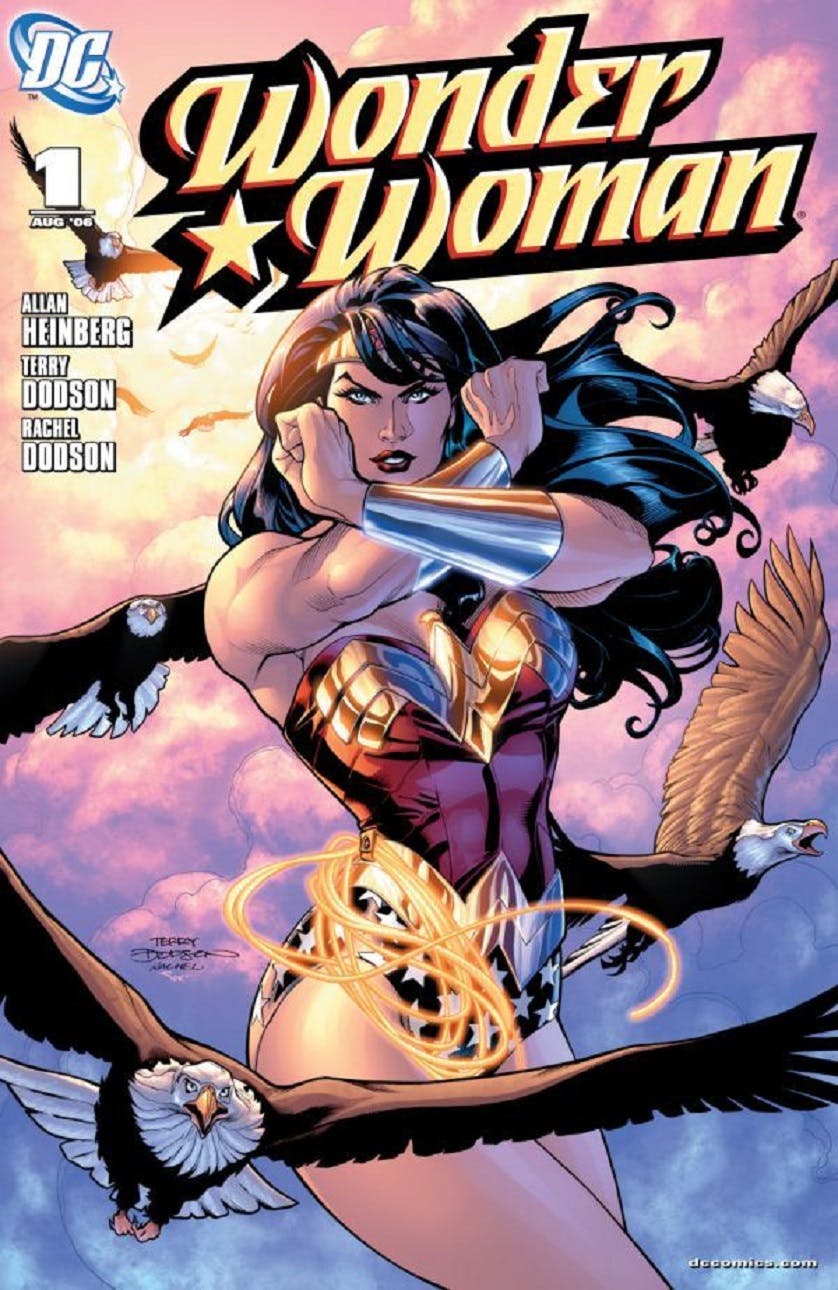 THE STORY: After the events of the 2005 event Infinite Crisis, Wonder Woman is missing -- and her sister Donna Troy has stepped in to fill her shoes. Where is Diana? She's taken on a secret identity (Diana Prince) so she can learn more about the people she protects. This new version of Diana Prince has a job as a government agent, but when Donna is kidnapped, she must resume the mantle of Wonder Woman once more. Writer Allan Heinberg creates a whole new world for Diana in a story that set the character on a bold new direction. The thrilling story is enhanced by the iconic illustrations from Terry and Rachel Dodson, creating a classic Wonder Woman story for the ages.
FOR FANS OF: Spy and action thrillers, as well as those who enjoyed seasons 2 and 3 of the Wonder Woman TV series, in which Diana Prince was a government agent in the 1970s. And if you loved the 2017 Wonder Woman movie, you'll be thrilled to learn that the film's screenwriter Allan Heinberg wrote this story. 
WHAT'S NEXT: For the next chapter in Diana's life, check out the 2007 limited series Amazons Attack.
WHERE TO FIND IT: Wonder Woman (2006) #1-4 and Wonder Woman Annual (2017) #1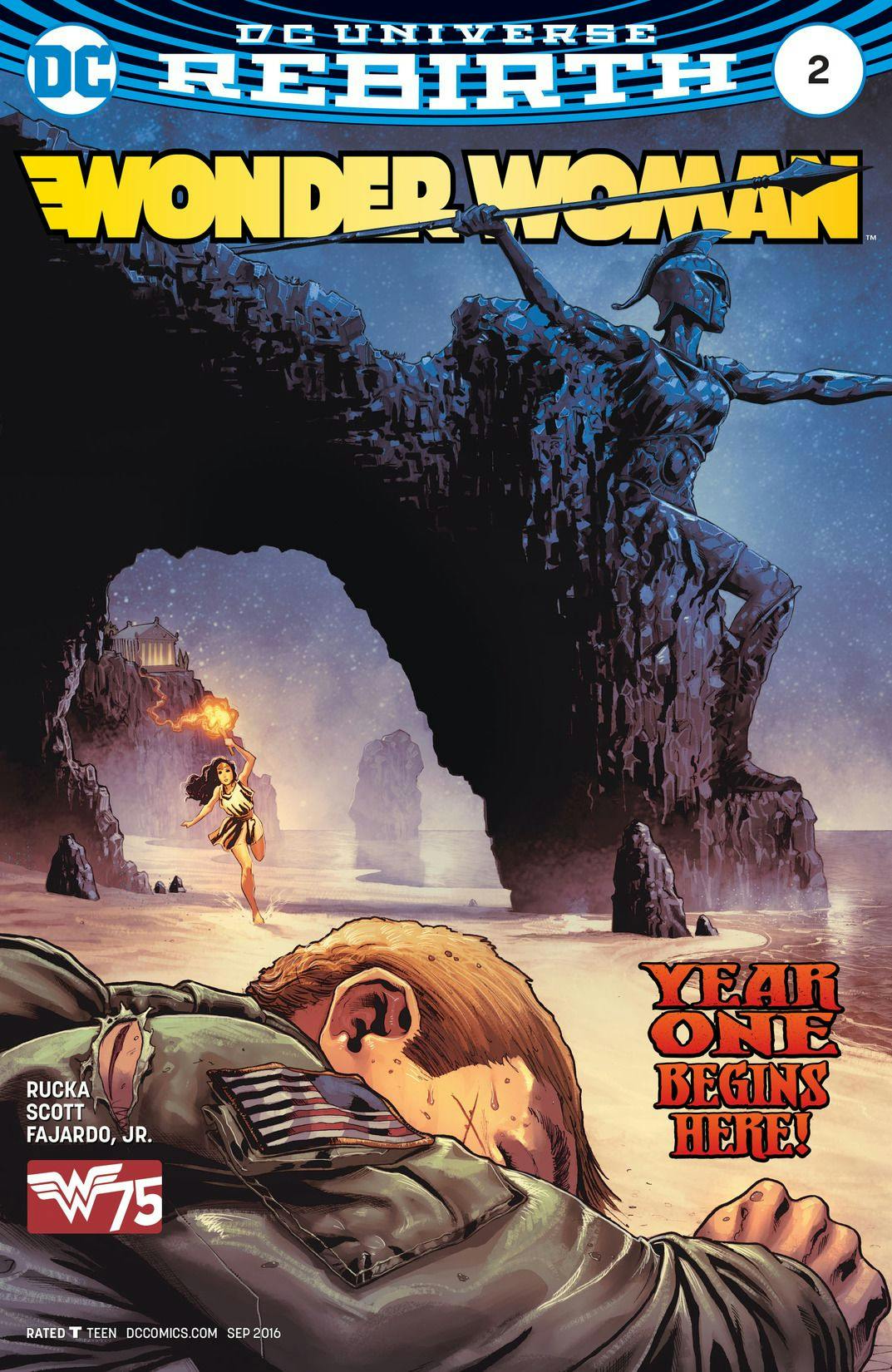 THE STORY: Acclaimed writer Greg Rucka and equally acclaimed penciler Nicola Scott take readers back to the beginning, as the Amazons must choose a champion to face the mad god Ares! Diana is more than ready for the challenge in a story that chronicles her first year as protector of Man's World. Rucka and Scott team up for a cinematic, contemporary take on Wonder Woman's origin that works as a thrilling adventure story.
FOR FANS OF: This is a great read for those who enjoyed Greg Rucka's outstanding, character-driven work on Batwoman, Gotham Central and 52. Fans of the 2017 Wonder Woman movie will also find themselves glued to this story.
WHAT'S NEXT: Check out Wonder Woman: The Lies, in which Rucka's take on Diana's present day adventures continues.
WHERE TO FIND IT: Wonder Woman (2016) #2, #4, #6, #8, #10, #12 and #14
BONUS: For a contemporary screen version on Diana's early adventures in Man's World, check out the 2009 animated Wonder Woman movie!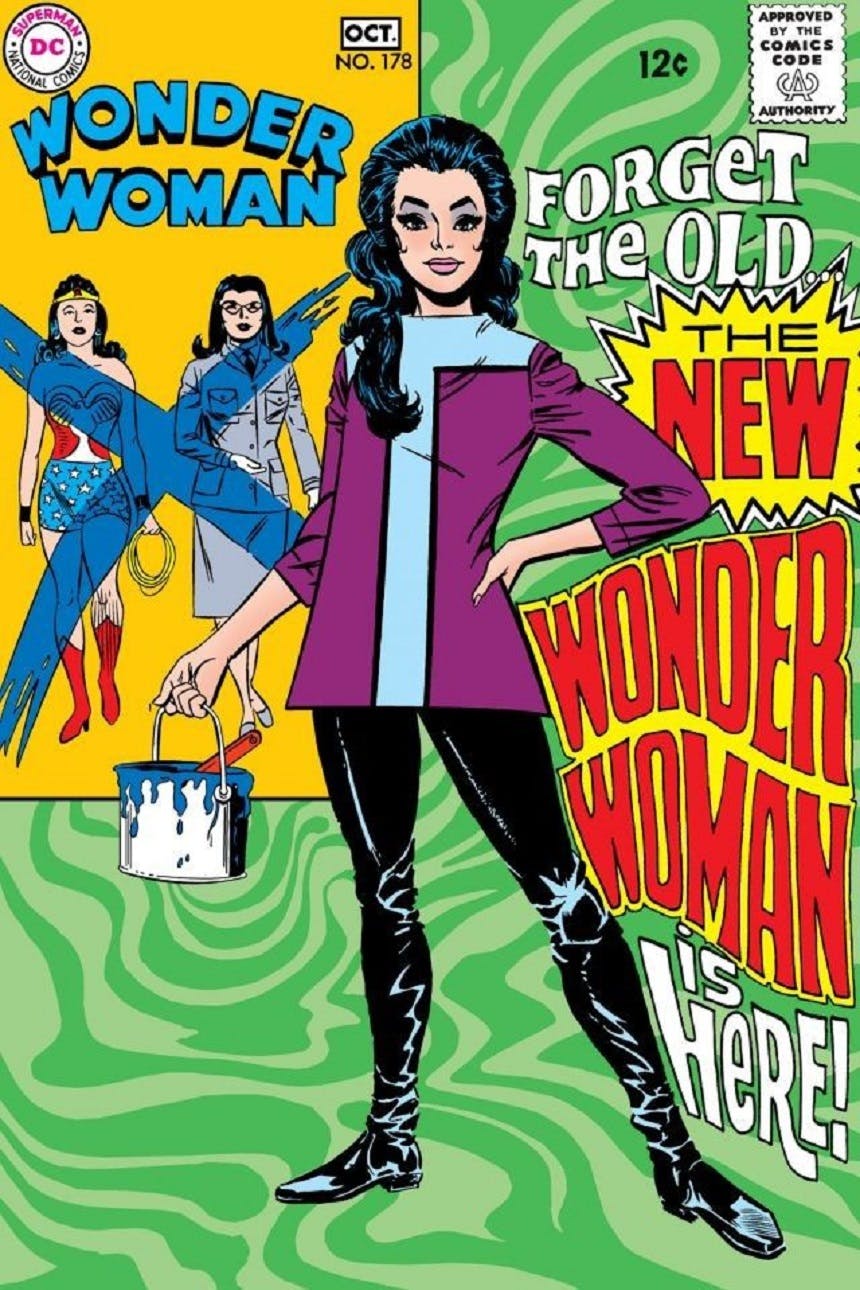 THE STORY: In 1968, DC Comics tried a new, experimental take on Wonder Woman. Diana lost her powers and her classic costume, and her Amazon sisters were transported to another dimension. As if things couldn't get any worse, her heart was shattered when Steve Trevor was murdered. Nevertheless, Wonder Woman persisted. She traded her costume for a stylish Mod jumpsuit (not unlike that worn by Emma Peel in the 1960s spy TV series The Avengers), opened her own clothing boutique, and became a martial arts expert under her new mentor, I Ching. Diana embarked on a series of adventures that took the character well out of her comfort zone, in a daring run of comics written by the legendary Denny O'Neil.
FOR FANS OF: Spy thrillers, the swingin' '60s, and Denny O'Neil's Batman and Green Lantern/Green Arrow work.
WHAT'S NEXT: Check out Superman's Girlfriend Lois Lane #93 to see how Superman and Lois react to the "new" Wonder Woman!
WHERE TO FIND IT: Wonder Woman (1942) #178-203
BONUS: The groovy Wonder Woman DC Nation Shorts present a fun take on the character that invites comparisons to this era.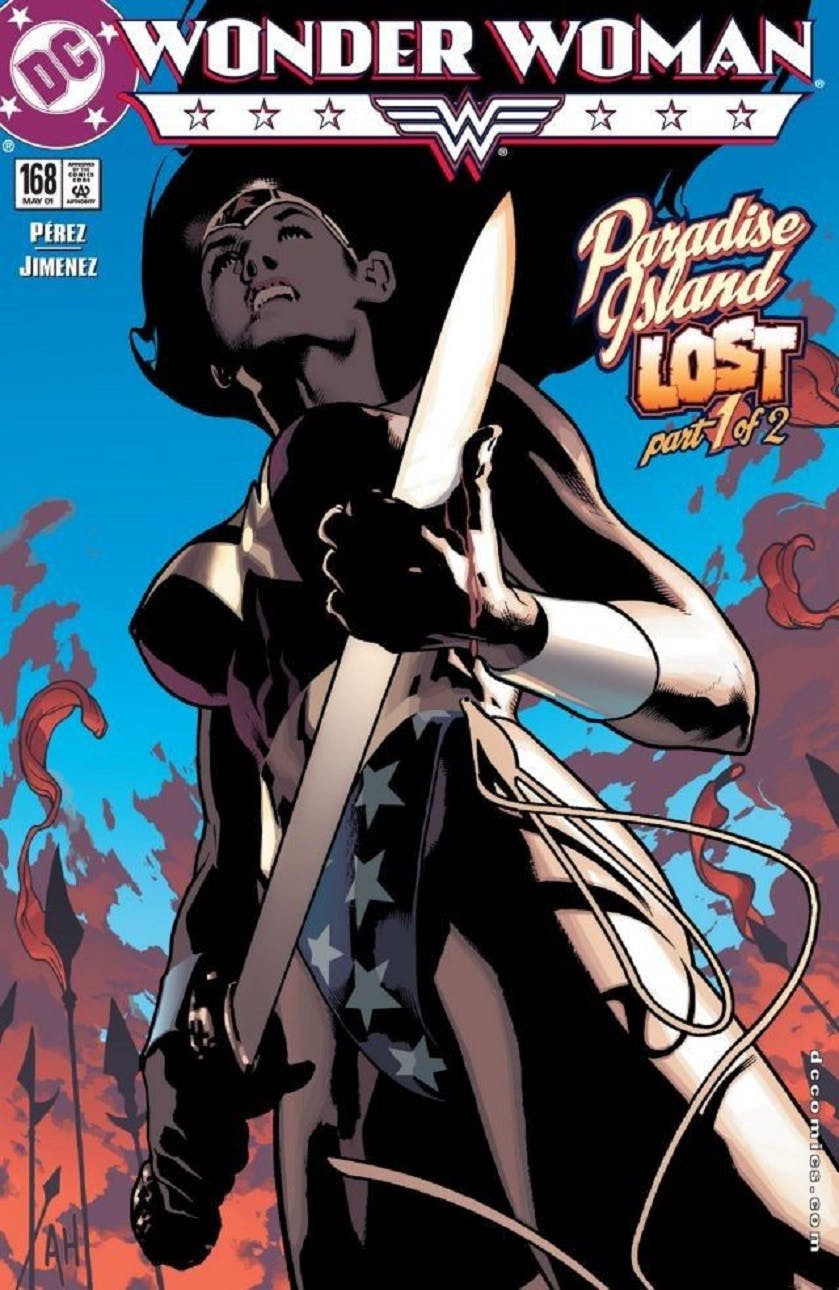 THE STORY: A civil war has broken out on Paradise Island, with Wonder Woman and her mother Queen Hippolyta caught in the middle! This two-part story sets Diana on a new path, and she steps down as Princess of Themyscira in the story's conclusion. The tale has pulse-pounding action as sister fights against sister, and heartbreaking drama as Diana's relationship with her mother is put under a heavy strain. George Perez, who reimagined Wonder Woman in 1987's "Gods and Mortals" story, teams up with his protege, artist Phil Jimenez, for a war that almost destroys the Amazons forever.
FOR FANS OF: Those who love TV epics like Game of Thrones will appreciate the politics, civil war, and family feuds, while fans of artist George Perez's run on the character will be pleased to see him back.
WHAT'S NEXT: Check out Wonder Woman (1987) #177 to see Diana finally make peace with her mother.
WHERE TO FIND IT: Wonder Woman (1987) #168-169
What's your favorite Wonder Woman story? Let us know in our Community!