She's dangerous, she's resourceful, and she's nuts! She's Harley Quinn, and she's someone you don't want to mess with -- whether she's holding a mallet or a whoopee cushion. You might have met the Joker's former girlfriend as she fought her way through 'Batman: The Animated Series,' or perhaps you fell in love with Margot Robbie's performance in the Suicide Squad film. Harley has worn many faces, and no matter which one first caught your attention, there's a comic for you. Here's our list of recommended stories to get to know Harley Quinn better. But be warned: the more you read, the more twisted your sanity may become!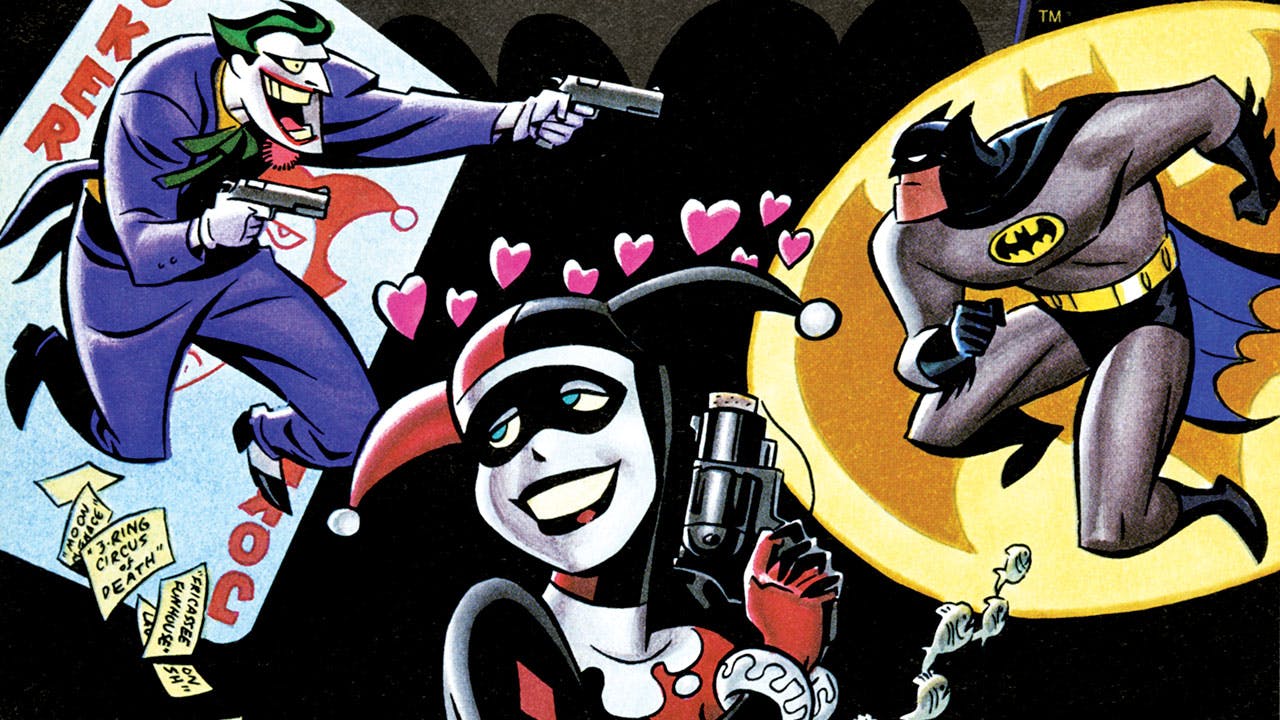 THE STORY: Harley's relationship with the Joker has hit a rough patch, causing her to take a trip down memory lane. This story reveals how Dr. Harleen Quinzel abandoned her life as a young psychiatrist to become the Joker's girlfriend. Harley concludes there's only one way to repair her relationship with her Puddin' – destroy Batman. But will that make things worse? Harley's creators, writer Paul Dini and artist Bruce Timm, reveal her origin in an Eisner Award-winning one-shot that explores the tragic nature of her twisted devotion to Mistah J.
FOR FANS OF: Twisted love stories, villainous tales, and lovers of 'Batman: The Animated Series.'
WHAT'S NEXT: Harley's dreams of marrying the Joker finally come true when the Clown Prince proposes in 'Batman Adventures' (2003) #16, but what's the catch?
WHERE TO FIND IT: 'The Batman Adventures: Mad Love'
BONUS: This comic was brought to life for the 'New Batman Adventures' episode: "Mad Love."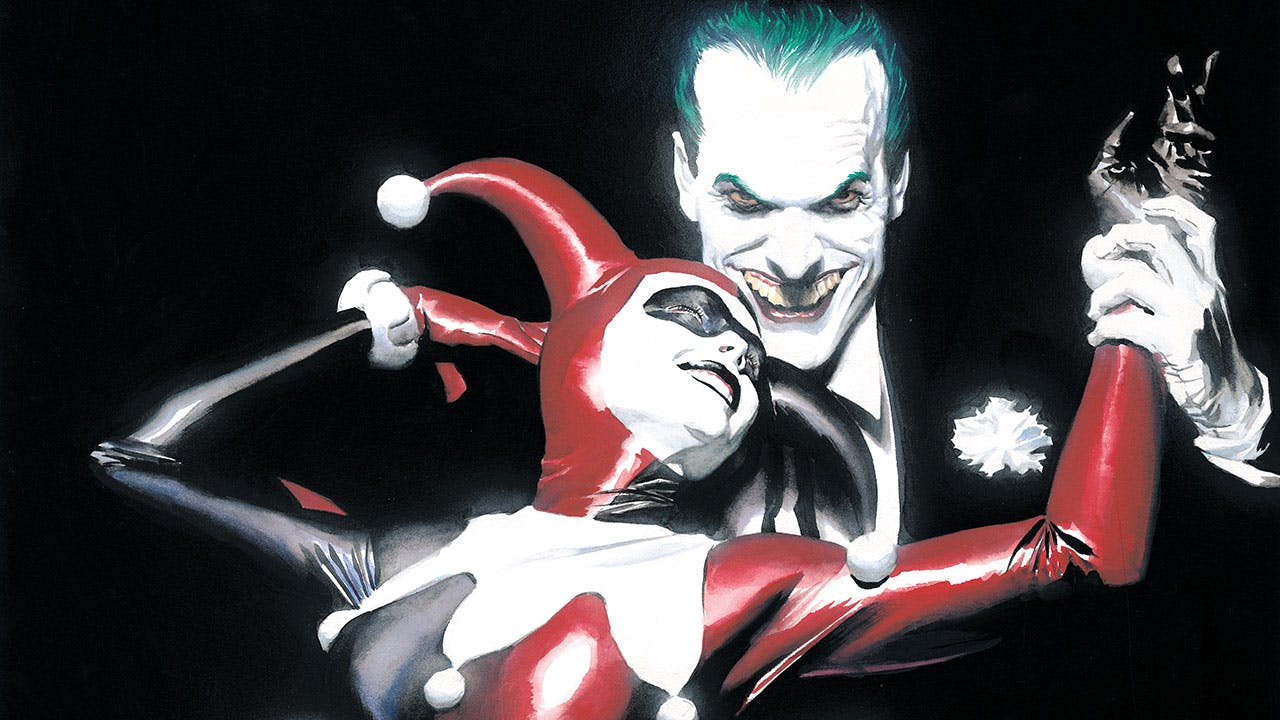 THE STORY: After years of causing chaos on TV, Harley Quinn makes her first appearance in mainstream DC Universe continuity. Her co-creator Paul Dini crafts a story that takes the best elements from Harley's animated counterpart and adapts them for DC Comics. Here, Harley's origin is retold as she falls for the Joker, gets dumped by him, and then forms a friendship with Poison Ivy. Angered by her Puddin's rejection, Harley sets out for revenge. But can this lovesick gal really hold a grudge?
FOR FANS OF: The "No Man's Land" Batman saga, the TV series 'Gotham', and tales of girl power.
WHAT'S NEXT: Harley Quinn's adventures continue with a two-part story called "The Code" in 'Batman' #570 and 'Detective Comics' #737.
WHERE TO FIND IT: 'Batman: Harley Quinn'
BONUS: Harley Quinn is the main villain throughout the 2002 live-action 'Birds of Prey' television series, where she uses her position as a psychiatrist to manipulate others.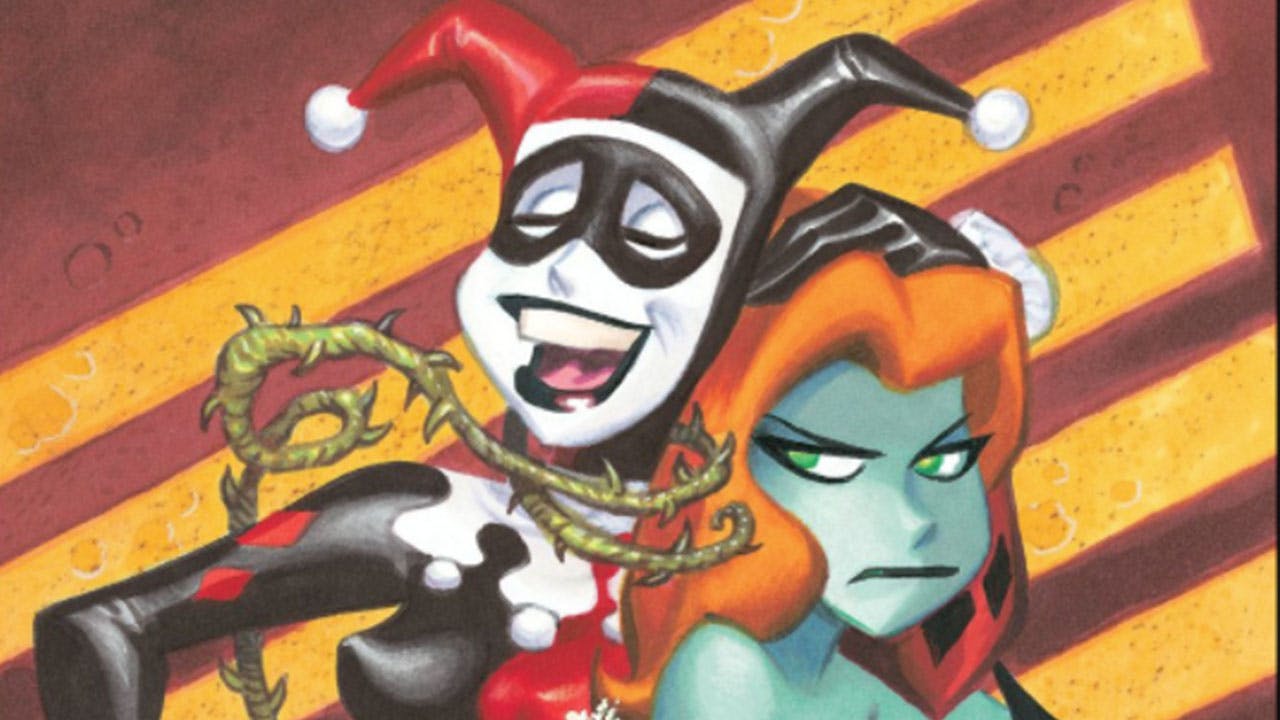 THE STORY: Paul Dini and Bruce Timm return to their beloved creation, as Harley Quinn and Poison Ivy team up for a three-issue limited series set in the DC Animated Universe continuity. After escaping Arkham Asylum, Poison Ivy tries to terminate her partnership with Harley, but her gal pal isn't taking no for an answer. The criminal duo embark on a road trip of comedy and villainy, with a more adult-focused flavor than previous Dini/Timm collaborations. When Harley and Ivy are on the loose, you never know what could happen.
FOR FANS OF: Buddy comedies, road trip tales, and, of course, 'Batman: The Animated Series.'
WHAT'S NEXT: For more DCAU-inspired girl power, check out the 'Gotham Girls' limited series.
WHERE TO FIND IT: 'Batman: Harley and Ivy' #1-3
BONUS: Check out the 'Batman: The Animated Series' episode "Harley and Ivy" to see how this duo first became bad-guy besties.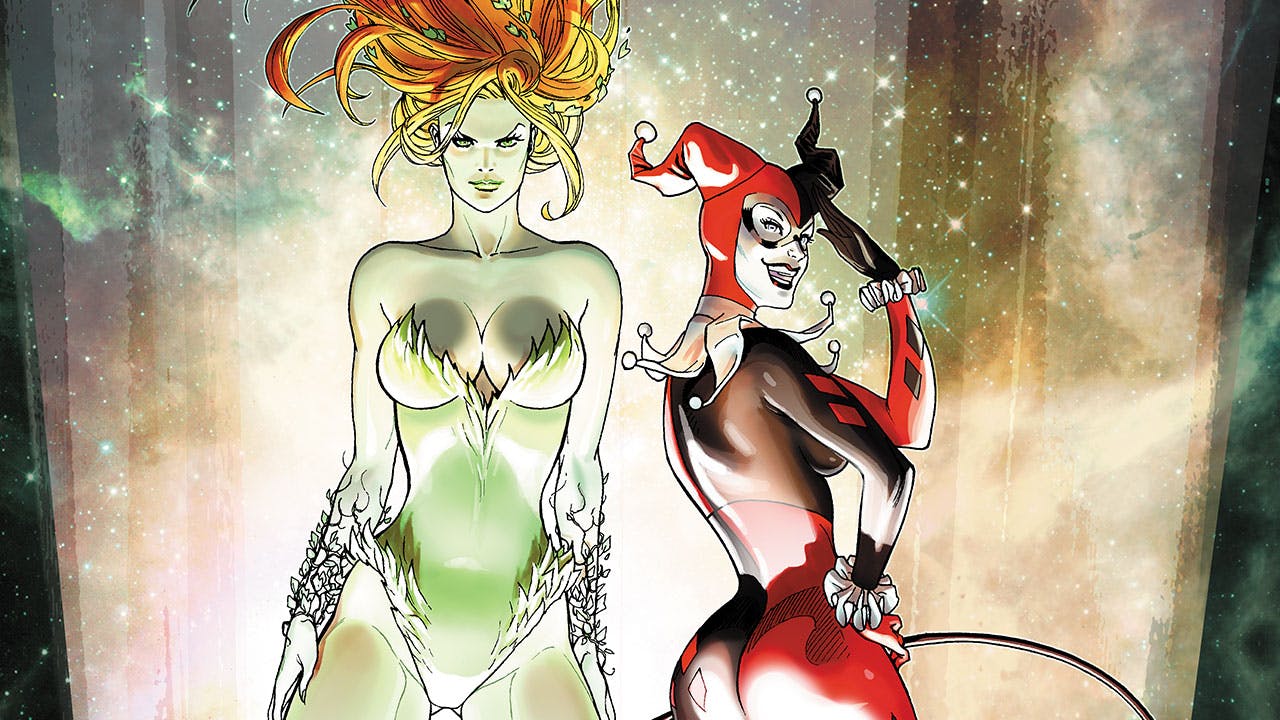 THE STORY: Gotham is a dangerous city, so Harley, Ivy, and Catwoman decide they'll have a better chance at success if they stick together. But how will Harley's new partners react when she begins dating billionaire Bruce Wayne? Gotham's femme fatales watch each other's backs and give the men a run for their money. Although it's set in the mainstream DC Universe, Paul Dini's prose makes this series feel like a primetime version of 'Batman: The Animated Series,' while Guillem March illustrates dynamic versions of Gotham's toughest ladies.
FOR FANS OF: This title is 'Sex and the City' meets 'The Sopranos' with a dash of 'Gotham.'
WHAT'S NEXT: The Gotham City Sirens team up again for DC's "Convergence" event in 'Convergence: Harley Quinn.'
WHERE TO FIND IT: 'Gotham City Sirens' #1-7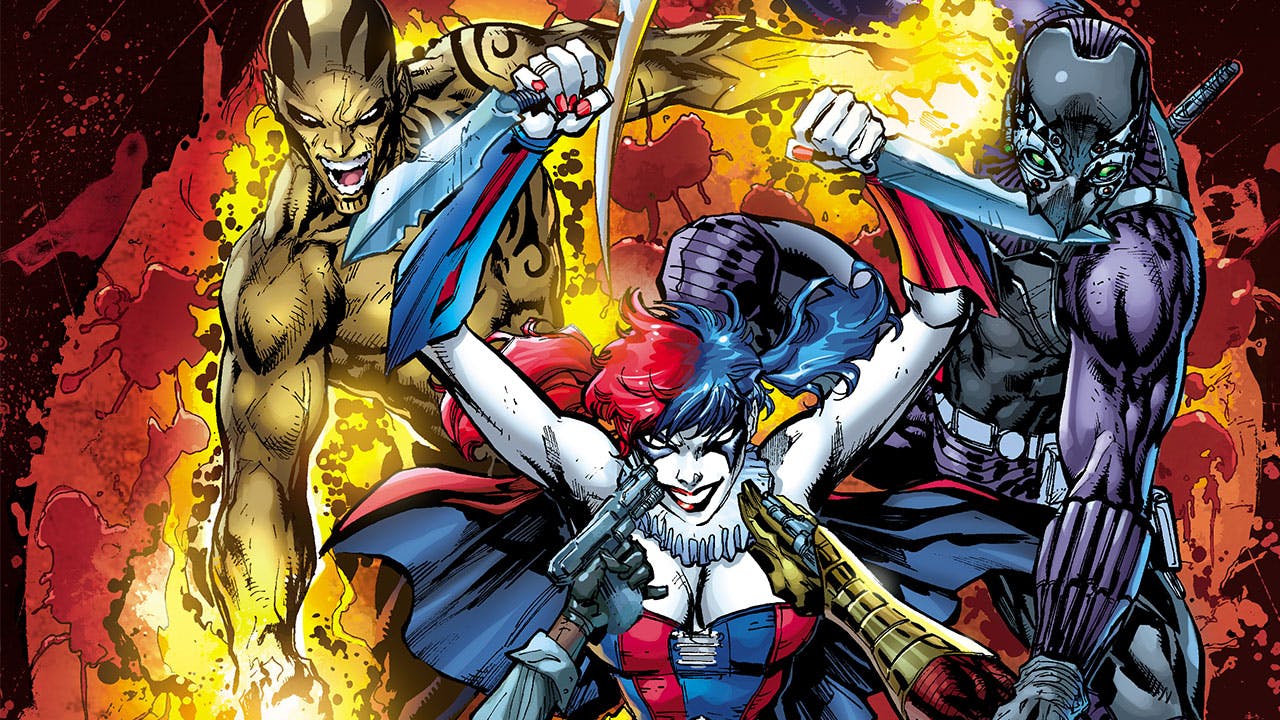 THE STORY: Harley Quinn does the impossible, and escapes from Amanda Waller's Task Force X. An enraged Waller sends the Suicide Squad after Quinn, fearing she'll expose their entire operation. As Harley evades her former teammates, she reminisces about her past, revealing her "New 52" era origin. It turns out Harley is searching for the discarded skin of Joker's face so she can get closure from her missing Puddin'. Writer Adam Glass reinvents Harley while still honoring the best pieces of her previous incarnations. This story reminds us that Harleen is more than a comical character, as she fights off the most dangerous members of the Suicide Squad.
FOR FANS OF: Lovers of Margot Robbie's portrayal of Harley from the 2016 'Suicide Squad' film will love reading the material that helped inspire her performance.
WHAT'S NEXT: Harley's story reaches a major turning point when she reunites with the Joker in 'Suicide Squad' #14-15.
WHERE TO FIND IT: 'Suicide Squad' #6-8
BONUS: Harley Quinn and the Suicide Squad star in the 2014 animated film 'Batman: Assault on Arkham.'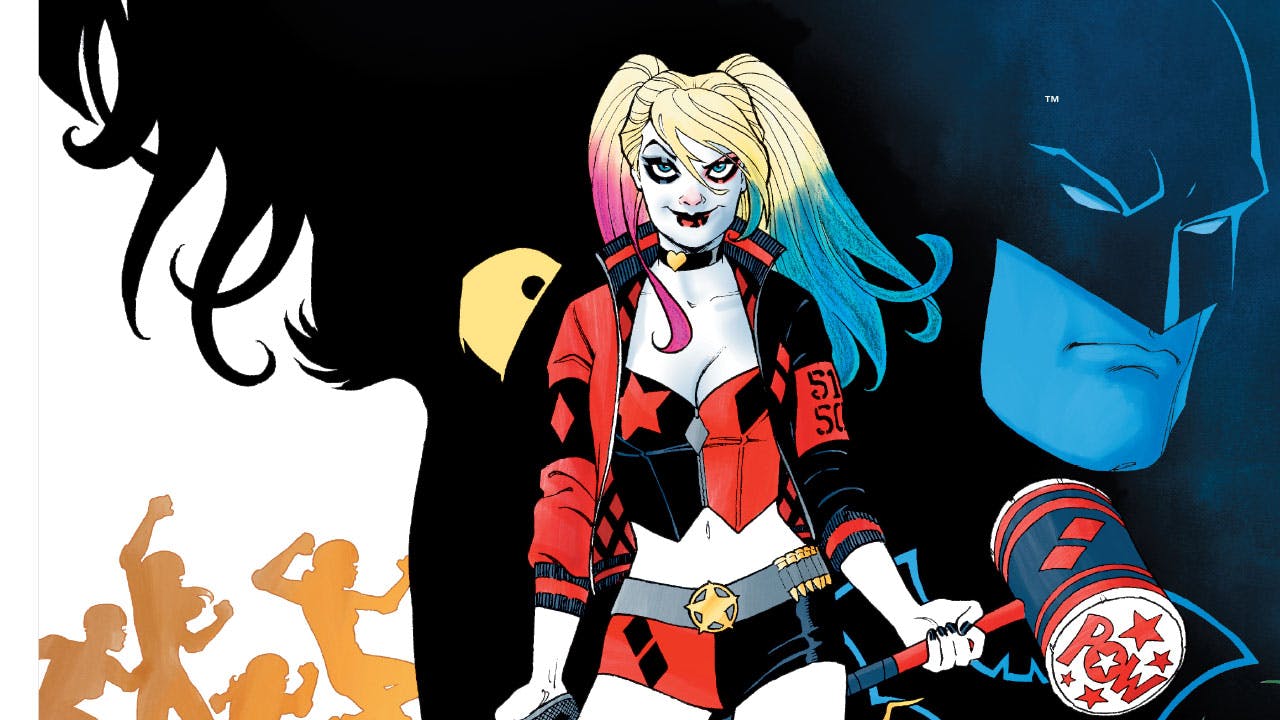 THE STORY: On her own, with no Joker or Suicide Squad in sight, Harley Quinn heads to Coney Island to begin a new life of fun and insanity. Harley becomes the super for a building filled with colorful characters, and joins a competitive roller derby team. Writers Jimmy Palmiotti and Amanda Conner take Harley to new heights, in a series of comedic adventures that throw the rules of comic-book storytelling out the window.
FOR FANS OF: Wise-cracking heroes who break the fourth wall, the team of Conner/Palmiotti, and screwball comedies
WHAT'S NEXT: Amanda Conner and Jimmy Palmiotti's critically acclaimed run continues with 'Harley Quinn' (2016).
WHERE TO FIND IT: 'Harley Quinn' #0-8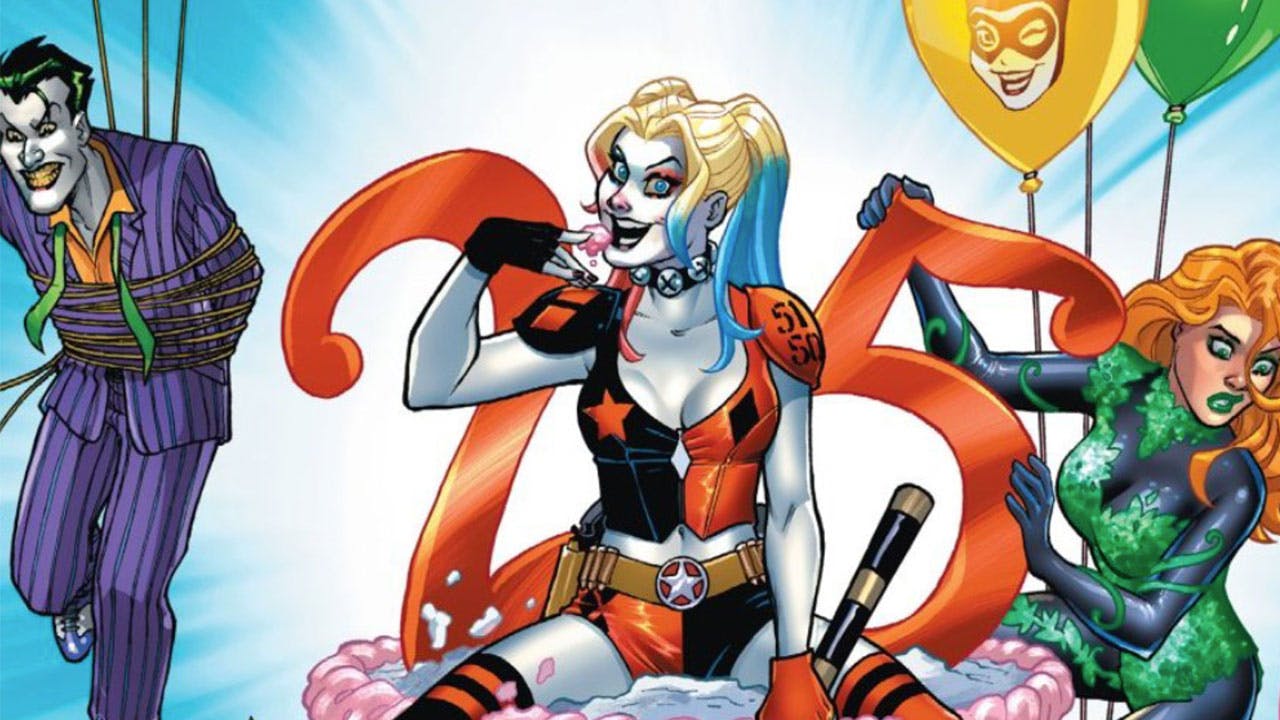 THE STORY: This oversized special celebrates Harley Quinn's 25th anniversary with a series of short stories. Harley's relationships with the Joker, Poison Ivy, and even Robin are explored. Harley's co-creator, writer Paul Dini, is joined by Amanda Conner, Jimmy Palmiotti, and a host of other DC all-stars for a birthday party so nutty, it can only happen to Harley herself.
FOR FANS OF: Whether you're a fan of action, comedy, or drama there's something in this issue for you. Every version of Harley, from the DCAU to 'Suicide Squad,' is celebrated in this special honoring her rich history.
WHAT'S NEXT: Check out the limited series 'Harley's Little Black Book' where she teams up with various heroes of the DC Universe – whether they want her to or not!
WHERE TO FIND IT: 'Harley Quinn 25th Anniversary Special'
BONUS: For another alternate version of Harley, check out the 'Batman: The Brave and the Bold' episode "Emperor Joker," in which she's reimagined as a flapper girl.
What are your favorite Harley Quinn stories? Let us know in our Community!