He's the most dangerous mercenary on Earth. He was known as the Terminator years before a man named Schwarzenegger. He's fought the Justice League and the Teen Titans to a standstill. He's even one of the few people to beat the Dark Knight! He's Slade Wilson, the assassin known as Deathstroke the Terminator. You may have seen him bedevil Oliver Queen on television's 'Arrow' or heard Ron Perlman creepily voice him on the 'Teen Titans' animated series. Esai Morales is the latest actor to don the eyepatch and play the one-eyed mercenary in DC Universe's 'Titans,' introducing a new world of fans to the Terminator. If you've come across any of Slade's many media adaptations, and want to learn more about the super-solider assassin, then let our handy reading list bring you up to speed!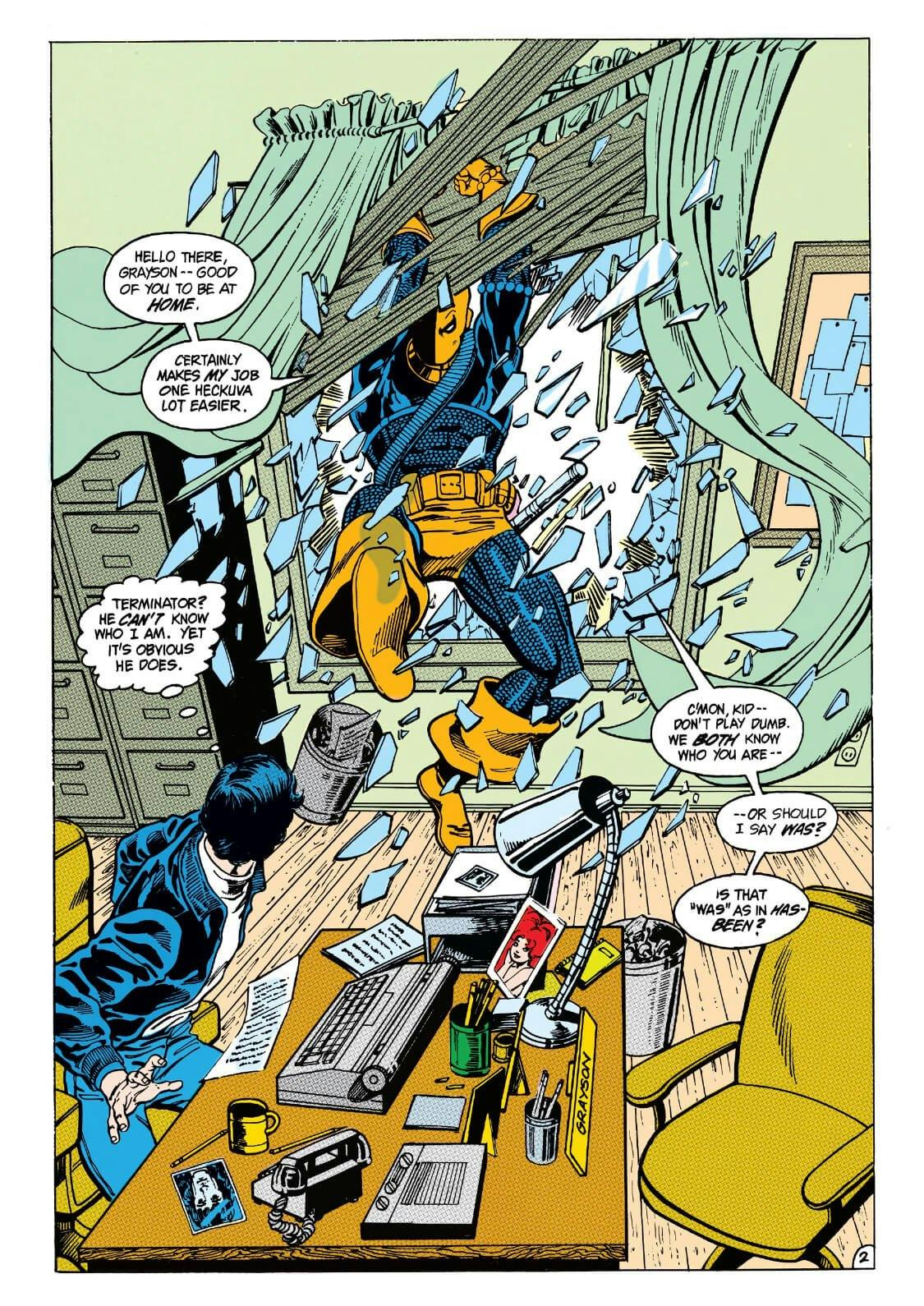 THE STORY: After years of collecting intel and biding his time, Deathstroke finally strikes at the Teen Titans, fulfilling a contract from the terrorist group HIVE that he inherited from his late son Grant. Thanks to Terra, Deathstroke's mole who has infiltrated the Titans ranks, Slade knows the Titans secret identities and has used that information to exploit their biggest weaknesses. Fans of Deathstroke will enjoy the middle act where the assassin picks off the team one member at a time. With everything going according to plan, will Terra prove to be Deathstroke's biggest asset or greatest liability? Marv Wolfman and George Perez's Teen Titans run is considered the gold standard for 1980's comics, and "The Judas Contract" is usually cited as their magnum opus.
FOR FANS OF: War stories, origin tales, betrayals, and family drama.
WHAT'S NEXT: For more information on Slade's mysterious past, check out 1995's 'Deathstroke' Annual #4.
WHERE TO FIND IT: 'Tales of the New Teen Titans' #42-44 and Annual #3.
BONUS: The Terra/Slade storyline was adapted throughout season 2 of the 2003 'Teen Titans' animated series.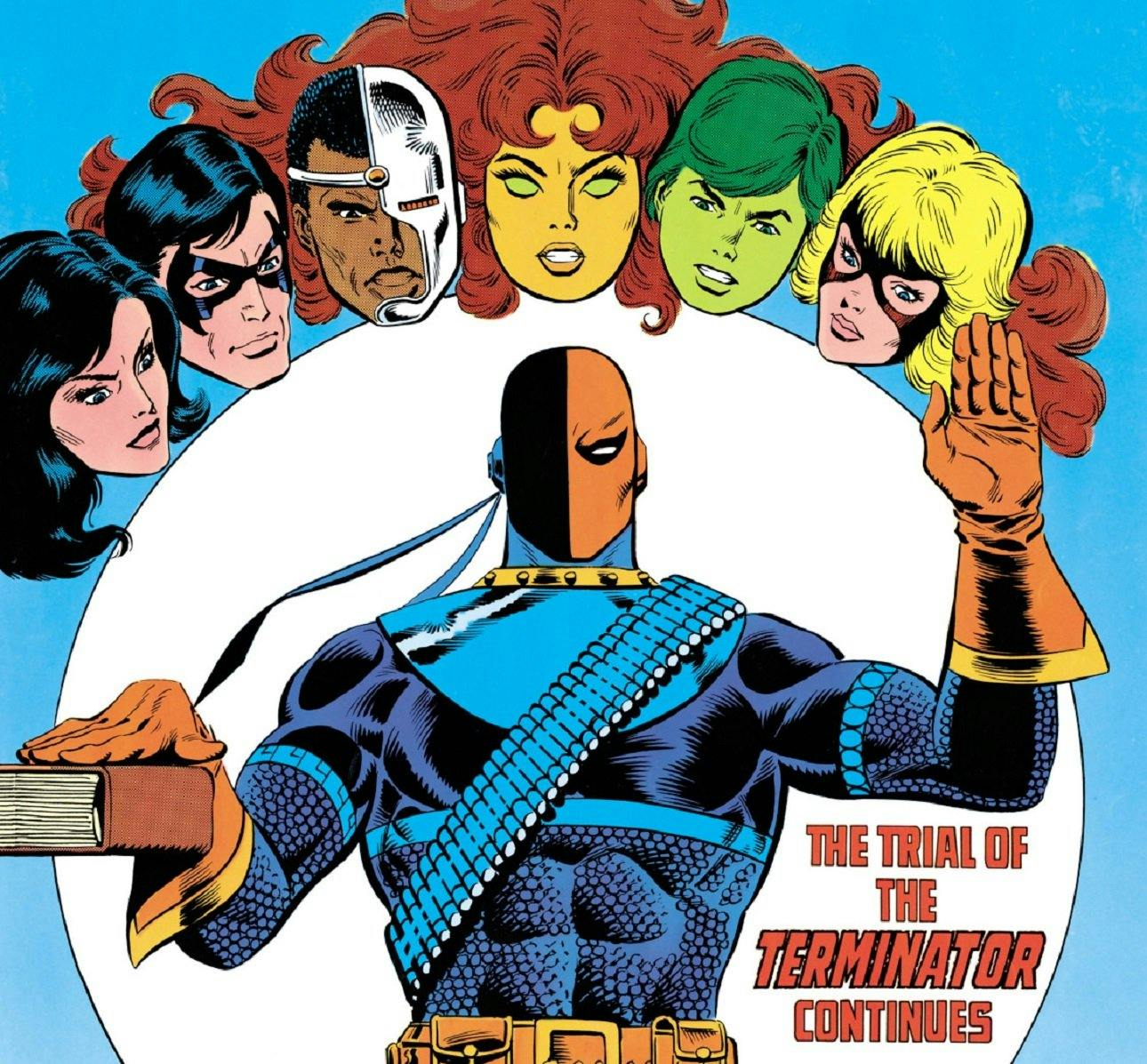 THE STORY: After the dust has settled from Terra's death, Slade Wilson prepares to stand trial for his crimes. Gar Logan is still in denial about Terra's betrayal, and doesn't trust the justice system to take care of Slade. The angry Changeling arranges a final showdown with the mercenary, which winds up going much differently than he expects it to. Marv Wolfman shows us another side of Deathstroke, as the mercenary's coffee chat with Changeling proves that he's more than a one dimensional comic book villain.
FOR FANS OF: Law and Order, mysteries, revenge tales and tales of closure.
WHAT'S NEXT: After a two year absence, Deathstroke is next seen in 1987's 'The New Teen Titans' Annual #3.
WHERE TO FIND IT: 'Tales of the Teen Titans' #53-55
BONUS: The 2003 'Teen Titans' animated series did their own twist on Slade's first post-Terra confrontation with the team in the chilling season 3 episode "Haunted."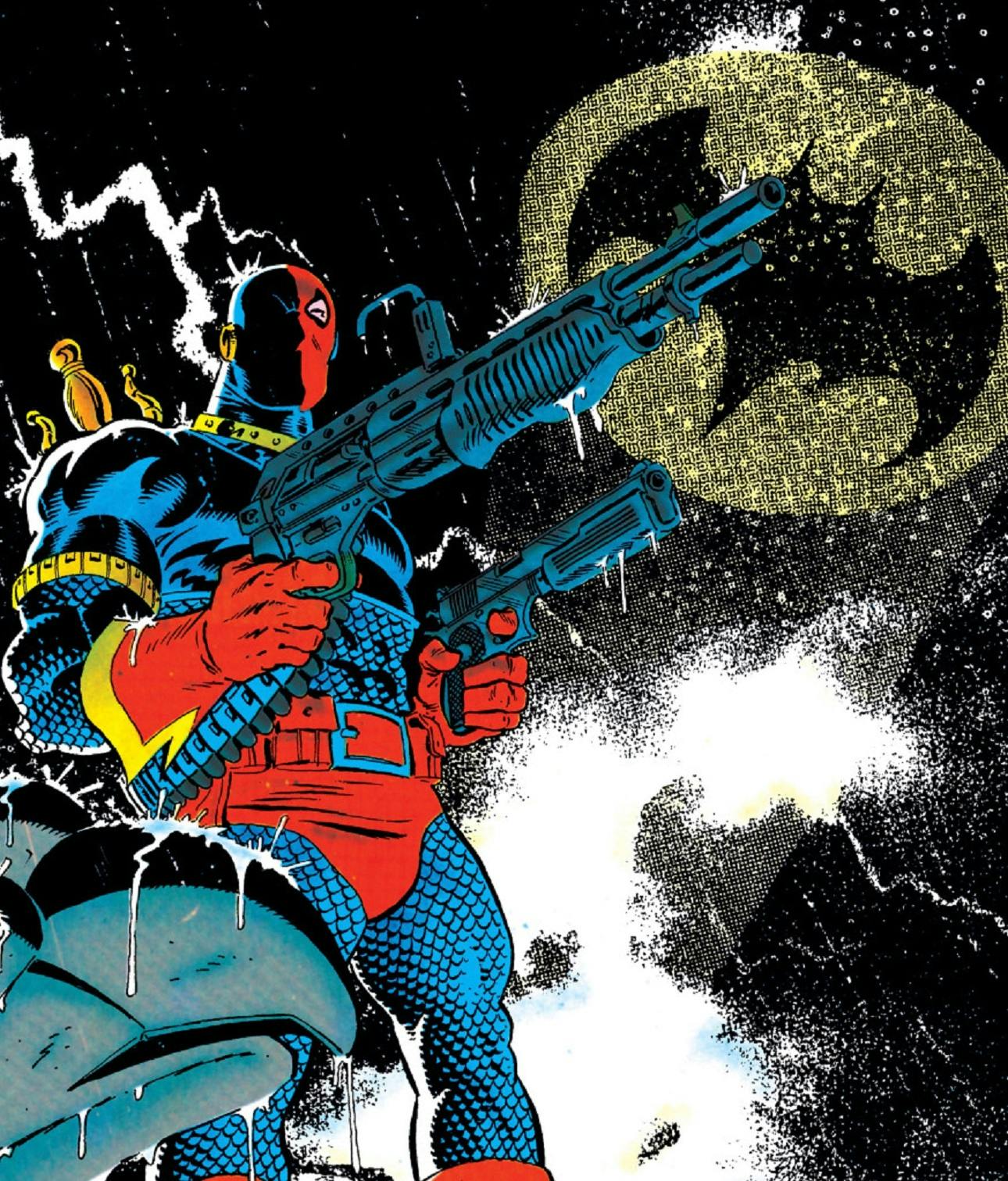 THE STORY: Someone from Slade's past is targeting him, and they've adopted the Ravager moniker, which once belonged to Slade's late son Grant. Deathstroke must fight for his life against an enemy that knows how to hit his hardest emotions. As if that wasn't bad enough, someone is targeting Gotham City's mobsters, and all signs point to the Terminator. Slade must clear his name, while fighting off the Dark Knight. Not many people can beat Batman, but Deathstroke was able to walk away from the fight in this memorable story. After years of serving as a villain and an anti-hero, Marv Wolfman takes his famous creation to new heights for his first ongoing series.
FOR FANS OF: Army buddies, Batman, mercenary adventures, and 'The Sopranos.'
WHAT'S NEXT: Oliver Queen and Slade Wilson set their sights on the same target in 1994's 'Deathstroke' #39.
WHERE TO FIND IT: 1991's 'Deathstroke' #1-9
BONUS: If you loved seeing Slade take on the Dark Knight, then check out their animated brawl in the 2013 animated film 'Son of Batman.'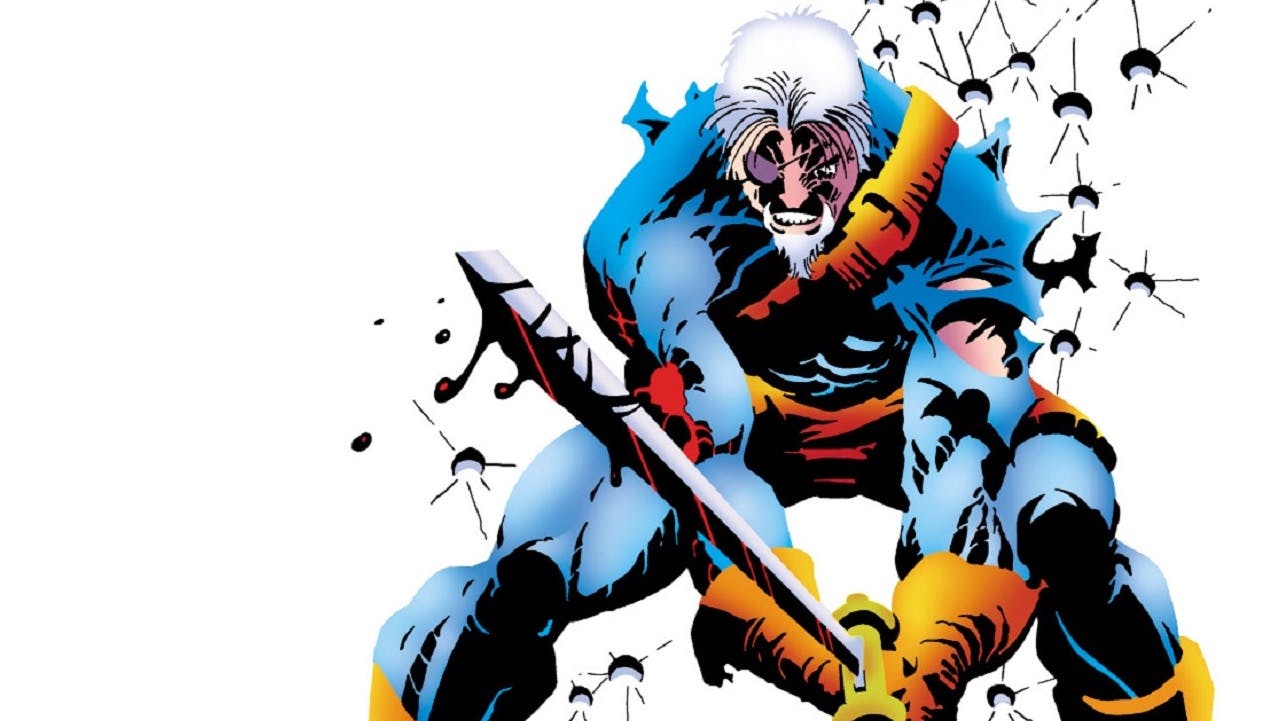 THE STORY: Someone has tried to kill the President of the United States, and a villain called the Crimelord has framed Deathstroke for the act. Now the hunter has become the hunted as Slade fights off enemies from all angles, including the Titans. Slade's half-brother Wade kidnaps Rose Wilson, and reveals the truth about her parentage, changing her life forever. It's going to take everything Slade has to get out of this one, and some of his allies won't make it out alive. Marv Wolfman turns the volume up to 11 for the biggest Deathstroke story of the decade.
FOR FANS OF: The Fugitive, hostage storylines, 1990's action and Rose Wilson.
WHAT'S NEXT: Check out 'Deathstroke' #46 to see how dangerous a caged Terminator is.
WHERE TO FIND IT: 1994's 'Deathstroke' #0 and #41-45.
BONUS: A fun anime inspired feudal era Deathstroke can be seen in the 2018 animated film 'Batman Ninja.'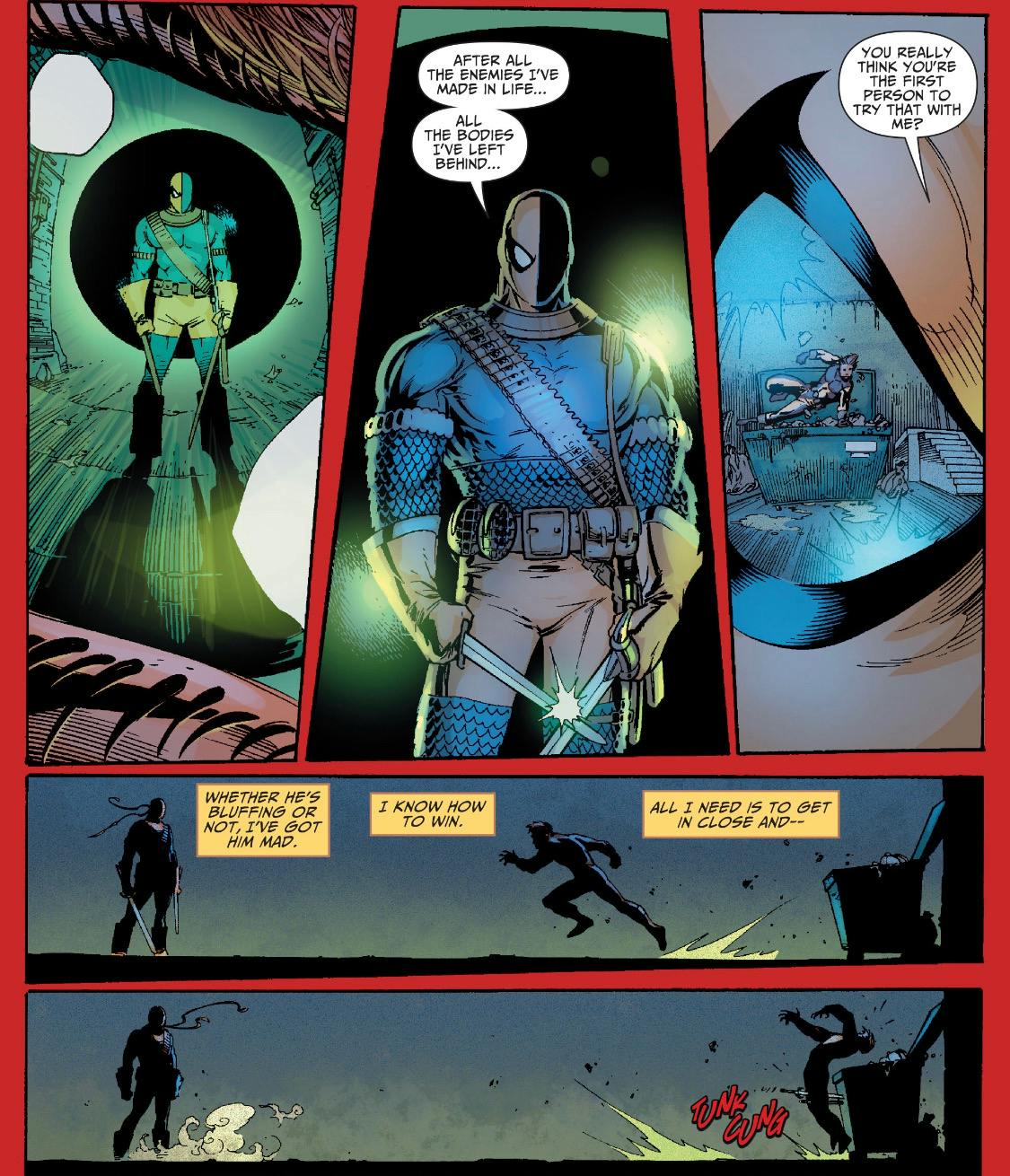 THE STORY: Years ago, Deathstroke and Terra teamed up to take down the Teen Titans, but Terra didn't survive the encounter. Geo-Force has spent years blaming Deathstroke for his sister's death, and with the end of the world approaching (due to the events of 'Final Crisis'), he's finally ready to get his revenge. Brion challenges Slade to a back alley brawl where neither man has anything left to lose. Eisner Award winning author Brad Meltzer teams with Eisner winning illustrator Adam Kubert for one of the bloodiest and breathtaking confrontations Deathstroke has ever been in.
FOR FANS OF: Bloody brawls, revenge tales, identity crisis and end-of-days scenarios.
WHAT'S NEXT: Slade is forced to make peace with his daughter in order to fight off Black Lantern versions of his dead family members in 'Teen Titans' #77-78.
WHERE TO FIND IT: 'DC Universe: Last Will and Testament' #1
BONUS: Although they never interact directly onscreen, Deathstroke's actions greatly affect Geo-Force's life during season 3 of the 'Young Justice' animated series.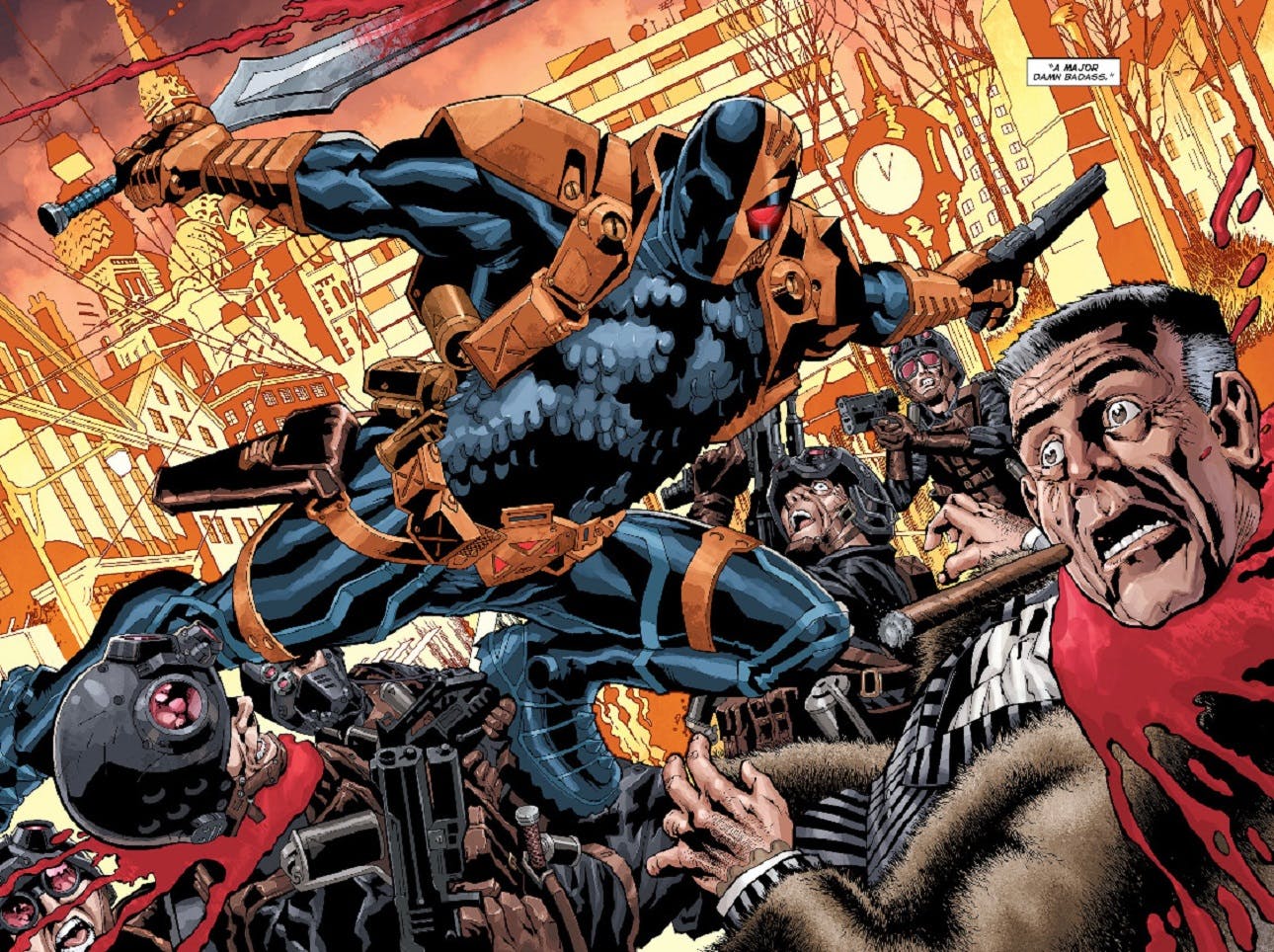 THE STORY: Deathstroke prides himself on always honoring his contract, but what happens when his employer tries to renege? It's not wise to break a promise to Slade Wilson, and the ensuing chaos leaves a trail of bodies. Along the way, Deathstroke deals with rival bounty hunters, arms dealers and a brief stint inside prison. No jail can hold Deathstroke for long, especially when there are contracts to fulfill. Kyle Higgins brings an action movie flair to Deathstroke's world, as he takes the mercenary into DC's New 52 for a series of violent adventures.
FOR FANS OF: Road trips, bounty hunters, arms dealers, and prison breaks.
WHAT'S NEXT: The Terminator sets his sights on Lobo in 2012's 'Deathstroke' #9-12.
WHERE TO FIND IT: 2011's 'Deathstroke' #1-8
BONUS: A very different version of Deathstroke was featured in the 'Lois and Clark: The New Adventures of Superman' episode "Bob and Carol and Lois and Clark."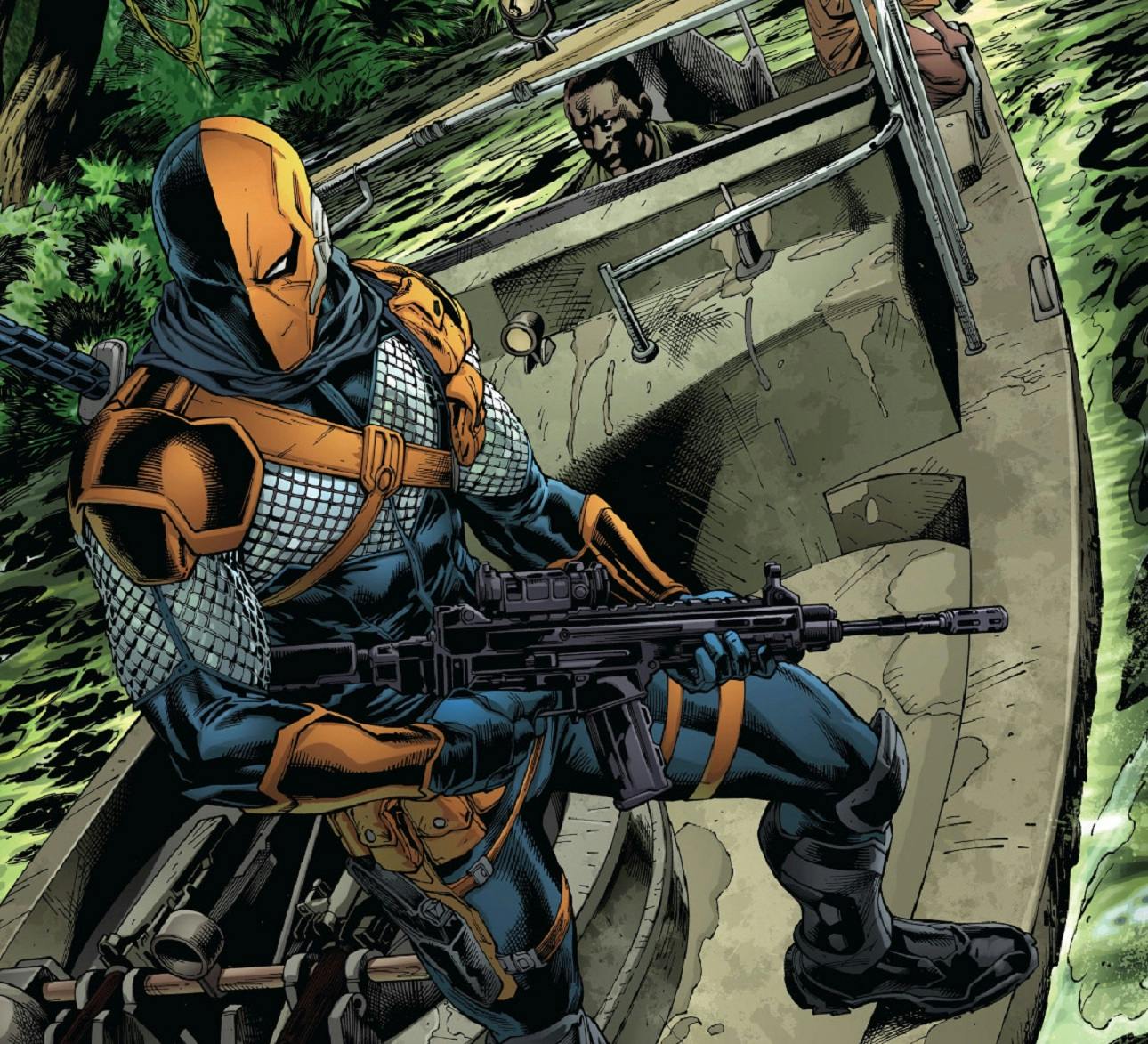 THE STORY: Slade Wilson has always lived by a strict mercenary code, but when someone takes a contract on his daughter Rose, Deathstroke compromises everything he's ever stood for in order to protect her. Slade betrays his allies and even gets in a tussle with the Dark Knight, but how would Rose react if she learned the truth about why she was targeted? Christopher Priest's storyline deconstructs everything we know about Deathstroke as a family man and a mercenary in this thrilling adventure.
FOR FANS OF: Batman, family honor, international intrigue, mysteries, and villains with a code.
WHAT'S NEXT: Deathstroke has a rematch with Batman in 2018's 'Deathstroke' #30-35.
WHERE TO FIND IT: 'Deathstroke: Rebirth' #1 and 2016's 'Deathstroke' #1-5.

BONUS: An alternate reality version of Slade can be seen in the 2013 animated film 'Justice League: The Flashpoint Paradox.'
Honorable First Appearance Mention: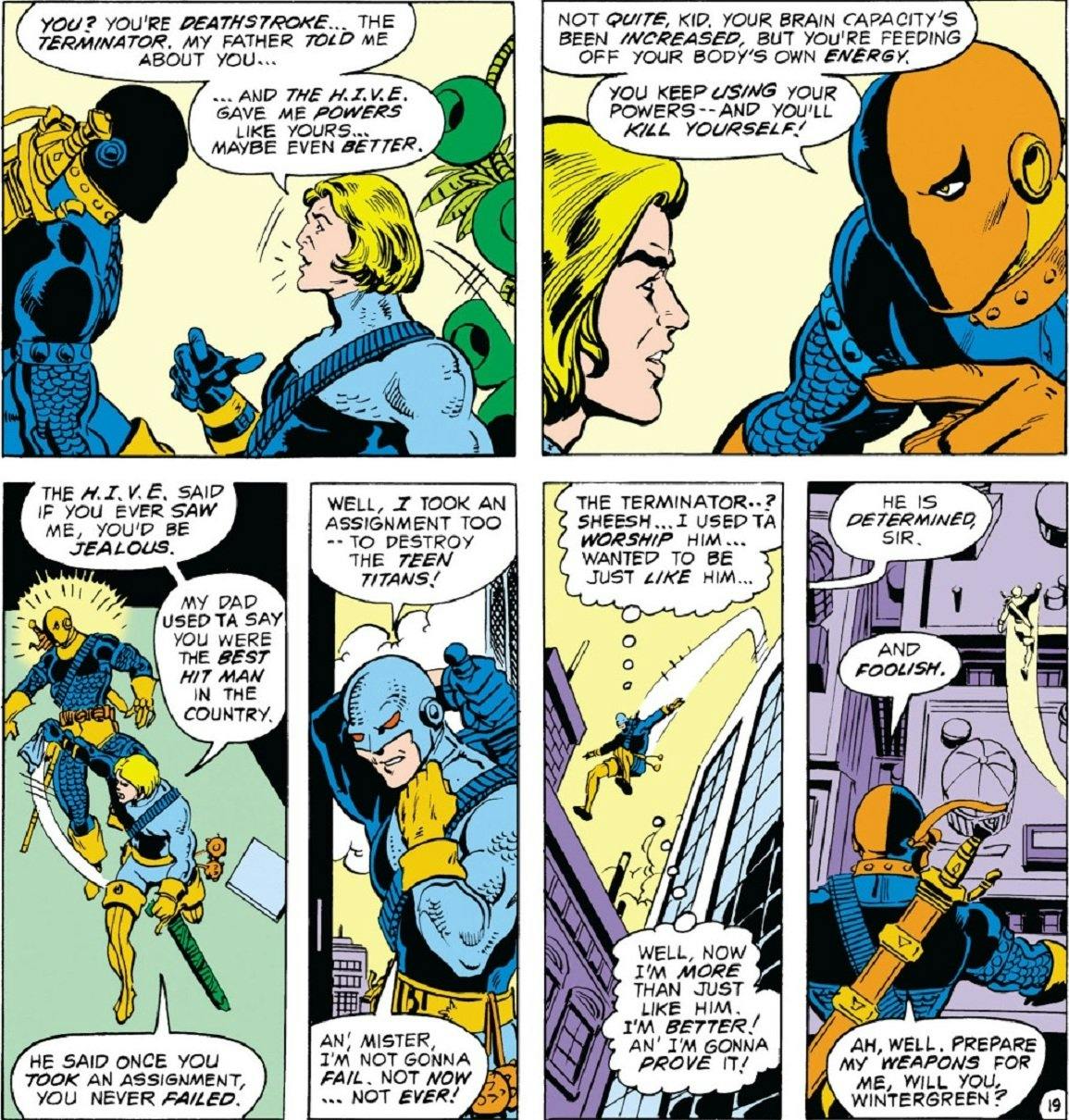 THE STORY: Travel back to the beginning and learn how Deathstroke first met the Teen Titans, and how an organization known as HIVE kickstarted their rivalry. When Slade Wilson refuses to accept a contract on the Teen Titans, a new mercenary named Grant Wilson, who calls himself Ravager, happily accepts. Ravager soon bites off more than he could chew, which horrifies Deathstroke, who is secretly Grant's father. This classic by Marv Wolfman and George Perez not only introduces Deathstroke, but it also sets the stage for the next four years of stories.
FOR FANS OF: Father and son tales, superhero battles, and terrorist machinations.
WHAT'S NEXT: Deathstroke attempts to go back in time to stop the events of this story in a saga called "The Lazarus Contract" which ran in 2017's 'Titans' #11 (part 1), 2017's 'Teen Titans' #8 (part 2), 2017's 'Deathstroke' #19 (part 3), 'Titans: The Lazarus Contract Special' #1 (part 4) and 2017's 'Deathstroke' #20 (epilogue).
WHERE TO FIND IT: 1980's 'The New Teen Titans' #2
BONUS: The 2003 animated series 'Teen Titans' does their own take on Slade's first encounter with the team in the 2 part season finale "Apprentice."
What are your favorite Deathstroke stories? Let us know in our Community!