What's the best part about being Catwoman? With nine lives, there's plenty of time to enjoy DC Universe's 80-year digital library of comics! If Selina Kyle had a DC Universe membership, she might be too busy to burglarize -- though if that were true, we wouldn't have so many great Catwoman stories. As longtime fans know, Catwoman is more than the love of Batman's life, more than a DC Super-Villain, and far more than a femme fatale. If you want to explore Catwoman's stories beyond her many appearances in Batman comics -- or her starring role in the animated film 'Batman: Hush' -- here's where to start with her solo titles...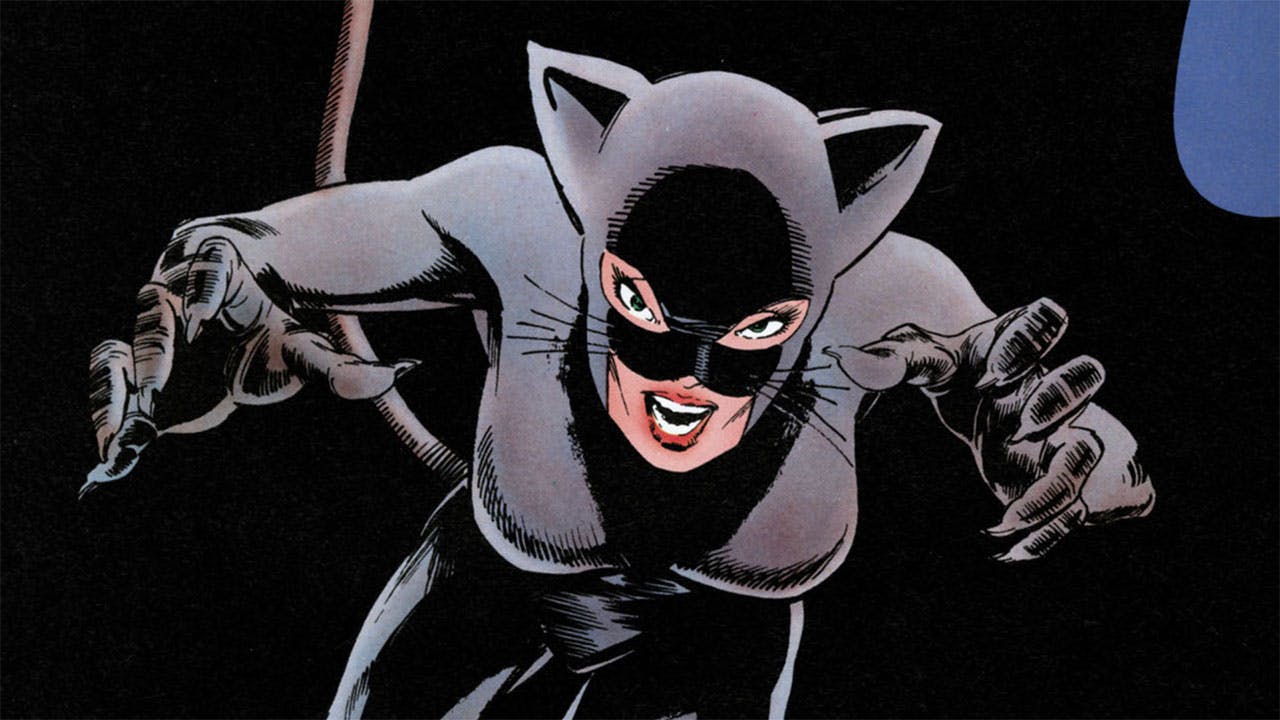 THE STORY: If you enjoyed the origin tale 'Batman: Year One,' this story presents the same events from Selina's point of view and rewinds even further to explore her childhood and family. Thanks to boxer Ted Grant, street urchin Selina learns how to fight and begins standing up for herself on the mean streets of Gotham. She uses her new skills to become Catwoman, but the men she's struck back at begin to target her for revenge by kidnapping Selina's sister Maggie. The first Catwoman solo title, this limited series is spectacularly written by Mindy Newell, one of the first female scribes to ever pen the Feline Fatale's adventures.
FOR FANS OF: Origin stories, underdog tales, 'Batman: Year One,' family secrets, and 1980s crime tales.
WHAT'S NEXT: To see how things turn out for Selina's sister Maggie, check out 2002's 'Catwoman' #12-16.
WHERE TO FIND IT: 1989's 'Catwoman' #1-4.
BONUS: Voice actress Adrienne Barbeau, whose Catwoman is a fan-favorite, makes her debut in the 'Batman: The Animated Series' two-parter "The Cat and the Claw."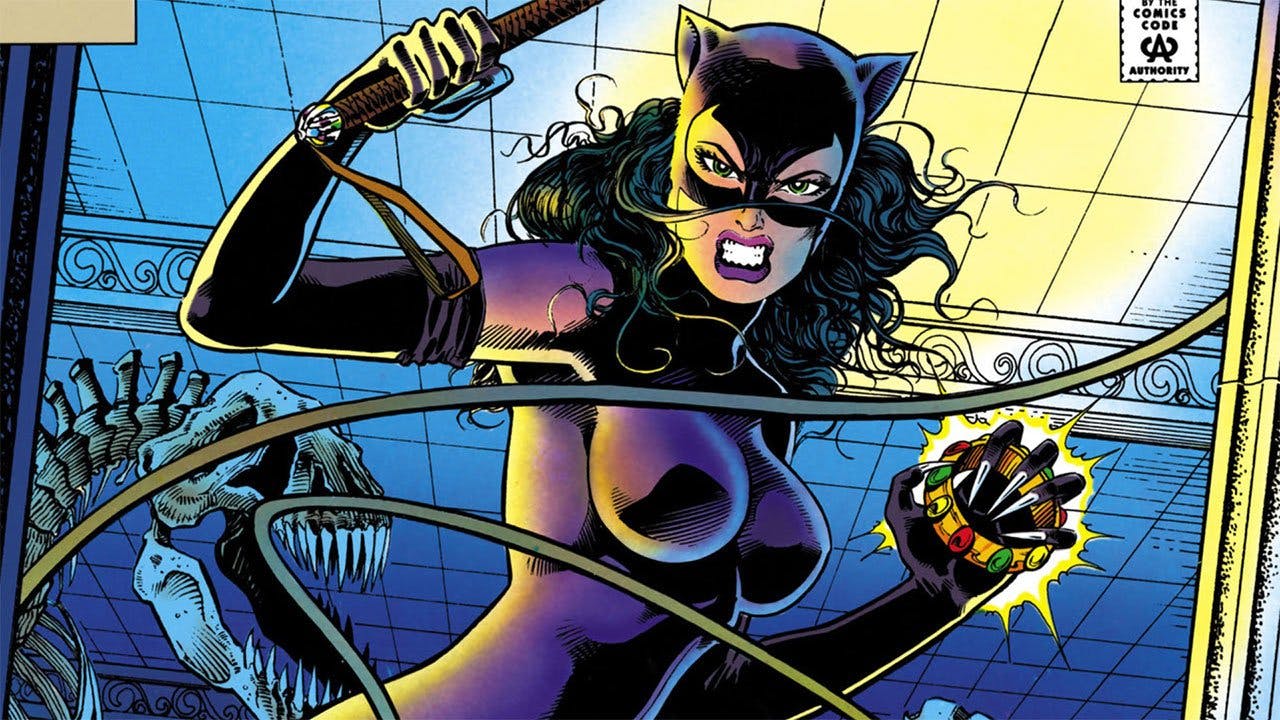 THE STORY: Taking place in the early days of Catwoman's career, this story picks up where 'Batman: Year One' left off, as the Cat and the Bat fight their attraction for one another. Catwoman is tired of Batman distracting her from her burglaries, so she frees his greatest foes to create a diversion. This backfires when Joker, Penguin, and Two-Face decide to go after Catwoman herself! Gotham's biggest players come together for this fun flashback tale written by Gotham veteran Doug Moench and illustrated by Jim Balent. One look at Selina's wicked smile and sleek purple costume, and it's easy to see why Balent was the most popular Catwoman artist of the '90s.
FOR FANS OF: Underworld tales, Bat-Cat shippers, villainous beginnings, and Joker lovers.
WHAT'S NEXT: If you want to explore Catwoman's past even further, check out 1995's 'Catwoman' Annual 2.
WHERE TO FIND IT: 1996's 'Catwoman' #38-40.
BONUS: If you like seeing Selina pitted against the other villains of Gotham, check out the 'Batman: The Animated Series' episode "Almost Got 'Im."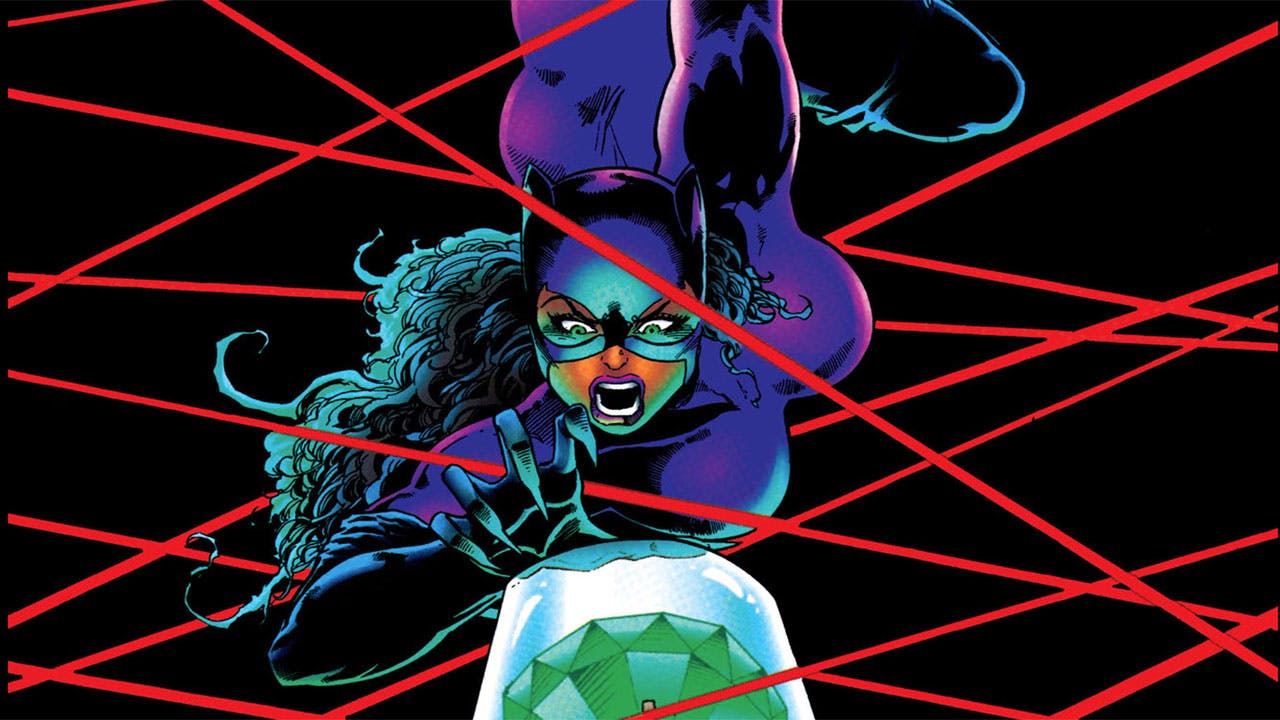 THE STORY: No high stakes, no dangerous killers, and no multi-part crossovers. This issue is a done-in-one tale that's quintessential Catwoman. Here, Selina's captivated by a diamond and quickly steals it, but is disappointed, even insulted, at how easy it was. This results in a humorous back-and-forth between Catwoman and the museum as Selina keeps returning and re-stealing the jewel, hoping the venue will give the bauble the security it deserves. If a comic reader wants to learn what makes Selina tick, or needs a crash course in who Catwoman is, this is the perfect story. Writer Devin Grayson beautifully breaks Selina down in this fun tale, while Jim Balent continues to prove why he's the most iconic Catwoman artists of the 1990's.
FOR FANS OF: Single-issue stories, kleptomania, and classic '90s comics.
WHAT'S NEXT: Selina moves to Manhattan in 1999's 'Catwoman' #67.
WHERE TO FIND IT: 1997's 'Catwoman' #54.
BONUS: For more vintage Catwoman, check out the 'New Adventures of Batman' episode "Trouble Identity."

THE STORY: From the mind of the late Eisner Award-winning writer-artist Darwyn Cooke (creator of 'Justice League: The New Frontier'), comes a graphic novel that takes Selina around the world as she prepares for the biggest heist of her career. No whips or catsuits here, just Selina assembling a crew for a story that's more 'Ocean's Eleven' than superhero comic. Can Selina's crew trust her, and more importantly – should they? And just who is the mysterious private investigator on the Cat's tail?
FOR FANS OF: Darwyn Cooke, brilliant cartooning, heist movies.
WHAT'S NEXT: 'Catwoman Secret Files' #1 picks up some of the threads from this story and helps launch Selina into her next ongoing series.
WHERE TO FIND IT: 'Catwoman: Selina's Big Score'
BONUS: If you like tales of Selina twisting men around her finger, you'll love seeing her try to manipulate Nightwing in the 'New Batman Adventures' episode "You Scratch my Back."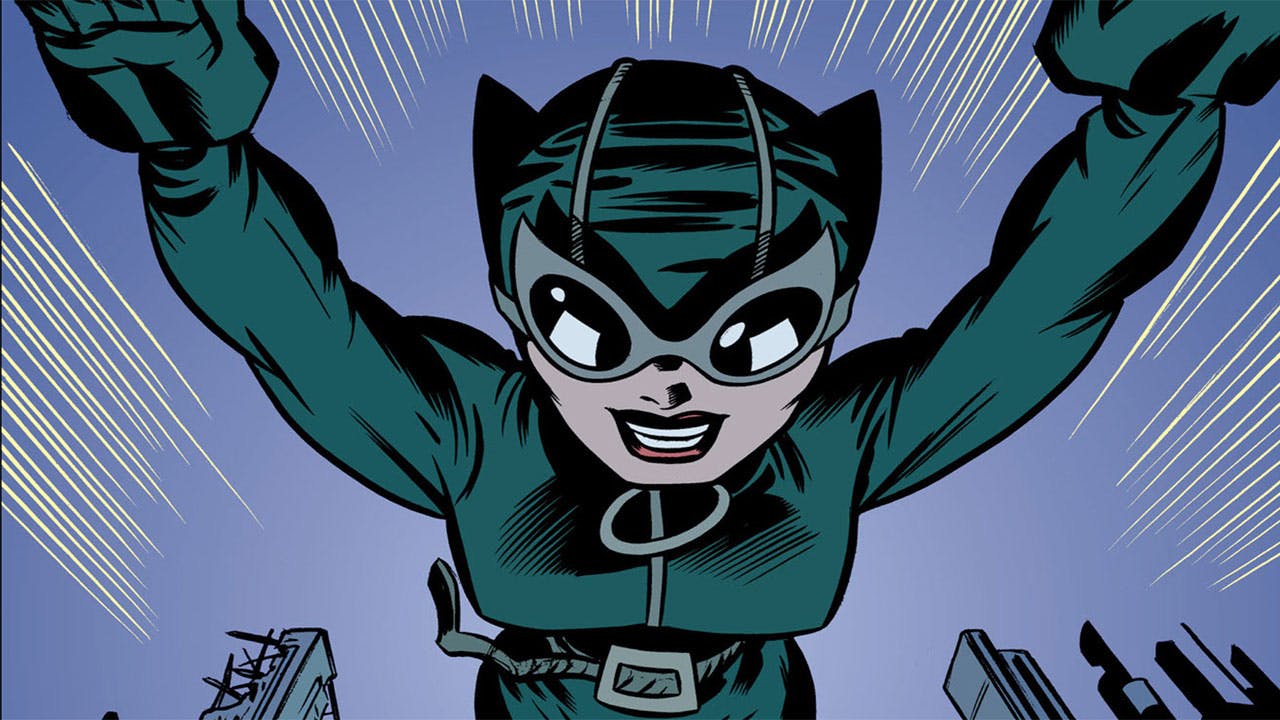 THE STORY: The world thinks Catwoman is dead, and that's just fine for Selina Kyle. But when a series of murders hit Gotham's East End, the cat crawls out of the shadows, and tracks down the mysterious killer. Can Selina reinvent herself as a street-level champion of the oppressed, or will she use up all of her nine lives? It's a new beginning for Catwoman, as writer Ed Brubaker teams up with artist Darwyn Cooke for a run that gives Selina a new neighborhood, new focus, new direction, and a fantastic new costume.
FOR FANS OF: Serial killers, street-level heroes, tales of redemption, and crime noir.
WHAT'S NEXT: This series takes an interesting turn when Selina becomes a mother in 2006's 'Catwoman' #53.
WHERE TO FIND IT: 'Detective Comics' #759, 760, 761, 762, and 'Catwoman' #1-9
BONUS: Watch Selina take on a feline-themed cult in the 'New Batman Adventures' episode "Cult of the Cat."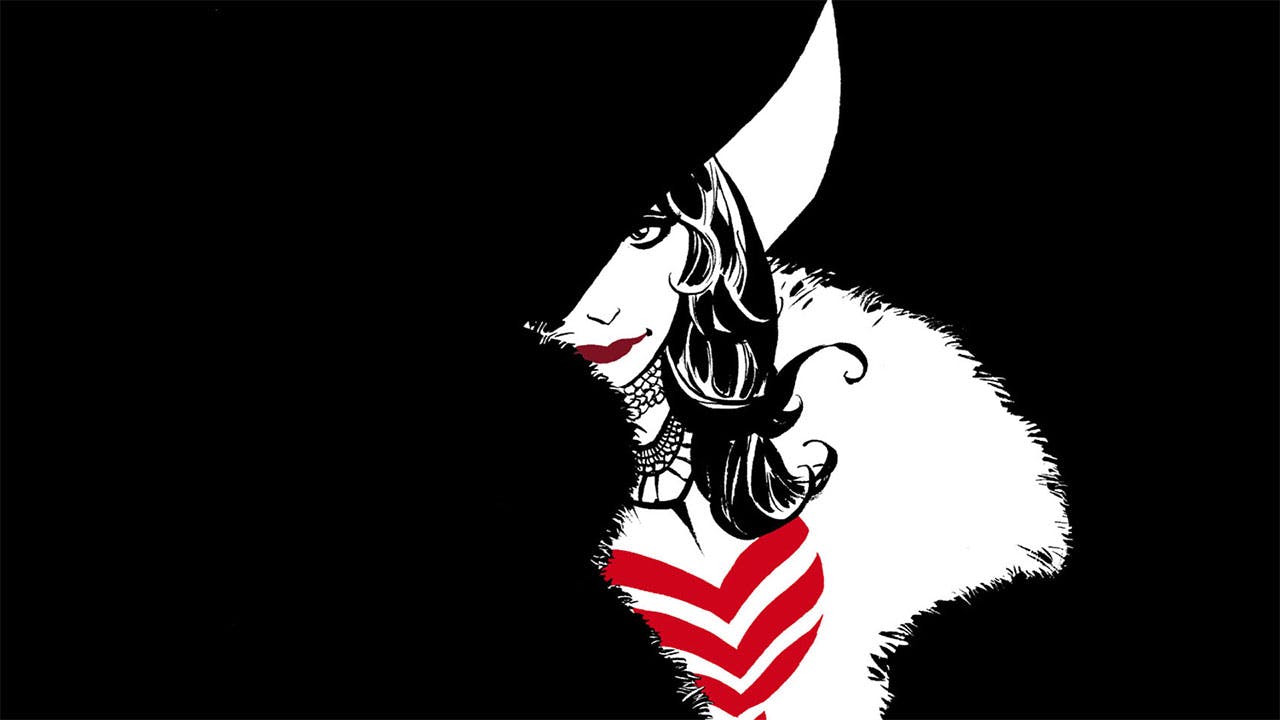 THE STORY: Seeking answers about the true identity of her father, Catwoman travels to Europe with the Riddler by her side. Shortly after their arrival, Catwoman is framed for the murder of an Italian mobster and must unravel the international conspiracy she's become embroiled in, learning the truth about her family along the way. Writer Jeph Loeb and artist Tim Sale, the team behind 'The Long Halloween' and 'Dark Victory,' reunite for a tale that perfectly compliments their previous epics.
FOR FANS OF: European mobsters, 'The Long Halloween,' crime noir, villains on the run, and international murder mysteries.
WHAT'S NEXT: Some of the events found in this limited series can be seen from Batman's point-of-view in Jeph Loeb and Tim Sale's 'Dark Victory' limited series.
WHERE TO FIND IT: 'Catwoman: When in Rome' #1-6
BONUS: If you dig Catwoman with international flair, check out a reimagined version of the Feline Fatale in the 'DC Nation Shorts: Batman of Shanghai' episode "Catwoman."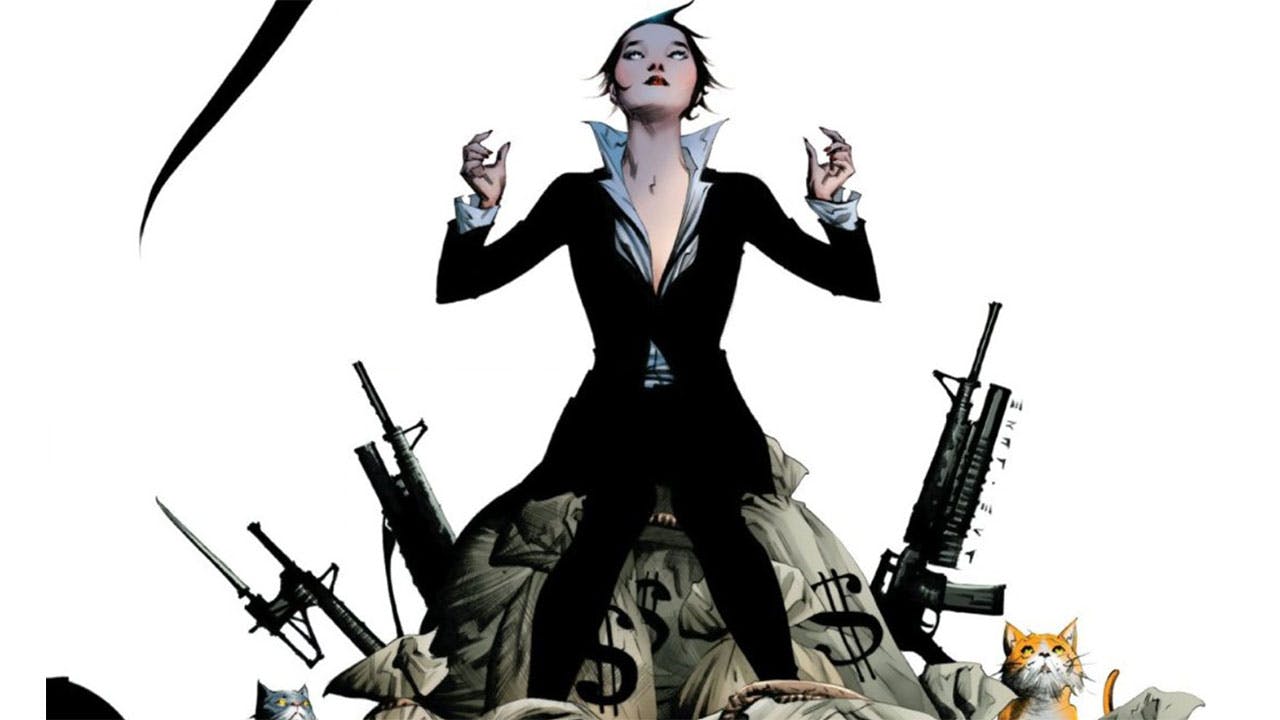 THE STORY: Selina hangs up the catsuit and takes her criminal career in a new direction when she takes over Gotham's mafia. Of course not all of her underlings are thrilled about the changes she's made to their organization. Is there really honor among thieves, or should the former Catwoman watch her back? Writer Genevieve Valentine captured the attention of fans with a story that rebuilds Catwoman from the ground up and takes her narrative in an unexpected direction.
FOR FANS OF: 'The Sopranos,' 'The Godfather,' serialized crime stories, and bad girls in charge.
WHAT'S NEXT: The saga of Selina's criminal empire continues in 2015's 'Catwoman' #41-46.
WHERE TO FIND IT: 2014's 'Catwoman' #35-40 and 'Catwoman' Annual 2
BONUS: Check out Selina's animated crime spree in 'The Batman' episode "The Cat and Bat."
OLD SCHOOL HONORABLE MENTION: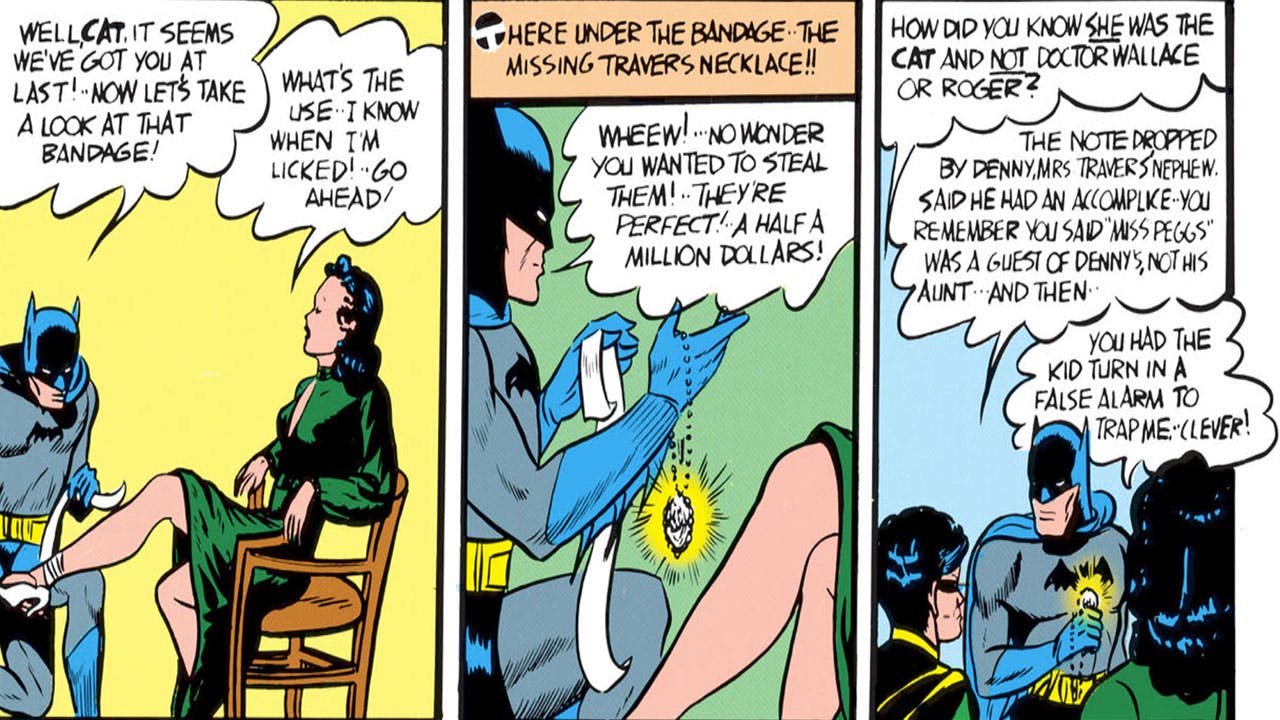 THE STORY: Before the whip, before the cat-ears, and before the leather – check out Catwoman's debut appearance as she tries to rob a yacht of elite citizens. At the time she was known as the Cat, and lacked her trademark costumes and tricks, but she was still able to stop Batman dead in his tracks. This story not only marks the beginning of Catwoman's criminal career, but it's also the first chapter in Batman and Catwoman's epic romance.
FOR FANS OF: Golden Age fun, meet cutes, whodunits, and oceanic adventures.
WHAT'S NEXT: The events from this story, along with other important Bat/Cat issues, are redrawn romantically in 2018's 'Batman' #44.
WHERE TO FIND IT: 1940's 'Batman' #1
BONUS: If you like old school Catwoman villainy, check out her appearance in the 'Batman: The Brave and the Bold' episode "The Mask of Matches Malone."  It contains an awesome "Birds of Prey" musical number!
EXTRA CREDIT: Solo Catwoman stories are fun, but if you're a shipper at heart who wants more Bat-Cat action, check out our reading list of the most defining moments in their relationship. Meow!
What's your favorite Catwoman story? Let us know in our Community!