Tuesdays are always exciting on DC Universe, but this week is even more special -- because we're celebrating our first anniversary with DC Universe: Year One! Of course, we've also got plenty of cool new things to read, watch, and discuss in our Community, as well as lots of fun surprises to mark our first circle around the sun. Read on!
TITANS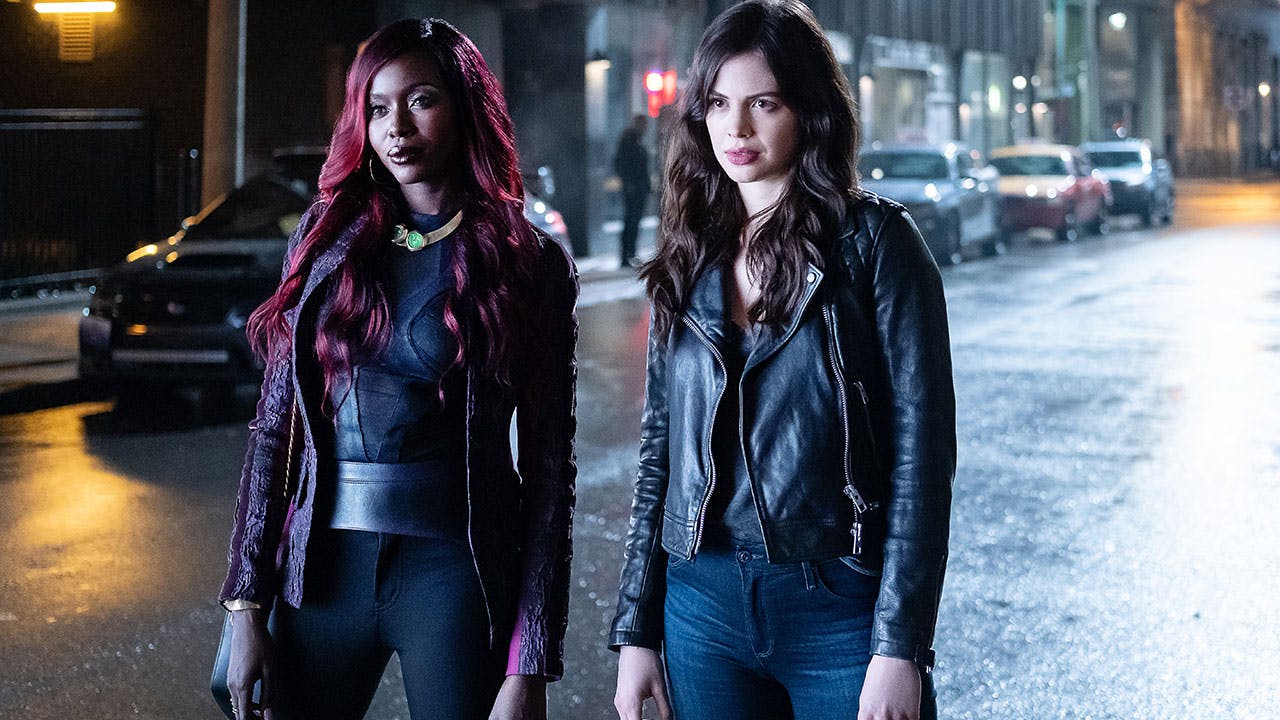 Boy, can't a Titan catch a break around here? They defeated the evil Trigon in their season premiere, which spurred Dick to reform the Titans in their snazzy self-titled tower. But now it looks like Deathstroke has got his eye on them...as well as his daughter, Rose Wilson! Check out episode 2, "Rose," this Friday to find out what happens!
NEW COMICS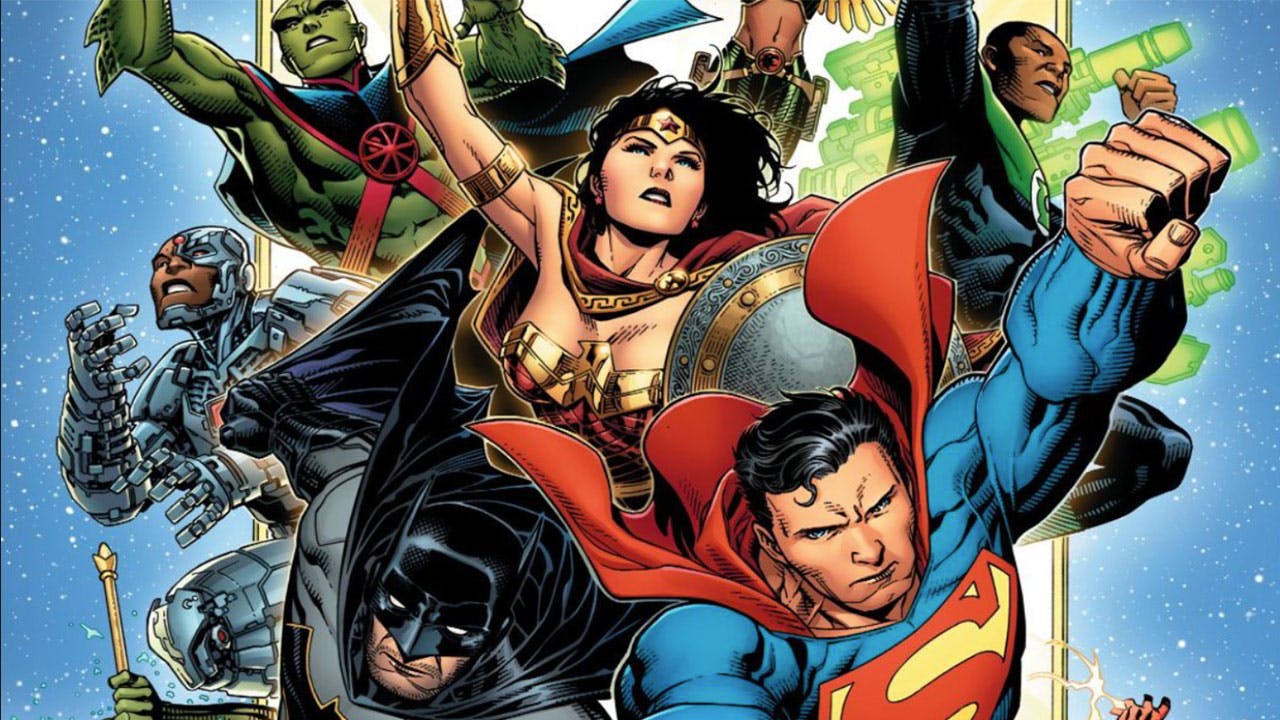 And speaking of ol' Slade Wilson, the "Deathstroke vs. Batman" arc comes to its bloody conclusion in 'Deathstroke' #35. Also coming to a close is "The Totality" story arc in the pages of 'Justice League.' But if you're in the mood for a story that's just getting started, check out issue #2 of 'The Adventures of the Super Sons,' to see the tween sons of Batman and Superman get into another intergalactic scrape. Check out the full list below:
| | |
| --- | --- |
| Doom Patrol (2004-2006) | 16 |
| Hourman (1999-2001) | 21 |
| House of Mystery (1951-1983) | 178 |
| House of Secrets (1956-1978) | 109 |
| Superman's Girlfriend, Lois Lane (1958-1974) | 14 |
| Superman's Pal, Jimmy Olsen (1954-1974) | 1 |
| Superman (1939-2011) | 2 |
| Bruce Wayne: The Road Home: Oracle | 1 |
| Teen Titans Go! (2013) | 59 |
| Nightwing (2016)  | 48 |
| Batman (2016) | 54 |
| Green Lanterns (2016)  | 54 |
| Green Arrow (2016)  | 44 |
| Harley Quinn (2016)  | 49 |
| Deathstroke (2016)  | 35 |
| The Unexpected (2018-2019)  | 4 |
| The Curse of Brimstone (2018)  | 6 |
| DC Nation (2018)  | 4 |
| Justice League (2018) | 7 |
| Death of Superman, Part 1 (2018-  | 6 |
| Adventures of the Super Sons (2018)  | 2 |
| Human Defense Corps. (2003-)  | 5-6 |
DC UNIVERSE: YEAR ONE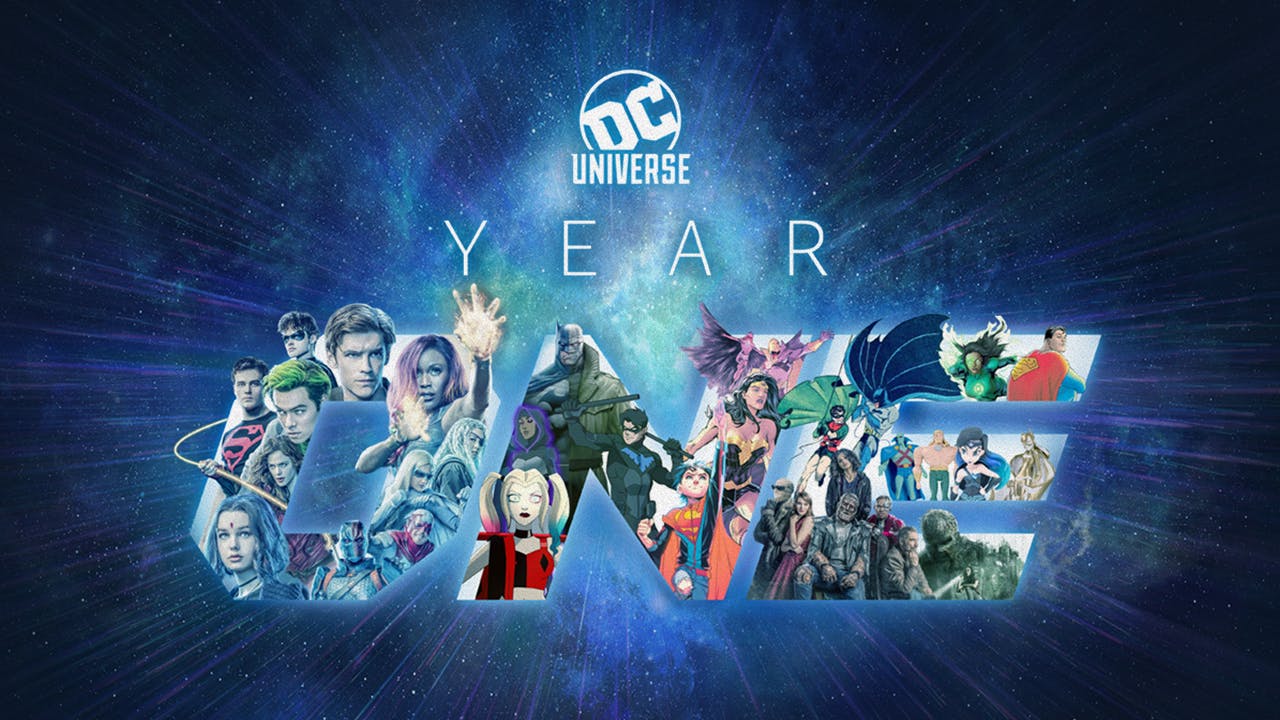 This week marks our one year anniversary, and we're marking the occasion with a "Year One" celebration! We're taking a look back at some of our favorite articles from the past year, plus spotlighting some of the greatest DC "Year One" stories ever published. And of course, there might be a surprise or two along the way. Keep your eyes peeled this week for all the cool Year One stuff coming your way!
IMPULSE UPDATE FOR THE DC UNIVERSE APP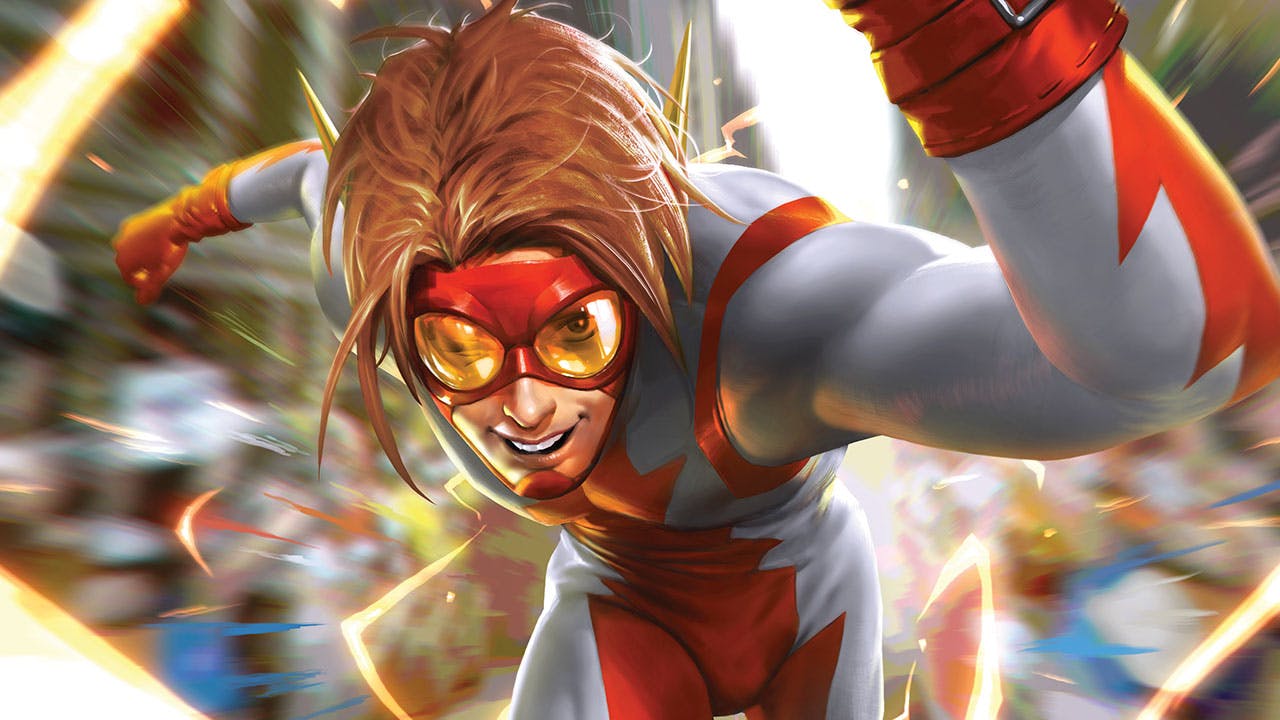 The DC Universe app was just updated for September under the codename "Impulse," named after one of the fastest members of the Flash family. And like Bart Allen, this update is all about upgrading and speeding up your DCU experience to make it truly crash -- in a good way! Check out the improvements below:
*Videos which have ratings will now briefly display an official TV or MPAA rating message when you start to play them.
*Members can access a personalized QR code from their MyDC profile. (iOS, Android) 
*Our Android app now supports Chromebooks! Check out the sleek new look and feel of our DC Universe app on this device.
*Xbox binge-watching sessions are now so much easier, with the ability to Skip Credits and auto-play the next episode.
*The "Dive Back In" row is now a better guide, automatically showing the next episode or comic for you. (iOS, Web)
*We've enhanced the "End of Book" experience while reading Storylines, showing you the next book in the Storyline instead of the series. (iOS, Web)
*We've made it possible to better manage your subscription in MyDC's Settings via the new "Manage Your Subscription." (iOS)
*You can now add Comic Book series to custom lists. (iOS)
*Storylines are now easily found in Search. (Android)
*You can select a "Date Range" when browsing Comic Books to find titles published within a specific time frame. (Android)
SWEEPSTAKES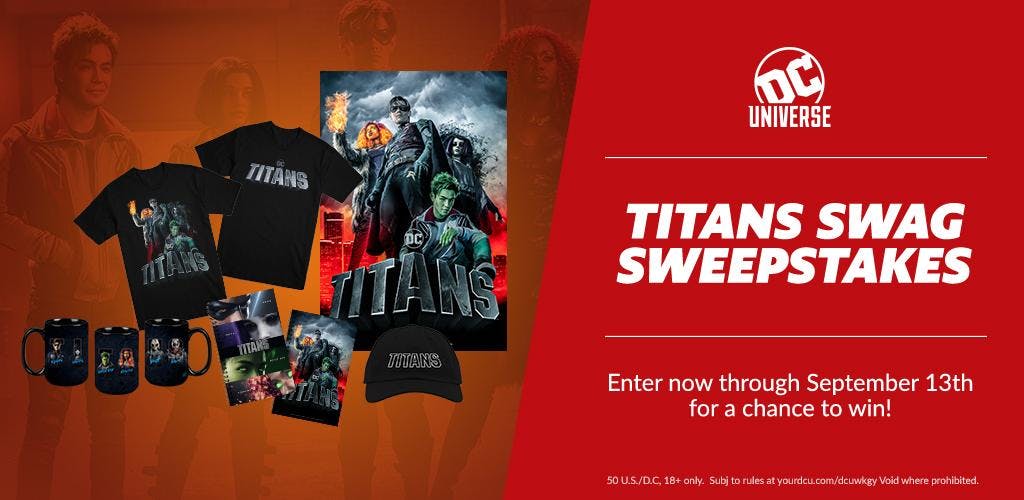 Everything's comin' up 'Titans,' including our weekly sweepstakes. We've got a truckload of 'Titans' swag for you this week, so be sure to enter for your chance to win! And speaking of winning, give it up for the winner of last week's Old School Omnibus Collection Sweepstakes, Tina S. from Oil City, PA. Old School Omnibi in Oil City? Outstanding!
POLL POSITION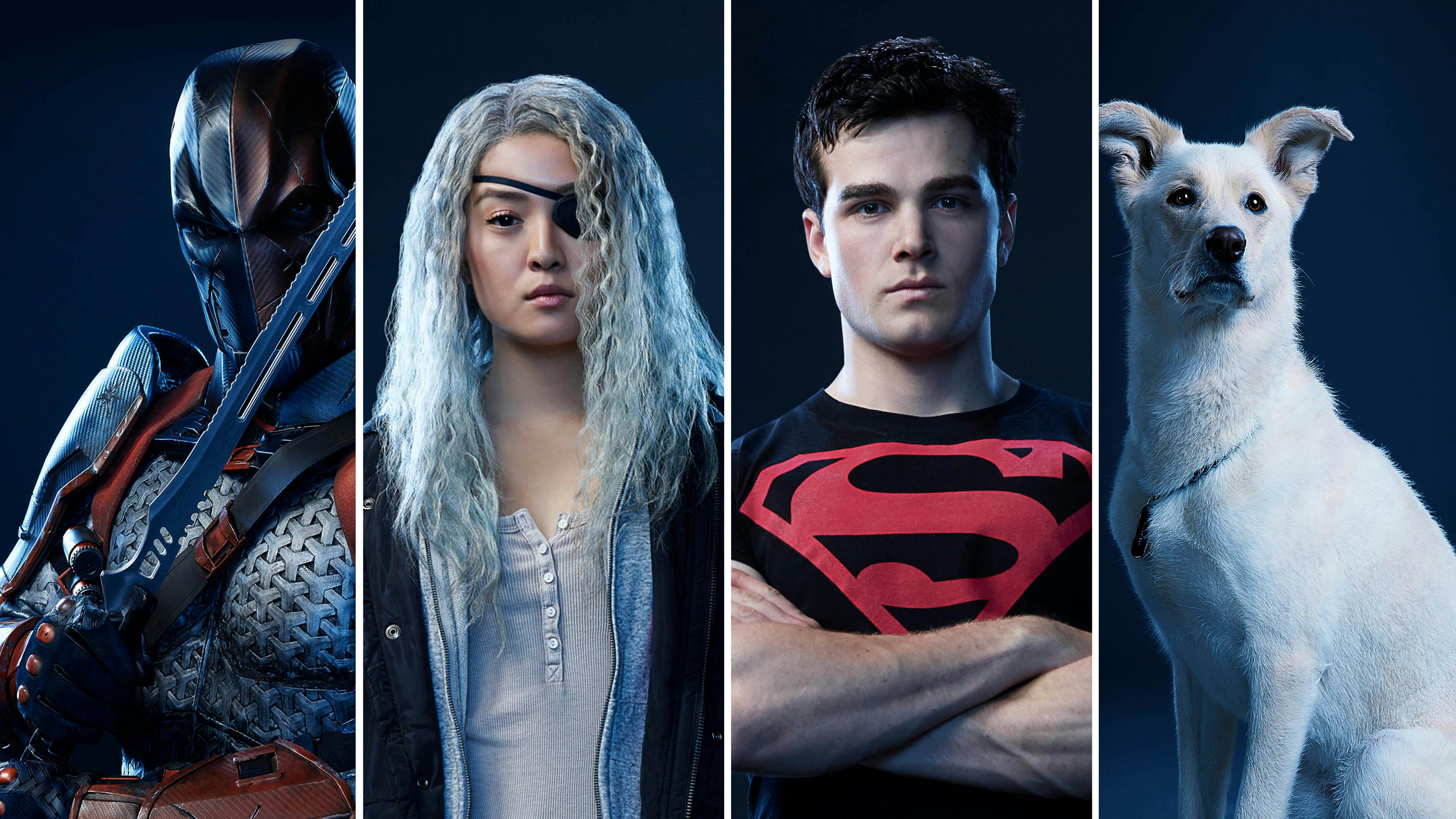 To celebrate the return of 'Titans,' we polled our Community: which new 'Titans' character are you most excited to see? It looks like Conner Kent has a pretty comfy clone-y lead, but Krypto, the goodest Titan of them all, is coming in strong at number 2. Cast your vote and let your voice be heard!
PILLARS OF THE COMMUNITY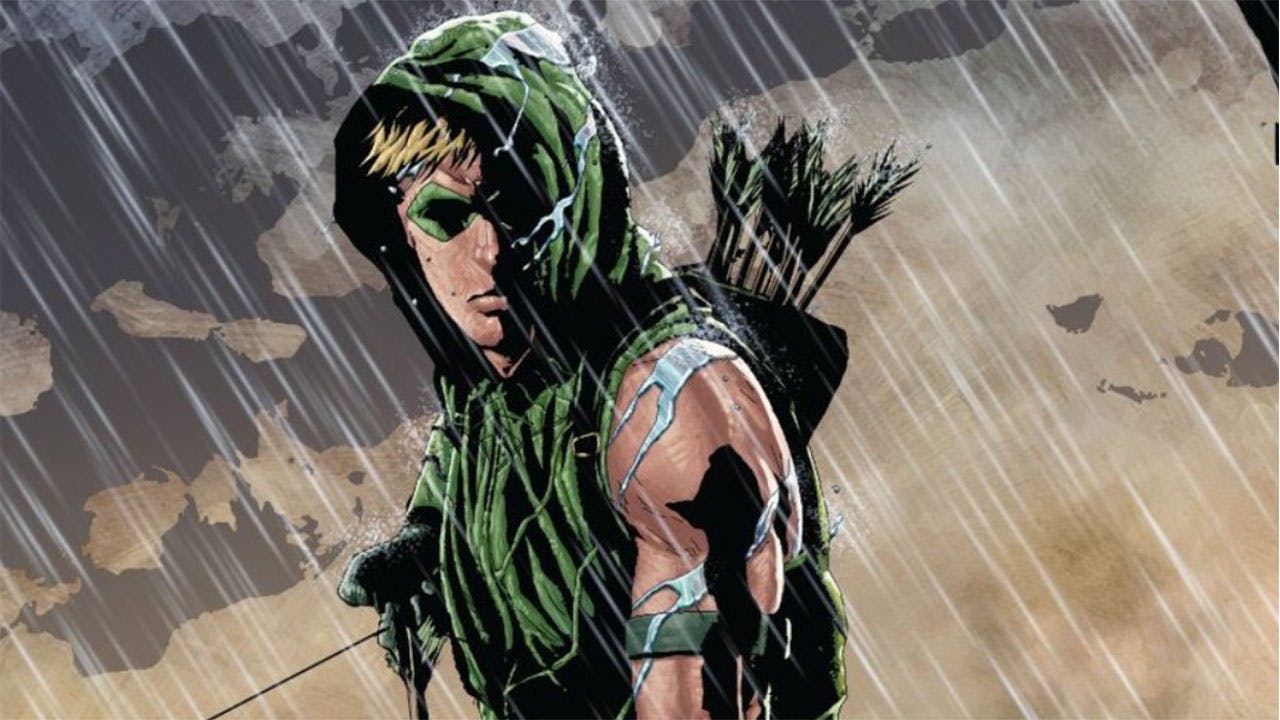 The DC Universe Book Club is celebrating an anniversary as well this week, and they're reading Jeff Lemire's inaugural run on 'Green Arrow' to celebrate. If you're still filled with THOUGHTS and FEELINGS about the 'Titans' season premiere, be sure to share them in the reaction thread. We're hoping for a whole season of Hawk dunking on Jason Todd. Plus, @Batwing52 asks: what's a small thing in comics that ticks you off? We've gotta agree with Bats -- crime-fighting in crazy stiletto heels can't be the best way to go about it. Finally, be sure to check out a special Year One edition of Office Hours this Thursday, September 12th, at 4:30pm PST/7:30pm PST to chat with some of the hard-working folks here at DC Universe!
What are you most excited about this week on DC Universe? Let us know in our Community!