TV's 'The Big Bang Theory' made Kaley Cuoco a household name. But for her first post-'Big Bang' role, the actress is taking on an entirely different project, the adult animated comedy series 'Harley Quinn,' arriving this fall right here on DC Universe. Cuoco will voice the title role in the already much-talked-about show. When we caught up with the actress at the Television Critics Association's Summer Press Tour in LA last week, she told us what to expect from her take on the Clown Princess of Crime…
On finding Harley's voice...
Because my voice is so recognizable, we went back and did a bunch of pickups for the first few episodes. As we went through the season, my voice started getting more comfortable with the character, getting more manic and getting more crazy. I want to shout out to Dean Lorey and Charlie Adler, who had been directing me and brought me out of my... Not that I [was] in a shell, but [they] kind of brought me to this crazy, psychotic, so-much-fun Harley Quinn place. But it did take me a couple of weeks to kind of get into that. I feel that my voice is very recognizable, so I was getting a little bit nervous that the true Harley fans would... Because she's very New Jersey and New York/Chicago, and that's not me, and I knew people would know my voice right away. So I'm like, "I'm not going to try and be someone that I'm not. It's going to be my voice on crack." That's what we kind of decided early on. It's me on crack, because it's what I'm bringing to it. I'm not these other actors. That's who I am, and I think we've accomplished the Kaley Cuoco voice on crack. That's a new thing. [Laughs.]
On Harley being an icon of female empowerment...
The producers had such a vision for all these characters. It was absolute perfection. Harley's iconic. She's a badass, and she is female empowerment to a T. I mean, leaving this guy, or leaving Joker, and then falling right [back] in. It's like a real relationship. This stuff happens in real life. She's just a badass, and she always has been, and she always will be, and she dances to the beat of her own drum.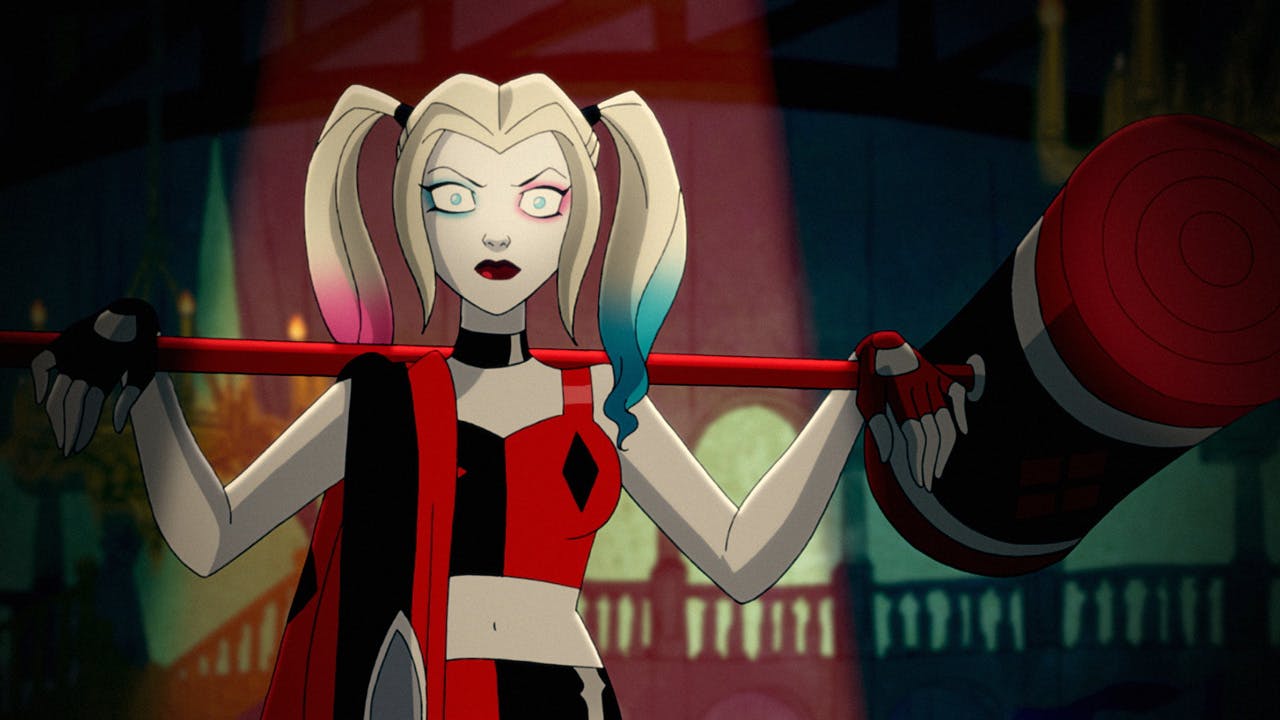 On how it feels to drop F bombs at work....
It's very freeing. I fucking love it. It has been so much fun because I have a little bit of a potty mouth myself, and it's been great to be able to just scream and cuss and fight, and be the badass that Harley Quinn is. I find that I channel a little Harley in my normal day-to-day too. I leave [work] and all these things are coming, and I'm like, "You need to calm down. You are not Harley Quinn when you are out getting a coffee. Just calm down." [Laughs.]
On what aspects of Harley drew her to the character...
Female empowerment, doing what you want. Like I said, the relationship with Joker actually seems completely realistic to probably a lot of people's relationships at moments. Not as violent, hopefully. She does what she wants to do, and even though she's a criminal, in a way, she takes care of criminals that are way worse than her.
On what Sheldon and Leonard from 'The Big Bang Theory' would think of 'Harley Quinn'...
Oh, I think they would think it was the hottest thing in the world. I'm sure they wish there's an episode written about this now at this point. Yeah, I think this is in their wet dreams, for sure. [Laughs.]
Are you excited for 'Harley Quinn'? Let us know in our Community!