If you've been waiting to see the titular team of DC Universe's Titans united in full force then you'll be extremely happy with the show's fifth episode, "Together" (watch it here), which is focused on the burgeoning band as they find their footing and face down the terrifying Nuclear Family. When we last left our Titans they'd just found their fourth member in young Gar who'd been living with the Doom Patrol. Now, after trading in Bruce Wayne's vintage Porsche for a minivan, the crew is on their way. 
WARNING: The following recap contains SPOILERS!
"Together" is all about family, whether chosen, adoptive, blood, or creepy brainwashed assassins. It's quickly established that the Titans are just a skewed mirror image of the Nuclear Family. Kory is mother, Dick is father, and Gar and Rachel are their children. But where the Nuclear Family were created to kill, the Titans have been forged out of a need to protect each other. We even get a look at how the Nuclear Family was created and it looks pretty reminiscent of the hallucinogens utilized by another famous DC villain, the Scarecrow.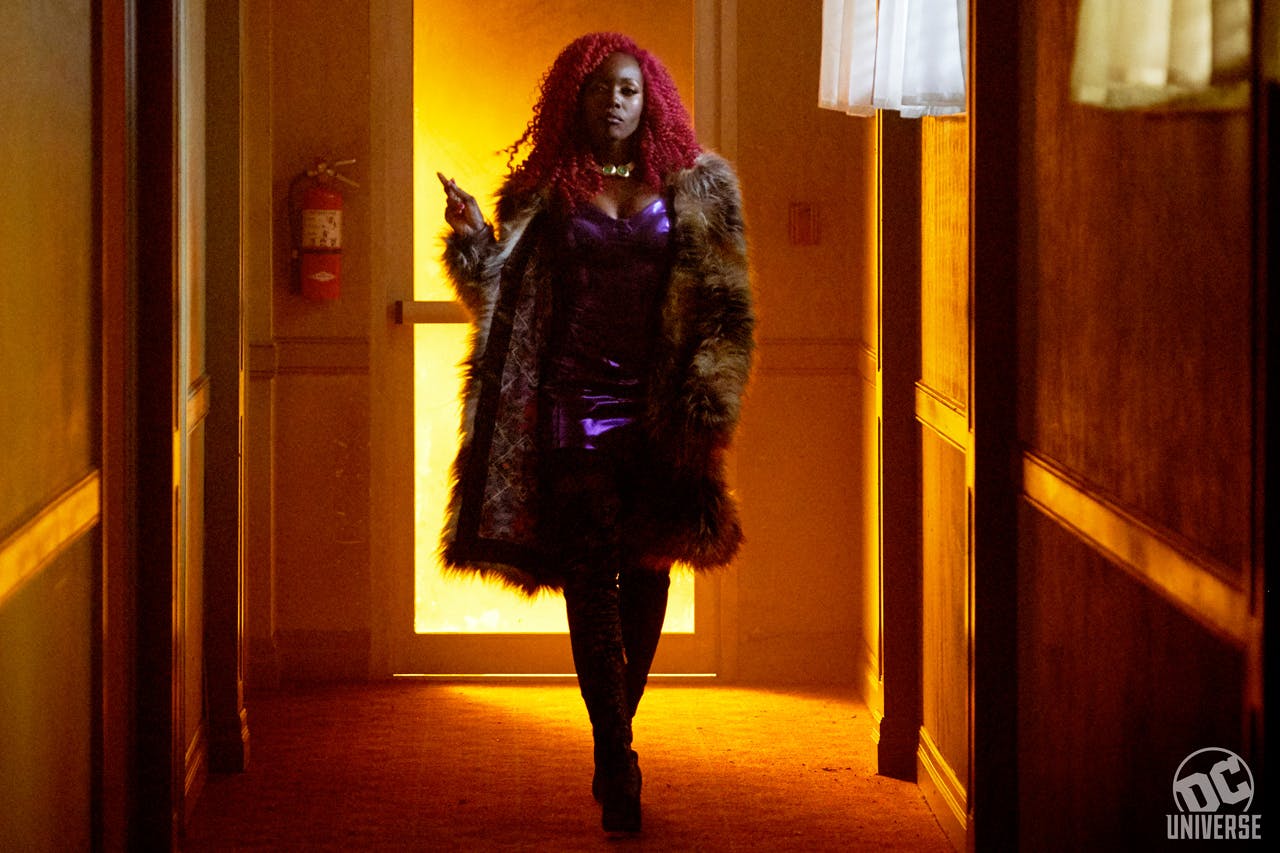 As we get into the meat of the story, the Titans converge at a small motel ready to fight. To do so, Dick decides they need to test their skills and learn to work together. In a gaping old farmhouse, the group shows what they can do--Starfire burns a hole through the side of the structure, Gar gets naked and turns into a tiger, and of course Rachel almost kills everyone by sucking them into a hell portal. Fans of Teen Titans Go! will enjoy the little running gag about Dick apparently not having anything to show. But, luckily for Robin fans, he soon gets to showcase his talents in more ways than one. 
Both Anna Diop and Brenton Thwaites really shine in this episode, as we get to see them try and work the other out, which quickly leads to a particularly steamy sex scene. It's a nice nod to the pair's relationship in the comics and hints at something growing between them. But after that brief respite, the Nuclear Family catches up with the Titans and things really get moving. Thwaites is a brilliant on-screen fighter, and the choreography in this episode is particularly great as we see Dick and Kory battle their way through a small motel against the apparently immortal Nuclear Family, complete with a brand-new father figure.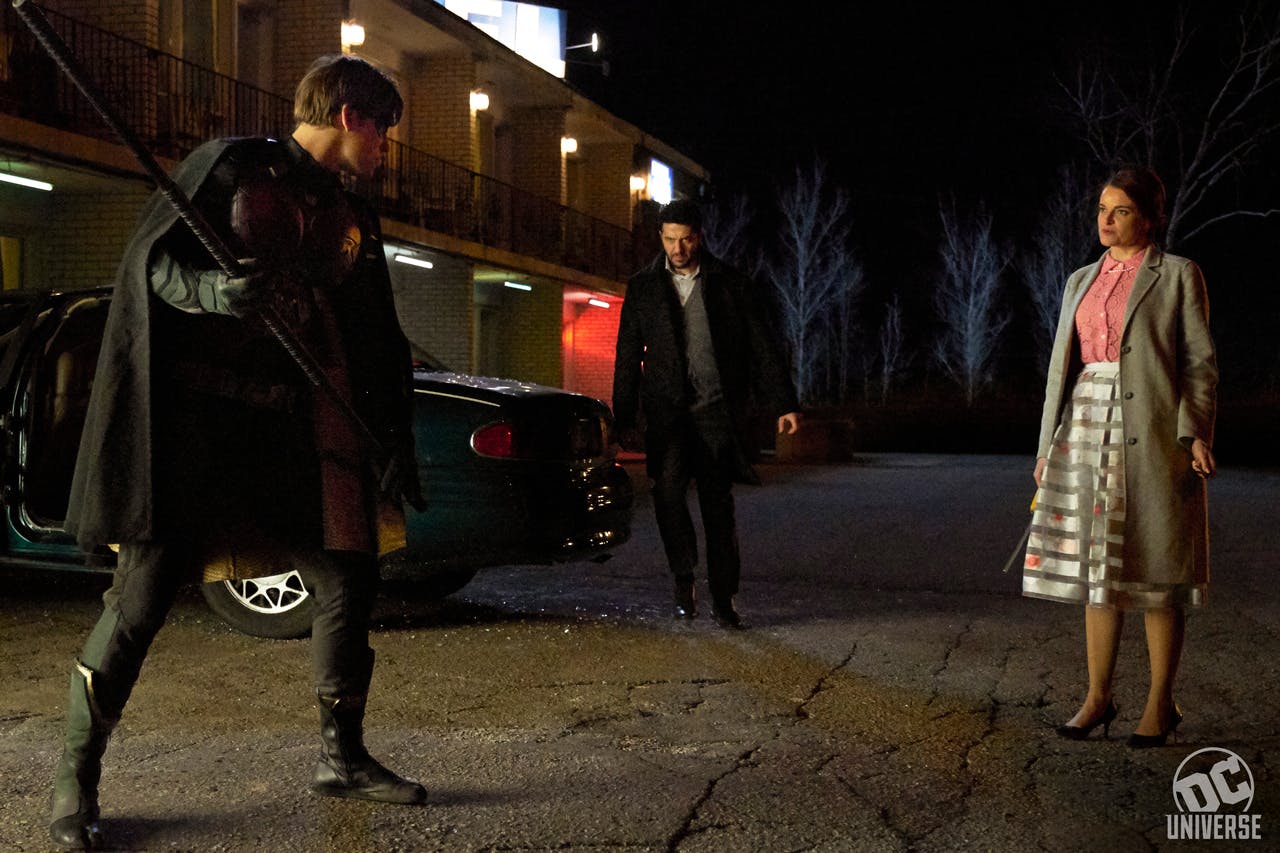 It's a fight scene that will likely have fans talking for quite a while. It first looks like things are over for our Titans, despite Kory's best badass efforts. Alas, her powers are drained and don't work as well in the dark Midwest night. Luckily, Robin appears, cape and all, jumping over the hood of a car and brutally beating the Family, allowing Rachel and Gar to harness their powers to take down the mechanically efficient unit. It's a tremendous moment as Gar and Rachel learn just who their leader is, and both of them get pretty excited about it. We also get our first glimpse of the unified team utilizing their powers, with at least one of them in comics appropriate attire. 
That's not even this episode's biggest reveal though... Dick goes off to hunt down the head honcho of the Nuclear Family. He reaches his Chicago penthouse as the family are dispatched for good, timed bombs blowing up their heads Scanners-style, giving us our only real bit of gore this time around. Robin easily makes his way upstairs to Dr. Adamson, desperate for answers. Unfortunately for him, the villain sends in the cavalry and a fleet of killers in S.W.A.T. gear attack the hero. But just as things start to get tough for the original Boy Wonder, we see a recognizable smoke canister roll in and the new Robin reveals himself to the audience...and to a baffled Dick Grayson. This is a perfect tease, as we know the next episode will be named after one of the most well-known and tragic sidekicks to ever grace the pages of DC Comics: "Jason Todd."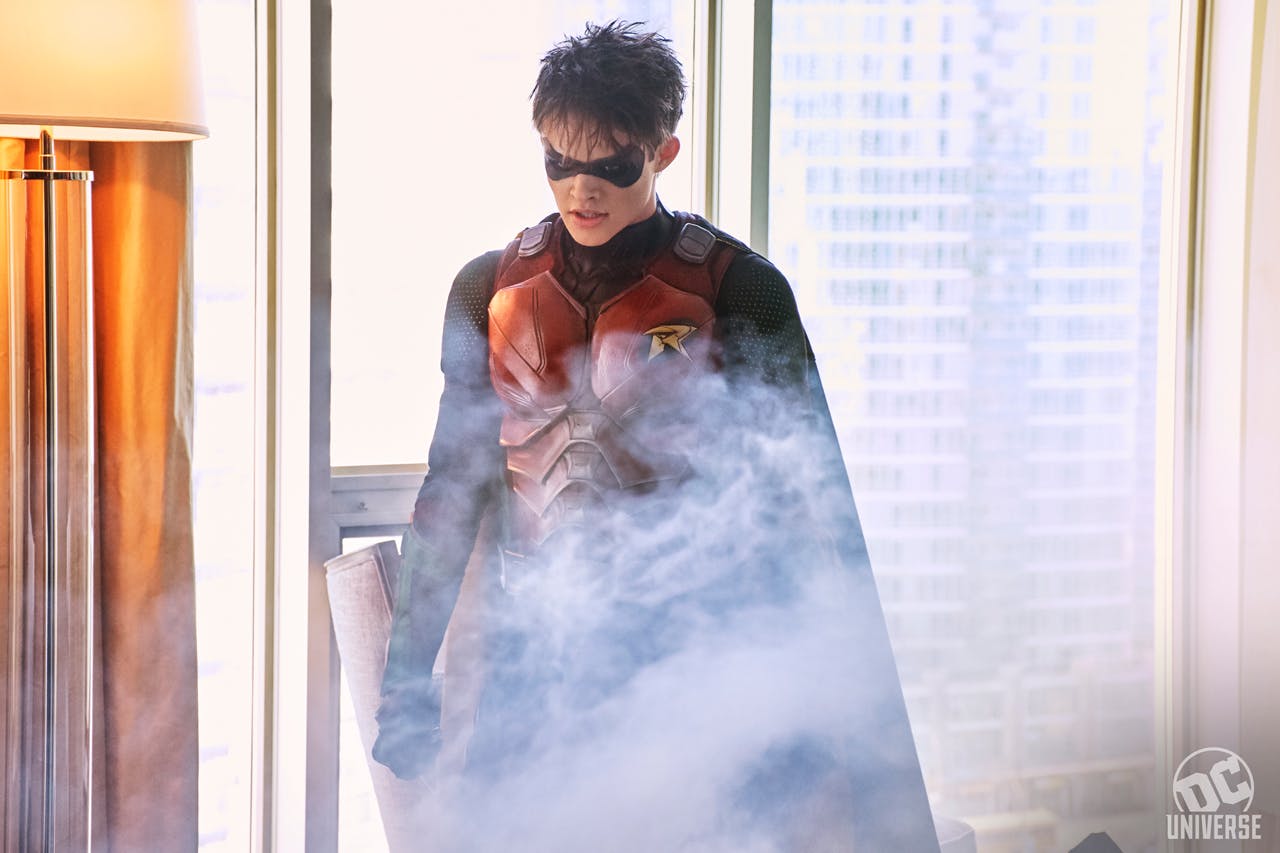 What did you think of "Together"? Let us know in our Community!