The first episode of DC Universe's Titans quickly established the show as a realistic, dark, and shockingly violent reimagining of the classic team of young heroes. A horror-soaked third act introduced fans to the true nature of Rachel, A.K.A. Raven, and gave context to the often brutal tone. If one of our characters is a literal portal to hell, then it only makes sense that the series delves into the dark side. Whilst the premiere introduced us to the core members of the Titans team, episode 2, "Hawk and Dove", broadens the landscape, introducing us to two deeper-cut costumed characters, who have a history with Dick Grayson.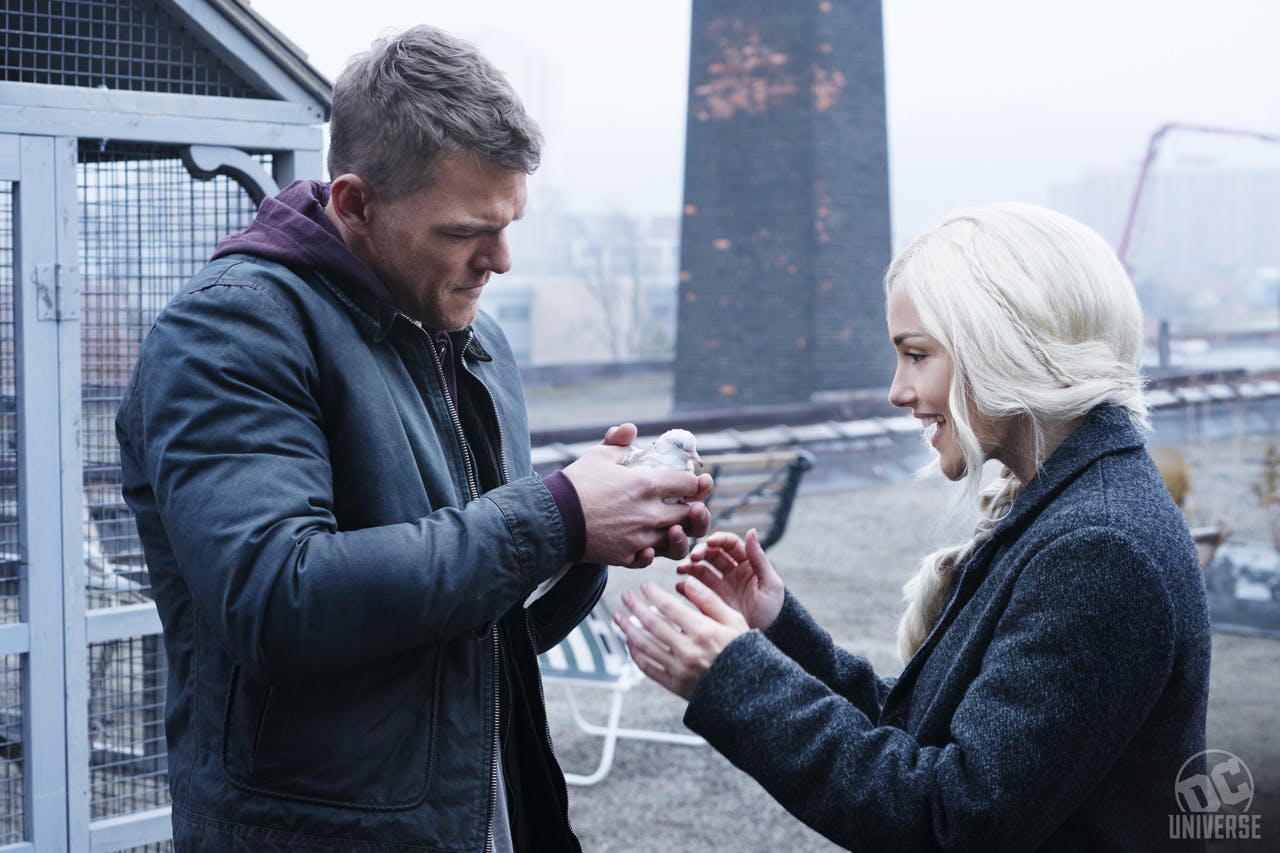 Hawk and Dove first appeared in Showcase #75 (written by Steve Ditko and Steve Skeates and penciled by Ditko), as a pair of twin brothers who represented both sides of the '60s war narrative. Hawk was named for the war hawks and Dove for the pacifists; and in their original guise they represented those political ideals. The versions we meet in Titans, however, are based on a later iteration of the duo, Hank and Dawn, who first appeared as a team in 1998's Hawk & Dove #1, written by Barbara and Karl Kesel and penciled by Rob Liefeld. In fact, fans of the '80s comics will be very happy to see how well Liefeld's costumes come to life on screen. Here Hank and Dawn are a couple, Hank ravaged by the years of crime fighting and Dawn haunted by what could have been. Both are planning on leaving the vigilante game after one last job... and we know how that always turns out.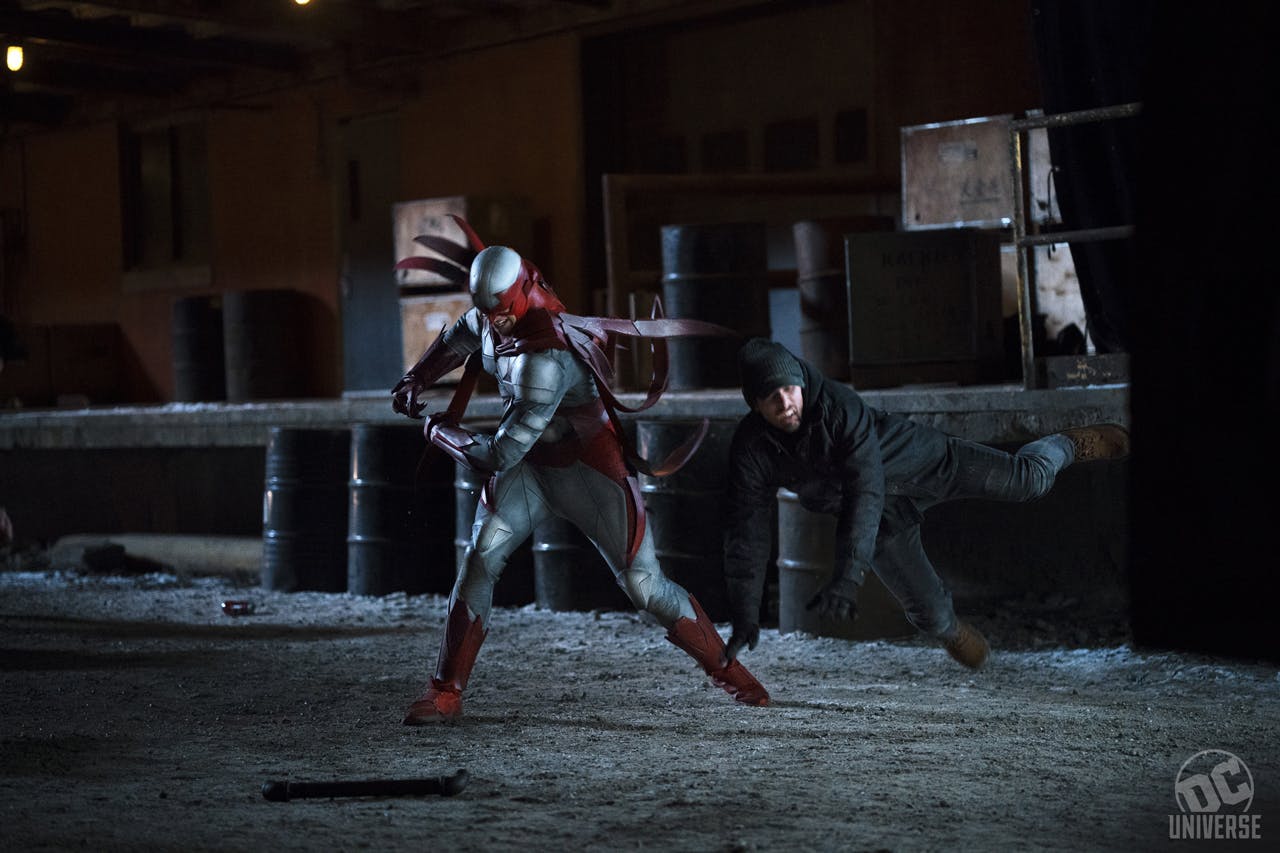 At its heart, the narrative of Teen Titans has always been about chosen families, creating safety and finding friendship in the hardest of times. During this episode we get a glimpse of a past in which Dick, Hank, and Dawn fought alongside each other, and a hint of how back then the romance wasn't between the latter two. Dick left--as seems to be his way in Titans—abandoning the pair when they needed him most, and leaving Hank and Dawn to rebuild their lives without him. With Hank's body ravaged, and Dawn eager to leave the violence of their past behind, Dick turns up at their door dragging the trio's history with him, but also offering hope for a desperate Dawn.
The focus on the new heroes means we don't see episode a's standout character, Anna Diop's Starfire. Her absence is a shame, but it does give us new insight into Brenton Thwaites' disenchanted sidekick turned "psycho." Dick's unusual upbringing has made it hard for him to connect with people and to commit to sticking around; and that becomes particularly resonant in this episode as Dick struggles with the new role of surrogate father that's been thrust upon him by Rachel.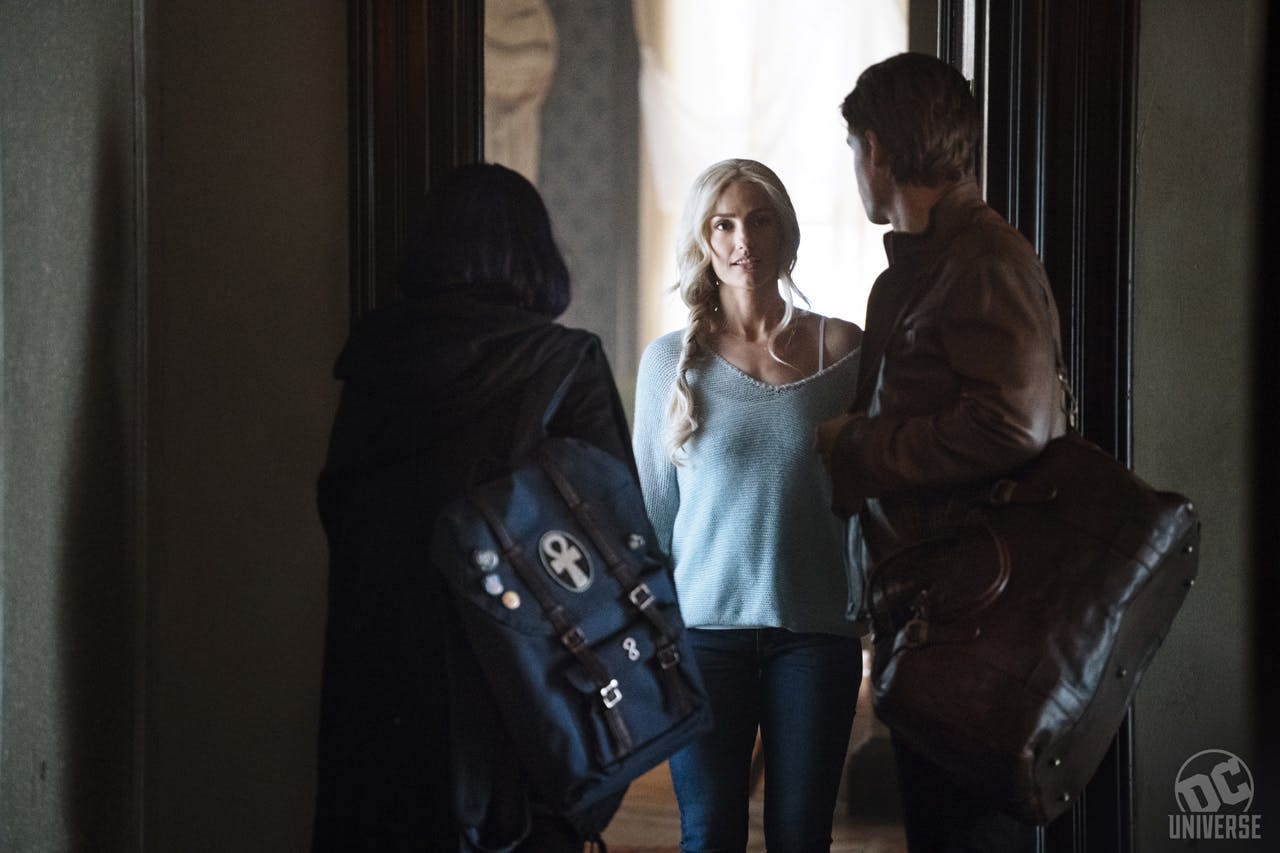 Not only does "Hawn and Dove" give us new heroes but also new villains, as Titans introduces us to the Nuclear Family, a terrifying unit sent after Rachel and Dick. A family of apparent assassins, the group is "activated" by a mysterious man in a suit and sent after our young heroine, and they're not afraid of hurting anyone who gets in their way. They power themselves and their children by injecting a mysterious substance, and the whole thing is utterly chilling. It's a different route from your usual super-villain, and the fact that the family is after Rachel makes us think they're likely connected to the doomsday cult which is obsessed with her and the potential of her vast dark powers.
As the family gets closer, Dick and Rachel face their own demons. With Rachel finding a letter that her new companion has written to Hank and Dawn, asking them to look after his new ward, accompanied by a bundle of cash. As she makes this hard discovery, Dick rescues Hank and Dawn, brutally assaulting the gun runners they've failed to stop. Though the pair is thankful for his intervention, they're horrified by the viciousness of his attack, letting us know that the Boy Wonder has changed even more than we might've thought.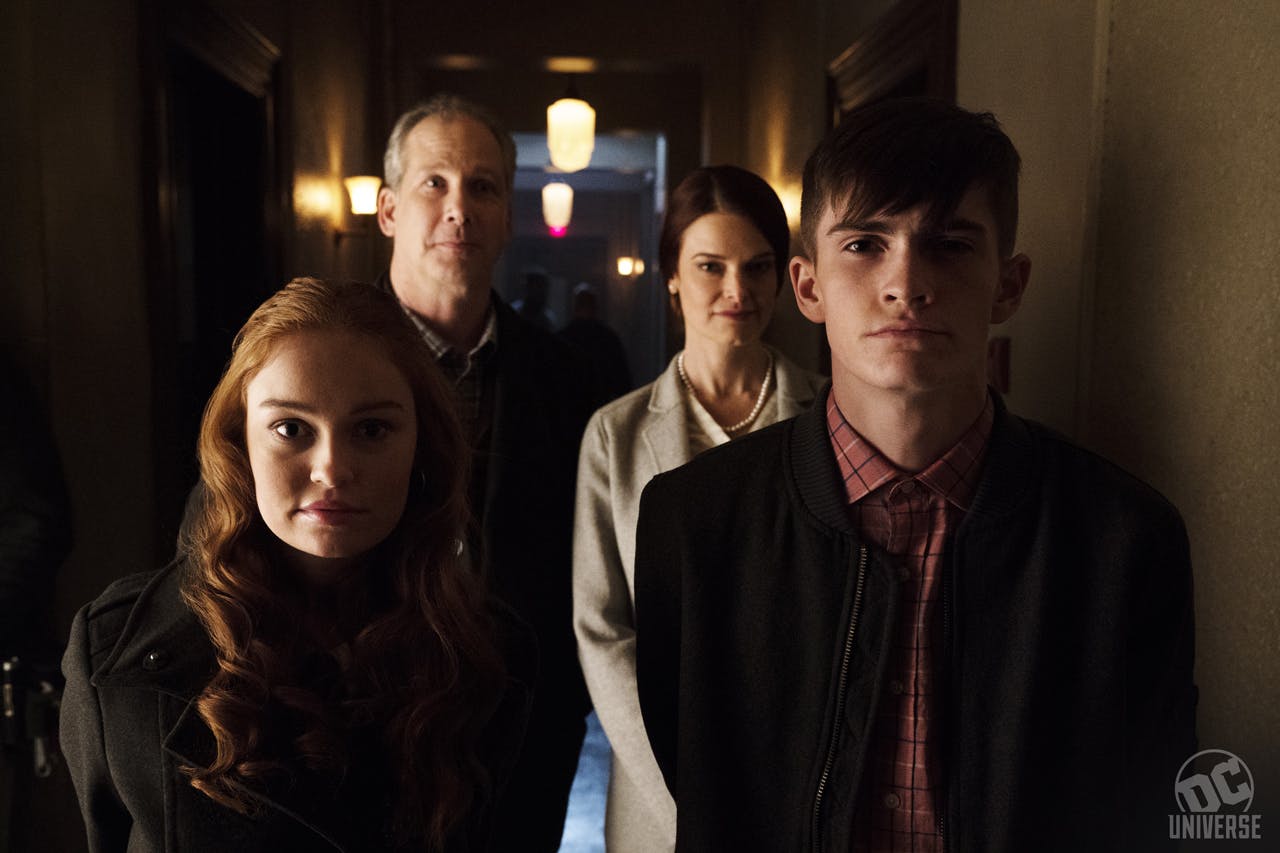 As is so often the way, it's the people that Dick turns to for help who end up getting hurt—which is part of the reason he pushes people away. When the family catches up with the crew, things get bleak for Hawk and Dove. During a rooftop showdown in which Rachel reveals Dick's plans to Dawn and Hank, the group is attacked by the Nuclear Family. Dawn's thrown off of the roof and Rachel is abducted by the creepy newcomers. Things aren't looking good for our heroes, but perhaps the return of Starfire and the full introduction of Beast Boy in the next episode will save them? Will the Titans finally come together? Find out right here on DC Universe!
Are you a Titans fan? Discuss the latest episode in our Community.