What sets Kara Zor-El apart from her cousin Kal? Her youth? Her disposition? The fact that she had a whole life on Krypton before it was destroyed as opposed to losing it as a newborn, so that only she can truly comprehend the magnitude of the world which was lost; an existential horror she'll be forced to cope with for the rest of her life on a new planet she'll never quite completely be able to call her own? No, silly: it's the WARDROBE! In the long, 13 year journey between her first appearance and her first solo comic, Supergirl went through some big changes in figuring out her place in the world- changes which manifested in frequent costume changes. Today, we're here to pass judgment on each of these outfits, before delivering her verdict on the one she ultimately decided to wear with her own name on the spinner racks.
1959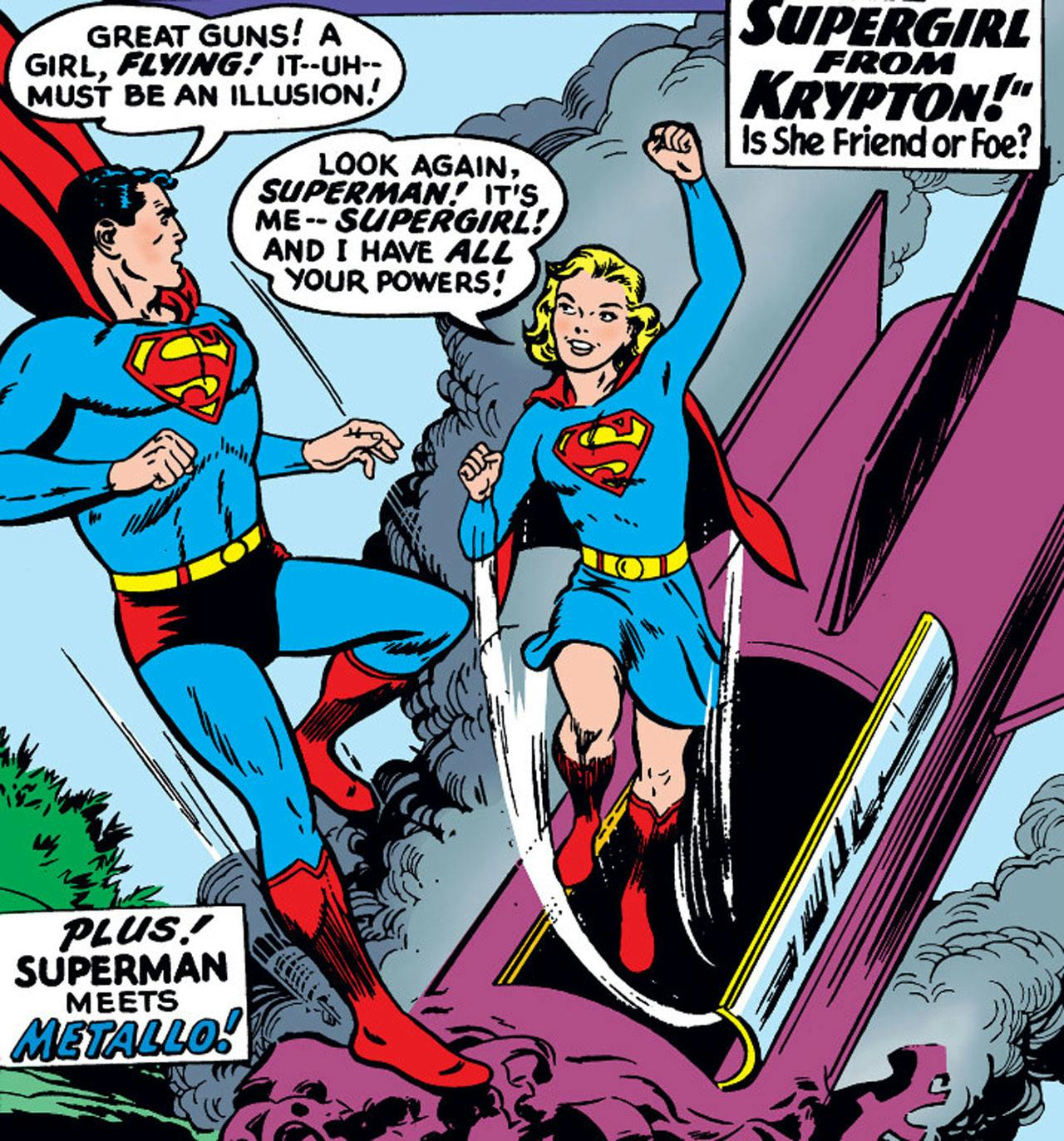 We're giving the original a not-too-bad score of 8/10. There's nothing wrong with it, it's just very "what if we just took a dress and stuck Superman stuff on it?" It's mainly that blue skirt holding it back as an all-timer -- we're lacking just a little bit in the color balance department here.
1960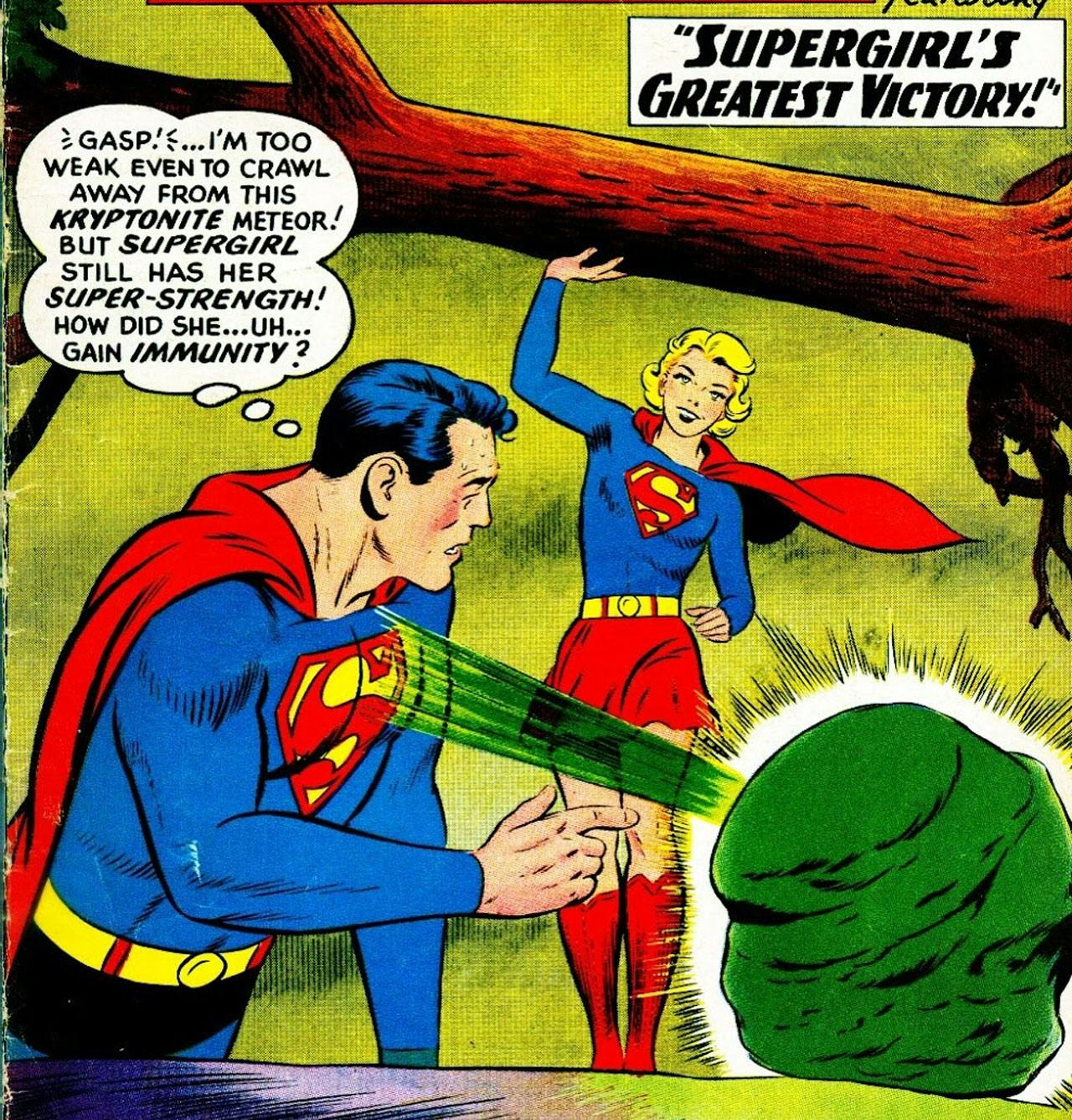 ACTION COMICS #262
THERE we go! A simple change to the skirt and we've got ourselves a perfect 10 of a costume. While it might have just been a coloring error- Supergirl would switch back to her blue skirt just a couple issues later- ACTION #262 gives us a model for what the classic Supergirl outfit will look like for generations to come. Honestly, this is one of those cases where they just really got the right look out of the gate. The color balance is perfect, and it's distinctive without overcomplication. But, as Supergirl starts to get her own stories in ADVENTURE COMICS, overcomplication is exactly where we're headed.
1970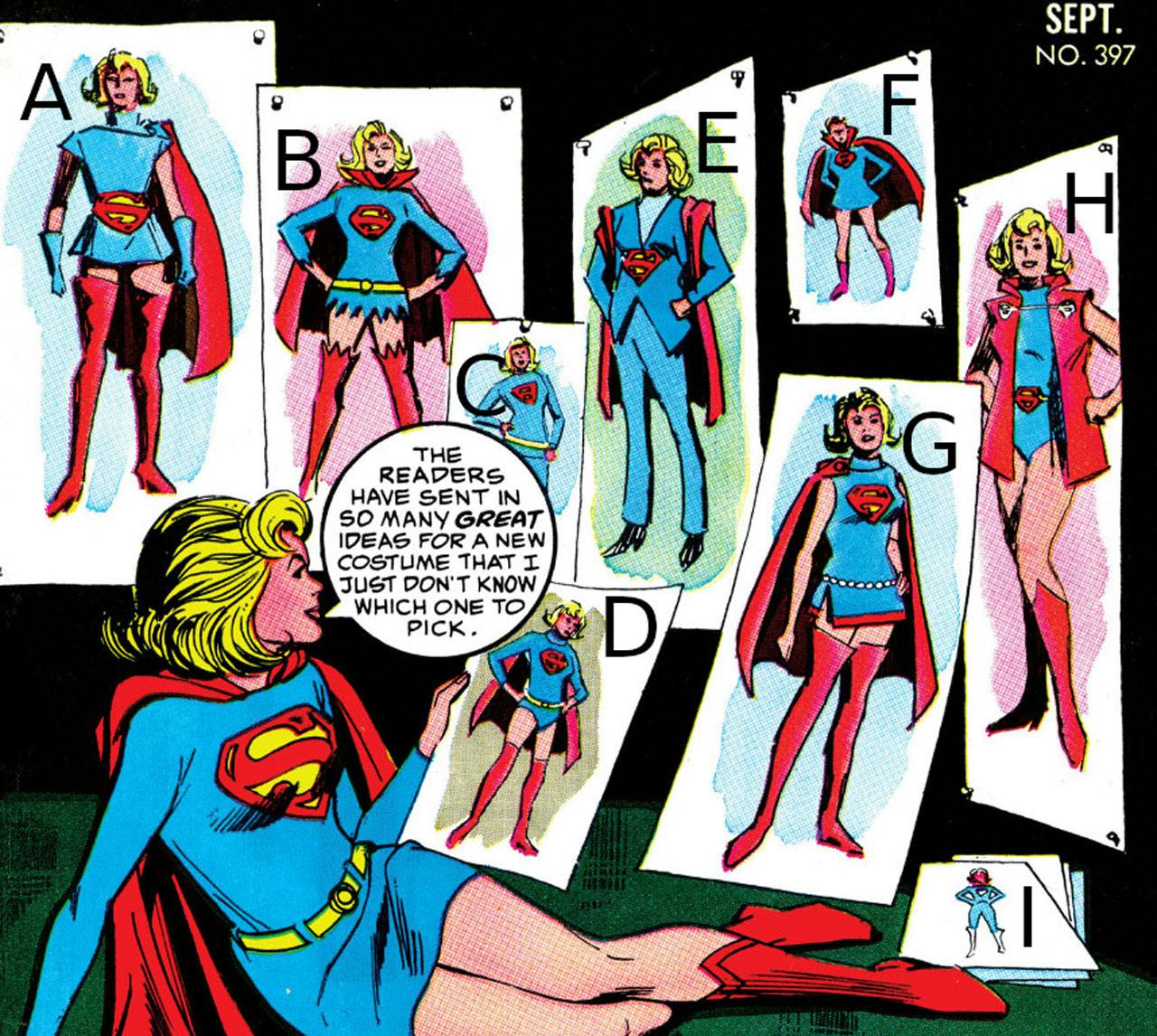 Hoo boy. Here we go. Okay! So! We have nine outfits on this cover! (Ten if you count the real Supergirl, but this is just Outfit #1 again, and requires no re-ranking.) Let's do this. From left to right and top to bottom:
A. 7/10. Very Golden Age. This seriously looks like a throwback to the early Superman comics, and we sort of love that. Still, it gets docked points for already seeming dated in the 70s.
B. 6/10. The spikes just do not work.
C. 7/10. Starting to get a bit self-conscious about the fact that these are all outfits designed by real, actual, non-professional fans. Hopefully they're not seeing this. Look, it's not bad, but it's just kind of okay. It's the same "put Superman flair on a dress" problem as the original, except without the cape.
D. 7/10. The briefs are a decent tribute to Superman's outfit, but we don't know that they're an improvement over the skirt, really.
E. As a Supergirl outfit, this is 5/10. As a POWER GIRL outfit, Though? Perfect 10. Honestly love the Eighties Power Suit Business Woman look here. We could see Karen showing up to a Starr Industries board meeting rocking basically this outfit.
F. 6/10. This is just the original costume without the belt!
G. 7/10. You know, it's not bad, and the segmented skirt with the red trim is cute, but it's missing just a little something extra.
H. As an outfit, 8/10. As a Supergirl outfit, 6/10. It's not bad, but it's just not very... Kara. Could've looked good on the Nineties "Matrix Supergirl," though.
I. Disqualified for being way too small to make out.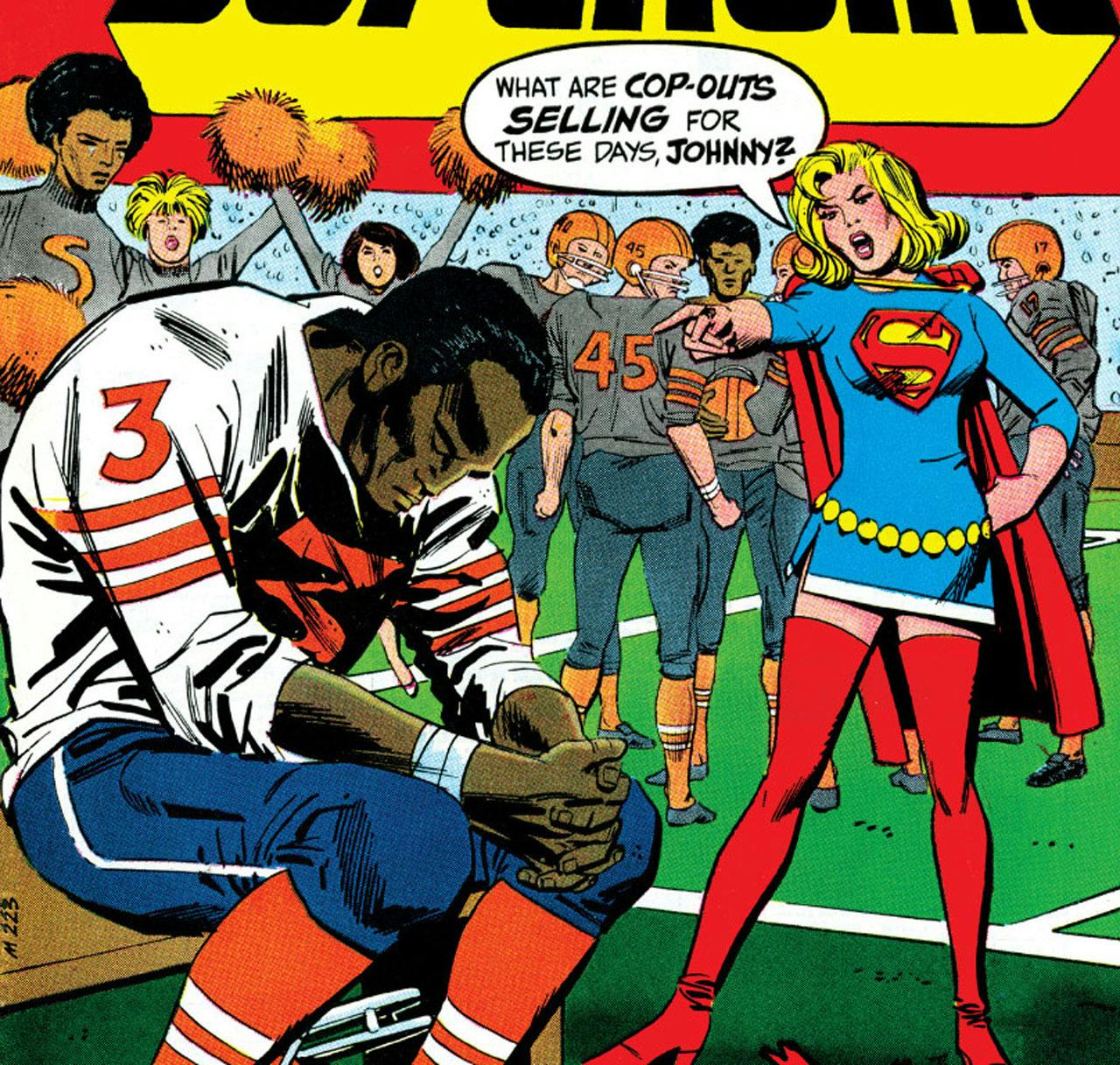 9/10! Our winner from the previous fan-submitted costume showcase, with some smart professional modifications, is ADVENTURE COMICS #377's Costume G! We're not entirely sure why Supergirl is yelling at this football player, but the fancier belt and white trim on this skirt add a lot of visual interest. (We're really into the three-quarter sleeves, too.) 
But, for some reason, despite Supergirl's perfectly fine costume choice for the seventies here, Kara then entered an infamous wardrobe crisis period where she started changing up her look almost every issue. Here are the… ahem… highlights.
1971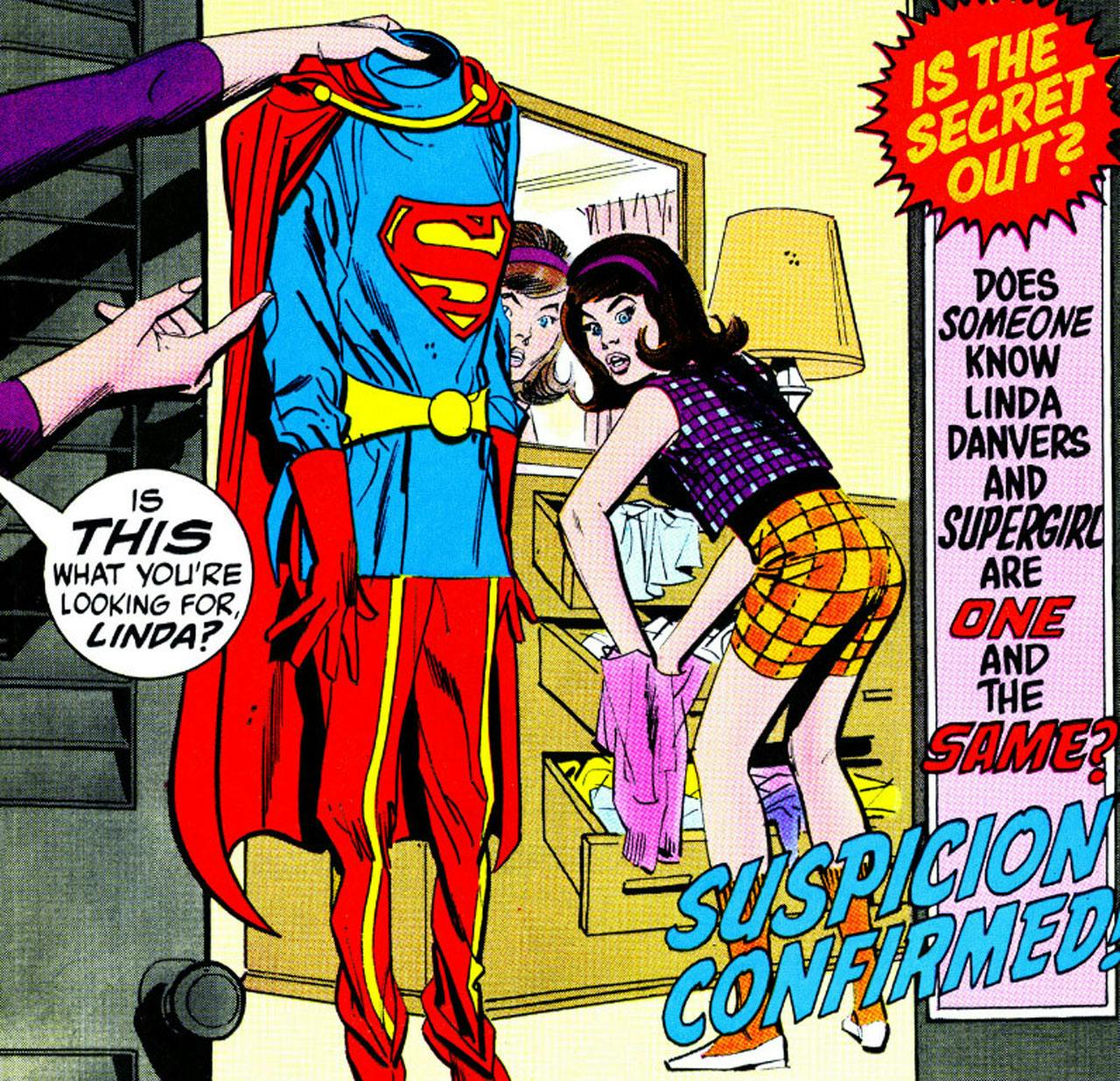 5/10.  "I need to have Supergirl's outfit shown here," the artist thought to himself, "But her boots are a separate piece from the rest of her outfit! I'll have to attach them in some way to make this work!" Seriously, those leggings are horrendous, and the gloves don't work. We dig that cape clasp, though.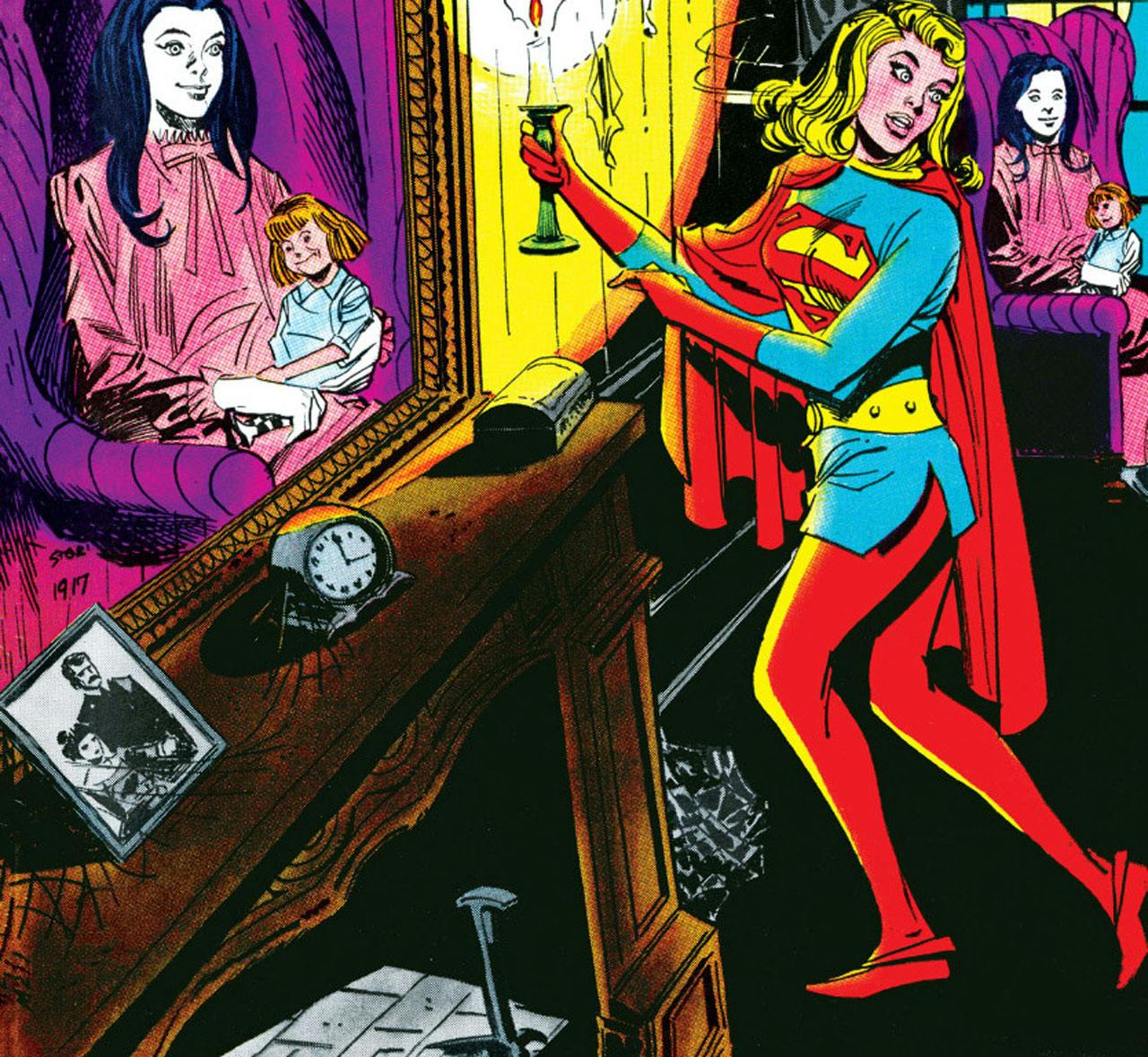 4/10. Those leggings are… not doing Kara favors, but it's the little pixie boots at the bottom in the exact same color that really kill it. Back to the drawing board!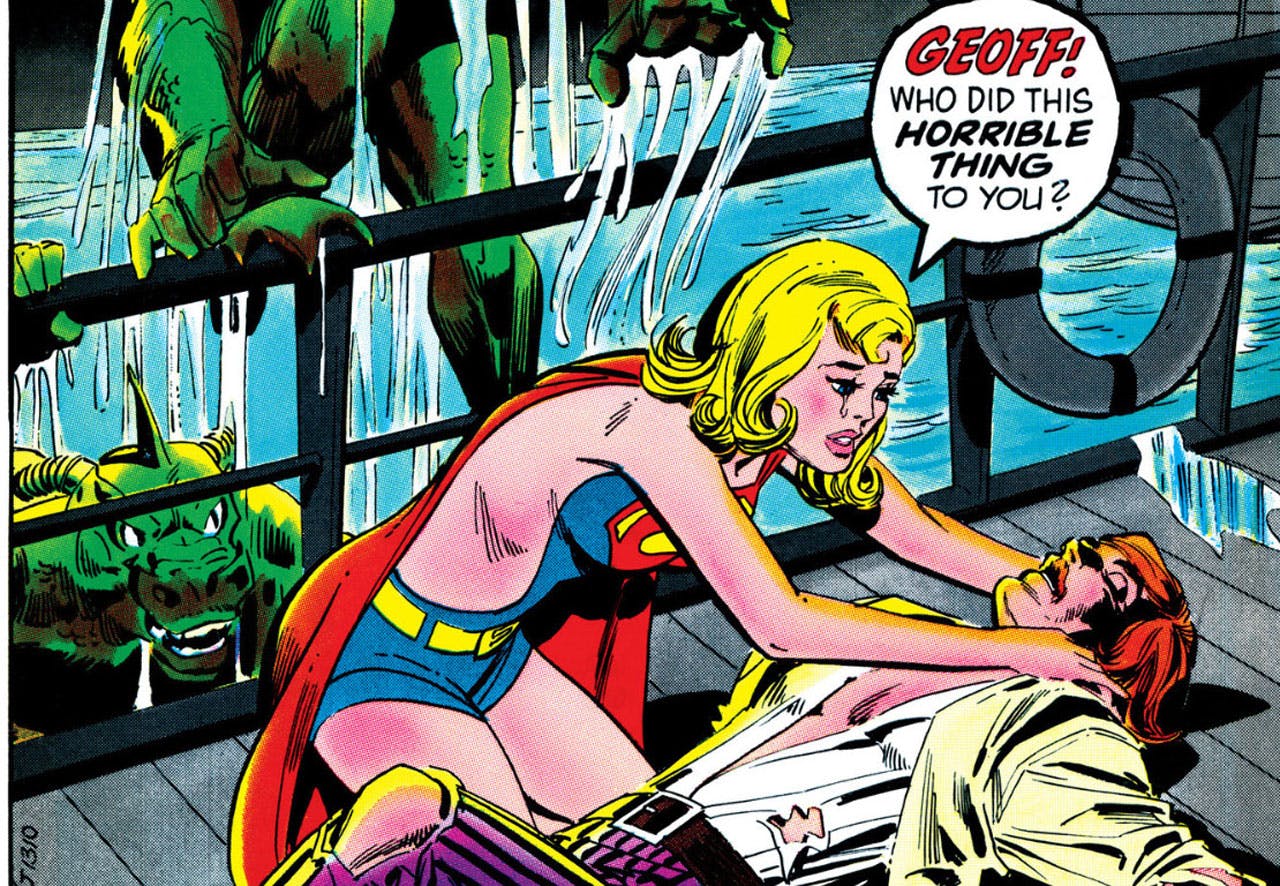 ZERO. YOU GO BACK UP TO YOUR ROOM AND CHANGE THIS INSTANT, YOUNG LADY.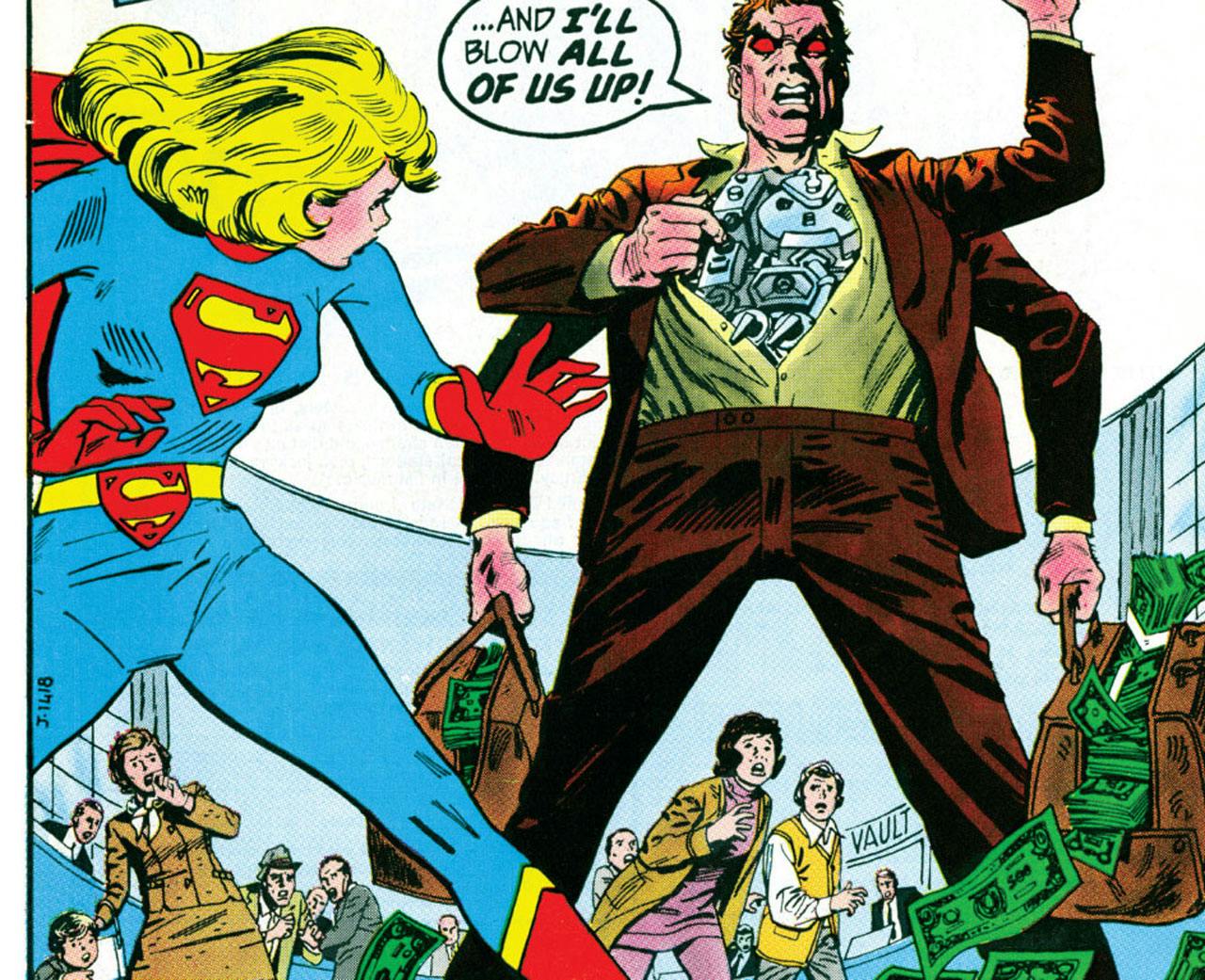 7/10. I believe this the first time we've seen that nice gold trim on the boots, and it's a welcome addition. The gloves here actually also balance really nicely. We don't know about the bodysuit, though. The double-S-shields just kind of don't work, and it's a bit generic outside of that.
1972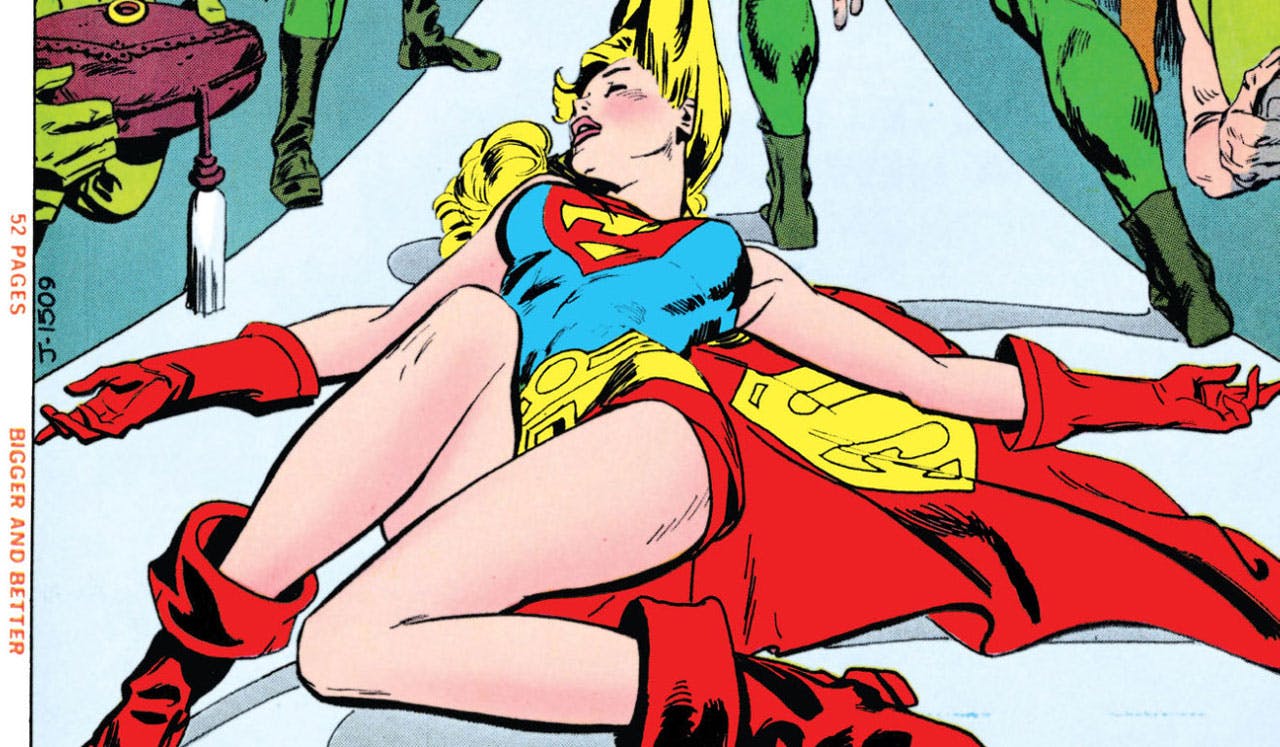 6/10. Pretty close to the all-time classic, and yet… the belt is just taking up way too much real estate here. Also, not sure about the pirate boots.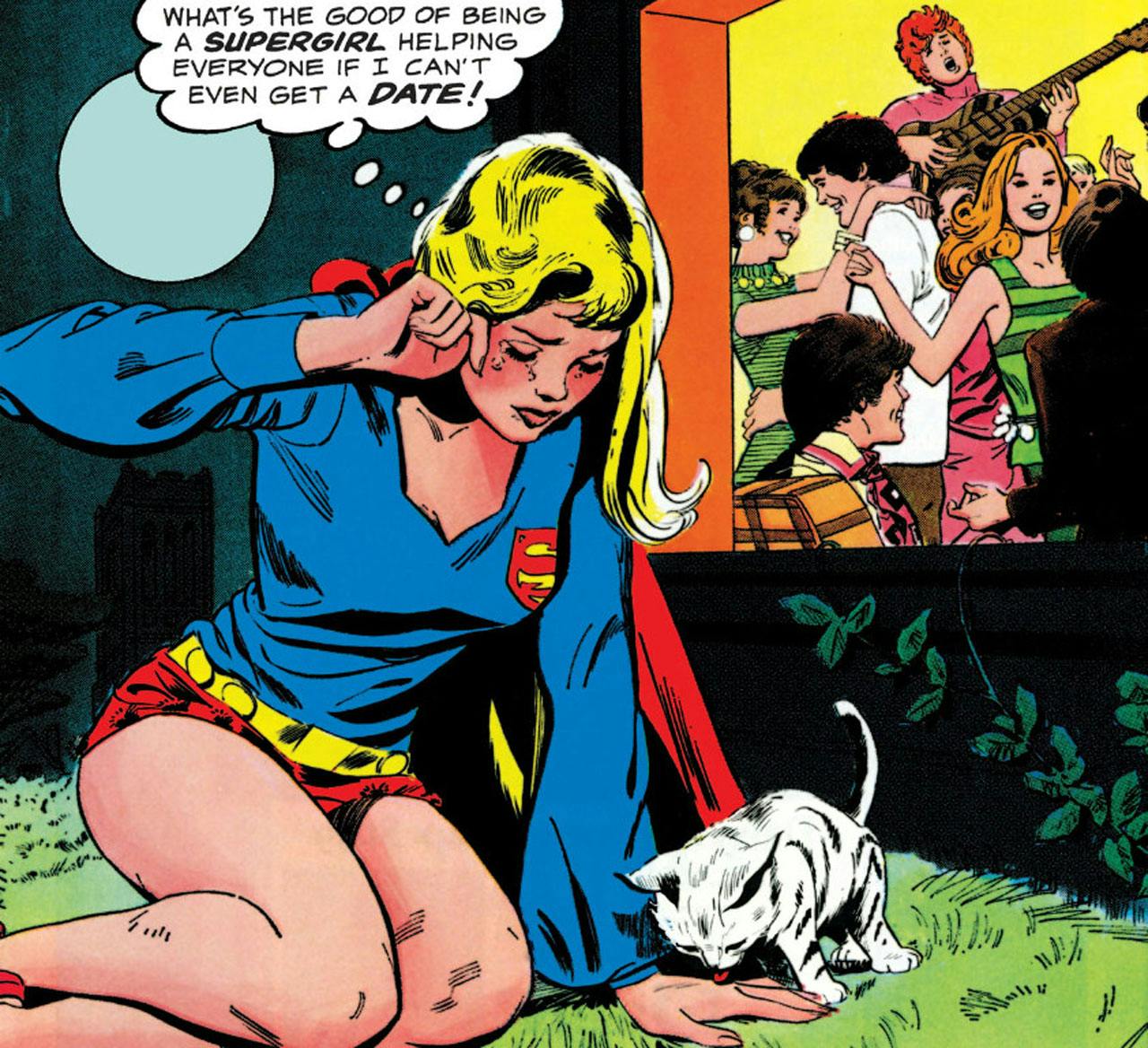 7/10. Finally, we come to the end Supergirl's fashion frenzy, settling into what will be her definitive 70s costume. And it's… fine, we guess. The sleeves are good, but it just feels like the S-shield should occupy, you know, actual real estate? This isn't Gotham Academy; we need more than a little lapel logo here. (The adorable kitten, however, can stay.) [Editor-in-Chief's note: This remains for me, and for most children of the '70s, the definitive Supergirl costume. It's charming, distinct, smart, cool, and casual. Just like the Girl of Steel herself.]
Do you have a favorite Supergirl look? Let us know in our Community!