Alan Tudyk is a face and voice known to millions of sci-fi and fantasy fans all over the world, whether as the security droid K-2SO in Rogue One, pilot Hoban 'Wash' Washburne in Firefly, or the voice of the weaselly Duke of Weselton in Frozen. He's also lent his voice to such DC characters as Superman in Justice League: War, Psimon in Young Justice, and The Joker is DC Universe's upcoming Harley Quinn animated series. He can currently be seen in DC Universe's Doom Patrol as the villainous Mr. Nobody... DCComics.com reporter Sydney Bucksbaum recently caught up with Tudyk and found out what makes the Doom Patrol different from other super teams, the dramatic importance of road rage, and how Salvador Dali became his secret inspiration… 
On what makes the Doom Patrol different from other superhero teams...
The "superheroes" are messed up. They're very likable but they're odd.  The idea of Robotman to me is one that sticks out the most, the fact that he's the brain of a race car driver inside of a robot. Now, the robot doesn't race cars. It's not like we needed the brain of a racecar driver inside this robot to race cars better than anyone. No, he's just alive, and the extraordinary thing is that he's alive inside of a robot. Plus, he's got that great relationship with Crazy Jane. She's incredible because she's got all those personalities and they all have their own super powers, which is an idea that's fantastic. My character, Mr. Nobody, he's got so much power but he's an absurd individual. He loves the absurdity of existence and inflicting absurdity on people. It's a world where, in the comics, there's these "watchers" that are just like kite people made of dead skin. It's crazy... There's a roach that's a born-again Christian! I'm looking forward to people seeing [more of] this world that can fit so much insanity inside of it and have it make sense.
On the secret influence of Salvador Dali on his performance…
In the comic books, Mr. Nobody creates the Brotherhood of Dada. We don't do that. So I just studied the dada art movement, Salvador Dali, and all the people behind him. They were always trying to push the idea of what is possible and what's outside the norm. Even just watching Salvador Dali in interviews, his flamboyance, his eccentricities -- I can borrow from that as an actor.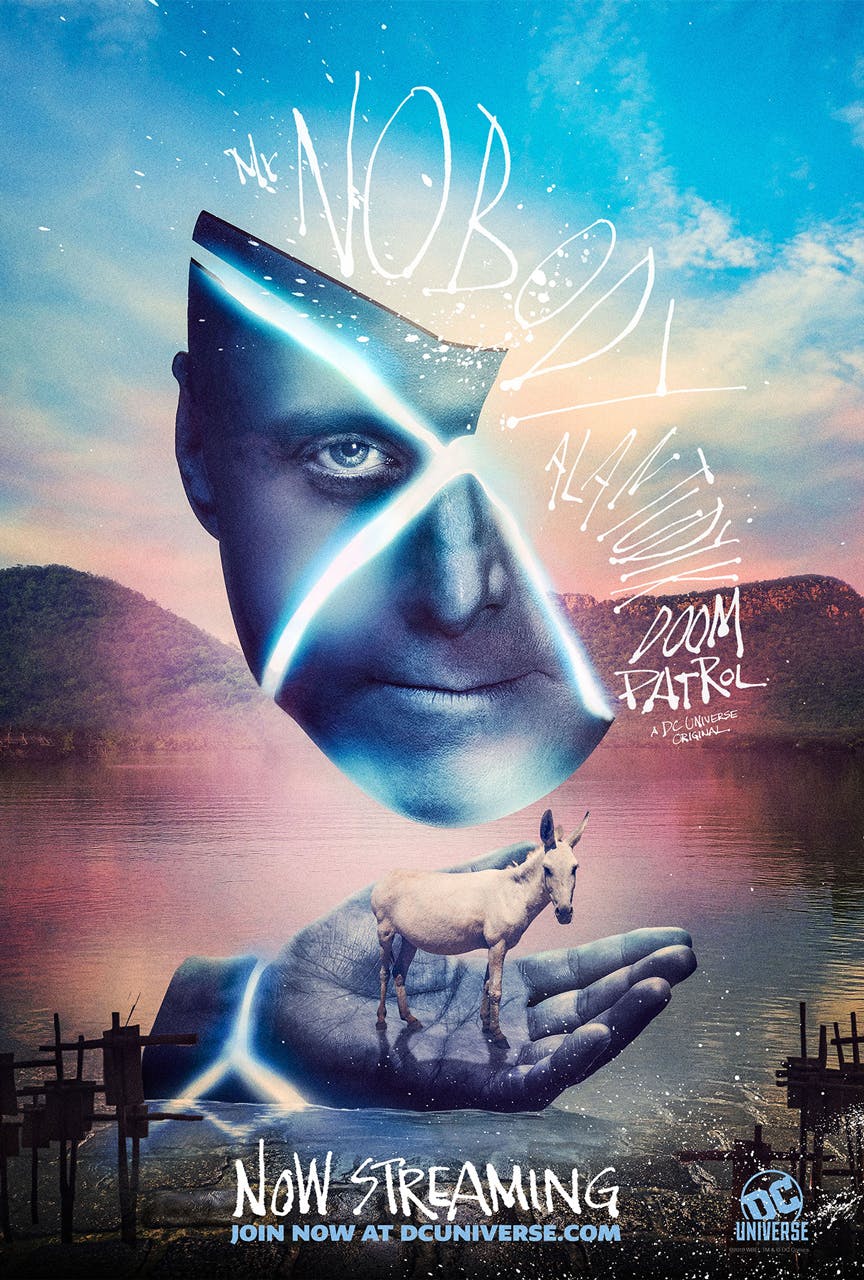 On not knowing how Mr. Nobody comes to life on screen…
I've done a couple of films where I've played a CGI character and experienced that, and I know a lot about the process that goes into it, because they were big movies. When I'm Mr. Nobody, I don't know how they do it! When I'm that fragmented version of me...they erase me except for half my face. I don't know how they do that and replace me with this weird, fragmented black-and-white being. It's bizarre. 
On playing the human side of an omnipotent god-like character…
[Mr. Nobody] is an emotional being and emotions are inherently human -- the things that drive them are pretty basic -- revenge, malice. The stuff that motivates us through every day. The stuff you feel every day on the roads of Los Angeles just driving around. It's in the relationships with people, and my main relationship is with Timothy Dalton's character. I kidnap him early on, or I'm circling him and he kind of circles me as much as he can. But I have him. He's not getting away very easy. 
On Mr. Nobody's reliability as a narrator…
He's definitely spinning it for his benefit as he mocks his enemies, the Doom Patrol. He thinks they're a bunch of morons and he'll say it to them -- "Close your mouth. You have nothing to say!" He's a reliable narrator in that … ugh, he is unreliable! You don't know! He's speaking from the way he, like any villain, plots in any story where they say, "This is what's going to happen..." Then the hero may have a different idea of what's going on. That's usually what the hero wants. But not this time, dammit! These aren't heroes...
What do you think is Mr. Negative's grand plan for the Doom Patrol? Let us know in our Community!