While TV fans might best recognize Diane Guerrero from her five seasons with Orange Is the New Black, Guerrero has recently traded the convicts of the state pen for the crazies of DC Universe's Doom Patrol. She plays the fan-favorite character Crazy Jane -- a metahuman with 64 different personalities, each of which has their own superpower. Jane's mind is explored like never before in this week's episode, "Jane Patrol", and writer Sydney Bucksbaum recently caught up with the actress for DC Universe. Here's what Guerrero had to say about how she keeps all of Jane's personas straight, which DC hero is her favorite, and how she uses the Backstreet Boys to bring Jane to life…
On how Doom Patrol embraces the grey areas of life…
Doom Patrol really just has no boundaries, which I tend to see in a lot of superhero shows, where they have clear lines of good and bad. There's black and white, [but ] there's not much gray area. That is what's wonderful about Doom Patrol -- it embraces that gray area to the max, having characters that exist just to exist, and they don't care to give you an explanation as to why they exist. It's wonderful. I think it really pushes us to think outside the box, especially when thinking about the roles that we play and what has been set out for us to do. I love that it talks about the human condition as much as superhero shows do to save lives and to restore faith in humanity and the world. This show really questions the brain and human behavior and what trauma does to a person's brain and their development. I love those questions, because I'm constantly asking myself those and I'm constantly asking the world those questions. They're not the easiest to answer. And I just love how Doom Patrol  answers and doesn't answer unapologetically. I like these heroes' reluctance to save the world. They're answering existential questions more so than dealing with your everyday "This monster blew up this building so what do we do now?" It's more questions of "Why are we here?" and "Do I matter?"
On devouring Grant Morrison to get to the heart of Jane…
I purchased all of [writer] Grant Morrison's work, I read all of those. I devoured them. I love Mr. Nobody. I studied political science and with that came a lot of philosophy. I dusted off some of my books on the human condition and I read When Rabbit Howls, which was what the Jane character is based off of, the patient study in When Rabbit Howls. That book really made me see what could happen to a person who was just trying to survive. That gave me a lot of energy because it just grounded everything in what I already felt strongly about, which was the lack of conversation or the lack of importance given on mental health and how we are often not believed when we say, "I have a severe trauma that makes me behave a certain way and because I haven't addressed this, this is how that is informing me in my behavior." I think that this is a great time to explore that with this character, and with all the other characters as well.
How the Backstreet Boys helped her keep Jane's 64 personalities straight…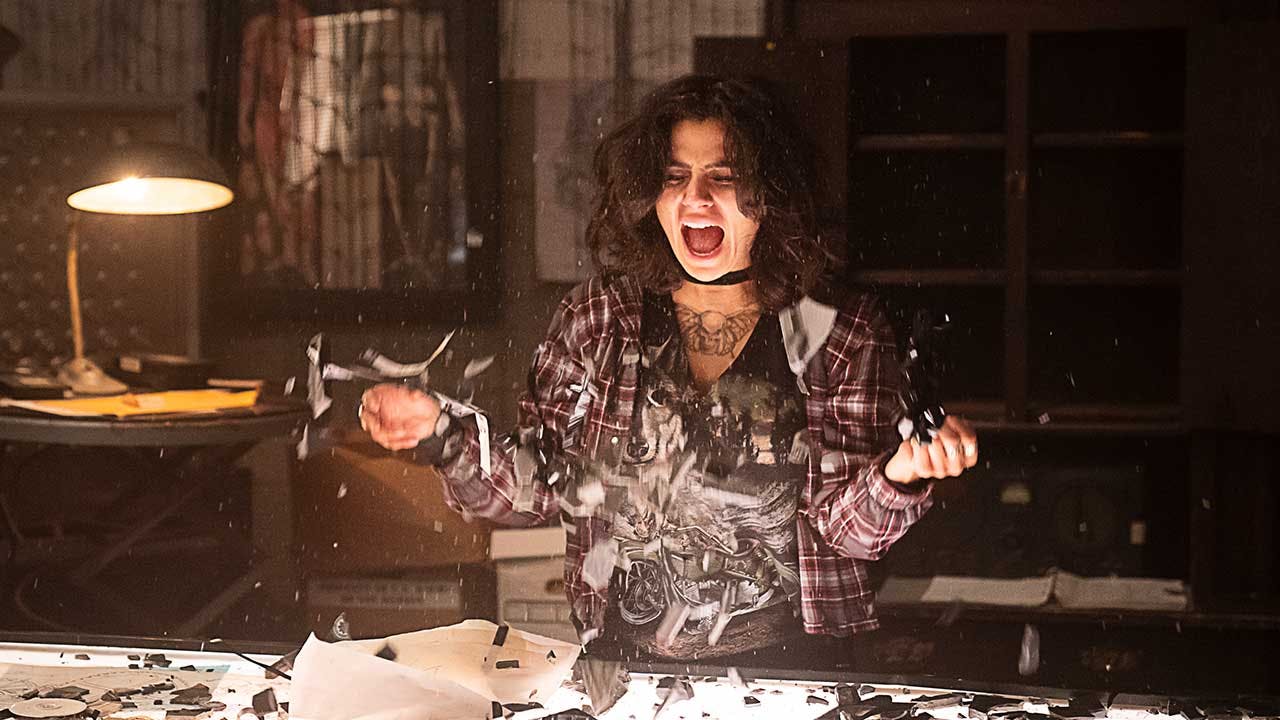 I keep a journal. Movement informs me a lot. While I was preparing for the role, one of the things my teacher [said was], "Remember where this personality leads from. Ultimately, Jane is grounded, all these personalities are grounded, in one significant event, and that is what happened to actually form all these personalities. This traumatic event that happened to Kay. We're all trying to protect that little girl and we're all grounded in that, and as long as that is real and present then there's something to reference. The personalities' main trait or why they actually would come out in place of Jane, whether it is to run away or to fight or to keep harmony or to blow something up, every one comes out when they're needed. I worked a lot on movement, and where the character or where the personality led from. For example, Hammerhead, I thought about her like a hammerhead shark. So she sees everything, her eyes are always moving, she's always sort of trying to see inside you, or what's underneath you. Music informs me a lot and each personality has their own soundtrack. It ranges from Metallica to Backstreet Boys. We all have so many different sides of us that come out [with] any particular challenge or any particular circumstance [where] we need to behave or be a certain way. This is being yourself, revealing all of your sides at all times. Some of us choose to contain that and are just one way all the time, and that can be exhausting. There's something so freeing about having all of those different personalities to access. But Jane is pretty much sick and tired of it. She's annoyed that she always has to keep these assholes at bay. Some of them are just ruthless.
On her favorite Doom Patrol member…
I love playing with Robotman. He's my favorite character. Well, [him] and Mr. Nobody. But Mr. Nobody and I haven't seen each other that much. I love his philosophy. I want to live in Dada with him, in just complete nothingness and chaos... I love playing with Robotman. There's something so heartbreaking about him. He has so much regret and had such an opportunity to be able to feel all of these things that human being feel but never took advantage of. Now as a brain stuck in a tin can, he basically has all the time in the world to feel those things and acknowledge them and let them out to to the fullest -- and he can't. That to me is tragic. To play opposite a robot who's so sentimental and emotional is both just completely wacky but also incredibly heartwarming. It's weird, because sometimes it's Brendan [Fraser] and sometimes Riley [Shanahan]. Both actors are incredibly generous. That's all you need. You don't need the same person to play that character all the time. You just need someone who's empathetic and generous at all times.
On her love for the Penguin and Wonder Woman…
I used to watch all the Batman movies. One of my favorite movies is Batman Returns, with Danny DeVito as the Penguin and Michelle Pfeiffer as Catwoman. That was one of my favorite, favorite movies [directed by] Tim Burton. It just showed us Gotham in such a wacky way, and that resonates with why I love this show so much. Because I love the set design, how just dark and interesting it is. I love Batman. I love the Penguin, he's one of my favorite characters. And then I really loved Wonder Woman. I saw Wonder Woman and I thought that I could be strong just knowing that there was a strong female lead and a strong female director. That movie gave me a lot to live for. It really did inspire me. I'm tearing up. I've always been a DC girl. Can you imagine how it's all worked out that it led me to this moment? [Laughs.]
Which one of Crazy Jane's personalities is your favorite? Let us know in our Community!