The Justice League is back, and not a moment too soon! With the Fatal Five setting their sights on Metropolis, the League is needed now more than ever -- in Justice League vs. The Fatal Five, which is now available to watch right here on DC Universe. The animated film reunites Justice League voice actors Kevin Conroy (Batman), George Newbern (Superman), and Susan Eisenberg (Wonder Woman), while adding new cast/teammates, including Elyes Gabel (Star Boy) and Daniella Bobbadilla (Miss Martian). And the League will need all the help it can get, because Emerald Empress (Sumalee Montano), Mano (Phillip Anthony-Rodriguez), and the rest of the Fatal Five have deadly plans for our heroes! We recently had a chance to sit down with the film's cast. Here's what they had to say….
On the return of the classic Trinity...
Conroy: "I think these characters are so familiar to us that it is like putting on a familiar suit. We all know these characters so well. The trick is keeping them fresh. Keeping it alive. Keeping it new."
Eisenberg: "And keeping the gig! We don't have control over that. So when that phone rings and they say, 'We want you for this project', and then you get to play with these guys again... Very few jobs are this gratifying. I get to see these guys and I get to play this extraordinary woman. It's amazing. It's wonderful."
Newbern: "Aside from a regular job, it's nice to have been associated with such an iconic franchise. My children's children [can say,] 'Hey, my grandfather, he's the guy who was the voice of Superman.' There are so few [times] in Hollywood as an actor that you can say you've gotten to do an imprint on certain things. I've gotten a couple of those in different areas, and this is definitely the longest running."
On Batman's 80th anniversary...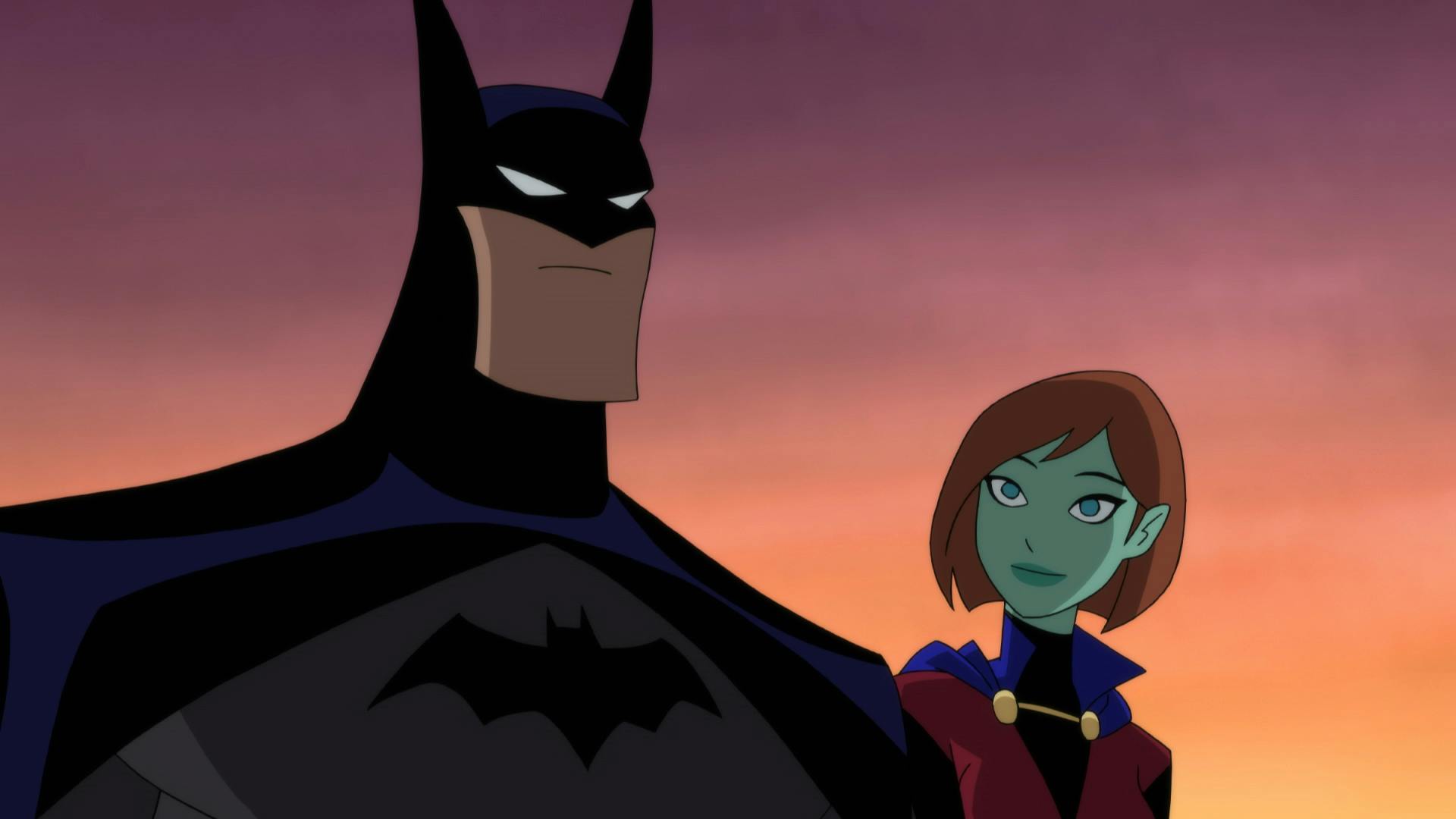 Conroy: "I'm here with these guys, how much more fun can you have?"
Eisenberg: "I picked these guys up in the invisible jet and flew them here."
Conroy: "He's such a beloved character for the audience. It's amazing the passion that people have for that character. He's extraordinary. He's such a dark, complicated, damaged man; and people relate to that. They love that about him. He doesn't let his adversity crush him. There's a nobility about it. People love that about you. So it's amazing to be associated with that character."
Eisenberg: "And in this movie you have things like mental illness and anxiety. This movie is dealing with that and it's very progressive in that way. He is a dark dude, but that's going to spread throughout the movie because Jessica Cruz is dealing with anxiety. It's an animated film and I love that they're dealing with that stuff."
Conroy: "They're very complicated characters and the writers aren't afraid to explore that. And Batman is even more of an outsider in this one because these new villains come in from the future. So he's an older outsider now."
Eisenberg: "At least 80." [Laughs.]
On the characterization of Emerald Empress...
Montano: "I am the worst kind of ruler you would ever want to have. I think this is literally the most evil character I've ever voiced. And it literally rivals the most evil character I've ever seen. When you watch this movie, you will understand why. She just conceives of things that no one in my universe has ever conceived of, in terms of how bad and how mean she can be. I was afraid watching myself."
On the Fatal Five's relationship as a team...
Montano: "I kind of feel like I'm the leader. She walks in and she just owns everything, and they just kind of follow me. I have a special relationship with Mono. That's another element to the Emerald Empress I wasn't quite expecting, because you're used to like baddies being bad. She's got a relationship and that kind of adds some dimensionality to her."
Anthony-Rodriguez: "Everyone's gonna say that they're the leader, as is typical for villains, especially villain teams -- 'No I don't think so, I'm the leader.' It's why they ultimately end up losing."
On the League's newest members...
Eisenberg: "You get these characters that we've never interacted with and actors who we've not worked with before. We're like the familiar cozy feeling that the audience will have, and then they're going to see these new characters. So it's kind of a win-win for the audience, and for us as actors, to keep it fresh."
Bobbadilla: "I love Miss Martian's super powers. They're the two main ones that people want. I mean shapeshifting... Wow! Awesome! Being invisible. And then just being able to read people's minds. But I like that she's able to go through their memories. That's a little different than hearing what is on their mind at that specific moment. I like that she's a go-getter. I like that she doesn't cower under Batman. She will fight right back. He says 'Touche' at one point, one of my favorite parts. I can't give it up because it's so good." [Laughs.]
Gabel: "I think Star Boy is driven by the pursuit of greater good. I think this new Legion is about preserving, and it's the archetype, that old fight -- good against evil. He's really bought into that, and I think there's real, true goodness in him. You can see that in how really honest he is about when he's vulnerable, when he doesn't get it, when he can't remember things. Hopefully that comes through. I read the script. I liked it. I liked the hero's journey aspect to him. I thought his vulnerability was really true. And he was young. You can hear that and you can read the goodness in his intent. He's struggling to find meaning, I like that. They had some funny lines in it as well."
On Jessica Cruz...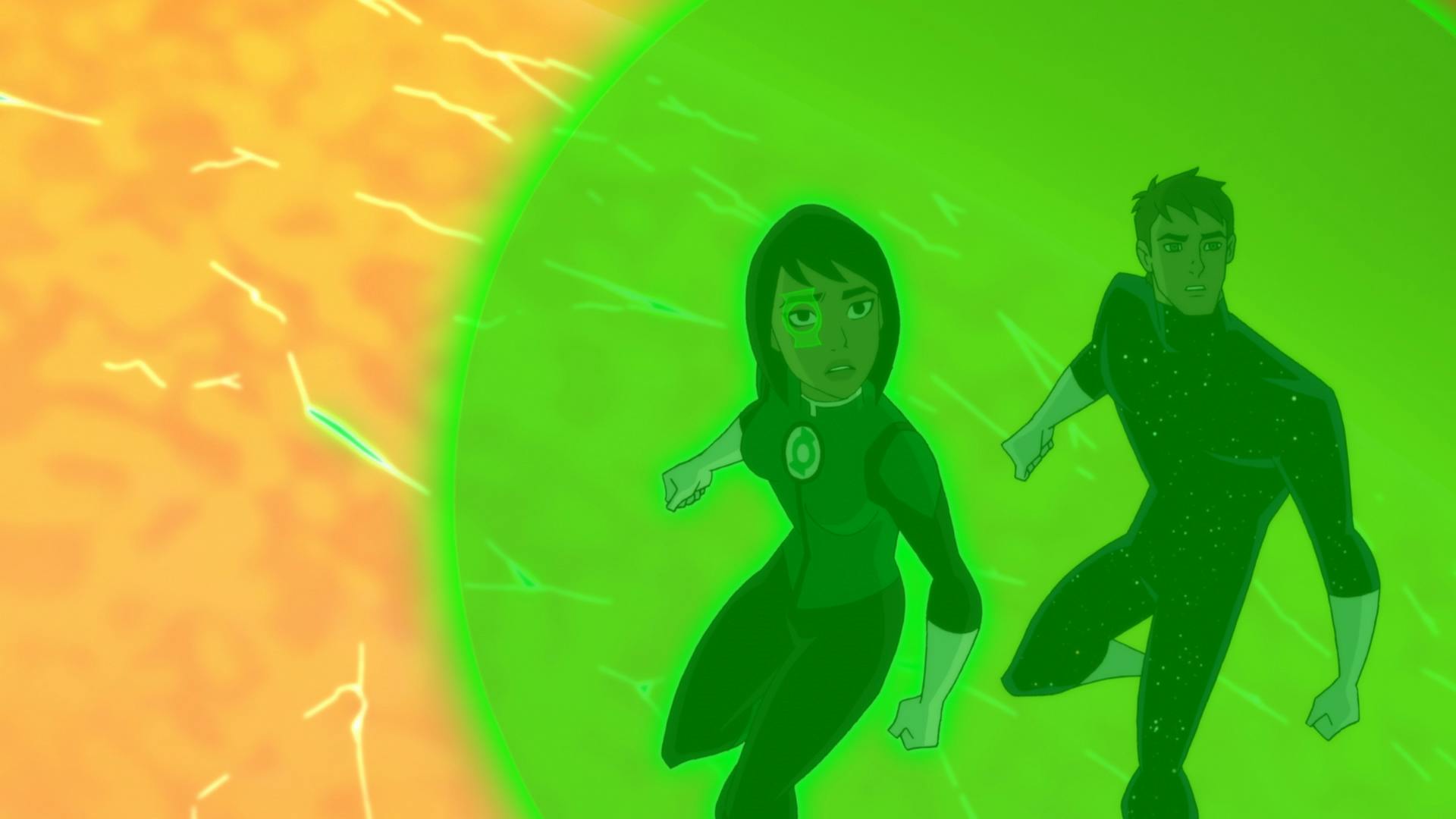 Bobbadilla: "They don't talk. It's not that there is animosity there. I don't think Emerald Empress is jealous of her either. I would love to see more of their interaction, because I think that would be a really cool relationship, because we're both in the same kind of place. I'm a go-getter but she's a little intimidated, as you'll see, by being on the League. But she's a badass too. They'd be fun friends. Writers, are you listening?" [Laughs.]
Gabel: "I like the scenes with Jessica Cruz. I like scenes where you are both trying to define or get what something is and often the roles are subverted. There's one scene I think in particular where Star Boy is championing her, because he's saying that she is the hero that he's been tasked to save. He's almost the shepherd. But he's vulnerable as well. So, there's a seesaw that works there."
On the difference between this Miss Martian and the Young Justice version...
Bobbadilla: "I love Young Justice so much. I just played a voice on that show, so that was a big dream come true... She's written differently here, this is a different part from her life. I hope that they do a prequel and show more of that, because this is her in her first moments with the League and she's not yet a part of the League, which is super exciting. It's almost a reminder of how epic it is what they do. They're so used to it. So I like that's she like, 'Put me in coach.' She's so ready, almost too ready in some scenes; and you'll see she jumps ahead of the gang, but it doesn't even phase her... She's the thorn in Batman's side. As soon as I read her first line, 'I'm Miss Martian, jackass'...that tells you the character. If she was on social media that would most definitely be her Twitter bio. That's all you need to know about her."
On growing up on DC...
Montano: "I grew up watching the Super Friends. That was my thing. When I was a little girl, I used to do that. Lynda Carter is my Wonder Woman. When my mom would yell at me, I would literally be like, 'Oh yeah?' and I would turn around and I would do the spin, as if something would happen magically during that spin and then I would be able to talk back. But of course I couldn't talk back." [Laughs.]
On finding the right voice for Mano...
Anthony-Rodriguez: "I looked at some of the descriptions in the comic books and then when they were showing me a couple of the prints of what the character in this particular Justice League movie was going to look like, then you sort of put two and two together and you look at his dialogue and you look at his description. What came to mind with the voice was Ricardo Montalban, specifically in Star Trek II: The Wrath of Khan, and then the other 50 percent was my dad, rest his soul, who was not unlike Ricardo Montalban. It was just the flavor that I was looking for."
What were your favorite moments in Justice League vs. The Fatal Five? Let us know in our Community!