How pumped are you for DC Universe's 'Harley Quinn?' Ever since the trailer dropped last month at San Diego Comic-Con, fans have been hungry for more on the Lady of Lunacy's upcoming adult animated comedy. Luckily for them, 'DC Daily' is here to feed you!
On Thursday, August 8th, 'DC Daily' aired some exclusive video interviews with the cast of the hotly anticipated series -- including stars Kaley Cuoco and Lake Bell (pictured above), AKA Harley and Poison Ivy -- giving fans a taste of what they can expect when the show drops this fall. "It's very realistic. She loves Joker so much, and then he ends up being a horrible human and she realizes it and she tries to break up with him, and wants to build this great group around her, and has her friends who tell her to get out of this relationship," said Cuoco, who also serves as executive producer.
Cuoco acknowledged that the Joker and Harley's on-again, off-again romance might be relatable to some viewers. "She falls back into it. I think we've all been there. We all probably have a Joker in our lives." When it comes to Harley's relationship with Ivy, things will be a bit different. "They're crazy best friends who, spoiler, make out once in a while. It's very progressive."
Diedrich Bader, who famously voiced the Caped Crusader in 'Batman: The Brave and the Bold,' will be returning to his iconic role here, and promises plenty of Easter eggs for longtime fans. "There's a lot of bad guys people haven't seen in a really long time. It reaches deep into the lexicon. I think for fans that have the DC Encyclopedia in their head, they'll love it because there's a lot for them."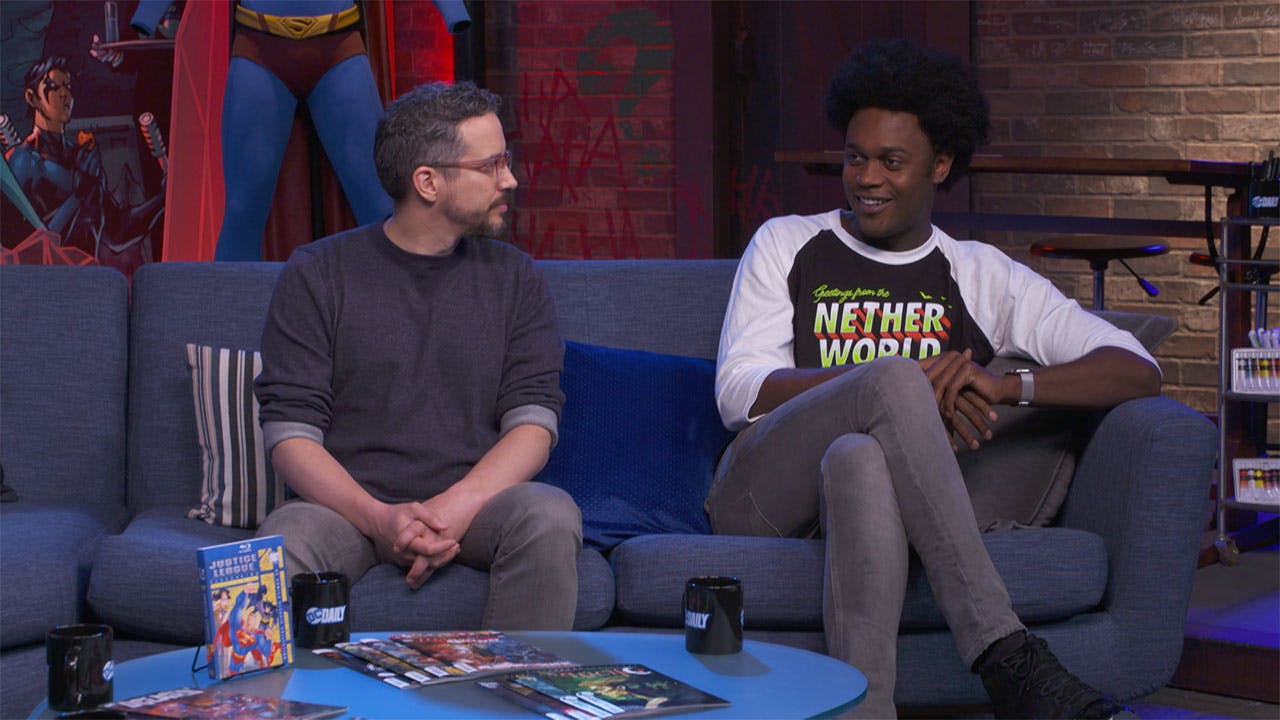 The 'DC Daily' panel also got to have some fun with Echo Kellum, who played Mr. Terrific on 'Arrow,' when he returned to the couch on Monday, August 5th. Kellum was on hand to discuss the 'Justice League Unlimited' episode "The Great Brain Robbery," which features some heroic moments from Mr. Terrific. "I love seeing him just show his bad-assery. Lex Luthor was so OP as Flash – unstoppable. I had no idea how they were going to stop him then Mr. Terrific showed up like the true G he is….anti-gravity boom – brain, let's go. The fact that it was Brainiac, Lex Luthor, Mr. Terrific and Grodd, it was all of these supremely intelligent beings and he still shut it down, it was so cool to see."
The episode sparked a discussion on who Kellum would like to voice in another animated DC project. "I would voice Blue Beetle, I would voice Static, I would voice any cool character," Kellum said. Kellum then blew everyone's mind by revealing a little known fact about his history with DC movies... "A little Easter egg – 'The Dark Knight' shot in Chicago, and I'm one of the patients in the bus that the Joker kidnaps. Right when it explodes, I'm right at the front of the screen."
Don't believe us? Check out the full segment, and you'll see the clip of Kellum in the 'Dark Knight.' It just proves you never know what type of mind-blowing revelations you'll get on the DC Daily couch!
Are you looking forward to 'Harley Quinn?' Let us know in our Community!