Are you going to next week's New York Comic Con? If so, DC Universe will be there with lots of amazing exclusives for our members. And with our original adult animated comedy series 'Harley Quinn' debuting this fall, you can expect plenty of Harley-centric goodness!
For starters, DC Universe's Headquarters, aka DCUHQ (location info at the bottom of this page) will host "The Fantabulous Evolution of One Harley Quinn Gallery," an immersive pop-up installation featuring original art depicting Harley, from the very first concept sketch of the iconic antihero to images from her new DC Universe animated show to a peek at next year's live-action 'Bird of Prey' film (the second movie to feature Margot Robbie as the Clown Princess of Crime!). Expect original and exclusive art, cover work, model sheets, collectibles, props, costumes, and more -- including art by acclaimed creators Amanda Conner, Jim Lee, and Bruce Timm. Best of all, no Comic Con badge, tickets, or reservation is required to enjoy this gallery. So bring your friends!
In addition, DC Universe subscribers can pick up one of five different free, members-only, limited edition pins each day of the convention at the DC Universe booth (#SC4001) in the Javits Convention Center. These pins will feature characters from the new 'Harley Quinn' animated series -- including Harley herself, her best pal Poison Ivy, Clayface, King Shark, Doctor Psycho -- all of which can be seen below.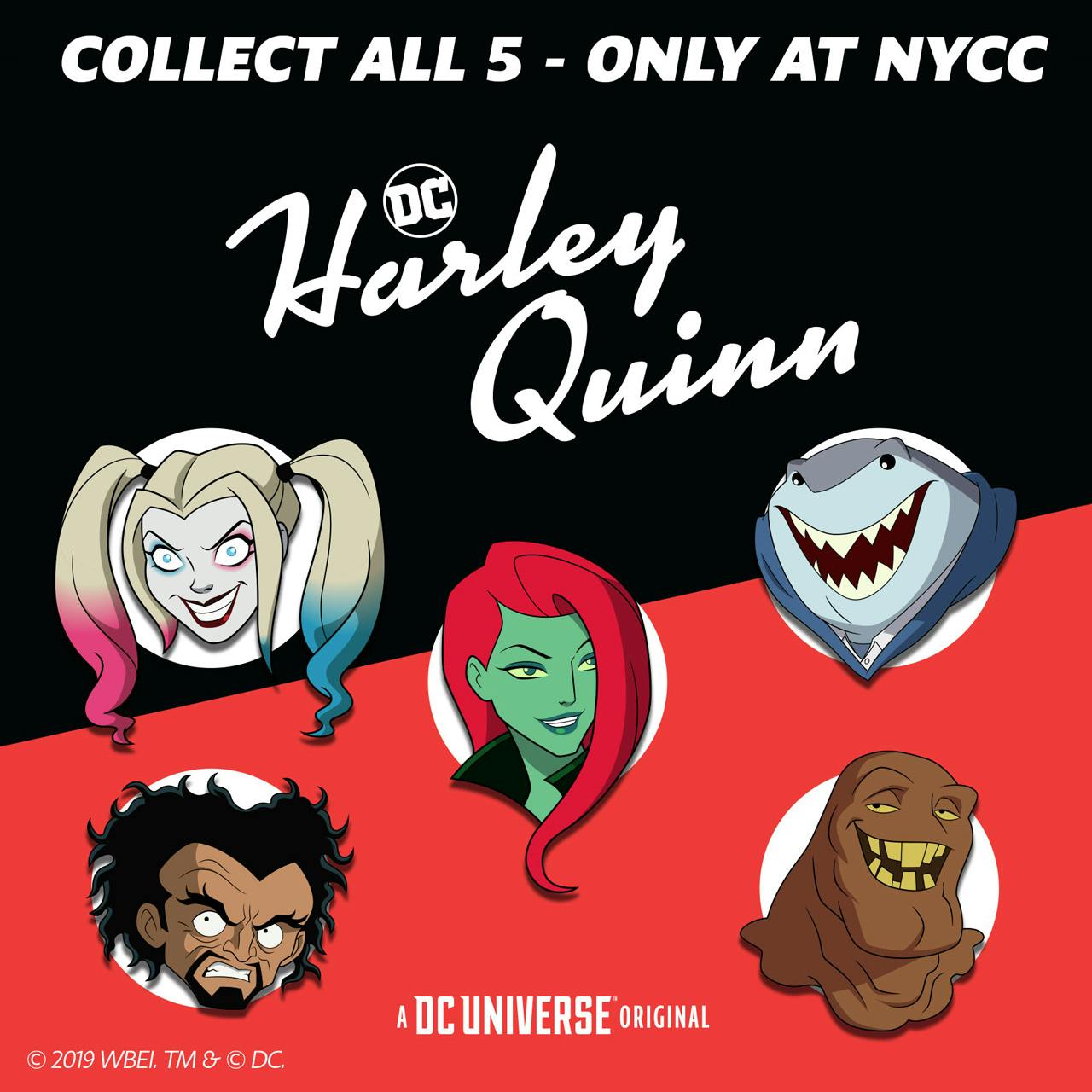 Finally, DC Universe members who visit DCUHQ, will also be able to enjoy our members-only lounge, which will feature live Q&A's and signings with special guest creators, as well as breakfast hosted by the stars of 'DC Daily' (detailed in the below schedule). Note: the line for each Q&A will form 45 mins prior to the scheduled start time.
An experience for all fans of DC, come hang out at DC Universe Headquarters, aka DCUHQ, located mere steps away from the convention (held in New York's Javits Center). As a huge thank you to our fans, DCUHQ is a true fan destination for our members, as well as all DC Fans.
DCUHQ can be found at Hudson Yards Loft, located at 447 W 36th St Fl 3, New York, NY 10018. There, DC Fans and DC UNIVERSE members can escape the hectic convention floor, enjoy unique experiences, talent meet-ups and an array of programmed entertainment throughout the weekend including special events and giveaways as well as exciting appearances from guests!
DCUHQ is open to the public on Friday, October 4th from 9:00 AM – 6:00 PM, on Saturday, October 5th, from 9:00 AM – 6:00 PM, and on Sunday, October 6th, from 9:00 AM – 5:00 PM. Plus, no badges are required!
Among the exclusive activities taking place at the DCUHQ lounge -- for DC Universe members only -- are…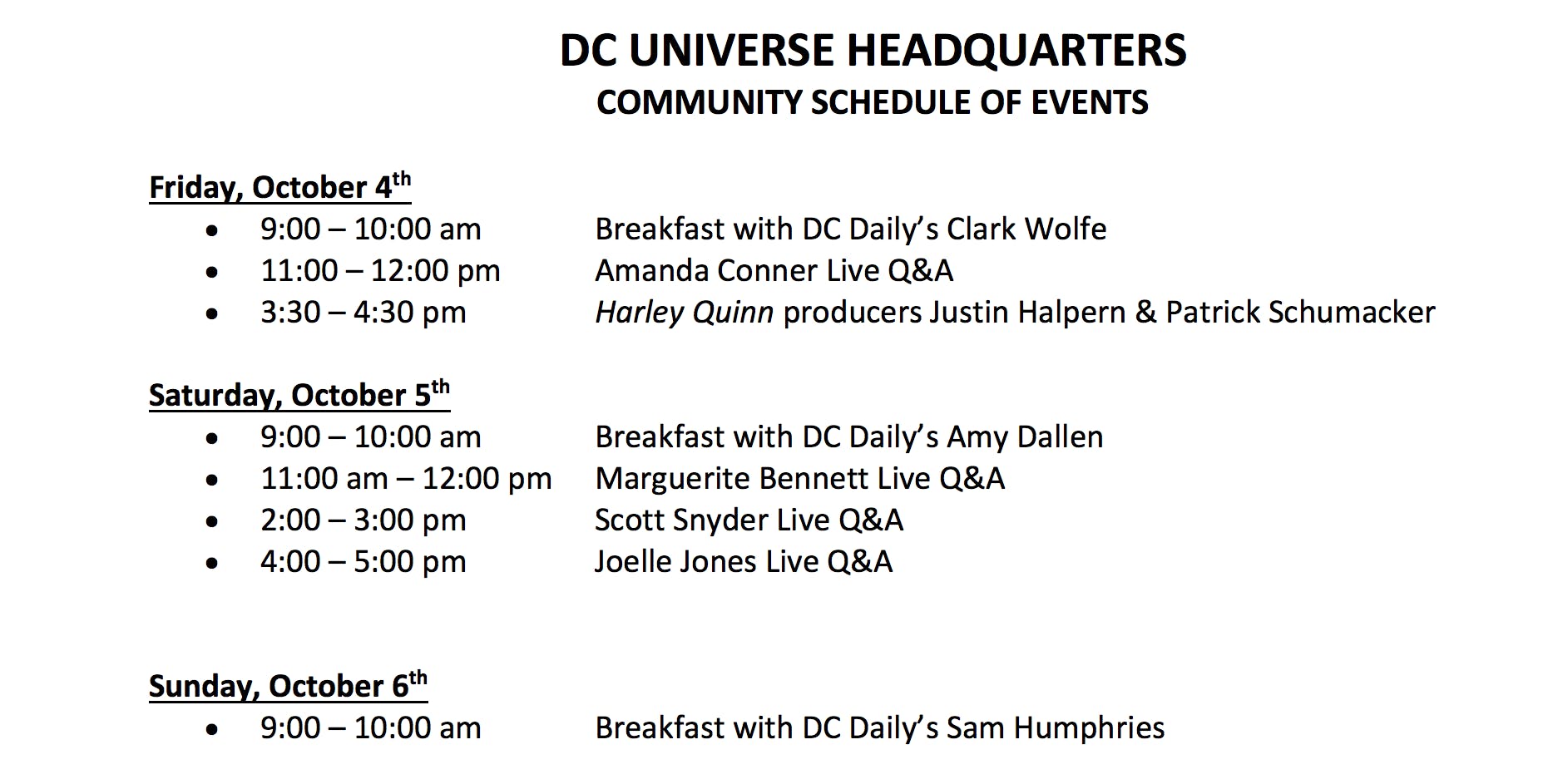 Last but by no means least, don't forget to attend the Sunday, October 6th screening of the 'Harley Quinn' pilot at the Hulu Theater at Madison Square Garden from 1:05 pm to 1:30 pm.
To stay up to date, be sure to check back here for more updates! #DCUHQ
Are you excited for New York Comic Con? Let us know in our Community! #DCUHQ