Few voice actors have spent as much time in the world of DC animation as Vanessa Marshall and Phil LaMarr. Having played Poison Ivy and Batwoman in Batman: The Brave and the Bold, Black Canary in Young Justice, and Wonder Woman in DC Universe's Harley Quinn, Marshall returns to the role of the Amazon warrior princess in Superman: Red Son. While LaMarr -- who voiced Aquaman in Young Justice, Lucius Fox in DC Super Hero Girls, and Jason Praxis in Harley Quinn -- redefined the Green Lantern for a new generation by portraying John Stewart in Justice League and Justice League Unlimited, a role he reclaims in the latest DC animated movie to hit DC Universe. We chatted with both stars recently about portraying two of the most iconic characters in any reality…
On what fans can expect from Wonder Woman in SUPERMAN: RED SON…
MARSHALL: I think the concept of Elseworlds is something that is timeless, and I think everyone hungers to consider what would happen if Superman landed in the Soviet Union. That's a relevant question, maybe even more so today. I'm really glad that they decided to make an animated film out of the Red Son comic book, and I think it actually goes a little bit deeper in the film. As far as Wonder Woman's character goes, there are things that we have not known about her that are revealed in this particular iteration. No spoilers, but I really am glad that they did it because I've delighted in exploring those things.
On her favorite Wonder Woman…
MARSHALL: Lynda Carter's Wonder Woman was always my favorite growing up and actually my mom, Joan Van Ark, she was on an episode. That was a nice little bonus. And of course, as I got older, I loved watching Susan Eisenberg's Wonder Woman on Justice League and Justice League Unlimited. She's my favorite.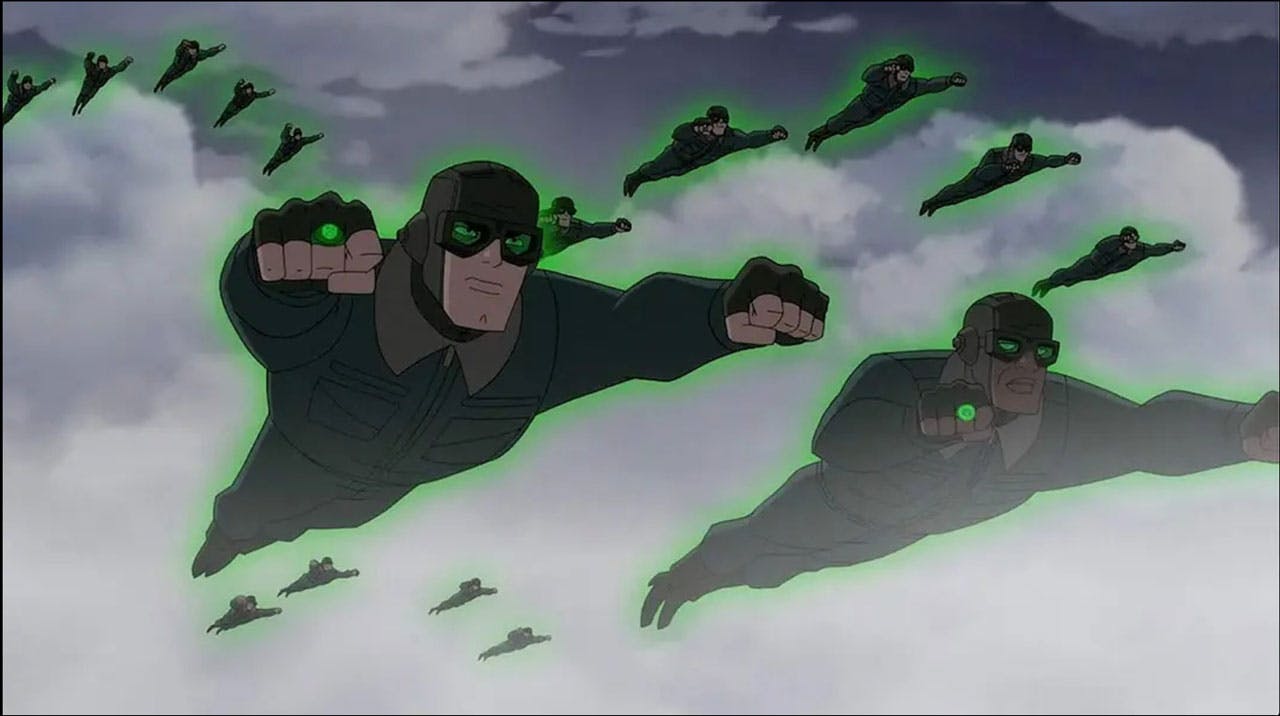 On SUPERMAN: RED SON's John Stewart…
LAMARR: Well, these characters are all different. Obviously, Superman is very different than the Superman we know and love, and that winds up affecting everyone because it's a different period. It's a very different tone than the comic book stories with these characters that we're used to. It's a very hot-cold war story. Obviously, the Green Lanterns have a completely different role. We're not cosmic, we're earthly, but we're still a corps. They're relatively similar to the people we know in the same ways that in a lot of the characters you see through lines that attach them to our Batman, Wonder Woman, and other characters, because you want them to be recognizable. But you also you want to see how they manifest in this universe, in this world, under these circumstances.
On his favorite Green Lantern stories…
LAMARR: Well, honestly, most of my favorite Green Lantern stories are from the Justice League and Justice League Unlimited series… The three-part "Starcrossed" episode with the Thanagarian invasion, because it's an amazing space opera/earth invasion story, but it's also a heartbreaking romance. That's just amazing… I love the episode "In Blackest Night," where John Stewart is on trial, with the Manhunters. Anytime you've got the Manhunters, it's a win. But that was also a very nice Green Lantern centered story… Those are the ones that come to mind.
I think it's because of the writing on the Justice League series and the way they reconfigured the character from scratch. Not to dis the Silver Age at all, but a shoot-from-the-hip fighter pilot is not really the person you want as a space cop. [Laughs.] But John Stewart, he's a Marine turned architect. The role that he played in our Justice League was like, "I am a person who is about organization." It made sense. He would be part of a cosmic space corps. He's also part of this group. But this group opened him up, and I think people really responded to the fact that, here's a guy who takes this seriously, but at the same time he finds that it makes him a better, fuller person. I think that's something that a lot of the Silver Age Green Lantern, even the Golden Age stuff, never really got a chance to do. I think this is a Green Lantern that people saw the most of inside and out and that's why they responded to him.
What are your favorite versions of Wonder Woman and Green Lantern? Let us know in our Community!