With DC Universe's first original live-action series Titans debuting today, there are plenty of questions fans have about the show, its characters, and its star, actor Brenton Thwaites, who plays Robin/Dick Grayson. We sat down with the Aussie actor yesterday and asked him the questions you submitted in our Community. Here's what he had to say...
Do you feel any pressure to live up to the name of Robin? [from @jbow214]
There was a little bit of pressure. Just because it was a character that had been loved by so many fans all around the world. But there was also an opportunity to do something fresh with the character, and to show a side of Dick Grayson that we haven't seen before on the screen. And I feel like the script really leaned towards his backstory, showing some of the darkness in his relationship with Batman. How he felt as a young boy losing both of his parents and being mentored by someone who is ultimately a good guy, but is sometimes pushed towards doing bad things.
How well did you know the character before receiving a script? [from @AnimalPerson]
When I was a boy, I loved watching Batman: The Animated Series. And I remember loving [Michael] Keaton's Batman, and Jack Nicholson's performance as The Joker being so fun to watch. But as you get older, you realize how dark it is -- my favorite Joker is now Heath Ledger... So Titans goes right back into my past, with this character I've known for so long. But what's also great about Titans is I have the chance to create a whole other superhero, one who is a little bit more modern, a little bit more resonant with today's comic-book fans. The chance to do that, the chance to play someone who's both old school and modern, is really rare. So I jumped at the opportunity.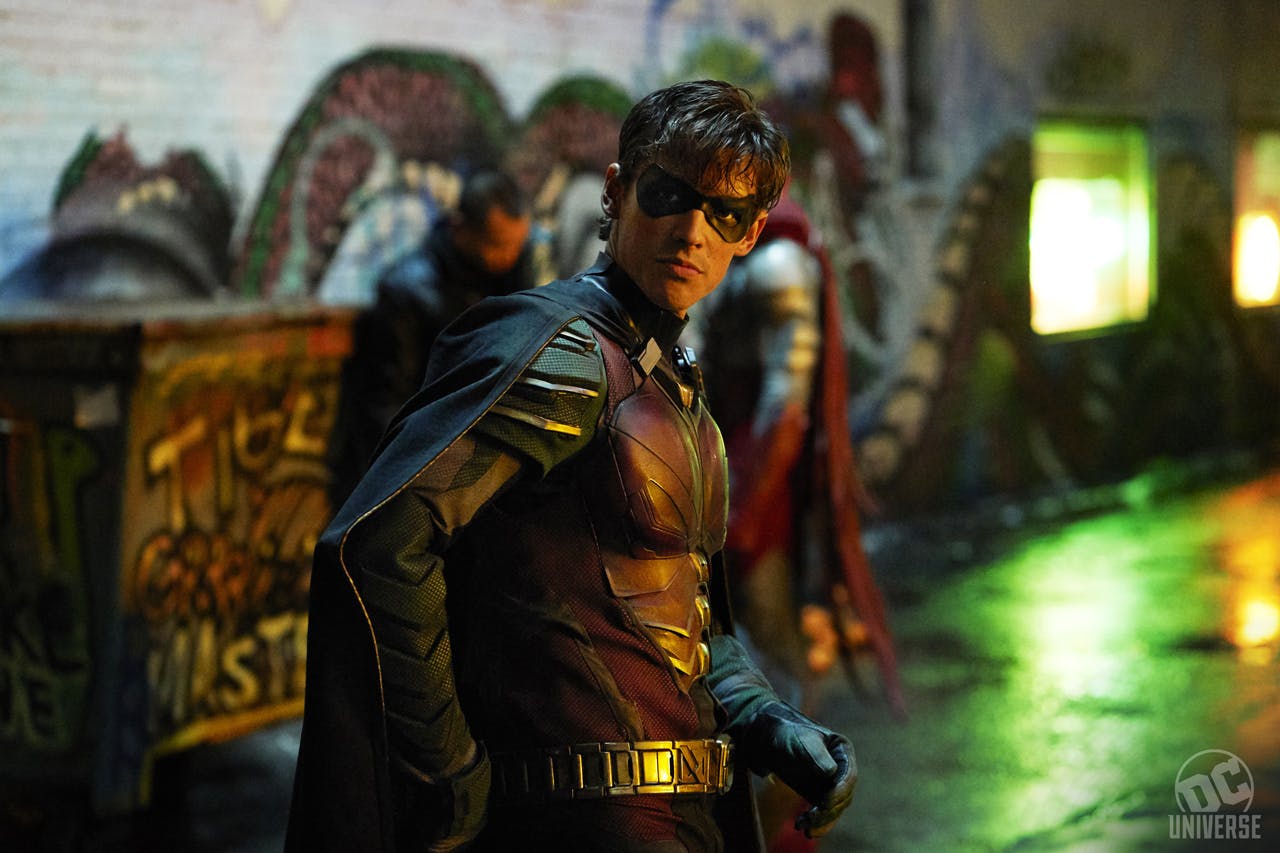 Who's your favorite villain? [from @JulianStyles]
I actually like The Riddler. Yeah, the Riddler is my favorite. Jim Carrey played him [in Batman Forever], and I am a massive Jim Carrey fan. When he played The Riddler, it was entertaining. He was a psycho. I just thought that he HAD Batman. He's like someone who plays poker and doesn't look at his cards. He just bets. You don't know what to do! [Laughs.] That's what I think of when I think of The Riddler.
What aspect of Dick Grayson do you like the most? [from @kjgyan.59602]
I find the hero part of him very inspiring... He's damaged. He has a lot of pain, he's trying to get over that, and he ultimately needs help. The fellow Titans, in particular Rachel Roth and Kory Anders, they give him that mirror, that reflection, so he can see a little bit more of himself and what's happening. But what I find inspiring about the character is his need, his kind of addiction to doing good and fighting crime. That selflessness. If he was a real person, I'd be proud of him for always honoring his instinct and keeping everyone safe. He wants to do the right thing.
If you could have been cast as any other Titan who would you have picked and why? [from @PrincessAmethyst]
You know what? It would have been cool to play Beast Boy. Because, for a lot of those scenes, it's CGI. So [Ryan Potter] can sit in his trailer and play guitar for as long as he wants. For the fight scenes Beast Boy is a Tiger, so he's not doing the work. He's just in the back hanging out! [Laughs.]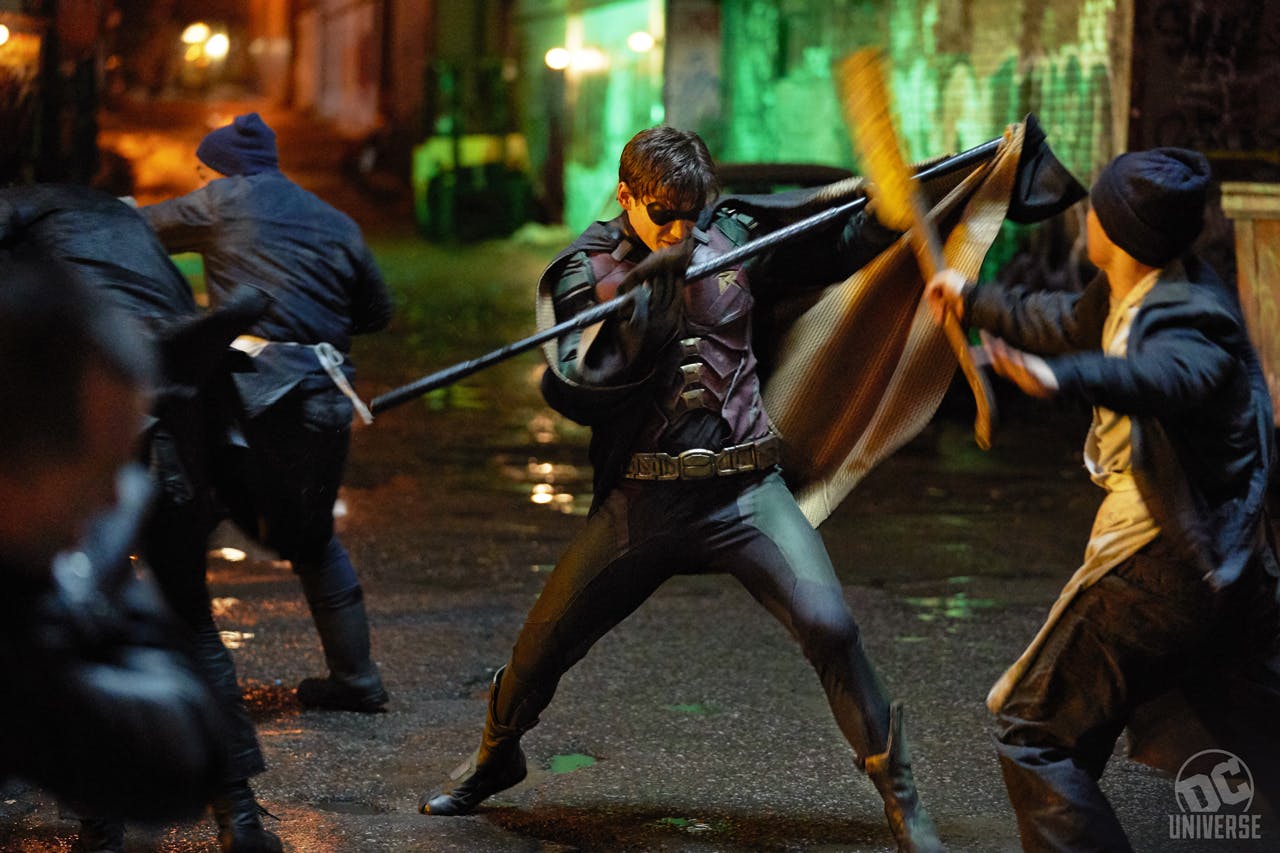 If you could switch bodies with another Titan for 24 hours who would it be, and what would you do with your time? [from @koryanders]
I would probably be Kory. She can fly in the comics. Maybe we'll get into that in the second season. If she can fly, I would be totally Starfire. To shoot fireballs and fly around the city, that would be cool.
What's your favorite Dick Grayson storyline, and why? [from @LongLiveTimDrake]
The origin, when he witnesses his parents die. [Watch Dick Grayson's origin story in the classic Batman: The Animated Series episode "Robin's Reckoning" here.] Although it wasn't me on camera experiencing that, it was really important to understand the particulars of the story we were telling in that backstory moment, because most, if not all, of my emotional damage comes from that one time. So a lot of my research was just understanding what it would really be like to lose your parents at a young age and be taken in by someone like Bruce Wayne.
One of our Community members (@DJWolfmanJBeezzy) has suggested we interview you as if you really ARE Robin...
Okay, you can if you want.
So what was it like growing up in Wayne Manor? How was Alfred's cooking? 
How was Alfred's cooking? It's probably best if I don't say. [Laughs.]
That's too bad. [Laughs.] What was it like training in the Batcave?
Oh, it was really cool. [Laughs.] Seriously, the Titans sets are amazing. We had a very cool building, a historical building in Toronto for Wayne Manor. It was phenomenal to shoot in. It was a beautiful building in the center of town. I think it's a museum now. But Dick's room was a set that we had in the studio. And I would go in there when we were shooting anywhere in the studio and just lay on the bed and dream of having a room like him.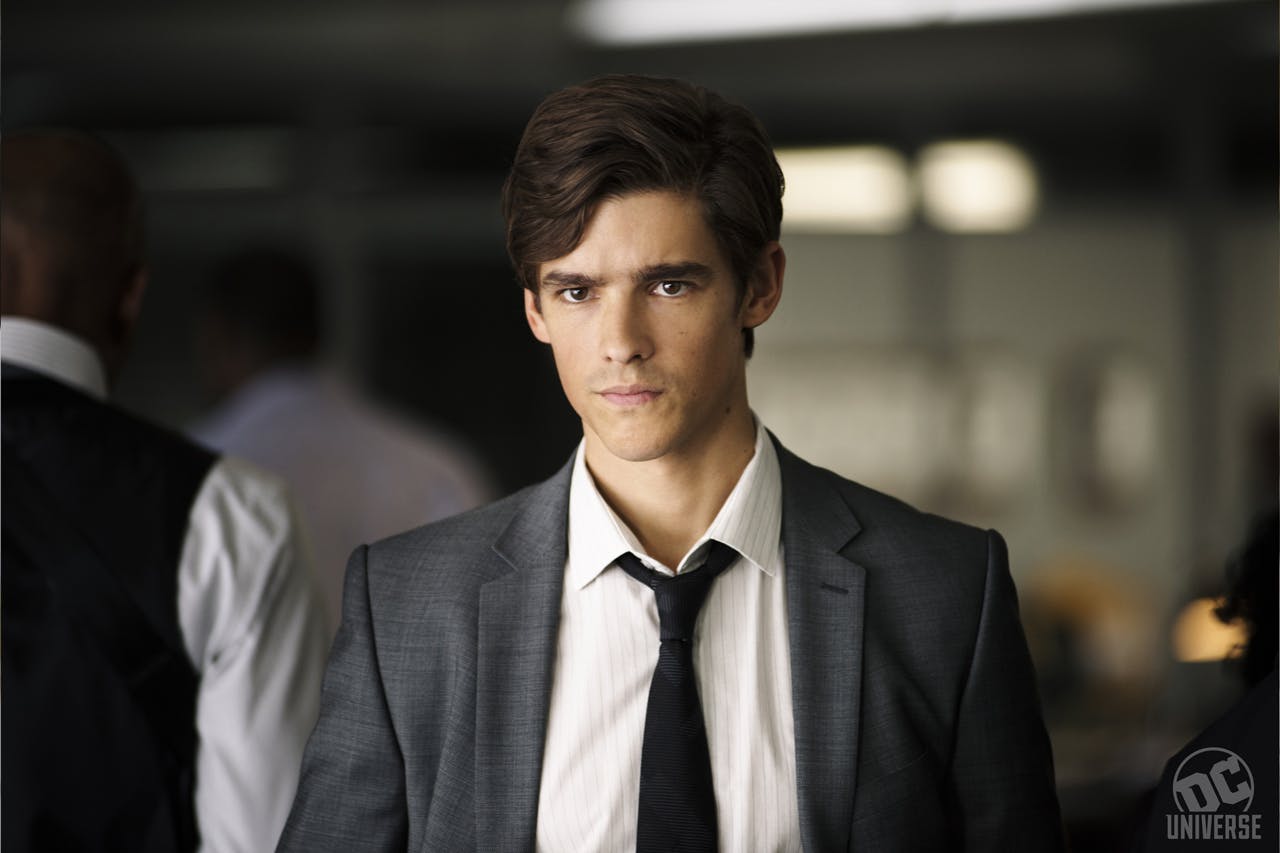 How much gymnastic conditioning did you have to do for the role? [from @nelsonrokeke]
I did a lot, although none was needed. I didn't really do classic gymnastics in preparation. But I trained in movements. I did a lot of ring work, a lot of work on the rings. A lot of like body weight stuff. You know, trying to do a lot of weird abdominal position-holding exercises. I was training at a CrossFit gym called the Academy of Lions in Toronto. Right down the street from my house. And there was a great gymnastics teacher there called David, who really took on what I was doing. He trained me for performance as opposed to vanity, and through that, I gained a better shape anyway. Just from getting an understanding from him of the muscles that you really do use as a gymnast. That being said, I had a wonderful stunt guy who knew all the flips and everything. The insurance wouldn't allow me to do it. One broken ankle and that's the show. So I was lucky to have a stunt guy who knew how to do it. He was perfect. 
What are you most excited for fans to see in your version of Robin? [from @SwampThing567.580]
I'm excited to see fans react to who Dick Grayson wants to be. And through that fight scene (the "Fuck Batman" scene), and through watching him as a detective in those more contemplative scenes, get a sense of who he is sick of being. Who the character is that fills him with pain, anger, and regret. I want them to get a sense of that weight and that chip on his shoulder. Because I feel like out of that comes the excitement for who he's going to become. Most of the fans will know the character he becomes, but they'll look forward to watching that journey.
As for the overall show, what can you say that will make fans excited? [from @autobat]
I did train in the kali sticks. I'll say that. The two sticks. Whether they decide to use that or not, I did train. [Laughs.]
Are you a TITANS fan? Discuss the show in our Community!