Valentine's Day has come and gone, but the quest for the Super-Man of our dreams carries on. Two weeks ago, we opened up voting on the "Pretty Boys" bracket. And while Tim Drake has broken ahead of the pack, it's not too late for Conner Kent to run up with boom box carried overhead in the rain for one last shot at a grand romantic gesture. Last week, we introduced you to "The Hunks." While voting is still open until the finals, Jason Todd is currently enjoying a healthy lead, relieved to be on the positive side of a poll for once in his life.
But now it's time to introduce the last group in this year's competition to determine the Sexiest Man in the DCU. These are the kind of guys who can hold you close and let you feel vulnerable. The big spoons in the drawer. The tall, dark, and lethals. Ladies, gentlemen, and sentients of all kinds: let's bring on The Daddies!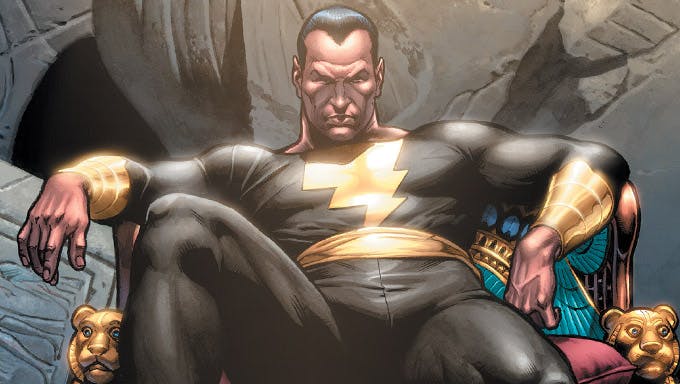 If it's power that turns you on, then meet the guy who makes Superman cry for help. Black Adam isn't just Earth's Mightiest Mortal -- he's also the undisputed ruler of his homeland. Who doesn't love a man that can set, achieve, and then stick to his goals? But underneath that lightning bolt emblazoned exterior beats the heart of a man who will go to any lengths for the person he loves. Even if that means starting World War III, or lugging their dessicated corpse around the planet for one more shot at life.
PROS:
                                  • Fiercely loyal
                                  • You get to rule a whole country beside him
                                  • Total bad boy
CONS:
                                  • We mean really, REALLY bad
                                  • Like, literally a Super-Villain
                                  • Who's constantly being defeated by an actual child
POSSIBLE BONUS/RED FLAG: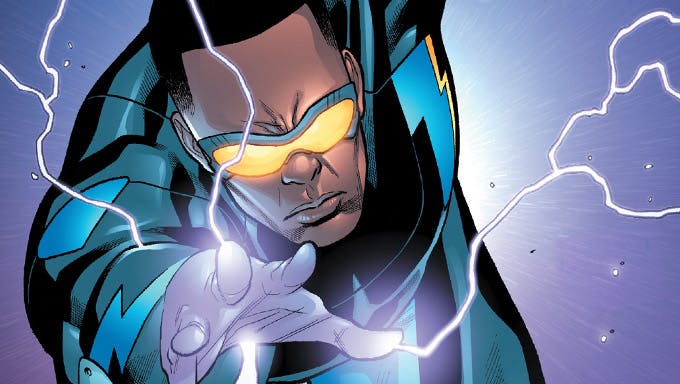 Ring the bell, school's in session! Whether he's teaching class or patrolling the streets, Jefferson Pierce is an inspiration to everyone who crosses his lighted way. Black Lightning won't just save your life, he'll turn your whole life around. If you're kind of a mess, this is the man for you; he just can't help himself when it comes to taking on a project. We're sure you can think of a few ways to earn that extra credit.
PROS:
                                  • Great with kids
                                  • Team player
                                  • Confident enough to take even Batman to task
CONS:
                                  • Might be worth talking to his ex-wife first
                                  • Avoid if you have a heart condition, photosensitivity, or are prone to seizures
                                  • Gets huffy if you accidentally call him "Black Vulcan"
POSSIBLE BONUS/RED FLAG:
                                  • Already has adult children from a previous relationship. Super Hero children.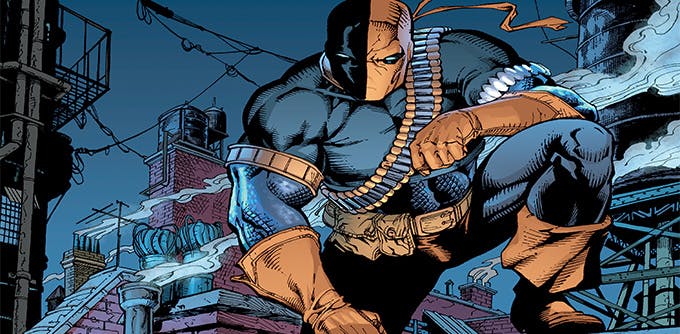 We're as confused as we are how Deathstroke made the cut this year, but here he is. Maybe someone took "Daddies" too literally. But when it comes to bad dads, Slade Wilson, aka Deathstroke, aka The Terminator, aka The Guy With Three Names, is the all-time reigning champ. (Sorry, Batman, maybe next year.) But if you've got a masochistic streak, Slade will use 90% of his brain to hurt and humiliate you in new and exciting ways you never thought possible. There's no bar you can set low enough that he won't slither under. Who knows how that depravity might translate elsewhere?
PROS:
                                  • World's best paid assassin, so you know you'll see some of that skrilla
                                  • See the world, meet interesting people, and kill them
                                  • All right, we see it. Kind of a grizzly silver fox thing going on
CONS:
                                  • Will probably abandon you to go out killing again
                                  • Bad with kids (his)
                                  • EXTREMELY bad with kids (Titans)
                                  • Just… look up "Terra," please
                                  • Sensitive about the eye thing
                                  • Can't emphasize enough how many people he's killed
POSSIBLE BONUS/RED FLAG:
                                  • Have you seen his mask? Half of it IS a red flag.
                                  • [Editor's Note: it's orange. we regret to inform our readers that the writer of this article is                                     colorblind.]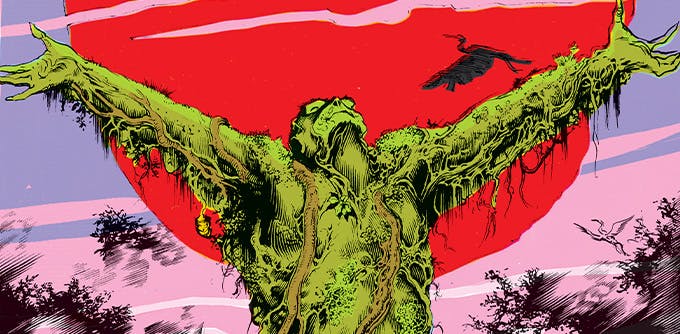 There are a lot of dreamboats in the DC Universe, but sometimes it seems like the best ones are always off the market. So all we can say is how lucky we are to have Swamp Thing in the 2020 competition. "Swampy for the Compy!," you've been demanding for years. And after dodging us for so long while he pined for his Dear Abby, we're proud to announce that Dr. Alec Holland is finally back on the market and looking for love.  Don't miss this rare chance for romance to bloom with the original Eco-Goth!
PROS:
                                  • Loving and dedicated
                                  • Cares about the environment
                                  • Brings you fresh fruit for breakfast in bed every day
                                  • Best kept home garden in the country. No -- the WORLD!
                                  • Is either a Nobel prize-winning scientist or an exact mental duplicate of one. Either way,                                     a smart cookie
                                  • He will always be able to provide for you
CONS:
POSSIBLE BONUS/RED FLAG:
                                  • Okay, okay, fine. We'll admit… he does sometimes get a little too into his work. But you                                     can work that out!
Which Daddy is your choice to move on to the Finals in our search for the sexiest bachelor? Vote now and talk about it in our Community!