On September 24th 2018, artist Norm Breyfogle passed away. To say that he left behind a legacy would be an understatement. His body of work changed Batman's world in ways we'll continue to see for years to come.
Breyfogle grew up as a huge Batman fan. In fact, the earliest Norm Breyfogle image in a DC comic book can be found in 1977's Batman Family #13. The editors invited readers to submit their ideas for an updated version of Dick Grayson's Robin costume. Breyfogle's depiction was one of the submissions chosen to appear in the back of the book. One decade later, he was chosen to be one of Batman's regular artists.
In 1987, Breyfogle began a six-year run on Batman that started in Detective Comics for which he co-created the Ventriloquist and Scarface. During his tenure, he also penciled the monthy Batman comic, was the first artist on Shadow of the Bat -- in which he co-created Victor Zsasz and Jeremiah Arkham (read their debut story here) -- and participated in 1993's landmark "Knightfall" event.
Norm Breyfogle drew some of the earliest and most recognizable images of Tim Drake as Robin. His double-page splash of Tim unveiling his new Robin costume at the end of Batman #457 is considered one of the most iconic Tim Drake images of all time.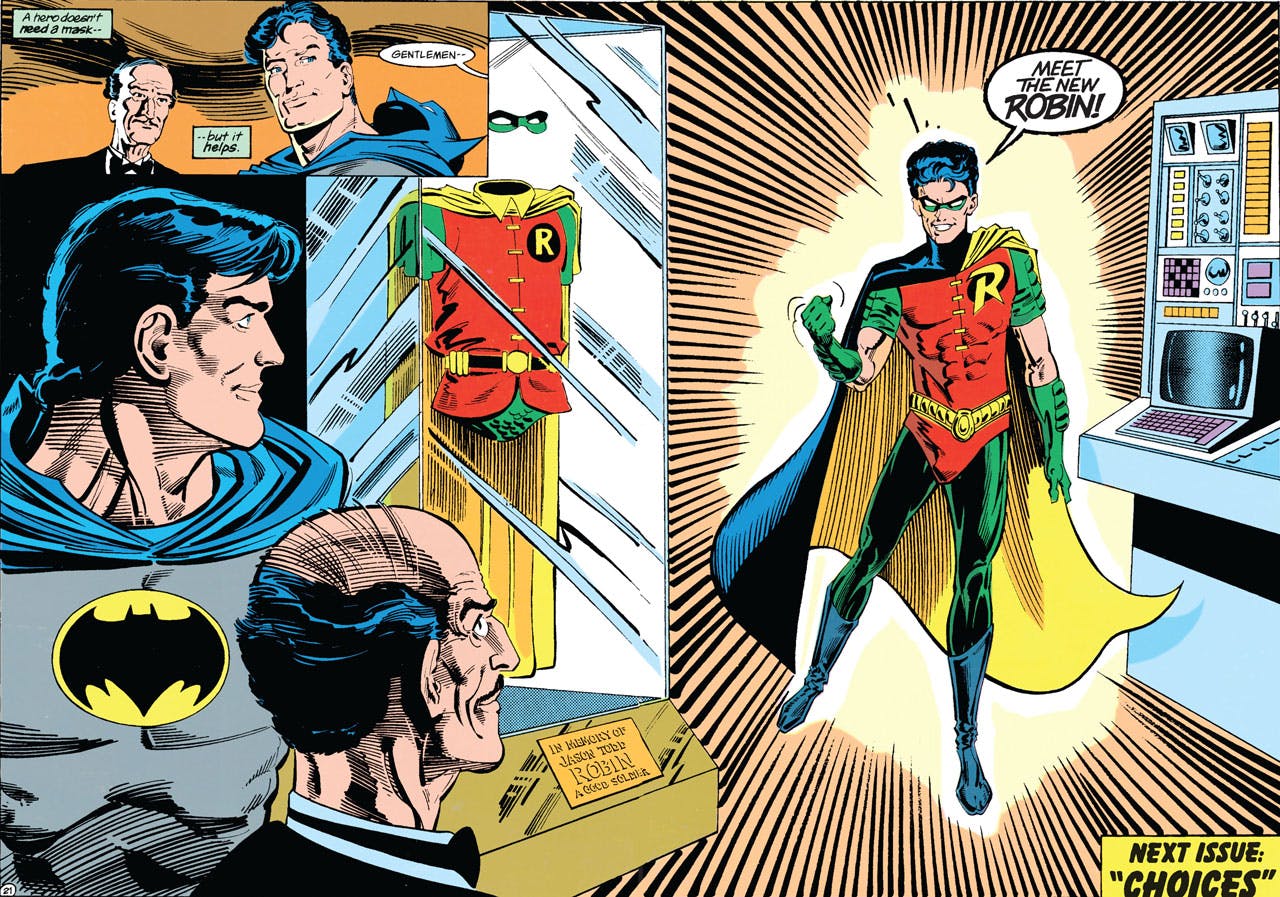 In a Norm Breyfogle comic, Batman's cape seems to have its own terrifying presence from panel to panel. Breyfogle didn't draw Batman through the eyes of his friends and allies. He drew Batman as he appeared to superstitious and cowardly criminals. Breyfogle's Batman was always terrifying, with his face in the shadows and his cape looming larger than life.
Take a look at these panels from Detective Comics #621. Bruce Wayne is trying to comfort Tim Drake, as the aura of Batman inspires terror...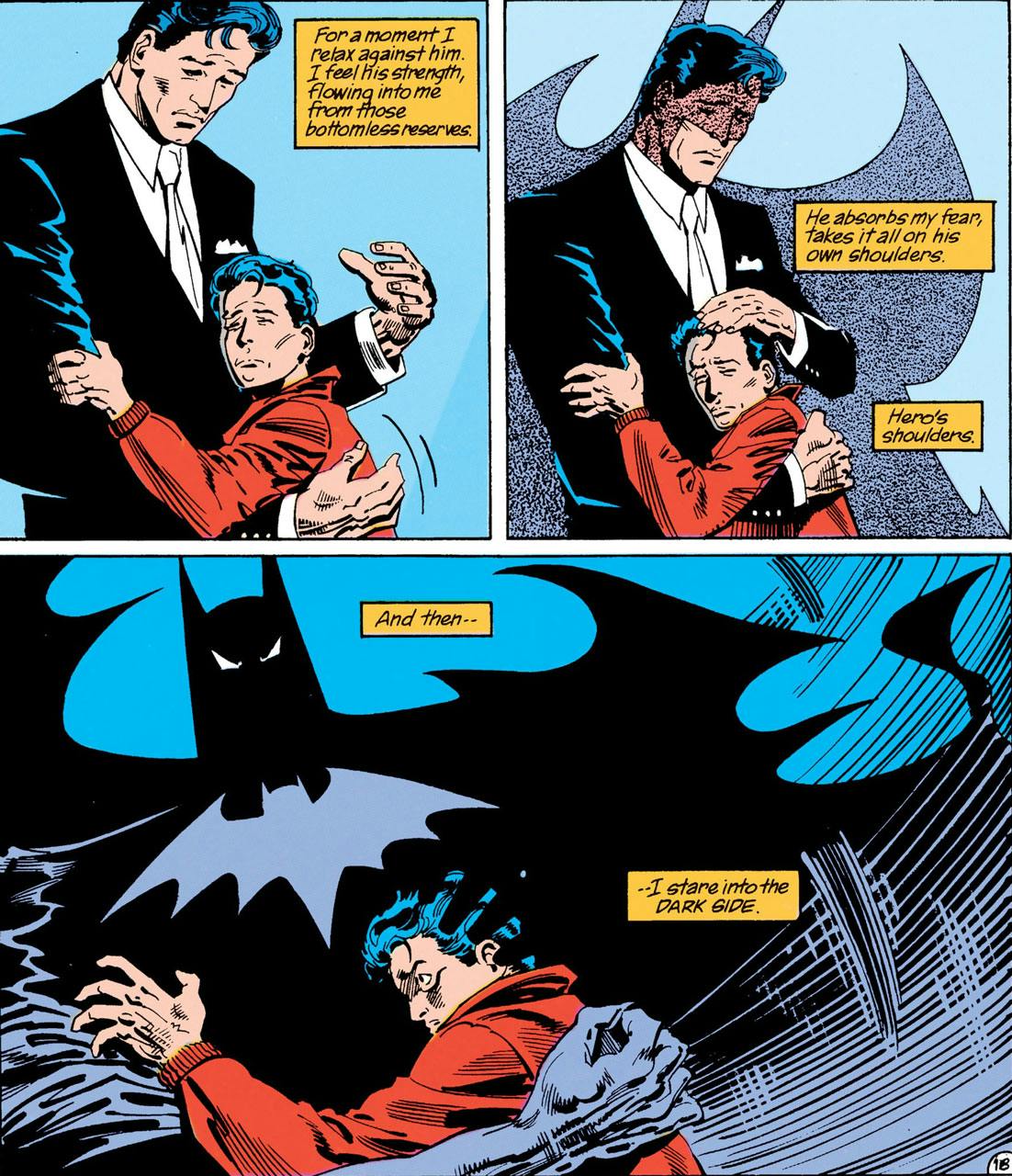 Alan Grant may have written the scene, but Norm Breyfogle brought it to life. Breyfogle's detailed pencils tell a deeper emotional story. 
While he's best known at DC for his work on the Batman titles, as well as the Batman graphic novels Holy Terror and Birth of the Demon (which revealed Ra's al Ghul's origin), Breyfogle also had a run on The Spectre and did fill in spots for select issues of Superman, Wonder Woman, and Lobo, among other titles.
Victor Zsasz, whom Breyfogle co-created with writer Alan Grant, has been adapted into films like Batman Begins (watch it here), the TV series Gotham, and the Arkham video games. Anarky, another co-creation with Grant, has been seen in the CW series Arrow as well as Beware the Batman. And fans of Batman: The Animated Series owe Norm Breyfogle a debt of gratitude for co-creating the Ventriloquist and Scarface (watch their debut episode, "Read My Lips", here). It's a cliché to say that a creator changed a character forever, but in Norm Breyfogle's case, it's true. 
Batman has shown us that one man can make a difference. Norm Breyfogle showed us how one artist can too. We'll never forget him.
Are you a Norm Breyfogle fan? Please share your memories of his work with us in our Community.