From its outset, the animated series 'Static Shock' was a show that straddled two worlds. While part of Bruce Timm and Paul Dini's DC Animated Universe, young Virgil Hawkins was just as likely to tangle with Poison Ivy or Brainiac as real world problems like gang violence, bigotry, and adult illiteracy. So while it wasn't unusual for Superman or Green Lantern to drop by, guest stars from our own world were known to make pop-ins to Static's hometown of Dakota City too. Here are the four special guests from our own world lucky enough to be part of the DC Animated Universe -- and how they stack up to the Super Hero allies who typically hang with Static. Just click on each episode's title to watch it right here on DC Universe!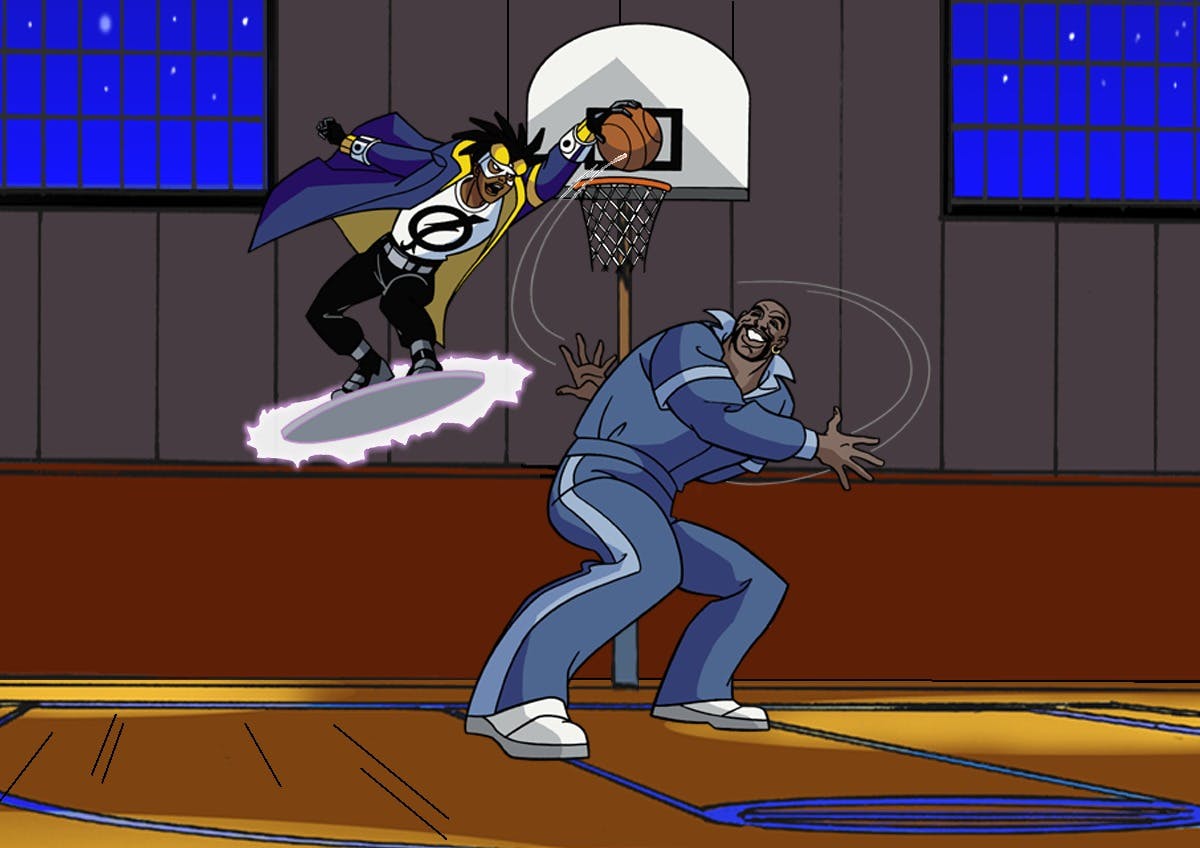 GROUNDING STORY: The year was 2002. Shaquille O'Neal was literally and figuratively the biggest thing in basketball, smack in the middle of his career with the champion LA Lakers. Young hip-hop artist Aaron Carter's "That's How I Beat Shaq" had smoldered up the sales charts one year prior, peaking at #12. And five years earlier, he'd become one of the first African Americans to play a comic book superhero in 1997's 'Steel.'
For his sophomore spin in the DC Universe, Shaq played the only role larger than the Man of Steel: himself. In this special guest episode, Virgil's perennially uncool dad earns some brownie points when The Diesel himself comes to visit him at the Freeman Community Center. As it turns out, Mr. Hawkins was Shaq's counselor at basketball camp when he was Virgil's age! Seeing one of the greatest athletes of his time scrape and kowtow to his father of all people was a shake-up in Virgil's perspective, to say the least — or, at least until the next episode.
SHOCK VALUE: O'Neal wasn't just there to teach Virgil the value of respecting your parents; he could also throw down with the Bang Babies. Although without any true super powers of his own—other than the ones we saw him exert in real life for the NBA—Shaq scored a crucial team-up with Dakota City's resident hero Static, using his strength and agility to help Static take out a new gang of metahumans known as "The Ruffpack." By the end of The Big Shamrock's stay in Dakota, Static decided to trust Shaq with his secret identity — a secret Shaq would continue to keep even from Virgil's dad.
SCORE: 3/5 Lightning Bolts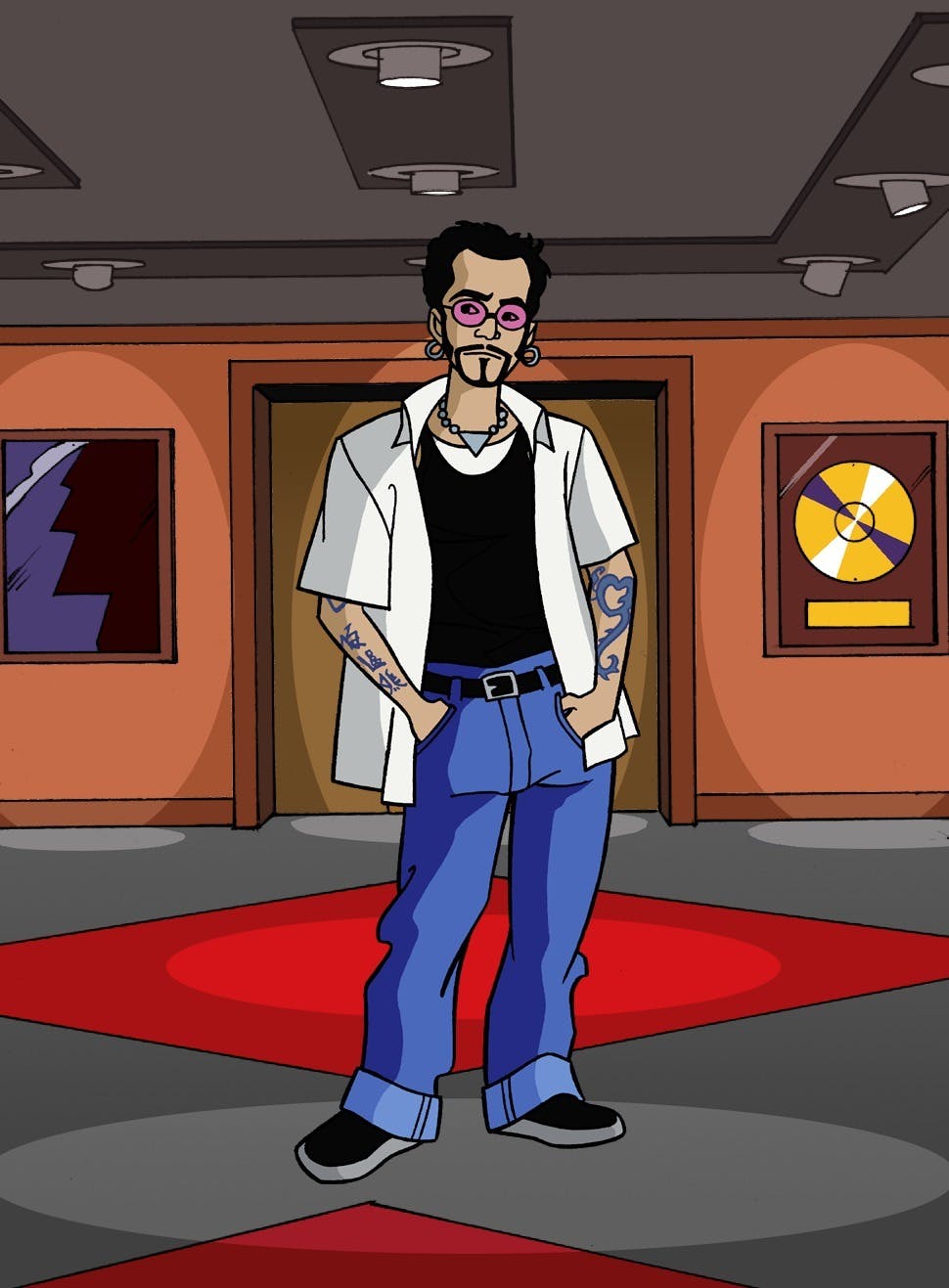 GROUNDING STORY: Starting with the 1997 album 'Backstreet's Back,' the Backstreet Boys were the nearly undisputed kings of pop music. From bestselling albums to sold-out live concerts, the genre-defining boy band broke records everywhere they went. If you grew up in the late '90s, you probably knew some of their songs by heart. Then, in 2002, the unthinkable happened: the band broke up. Citing issues with their record label, the Backstreet Boys called for a hiatus until they could regroup under new representation.
'Static Shock' revealed what band co-founder AJ McLean was up to in the interim: apparently, he went to Dakota City to scout some new talent of his own. And he found that talent in Adam Evans, an aspiring musician better known to us as the elastic Static antagonist-turned-ally Rubberband Man. Though they got together in the end, the deal was nearly botched by Replikon, a shapeshifting Bang Baby jealous of Adam's talent… played by "Gangsta's Paradise" rapper Coolio!
SHOCK VALUE: More like A.J. MacGuffin. While McLean may have appeared to play a pivotal role in the evolution of Rubberband Man's career, and even lends a hand in the final fight, he mostly served as a plot device to be manipulated by Replikon. Still, points for recognizing true talent where it counts, and hooking a brother up with a clutch record deal.
SCORE: 2/5 Lightning Bolts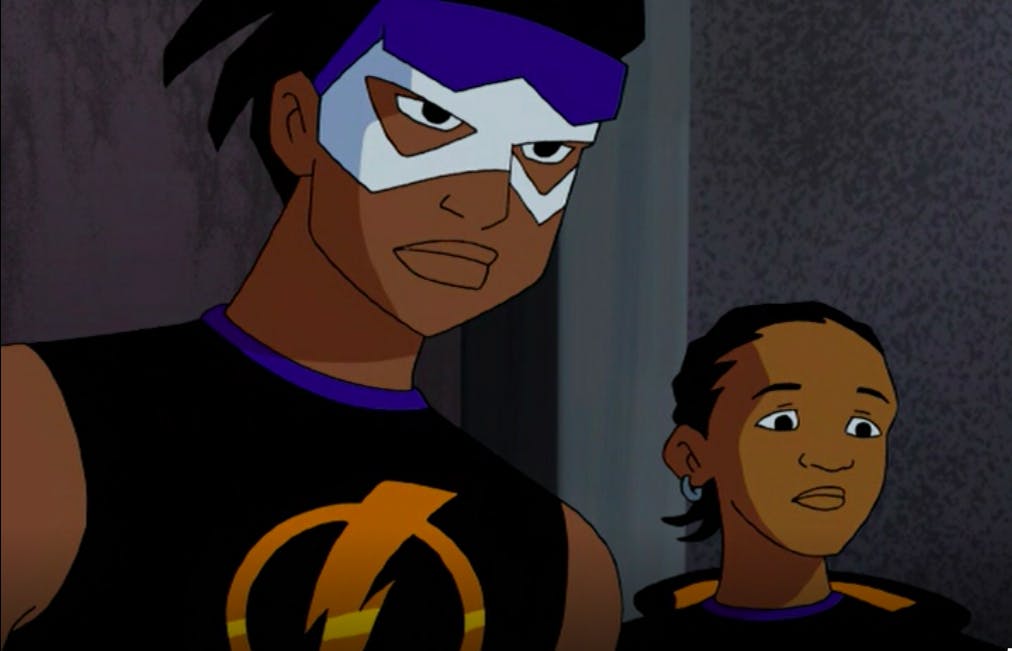 GROUNDING STORY: "Criminals, get twisted: this Super Hero gifted!" One of the catchiest tunes in the history of Super Hero theme songs comes to us courtesy of Romeo Miller, known at the time by his stage name of Lil' Romeo. A quintuple threat, Lil' Romeo has been a famous rapper, prolific actor, fashion designer, reality show dancer, and a college athlete — making him both the second musician AND the second basketball player to appear on 'Static Shock.' After Virgil's classmates Daisy and Frieda win a music video contest, mega rap star Lil' Romeo agrees to appear in their next project… IF they can hook him up for a face-to-face with his favorite hero, Static. As a fan of Romeo himself, Static is happy to oblige, and even gives him a close up of how his powers work. But when Lil' Romeo appears in a Static costume for the new video, the power-draining Bang Baby Leech abducts him in a classic case of mistaken identity.
SHOCK VALUE: No offense meant to Static's best buddy Gear, but even without any powers, Lil' Romeo makes for one formidable sidekick. When Virgil goes to rescue the young hip-hop star from Leech, the tables are quickly turned as he drains Static of his powers. But remembering his lesson on how those powers work, Lil' Romeo utilizes some quick thinking to turn Leech's new electric conductivity against him. Plus, he earns some serious bonus points for leaving the show with a brand new theme song we're still singing over 15 years later: SUPER HERO, STATIC SHOCK — WOOP WOOP!
SCORE: 4/5 Lightning Bolts
KARL MALONE AND THE HOOP SQUAD — "HOOP SQUAD"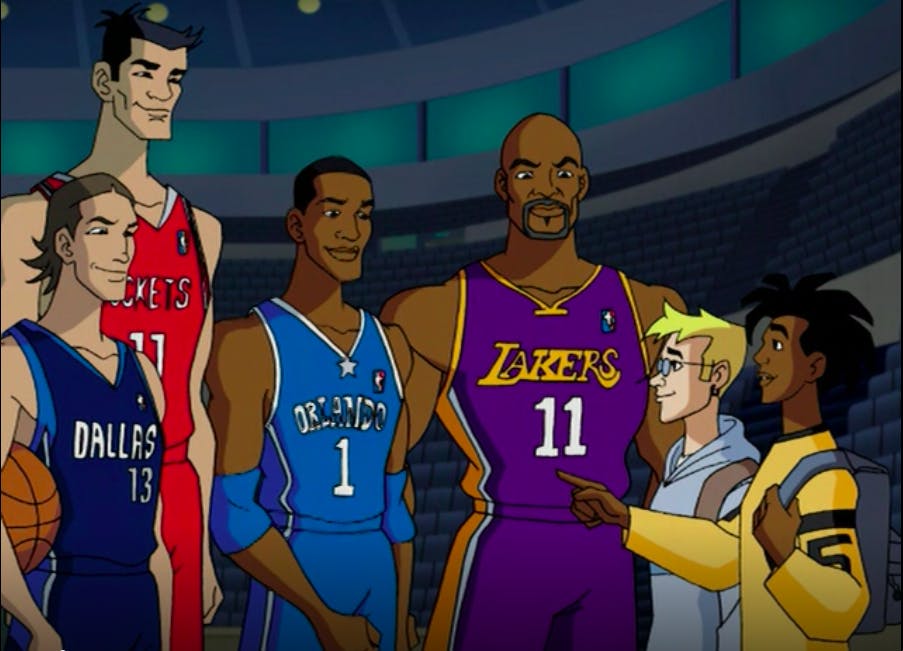 GROUNDING STORY: They call him The Mailman because he always delivers. For twenty years, Olympic gold medalist, two time MVP, and 14 time All-Star Karl Malone dominated the court with the second-highest career points total in the NBA, and by far the most free throws ever made. So when Mr. Hawkins is comped 2004 All-Star Game tickets as thanks for all his charity work, it's only natural that Virgil and Richie would run into All-Star mainstay Malone. And he's brought a few friends with him, too: NBA superstars Tracy McGrady, Steve Nash, and Yao Ming. (While these players afforded their likenesses to the series, it was only Malone who showed up in the recording booth to lay down his lines. You see what we mean about how he always delivers?)
SHOCK VALUE: Like something right out of a Scooby-Doo/Globetrotters crossover, this basketball playing quartet isn't just what they seem. Not content to merely be athletic icons, they also loom large off the court as the HOOP SQUAD, a covert team of cybernetically enhanced Super Heroes under the employ of the National Biotech Authority (or NBA). As "Pulverizer," Karl Malone's powerful hands became even more formidable, delivering sonic waves and crushing blows. With Static and Gear beside them, the Hoop Squad defeats the villainous Dr. Odium before he can use an earthquake device to hold the entire West Coast for ransom. Forget allies, these heroes were angling for their own spinoff! And while it never materialized, many celebrities have had their own larger-than-life cartoons in the past… and it would have been right at home in the Saturday morning lineup.
SCORE: 5/5 Lightning Bolts
What's your favorite 'Static Shock' episode? Let us know in our Community!