Nightwing is coming and the anticipation is growing with each episode! Welcome back to Night-Watch, our weekly column where we try to predict when Nightwing will make his live-action debut on DC Universe's Titans! The latest episode has lots of evidence to chew on, so let's take a look…
PRO-NIGHTWING
* We actually saw Nightwing's chest symbol this week! The bird was seen carved on the prison walls, and Dick definitely took notice of it. According to his cellmates, it belongs to their mythical savior El Ala Azul.
* Here's another interesting thing about El Ala Azul – when translated to English it means "The Blue Wing."
* Dick finally stopped feeling sorry for himself and went back into action. Did you see the look on Dick's face as he helped those refugees escape? We haven't seen him look that alive in weeks! He's ready to put his life back together and become Nightwing!
* During his scuffle with the prison guards, Dick picked up one of their batons to use as a weapon. For a brief moment it looked like Nightwing using his signature weapon, the eskrima sticks. Was anyone else ready for him to pick up a second one? Dick was first pictured with his iconic weapon on the cover of 1996's Nightwing #1, and it became a staple during the Chuck Dixon/Scott McDaniel run. It seems like it won't be long before he'll be using them in live-action!

ANTI-NIGHTWING
* We're definitely building towards Nightwing, but Dick is still in jail. Is he suppose to make his costume out of scraps from the prison workshop? We probably won't be seeing Nightwing until Dick gets out on parole. Maybe a weekend furlough?
* Those guards gave Dick a good beating at the end. Chances are he won't want to show off his new look until the bruises disappear.

Now let's plug all this intel into our trusty Wing-o-Meter!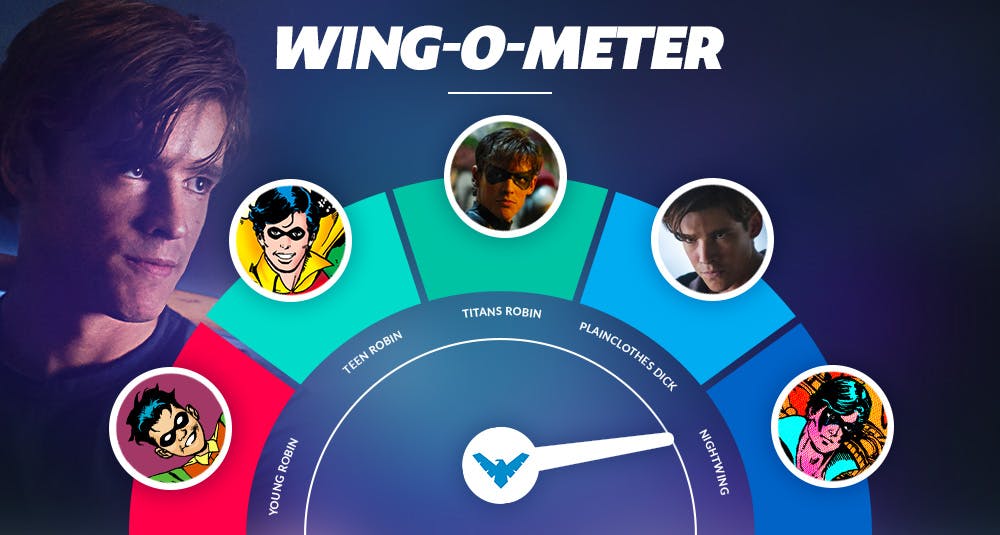 Holy incarcerated jailbird, it looks like we're looking at an 85 percent chance of seeing Dick become Nightwing in the next episode! That's 20 percent increase from last week, our biggest jump yet! Seeing the bird symbol, hearing about the legend of El Ala Azul, and seeing Dick pick up the baton was enough to give our Wing-o-Meter the increase. It appears we're closing in on Nightwing, and he could be coming at any moment! Will the next episode deliver? Check out DC Universe's Titans this Friday to see if our Wing-o-Meter was on the money!
When do you think Dick will become Nightwing? Let us know in our Community forum!