The recipient of a record seven Academy Awards for Best Makeup, including the first such award (for An American Werewolf in London), artist Rick Baker has brought his astounding visions to life in such beloved films as Gremlins 2: The New Batch, Ed Wood, and Men in Black. Now retired, Baker has focused his attention on sculptural work. Fortunately, for DC fans, that includes the DC Gallery Joker by Rick Baker 1:1 Bust (one of which we're giving away here at DC Universe in our first-ever sweepstakes). We recently sat down to chat with Baker about the inspiration behind and the execution of this jaw-droppingly gorgeous pop-culture artifact. Here's what he had to say...
Were you into comic books when you were a kid?
I had a few comics. The problem was I had no money, and I had to save my money for my Famous Monsters of Filmland magazine. [Laughs.] But the funny thing is, the comics I did have were DC. Usually Batman. I just liked the idea of the concept of a Batman. I did feel a little closer to him than the other characters.
How about the Joker? There have been so many interpretations of the character. Were there any you were especially fond of?
The one I like the best is actually what the Joker's look was based on, which is the Conrad Veidt character in the German silent film The Man Who Laughs, which was so cool. That's kind of what got me into Joker to begin with. It was almost like, with every version I would see, I would say, "I wouldn't have done that." I really wanted to stick some big-ass teeth in somebody's mouth, like in The Man Who Laughs. What was great about doing this is that I could do what I wanted because there's not an actor's face underneath. No one had to talk. I would question some of the decisions on [Joker] makeups, but I thought, "Well, okay. They didn't do that because the guy has to deliver a bunch of dialogue." It's hard to do with big teeth. But there are ways around it. I was not a big fan of the Jack Nicholson makeup. Or Cesar Romero, who wouldn't shave his mustache off. I just wanted to see a badass, evil, fucked-up Joker. 
Could you see yourself returning to the DC universe to try your hand at another character?
Yeah, there are a couple that I might be interested in. It depends on how this does, if it's accepted by people. I'm retired from the film industry. The main reason I retired is so I can do what I want to do, make things I want to make myself without people interfering. I work basically twelve hours a day on my own stuff. It's hard to get me to do stuff. I kind of wanted to get away from the job thing, but this was the perfect kind of job. It wasn't like any job that I'd had. It was on my own time, my own schedule.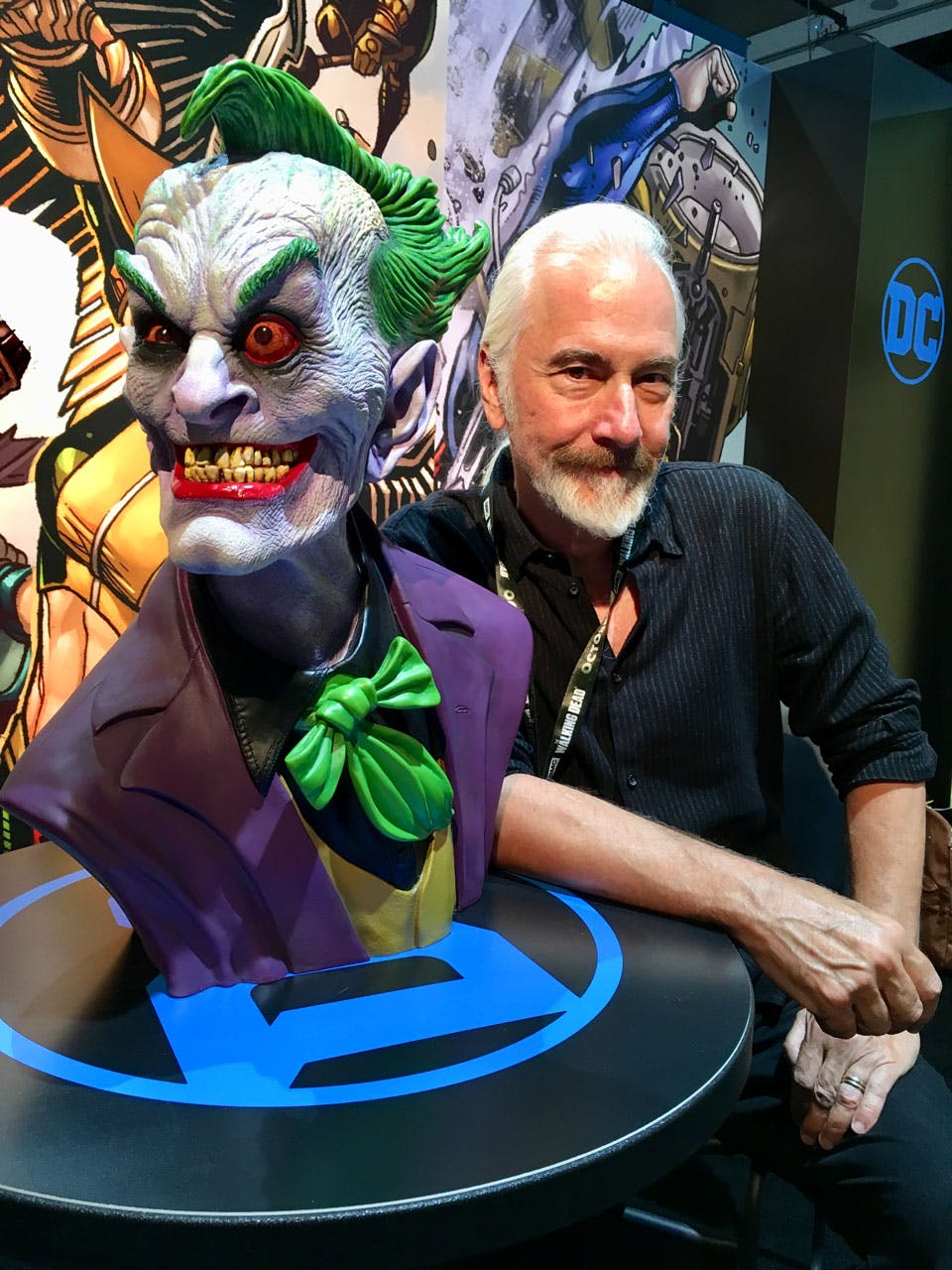 Did you start with a pencil sketch?
I did a real loose sketch, and then I did a model to look at it from different angles. Then I started to sculpt; and the sculpt, because it was a water-based clay, went pretty fast. It went through some changes, but then it was more a problem of thinking, "Okay, how am I going to mold this, and what do I have to cut off?" I probably worked on the sculpture over a period of like two weeks. It was pretty fast. I was very focused on it. It was like, "This is what I'm doing, and I've got to get this done." They gave me plenty of time. They said I could take a year to work on it. But I don't like things hanging over my head. I wanted to check this off my list. So I thought, "Okay, I'm going to approach it like a job. I'm going to schedule out things and make sure I get it done."
How did you come to work with DC?
My daughter Veronica works at DC, and we did a tour of the facility there. We went through Collectibles, and I was blown away by all the cool stuff they were making. They kind of off-the-cuff mentioned, "Would you be interested in doing something with us?" I like, "Maybe." But frankly, I was afraid, because the quality of the work is so good, and I don't do small-scale well, especially now that I'm old. So I didn't think it was really ever going to happen. Then I got a serious call about it, and I said, "Well, if I can just do it -- my interpretation, no notes, a life-size 1:1," and they said yes to all that. But it all really came about through my daughter Veronica. And my appreciation of the Joker, because I made up Veronica as The Killing Joke's Joker for Halloween one year. My other daughter, Rebecca, was Heath Ledger. I did Rebecca's boyfriend as The Man Who Laughs. I did the New 52 Joker on myself, and my wife was Harley Quinn. So it was me preparing for Halloween. I didn't even know about the New 52 Joker. Veronica is the one that turned me on to that. She said, "Yeah, he's got his face cut off." That sounded kind of cool. [Laughs.]
I was actually a little afraid because the bust is similar in some ways to other Jokers, but it's way different. I thought, "Are people going to accept this? Am I going to get hardcore DC fans hating me because I screwed up?" But they seem to be going for it. [Laughs.]