It began in Artist's Alley. In a Chicago convention hall in 2011, artist Ant Lucia reconceptualized the greatest heroines of the DC Universe with the style of pin-up models from the 1940s. Taking their cues from the likes of Rita Hayworth, Ava Gardner, and Bettie Page — those women who kept our boys flying for a dream of the girls waiting for them back home. One wildly popular collection of figurines later, comic writer Marguerite Bennett was tapped to develop these enticing visual takes into their own shared universe; a latter-day Elseworlds with glamorous heroines at the height of World War II. To no one's surprise, Bennett used her series to recast the Bombshells from mere motivators to the heroes of the war, from the mortar heavy front lines to the spycraft of the back. But few expected what else Bennett had in store. A queer woman herself, Marguerite Bennett used her platform on this highly visible corner of the DC Universe to show us all that the greatest weapon against hatred is love — no matter who those lovers may be, where they're from, or how they identify. Here are the seven greatest love stories of Marguerite Bennett and Marguerite Sauvage's 'DC Comics Bombshells'...
BATWOMAN, MAGGIE SAWYER, AND RENEE MONTOYA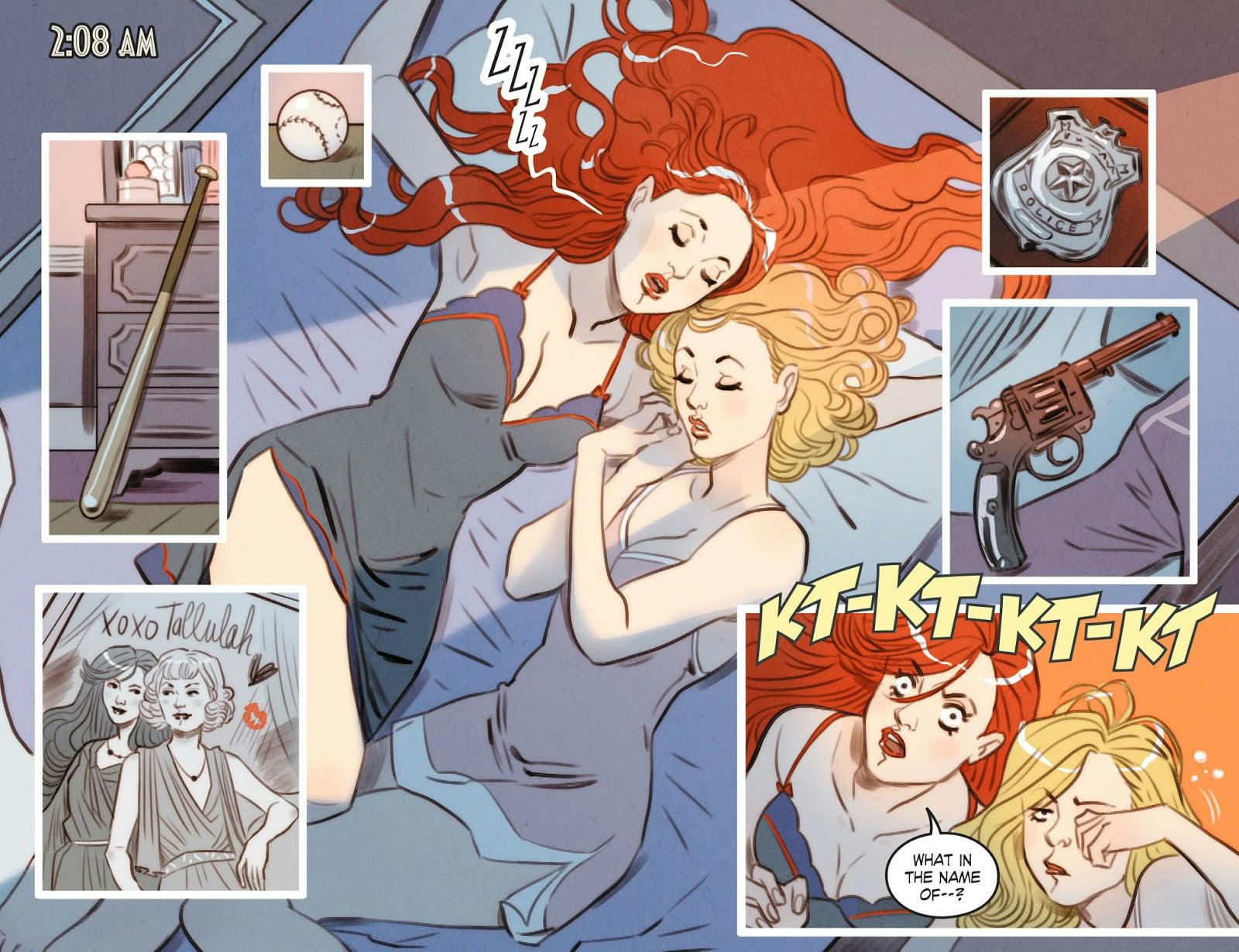 Difficult as it remains today, the 1950s offered an even more treacherous landscape to present, let alone celebrate, a queer identity. According to author Les Daniels' 'Batman: The Complete History,' not even Batman was immune to perceived threats to standardized, heteronormative values. To offset the creeping camp factor of Batman at the time, a female crime-fighting partner was introduced to help "straighten things up" — Kathy Kane, the first Batwoman. Fifty years later, writer Greg Rucka and artist J.H. Williams returned Batwoman to comics continuity as Kate Kane, an out and proud gay woman, reshaping a character introduced purely to reaffirm heteronormativity into a champion for queer representation. In 'DC Comics Bombshells,' Bennett puts the reclaimed Batwoman at the front and center of her historical drama as the closest thing to a protagonist the ensemble narrative contains. Here, Batwoman struggles with conflicted emotions regarding the flame of her past, Spanish revolutionary Renee Montoya, and her current girlfriend, GCPD detective Maggie Sawyer, both respectively reflecting her principal Pre-Flashpoint and New 52 love interests. In fiction, "queer erasure" is an all-too-common phenomenon where a gay character can be written out to make room for another, devaluing their purpose as anything more than a demographic filler. Here, Bennett and Sauvage defy that notion. Both of the great loves of Kate Kane's life have a role to play in 'Bombshells.'
HAWKGIRL AND VIXEN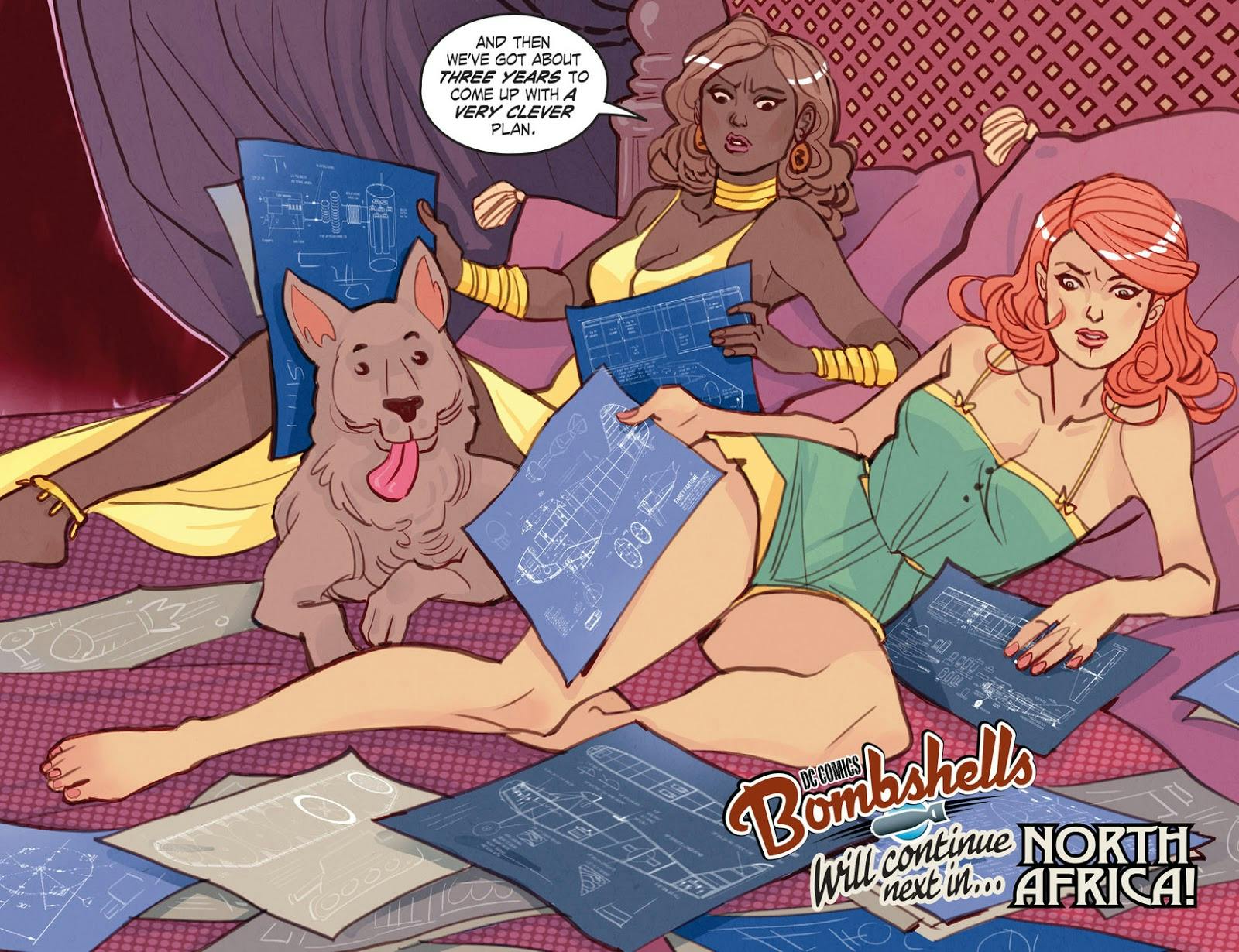 Fans of 'Justice League' and 'Justice League Unlimited' know Hawkgirl and Vixen as the dueling primary love interests of the Green Lantern, John Stewart. In this reinterpretation, 'Bombshells' proposes a radical idea: why not cut out the middle man? In Bennett's world, Mari McCabe was both the queen and an olympic runner for the African nation of Zambesi. Shayera Hol was a genius mechanic and archaeologist, investigating the legendary totems of Mari's homeland. And from the moment they met, it was love at first sight. Together, this power couple fought against the third Reich from the beating heart of Africa, encouraged onward by the beats of each other's. They even stole Hitler's dog, and adopted him as their own.
BIG BARDA AND DOCTOR LIGHT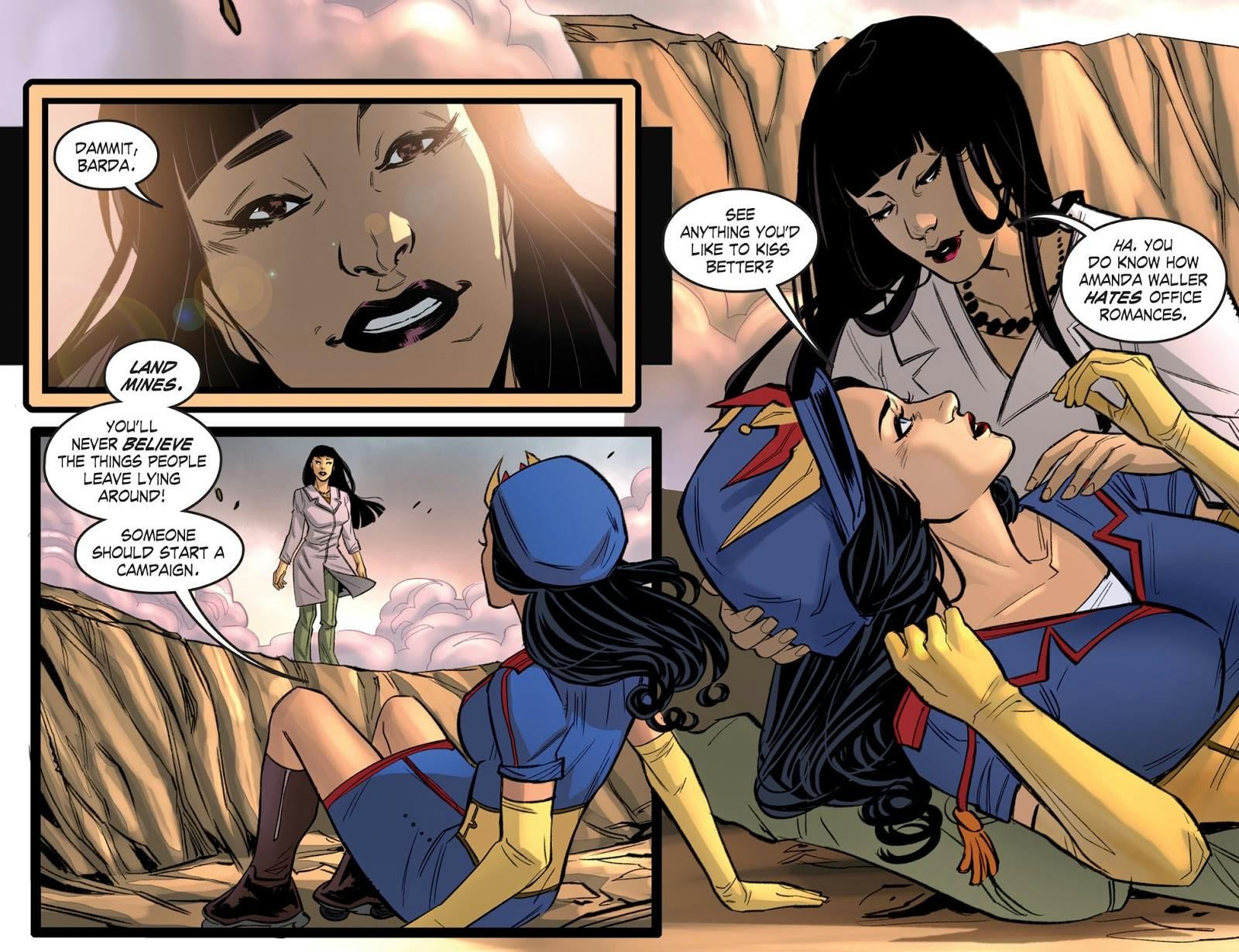 One of the greatest stories of love and war in the history of the DC Universe is the tale of Big Barda. Indoctrinated from birth into Darkseid's elite death squadron known as the Female Furies, it's only the power of love which frees her from the bleak world of Apokolips. In 'Bombshells,' Barda Free once again stands as a symbol for love in the time of war, but finds romance with one of her sisters in arms: Kimiyo Hoshi, with whom she works in administration for Commander Waller's Bombshells. But when the chips are down, both prove powerful field assets in their own right. In 'Bombshells,' even the scientists and security officers see action, in all senses of the term.
SUPERGIRL AND ELOISA LANE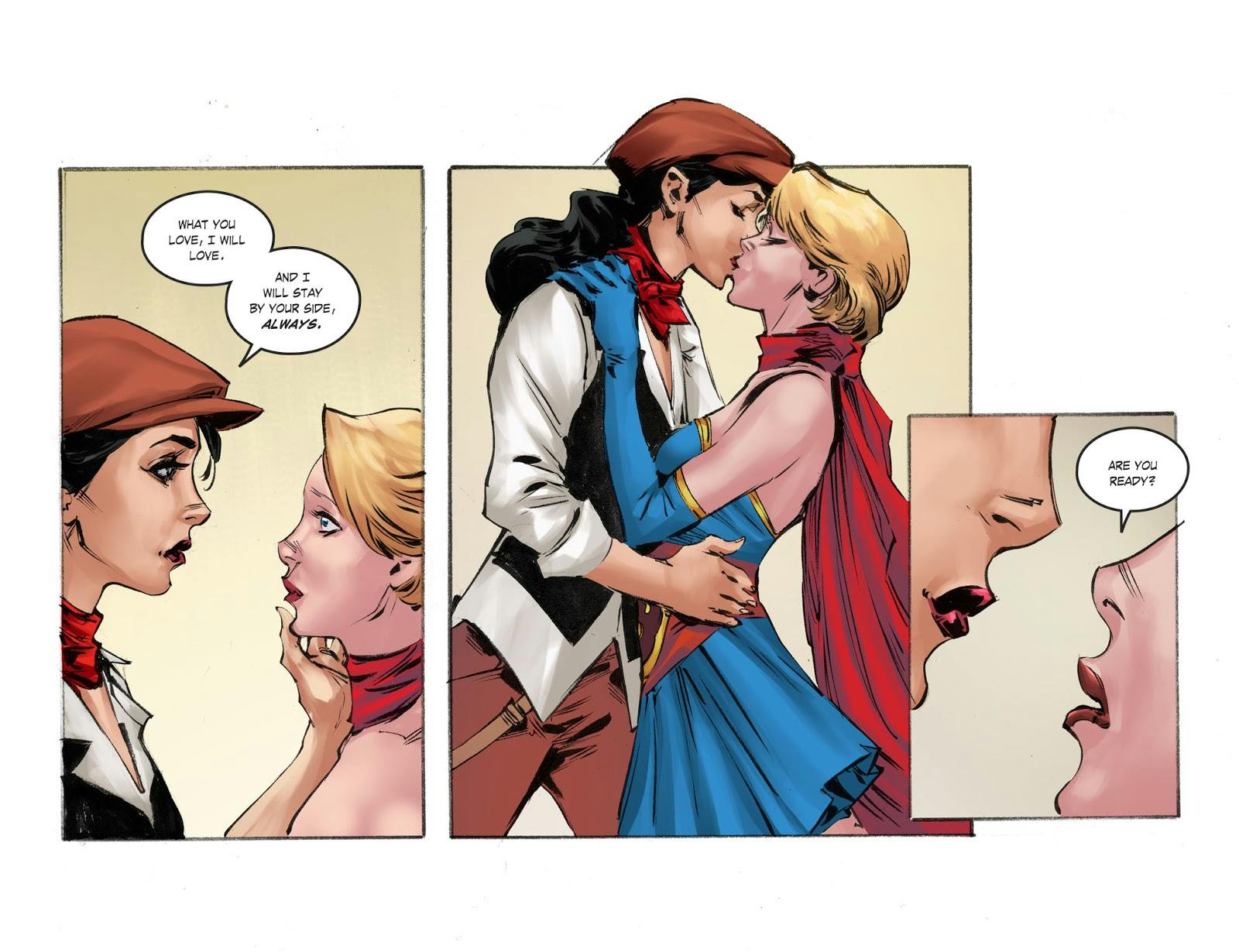 "Can you read my mind?" Perhaps the most iconic romance in DC history is the love shared between Superman and Lois Lane. In 'Bombshells,' however, it's Supergirl who ends up sweeping Lois off her feet. Conjuring shades of 'Red Son,' Kara Zor-El's rocket first makes landfall in the Soviet Union, making her an asset to the Russian army. Facing lies for her entire life about who she truly was and her role in the grander scheme, it's understandable that she would find love with this world's version of Lois, who, as in every world, wages war with her pen as a soldier for truth above all else.
WONDER WOMAN AND MERA
Shades of bisexuality have always existed throughout Wonder Woman's history, but it's never presented more overtly than it is in 'Bombshells.' Though Diana continues to pursue a blossoming relationship throughout the story with intelligence officer Steve Trevor, a close political friendship maintained between Themyscira and Atlantis eventually reveals its basis in a steamy affair between Diana and the sunken kingdom's own Queen Mera. Who knows? Maybe if Diana had been betrothed to Mera instead of Aquaman in 'Flashpoint,' events wouldn't have gone so badly...
BATGIRL (ALYSIA YEOH) AND BATGIRL (NELL LITTLE)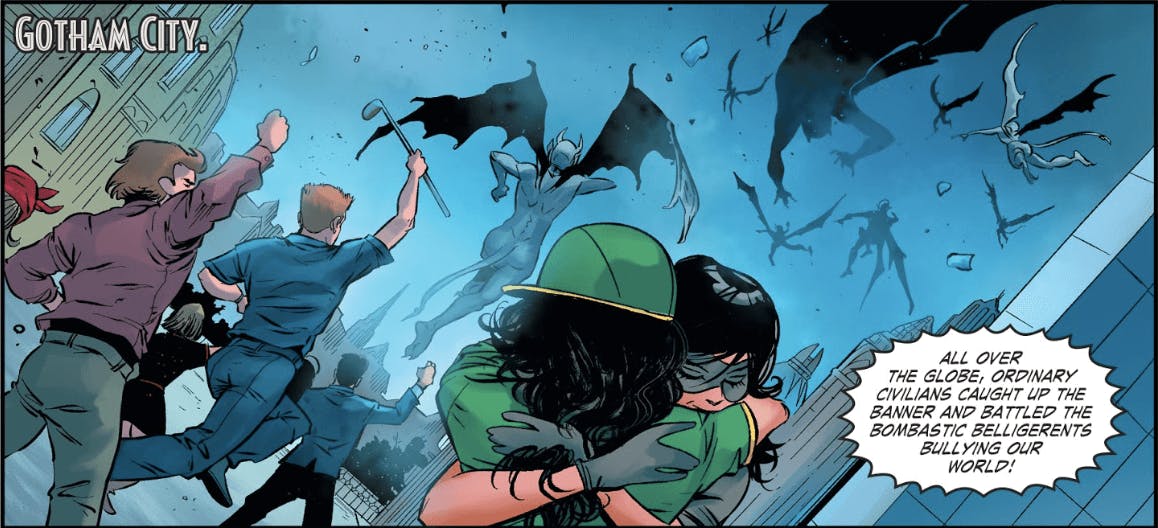 Over 15 years of writing for DC, 'Birds of Prey,' 'Wonder Woman,' and 'Batgirl' writer Gail Simone has painted an entire rainbow of characters across the sexual spectrum in the DC Universe, from the asexual Tremor of 'The Movement' to the genderfluid Porcelain of 'Secret Six.' In the New 52, Simone's 'Batgirl' made headlines when Barbara Gordon's roommate, Alysia Yeoh, came out to her as a trans woman, and later celebrated her wedding. Though Simone's run ended 3 years into the New 52, she's spoken in the past about her unrealized plans for Alysia to, however briefly, experience her own turn as Batgirl. In 'Bombshells,' Alysia finally gets that chance, alongside a whole team of Batgirls inspired to action by Kate Kane. At the end of the war, we see Alysia embarking on a new romantic journey with fellow Batgirl, Nell Little — another Gail Simone creation.
HARLEY QUINN AND POISON IVY
Since they first rode off together like Thelma and Louise in the 'Batman: The Animated Series' episode "Harley and Ivy," DC has upheld a long tradition of playing coy with the exact nature of the relationship between Poison Ivy and Harley Quinn. In 'Bombshells,' Bennett and Sauvage refuse to engage in any such games, and subtext is finally made plain text. Though their relationship begins as flirtatiously as it does in recent comics, it's soon clear that their love for one another is the only thing that makes sense in a world more chaotic than it has ever been before. And ultimately, it's the power of that love which allows Harley to reject the Joker's influence in her life. If you've ever wanted to see a happy ending to Harley's tragic story of misplaced faith and dire heartbreak, then 'Bombshells' is where you will find it.
What are some of your favorite DC LGBT romances? Let us know in our Community!