His name is Oliver Queen. After eight years in Hell, his televised journey to save Star City and himself is coming to an end in its final season. With its launch in 2011, 'Arrow' raised the stakes and redefined all the rules for what a Super Hero show must bring to the table, and has inspired an entire lineup of spinoff series in its wake spanning the breadth of the DC Universe. But all that inspiration had to come from somewhere. And from the very beginning, 'Arrow' has worn its heart on its sleeve -- even naming Oliver's closest confidant, John Diggle, after the writer who inspired them. We speak of course, of writer Andy Diggle and artist Jock's 2007 take on the origins of the Emerald Archer, 'Green Arrow: Year One.'
'Green Arrow: Year One' tells the now familiar story of a spoiled, thrill-seeking playboy on a boating trip gone terribly wrong. He finds himself the last survivor of a shipwreck, marooned on a desert island with no hope of rescue. His only companion: a film prop bow and arrow brought on the deck of his wrecked ship for a party that is now all but a distant memory. Forced by circumstance to adapt or die, young Oliver Queen learns to cast aside his silver spoon and transform himself into someone else… some*thing* else.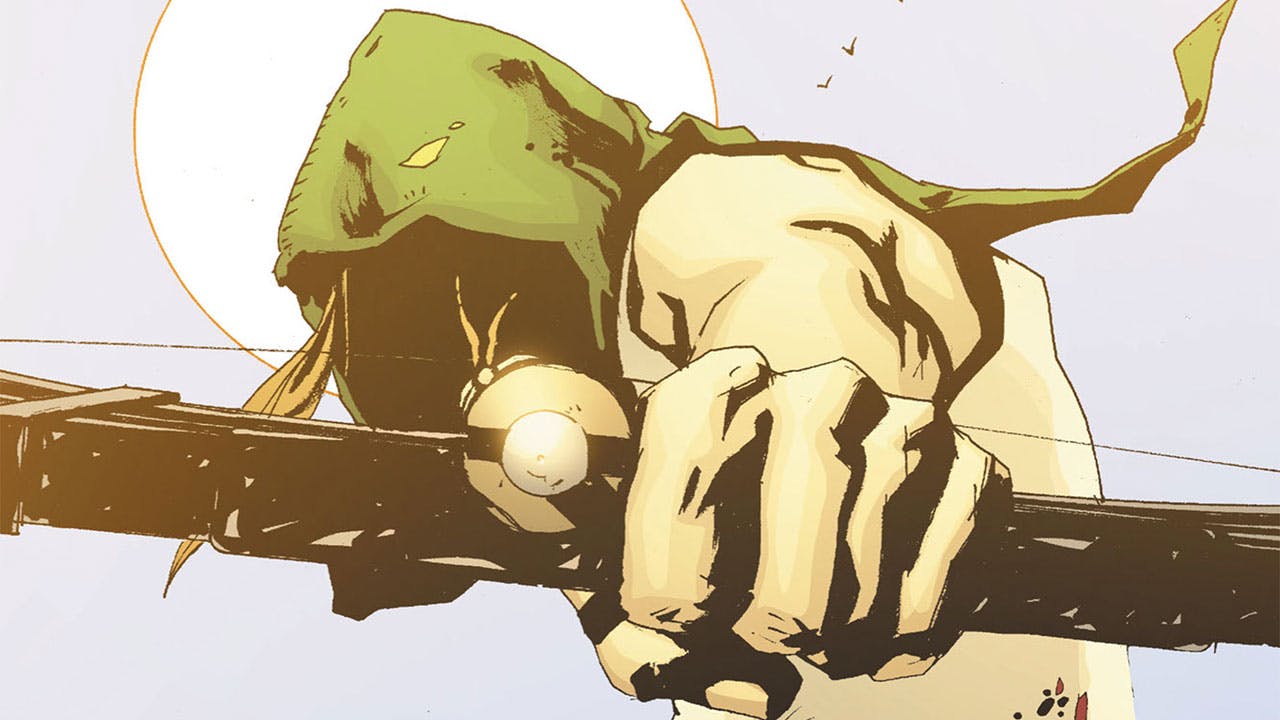 As a television program, 'Arrow' owes quite a lot to 'Year One,' as the miniseries informs a great deal of the tone for the series' signature flashbacks to Oliver's time on the island which forged him from carefree playboy into a man with a mission. In fact, one of Oliver's main adversaries in the series, South Pacific crime ring boss China White, originated as Oliver's first nemesis on the island in 'Year One.' As it turns out, the island is not so deserted as Oliver first believed… though he soon learns that these other men are nothing less than the greatest threat the island has to offer.
But violence is not the only thing that the island brings Oliver in 'Year One.' A native population deep in the island's heart teaches Oliver compassion, the rare values of kindness and community in a cold and selfish world, and to look within himself to find his own place in the world. On the island, Oliver learns not just to survive, but to protect the beauty in this world from those who would exploit or extinguish it.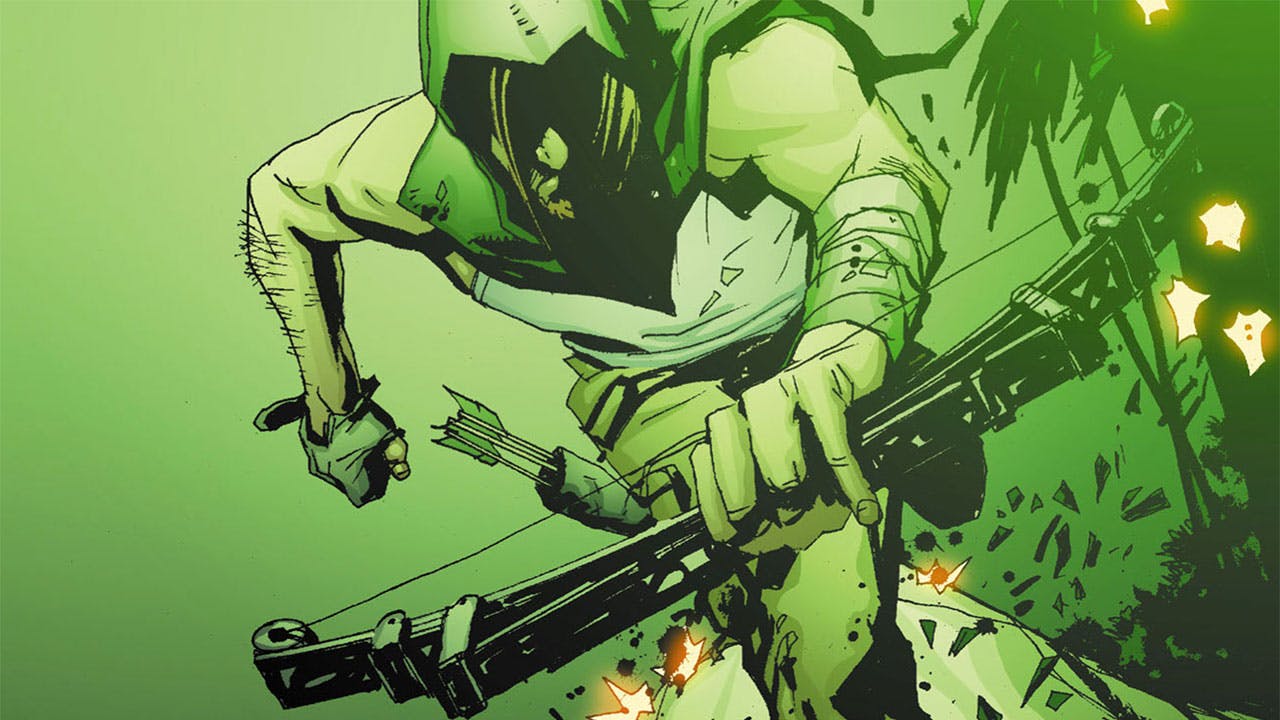 To do so, Oliver becomes two different people: the lackadaisical, laissez-faire one-percenter of his youth, and the driven vigilante who Star City comes to know as Green Arrow — the first essentially serving the second as a means to surreptitiously close in on those who would do harm to the downtrodden for the sake of personal gain. Those who have, as 'Arrow' later succinctly puts it, 'failed this city.'
To overlook the artistic contributions made by illustrator Mark "Jock" Simpson and colorist David Baron would be to miss far too much of what gives this series its magic. The feverish art and color choices paint a visceral picture of Oliver's shipwrecked state of mind as he adjusts to an all too real world he was never prepared for. Since 'Year One,' Jock has rightfully gained a reputation as one of the most dynamic cover artists in the modern comic book industry: every cover revealing in its illustration elements rarely before realized about his subjects. 'Green Arrow: Year One' delivers an entire precious series of these compositions, allowing a level of artistic insight which continues to drive the character. (Visual influences, for instance, can clearly be seen in Jeff Lemire and Andrea Sorrentino's run on the character in the New 52.)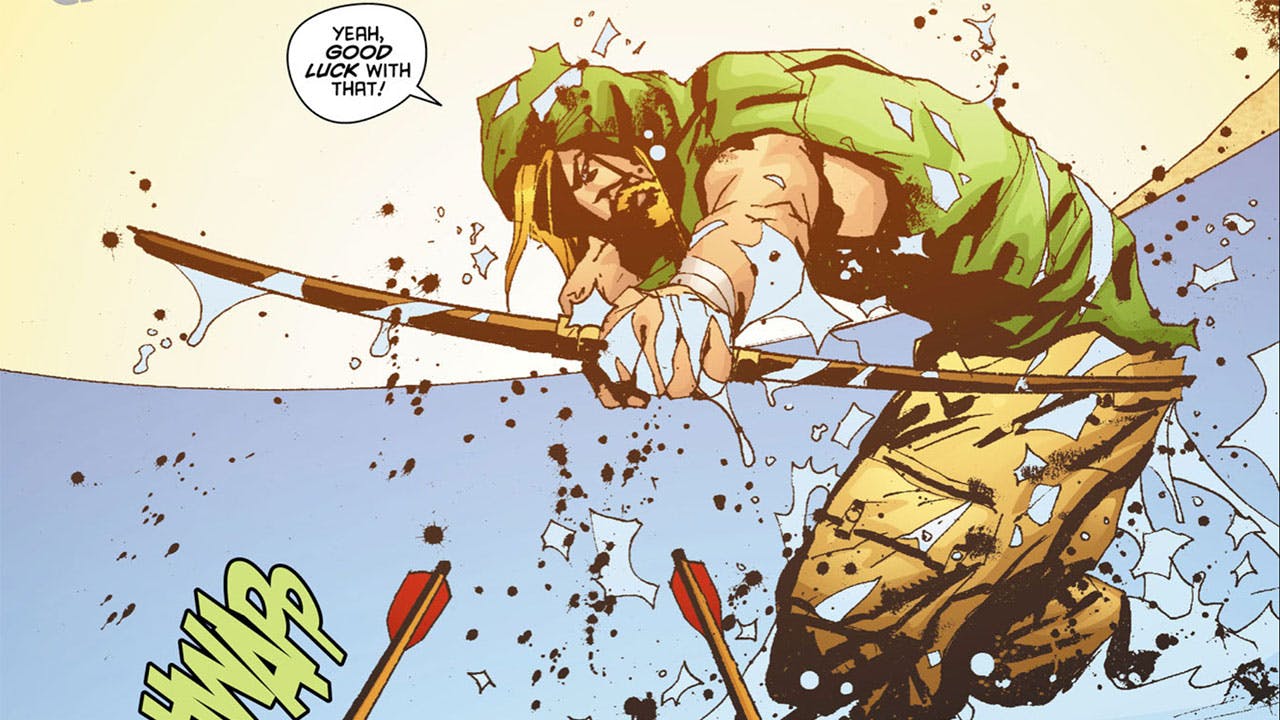 Like many 'Year One' titles, this miniseries is far from the first version of the story told in DC's history. Green Arrow Godfather Mike Grell tells Oliver's origin story first in 1989's 'Secret Origins' #38, and expounds upon it once more in 1993's 'Green Arrow: The Wonder Year.' To be sure, Diggle and Jock in turn owe a great deal to the foundation laid by Grell in establishing Ollie as the man he is today. But that's exactly what the legacy of DC Comics is: a series of giants standing on one another's shoulders to reach new heights, forever acknowledging the support granted to them by those below. 'Green Arrow: Year One' may not be the first link in the chain of Green Arrow's development, but it's one which gorgeously re-establishes his roots with a unique but not at all unwelcome sense of style.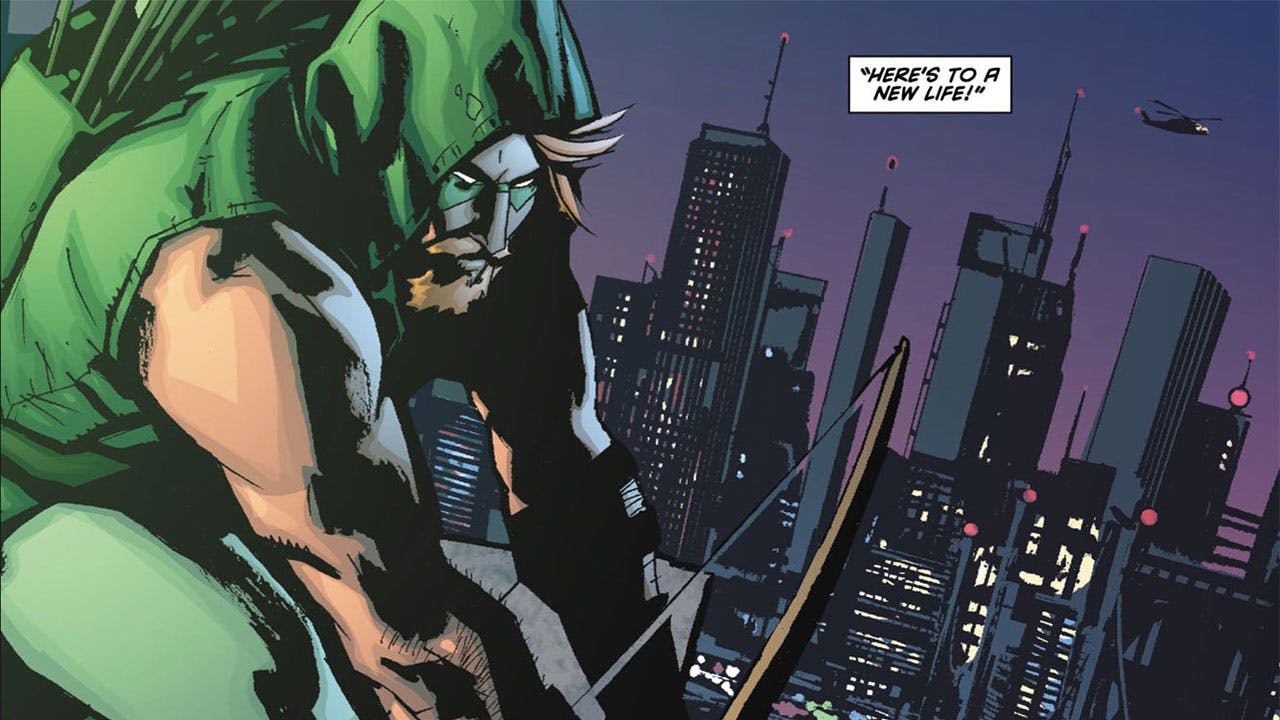 That's the secret of 'Year One' comics: they've never been about starting a character over from scratch. 'Green Arrow: Year One' is a hand reaching downward, hoisting readers up to a decades long tradition of the exciting and introspective adventures of Oliver Queen. And 12 years later, it's still one of the absolute best places to start.
What's your favorite moment of 'Green Arrow: Year One'? Talk about it in our Community!