Since the dawn of fiction, storytelling has been filled with besties. There's Lucy and Ethel, Bert and Ernie, Kenan and Kel -- and Harley and Ivy! Seriously, Harley Quinn and Poison Ivy are bestie goals, and it's hard to find a tighter duo in the DC Universe. Their friendship takes center stage in DC Universe's Harley Quinn animated adult comedy series (premiering November 29th), as the villainous vixens form their own gang and show the underworld how deadly their brand of girl power can be. To celebrate these soulmates, let's take a look at 5 reasons why they are the ultimate pair of BFFs.
SHOPPING SPREE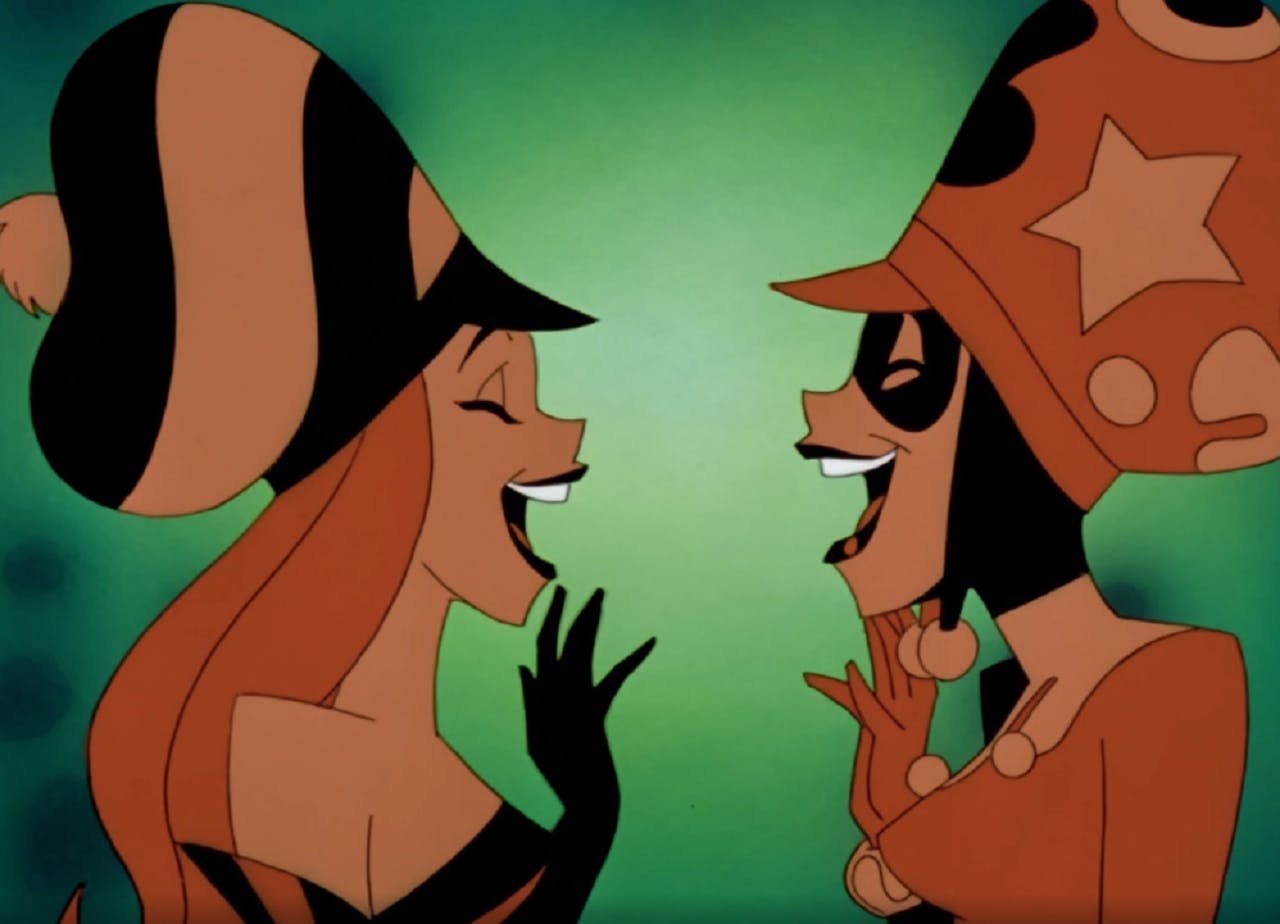 Is there anything better than that feeling you get going on a shopping spree with your bestie? How about doing it with a billionaire's credit card? That's just what Harley and Ivy did in the New Batman Adventures episode "Holiday Knights" (based off of a story in The Batman Adventures Holiday Special #1). After Ivy used her lipstick to control Bruce Wayne like a puppet, she and Harley treated themselves to a buying splurge courtesy of Bruce's many credit cards. They even got 'ol Brucie to follow them around and carry their many shopping bags. No plans of world domination or grand heists here, just two gal pals having fun. They even had their own fashion show. 
A SURPRISE PARTY OF POISON
Nobody knows how to make your birthday special quite like your BFF. In the Harley Quinn 25th Anniversary Special #1 we learn that Harley has never had a happy birthday, but Ivy is determined to end the bad streak. The Joker wants to spend Harley's birthday on a heist, and it's not even a special heist. Ivy poisons the Joker and informs him he's only getting the antidote after he throws Harley the best surprise party she could ever imagine. Since the Joker wasn't thrilled about dying a painful poisonous death, he complied and Harley had a wonderful party with all of her friends. Since Ivy is such a good friend, she even let the Joker take the credit, since it would make Harley happier. What a pal! 
COMPANIONSHIP AT ALL COSTS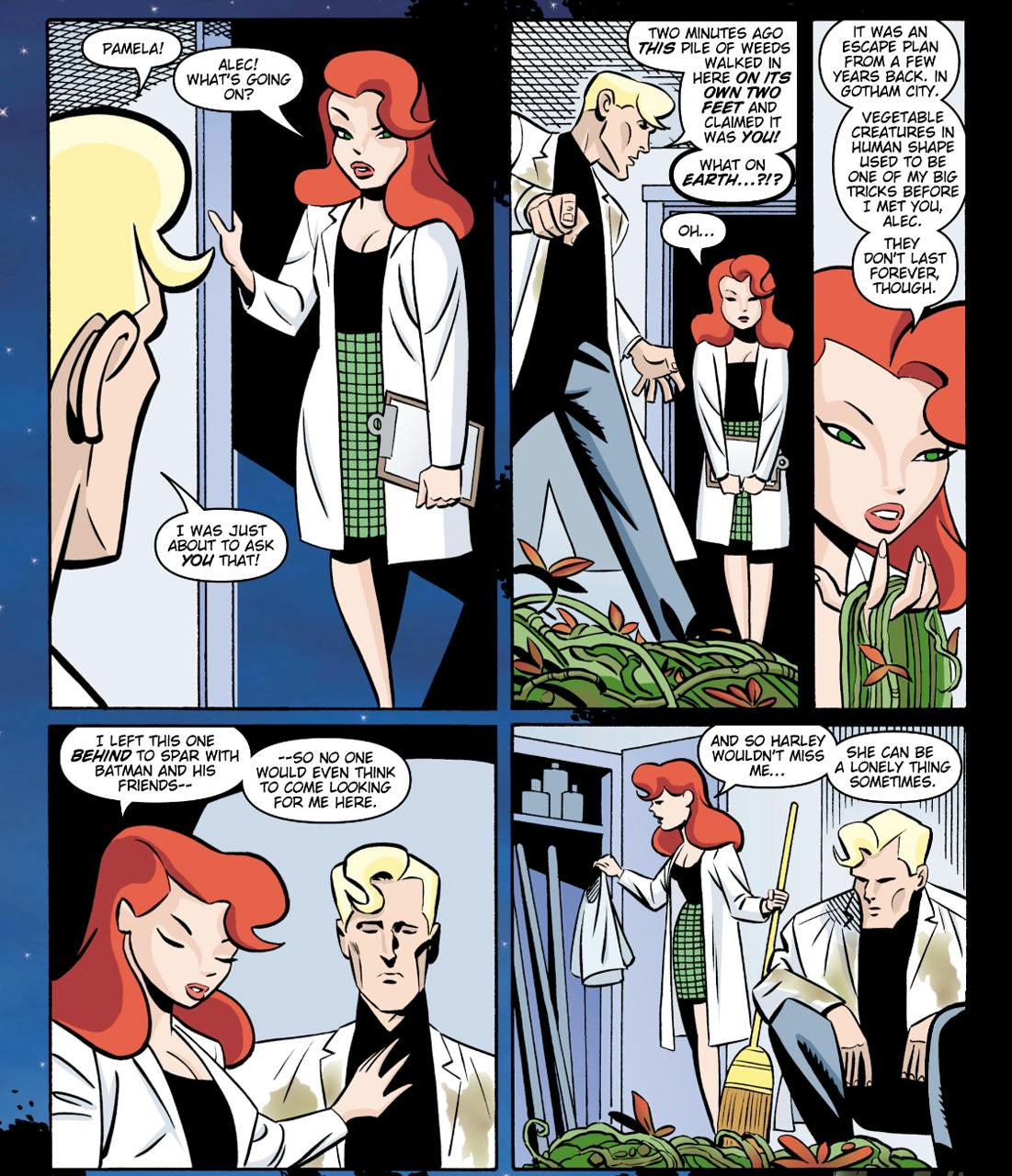 Most best friends throw around phrases like "together forever" and "I'll never leave your side," but they don't commit to it the same way Harley and Ivy do. Poison Ivy is so dedicated to her friendship with Harley, that she created a plant copy of herself in 2004's Batman Adventures #16 (written by Ty Templeton and penciled by Rick Burchett) to ensure her bestie would never have to get lonely. Listen, we all know Ivy doesn't really care about the emotions of others, so the fact that she cared enough about Harley to do this speaks volumes. Now Ivy can do swampy science with Alec Holland and still go on adventures with Harley. Could one ask for a better friend?
MAKING A MOVIE
Most besties post a few goofy photos on Snapchat, but Harley and Ivy like to do things bigger. Did you know they made their own movie? In Batman: Harley and Ivy #3 (story and art by Bruce Timm and Paul Dini) the dynamic gal pals make their way to Hollywood when they discover a studio is producing a film about their crime spree. At first they plann on shutting the production down, but decide it would be more fun (and profitable) to take control of the film themselves. The movie runs over budget and has more explosions than a Michael Bay blockbuster, but audiences love it. Harley and Ivy even win an Oscar, which is a lot more than most Instagram gal pals can claim. 
WAIT, ARE THEY MARRIED?!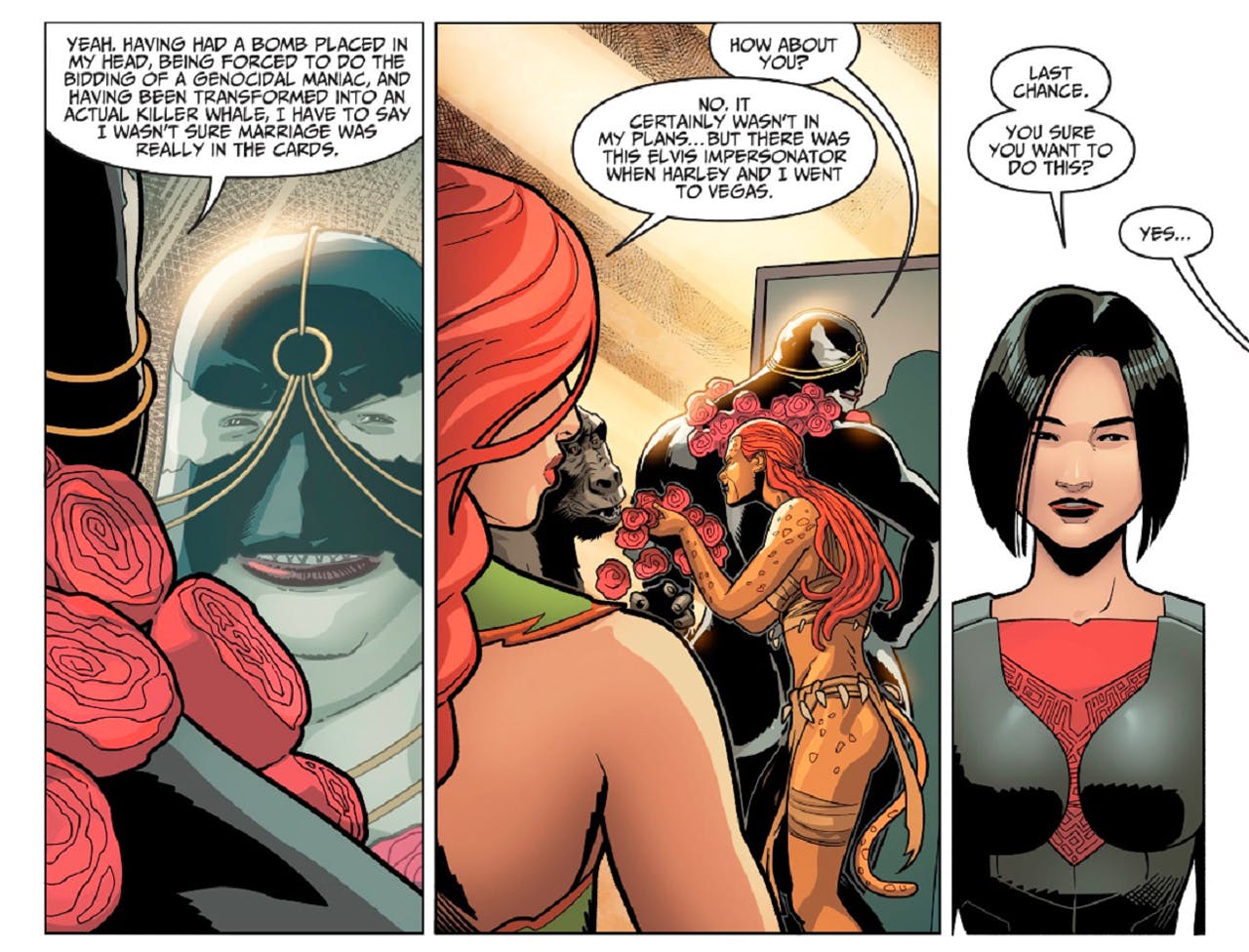 Here's an interesting piece of trivia about Harley and Ivy – it's possible that they're married. While helping Orca prepare for her wedding to Killer Croc in Injustice 2 #70 (written by Tom Taylor and penciled by Bruno Redondo), Ivy offhandedly mentioned that she and Harley were married in Vegas by an Elvis impersonator. Does it feel weird that more people aren't talking about this? People always say you should marry your best friend, and this article has demonstrated, it would be hard to find two pals tighter than Harley and Ivy. It seems like marriage hasn't really affected their friendship. Since we never see them argue about anything petty like where to go to dinner or leaving the bathroom a mess. In fact, one could argue they have the healthiest marriage in the DC Universe. Sorry, Lois and Clark! 
Are Harley and Ivy gal pal goals? Let us know in our Community!