The second episode of DC Universe's new Titans (watch it here) presents the first live-action version of Hawk and Dove (played by Alan Ritchson and Minka Kelly). Though they appear as contemporary as any characters on the show, the two have served as a crime-fighting duo for over fifty years, since they were introduced in 1968.
Very much a product of the tumultuous times in which they were created, Hawk and Dove began as brothers Hank and Donald Hall. The pair were representative of the youth culture of the late 1960s, with Don taking on the mantle of the peace-loving Dove, and the aggressive and militaristic Hank inhabiting the role of Hawk. Back in the late 1960s, being a "hawk" or a "dove" was a popular way of describing someone as for or against the Vietnam War, and the creators at DC were able to tap into that trend when conceiving these heroes.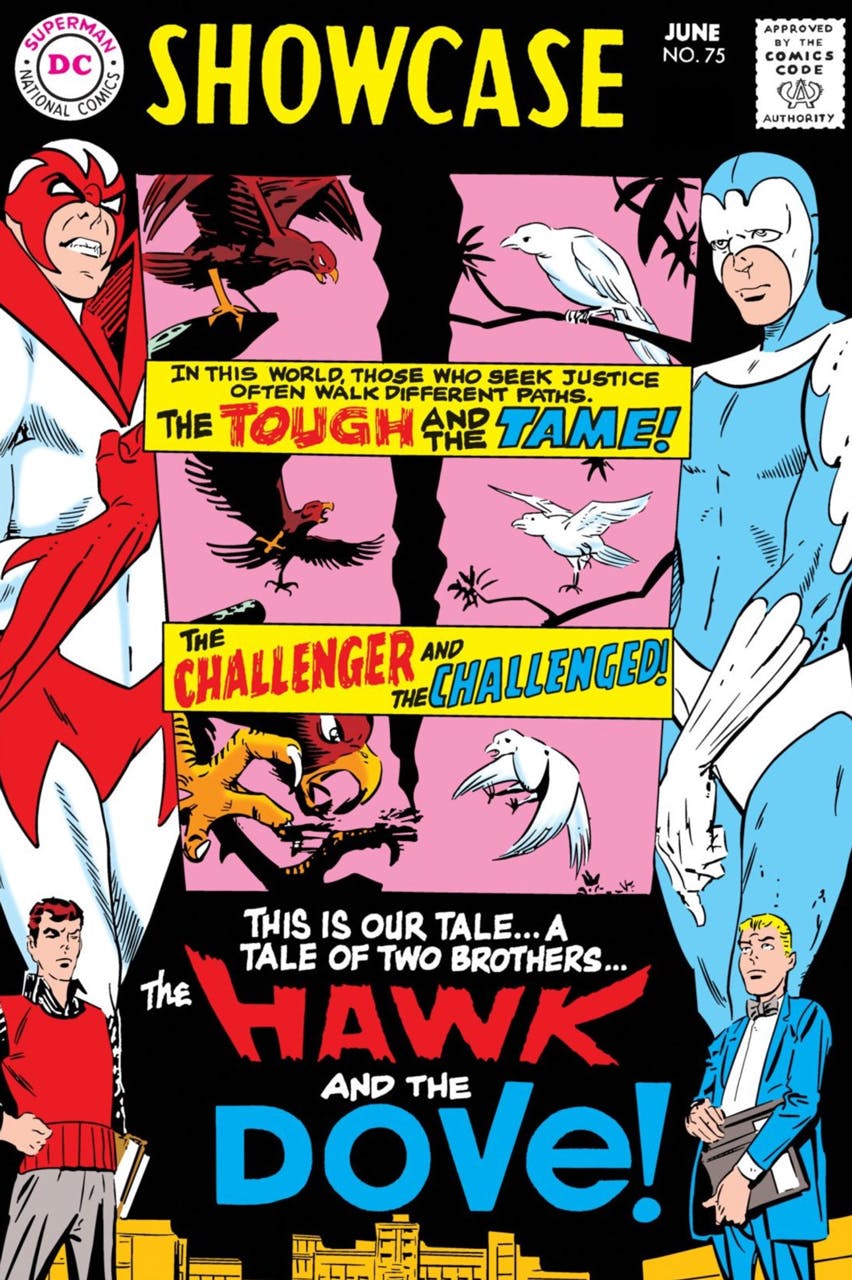 The duo first appeared in Showcase #75, written by Steve Skeates and Steve Ditko and penciled by Ditko (read more about the late creator's contributions to DC here) in June of 1968 -- a series that was famous for trying out new characters and concepts, with the successful ones spun-off into their own titles. Introduced as the teenage sons of Judge Irwin Hall, Hank and Don discovered that their famous father had made many enemies, one of which very nearly killed him. Hank and Don tracked the would-be assassin back to his headquarters, where they accidentally found themselves trapped. 
Mysterious voices then began to speak to the siblings, offering them a chance to save their father. The voices, it was later revealed, belonged to a Lord of Chaos and a Lord of Order named T'Charr and Terataya, who instructed them to call forth the powers of the Hawk and the Dove by speaking the words "Hawk" and "Dove" out loud. Now clad in colorful costumes and exhibiting super strength and agility, the brothers were able to save their dad, and soon became Super Heroes.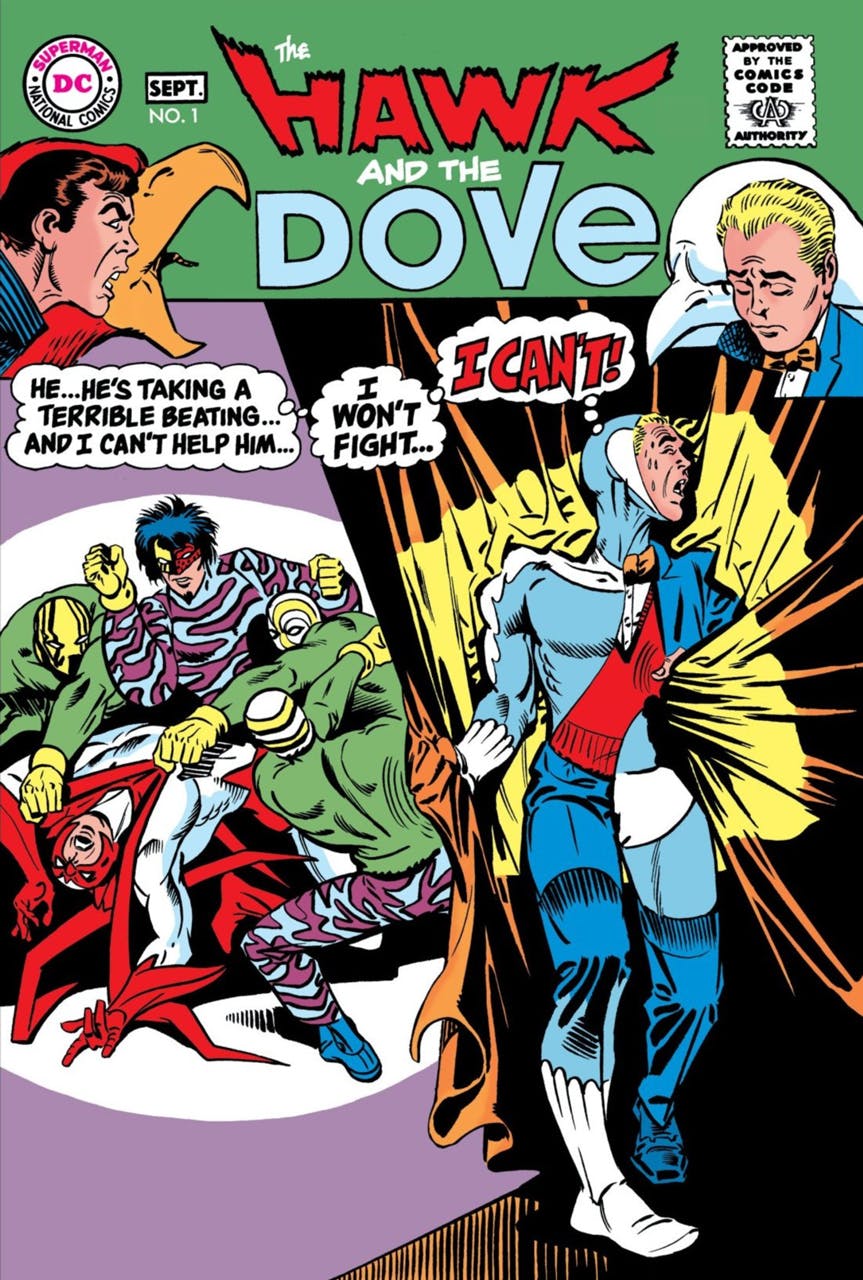 The Hall brothers quickly got their own ongoing comic book, called The Hawk and the Dove (read it here). But Ditko left the book after its second issue (replaced by artist Gil Kane) and Skeates left after issue #4 (leaving Kane as the solo artist and writer). Alas, the series ended in 1969 after just six issues. 
But that wasn't the end for the heroic brothers, as the two joined the Teen Titans. Introduced in Teen Titans #21 (read it here), they were members from issues #25-30 of the team's original series. Later on, in the '70s, Hawk and Dove were members of the spin-off team, Titans West. Appearances after that were sporadic at best, perhaps because the concept of a Hawk and a Dove was seen as an intrinsically '60s idea. In the 1985 universe-spanning limited series Crisis on Infinite Earths, Hawk and Dove appeared alongside almost every hero in the DC Universe. In the title's final issue, Dove was killed by a shadow demon.
Without his peaceful brother to balance him, Hank grew unhinged and more violent than ever before. He joined the Teen Titans on a mission at a time when the team was in upheaval and Wonder Girl was in charge. More than once, she had to step in and prevent Hawk from crossing a line and killing one of their opponents. On his own, Hawk was a lost and broken soul without the emotional support provided by his brother Don. Chaos needed Order, and Hawk needed a Dove.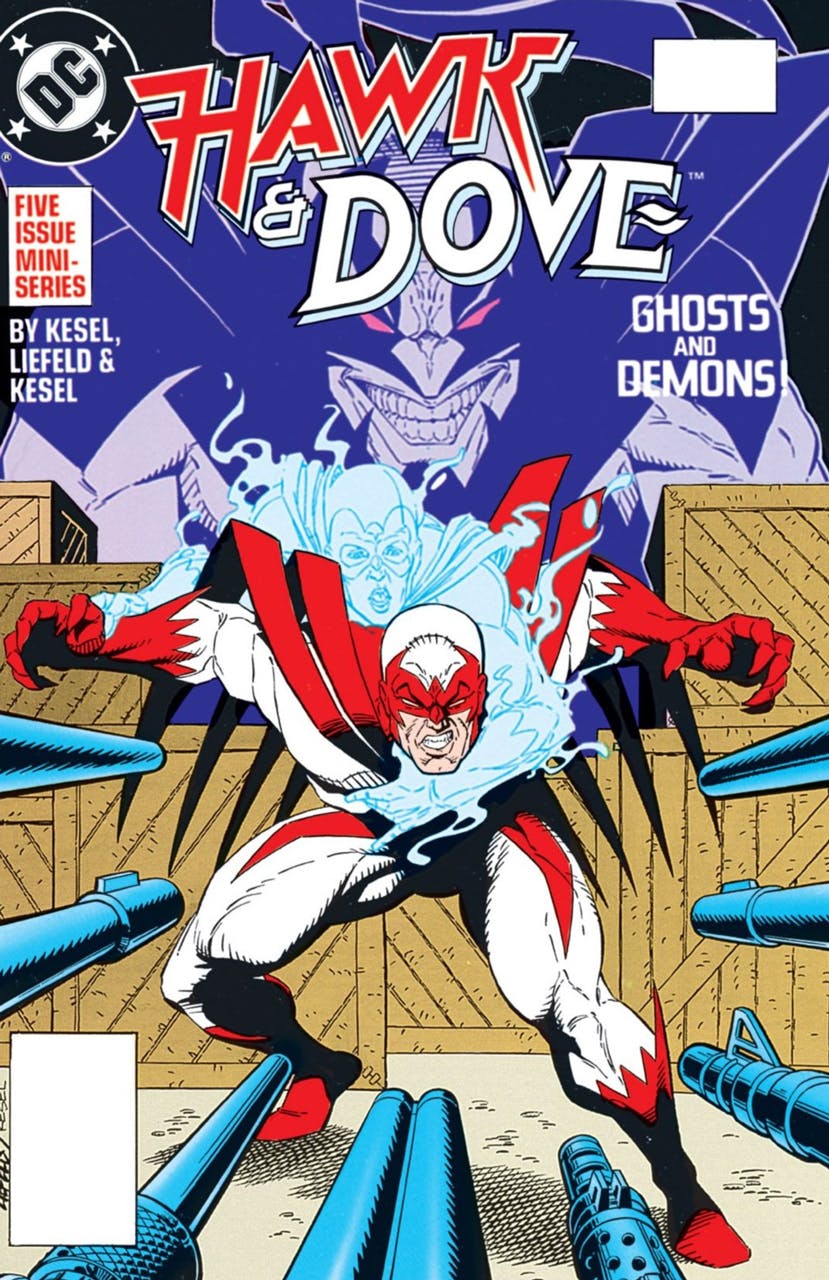 By the late '80s, Hawk and Dove were due for a revival, and a new Dove was introduced in the pages of 1988's Hawk & Dove vol. 2 #1 (written by Karl and Barbara Kesel and penciled by Rob Liefeld, read it here). The second Dove was Washington DC college student Dawn Granger. It turned out that when Donald Hall died, the power of the Lord of Order transferred over to Dawn. And, after seeking out Hank, the two became the new Hawk and Dove. Shortly after their very popular five-issue limited series, they received an ongoing series that ran for over two years (read it here).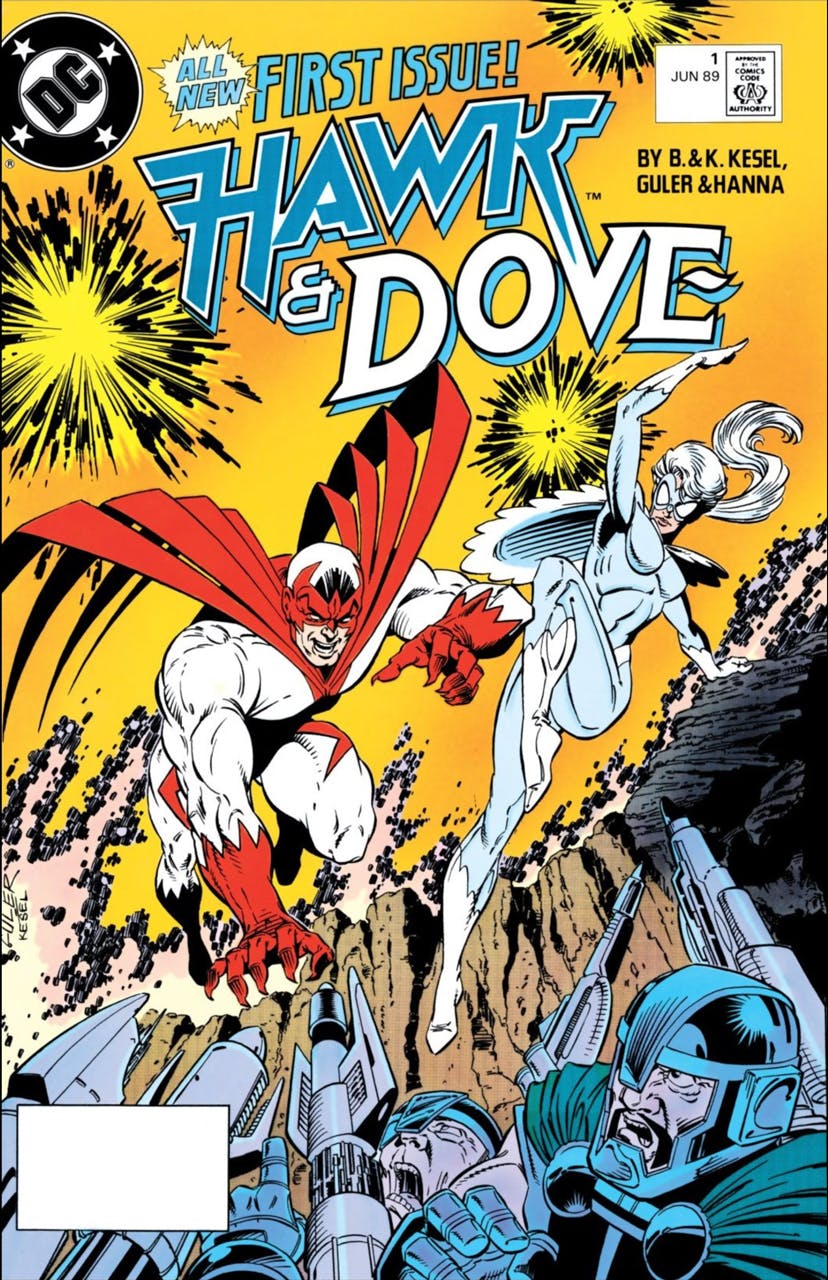 Then, things got really weird for the duo.
As sales of Hawk & Dove slipped, DC used the series' imminent cancellation to tie into their 1991 crossover event series, Armageddon: 2001. The storyline concerned how a future despotic villain named Monarch took over the world. Monarch was actually a former hero from the past -- which created an ongoing mystery over his true identity. Eventually, it was revealed that Monarch was the future Hank Hall. Traveling back in time, Monarch attacked Hawk and Dove and murdered Dawn right in front of Hank, after which he had a psychotic break. Hawk then killed the future Monarch, and took over his identity, essentially closing the time loop. Later, Hank changed his named to Extant, and was the central villain in the '90s event/limited series Zero Hour.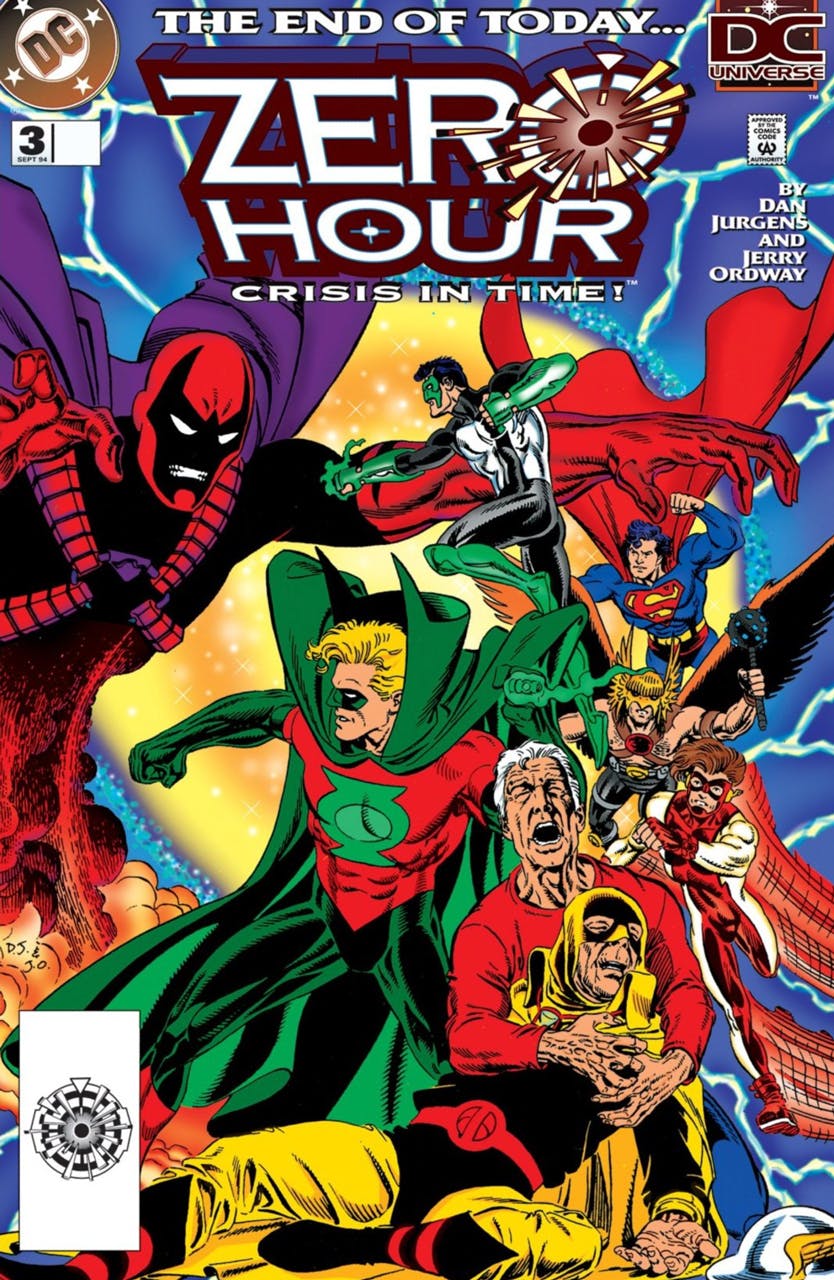 Another Hawk and Dove briefly appeared some years later, in the form of winged heroes Sasha Martens and Wiley Wolverman. The duo first appeared in the 1997 limited series Genesis, sharing a telepathic link and sporting large wings, due to experiments they underwent as children. They were, however, unrelated to the Lords of Order and Chaos in any way, and were essentially Hawk and Dove in name only. After a handful of appearances, they disappeared.
The '80s incarnation of Hawk and Dove returned in the 2000s, as it was revealed in the pages of JSA that Dawn Granger was still alive and in a coma, and that Hank's subsequent insanity and turn to villainy was orchestrated by the evil sorcerer Mordru. Awakening from her coma, Dawn Granger became Dove again, and her estranged sister from the UK, Holly Granger, became the new Hawk. Although they had several adventures together, both alone and with the Teen Titans, Holly was eventually killed during the Blackest Night event, when a Black Lantern version of Hank Hall murdered her. When the Blackest Night concluded with the Brightest Day, Hank Hall was properly restored to life and became Hawk once more.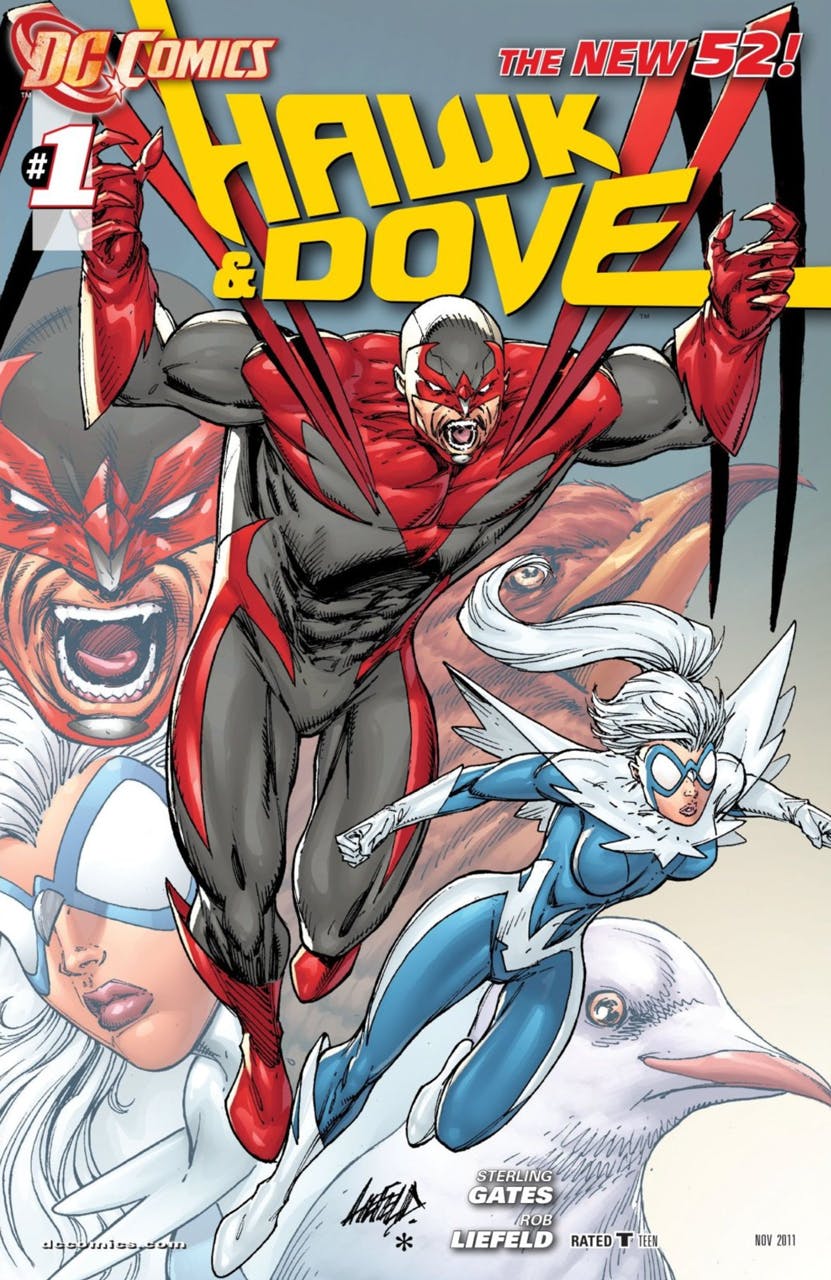 When DC continuity was reimagined after the events of 2011's Flashpoint, the Hank and Dawn versions of Hawk and Dove were officially back on the Super Hero scene, operating out of Washington DC once more (read their adventures here). Although it's been revealed that Hank and his brother Don were still the original Hawk and Dove, and that Don died and was replaced by Dawn, much of the more dramatic aspects of Hank's later life, like his turn to villainy, appear to have been erased from the timeline. 
Hawk and Dove continue to fight the good fight, still representing chaos and order, and showing that some concepts created in the '60s are so good they transcend cultural climates to live on in any era.
Are you a fan of Hawk and Dove? Let us know in our Community.