Today is Friday, and that means kicking back, grabbing a snack, and streaming some of your favorite shows or movies. The finale of DC Universe's 'Swamp Thing' -- "Loose Ends" -- drops today, and if you're looking for a way to celebrate the show's epic conclusion, 'DC Daily' has got you covered. Most people would be content with microwaving popcorn or ordering a pizza, but this is the 'Swamp Thing' finale, and that calls for a special dish. How about some Turtle Soup – or as the show's villain Avery Sunderland calls it, "Toitle Soup." Ever since Sunderland was seen preparing the dish in the episode "Drive All Night," the 'DC Daily' hosts have had plenty of laughs about Avery's unique pronunciation of the meal.
Today, the hosts not only got to taste some Toitle Soup of their own, but they also got to see it prepared by celebrity chef Adam Gertler. Gertler introduced the recipe to Hector Navarro and Whitney Moore, who assisted him in preparing the dish. Don't worry animal lovers – no actual turtles (or toitles) were harmed in the making of this episode. As Gertler explained, "The vegan mock turtle for this turtle soup is actually going to be a seitan loaf, which is a vegetarian protein substitute." This means you can enjoy your meal without upsetting the Green!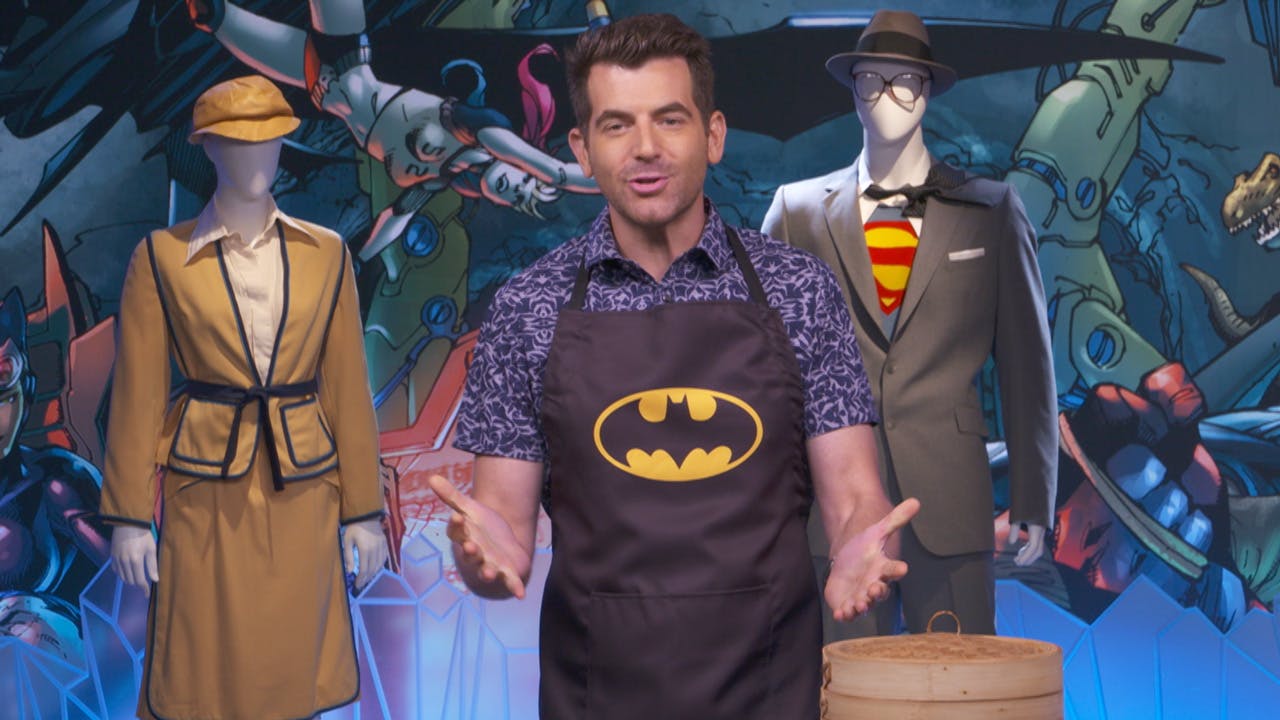 While their soups were prepared, Hector and Whitney asked Gertler who his favorite DC chef was, and his answer shouldn't surprise anyone. "It's got to be Alfred," Gertler said with no hesitation. His tastes match those of our Community, which voted Alfred as DC's best chef last Thanksgiving.
You don't have to be a celebrity chef, however, to enjoy some Toitle Soup! If you're interested in preparing it yourself, we've got the step-by-step instructions... While Swamp Thing is able to summon his minerals from the Green, and Sunderland just barges into Delroy's kitchen, you'll probably have to go to the grocery store for your ingredients. Like many classic DC stories, this recipe is a two-parter. First, you'll need to prepare the seitan loaf...
Ingredients Needed
1 ½ C - Vital Wheat Gluten
1 Can - Young Green Jackfruit
¼ C - Nutritional Yeast
1 T - Onion Powder
1 T - Garlic Powder
1 T - Smoked Paprika
1 T - Black Pepper
1 T - Dried Seaweed Flakes
1 t - Kosher Salt
½ C - Garbanzo Beans, drained and rinsed
2 T - Tomato Paste
2 T - Liquid Amino Acids
1 ½ C - Vegan Beef Broth
2 T - Olive Oil
Cooking Equipment Needed
1 - Mixing Bowl
1 - Blender
1 - Spatula
1 - Cutting Board or Countertop
1 – Cheesecloth
1 - Steaming Pot
1 - Colander
9 - Small Ramekins
5 - Small Bowls/Deli Containers
Once you have everything you need, it's time to start cooking!
Begin by combining and mixing the wheat gluten, nutritional yeast, onion powder, garlic powder, paprika, salt, and pepper, then set them aside.
Rinse the jackfruit under cold running water and shred using your hands.
Now puree the beans, tomato paste, liquid aminos, broth and oil.
Combine the wet and dry ingredients and mix together with a spatula.
Knead by hand until the dough is firm, but still springy. Try not to overwork the dough.
Then shape it into a loaf, wrap in cheesecloth, and steam for one hour.
(While you're waiting for the steaming to finish, use your spare hour to binge some 'Swamp Thing' comics, or catch a few episodes of 'DC Daily.')
Okay, are you ready for part 2? It's time to prepare the soup!
Ingredients Needed
2 C - Mock Turtle Seitan, cut into 1-inch squares
4 - Bay Leaves
4 - Thyme Sprigs
2 - Garlic Cloves, whole
6 – Whole Allspice Berries
1 - Bottle of Dry Sherry
2 Quarts - Vegetable Broth
¼ C - Vegan Butter
¼ C + 1 T - Vegetable Oil
½ C - All Purpose Flour
1 - Large Onion, minced
1 - Green Bell Pepper, minced
2 - Celery Stalks, minced
4 - Garlic Cloves, minced
1 Can - Whole Tomatoes, chopped
2 T - Lemon Juice, freshly squeezed
2 T - Liquid Amino Acids
1 t - Cayenne Pepper 4 - Green Onion, sliced
1 T - Kosher Salt (+ more to taste)
1 T - Black Pepper (+ more to taste)
Cooking Equipment Needed
1 - Cheesecloth
3 - Large Pot
2 - Large Bowl
6 - Small Bowl
1 - Fine Mesh Strainer
Serving Bowls
Soup Spoons
Do you have everything you need? Alright, let's do this!
Wrap the bay leaves, thyme, whole garlic cloves, and allspice berries in cheesecloth to make bouquet garni.
Heat 1 T oil in a large pot over medium/high heat. Add mock turtle meat and cook until browned on all sides. Pour .5 Cup Sherry into the pot and scrape the bottom, releasing any browned bits stuck to the pan. Boil Sherry for 30 seconds, then add veggie broth and bouquet garni. Return to a boil, reduce heat and simmer for one hour.
Strain the broth, discard the bouquet garni, and set the mock turtle meat aside until cool enough to shred apart with fingers.
Wash the pot and return to the stove. Heat ¼ C vegetable oil and ¼ C butter over medium heat. When butter is completely melted, add in flour to form a roux. Stir constantly while scraping the bottom to prevent flour from burning for 10-15 minutes, until the roux is the color of peanut butter.
Add minced onion, celery, bell pepper, and garlic and cook until tender, about 5 minutes.
Add 1 cup sherry and boil for 30 seconds. Add the strained broth, mock turtle meat, chopped tomato, lemon juice, cayenne, and liquid aminos. Reduce heat and simmer for 30 minutes.
Now serve it, garnish with sliced green onion, and another splash of sherry on top!
Now it's meal time!
Materials needed
1 – Hungry stomach
1 – Comfy seat
1 – Device that can stream DC Universe's 'Swamp Thing' episode 10: "Loose Ends"

Now you have the perfect thing to snack on while watching the final episode of 'Swamp Thing!' What can we say, you never know what kind of content you'll get from the folks at 'DC Daily!'
How did your Toitle Soup turn out? Let us know in our Community!