Superman: Red Son, the acclaimed feture-length animated adaptation of the fan-favorite 2003 comic book story about a Superman raised in Soviet Russia, arrives on DC Universe today! To celebrate, we've got a brand-new interview with the film's director, Sam Liu (who's helmed plenty of other hit DC animated movies), as well as voice actor Travis Willingham, who plays Superior Man, the film's take on Bizarro -- who serves as an American adversary for comrade Superman...  
On why SUPERMAN: RED Son still resonates…
LIU: Writer Mark Millar's stories are so interesting. The whole thing of what if you take the American Boy Scout -- the iconography, the thing that everybody knows -- and you flip it on its head and it represents something else. That in itself has always been intriguing. But personally, I think superheroes, especially Superman, I think they worked the best in the '40s for some reason. Maybe I'm just older. I think that there was a little bit less questioning of things.
There was a belief in government, whether you were forced into it or not. Each country represented something very, very individualistic and clear; whereas now there are shades, it's very gray. So I think that makes for an easier sort of heroes and villains thing. Here, Superman was brought up in Communism. And obviously you can't just make Communism an evil political thing, because he's got to believe in it. He's got to genuinely think it's for the betterment of humanity.
WILLINGHAM: I loved the graphic novel. Anything that bends the mind, bends the timelines that people are so familiar with, I think that's what grabbed people's attention in the first place. So I was really pleased to see what they've done with this animated version of it. 
Part of my adolescent life was defined by the whole "Death of Superman" moment. I remember walking through Target and seeing it packaged everywhere. And I remember all the "Return of Superman" comics. That was just such a pivotal moment in my life to see the nation and really the world caught up in the passing of a superhero. It really implanted in my brain how much these stories mean to so many people. But then to see the flexibility with which amazing authors and artists can come and expand the universe around characters -- really the whole DC Universe has just been fantastic… To me, Superman was a representation of what a man could or should be, and I just love what this movie does with just a different setting and a different timeline.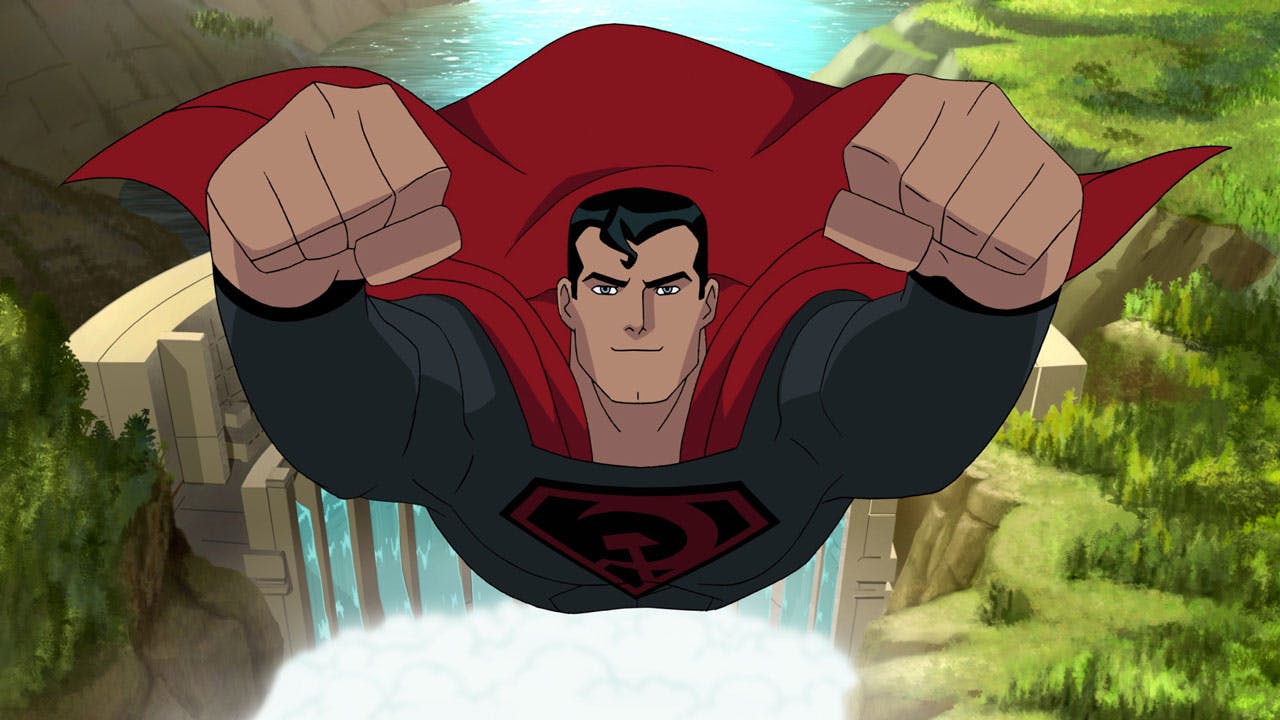 On the film's performances…
WILLINGHAM: The thing that grabbed me immediately was Jason Isaacs' performance as Superman. I kind of have a general idea of what Superman is supposed to sound like, a certain timbre, and Jason has this naturally fantastic, deep, booming voice. And having that Soviet Union accent to it just, it took a couple of seconds, right? Like, "Is this the same Kal-El?" Is this the same character that you know and love? And it is, with just a totally different spin on it. So they've done a fantastic job of making sure all the characters are in there, and making sure that they have unique representation. Diedrich Bader as Lex Luthor is doing some incredible stuff, stuff that we haven't quite heard before. And I really enjoyed seeing how they portrayed Lex and Lois's relationship.
On the film's Superior Man…
WILLINGHAM: He has a flat top! [Laughs.] He's wearing the red, yellow, and blue, and he has that same sort of sound that you would expect from Superman. Just no heart, no warmth. There are no endearing qualities. It's very harsh and cold and you can tell he's very mission-oriented. That was an interesting thing to play. You thought there might be some extolling of American values coming out of Superior man, but it's more like the space race. Superman's over there doing his thing in the Soviet Union, we've got this guy that can fly, he's bulletproof, he's tough, he's going to go over there and give them what for. That was really unique, to see a character who is going to attack first, doesn't really care about civilian life, is going to bring the fight hard and fast. And watch a character representing the Soviet Union be the one that is trying to put him on the correct path and even try to save him.
On their  favorite DC animated movies…
LIU: There's different things that I like about different ones… That's why I feel very fortunate to be where I'm at and working with the executive producers that I have, because we take the subject matter very, very seriously. I have ones that I'm not as big a fan of. Gotham by Gaslight I really like. The Teen Titans ones, like The Judas Contract, I like, just because they're really fun and we really get into the characters and the psychology and things like that. Even Gods and Monsters had some really good traits. I think like Suicide Squad: Hell to Pay is so different. We went really violent with it. And I know a lot of people didn't really love Killing Joke, but the story still makes sense to me. You know what I mean? One of the things I learned about that though is there are certain things -- because they are so iconic -- there are certain things that you can't do with the characters because the audience can't go there with you. But again, I think The Killing Joke ruled in its original form. It's a hard Batman. It's not Adam West Batman. It's not going to win the Emmy. It's not about family. It's this dark, dark world. And I think going into this dark world, where things really flip a lot, where there's torture… There's a point where it's like, "It's too far. I'm sorry."
What do you think of the SUPERMAN: RED SON movie? Let us know in our Community!