Summer is finally here, which can only mean one thing: Road Trip! We're taking you on a six-week sightseeing adventure all around the DC Universe to visit the coolest spots on the planet. At each stop you'll be able to explore the location, read some of the best stories that take place there, and participate in a series of polls to help you decide what cool summertime activities you want to do (plus what villains you might have to face on your vacation!) So pack your swimsuit, slap on some sunscreen, and don't forget the bug spray -- because your Summer Supercation kicks off on Memorial Day, Monday, May 27th! First stop: Swamp Thing's Bayou!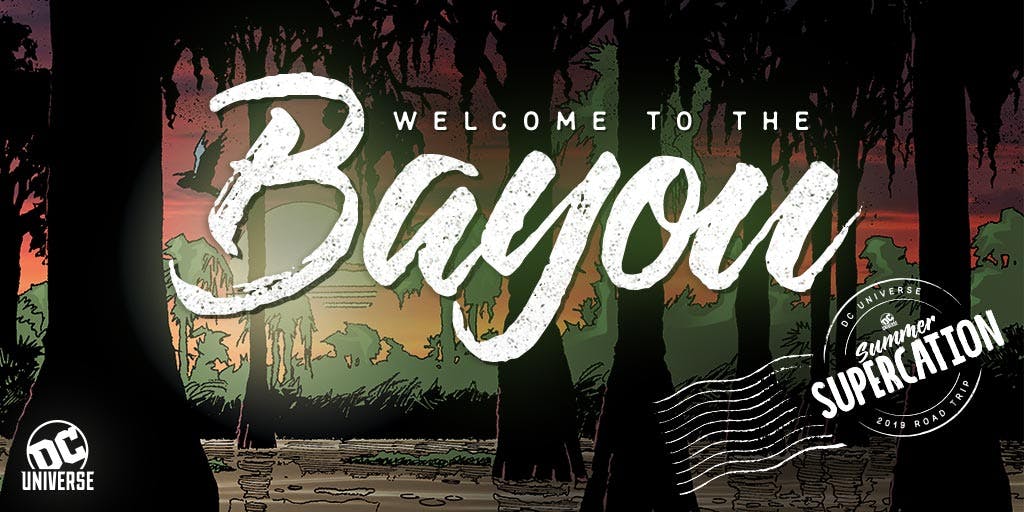 The Bayou is home to the Avatar of the Green himself, Swamp Thing. But he's not alone out there in the mysterious swamp...you might meet some good friends, encounter a few terrifying secrets, and maybe even face off against a monster or two. In week 1 of Summer Supercation, check out all the Bayou has to offer here. Then take our polls to decide if you want to get your fortune read by Madame Xanadu, investigate the death of Alec Holland, or dare to venture into the House of Mystery... See you here for our first poll on Monday, May 27th!
* Day 1 in the Bayou! There are strange and mysterious houses, homes, shacks, and huts all around. Which spooky abode do you want to investigate?
* Day 2 brings a sense of ominous foreboding -- something terrible might be just around the corner. So which character do you trust to read your future?
* Day 3 dawns, and with it, a realization that occult enigmas surround you. Which Swampy mystery do you want to solve?
* Day 4 breaks with an unsettling chill in the air; something evil is coming...for YOU. Which villain will you face in the swamp?
*Day 5 means you've survived your stay in the swamp! As you wave good-bye to all your spooky new friends, you've got a choice to make: where do you think our next stop on our Summer Supercation will be?

What part of the DC Universe would you like to visit on your summer vacation? Let us know in our Community!