Get ready, DC fans. A video news show just for you is coming to DC Universe. Called, appropriately enough, DC Daily, our latest original series will offer plenty of goodness from across the entire multiverse. It will be hosted by some familiar faces. And it will feature plenty of special guests. 
Wondering how DC Daily will break down? Well, it all starts with "Headlines," in which we'll run down our daily news briefs. Then we'll get into "Reports." These segments could feature in-depth interviews with DC talent and creators; or take a deep dive into an upcoming DC comic, film, or TV show. Next up, we'll have "Talk" -- a panel discussion in which we'll analyze the day's topics and news, this feature will be exclusive to DC Universe members.
We're especially excited to announced that DC Daily will be filmed and streamed daily from our brand-spanking-new 2,100 square foot set at Warner Bros. Digital Networks in Burbank, California -- right here at DC Universe headquarters! Just take a peek at the set in the photo atop this page. You'll see it's comprised of original artwork featuring your favorite DC characters, product demo stations, viewing areas for our hosts, plenty of seating for all the guests we've got lined up...and a Batmobile.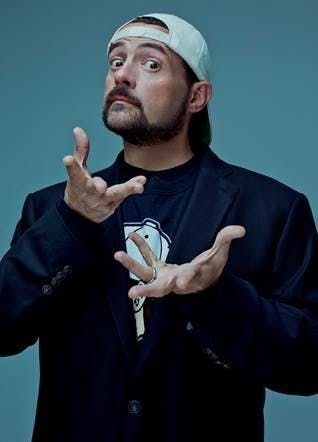 If you're eager to learn more, be sure to check out the live stream program that will kick off DC Daily. It'll be broadcast from 4:30 to 6:00 PM PST on Wednesday, August 29, 2018, and it will be hosted by none other than filmmaker, actor, and DC comic book author Kevin Smith! You can tune-in to the live stream via Facebook, Twitch, or YouTube, and hear lots of breaking news on all things DC Universe, as well as catch a few surprise guests.
This fall, DC Daily's "Headlines" will be available to all fans via YouTube at www.youtube.com/dc, and of course, right here on DC Universe. Members will be able to see an exclusive, expanded version of the show, with additional content and behind-the-scenes coverage.
DC Universe is currently in its Beta mode, providing DC fans with a first look/"sneak peek" at what we have to offer, and getting feedback prior to our launch this fall. We'll be adding new features and content as we progress to our launch, including additional movies, TV shows, comics, a steadily increasing number of news articles and encyclopedia entries, and more opportunities to shop, connect, and win.
Spot any bugs?  Let us know your thoughts on what works and what doesn't either in the Beta Feedback forum or by e-mailing us: dcuniverse-feedback@wbdl.com.
There's much more to come, so be sure to keep coming back and letting us know what you think! We look forward to journeying with you through the ultimate home for DC fans.