The Joker has just joined the ranks of such legendary heavies as Scorpion and Goro, and is now a playable character Mortal Kombat 11! But just because the Joker comes from the comic world doesn't mean that he's a stranger to some ferocious M.K.-style carnage. Before you crack your knuckles and start your battle, let's take a look at a few of the bloodiest, goriest, and most brutal moments in the DC Universe.
SUPERMAN GIVES THE JOKER A HAND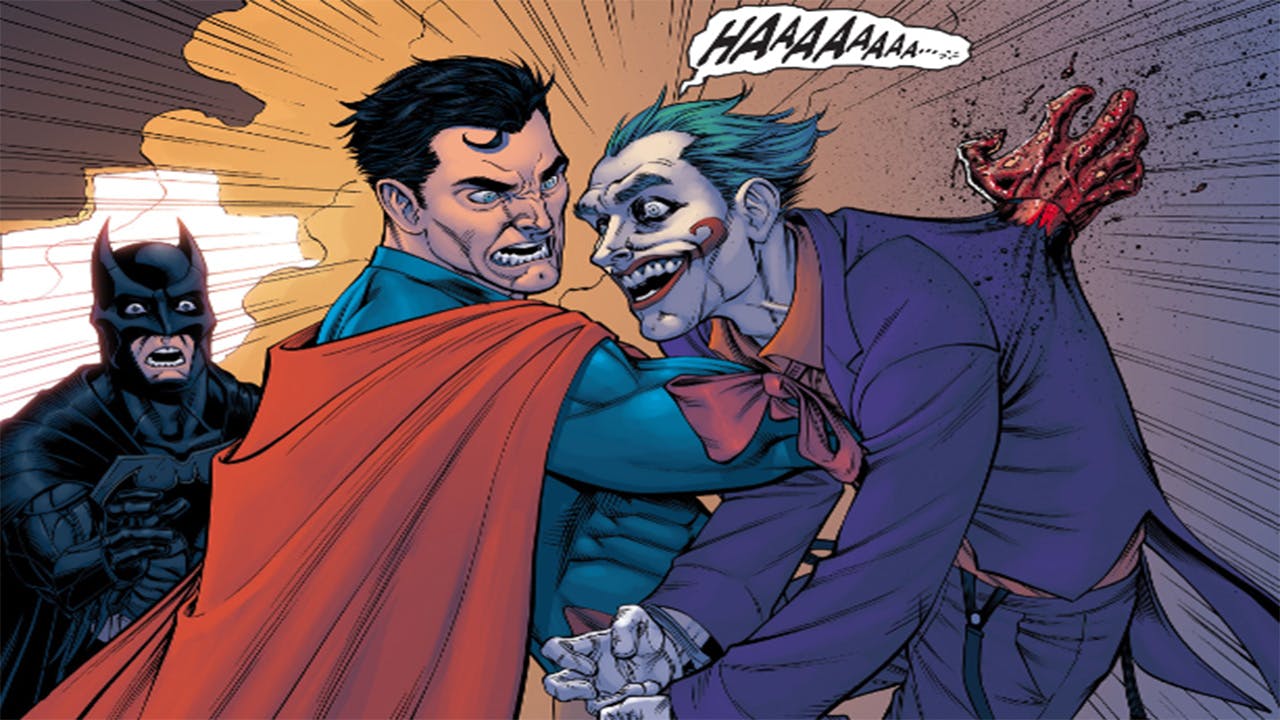 "Heart Condition"
Based off of the fighting game, Injustice: Gods Among Us expands the storyline in the alternate universe where the Joker forces the Man of Steel to kill Lois Lane and her unborn child. Naturally, Superman doesn't take this well and punches his hand straight through the Clown Prince of Crime.
The fatal blow is a shocking start to the series which features a lot more of these violent hero vs hero battles mimicking the gameplay. Superman is someone who normally has to be careful every time he holds a glass or shakes someone's hand, but here he completely lets loose. If he was going for the "Kali Ma" heart rip, he missed by a few inches. Though that's assuming that the Joker even has a heart...
PROMETHEUS SLICES RED ARROW'S ARM OFF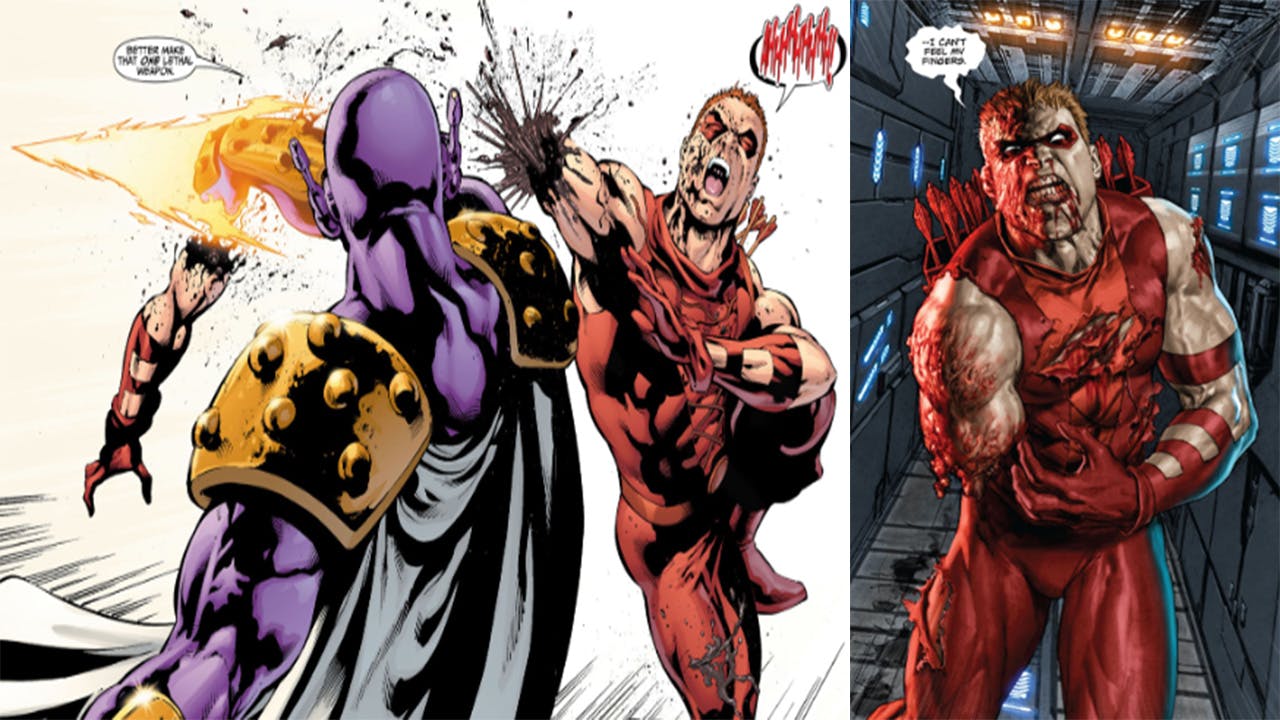 "Bow Before Me"
During Justice League: Cry for Justice, Red Arrow's arm is cut off by Prometheus, who is disguised as Shazam. Only the aftermath of the event was shown in the story, but later Justice League: The Rise of Arsenal, gave a better look into the battle that ensued. Not only does he take away one of Roy's "lethal weapons," but the result of the battle leaves him in a coma for several months. This brutal attack affects the rest of Roy's life, leading him to receiving a cybernetic arm and (re)taking up the mantle of Arsenal.
JASON TODD WALKS INTO A (CROW)BAR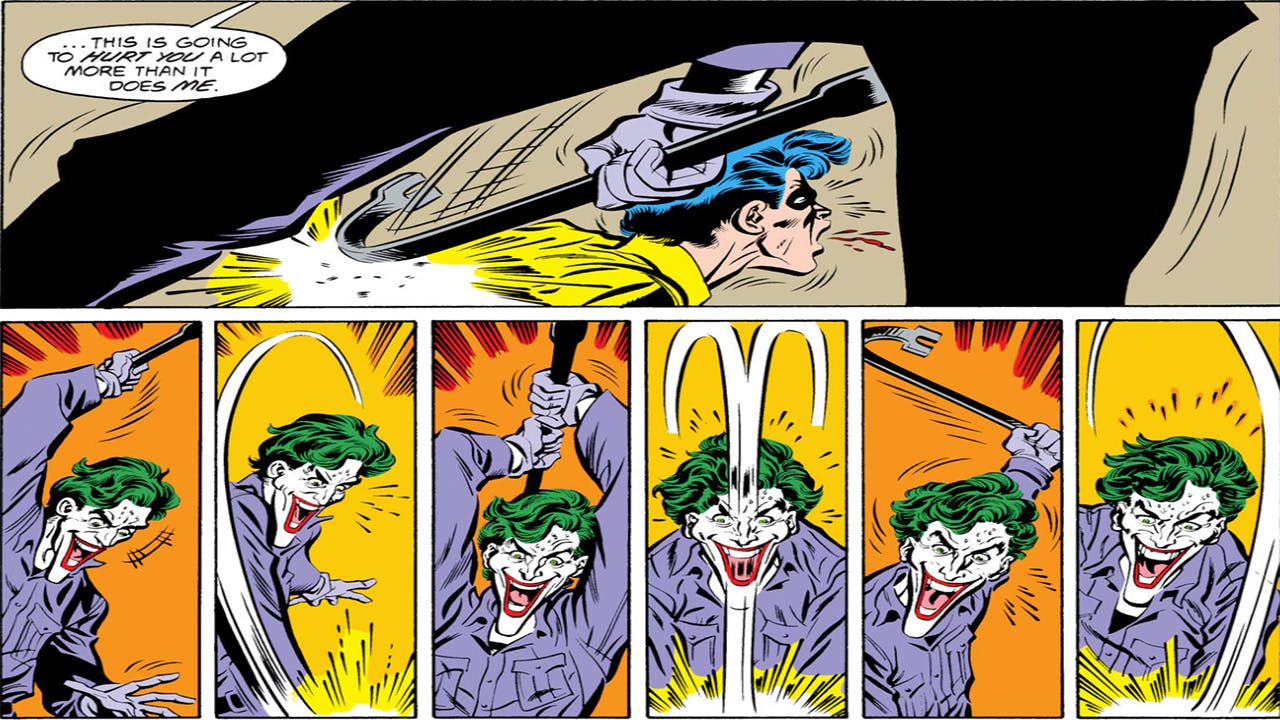 "Death Trap"
Over the years, the Joker has done some brutal things: skinning people alive, cutting off his own face, shooting Barbara Gordon, but none compare to the death of Jason Todd. He lures the Boy Wonder to a warehouse where his birth mother is tied up. The Joker then beats Jason within an inch of his life, using a crowbar. The beaten Robin is left to die with his mother as a bomb ticks down. Jason makes a valiant effort to save his mother, but they find that the door is locked from the outside. Batman arrives a minute too late and the warehouse is in flames. Years later, Jason is resurrected using a Lazarus Pit and takes up the mantle of Red Hood to seek revenge against the Joker (and rightfully so).
LOBO KICKS OUT SPINE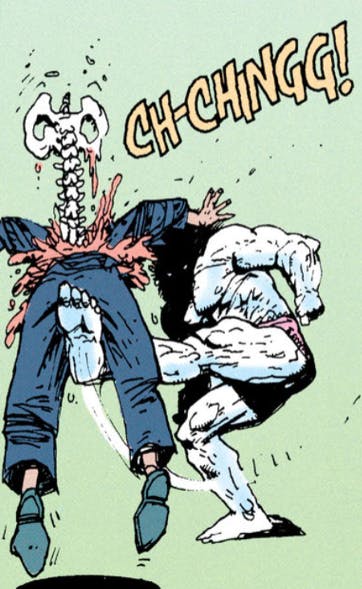 "Back Blown Out"
In Lobo's Back, the Main Man faces death and fights his way back through both heaven and hell—literally. Along the way, he kills practically everyone he meets. After being reincarnated as a woman, Lobo dies again and takes his original form. He trades words with a Purgatory pencil-pusher then kicks him so hard in the family jewels, that his spine shoots up out of him. Ouch! The Last Czarnian is one bad bastitch! He's so brutal and metal that he looks like both Rob Zombie and Lemmy Kilmister. Definitely don't want to be on his bad side… and I'm guessing he only has a bad side.
BLACK ADAM POKES PSYCHO PIRATE'S EYES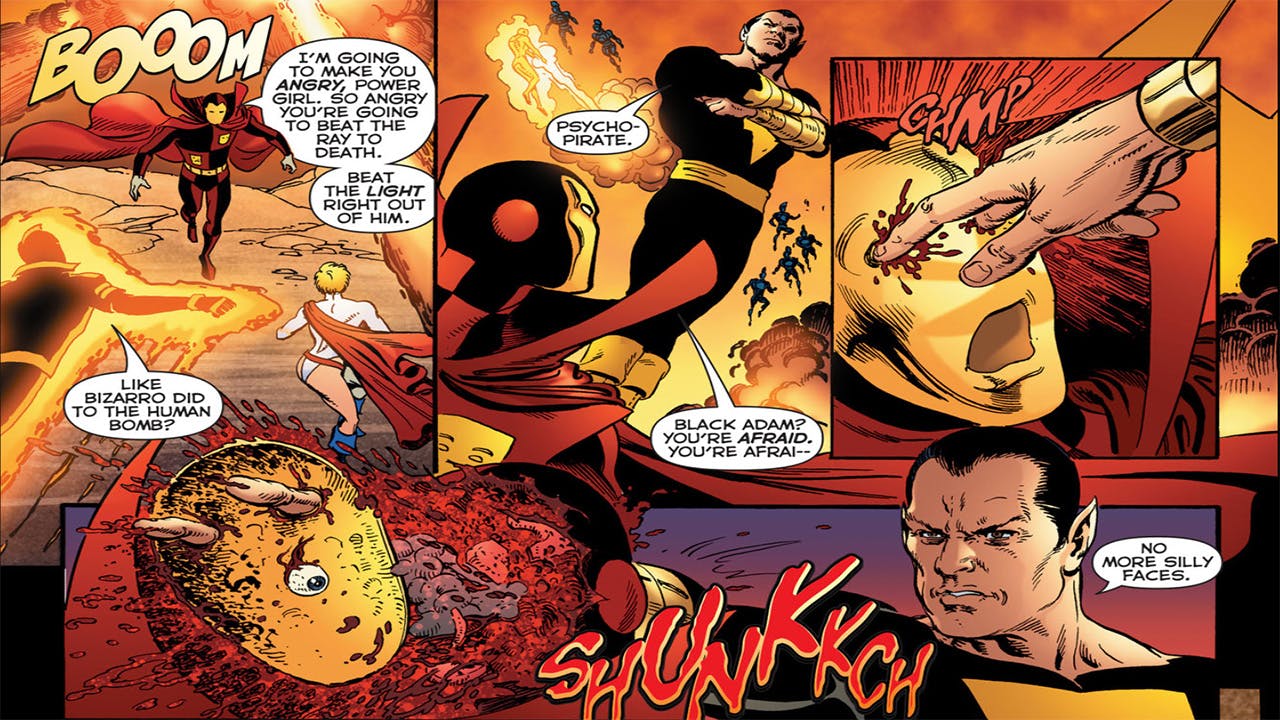 "Nothin' but Neck"
During Infinite Crisis, Psycho Pirate teamed up with Alexander Luthor to wreak havoc on the multiverse yet again. Heroes and villains joined forces to stop this crisis, but some took it a little too far. Straight out of an R-rated Three Stooges, Black Adam pokes Psycho Pirate in the eyes, which in turn push his golden mask through his skull. Talk about beyond brutal! Adam could've easily flown away from this patchwork psycho or just taken the mask off of his face, instead he took face...off.
What's your favorite brutal DC beatdown? Let us know in our Community!