The sprawling universe of DC has long been home to many iconic characters, and arguably none more so than the Princess of Themyscira herself, Wonder Woman. Here at DC Universe we love to follow the adventures of our favorite heroes in comics, movies, and TV -- but we also love artifacts to showcase in our homes or offices. At San Diego Comic-Con this month we unveiled the new DC Artists Alley collection from beloved artist Chrissie Zullo and we're excited to announce she's designed a DC Universe exclusive Black and Cyan Variant of her Wonder Woman vinyl statue. We recently chatted with Zullo about crafting this gorgeous piece and finding ourselves in the characters we love...
How did you get involved with designing your Artists Alley statues?
I had done some editorial work for Vertigo Comics, and had met the team at DC Collectibles at San Diego Comic-Con a few times. I think they had always liked my art style but didn't quite know where it would fit it in with their projects. Luckily they started Artists Alley, a line that welcomes completely different styles to tackle iconic characters. I had drawn a Wonder Woman poster that served as the inspiration for the figures, and was asked to design Batgirl, Hawkgirl, and Supergirl to fit the series as well.
How does crafting and designing a vinyl statue differ from making comics?
They are similar to designing an eye-catching comic book cover, I feel. You need to design the character in a pose that has charm and movement, and a quality that makes people want to buy it. I also submitted different poses and ideas, similar to sending in thumbnail sketches, and let the Collectibles team decide on the final design. The design is also collaborative between the team and the sculptor, so the whole process is really a team effort, much like comics!
What's your favorite thing about the heroines that you've designed?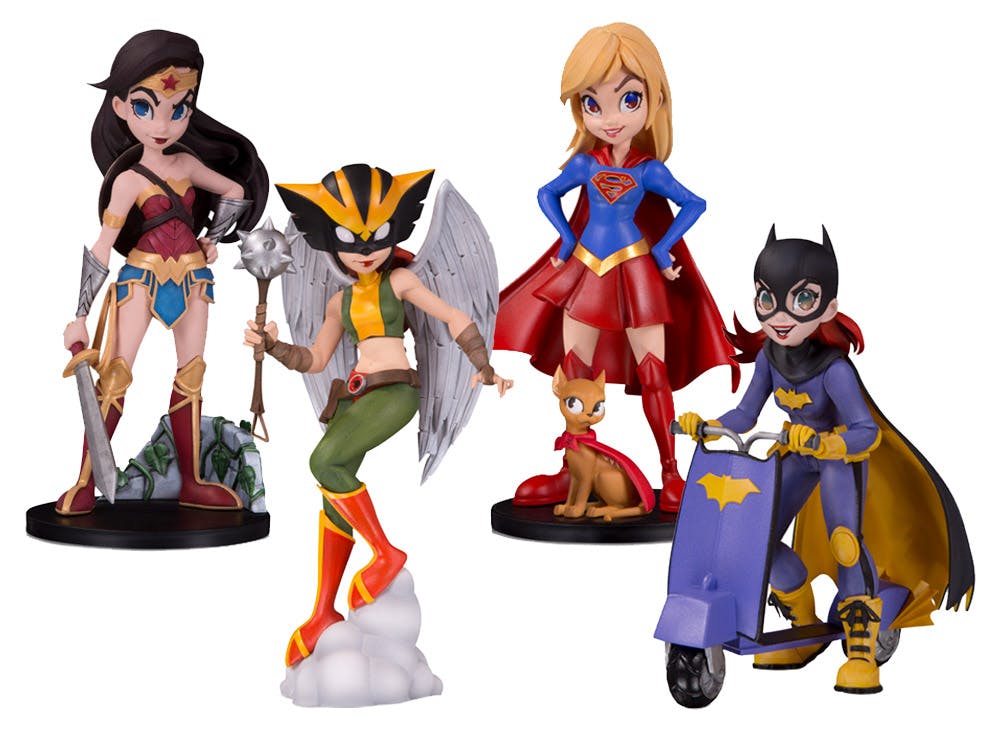 I wanted them to be cute, have a lot of personality, but still look like they are able to kick some butt! I think they each have a sort of life to them, and their attitudes and personality really come through. I also wanted to design something for all ages, so whether you buy it for you, your daughter, son, wife, husband, grandma, whoever! -- anyone can enjoy them. But if I had to pick one thing, I really love how Batgirl has a scooter--that was a lot of fun.
Which of the four characters do you most relate to?
I think each character has a little bit of me in them, but my favorite is Wonder Woman. Maybe because I wish I could be her! I also made sure I gave her a sort of "I got this" smirk.
When it comes to the DC Universe Exclusive Black and Cyan vinyl statue, did you have to think differently about it knowing it would be finished in such a unique fashion?
The Black and Cyan was so much fun to design because it was just a really different look for Wonder Woman altogether, almost as if she was a cyber warrior from the future. I love how it turned out because it almost looks like it glows in certain areas. The contrast of colors is really nice too. It's just cool to see Wonder Woman in a completely different concept.
Did you look at any classic comics to inspire you when you were designing the statues?
I definitely took inspiration from both classic and new designs, including new comics, movies, TV shows, and animated series. I wanted them to feel classic but still look fresh and new.
What was the most fun part of putting together the designs for the Artists Alley collection?
This whole project was a dream come true. Seeing the sculptor, Irene Matar, come through with the designs was just so fun, and then seeing them printed in 3D was just bananas. I can't tell you how cool it is to see your 2D drawing come to life in 3D. It was insane. I had never done anything like this before, and I'm extremely thankful to have had this opportunity! I remember seeing them painted and finished for the first time and my jaw dropped. Seriously, it was the best feeling to see how all the parts came together to make this project!
Are you a fan of Chrissie Zullo's work? Let us know in our Community!