The Dark Knight might be Gotham's silent protector, but we all know who really runs Gotham – Catwoman! All week long we've been celebrating 80 years of the Feline Fatale, with a series of comprehensive articles tracking her history from the Golden Age, the Silver Age, the Bronze Age, and the Modern Age. Now it's time to head into the new millennium!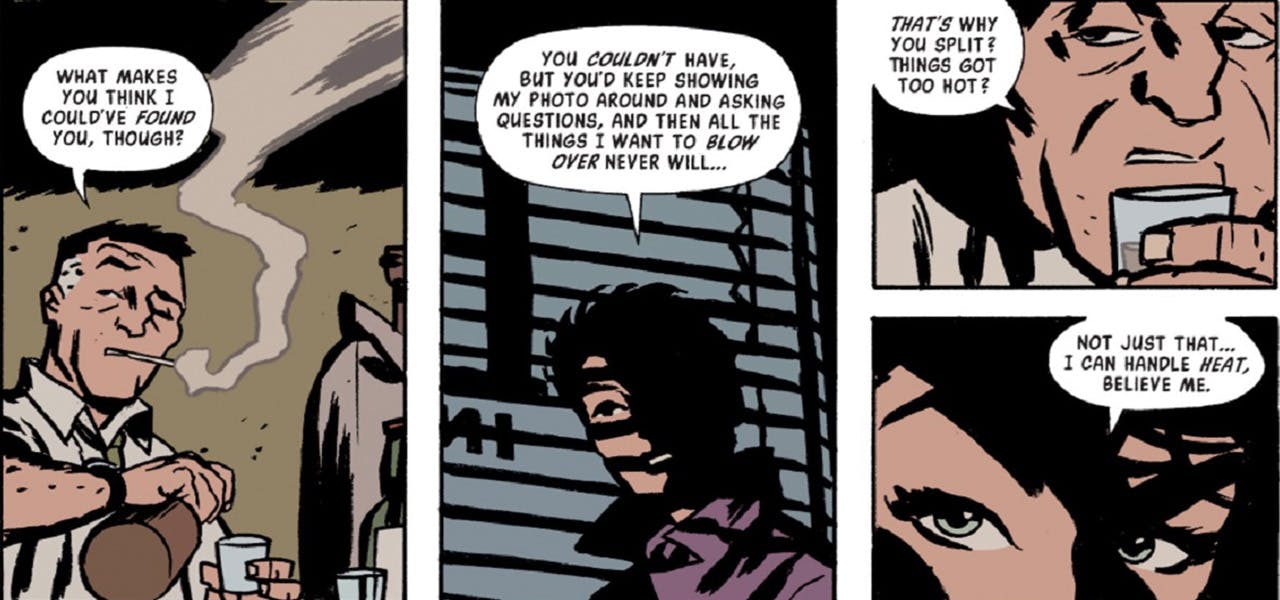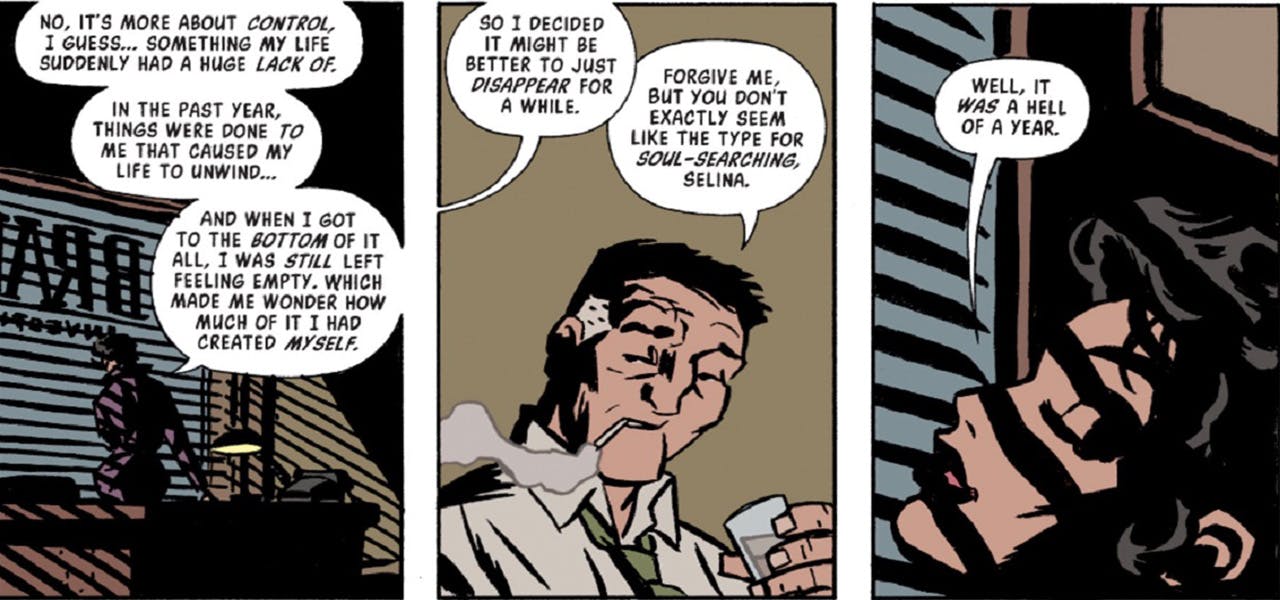 When we last left our favorite cat burglar, the world thought Selina Kyle was murdered in New York, and Catwoman was presumed dead after an encounter with Deathstroke. Selina's life was at an interesting crossroads, and two creators – Ed Brubaker and Darwyn Cooke – came along to revitalize her. Their reinvention began in a series of backups in Detective Comics #759-762, as a private detective named Slam Bradley (one of DC's oldest characters!) was hired to track down the missing feline. Selina was very much alive, but wasn't ready to reveal herself to the world just yet. She had to rethink her life as both Catwoman and Selina Kyle.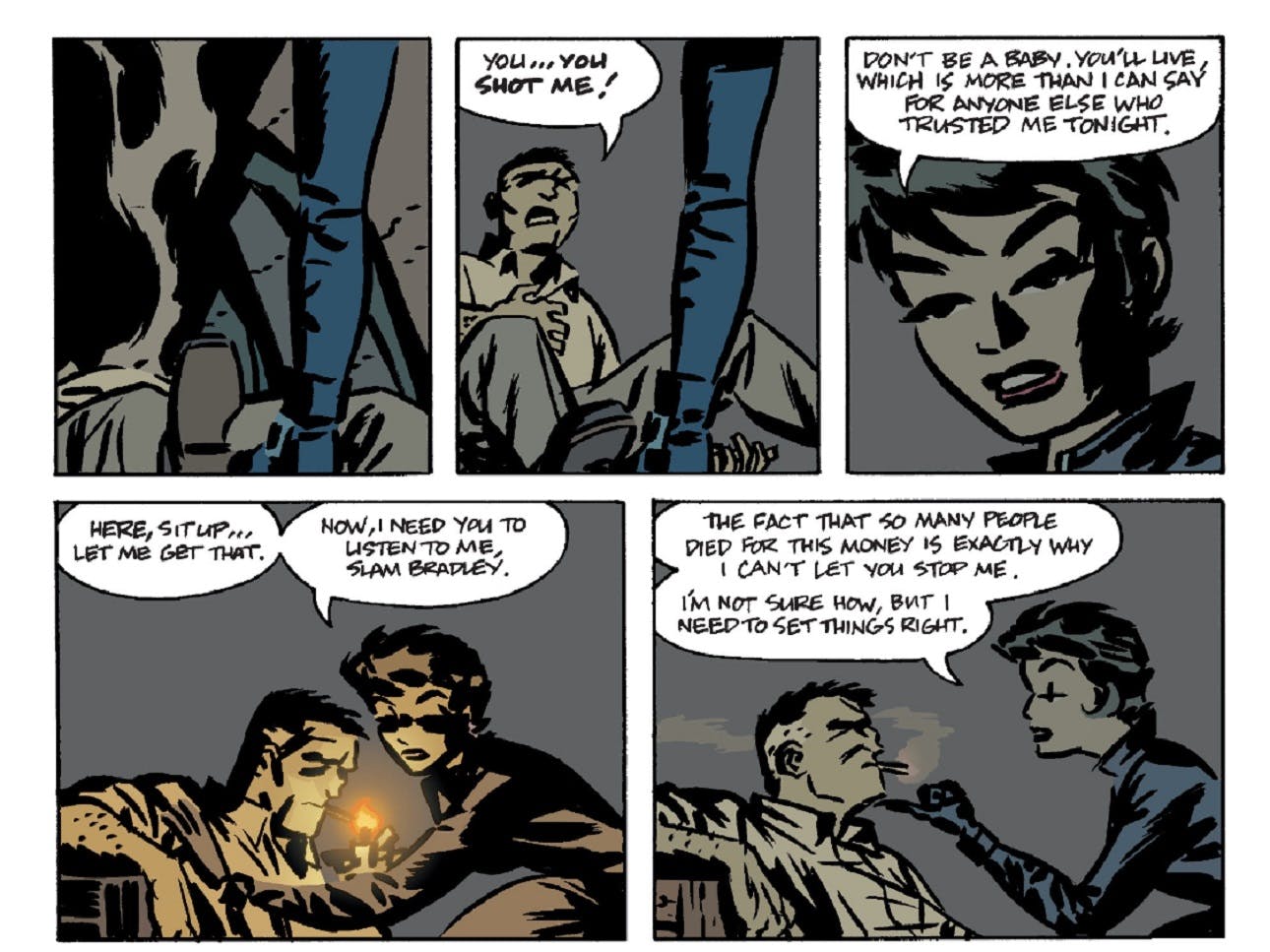 The story tied into Cooke's prestige format one-shot Catwoman: Selina's Big Score, wherein the Feline Fatale got a crew together for an elaborate heist. The comic combined classic crime noir with the thrill of modern heist movies. The story ends on a somber note, with Selina getting her score, but only after everyone else in her crew is killed. Brubaker and Cooke's Selina Kyle saga continued with the launch of a new Catwoman ongoing series in 2001. Here, Selina's search for new purpose took her to her former East End neighborhood, where she ran into her old friend Holly Robinson.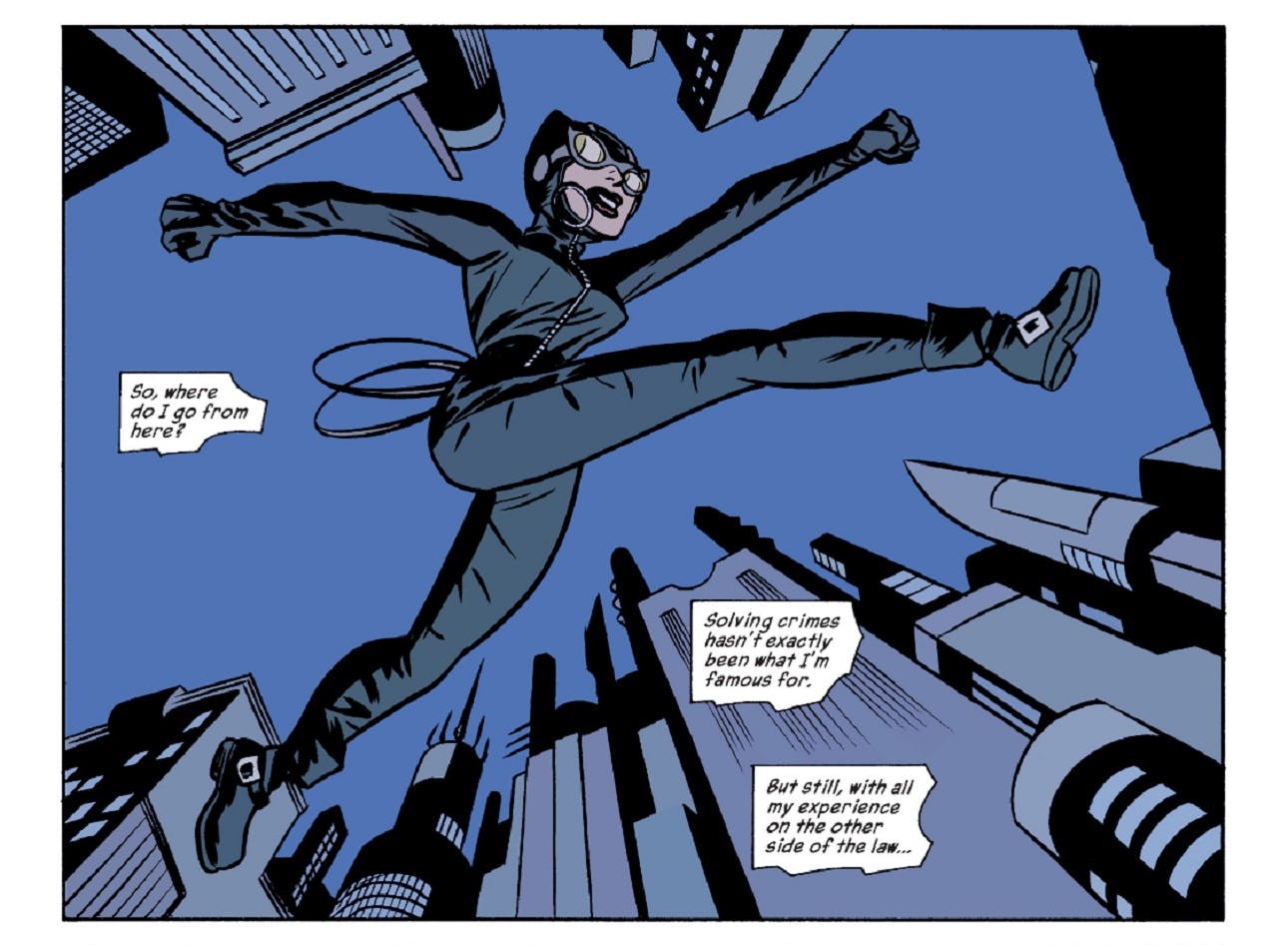 Realizing that the East End needs a guardian angel, Catwoman reinvents herself as a champion of the oppressed. Selina commemorated this rebirth by designing a new Catwoman costume. The black jumpsuit look, designed by Cooke, would be her standard attire for the next 16 years. Catwoman, who'd been a loner for years, now had an extended supporting cast to help her clean up the East End. Holly Robinson was Selina's eyes and ears on the street, Leslie Tompkins helped set the neighborhood youth on the right path, and Slam Bradley stuck around as a private investigator with muscle. After years of feeling lost, the Feline Fatale found new meaning in her life (see Footnote 1).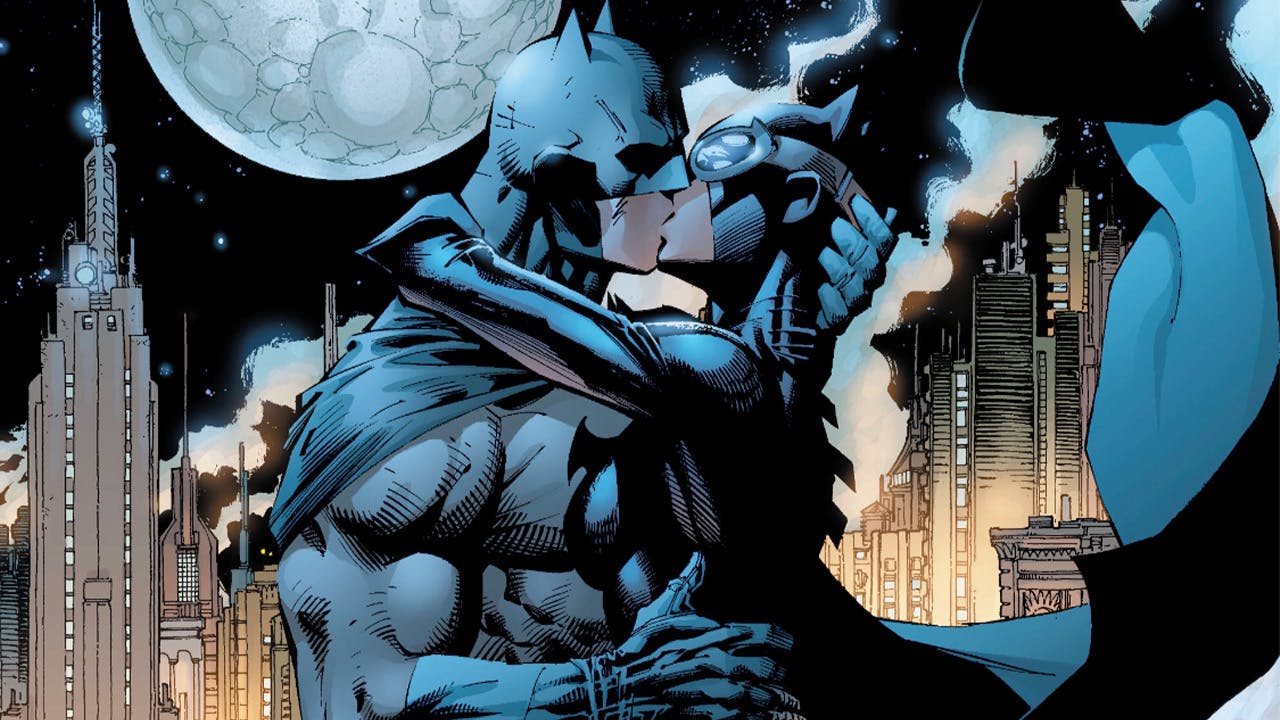 In 2002, comic book legends Jeph Loeb and Jim Lee came together to produce Batman: Hush, a contender for one of the greatest modern Batman tales. Running in Batman #608-619, this epic storyline features a mysterious new villain pulling the strings of most of Gotham's major players. During the story, Batman throws caution to the wind, and begins a romantic relationship with Catwoman. The Dark Knight shows his commitment to the relationship by unmasking himself to Selina (see Footnote 2). By the end of the story arc, the Caped Crusader had sabotaged the relationship, putting a halt to the burgeoning Bat-Cat romance. Selina was hurt, but she took it in stride. She was no longer defined by her relationship with Batman. And besides, she had bigger things to worry about – like a movie.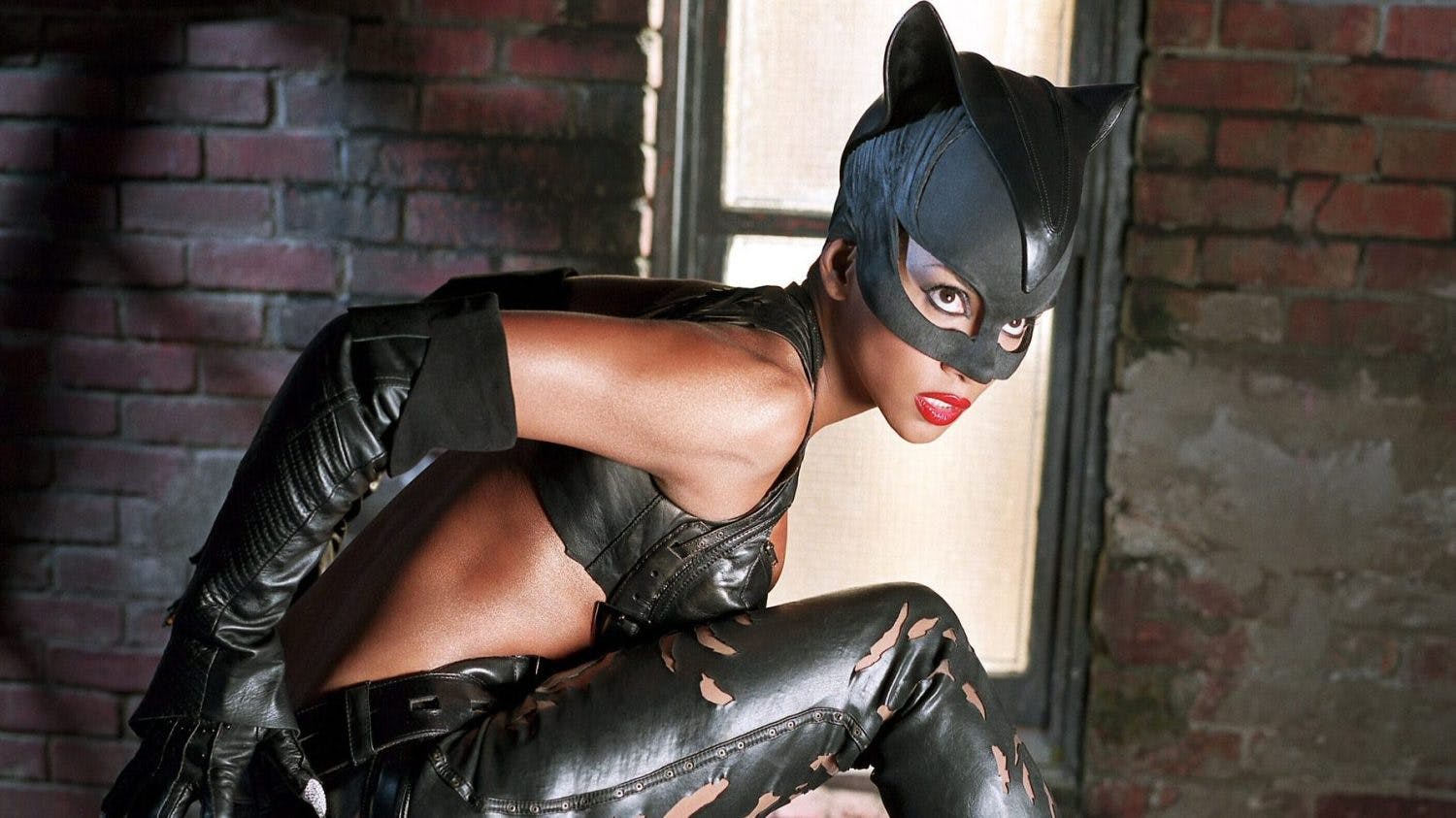 After Michelle Pfeiffer's breakout performance as Catwoman in 1992's Batman Returns, plans were made to give Catwoman her own feature film. Years passed with the project going through multiple concepts. and by the time Catwoman hit theaters in 2004, it had little in common with the source material that inspired it. Halle Berry played Patience Phillips, a meek graphics designer who was given a second life by a mystical cat goddess. Though Catwoman's fist solo big screen outing didn't go too well, her ongoing comic adventures continued to earn critical acclaim.
In 2004 writer Jeph Loeb and artist Tim Sale -- the team behind the smash hits Batman: The Long Halloween and Batman: Dark Victory -- sent Selina on an international adventure in the limited series Catwoman: When in Rome. The story, set in the early days of Selina's career, followed Catwoman and Riddler as they dealt with mobsters in the Eternal City. The limited series continued a few plot threads from Loeb and Sale's previous stories, including a few clues that Selina Kyle might be Carmine Falcone's long-lost daughter. The story concludes without Selina getting any definitive answers.
Over in her present-day ongoing title, Catwoman's quest to clean up the East End put her in the crosshairs of the crime lord Black Mask. The villain fought dirty, kidnapping Selina's sister Maggie and her husband. Black Mask killed Maggie's husband, and then fed her his eyeballs. Catwoman was able to save her sister, but Maggie's sanity had been shattered. The war between Catwoman and Black Mask continued to escalate through 2006's Catwoman #52, when Selina ended the villain's life with a headshot.
Selina's life as Catwoman had taken a dark turn. Prior to killing Black Mask, she'd been rocked by revelations from Zatanna that her heroic turn might have been influenced by a magic lobotomy (2005's Catwoman #50). Selina was no longer sure if her actions as protector of the East End were due to her own heroic nature, or if it was due to magical brainwashing (see Footnote 3). Lost and confused, Selina gave up her life as Catwoman.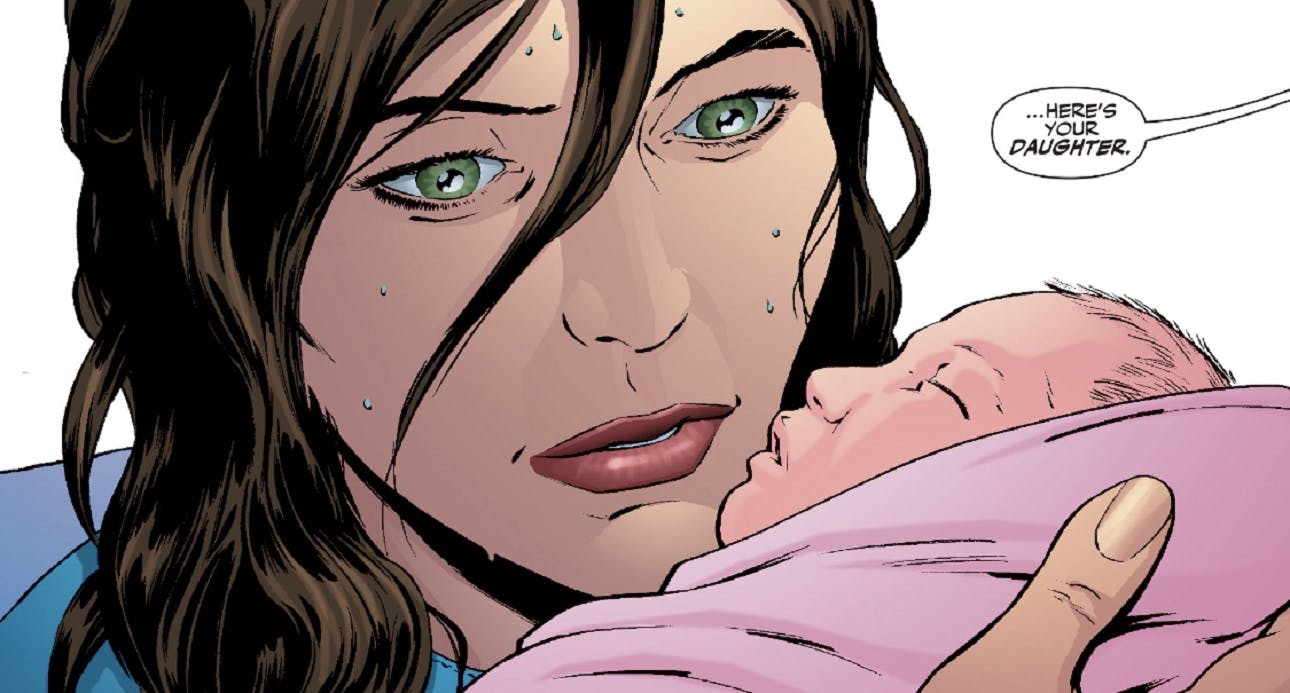 In 2006, the DC Universe books had an event called "One Year Later" where the chronology of all titles jumped ahead one year, giving the characters new status quos. In the opening pages of 2006's Catwoman #53, fans learned just how busy Selina had been during her missing year, as she was shown giving birth to a daughter! Selina named her daughter Helena, and for a time the identity of the father was a mystery, until it was revealed to be Slam Bradley's son Sam. Sadly, Sam didn't survive to see Helena's birth. Selina attempted to live a quiet life with Helena, while Holly Robinson took her place as Catwoman. Eventually, the call to action gew too loud for Selina to ignore and she resumed her life as Catwoman -- which made motherhood complicated.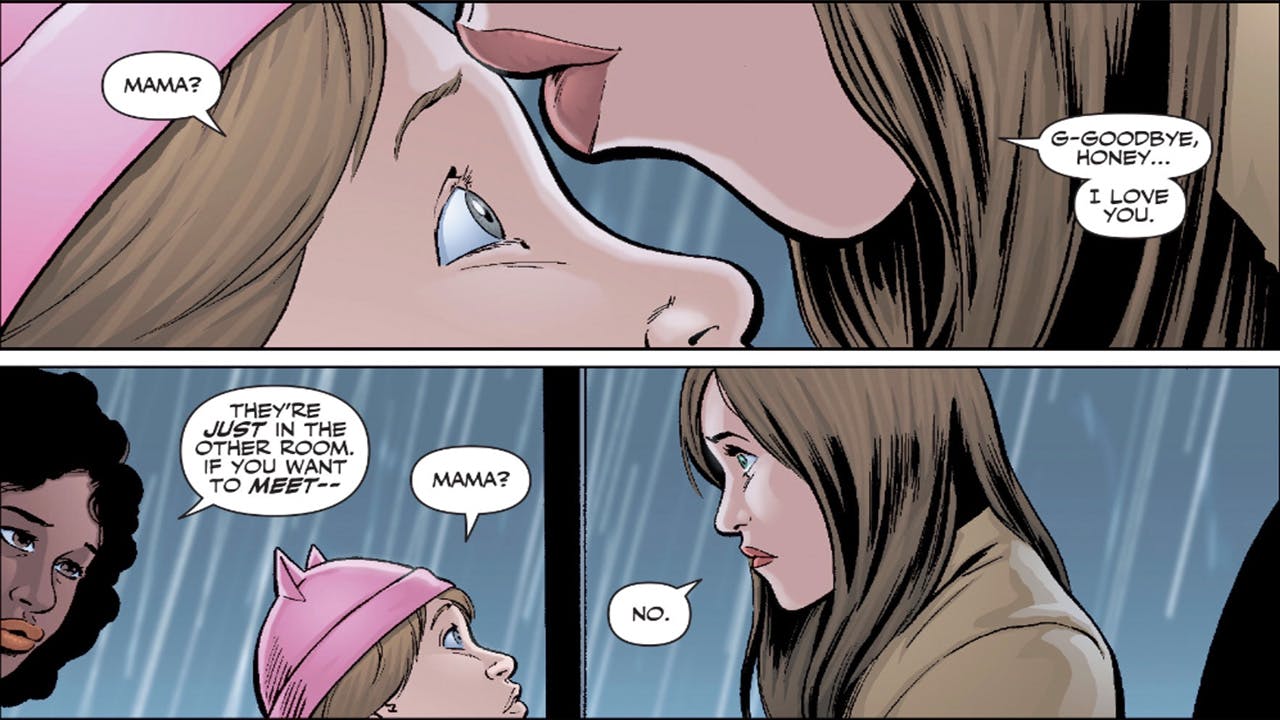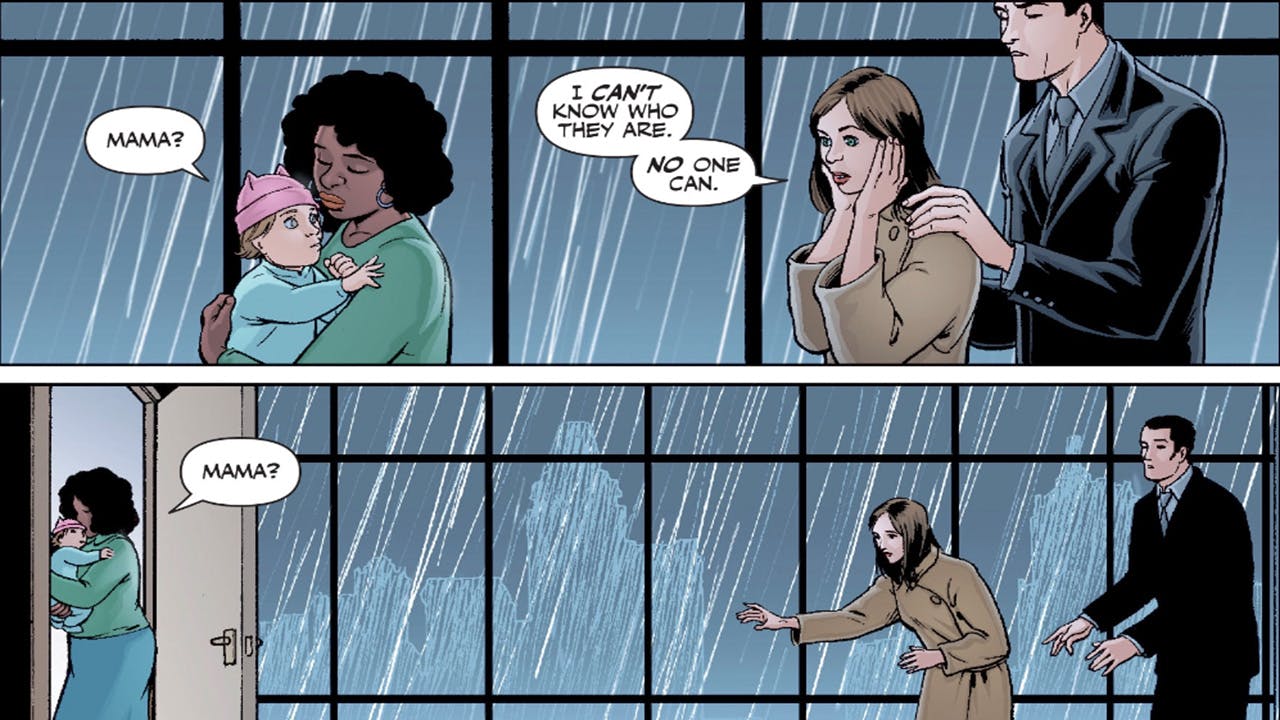 Unfortunately, as most comic fans know, children of superheroes get kidnapped A LOT. Despite the precautions Selina took to protect their identities, baby Helena was frequently targeted by Catwoman's enemies. Selina came to the heartbreaking realization that the only way to keep her daughter safe was to give her up. In 2007's Catwoman #72, Selina had Bruce arrange for Helena to be placed with a foster family. Although she thought she was doing the right thing, Selina was emotionally shattered. In a moment of weakness, she asked Zatanna to mindwipe her so that she would no longer remember her daughter. But the magician refused believing it was important for Selina keep her memories of Helena alive.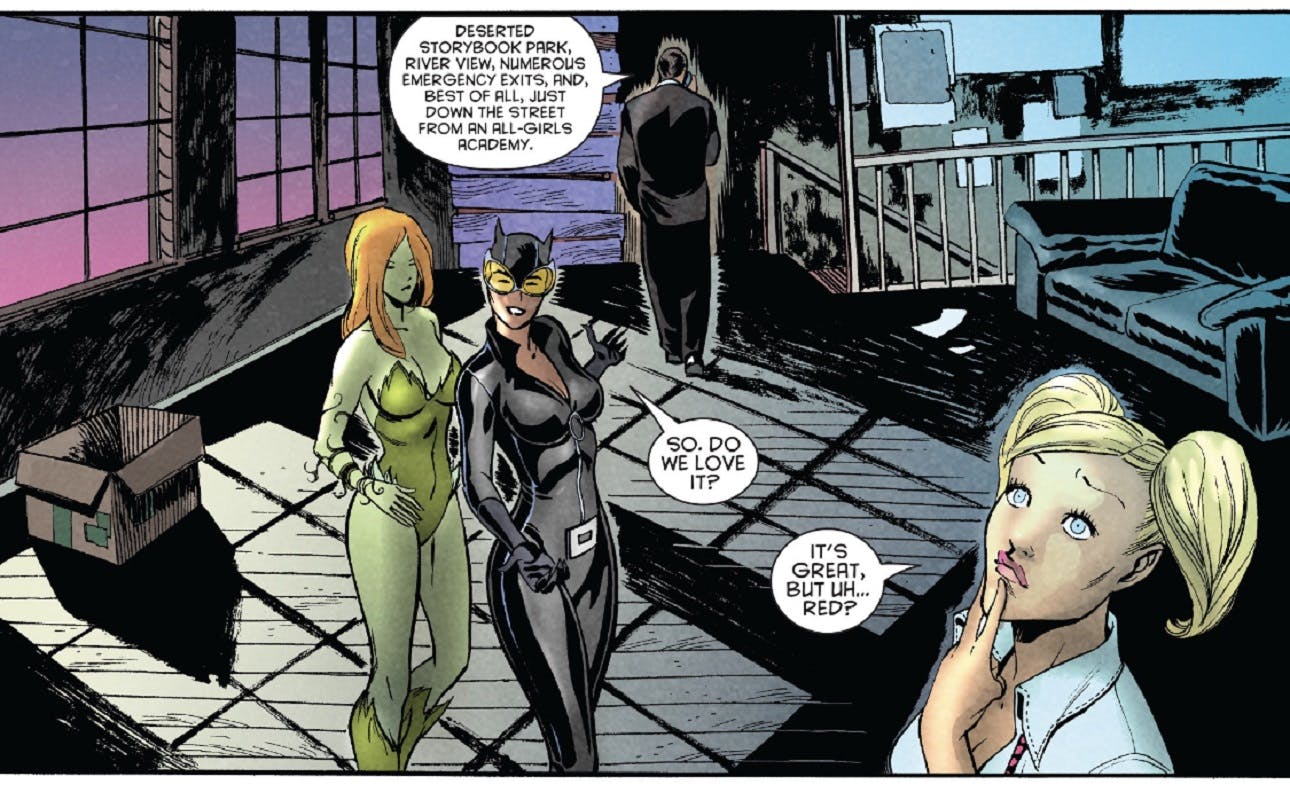 By 2009 Gotham was in chaos due to Batman's recent disappearance. Catwoman, Poison Ivy, and Harley Quinn decided they had a better chance of surviving together than they did separately. The bad girl trio moved in together, and went on a series of adventures in 2009's Gotham City Sirens. Selina, who was used to being the bad girl, found herself as the moral compass of the group, constantly reining in Harley and Ivy's more evil impulses. In the end, the group imploded and went their separate ways in Gotham City Sirens #26.
After the reality-altering events of Flashpoint, the Feline Fatale was given a new history and status quo in 2011's Catwoman #1. Selina was back to being at odds with the Dark Knight, no longer knowing his secret identity. In 2013 Selina found herself in an unexpected position – as a member of the Justice League! Amanda Waller and Steve Trevor recruited Catwoman to join A.R.G.U.S. in 2013's Justice League of America #1. Selina, who has never played well with others, eventually broke from the League, erasing all the files they had on her on the way out (in 2014's Justice League of America #14).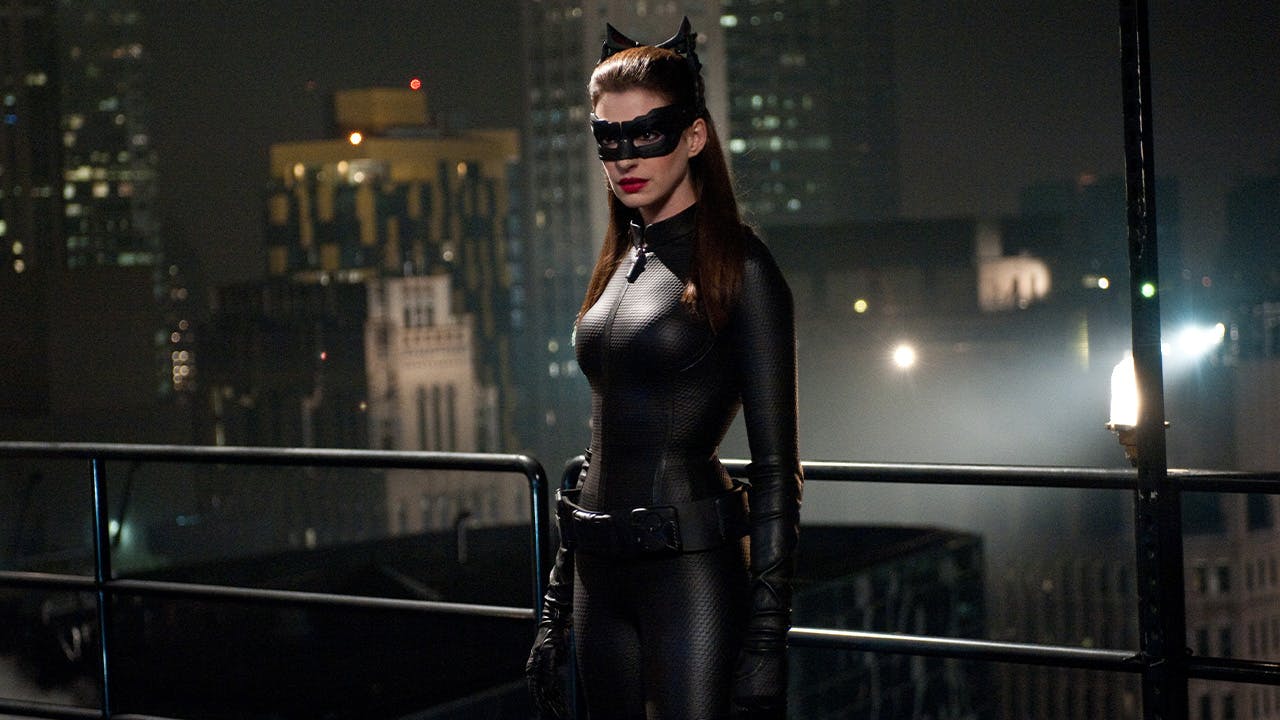 In the summer of 2012, Anne Hathaway suited up to play Catwoman in director Christopher Nolan's The Dark Knight Rises. Hathaway's Selina was a master thief, and able to adapt to any situation. No offense to the other big-screen Catwomen, but Hatheway's Feline Fatale was the most faithful to the comics -- starting out as someone who cared about nobody but herself, until she chose to save the city in the film's final act. Catwoman's decades-long redemption arc was seamlessly adapted in almost three hours. For once, Batman and Catwoman got to have their happily ever after; as Selina and Christian Bale's Bruce Wayne rode off into the sunset together.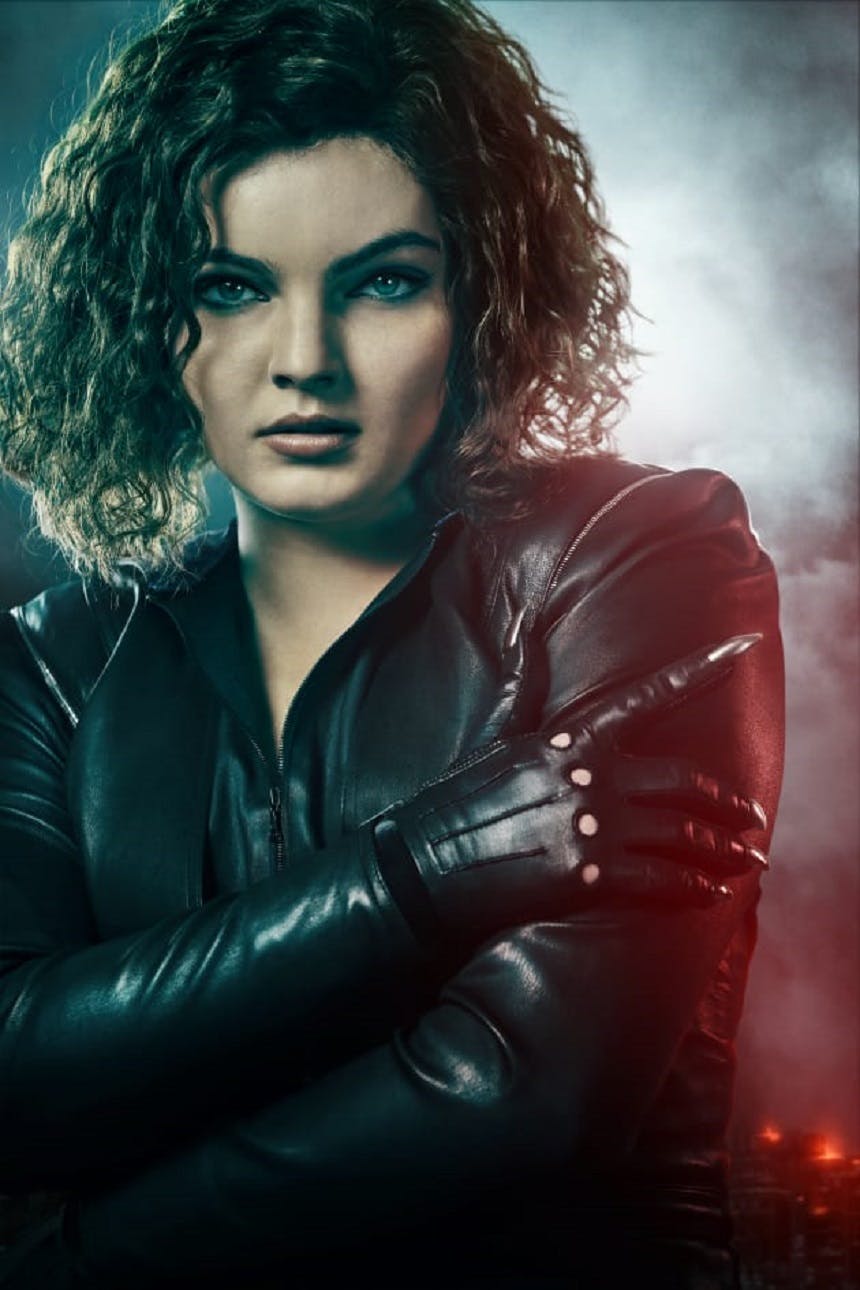 In 2014, Selina Kyle returned to live-action television for the first time since 1968. Camren Bicondova starred as a teenage Selina in the Batman prequel Gotham. Like her comic-book counterpart, Selina danced on the line between hero and villain, allying herself with mobsters like Penguin in some episodes, while helping Bruce Wayne take down criminals in others. Camren Bicondova was a professional dancer who did most of her own stunts, filming most of Gotham's final season with a broken foot. To date, she's spent more hours playing Selina in live-action than any other actress.
Over in the comic books, Selina continued to reinvent herself. After discovering that she was the daughter of mafia Don Rex Calabrese, Selina claimed her birthright and took control of the powerful crime family. The story unfolded in 2014's Catwoman #35-46 and explored new sides of Selina, including her bisexuality. While Selina was running the Calabrese crime family, a woman named Eiko Hasigaway briefly took over as Catwoman. Sparks flew between Selina and Eiko, culminating with a passionate kiss in 2015's Catwoman #39. After giving up her role as a crime boss, Selina was arrested when Catwoman was framed for murder in 2016's Catwoman #49 (see Footnote 4). Fortunately, she was able to clear her name and returned to life on the run.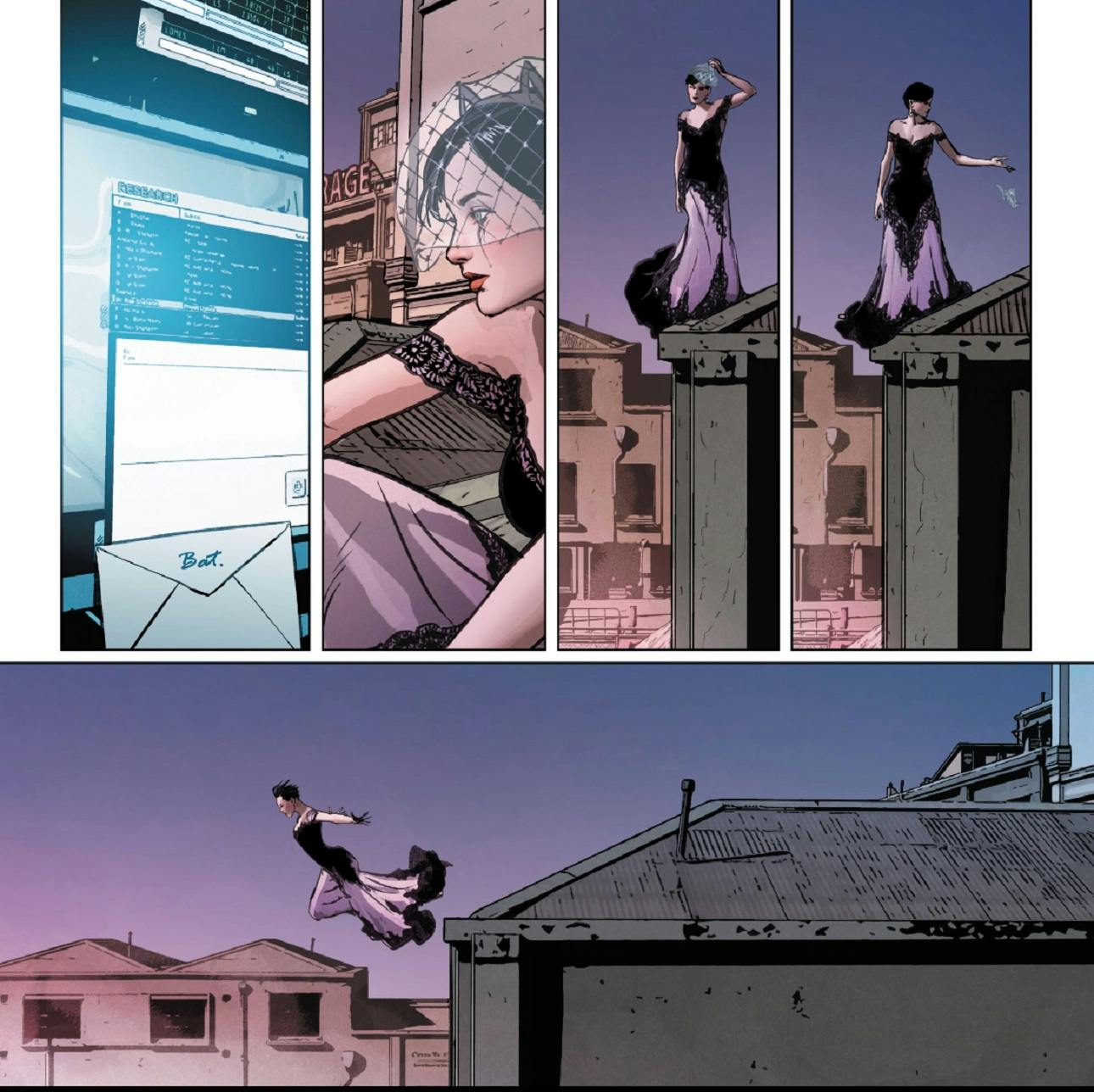 In 2016 the DC Universe returned to its pre-Flashpoint roots when the Rebirth era began. Tom King spotlighted Batman and Catwoman's complicated relationship in his 2016 Batman run, with Selina now again aware of the Dark Knight's secret identity. Realizing he owed it to himself to embrace happiness, Bruce proposed to Selina in 2017's Batman #24. On the eve of their wedding day in 2018's Batman #50, Selina began to have second thoughts, and left the Dark Knight at the altar. Unbeknownst to the couple, Bane had sent Holly Robinson to manipulate Selina into making the decision. After leaving Batman and Gotham behind, Selina got herself a new suit and hit the road for a new series in 2018's Catwoman #1, written and illustrated by Joelle Jones.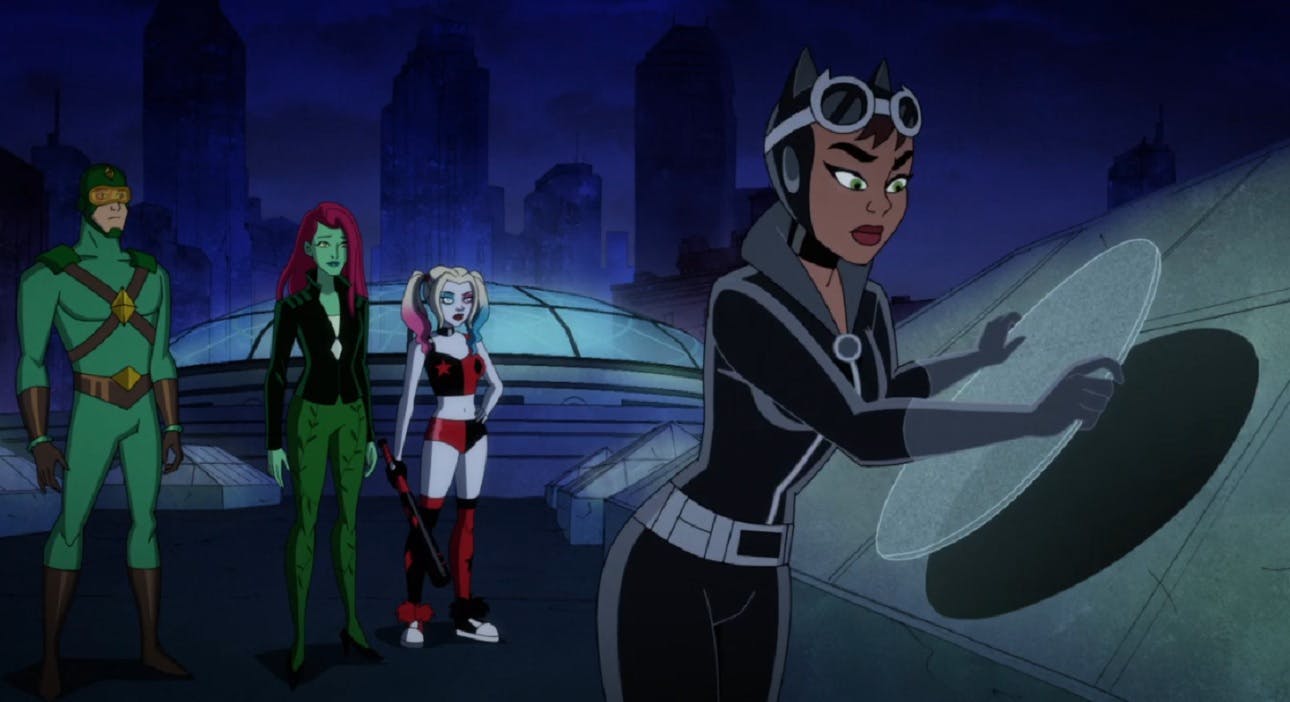 Batman and Catwoman eventually runited to defeat Bane. Tom King's Bat-Cat saga will continue later this year with Batman/Catwoman, and if this tweet from King is any indication, fans are in for quite a ride.
We've come to the end of our look at Catwoman's chronological journey, but not the end of her 9 lives. Catwoman continues to reinvent herself, as new writers and artists further her story, and new actors portray her on screen. Zoe Kravitz is slated to play her in director Matt Reeves' upcoming film The Batman. While on DC Universe's Harley Quinn, a new version of Selina Kyle -- voiced by Sanaa Lathan -- will debut in the episode "Trapped." How will this new Catwoman stack up against her predecessors? What's in store for Selina's feline future? With 9 lives and counting, all we can say is, "You ain't seen nothin' yet!"
Recommended Reading:
* Catwoman: Selina's Big Score – Selina plans a grand heist in this epic one-shot.
* 2007's Catwoman #71-72 – Selina gives her daughter up for adoption. We DARE YOU not to cry.
* 2014's Catwoman #35-46 – Selina becomes the head of the Calabrese crime family.
* 2018's Catwoman #1 – The acclaimed Joelle Jones begins her run, taking Selina out of Gotham for new adventures.
Footnote 1: During a conversation with Bruce Wayne in 2002's Catwoman #10, Selina explained that New York revoked her death certificate. This allowed her to exist in Gotham City without people wondering why she wasn't dead.
Footnote 2: As our previous entries discussed, Selina had known Batman's secret identity before, but editorial hiccups and reality-altering crossovers reset the status quo.
Footnote 3: Zatanna later walked her comments back in 2007's Catwoman #72, claiming that the magic lobotomy didn't change Selina's nature, but merely suggested she embrace the heroic path she'd already started.
Footnote 4: Although the story doesn't call attention to it, Selina's arrest publicly outed her as Catwoman to the world. This put an end to the secret identity status quo she'd maintained since 1987.
What are your hopes for the next 80 years of Catwoman? Let us know in our Community!