The legendary Brian Michael Bendis -- creator of such fan-favorite characters as Jessica Jones and Miles Morales -- has been writing exclusively for DC starting with Action Comics #1000, helming the Man of Steel  limited series and then launching a new Superman title. Now, along with longtime collaborator Alex Maleev, he's taking on his first DC event storyline in Leviathan. A shadowy new villain is systematically destroying his competition and threatening to force the world into his (or her!) brand of order. It's a mystery that spans the length and breadth of the DC Universe, and touches characters as disparate as the Question, Manhunter, Plastic Man, Batgirl, and more. Bendis sat down with us recently to talk about the secret power of Lois Lane, why a great villain should always have a good point, and why Jimmy Olsen is actually a really good photographer.
On why Leviathan is More Detective Story Than Disaster Flick…
It's like an Agatha Christie novel, or like Deathtrap staring DC heroes, where they're all in a room trying to figure out what happened. So it's a whodunit, it's a thriller, and I bring that up because so many event miniseries have almost a disaster movie structure, and I've done them. I'm responsible. But people, when you say "event," something's going to blow up and someone's to blame, and this one we thought, "Let's get a little more like Batman. Let's get a little more detective." Detectives show up after it's happened and try to figure it out. Also, we have a story where almost everyone in DC is a suspect. It could be anybody. And so, the greatest detectives have to come together and solve that case before the morning -- because in the morning, something else is going to happen. So I thought, "This is the kind of book I'd buy." So we sat down, and the Question, and Plastic Man, and Lois Lane, and everybody we wanted was available and ready to go. So here we are.
On Why Lois Lane is the Most Dangerous Woman in the World…
I kind of had an open palette of who we wanted to pick here, and I couldn't think of anybody more important to this story than her. Not Superman. Her. We talk about it a little bit in the Superman Special. There's people always trying to kidnap her; like you want to get to Superman, and yeah, that hasn't worked one time. Not one time has that ever worked. Why? You know why? Because she's the most dangerous woman in the world! Not because she's married to Superman, because of where she grew up, who her father is, and how she has access to the publish button in one of the biggest media services in the world. She has autonomous publishing power, like some of the New York Times reporters. That's a very dangerous woman. Don't mess with her... Also, detectives come with a lot of life experience. Batman's coming from his jam. We all know where he's coming from. Lois is coming from this interesting mix of everything that Superman has brought to her world, and everything that she as a reporter and her father have brought to the world. So it's almost like this mix of both perspectives that make her the best choice, or Leviathan...
On Why a Villain with a Good Point Makes for a Better Story…
[In Leviathan] a lot of heroes are going to have kind of a new purpose, a new motivation, because the enemy will have revealed itself. You get a sense of it in the first two chapters -- he's not selling villainy, and he's not selling antagonism. There's heroes and there's villains, and then there's this other thing right now, and that other thing isn't playing by the rules dictated by the rules of the genre, and that's going to mess with a lot of people's heads. That was one of the things that will have to unfold, but he's not like... You know how Magneto, when he tells you his point, you go, "Yeah that's a good point. Everything you're doing about it [is wrong]." I feel like those are the best villains, where you go, "I totally see where you're coming from, but no." So Leviathan is 100% in that category. What he's pitching them, he's right. The Batgirl pitch? He's not wrong.
On Why Leviathan Makes an Offer to Batgirl...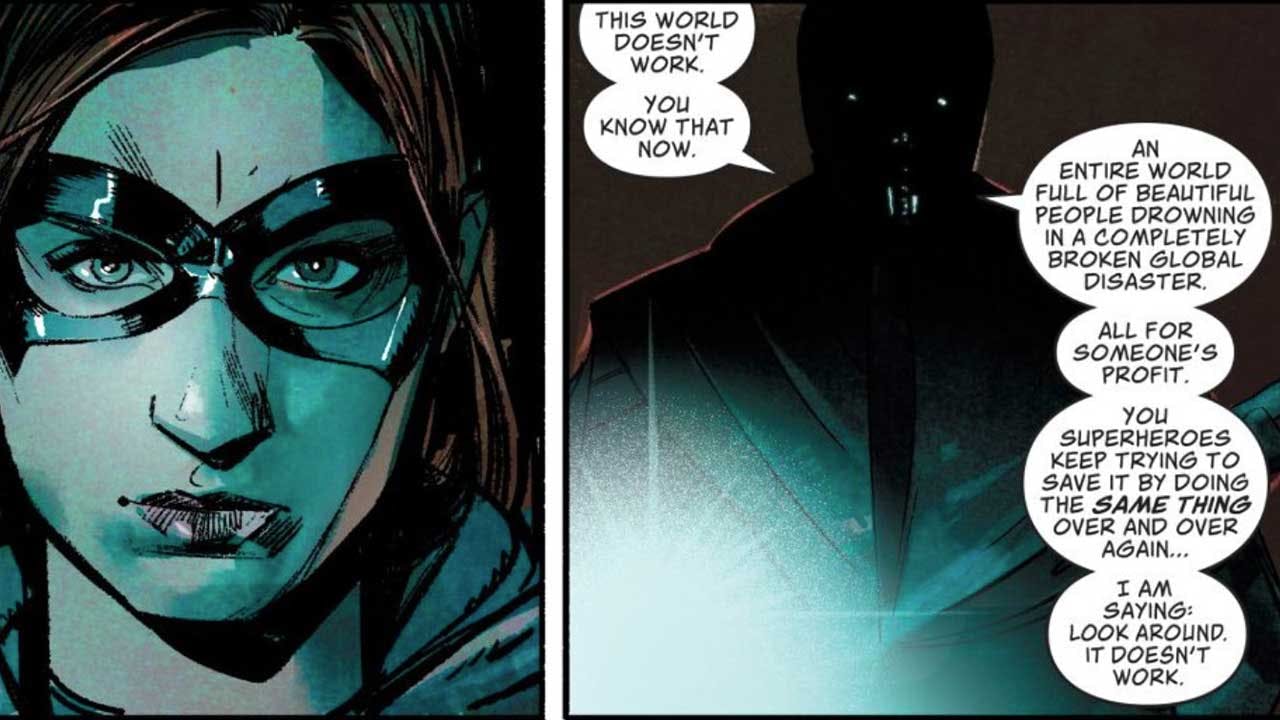 She's not the only one. There's going to be quite a few that [Leviathan reaches out to] who have journeyed through the DC Universe and had different roles. It's not like a lot of people's careers now. You have different careers. So, she's had different status quos, and a character's had different status quos, that, for Leviathan, would seem like a target. "You want what I want, and you're not getting it doing what you're doing. Come on board." As we go, we'll see how that pans out. But there's quite a few people being pitched this, and also a lot of things have blown up and we haven't seen a lot of bodies. As the Question says, "When I don't see a lot of bodies, I start asking more questions."
On Keeping the Reveals (and the Secrets) Coming Every Issue...
Oh yeah, yeah. There will be a reveal or two or three at the end of every issue. Detectives will solve a case, and the case may bring another question to the table. It's a detective book, so a detective will be successful on some level. But the case will go on, and by the end of this series, not another series, you'll find out who Leviathan is, what they've done, why they've done what they've done. And what that shape will be coming out of this. That, I think, is what people are a little intrigued by, is what Leviathan is, and what the heroes are going to be able to do coming out of this to counter it.
On Assembling an Eclectic Ensemble...
The Plastic Man that we're going to do in this... I would joke for years because people would go, "You and Alex [Maleev] are coming to DC to do Batman!" And I go, if we come to DC, we're doing Plastic Man, and I'm not joking. I said it literally for 15 years, and Alex was like, "I'm not doing Plastic Man." So here we are. But Manhunter is on the docket. This is one that was kind of in the family a little bit, because the original series by Marc Andreyko and the covers by Michael Gaydos, I always had a lot of love for that character as well, so bringing her back into the fold. The Question, the Question is an enormous bring-back for fans. I'm just talking about the anecdotal thing that is my Twitter feed, is all about the Question and Conner Kent -- "More Question, more Question, more Question." So I'm so happy we're delivering, because boy oh boy, people love faceless people. [Laughs.]
On New Leviathan Tie-In Titles...
This is six issues. But also, the Superman 80-page special that goes on right before it -- I just did the lettering pass this morning -- it is massive. I was like, this is a long book. It's a big, giant Superman story by myself and [artist] Yannick Paquette. I never said his name out loud before. [Laughs.] I'm a huge fan. Then inside that thing, which is a big prelude to Event Leviathan, including a giant move by Leviathan itself and Talia, inside is also a very special chapter by writer Greg Rucka, which will be preluding and introducing his Lois Lane series, and then also, what we're really here for, what I'm really excited about, is [writer] Matt Fraction coming on to do Jimmy Olsen with [artist] Steve Lieber. As I told them before, and this is true, this is the question everyone asks me,"Just tell me, is it [Matt Fraction's] Hawkeye good?" It's Hawkeye good. Order it. It's fantastic.
On Jimmy Olsen Being the Daily Planet's Best Photographer...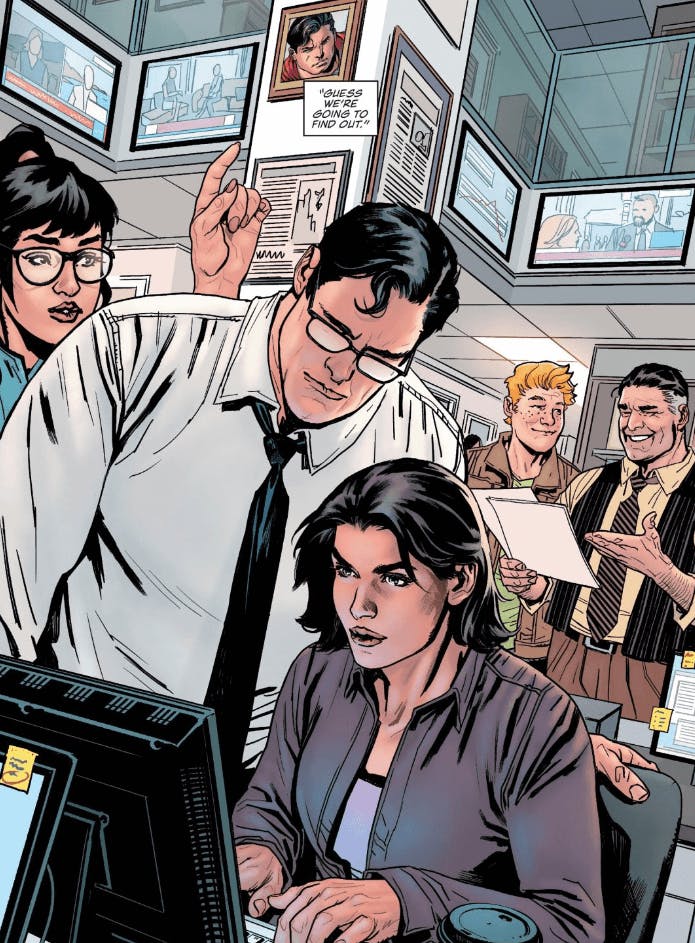 Jimmy is in every issue of Action Comics going forward, all in connection to Matt Fraction and his madness. Yeah, but what is really special about Matt is Steve Lieber bringing this thunder to this book, and I'm promoting it because I desperately want Jimmy Olsen to be the number one book in the country, and for everyone in culture just to sit there and not be able to wrap their heads around it for like years. I posted it online that Yannick page where Lois is typing -- it's one of the pages of the Superman special, but it's Lois typing with Clark over her shoulder, and Jimmy's being a goofball, and it's like the most perfect Daily Planet illustration I've seen. It's like every character is perfectly illustrated in character, and even the things on Lois' desk. She has like three coffee cups, and immediately people were arguing with me online. "She would have her own thermos." No, she wouldn't. I know people on deadline, and none of them have thermoses. So I laughed at that, the first comment on that piece... It's Superman's work family, and I love them. Also, I think he's an amazing photographer. I don't think he's a joke. I think he's a genius, and that's why they put up with his nonsense. I have written Jimmy bitching about Peter Parker's design sense. Every issue of Action Comics has him in the back going, "Look! He doesn't even know how to take a picture." It's never made the final cut. If you see it, yeah, it's never been appropriate. I just see him just obsessing about the randomness of Peter's design quality.
On the Magic of Writing an Unexpected Pairing...
The second page has Lois and Bruce alone in a room, and I immediately was like, "Have they been alone in a room lately?" And immediately I went to, like if you're ever alone in a room with friend that's connected to your other friend, but that other friend isn't there, or my wife's friend, but my wife isn't there. We don't really have that much to talk about. So may I say that I need all of those things to happen in a book for me to even publish it. Like, if the characters aren't interacting with each other on a real level -- and I know that sounds dumb, like, "I've never been in the room with you, but like I feel are they really in the room together, then it's not a book. It's not anything. So those little sides and stuff, that's everything to me. That's when Lois is really living and breathing, and not just moving a story along. So I think about it all the time.
On Making Leviathan an Iconic Villain...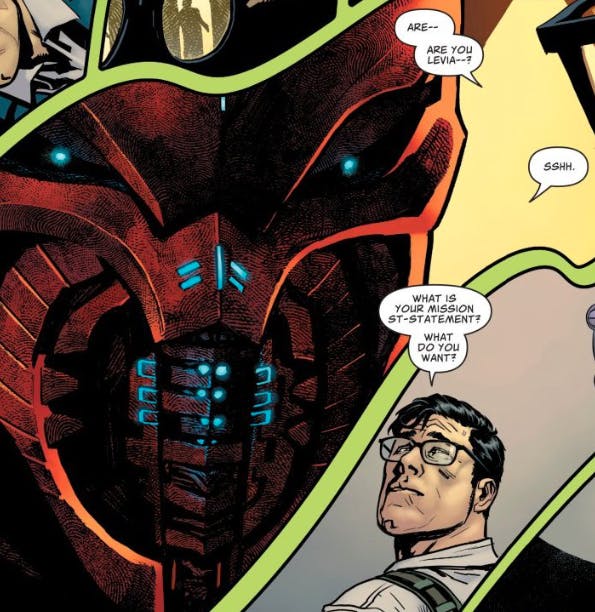 [Leviathan's mask] is an icon. This is a character who's dealing with icons and psychology of imagery, specifically. This is a character very aware of Darth Vader, and very aware of what images do for people and how they respond to them. Even that face, it looks scary to some people, and looks not scary to other people. It's designed that way. There's a psychology behind it. So there's going to be a lot of stuff in this that is going to reflect a more modern sensibility than you may have seen in the past where people are wearing the white carnation or dropping off an envelope. The hardcover will be filled with cool choices and stuff. We're literally trying to do stuff we haven't seen before, done before, but still relates to the way people receive certain things, or it's this character messing with people's perception of the way they see certain things, and that we'll dig into more in issues 4 and 5 of Leviathan. Even like, they think they're fighting Darth Vader, because he wants them to think they're fighting Darth Vader.
On Making Jason Todd a Suspect...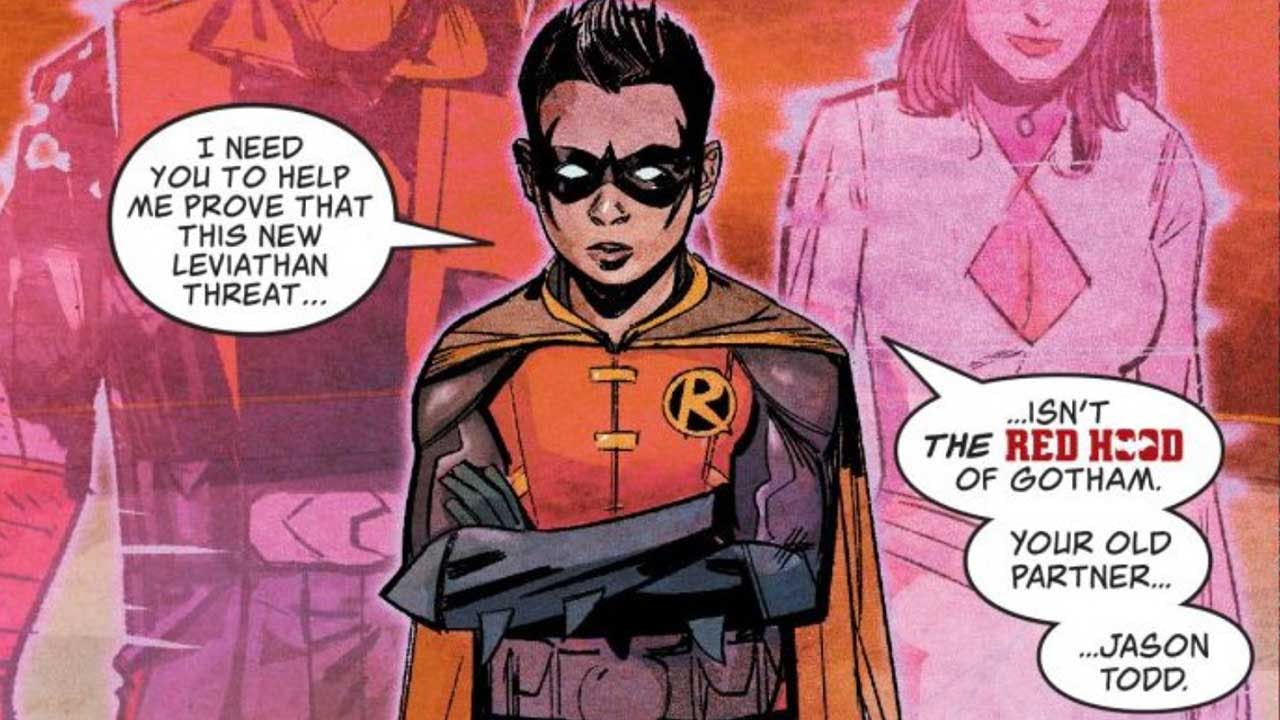 I'm shocked. I thought all I was going to get was beat up for that. So I'm going to plug in my computer on Wednesday... Yeah, no. I think what it speaks to is that, Jason and the Batgirls, I think if you start using what makes them suspects, ooh, that's a lot of people who actually fall into this category. There's a lot of people who have been on a few teams doing a few different, had a few different journeys in this world, or have gone back-and-forth on different sides of the coin. So I think what Damian is pointing out is that, and now they're going to go after Jason and we're going to play that out soon. Is Jason Leviathan? He's been through a lot. Roy's not around anymore. He's made choices in that past that fall into this category, and others have as well. So, see? It's a good mystery.
On the Secret of Writing a Story With Multiple Characters….
I hate to be too teachery, but first it's good-story well-told. Is this story being told as well as it could be told? Before you get all the fancy stuff and make sure all the beats are there, all the pieces, and then, you start, "What is this story from Green Arrow's perspective? What is this story from Batgirl's perspective? What is this story from Merlin's perspective? Whose perspective is the most unique?" Then take this into a group setting, take it to an X-Men [level] -- whose point of view is this story the most interesting from? Is it from the reader's point of view? So all of that gets put into the thought process before you even get into the tempo of the piece. But then sometimes certain characters come with their own musicality, and that's a little bit of cheating in a shared world. But it's true. They come with their own swagger, and that helps you in a lot of times, particularly with a short story. Green Arrow. It's all you need to know. Then we break it down, and then for Alex.
On How Leviathan's Aftershocks Will Affect the DC Universe... 
Anything that's in DC, you're going to feel that. I literally have seven writers constantly emailing me and texting me about Leviathan-related stuff, very into it. Two writers in particular. I'll even say Steve Orlando has found some really fascinating stuff I would not have found myself. So I'm always like, "Oh thank you." Yeah, it's great. That's what a shared universe is supposed to be. We all prop each other up and bring out the best in each other, or you go, "What about that? What about THAT?" It made me excited because I pitched this in the room a few months ago to all the writers here at DC, and it went over well. It was my first thing. It was weird to pitch to Geoff Johns. We're blowing up A.R.G.U.S. Sorry. [Laughs.] 
Who do you think Leviathan is? Let us know in our Community!