With a collection of over 23,000 comics, and more being added every day, you can hardly call DC Universe a wasteland. But those vast expanses can be overwhelming. Still, if you're feeling post-apocalyptic, there's a greasy little corner you might want to explore with some ragtag resistors against the howling darkness. Grab a chopper and ride the Fury Road with GOTHAM CITY GARAGE.
BACKGROUND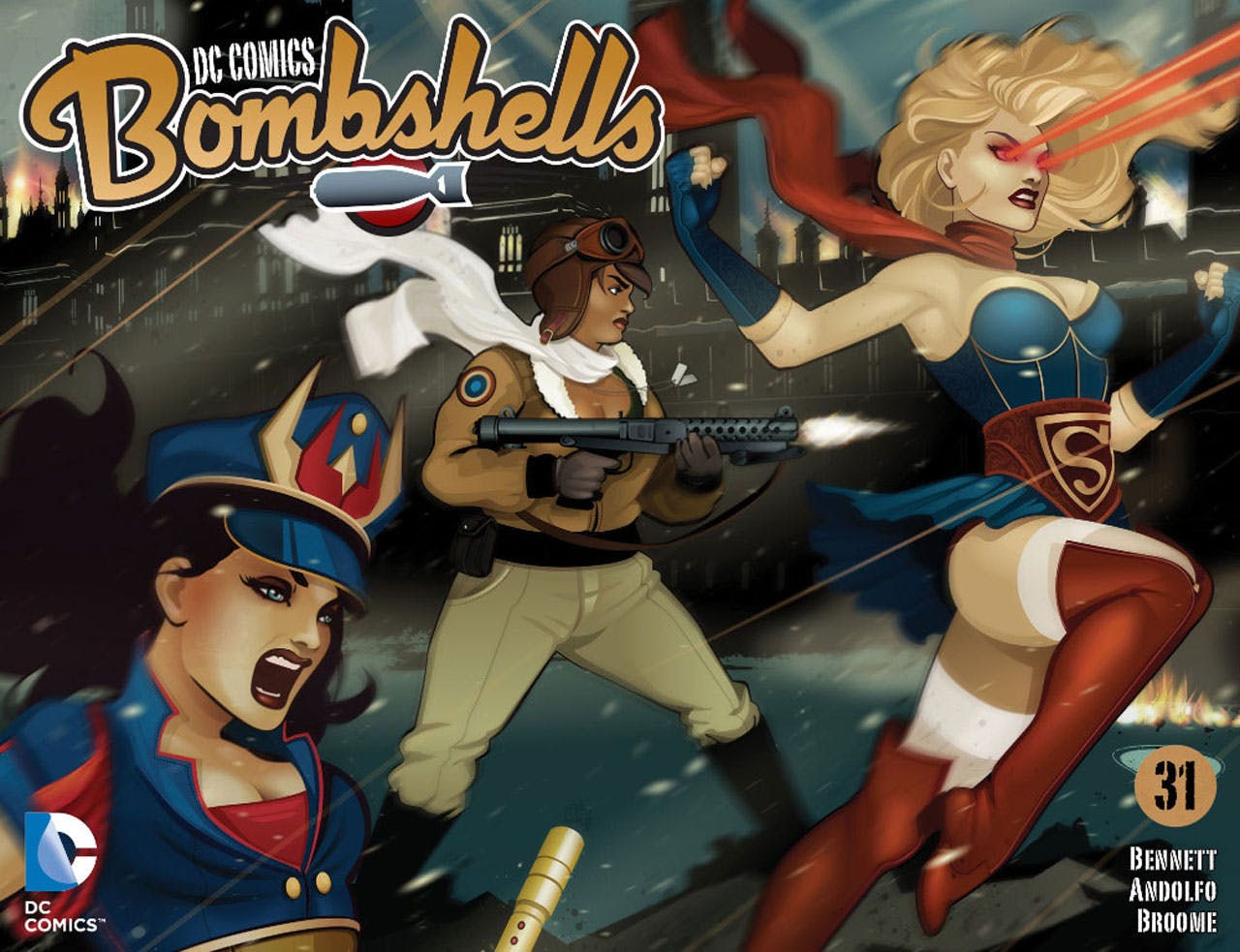 There's nothing quite like GOTHAM CITY GARAGE in the DC Universe, but it isn't exactly without precedent. In 2013, DC launched its "Bombshells" line, a series of collectible statues inspired by 1940s pin-up models. That line in turn inspired a DC COMICS BOMBSHELLS spinoff comic, which recontextualized those models in a world in which the superheroines of the DC Universe were World War II era freedom fighters. AME-COMI GIRLS, too, began as a line of collectible statues inspired by the aesthetics of Japanese comics, injecting a manga flavor into another vision of the DC Universe. Then in 2016, a new line of collectible statues inspired by the women of DC appeared, based on a new aesthetic: the grease-monkey biker popular with mid-century nostalgists throughout America. But like BOMBSHELLS before it, the comic book tie-in series dared to think bigger. When can a gang of biker girls be the World's Greatest Heroes? When civilization as we know it has fallen around them, and motor power is the only refuge from fascism or death.
PREMISE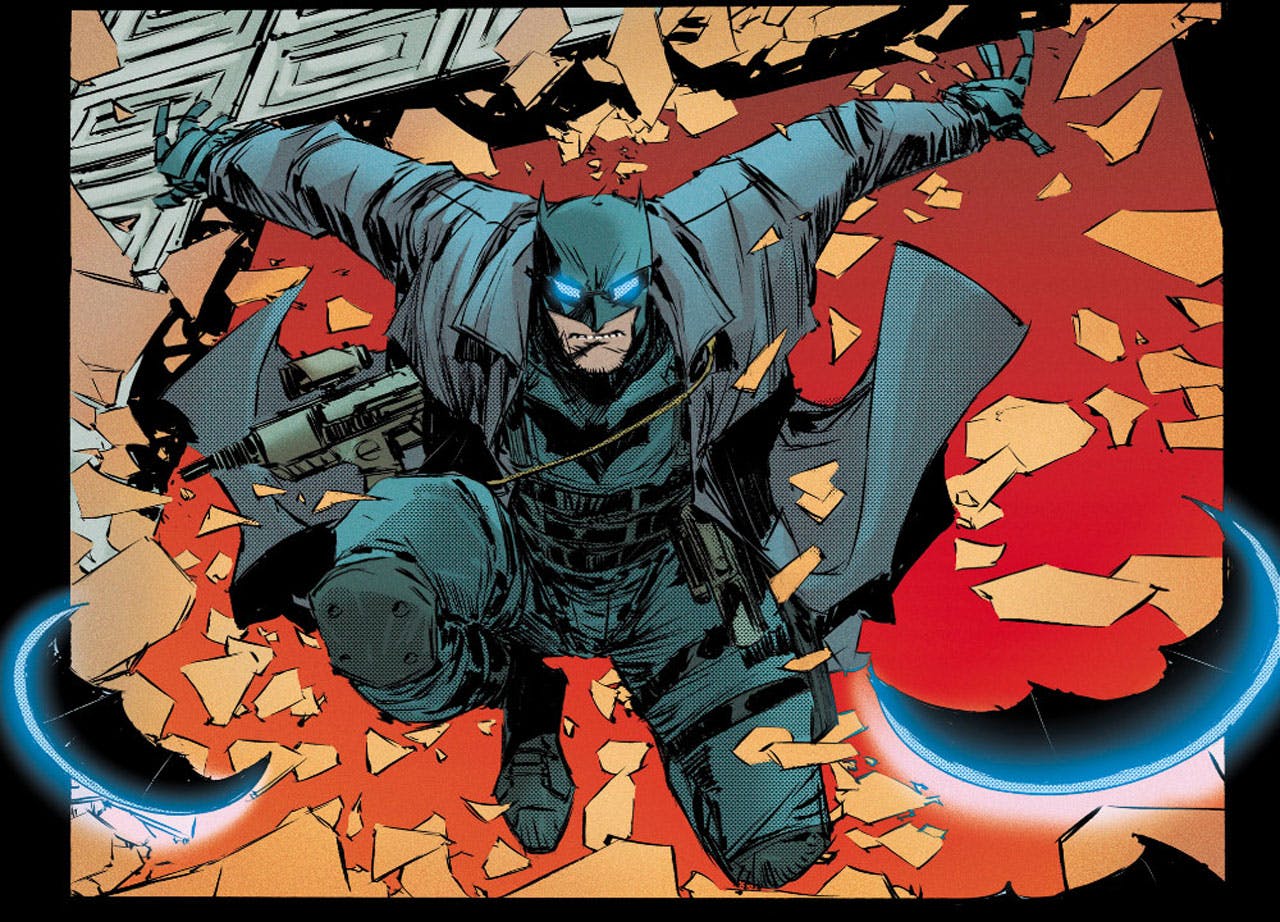 In the world of INJUSTICE, we've seen what happens when Superman becomes a tyrant. But what if Batman was the most unstoppable tool of the fascist state? After a terrible disaster ruins the world, Lex Luthor seizes the opportunity to pick up the pieces and rebuild what remains in his image. Using a mind-controlling implant called the "Ridealong," Luthor enforces submission and obedience from all dissenters, up to and including Batman himself. Only those who live on the outskirts of Luthor's geodesic safe zones are free from his influence… for now. But without his monopolized resources, every day out in the wasteland is a fight for survival. When new city escapee Barbara Gordon and her foster sister Kara join the ranks of the ragtag resistance, the time will soon arrive to take the fight back to Lex.
REASONS TO BINGE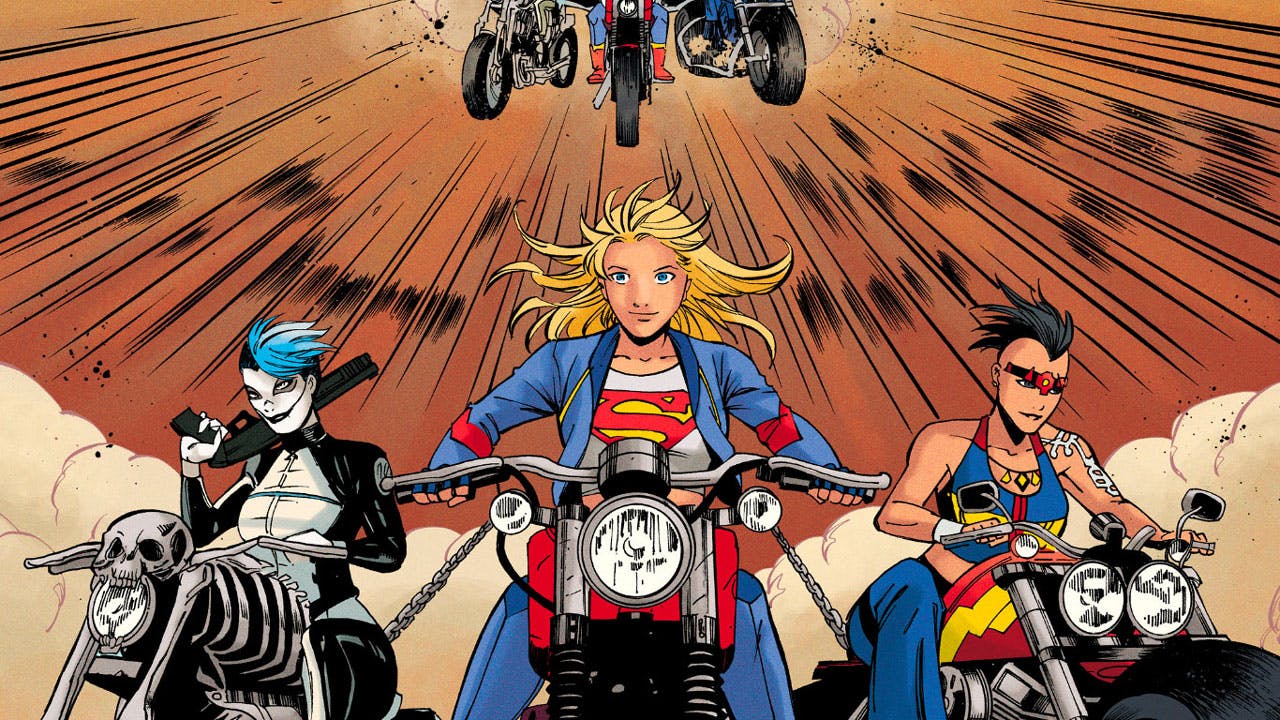 UNIFIED VISION: Whenever you begin a project which encompasses every corner of the DC Universe, it's a challenge not to present a clash of colors. Decades of design sensibilities and influences meet on the page in a way that can often give it a sour note. But in GOTHAM CITY GARAGE, a single powerful aesthetic runs throughout the entire universe, and visual treats await anyone keeping an eye out to see what new forms their favorites take in this wasted world.
FURIOUS ACTION: The Mad Max influences on GOTHAM CITY GARAGE aren't just for show -- every issue brings you high-octane action scenes worthy of the grittiest Aussie cinema.
ABANDON EXPECTATIONS: Something else every issue of GOTHAM CITY GARAGE promises: this isn't the DC Universe you know. While certainly a rewarding ride on its own, the real magic of GOTHAM CITY GARAGE is how it takes an experienced DC reader's expectations and continually subverts them at every turn. These characters are who they are at their core, but you've never seen them before quite like this.
RED HOODS TILL WE ROT: Jason Todd runs a post-apocalyptic gang of biker pirates out in the wasteland. It's literally all we've been thinking about for years.
WHY IT'S SATISFYING

With 24 Digital First issues, GOTHAM CITY GARAGE is a completely self-contained world you can enjoy on any long afternoon that feels like the end of the world. One of the secrets to the DC multiverse, after all, is its versatility. GARAGE shows us that no matter what sort evil and hardship the world endures, there's always hope, always a battle for righteousness, until the very blasted end. Till we rot.
Are you a GOTHAM CITY GARAGE fan? Let us know in our Community!