Welcome back to Batfan Friday, our weekly roundup of the latest news in the Dark Knight's world! Batman and his allies have had a busy week protecting Gotham and beyond. So let's see what they've been up to…
WARNING: SPOILERS AHEAD!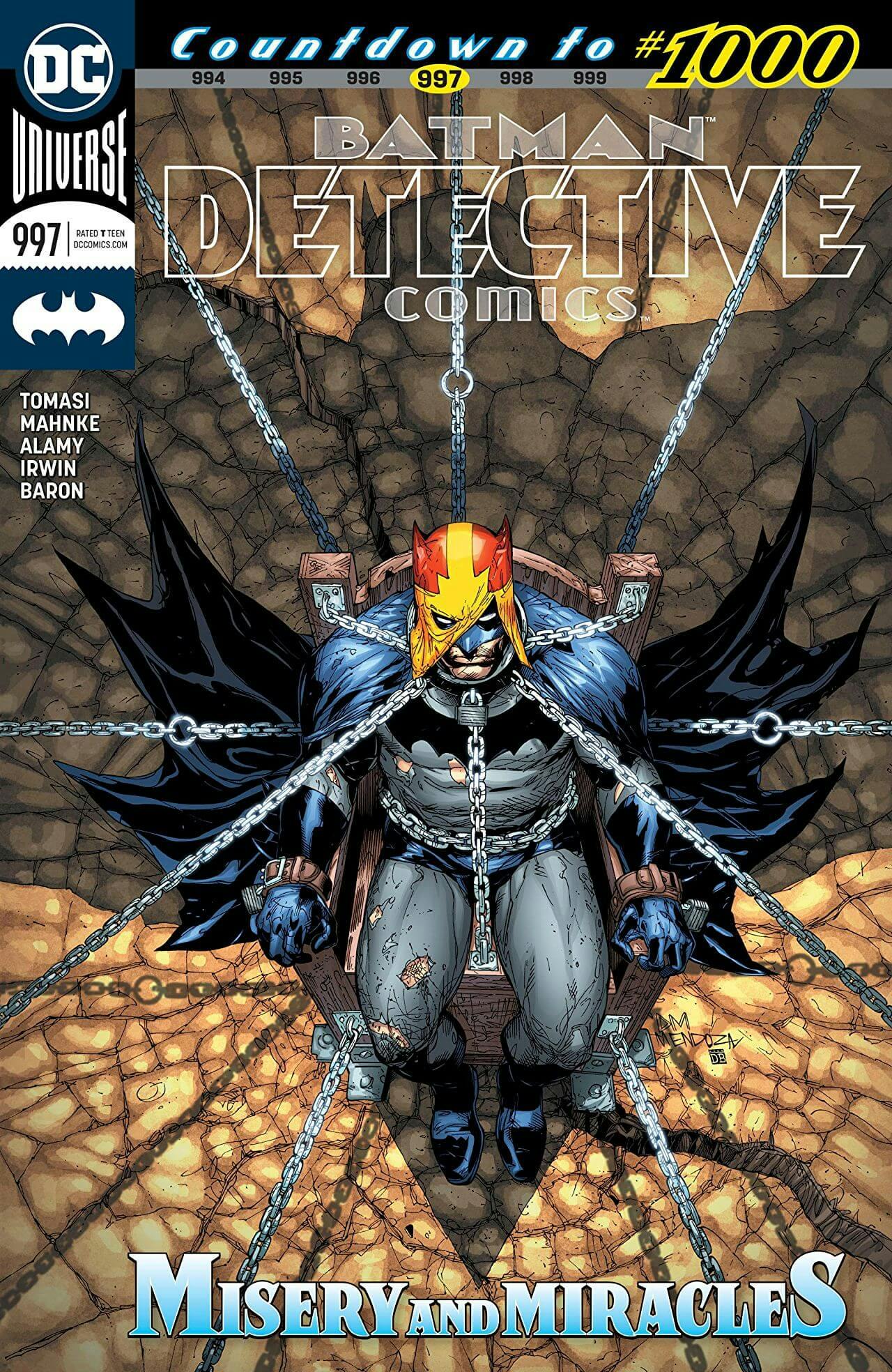 If you're a fan of Batman escaping death traps, then you're going to love Detective Comics #997 (written by Peter J. Tomasi and penciled by Doug Mahnke). Batman and Thaddeus Brown (the first Mister Miracle) are chained up in a room that's rapidly filling with water, and before long they're also surrounded by sharks and piranhas. It takes everything Batman has to rescue himself and his former mentor. But once they escape, the Dark Knight realizes his troubles have only just begun!
The fallout from the Sanctuary murders continues in Heroes in Crisis #5 (written by Tom King and penciled by Clay Mann). When Batman is unable to get Booster Gold's location from Skeets, Batgirl and her new partner Harley Quinn try their own method of interrogation. This new Dynamic Duo find Booster Gold and Blue Beetle, and it looks like they may have made a breakthrough in the Sanctuary mystery. But will Harley listen to Batgirl long enough to let Booster live?
The Joker gains the upper hand in Batman Beyond #28 (written by Dan Jurgens and penciled by Brett Booth). As the future Batman and Robin fight Joker Beyond, Dick Grayson expresses concern to Bruce Wayne about putting Matt in the line of fire. Dick's apprehension is soon justified as Robin goes missing, and then turns up in the hands of the Joker! The Clown Prince gives Terry and Dick an option -- he'll spare Matt from his crowbar if they tell him everything they know about Bruce. What's a Boy Wonder to do? 
Someone is targeting Gotham's congressional race in Batgirl #31 (written by Mairghread Scott and penciled by Paul Pelletier). Barbara continues volunteering for the Alejo campaign in order to find out who is behind the attacks, even though it puts her side by side with the scummy Jason Bard. When the Cormorant attacks Alejo's fundraiser, Batgirl is convinced the other candidate Branson Moore is behind it. But when Babs goes to interrogate Moore, she winds up saving him from the Cormorant too! What's going on here, and who is pulling the strings? With Babs' keen mind, it's only a matter of time before she finds out.  
The Multiverse is on the verge of collapsing in Justice League Annual #1 (written by Scott Snyder and James Tynion IV, penciled by Daniel Sampere)! With the Source Wall growing increasingly unstable, the Justice League must get creative in order to save all of reality -- and they find themselves getting help from the Omega Titans. This story picks up the pieces that Snyder and Tynion have been dropping for years as the League faces a crisis where the stakes have never been higher. 
It's Jason Todd vs. Damian Wayne in Teen Titans Annual #1 (written by Adam Glass, penciled by Ryan Benjamin and Jose Luis). Red Hood and Robin have secretly been working together to take down the Other, but Damian suspects that Jason had sent his team into a trap. Robin goes to fight his "older brother," and is surprised when Jason denies the betrayal and kicks young Damian's butt. You won't want to miss this epic Robin vs. Robin fight. 
If the winter storms have you locked inside all weekend, DC Universe has plenty of new Batman material to pass the time. Have you heard that our comic library is doubling in size? Lots of classic storylines have already been added, including "The Court of Owls", "Zero Year", "Batman R.I.P.", and more! The full list can be found here. If you're in the mood for binge watching, you'll be thrilled to know that The New Batman Adventures was added to our library today! This 1997 cartoon series acted as a continuation of the classic Batman: The Animated Series, and featured much of the same cast, including Kevin Conroy, Mark Hamill, and Loren Lester -- with the addition of Tara Strong as the co-starring Batgirl!
Speaking of animated awesomeness... The brand-new Reign of the Supermen is now available to stream right here on DC Universe! The film features Jason O'Mara returning as the voice of Batman, as he and the League struggle to operate in a world with no fewer than four new Supermen.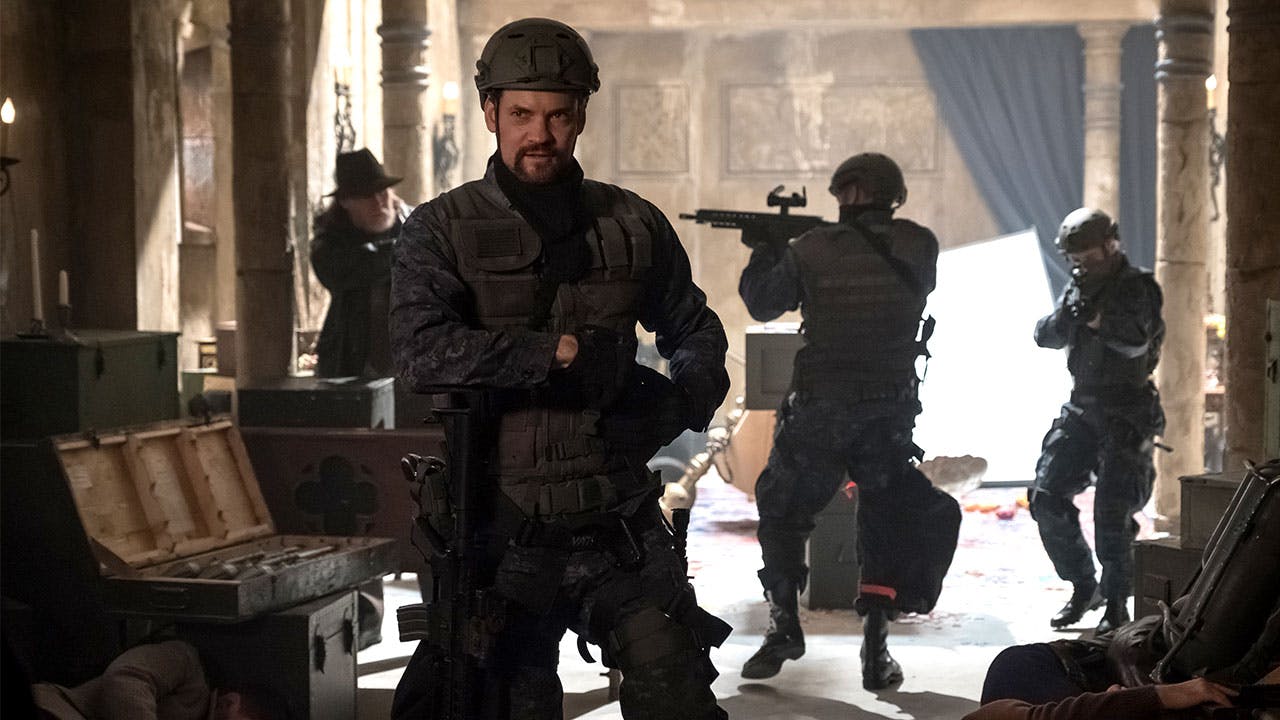 The government has finally come to the rescue on Fox's Gotham! When military reinforcements, which include Jim's old friend Eduardo (guest-star Shane West), arrive in No Man's Land, it looks like the city has been saved. Unfortunately, while hunting for Ed Nygma, Jim learns that Eduardo and the government have been manipulating events in the city, including the destruction of the Haven! Meanwhile, Bruce attempts to get Selina to find her humanity again after she seemingly killed Jeremiah. Little do Bruce and Selina know that Jeremiah survived the attack, and is planning something deadly in Wayne Manor... 
We finally have a date for the next Batman movie! The as-yet-untitled film, written and directed by Matt Reeves, will hit theaters on June 25, 2021. Ben Affleck, who played the Dark Knight in Batman v. Superman: Dawn of Justice, Suicide Squad and the Justice League, will be stepping aside, leaving the role of the Caped Crusader open for another actor. Who will be the new Batman? The search begins...
NEXT WEEK: The Caped Crusader teams up with the Flash to solve a murder in Batman #64. Robin and Superboy fight their way through an intergalactic prison in Adventures of the Super Sons #7. A peace treaty with the Legion of Doom is negotiated in Justice League #17. Tim Drake and his former teammates struggle to free Gemworld in Young Justice #2. And Batman teams up with Harley in Harley Quinn #58. 
The week ahead looks intense, and you won't want to miss a minute of it. Check back here next week to see how it all goes down. Same Bat-time, same Bat-channel! 
What Batman news excited you most this week? Let us know in our Community!