Greetings Batfans! Welcome to another edition of Batfan Friday, where we look at this week's news from the mean streets of Gotham City and beyond. The Dark Knight and his allies have had an especially busy week. Let's see what they've been up to...
Warning: The following article contains SPOILERS! You have been warned...
THIS WEEK IN BAT COMICS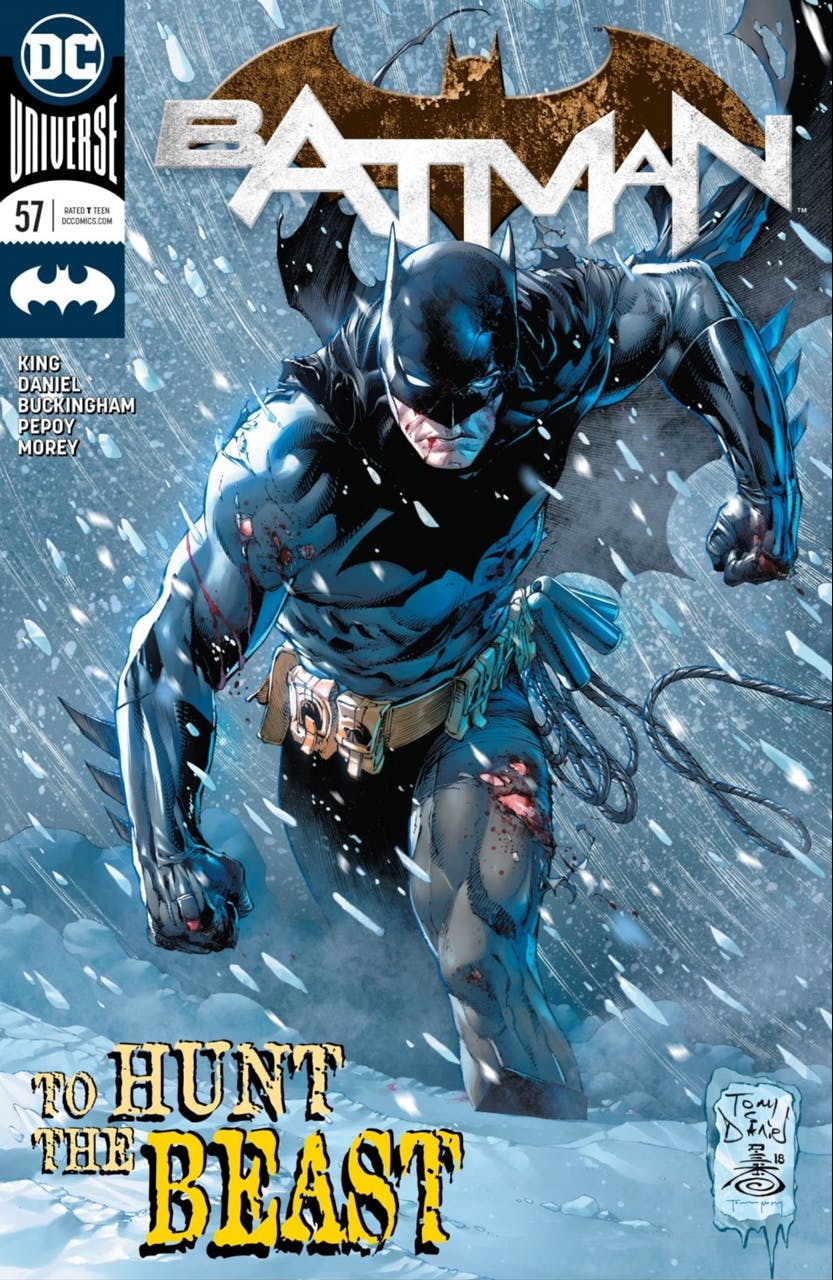 In Batman #57 (written by Tom King and illustrated by Tony Daniel), Batman tracked down KGBeast, and gave him a brutal beatdown for shooting Nightwing in the head. KGBeast offered to tell Batman who hired him to take the shot, but only if he gave him medical attention. Batman, in what's sure to be considered a controversial decisions, reminded KGBeast that he's the World's Greatest Detective, and would solve this mystery without his help.
Speaking of Nightwing, Dick Grayson (now known as "Ric" after losing his memory from the above-mentioned injury) continued trying to rewrite his life while being haunted by memories of his masked past in Nightwing #51. It seems ol' Ric has more interest in driving a cab and hanging out in bars than fighting crime as Nightwing. Seeing that Bludhaven needs a hero, Detective Sapienza donned one of Grayson's old costumes in the final pages of this issue (written by Scott Lobdell and Fabian Nicieza, penciled by Travis Moore and Garry Brown).
Meawhile in Teen Titans #53 (written by Adam Glass, illustrated by Bernard Chang and Scott Hanna), Robin and his team headed to Gotham to stop Lady Vic from assassinating Commissioner Gordon -- and Damien seemed just a little less focused than usual in the field. Could his feelings for his teammate Djinn be clouding his judgement? Hmmm...
MEET THE NEW ALFRED
Pennyworth, EPIX's upcoming live-action show focused on the life of Alfred Pennyworth before Batman, had some big casting news this week. The above-pictured Jack Bannon (of The Imitation Game) has been cast in the series' title role, while Ben Aldridge (from CW's Skinny Dip) will be joining him as Thomas Wayne, Bruce's father. Hainsley Lloyd Bennett (Casualty) and Ryan Fletcher (Shetland) will be playing military buddies of Alfred named Bazza and Dave Boy respectively. The show will be produced by Bruno Heller and Danny Cannon, the duo behind that other Batman-related prequel show Gotham. Pennyworth will premiere on EPIX in 2019.
BAT MERCH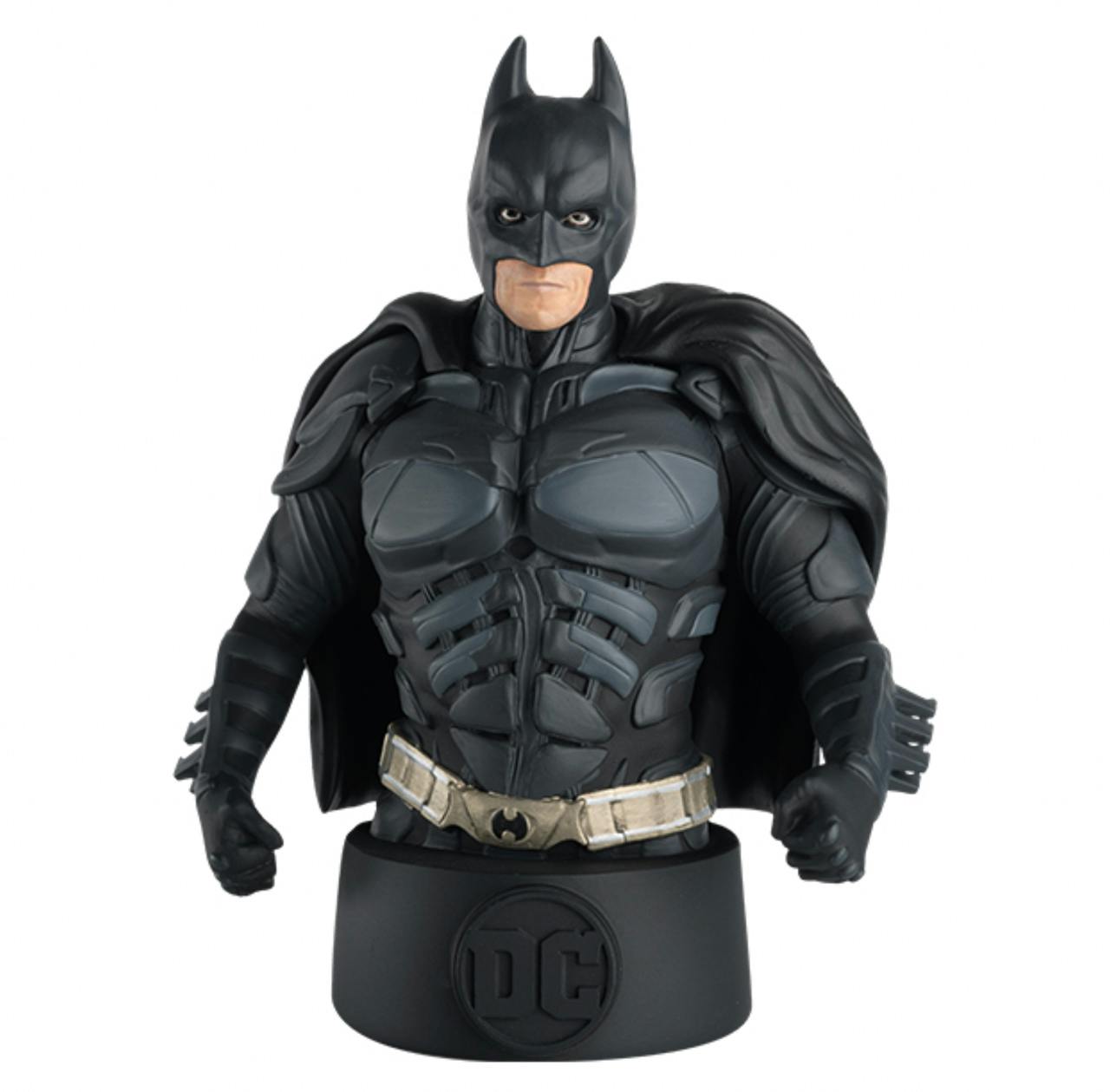 If your desk or shelf needs a little more Batman, a few great items came out this week. Eaglemoss has released a Batman bust (pictured above) modeled after Christian Bale in The Dark Knight. The company also has a new Catwoman figurine inspired by the feline femme fatale's iconic look in Batman: The Animated Series (watch it here) as well as a bust of the show's tragic Mr. Freeze.
IDW has just released a three-book slipcase set featuring the complete collection of Batman's 1966-1972 newspaper strip adventures. There are some great gems in here that even the longest of longtime comic readers haven't seen, and it features art from Silver Age Batman legends Sheldon Moldoff, Carmine Infantino and Joe Giella.
NEXT WEEK IN BATMAN
Oh yes, there is plenty of Batman action for comic readers to look forward to next week. Batman Beyond #25 be a special oversized issue featuring the return of the Joker! The Clown Prince of Crime will be crashing a celebration for Thomas Wayne's 100th birthday. You won't want to miss it... Batman will be battling the influence of Scarecrow's fear gas in Batman: Kings of Fear #3... Barbara Gordon will become the new IT specialist for the Gotham City Police department in Batgirl #28... And Batman and Commissioner Gordon will be teaming up with Harvey Dent to stop the terrorist organization Kobra in Detective Comics #991. But will Dent's Two-Face persona destroy the alliance before it starts?
Keep your eyes peeled to the Gotham skylight for the Bat-Signal all week, and report back here on Friday for the latest Dark Knight developments. 
What was your favorite Batman moment this week? Was it in comics, TV, toys or something else? Let us know in our Community!