Greetings, Gothamites! It's time for another Batfan Friday, where we debrief you on this week's Batman news. It's been another action-packed week for the Dark Knight, so let's get batty...
WARNING: SPOILERS AHEAD!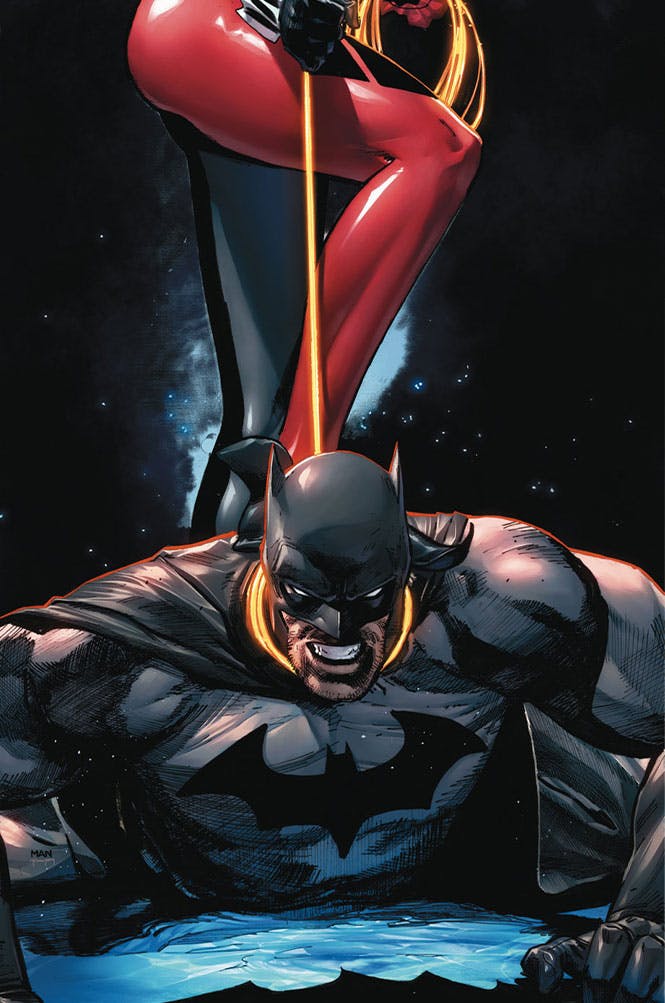 In Heroes in Crisis #2 (written by Tom King, penciled by Clay Mann and Travis Moore), Batman, Superman and Wonder Woman continue to investigate the attack on the hero community's private retreat. Diana and Clark are not pleased when they learn that Bruce broke security procedures which may have contributed to the mysterious assault. When Harley Quinn shows up, she gets the drop on the Trinity and uses Wonder Woman's lasso on Batman. Compelled by the lasso of truth, Batman gives Wonder Woman and Superman more reasons to distrust him. The Dark Knight has fixed many of the DC Universe's problems, but will he be able to repair broken bonds of trust?
In Nightwing news... We took a break from Dick, er, Ric Grayson's amnesiac adventures to read the off-beat, out-of-continuity Nightwing and Magilla Gorilla (written by Heath Corson, penciled by Tom Grummett and Tom Derenick). Batman's former sidekick comes face-to-face with Hanna-Barbera's Magilla Gorilla, when the ape summons Dick to Hollywood to get his approval on a potential Flying Graysons movie. When Magilla's manager and mentor is murdered, the thespian simian is the prime suspect. Nightwing and Magilla must then team up to solve the mystery and catch the real killer. No time for monkeying around!
DC also gave us a special treat with an oversized one-shot called Batman: Secret Files (written and penciled by some of DC's current top talents). This anthology issue has it all! When Superman presents Batman with a special gift, the Caped Crusader ponders what it would be like to have the Man of Steel's powers. We also see Batman team up with Detective Chimp to save the life of a man from the private eye's past and investigate a murder in a district the rest of Gotham ignores, among other thrilling tales.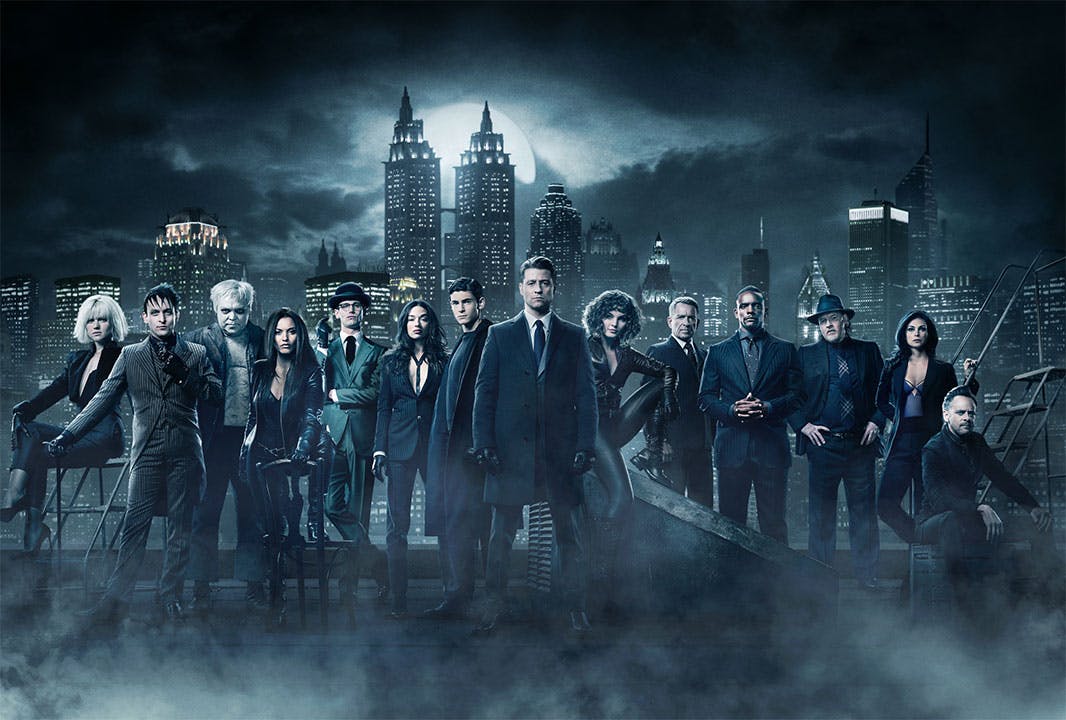 Early this week, Gotham fans were hit with two pieces of great news about the final season of the Batman prequel series. It was announced that the show's fifth season will premiere on January 3rd, 2019 -- and the episode order has been raised from 10 to 12! Fans will now get two extra episodes to say goodbye to their favorite characters and see them evolve into their iconic comic-book selves. The final year of Gotham will adapt the classic comic storyline "No Man's Land" and finally see young Bruce Wayne don the iconic cape and cowl. And there will be a new face in the mix: Jaime Murray will play a character called Theresa Walker. Walker isn't from the comics, and she's been described as somewhat of a nemesis for Jim Gordon. Sounds like Gotham still has some surprises up its sleeve for its final year! 
The rumors are true! DC Universe's upcoming Harley Quinn animated series has found it's Mr. J! Alan Tudyk will voice Harley's ex-boyfriend The Joker. This isn't be the first DC character Tudyk has played. You may have heard him as The Flash on Batman: The Brave and the Bold (watch his episode here), or as Green Arrow in Young Justice (watch it here), or you might have even seen him as Bruce Wayne's cousin Van Wayne on the short-lived live-action sitcom Powerless. Alan will also play the villainous Mr. Nobody on DC Universe's Doom Patrol next year. The man clearly knows and loves his DC, so it'll be fascinating to see what kind of twist he'll bring to the Clown Prince of Crime himself. 
Superstar Ewan McGregor has joined the upcoming live-action Birds of Prey movie as sadistic Gotham City mob boss Black Mask. He'll have his hands full, as he goes up against some of Gotham's toughest women, including Huntress, Black Canary, and Harley Quinn! The film hits theaters in 2020.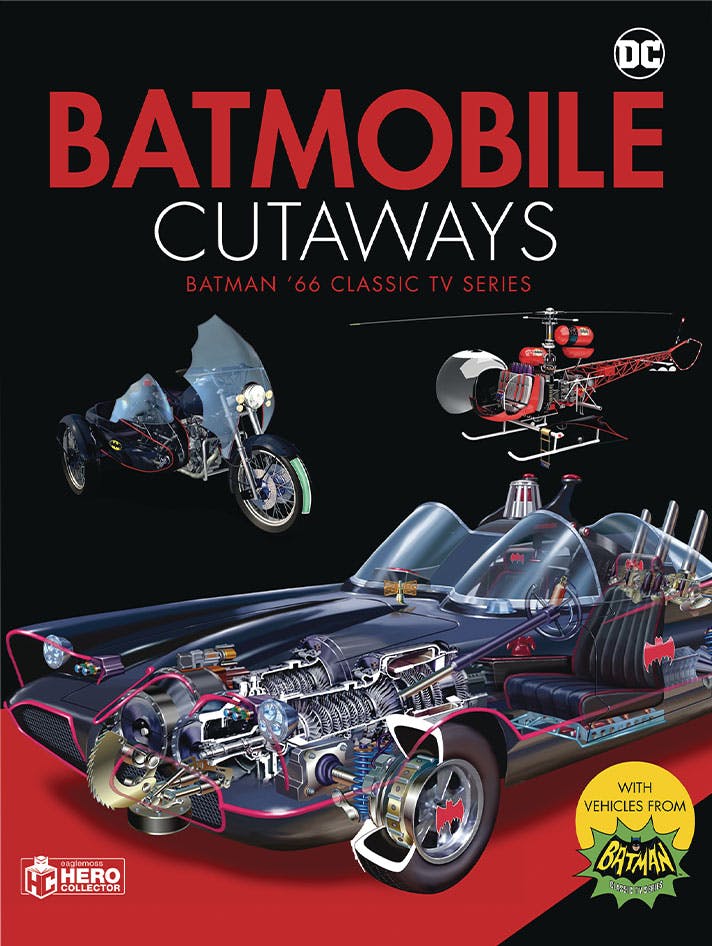 Fans of the 1966 Adam West-starring Batman series will enjoy Batmobile Cutaways, a new book from Eaglemoss. This 72-page book has detailed schematics of every single vehicle and gadget you remember (and some you've forgotten) from the classic show. It also includes a small replica of the '66 Batmobile in a Batcave diorama.
If you're looking for other offbeat collectibles, Gerard Way (of My Chemical Romance and DC's Young Animal fame) has designed two Batman: Black and White statues. You can choose the Dark Knight himself or an especially creepy version of The Joker.
The remastered Batman: The Animated Series finally arrived on Blu-ray this week (you can stream the show here). If it's put you in the mood for more BTAS, then IDW has something you'll enjoy! Batman: Gotham Under Siege is a board game based on the first two seasons of the animated classic. Up to five players can play and compete in tasks inspired by memorable events from the show. Why not make a night of it? Invite a few friends over and play the game while enjoying the new Blu-rays. I can't think of a better way for Batfans to end their week.
Next Week: Robin will have his hands full when Superboy is exposed to Red Kryptonite, Nightwing will tussle with the Scarecrow, and Batman will experience a tense reunion with the Penguin. Keep your eyes on Gotham's skyline for the Bat-Signal and join us again next week!
Are you a Batfan? Share your love of all things related to the Dark Knight in our Community!