Greetings Gothamites, and welcome back to another edition of Batfan Friday, our weekly roundup of the latest news in the Dark Knight's world! Batman's war on crime never slows down, so there's a lot to report this week. Let's dive in!
WARNING: SPOILERS AHEAD!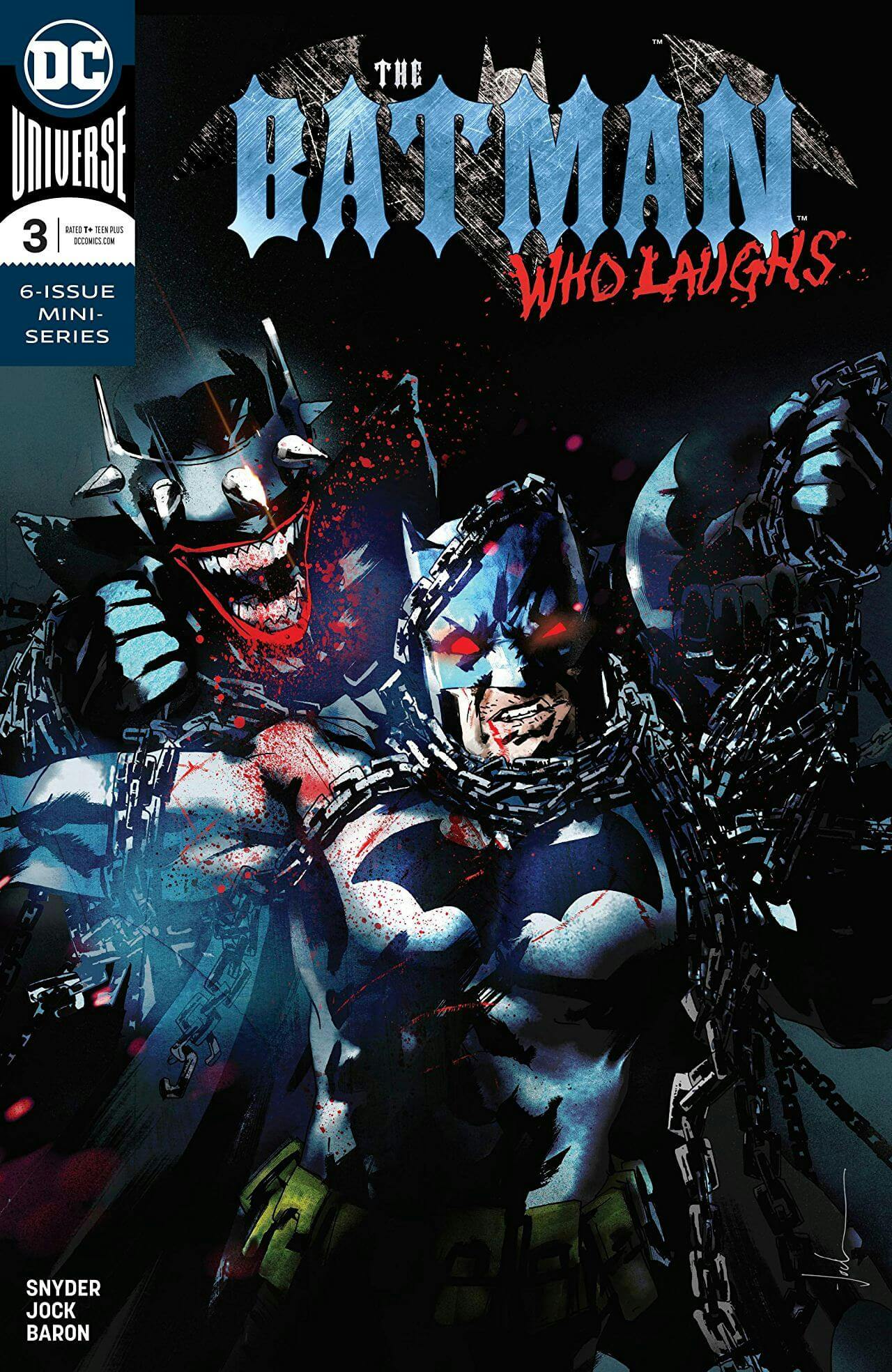 The carnage caused by the return of the Grim Knight continues in The Batman Who Laughs #3 (written by Scott Snyder and penciled by Jock). The titular villain has taken Jim Gordon captive, and needs him for whatever sinister plans he has for this reality's Gotham. The Joker attacks Alfred and escapes the Batcave. As if things couldn't get any worse, it seems that Bruce has given in to insanity in order to fight his mad counterpart. Batman has smashed his anti-toxins and is letting his body go full Joker. 
Batman's search for Leslie Tompkins' killer takes another turn in Detective Comics #998 (written by Peter J. Tomasi and penciled by Doug Mahnke). After realizing that Hugo Strange was a dead end, Bruce Wayne dons the Hellbat battle suit and helps his friend Etrigan fight a giant brute. When their battle is done, Batman goes to Silas Stone, hoping his insight will bring answers, but instead is shot with a hallucinogenic grappling hook! Is there anyone Batman can trust now?
The Scarlet Speedster and the Dark Knight continue their search for Gotham Girl in Flash #64 (written by Joshua Williamson and penciled by Rafa Sandoval). As The Flash realizes that Batman has left many questions unanswered in his initial Gotham Girl investigation, tensions rise. Barry still hasn't forgiven Bruce for how he mishandled the Sanctuary situation and is appalled to realize that Batman may have sent Gotham Girl there. The heroes find themselves overwhelmed by freaky clones of Gotham Girl and her brother, as the real one escapes. Things aren't looking good...
Jason Todd has a showdown with the Solitary in Red Hood Outlaw #31 (written by Scott Lobdell and art by Pete Woods). Jason is able to even the odds by freeing the former Teen Titan Bunker to assist in the battle. Solitary tries to tell Red Hood that he's his father, but Jason doesn't buy this for a minute. After Wingman and Bunker help Jason defeat Solitary and destroy his headquarters, Red Hood heads to Roy Harper's grave to tell his former partner that the threat of the Underlife is over.
If you'd like to read some back issues over this long holiday weekend, we have some recommendations... DC Universe has two complete volumes of Batgirl for your enjoyment. You can thrill to Stephanie Brown's days in the role and see why her character is a fan favorite. Barbara Gordon's return in the New 52 title is also available, which encompasses Gail Simone's epic run, followed by Brenden Fletcher and Cameron Stewart's "Batgirl of Burnside" saga. Great stuff for a weekend reading binge...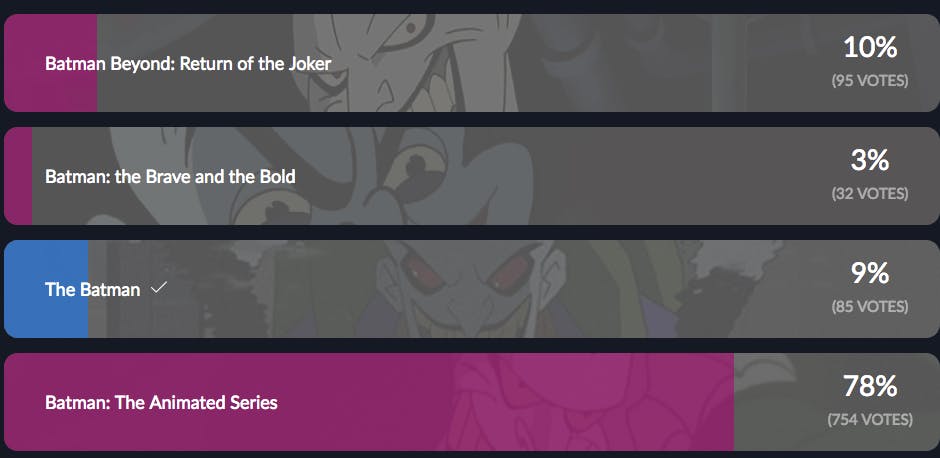 Speaking of weekends, two weeks ago we asked who your Saturday morning Joker was, and you made your voices heard! Mark Hamill's Clown Prince of Crime from Batman: The Animated Series took the lead with 78% of the vote to date. "All these are great, but I'm not sure how anyone can NOT vote for Mark Hamill. His stamp on the Joker is permanent and iconic", wrote user Ozymandias18 in our Community. While there is no shortage of love for Mark Hamill, other Jokers got their due too. "I'm one of the few who voted for The Batman's Joker. I think few people have watched the show or else they might pick him," wrote user Redhood.55520. The poll is still up, and the conversation is ongoing, so feel free to chime in on your Joker of choice. In our book, they're all winners.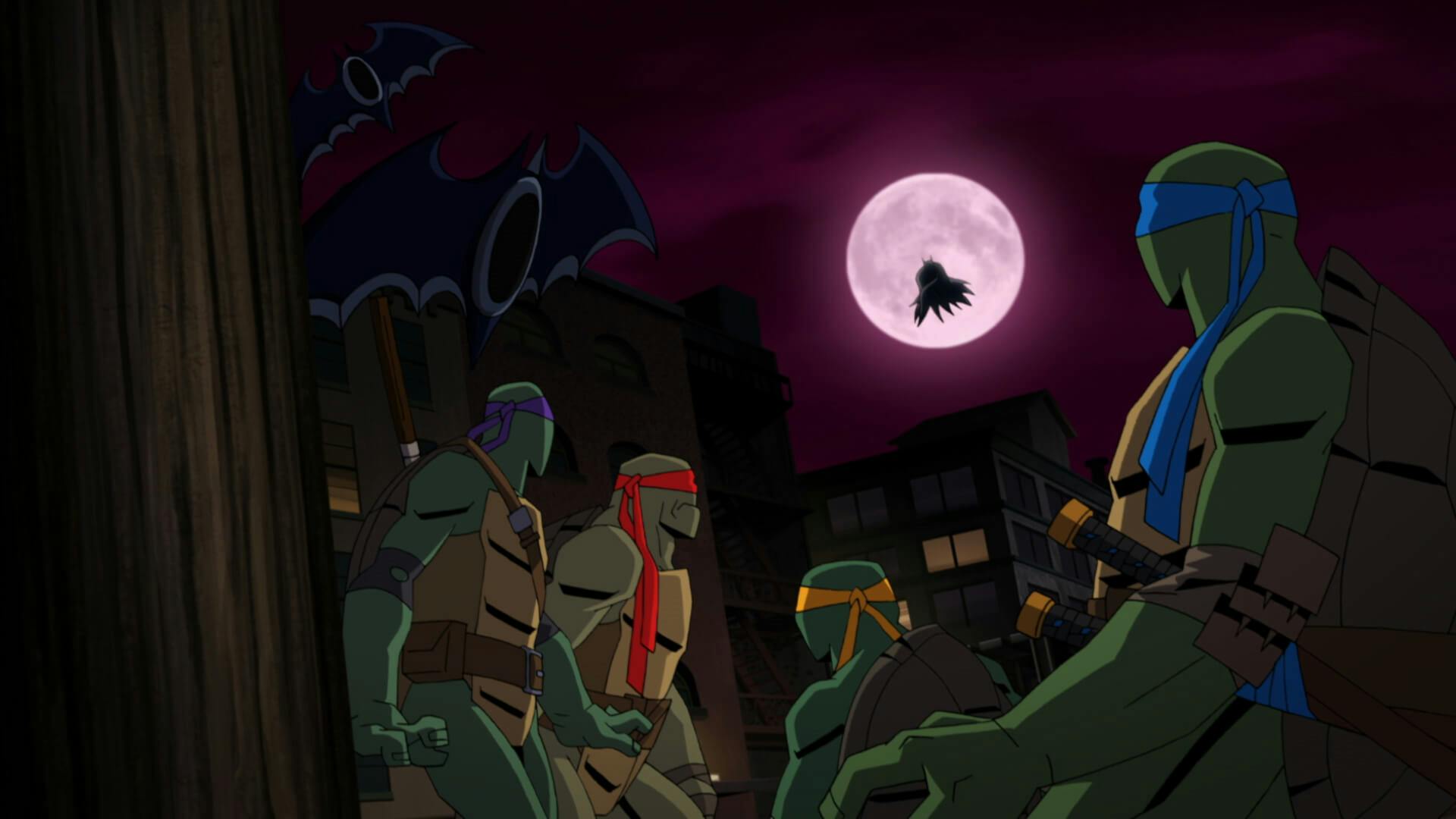 On the subject of Batman and Saturday morning cartoons, have you heard that the Dark Knight is going to be teaming up with the Teenage Mutant Ninja Turtles on screen? SyFy Wire announced that Nickelodeon and DC Entertainment will be teaming up to produce an animated film based on James Tynion IV and Freddie Williams II's comic book limited series. The film, titled Batman vs Teenage Mutant Ninja Turtles, will feature Troy Baker voicing both the Dark Knight and the Clown Prince of Crime! 
During the last week's Television Critics Association Press Tour, Epix released more details on the upcoming Batman live-action prequel series Pennyworth, including the first image of Jack Bannon in the title role. Although the show will be produced by Bruno Heller and Danny Cannon, the showrunners for Fox's Gotham, it was emphasized that the series will be very different in tone. The series will spotlight Thomas Wayne's friendship with Alfred Pennyworth, and will be set in 1960s London. One of the first antagonists the series will feature is a descendant of Jack the Ripper. Pennyworth will premiere this June on Epix.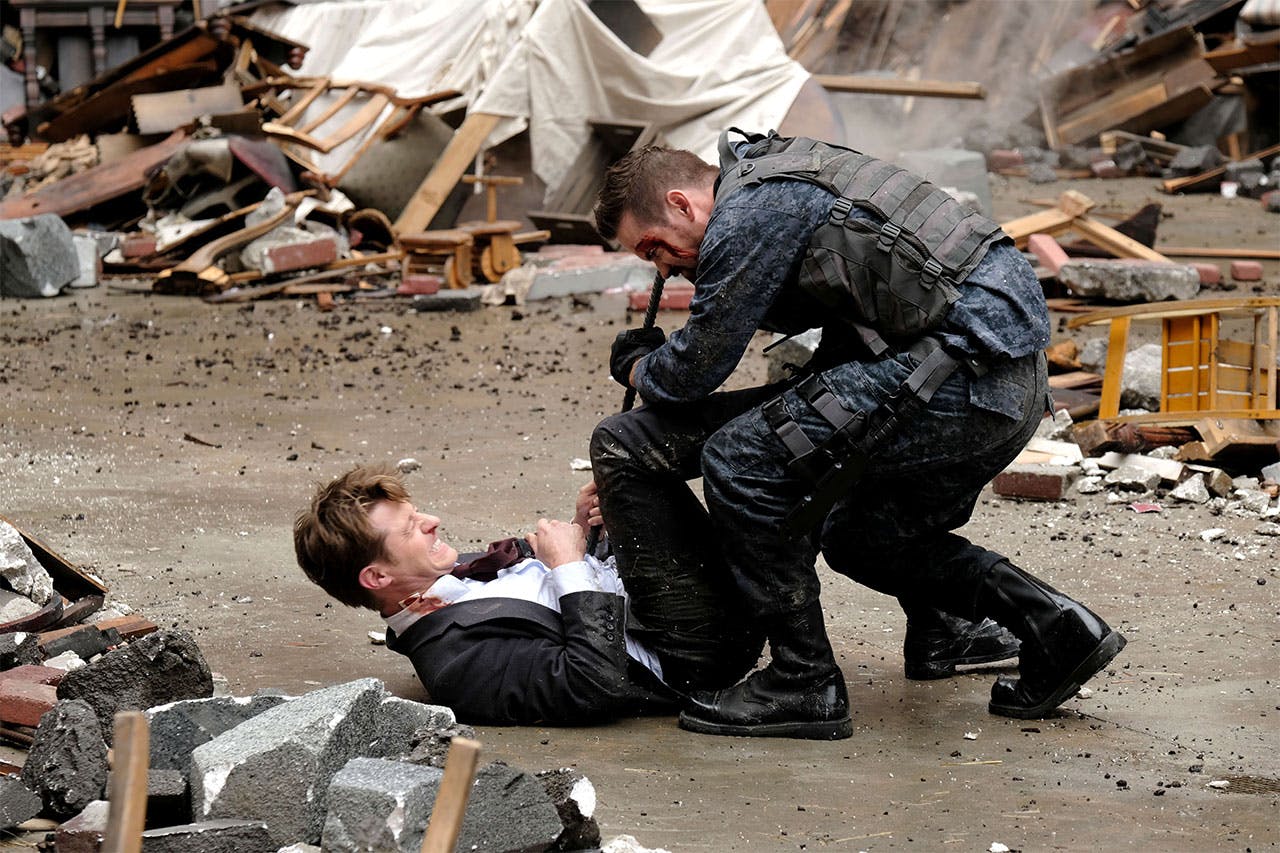 Uneasy alliances were made this week on Fox's Gotham. After learning that Theresa Walker and Eduardo Dorrance have been sabotaging No Man's Land, Jim Gordon and Bruce Wayne must work together with Edward Nygma and Barbara Kean to outplay their opponents. Eduardo had an ace up his sleeve, and brought out a hostage nobody expected….Gordon's ex Lee! After defeating his former army buddy, Jim's awkward reunion with Lee was interrupted by Barbara, who had some big news -- she's pregnant. Holy Yvonne Craig! Is Baby Batgirl coming to Gotham?!
The soundtrack for The LEGO Movie 2: The Second Part has been released, and it features a hilarious Batman-centric song. The track, "Gotham City Guys", is sung by Will Arnett (Batman) and Tiffany Haddish (Queen Watevra Wa-Nabi) and features references to every single live-action Batman, as the Dark Knight tries to make his case for why he's good boyfriend material. This song is worth a listen for any Batfan.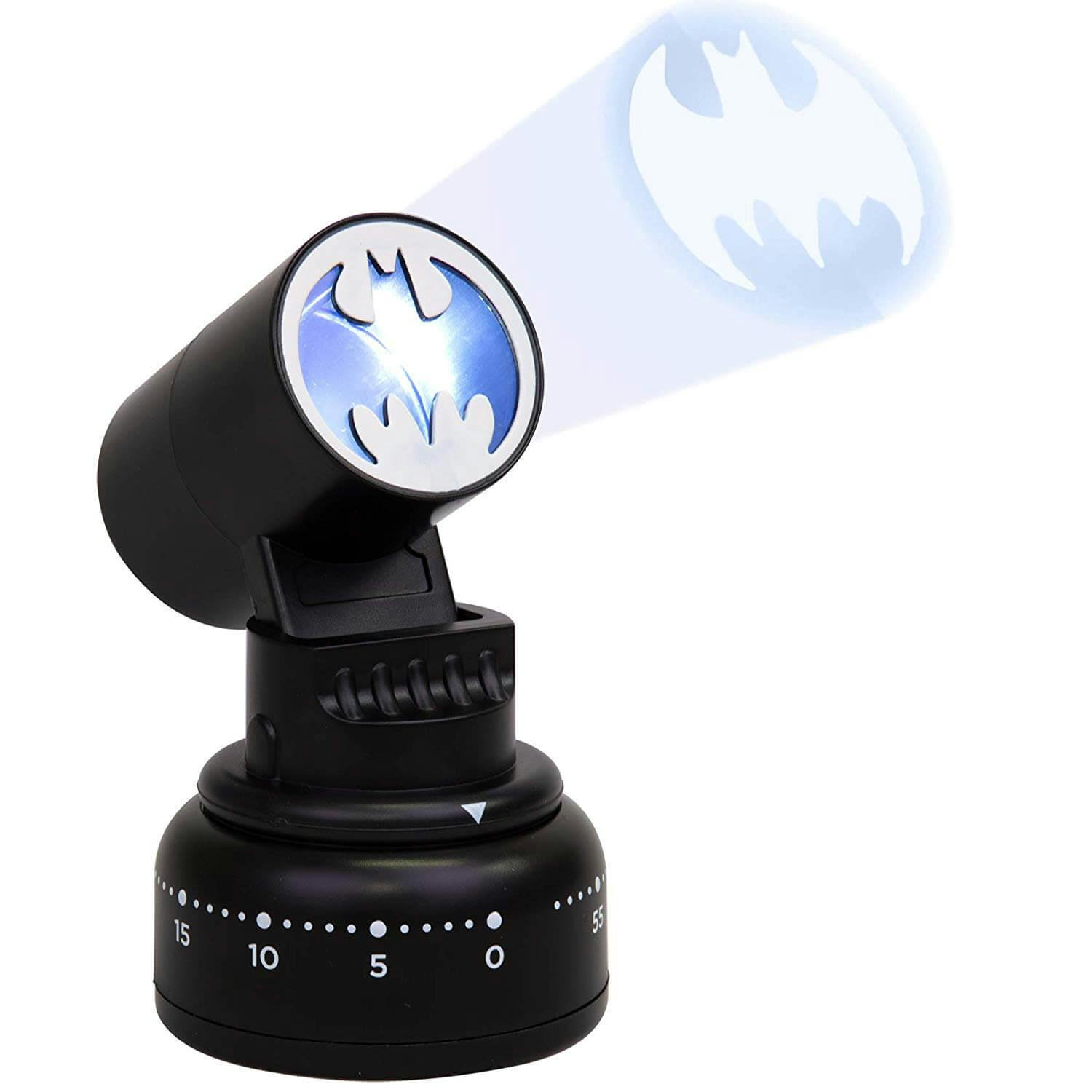 Seven20 has just released one of the most unique officially licensed DC products we've ever seen: a Bat-Signal kitchen timer! The product is shaped like the iconic Bat-Signal, and, when the timer goes off, the signal lights up to let you know that time is up….or that Gotham needs you. It can also be used for other things aside from cooking, and let's be honest, who wouldn't want a Bat-Signal in their house? 
NEXT WEEK: Jeremiah wants to recreate the night of Thomas and Martha Wayne's murder on TV's Gotham. Bruce and Barry try to overcome their differences in Batman #65. The Penguin has some information for Selina Kyle in Catwoman #8. Lex Luthor's secrets get exposed in Justice League #18. Ric Grayson ponders his current crossroads in Nightwing #57. And Damian's team spills all their secrets in Teen Titans #27. We'll see you back here next week for the debriefing -- same Bat-time, same Bat-channel! 
Which of this week's Batman news are you most excited about? Let us know in our Community!