After the Earth-shattering success of Batman, Warner Bros. was understandably interested in a sequel. Now a world-famous director with one of the highest grossing films of all-time under his belt and the creative freedom to match, Tim Burton was intent on making his second trip to Gotham City even more hyper-realized and uber-fantastical than his first. The result, Batman Returns (which you can currently watch here), is a sumptuously gothic and patently ridiculous film -- and all the better for it. It finds Burton and his composer Danny Elfman working at the height of their powers, as well as returning star Michael Keaton as Bruce Wayne/Batman, joined this time by Michelle Pfeiffer as Catwoman, Danny DeVito as the Penguin, and Christopher Walken as amoral tycoon Max Shreck.  
Burton and Elfman's career-long bond was truly cemented with this film. With the creative freedom to explore the stylized dark heart of Gotham, the pair began to experiment. Elfman had already composed the original film's Batman Theme, which would become the theme to Batman Returns' spiritual sequel, Batman: The Animated Series (which you can watch here), and remains definitive to this day. But it wasn't just the composer who cemented his signature style, as Returns was the cumulation of Burton's experimentations with Beetlejuice, Edward Scissorhands, and Pee-wee's Big Adventure, as well as the first Batman. 
It was the moment when Burton-esque became an adjective. The spindly silhouettes, intricate architecture, shadowy color palettes, and ragged stitches that comprised Burton's visual language all came into play. The focus on complex and empathetic villainy was another trope that would recur in his ouvre. It's arguably best explored in Batman Returns with Pfeiffer's Selina Kyle and even DeVito's grotesque turn as the Penguin.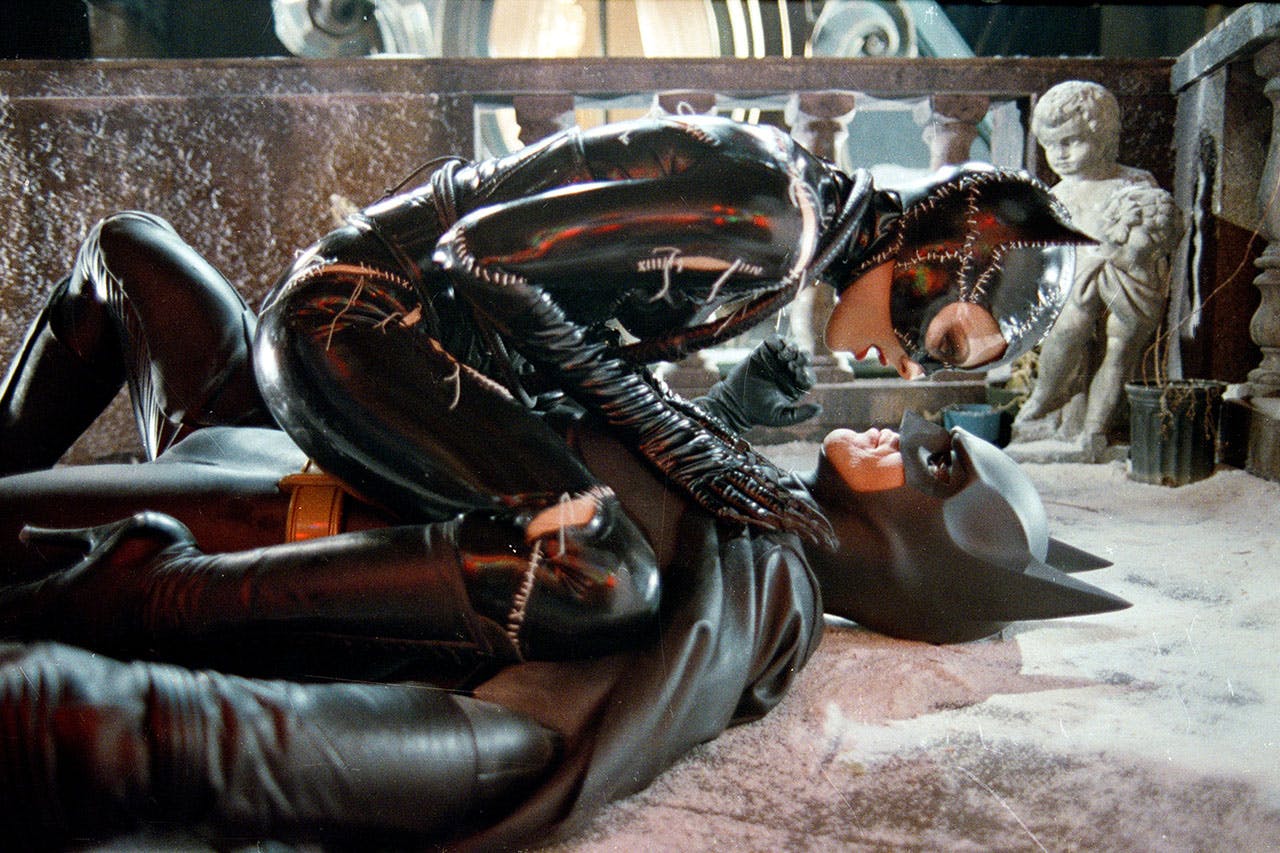 Kyle is the kind of complex female antihero we rarely get to see. Though she fits the mold of a femme fatale, she's also an avenging heroine who'll stop at nothing to destroy the man who tried to kill her. Costume designers Mary E. Vogt and Bob Ringwood created an utterly iconic look when they redesigned Catwoman as something one would more likely to find in a BDSM club than on the pages of a superhero book. Where so many cape comics contort and exploit the female form, Pfeiffer is always in complete control of the costume she creates as Selina, one she uses to take back agency over her (after)life.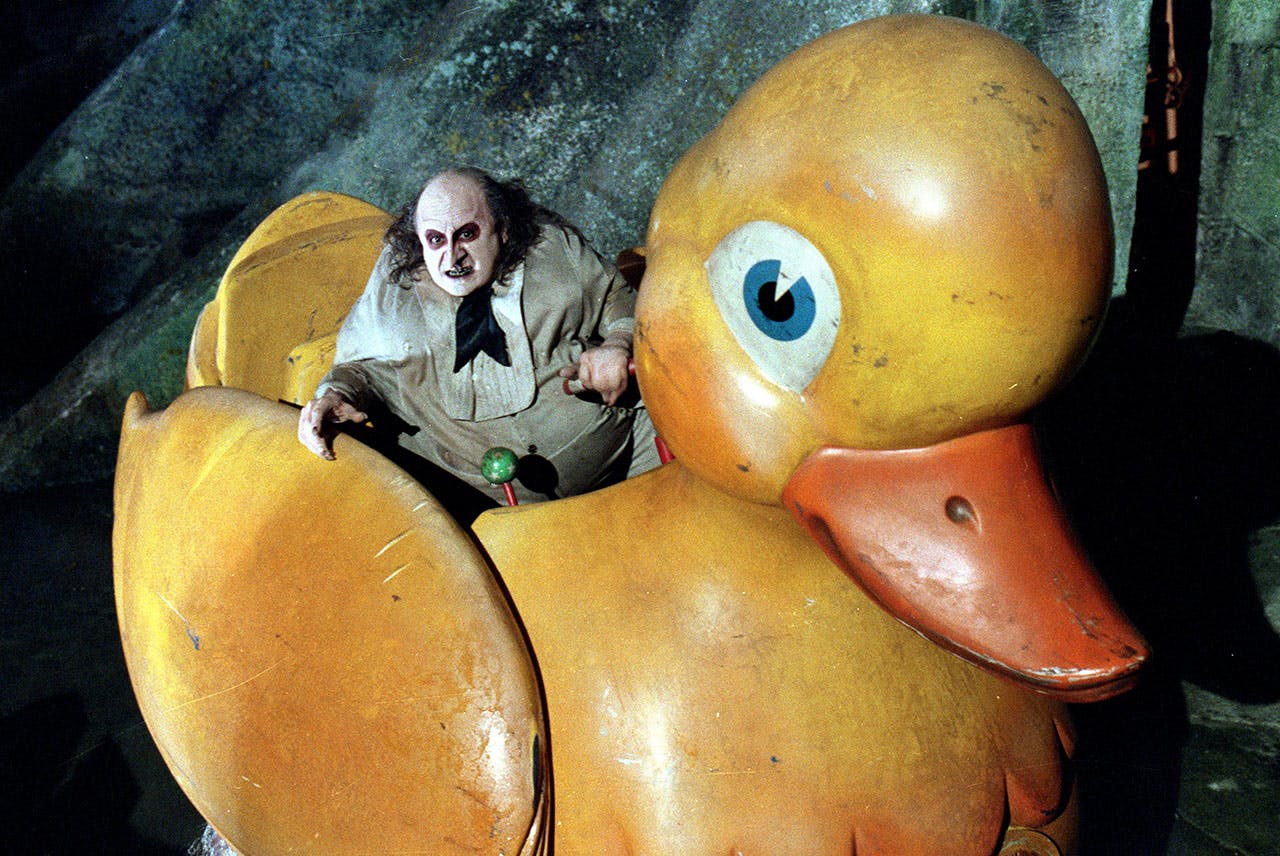 DeVito's penguin is a tragic villain right out of the pages of Shakespeare. Orphaned and outcast, he rises to power but is ultimately corrupted by his desire for vengeance and, of course, his greed. Vogt, Ringwood, and Burton managed to create a rare thing in a film focused on someone with a physical disability, as the Penguin's hands are never a source of horror. In fact, it's only the people above ground who think he should hide them. The grotesqueness of the Penguin comes from his cruelty and behavior, from the ghastly black slime that oozes out of his mouth when he dies... but never from the physical nature of who he is. 
Burton, Vogt and Ringwood were aided by Burton collaborator Denise Di Novi, who produced the blockbuster sequel. Di Novi worked with Burton on Beetlejuice, Edward Scissorhands and both Batman films. A huge supporter of Burton's creative vision, Di Novi was an often underappreciated part of the success of Batman Returns and the other films in the director's early career.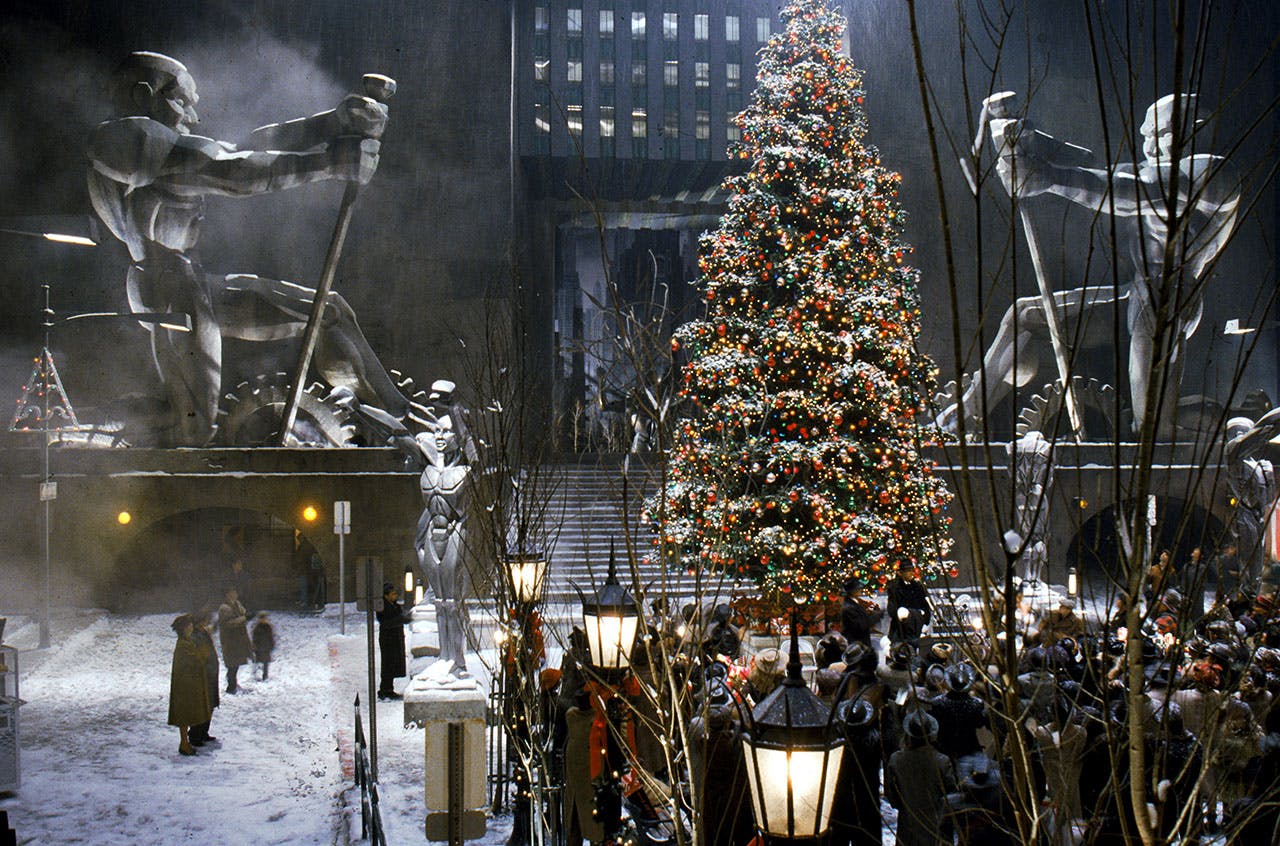 It's hard to talk about the atmosphere of Batman Returns without mentioning it also works as a fantastically twisted Christmas film. One of the many standout visual moments utilizing the film's snow-capped cityscape is the first appearance of the Penguin's Red Triangle Circus gang, which comes spilling out of giant wrapped packages dressed to the nines like some kind of Holiday parade from hell. Gotham bedecked with Christmas lights doesn't sound like it should work, but the festive setting repeatedly adds an unexpected layer of tension to the drama. It can be seen as a step on the way to Burton's classic Christmas-oween story The Nightmare Before Christmas.
When it comes to atmosphere, experimentation, and, in the case of Pfeiffer, incredible performances, it's hard to find a Batman film better than Returns. It certainly offers the richest characterization of any of the film franchise's female characters, while serving as a holiday fable for the misfit hero or villain in each of us.