They say a picture is worth a thousand words, but when UK-based pop culture artist Doaly illustrates it, that number increases to a million. The talented creator is known for his imaginative movie posters, and, after creating an exclusive poster for Doom Patrol season 1, he recently completed a psychedelic poster for Doom Patrol's second season. Doaly's work captures the chaotic insanity of the TV series, and is now available as a reward for DC Universe members. We recently had a chance to chat with Doaly, who told us about his creative process and his favorite Doom Patrol moments.
Were you a comic book fan growing up? What's your backstory?
I think like most people I was a big DC fan growing up. I watched the animated stuff like Super Friends, and I loved the Christopher Reeve Superman film. I loved any type of escapism, and comic book superheroes were a big part of that growing up.
Those characters are so bombastic, colorful and dynamic, which shows in your work. Were there any particular comic artists who influenced you?
When I was growing up I wasn't aware of artists by name, but any form of superheroes I could get ahold of was amazing. Now there are so many artists that I love, Alex Ross being one specifically.
We love the exclusive season 2 poster that you did for Doom Patrol, and you also did a great one for season 1, with all of the team coming out of the donkey. How did you select this moment to illustrate?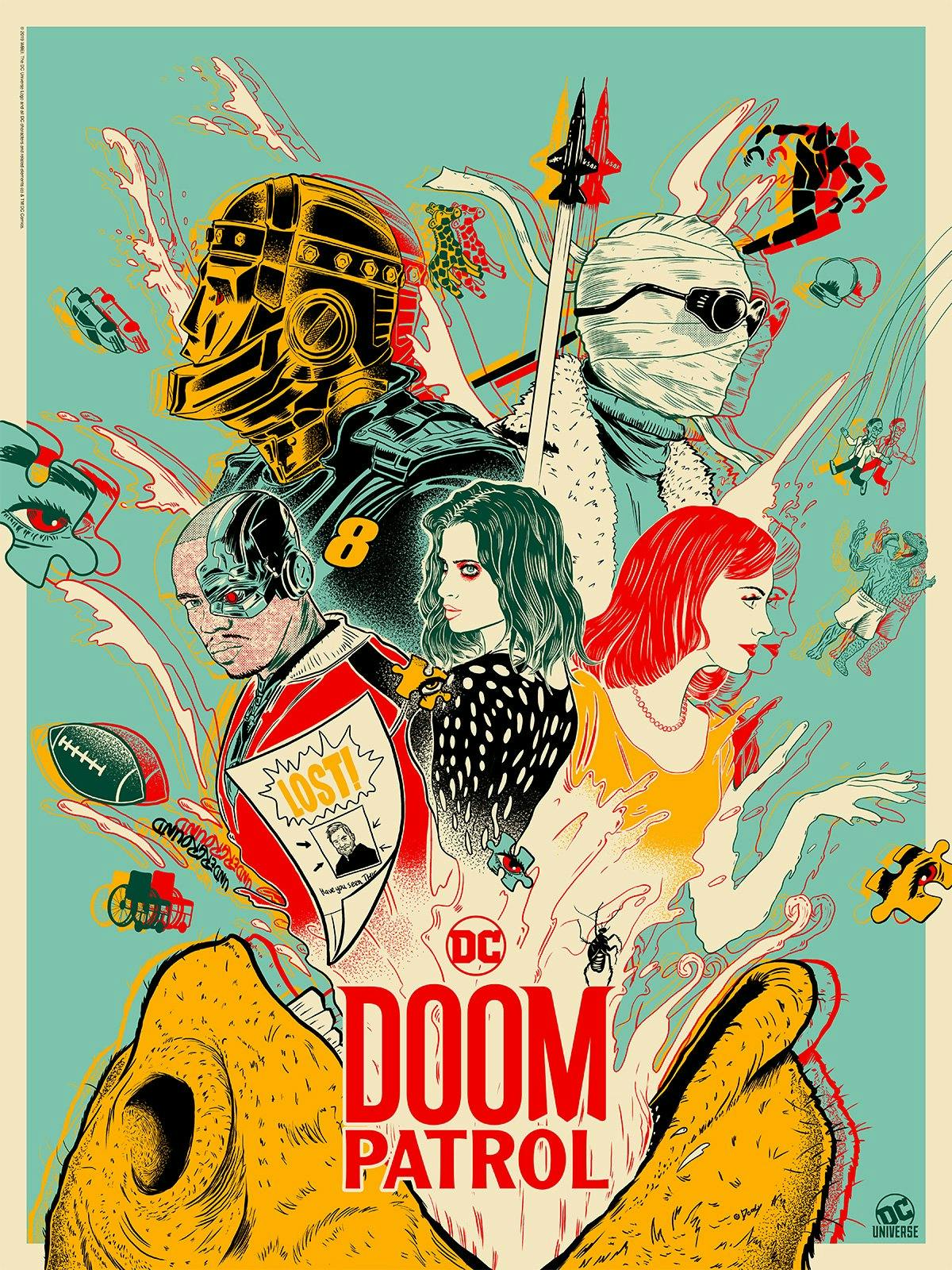 I was lucky enough before starting that piece to see episodes 1 and 2. It was the first time we had a superhero show of this manner on screen. The teams are usually close-knit, and it's nothing as wacky or wild as we get with Doom Patrol. Looking at how different the show was, I wanted one framing device, and I chose the donkey to be that framing device. Everything crazy and wonderful from the show was coming from its mouth.
It certainly captures the spirit of the show. It sums up the psychedelic wackiness that is Doom Patrol.
It's been greatly received, so I'm really happy with the piece. Whether it's the people I work with directly at DC Universe, or whether it's the writers, or the cast, the feedback's been amazing from it. I'm very grateful to have gotten the opportunity to work on it.
How did you wind up illustrating the poster for season 2? Did DC Universe approach you?
They came to me. I've been working with Jonathan Boral from DC Universe, and when season 2 was coming up he said, "Would you like to do a follow up piece?" I accepted right away.
Once again it captures kind of the whole mind trip that is Doom Patrol. Was that your first idea for the season 2 poster? How did that go from conception to final image?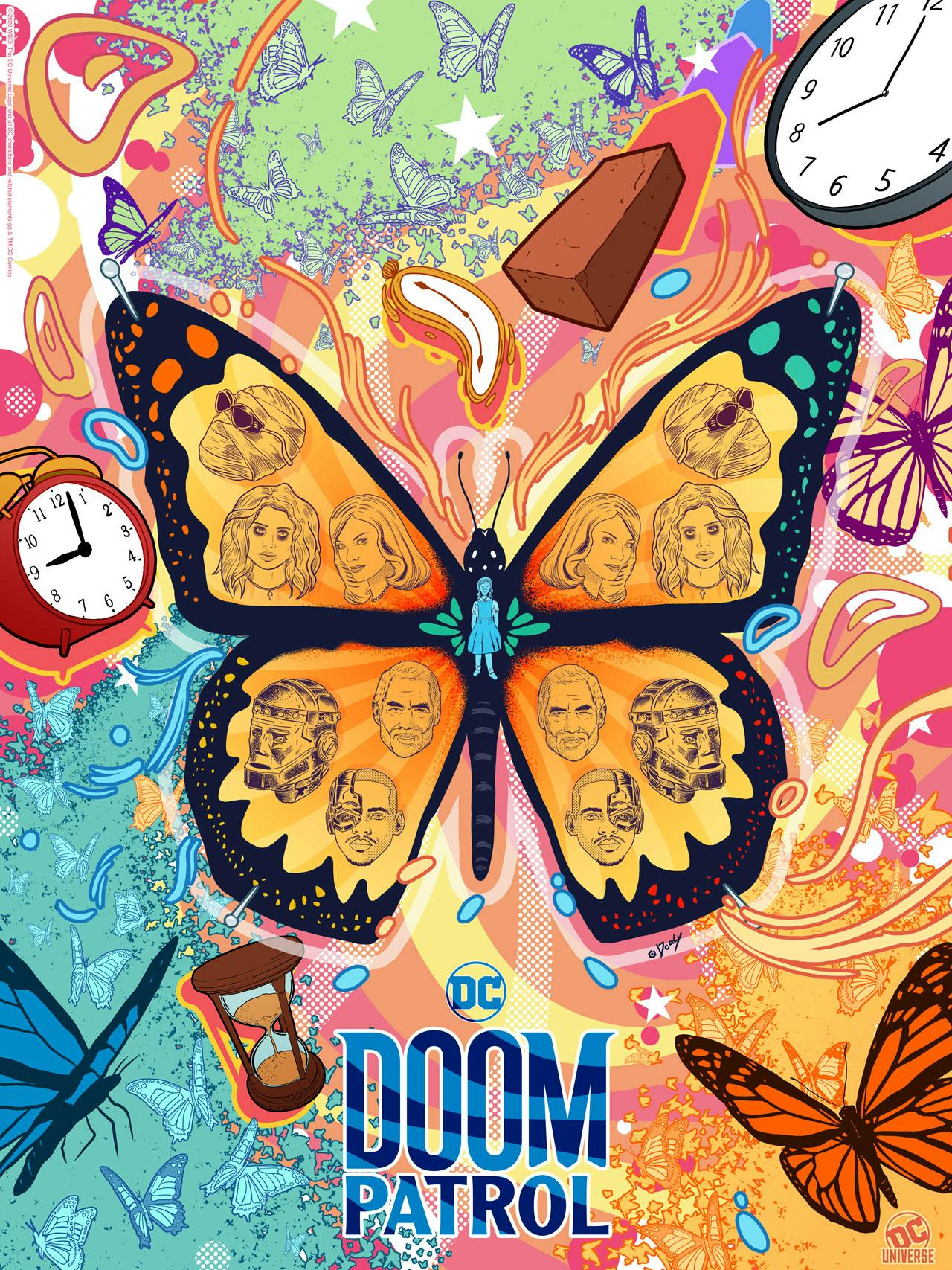 We did this one earlier in comparison to season 1, so I didn't get a chance to actually watch the show myself, but I had a call with Jonathan who had watched a couple of the episodes. He gave me a quick run-through of what they were about. I realized there were a couple of things we could play around with as framing devices. One of the main things that we looked at was using Dorothy, the Chief's daughter. The two ideas that we played around with were using the imagery of the hourglass because we wanted to split up the team somewhat. We wanted to have some of the characters together in one area, and the rest in another. We wanted to allude to the new villains like Red Jack and Dr. Tyme. We took the new villains and used them as a framing device. The butterflies were big, because they were featured in the trailer, and that was a great way to make it even crazier and more psychedelic than the previous poster.
Your season 2 poster is currently available as a reward for DC Universe members if they earn a certain amount of points. Right now there's members of the DC Universe service doing different tasks on the website -- reading books and watching movies and TV -- to get points to try and earn your poster as a prize
That's amazing! Whenever you produce art you want to see as many people get ahold of it as possible. It's great that the viewers and fans are getting a chance to get ahold of it. Normally this would've been available at the conventions, but since we're not able to do those, it's great that they can get ahold of it like this.
When you're creating these pieces, what do you do to get you in the mood or in the mindset? Do you have music playing? Do you look at images from a show or comic books?
When it's any sort of media you try to engross yourself as much as possible. I watched all the trailers, and I rewatched all of season 1. I always have music or television playing, because I don't work in silence. I was looking through the comics to see if there was anything I could pull from a particular comic, to make it more interesting for the fans who followed Doom Patrol from the comics to the television show.
I love that you rebinged season 1, because it's such a crazy, rewarding experience every time I rewatch it. Do you have any favorite moments?
There's a lot of crazy stuff. I think one of the ones that stayed with me the longest was when we journeyed inside Crazy Jane to the underground ("Jane Patrol"). I loved visualizing all the different characters that make up Crazy Jane. That was definitely one that stayed with me, because that's a story that's still going on, especially in season 2. I love the earlier episodes when we're getting to know the team, and the episode where the rat takes refuge within Robotman ("Therapy Patrol"). That's a really fun one, in addition to the cockroach. Those characters were amazing.
Of all the pieces you've worked on throughout your career, what's the one you're the most proud of?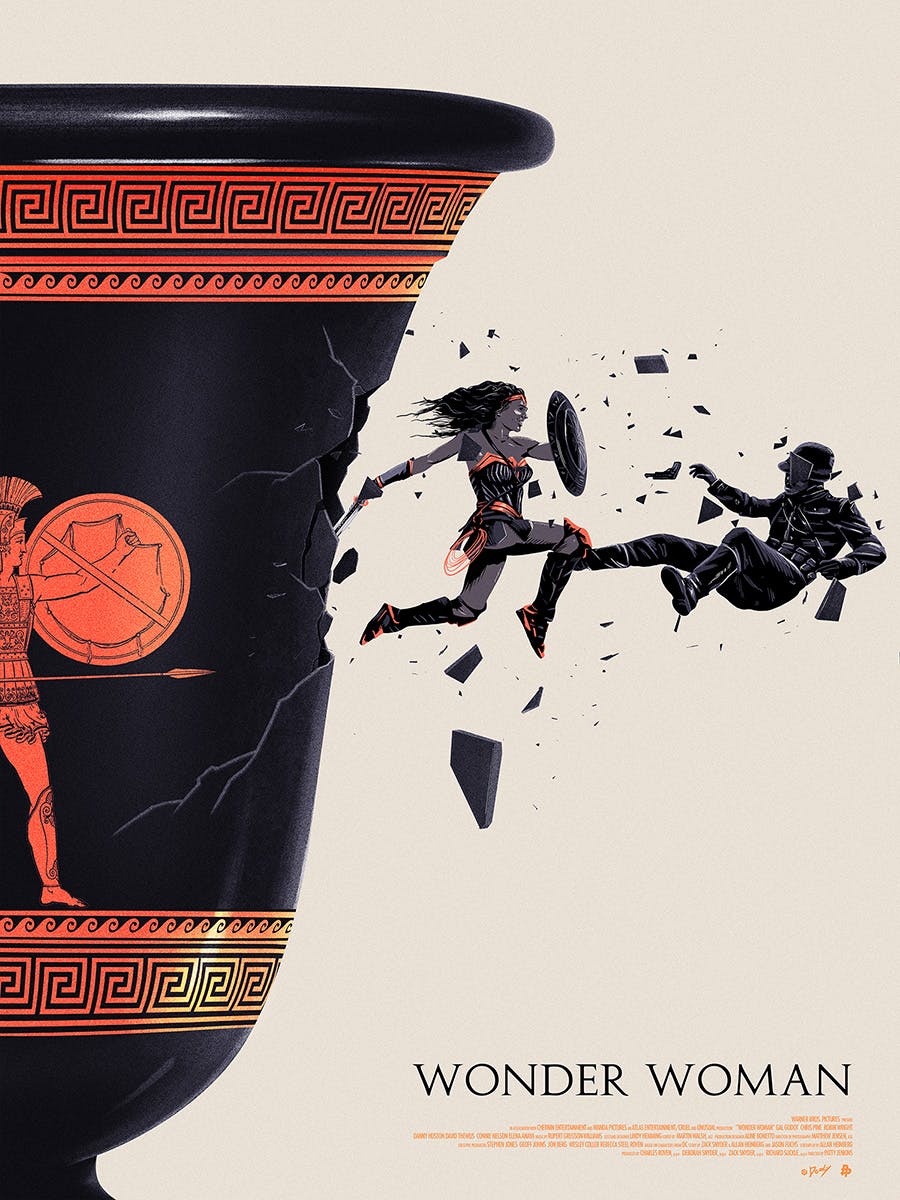 That's a good question. I think it changes moment to moment because of what they remind me of. Definitely one I'm proud of is a piece I did for the Wonder Woman film in 2017. I got to do an official gallery print for the film, which was great. I wanted to show the history of where the character came from, that world, and that mythology. I wanted to have something that was original to the character, but still very much of that character. The funny story about that was when I did it, it was about a week before the launch of the film. Originally I had another idea for the poster, but with timing and everything I went with plan B, because I knew I could execute it in a week. It wasn't my original idea, but at some point I intend to do that original idea, maybe for Wonder Woman 1984.
I love looking at your site and seeing your different reimaginings of movie posters. I love that you even did Superman Lives.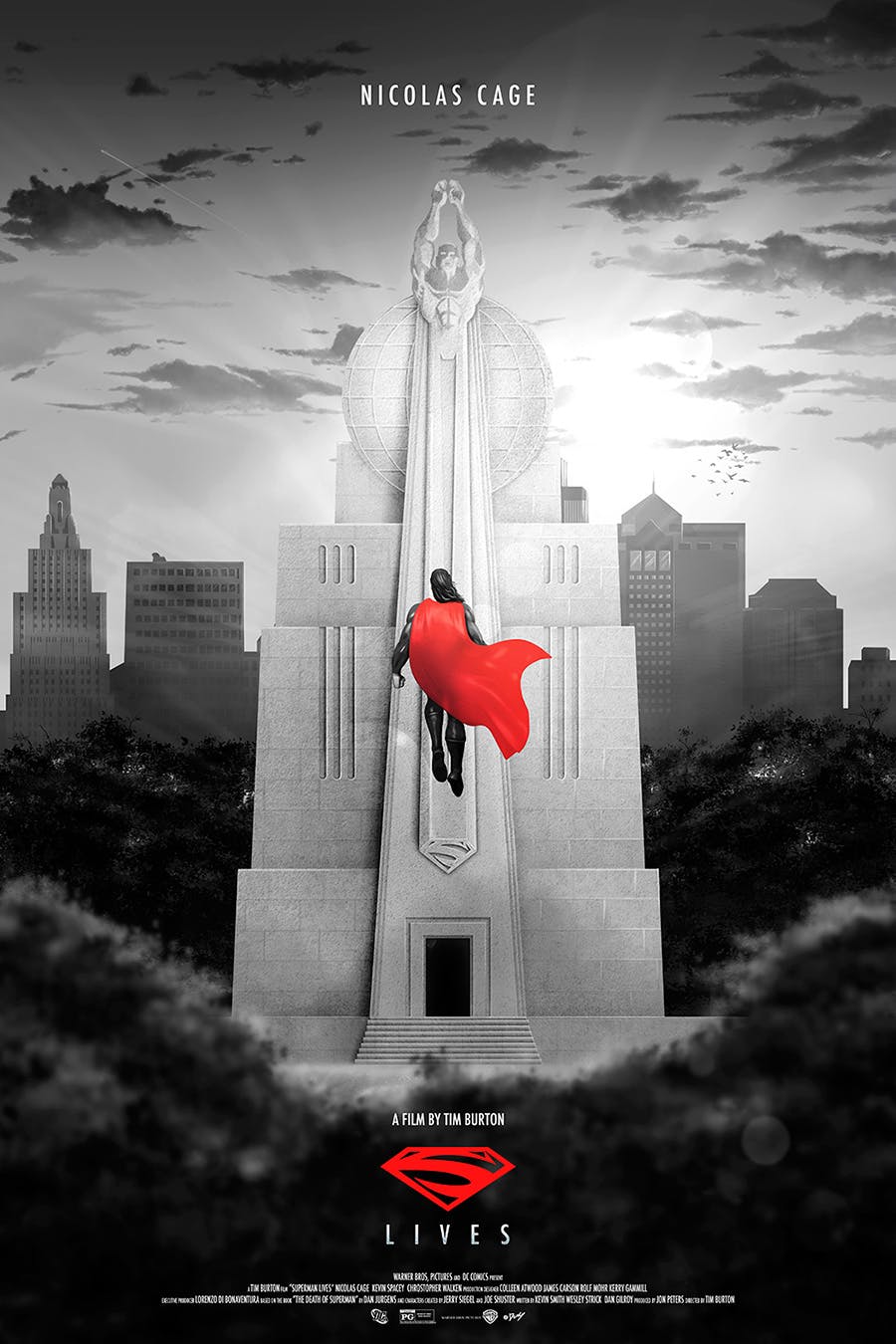 Yes! That was for the iam8bit gallery, they did a series about films that never came to fruition. I did research into the production and stories behind that film. I loved that because Superman was such a dear character to me growing up, so any chance that I get to draw him I jump at it.
That's something to look forward to, and it actually leads into my next question. What do you want to do next?
I'd love to do some comic covers for DC. It's one of those things where you can work on movies and television series, but I think doing a comic cover would be so great for me at this point in life.
What's your favorite Doaly poster? Let us know in our Community!