DC Universe's first anniversary isn't until next week, but 'DC Daily' has never shied away from a party, so they got an early start on the celebration this week with some very special guests.
On Tuesday, September 3rd, actor Ian Ziering dropped by the couch to talk about his experience playing Blue Devil on DC Universe's 'Swamp Thing.' Ziering had a lot of praise for the show's wonderful production. "The attention to detail was astonishing. It was a very expensive show to produce, but you saw where that money was going. The makeup trailers, the visual effects trailers, the sets – they built a 35,000 [foot] soundstage into a swamp. It had boats inside of it. They had a technocrane on a little barge."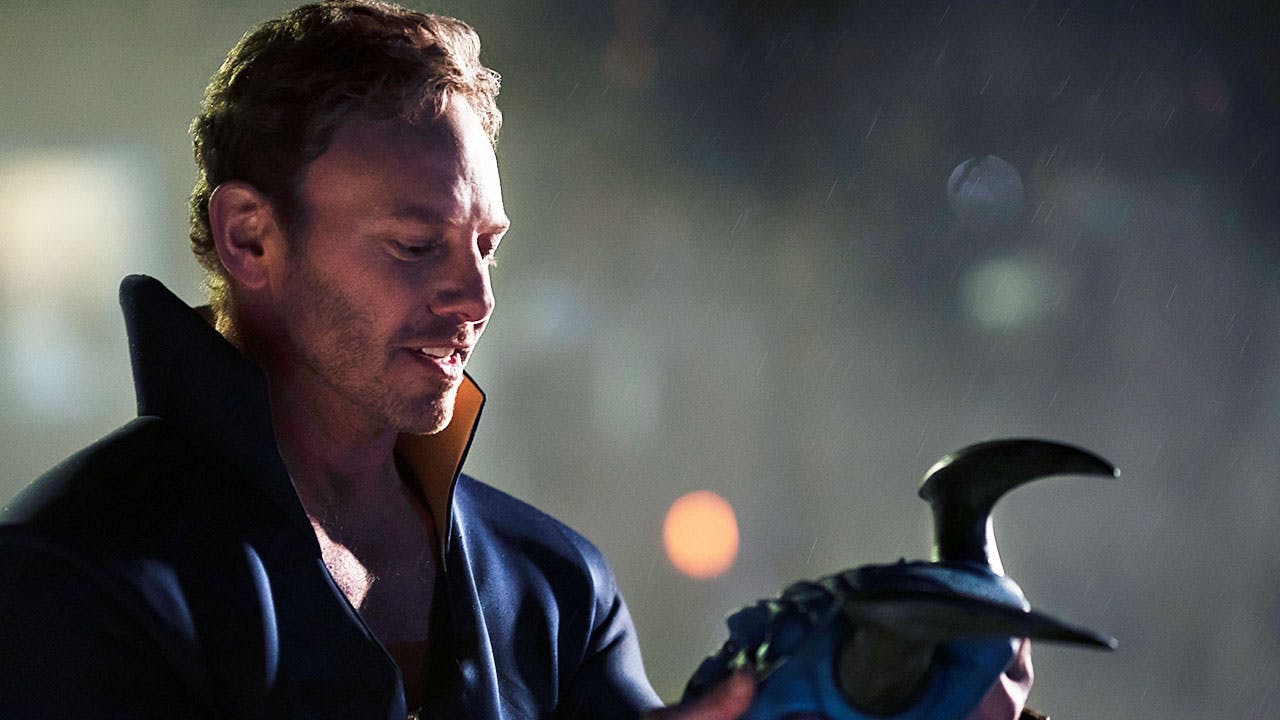 We've seen some of you in the Community begging for a Blue Devil spin-off, and you're not alone. "The whole time he was driving away," said Hector Navarro, "I was thinking, 'That's the spinoff right there. He tours the country, he's got to help people but he's cursed. But he's got to help them with his curse.'"
"I like the way you think," Ziering replied. "It's up to you people out there. You never know".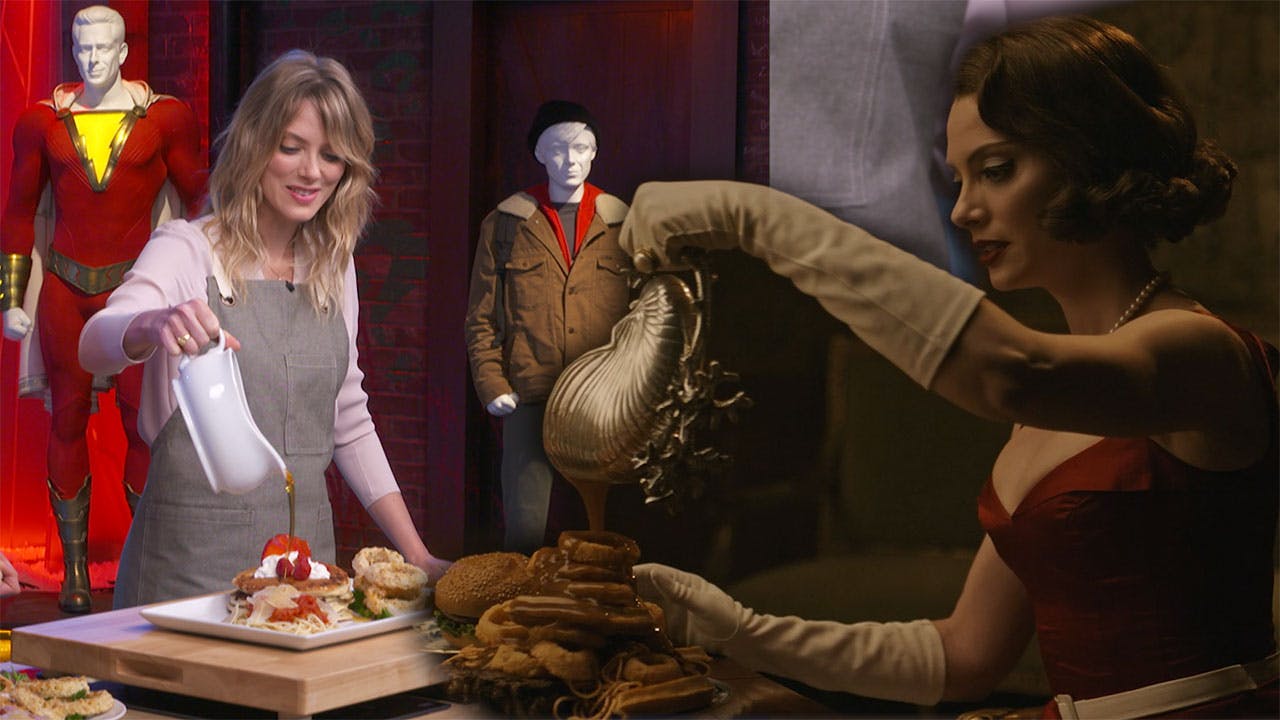 The fun continued on Wednesday, September 4th, when celebrity chef Adam Gertler returned to cook the ultimate 'Doom Patrol' inspired meal with April Bowlby, AKA Elasti-Woman. The onion ring and spaghetti dish was inspired by the meal Negative Man prepared for the team in the 'Titans' episode "Doom Patrol." April shared her memories of that famous scene and yes, she really ate the food! "I ate all of it. It was a pleasure for me because I got to choose what I wanted to eat from that giant banquet of food." Gertler had his own hot take on the scene. "I felt tremendous sympathy for Robotman. I felt a pang of sadness. Imagine immortality but not being able to experience the sensations that define our humanity." Check out the recipes for the amazing dishes that April prepared at the bottom of this page!
The celebration continued on Thursday, September 5th, when 'Young Justice: Outsiders' showrunners Greg Weisman and Brandon Vietti stopped by along with Zehra Fazal, the voice of Halo. The cast and crew of 'Young Justice' have always been tight-lipped about spoilers, but since we're celebrating one year of DC Universe, Greg Weisman decided to give fans an interesting tidbit about season 4...
"There's always a time jump between seasons. I'm not saying how long." Weisman also said the show would return to its roots. "I think we're going to be returning focus a little bit to our original season 1 team, but at the same time we're going to be introducing new characters in the show and trying to touch base with everybody."
The guest stars didn't end there. 'DC Daily' pulled out all the stops, and today Curran Walters, AKA Jason Todd from 'Titans,' popped in with some interesting stories to tell. Be sure to check out this episode as well!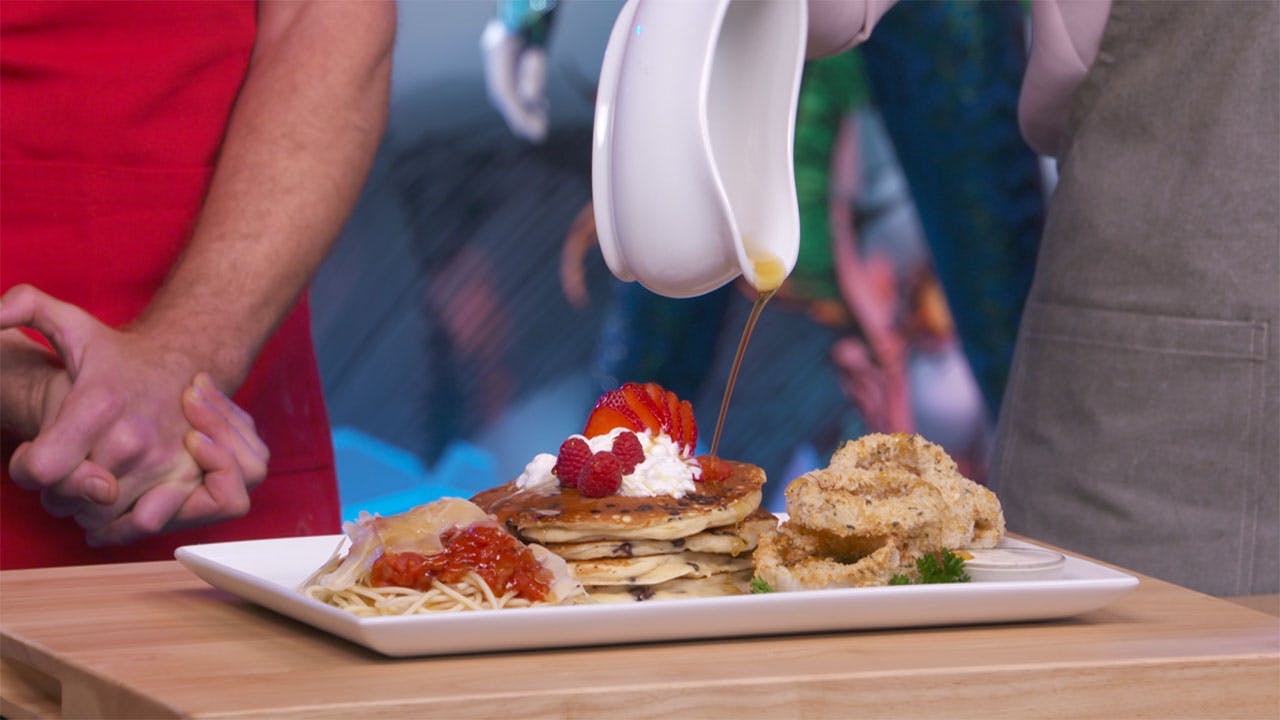 Pasta with Marinara Sauce 
 
*2 28oz Cans Whole San Marzano Tomatoes, crushed by hand
*1/4 Cup Extra Virgin Olive Oil
*1 Medium Yellow Onion, diced
*1/2 Garlic Cloves, peeled and thinly sliced
*1/2 tsp Dried Oregano
*1/4 tsp Crushed Red Pepper
*2 Tbsp Basil, chiffonade
*Kosher Salt
*Black Pepper, 5 turns freshly ground
*1 lb Spaghetti
*Shaved Parmesan

Heat oil in medium sauce pan until shimmering.
Add onion and cook until translucent, not browned, about 5-7 minutes.
Add Garlic and cook for 1 more minute. 
Add tomatoes, oregano, and crushed red pepper, stir to combine, and bring to a boil.
Reduce heat and simmer for 30 minutes, stirring occasionally. 
Remove from heat, stir in basil, and season with salt and pepper. 
Plate and garnish with shaved parmesan
Chocolate Chip Pancakes
*1 1/2 Cups All Purpose Flour
*1 tsp Baking Powder
*1/2 tsp Baking Soda
*2 Tbsp Sugar
*3/4 tsp Salt
*1 Large Egg
*1 Cup Buttermilk, room temperature
*1/2 Cup Milk, room temperature
*2 Tbsp Unsalted Butter, melted
*1 tsp Vanilla Extract
*Vegetable oil for brushing griddle
*1 Cup Miniature Chocolate Chips
*Maple Syrup
*Whipped Cream
*Berries for Garnish
Heat griddle on low while preparing ingredients. Mix flour, sugar, salt, baking powder, and baking soda in a mixing bowl
In another mixing bowl, combine buttermilk, milk, egg, butter, and vanilla and whisk until completely combined
Add wet ingredients to dry ingredients and whisk until just mixed
Pour batter into measuring cup, adding a teaspoon or so of water, if needed, to make a thick, pourable batter.
Increase heat on griddle to medium and generously brush with oil. Oil should begin to glisten, but not smoke. Pour about 1/4 Cup of batter at a time, working in batches.
Sprinkle each pancake with about 1 Tbsp miniature chocolate chips. Flip pancakes when the bottom is golden brown and the top is starting to bubble. Cook until golden brown
Plate and top with syrup and whipped cream. Garnish with berries and serve.
 
Air Fryer Onion Rings
*1 Cup All Purpose Flour
*1 tsp Paprika
*2 tsp Kosher Salt, divided
*1 Cup Buttermilk
*1 Egg
*1 Cup Panko Breadcrumbs 
*1 Tbsp Olive Oil
*1 Tbsp Fresh Picked Thyme
*1 Tbsp Chopped Rosemary 
*2 Large Sweet Onion, sliced 1/2 inch thick
*Oil Spray
*Ranch Dressing for Serving
*Parsley for Garnish
Set out three shallow bowls

In the first, combine flour, paprika, and 1 tsp salt.

In the second, combine buttermilk, egg, and 2 Tbsp of flour mixture

In the third, combine panko breadcrumbs, 1 tsp salt, olive oil, thyme, and rosemary

Dredge onion rings in the flour, drop them in the buttermilk, then dredge in the panko mix

Place onion rings in a single layer in the Air Fryer basket

Cook at 400F until golden brown and crispy, about 12-15 minutes. Spray onion rings with cooking spray after 6 minutes.
 
Would you rather eat the Doom Patrol meal or go on a road trip with Daniel Cassidy? Let us know in our Community!