This week, DC Universe gave Young Justice: Outsiders fans a totally crash gift before the show's midseason break by releasing four episodes ("Exceptional Human Being" "Another Freak" "Nightmare Monkeys" and "True Heroes") instead of the usual three. This meant more comic book references, more obscure characters, and lots more Easter eggs! Let's break them down...
Bash Bashford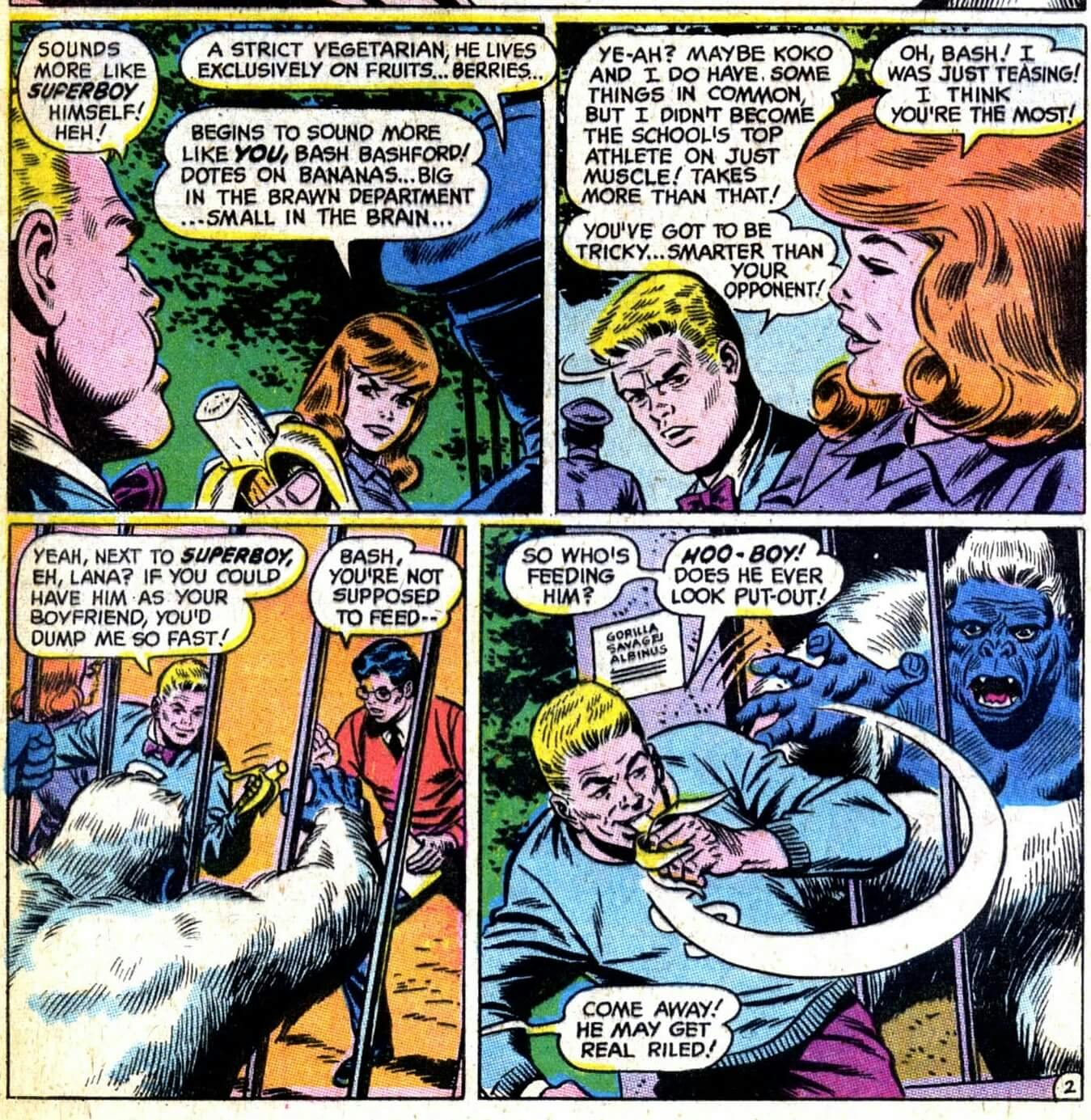 The talent scout eyeing Victor Stone is a former Smallville High student named Bash Bashford. Bash first appeared in 1969's Superboy #157 (written by Frank Robbins and penciled by Bob Brown), where he ate the wrong fruit and gained temporary super powers. After losing his powers, Bash appeared sporadically in Superboy stories as a self-absorbed antagonist of Clark Kent. He was attracted to Lana Lang, but not as much as he was attracted to himself!
Victor Stone's Classmates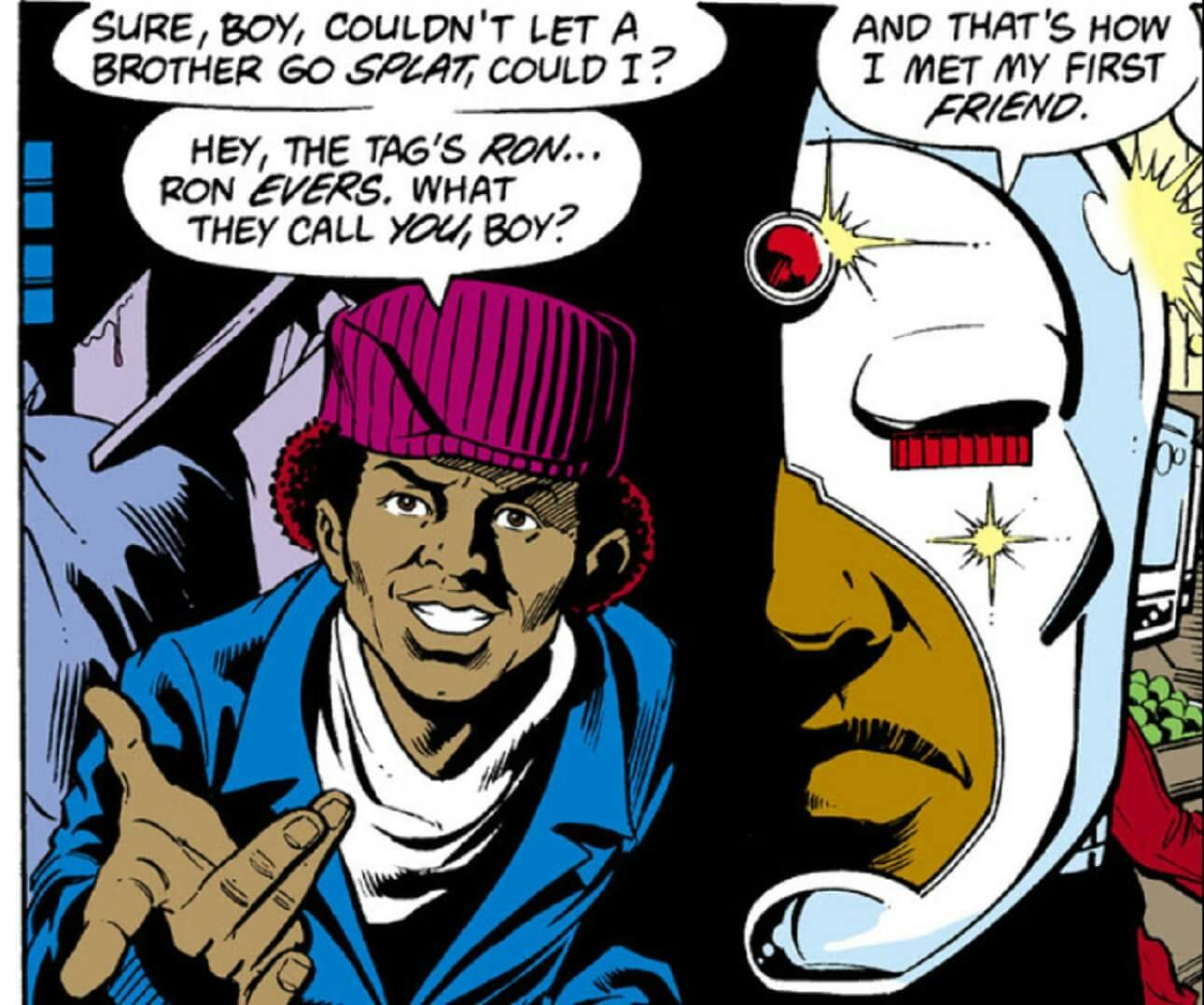 Before turning into Cyborg, we got to see Victor Stone hang out with a few of his classmates, whose names might be familiar to longtime DC readers. Ron Evers was a childhood friend of Vic's whom we first met in Tales of the New Teen Titans #1 (written by Marv Wolfman and penciled by George Perez, read Tales of the New Teen Titans #1 here). Ron was a bad seed who was constantly trying to get Victor involved in criminal activity. Ron is voiced by Khary Payton, who voiced Cyborg in several animated projects, including Teen Titans and DC Nation Shorts: New Teen Titans. Ron even says "Boo-Ya", which was Cyborg's catchphrase in these cartoons. Strangely enough, Ron would later become a Cyborg and clash with Victor, meaning that Khary is still technically Cyborg here!
Another one of the classmates was Sebastian Cardona. Sebastian first appeared in 2015's Cyborg #1 (written by David F. Walker and penciled by Ivan Reis). Although he's Vic's teammate here, in the comics the two played on rival teams during their high school years. They later reunited as adults and became friends. 
The bullied towel boy with a crush on Zatanna is Cisco Ramon. Cisco, who's best known as the superhero Vibe, first appeared in Justice League of America Annual #2 (written by Gerry Conway and penciled by Chuck Patton) and features regularly in TV's The Flash. Chin up, Cisco! You may be a towel boy now, but in the comics you and Zatanna become teammates.
Metamorpho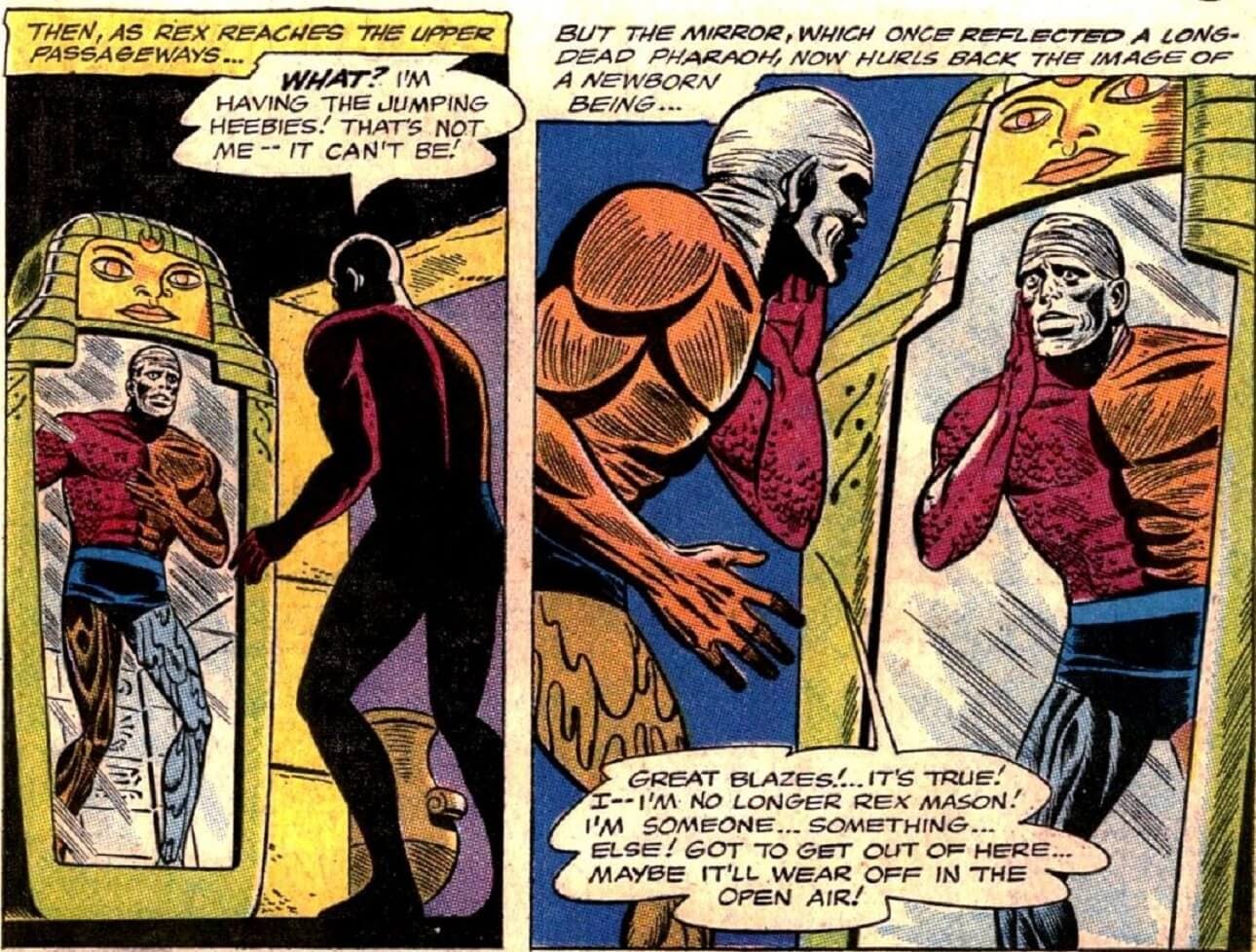 This week, we met Metamorpho, the newest member of Batman's black ops team. Rex Mason was transformed into the elemental man in Brave and the Bold #57 (written by Bob Haney and penciled by Ramona Fradon) after being exposed to a radioactive meteor. Metamorpho was a founding member of Batman's Outsiders, and has been on the team through many of its incarnations. 
Friends at Happy Harbor High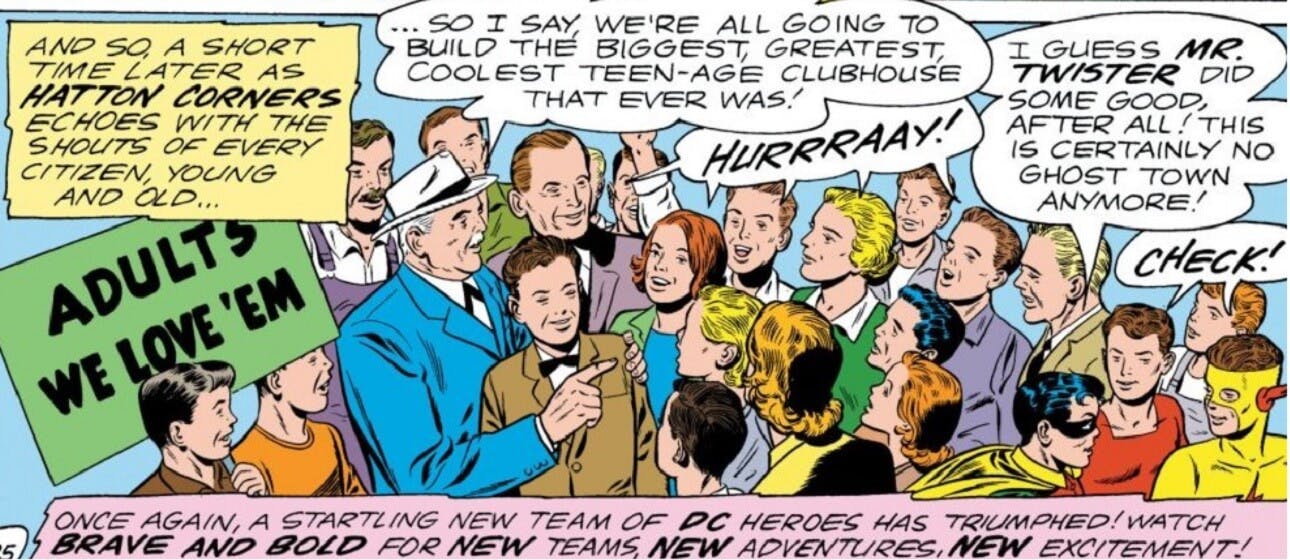 Violet Harper and Fred Bugg (with two G's) had a very eventful first day at Happy Harbor High School. Their teacher Lenore Parris has some experience educating super teens, since she taught the Wonder Twins way back in 1980's Super Friends #34 (written by E. Nelson Bridwell and penciled by Ramona Fradon).
The classmate who scoffed at Violet and Fred is Eddie Corliss, the son of a mayor who once convinced the entire teenage population to start their own rebellion because they wanted a clubhouse. (Apprarently being a teenager in the 1960s didn't always have high stakes.) Eddie was first seen in The Brave and the Bold #54 (written by Bob Haney and penciled by Bruno Premiani), which is also considered the first appearance of the Teen Titans. While Eddie looks down on Violet and Fred, Harper Row is fascinated by them and encourages them to embrace their freakiness. In the comics, Harper is a citizen of Gotham, so she has plenty of experiences with freaks. Harper first appeared in 2011's Batman #1 (written by Scott Snyder and penciled by Greg Capullo), and later became the vigilante known as Bluebird. 
S.T.A.R. Labs Staff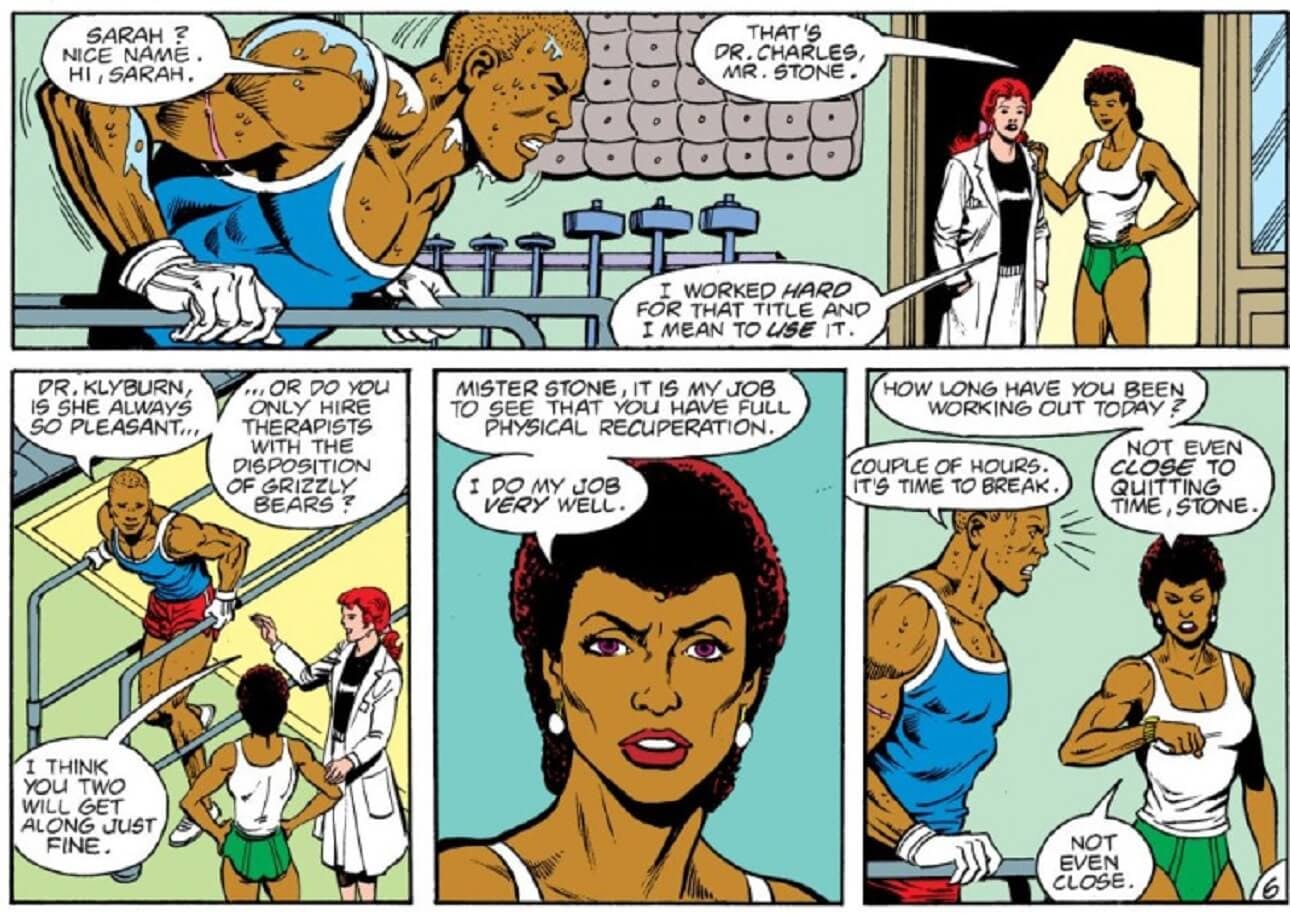 When everything goes wrong at S.T.A.R. Labs in "Another Freak", Silas Stone is assisted by two of his fellow scientists and a pair of security guards. We already know Casey Klebba, who was spotlighted last week. But this is our first time meeting his partner Dale Gunn. In the comics, Dale helped raise Henry Heywood III after the death of his father. Dale first appeared in Justice League of America Annual #2 (written by Gerry Conway and penciled by Chuck Patton).
Sarah Charles, one of the scientists, has strong ties to Victor Stone in the original comics. Sarah first appeared as Victor's physical therapist in Tales of the Teen Titans #57 (written by Marv Wolfman and penciled by Chuck Patton, read Tales of the Teen Titans #57 here) -- and he was not too fond of her bedside manner. Eventually Sarah crossed over from physical therapy to scientist and began working at S.T.A.R. Labs. During that time, her relationship with Victor crossed over from physical therapist to girlfriend. When a series of transformations took Cyborg off the planet for a time, Sarah moved on. The two remained good friends with Victor serving as best man at her wedding. The other scientist is Allen Phaedon, who was a Detroit-based S.T.A.R. Labs scientist. Allen had a bit of a temper, and even used S.T.A.R. Labs tech to shrink his wife during a heated argument! He first appeared in 2004's Firestorm #14 (written by Stuart Moore and penciled by Jamal Igle). 
Making a Cyborg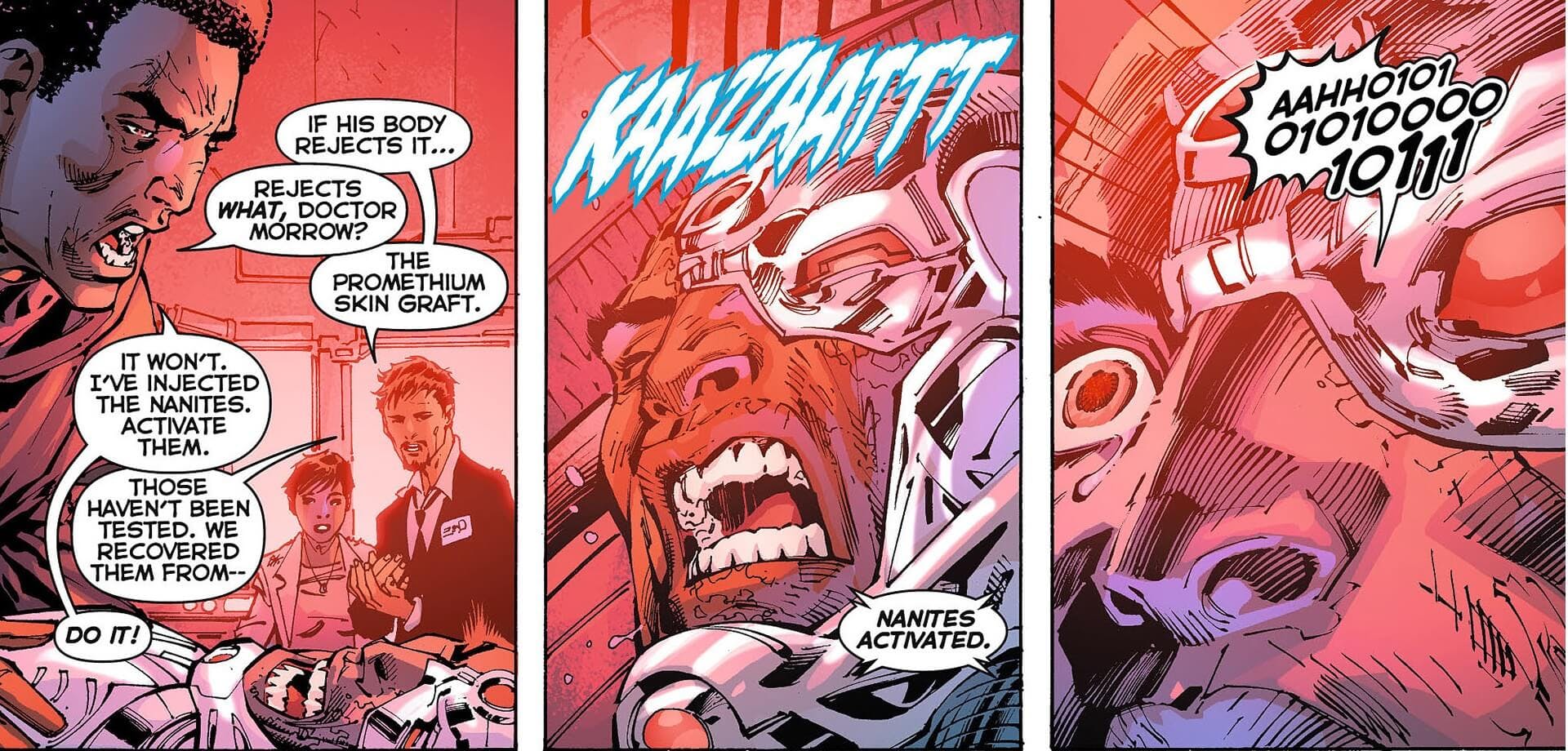 Did anyone notice Victor's civilian outfit? It was very similar to the costume Cyborg wore in the live-action TV series Smallville. As for his origin, most versions of Vic's story involve his father Silas rebuilding him after a lab explosion. But in 2011's Justice League #3 (written by Geoff Johns and penciled by Jim Lee), the tale was revamped to incorporate Apokolips technology. The Apokolips version was used in the recent Justice League movie and now the Young Justice episode "Another Freak". 
Halo's Origin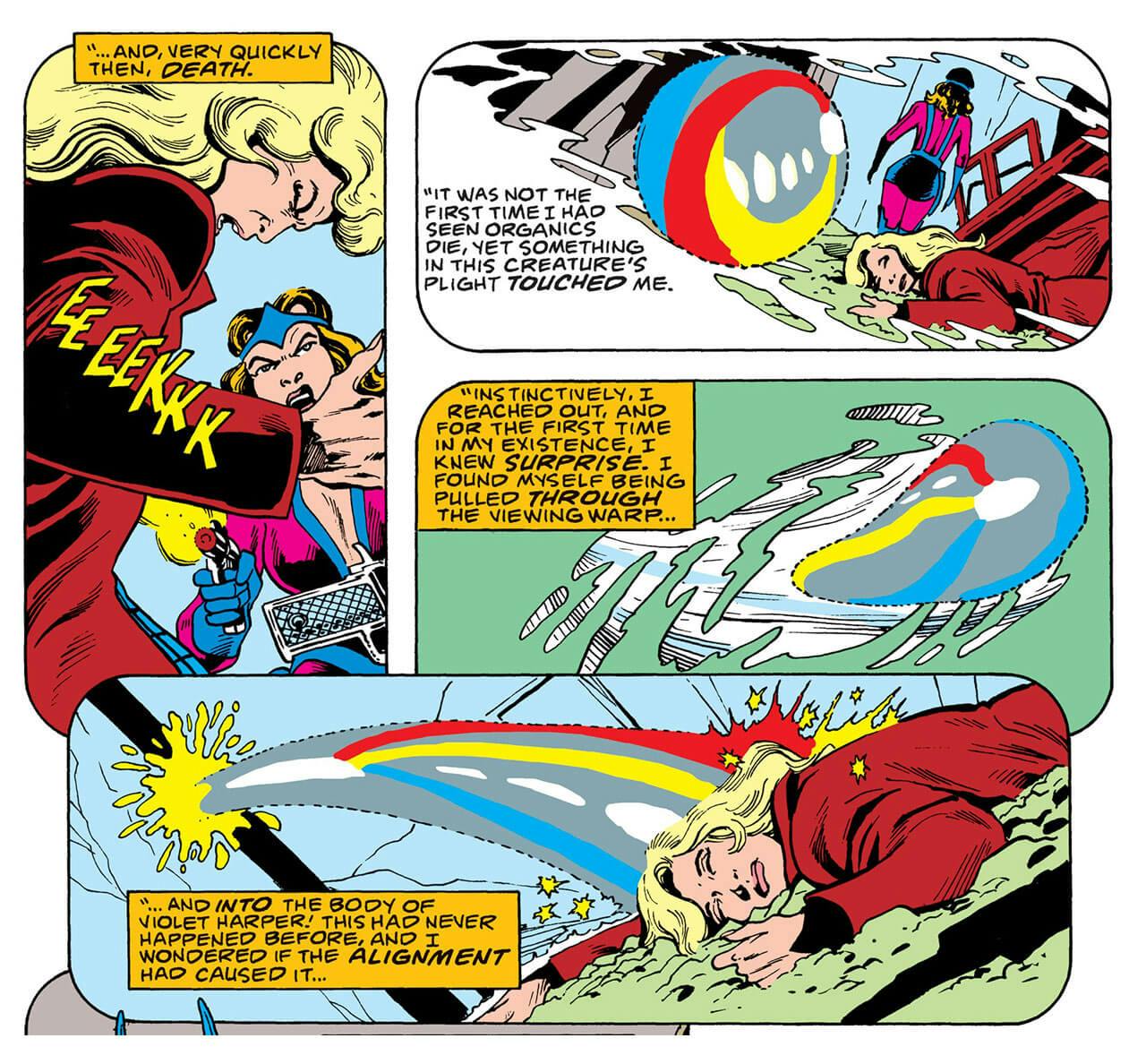 Victor's origin wasn't the only one revamped to involve Apokolips tech. This week we earned that Halo was the result of a deceased Mother Box's soul merging with the dying body of Gabrielle. This is similar to what happened in the comics, except Gabrielle fused with an alien creature of light called an Aurakle, instead of a Mother Box. The mystery of Halo's origin was finally solved in Batman and the Outsiders #22 (written by Mike W. Barr and penciled by Alan Davis, read Batman and the Outsiders #22 here)
EMT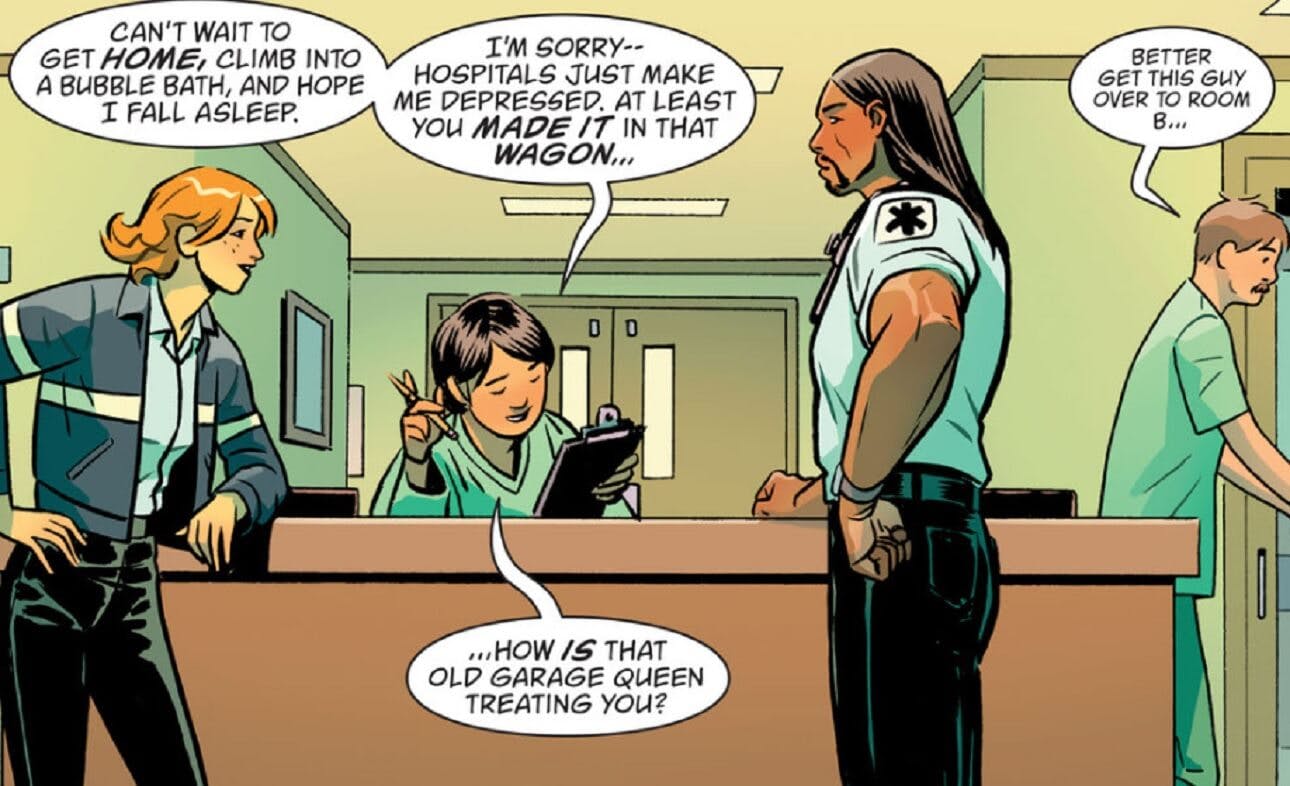 Sharp-eyed fans may recognize the two EMT's from "Nightmare Monkeys". If you read the DC Universe exclusive two-issue Young Justice: Outsiders tie-in comic, you may have noticed them in the background. These helpful but unappreciated folks are Casey Brinke and Samuel Reynolds. The pair first appeared in 2016's Doom Patrol #1 (written by Gerard Way and penciled by Nick Derington, read Doom Patrol #1 here). In the comics, Casey is more than an EMT driver, she's a fictional character spawned into the "real world" by the Doom Patrol's Danny the Street, who isn't aware of her true origins. 
Traffic Enforcers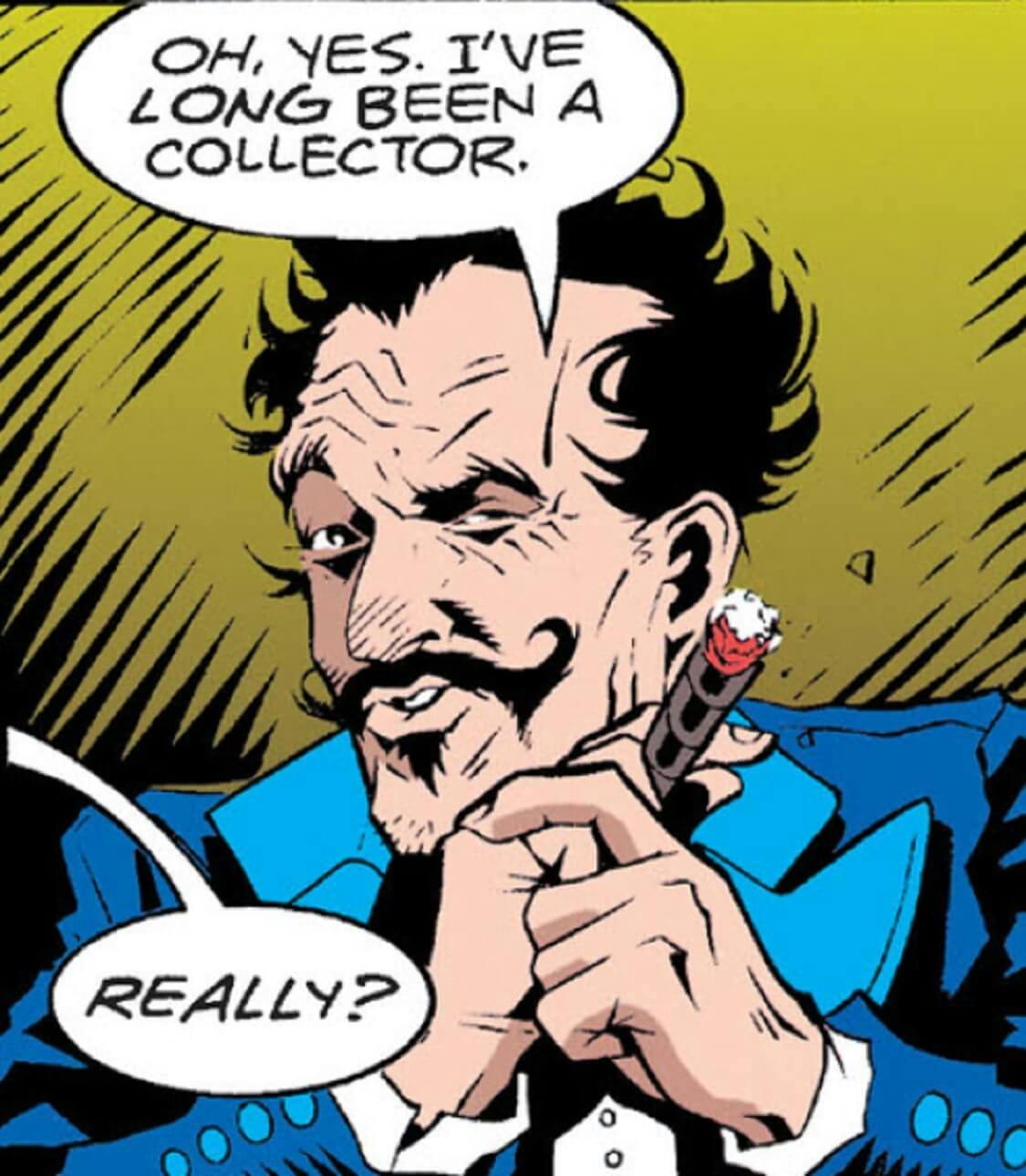 When the Team embarks on their rescue mission in "True Heroes", the metahuman trafficking cell they encounter has a few familiar comic-book characters and concepts. Mister Bliss, the ringmaster for the fight club, is a Starman villain first seen in Starman #7 (written by James Robinson and penciled by Tony Harris, read Starman #7 here). Holocaust, the other meta who is put up against Brion's sister Tara, was first seen in Blood Syndicate #1 (written by Dwayne McDuffie and Ivan Velez Jr, penciled by Trevor von Eeden). The team fights their way through a group of enforcers (made up of previously introduced villains) called Onslaught. In the comics, Onslaught was a group of super powered mercenaries with a rotating membership. Originally known as Jihad, they were first seen in Suicide Squad #1 (written by Robert Greenberger and John Ostrander, penciled by Luke McDonnell, read Suicide Squad #1 here).
Court of Owls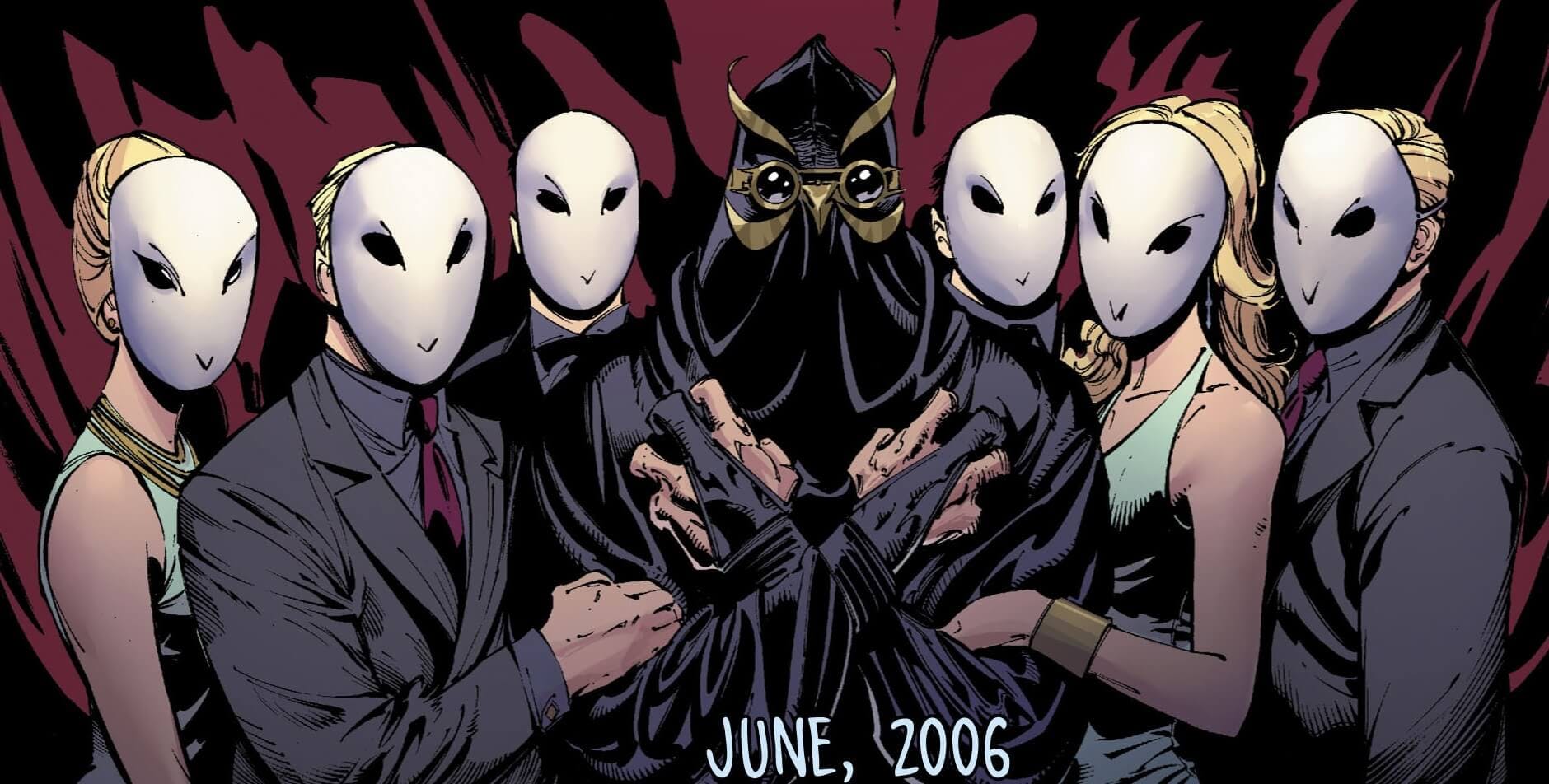 During Princess Tara's rescue mission, some familiar masks can be seen on the faces of those bidding on the metas. Although their name isn't said this episode, it appears the Court of Owls has taken an interest in metahuman trafficking. The Court of Owls is a secret society operating out of Gotham City. The Dark Knight began to learn about their activities in the classic "Court of Owls" storyline starting in 2011's Batman #1 (written by Scott Snyder and penciled by Greg Capullo). The story was adapted in the 2015 animated movie Batman vs. Robin. 
Brion and Violet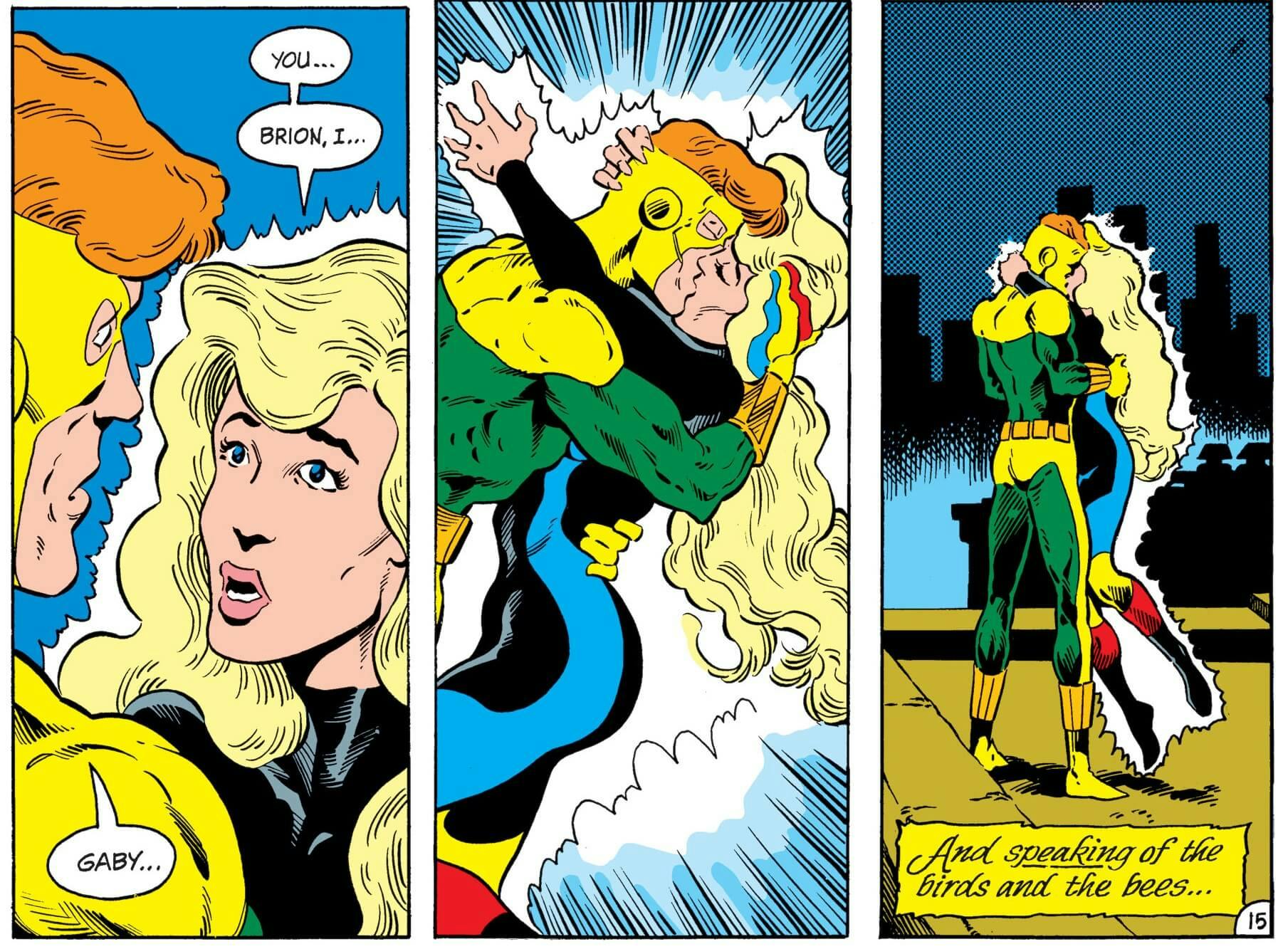 Throughout the season we've seen Violet and Brion get closer to one another, cumulating in the moment where he introduces her as his "girlfriend" during the final scenes of "True Heroes". Halo and Geo-Force briefly had a relationship in the comics, first getting together in Batman and the Outsiders #14 (written by Mike W. Barr and penciled by Bill Willingham, read Batman and the Outsiders #14 here). The romance didn't last long, and the two mutually broke things off in Batman and the Outsiders #19 (written by Mike W. Barr and penciled by Jim Aparo, read Batman and the Outsiders #19 here). They each realized they were working through their own issues, Halo discovering her identity and Brion grieving the loss of his sister. They had confused their feelings for one another as romantic, and realized they were drawn to each other in a more brother and sisterly way. 
Tara's Betrayal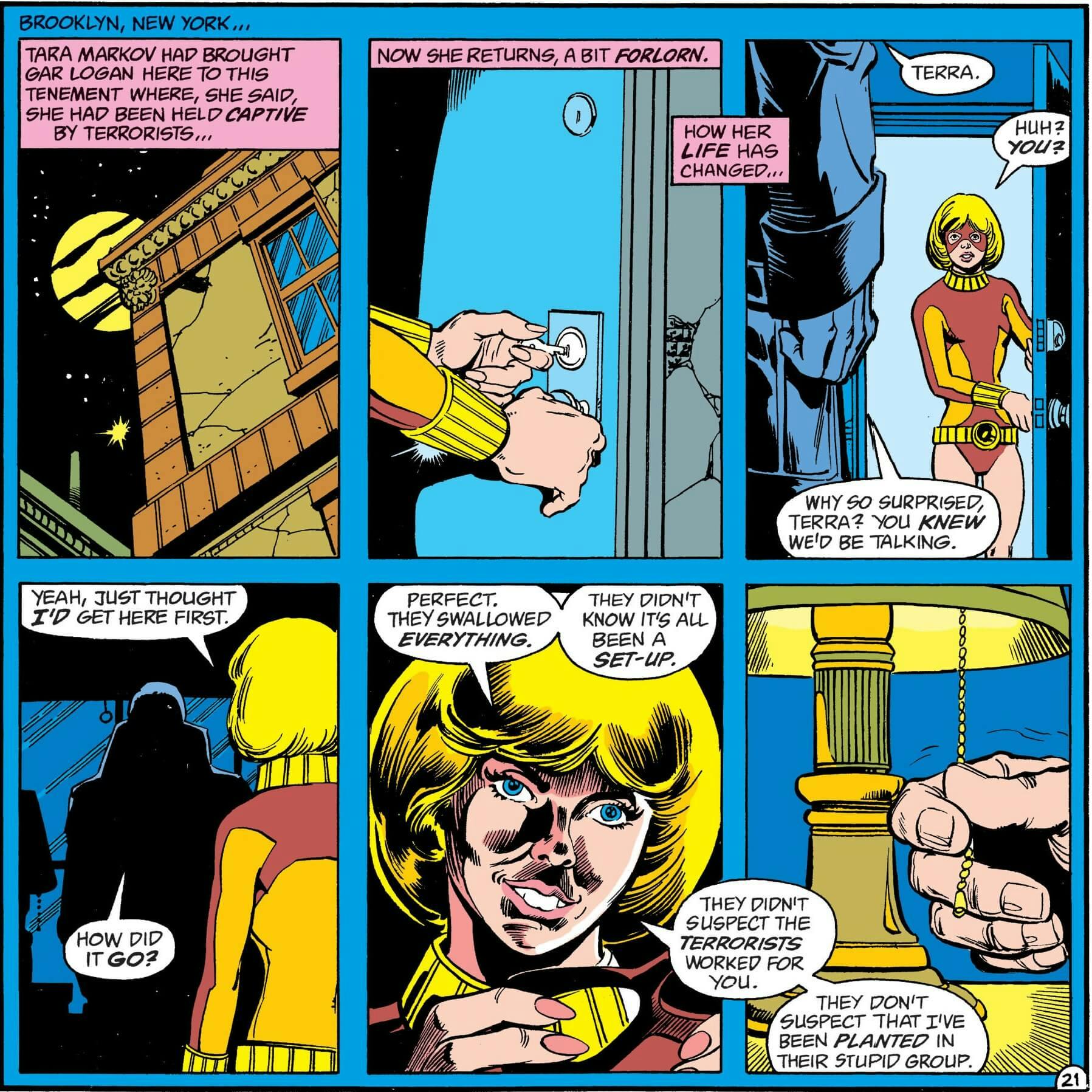 Young Justice: Outsiders ends the first half of its season with a shocking cliffhanger….Brion's rescued sister Tara is a spy planted by Deathstroke! As heart-breaking as this development is, it's exactly what Tara did in the comics. Readers first learned of her treachery during the shocking final pages of New Teen Titans #34 (written by Marv Wolfman and penciled by George Perez, read New Teen Titans #34 here). This turning point led to the classic "Judas Contract" storyline. Say it ain't so, Tara -- Brion was doing so well! 
For those of you wondering about Beast Boy's dreamscape sequence and "Doom Patrol Go!", check back here tomorrow, when we look at it in depth!
What were your favorite Easter eggs this week? Did we miss any? Let us know in our Community!