Are you feeling whelmed yet? After a 5-year wait, Young Justice is back for a third season, and it's epic! The first three episodes ("Princes All", "Royal We" and "Eminent Threat") of Young Justice: Outsiders are filled with enough comic book references and Easter eggs to make up an entire encyclopedia. Let's break them down…
Markovia and the Royal Family

The country of Markovia and its royal family were introduced in the first episode of Young Justice: Outsiders, "Princes All". Prince Brion first appeared in The Brave and the Bold #200 (written by Mike W. Barr and penciled by Jim Aparo). The country of Markovia, King Viktor, Gregor and Baron Bedlam first appeared in Batman and the Outsiders #1 (written by Mike W. Barr and penciled by Jim Aparo, read Batman and the Outsiders #1 here). The family tree is slightly different in the comics. For example, Baron Bedlam was a rival instead of a relative and Tara Markov (whom we first met in The New Teen Titans #26) was the king's illegitimate daughter. Young Justice: Outsiders gives Markovia's queen the name IIona, but in the comics she was Gregor's wife, not mother. Although the family dynamics may be different, the storyline in Young Justice: Outsiders plays out very similarly to the one in Batman and the Outsiders' first arc. 
Plasmus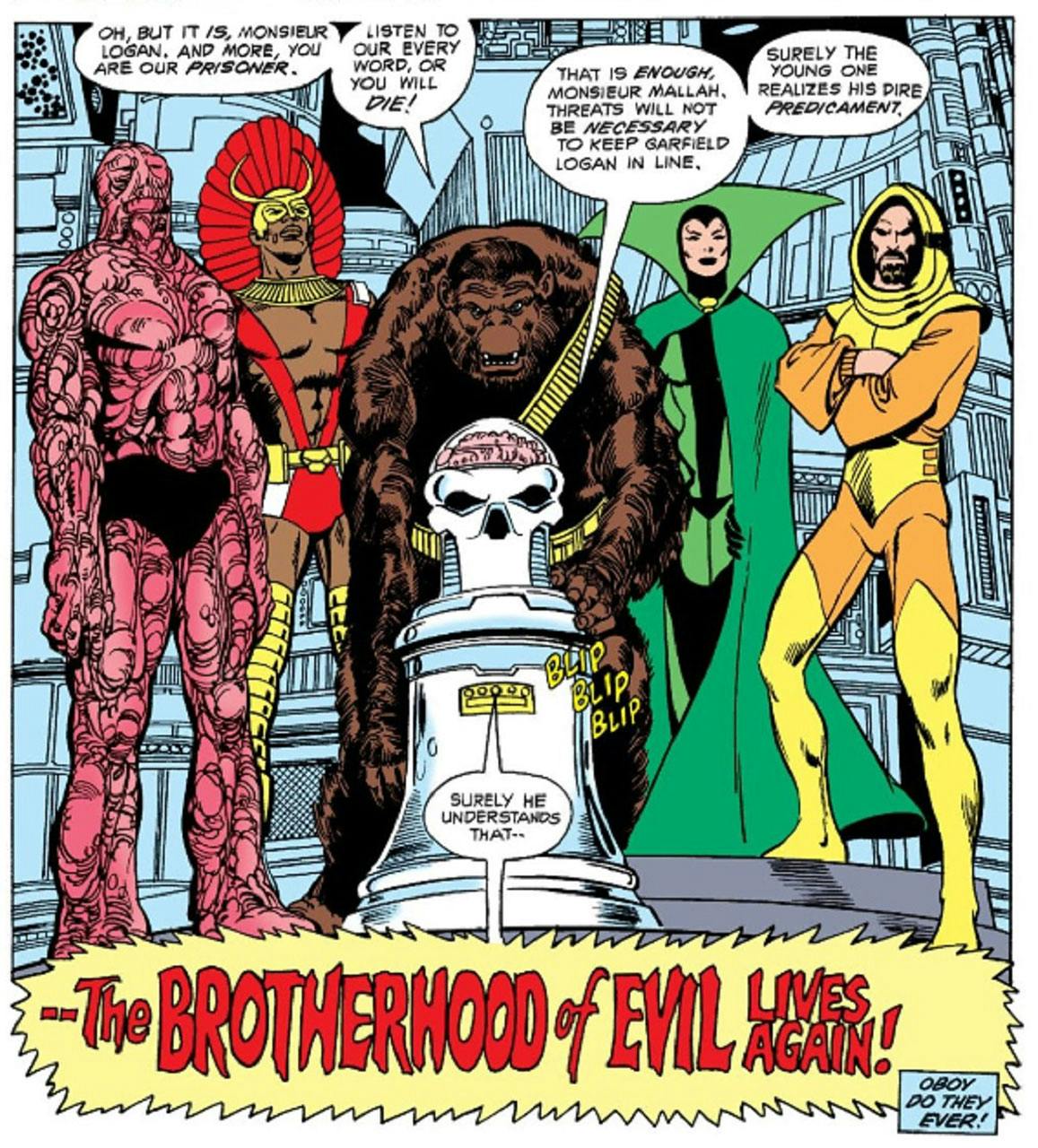 During these first three episodes, we witness two siblings named Ana and Otto van Furth transform into protoplasmic creatures known as Plasma and Plasmus. Plasmus was first seen as a member of the reformed Brotherhood of Evil in New Teen Titans #14 (written by Marv Wolfman and penciled by George Perez, read New Teen Titans #14 here). Otto was a former miner who was experimented on by General Zahl after being exposed to radioactive materials transforming him into the evil Plasmus. 
Black Lightning's Regret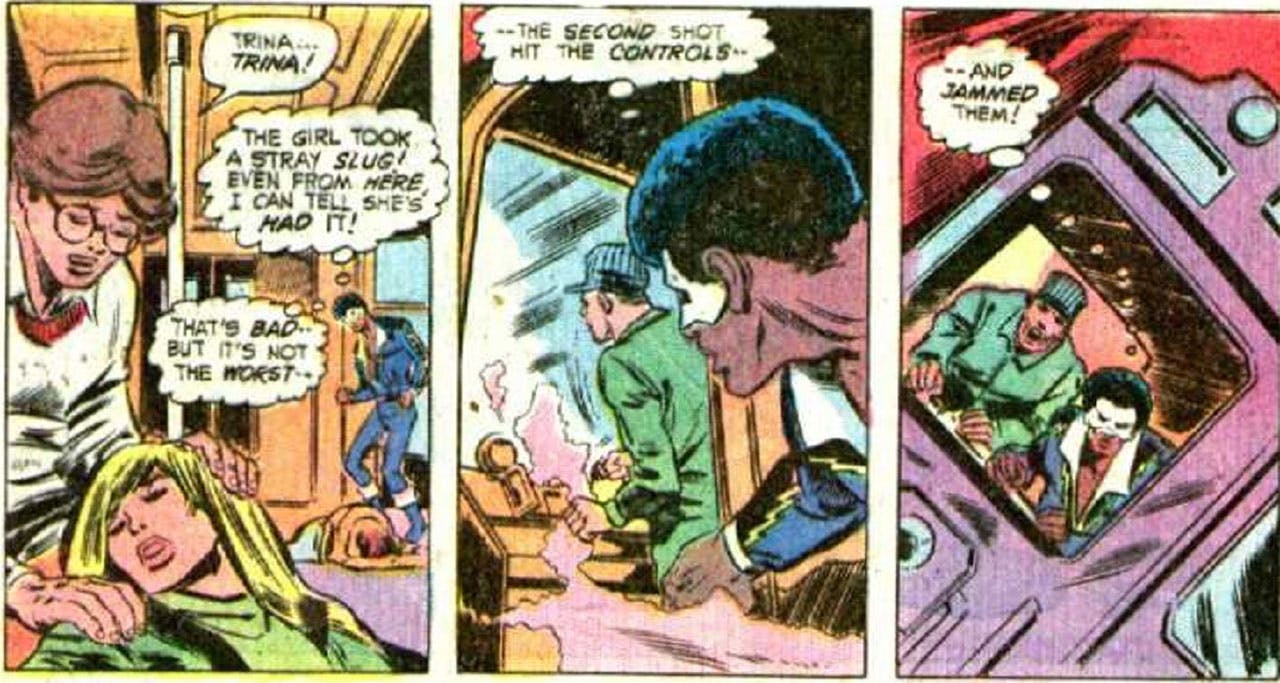 In this trilogy of episodes, Black Lightning struggles with feelings of guilt after his actions cause the death of a teenage girl. This is straight out of the comics, when a girl named Trina Shelton was killed in the crossfire of one of Black Lightning's battles in DC Comics Presents #16 (written by Denny O'Neil and penciled by Joe Staton). Jefferson felt responsible for her death, and was hesitant to use his powers again when Batman recruited him for a rescue mission in Markovia in Batman and the Outsiders #1 (written by Mike W. Barr and penciled by Jim Aparo, read Batman and the Outsiders #1 here). Sound familiar? 
New Members
In the two years that passed between Young Justice: Invasion and Young Justice: Outsiders, the Justice League and Young Justice have both added an array of new members. Among the heroes we meet are Ice, Steel, Katana, Plastic Man, Hardware, Batwoman, Thirteen, Spoiler, and Arrowette. I have a feeling we'll be seeing more of these folks as the season goes on, so stay tuned! 
Batman Resigns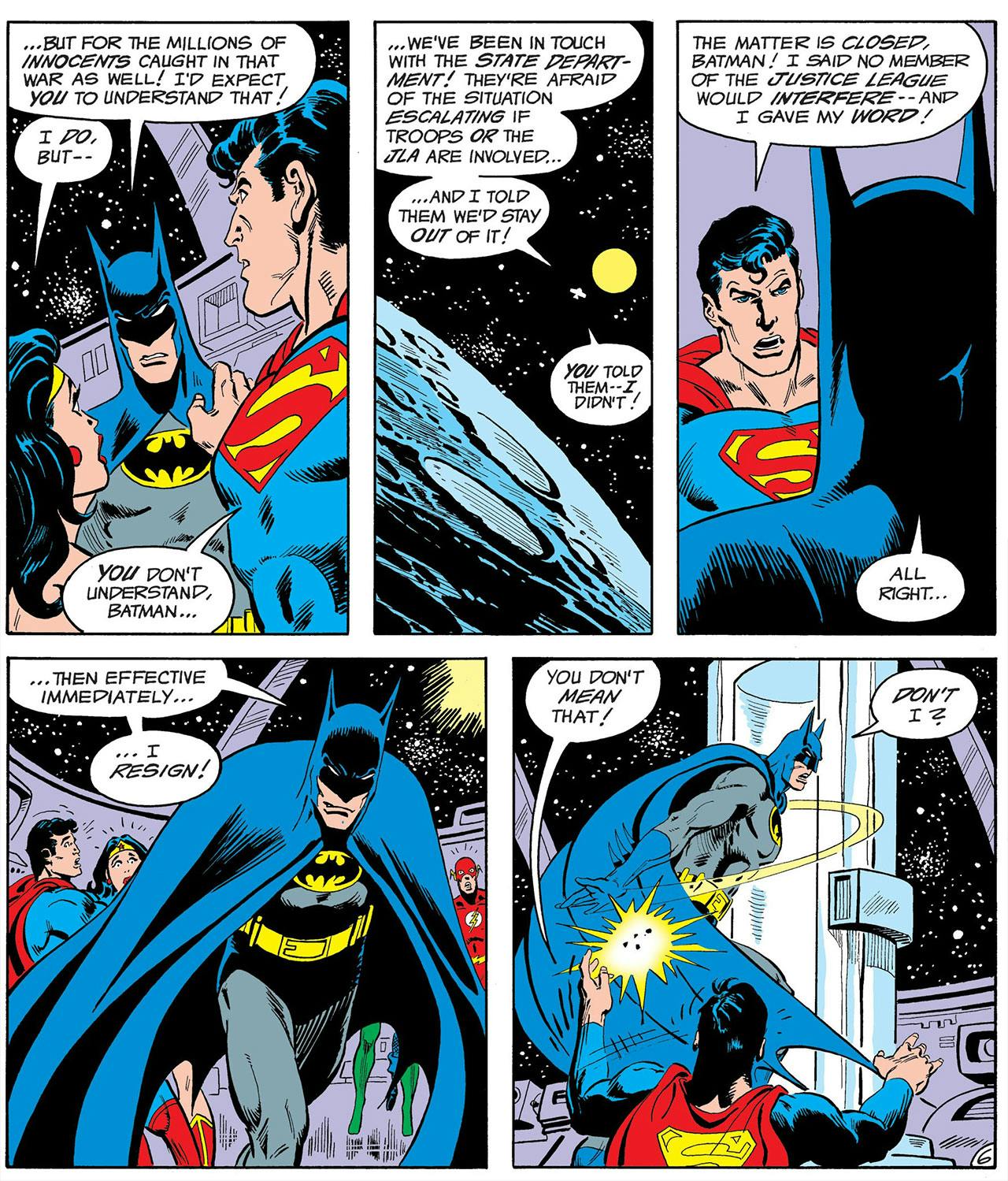 During "Princes All", Batman blindsides the Justice League by staging a mass walkout in protest of its inability to operate due to United Nations procedures. This scene echoes Batman's resignation from the Justice League in Batman and the Outsiders #1. In the comics, Batman was also frustrated by the League's inability to operate without permission from the United States government. Luckily for his teammates, Batman didn't take anyone with him in his walkout. 
Batman Inc.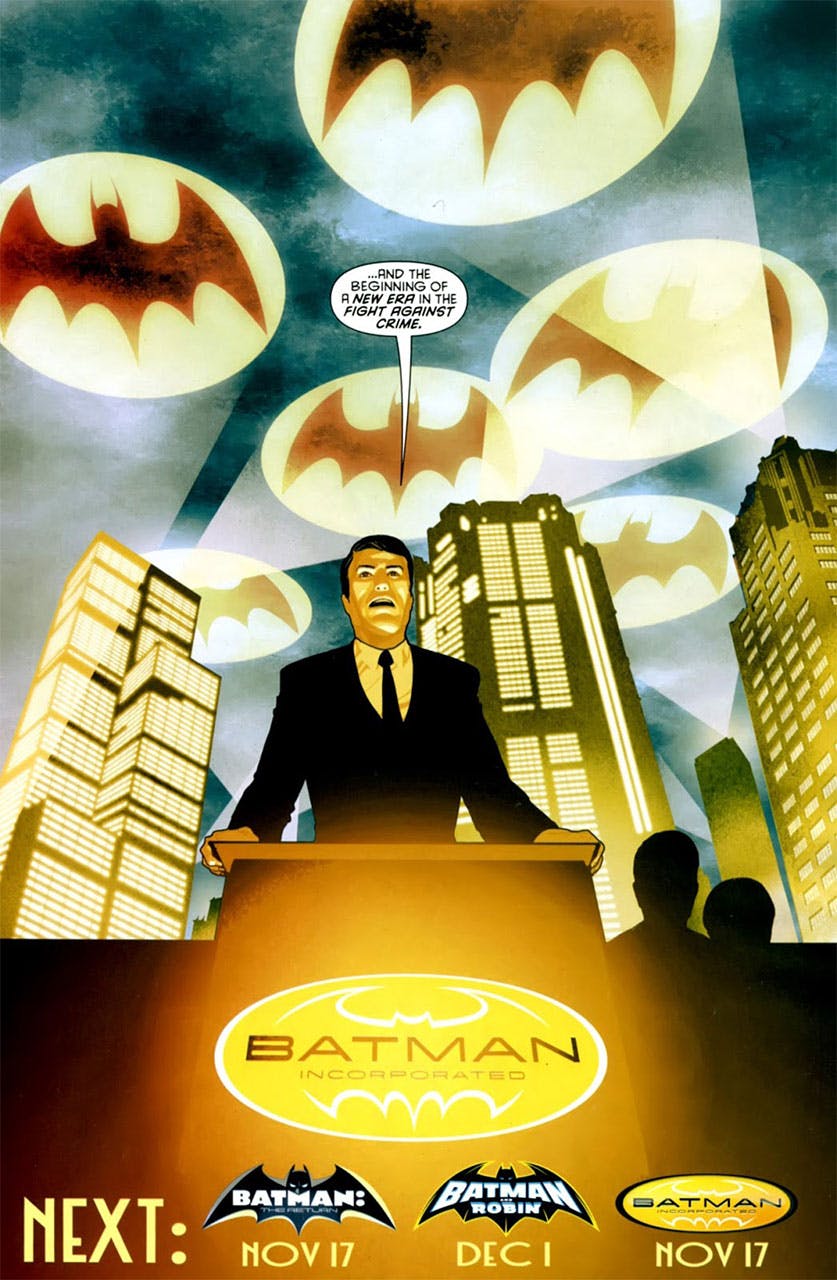 When Batman invites Black Lightning to join his mass walkout, Jefferson quips that he doesn't want to join Batman Incorporated. While the Dark Knight's future plans are unclear, the joke from Jefferson alludes to the Batman Incorporated initiative Bruce Wayne introduced in Batman and Robin #16 (written by Grant Morrison and penciled by Frazer Irving, Cameron Stewart, and Chris Burnham). Bruce Wayne revealed to the world he had been funding Batman's operations, and made plans to franchise the Dark Knight's mission around the planet. Eventually, things got out of hand, and the Caped Crusader had to publicly sever ties with Bruce Wayne and his alter ego, effectively ending Batman Incorporated.
Oracle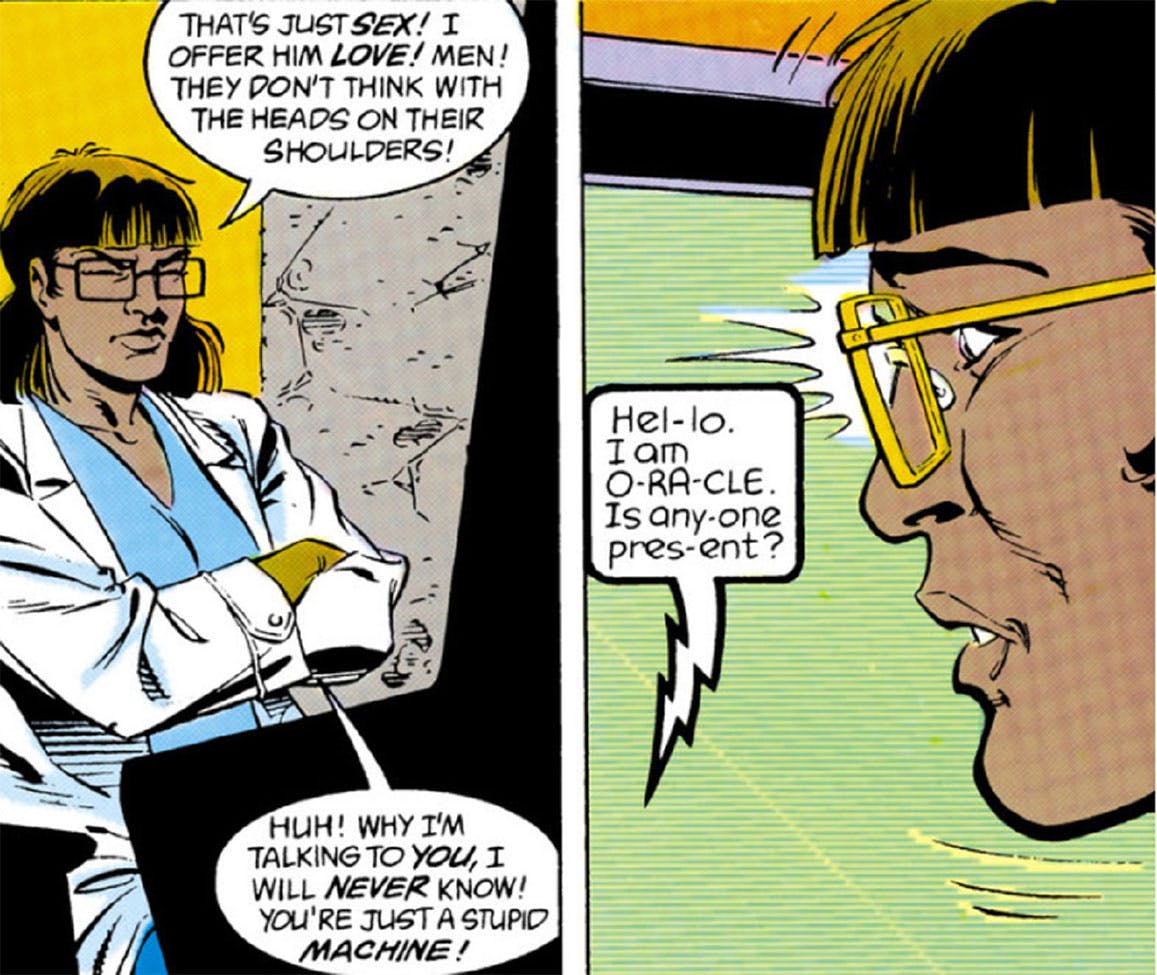 During Nightwing's missions to stop metahuman trafficking cells, he's assisted via earpiece by Barbara Gordon, who is now calling herself Oracle. After being crippled by the Joker in a home invasion (in the classic The Killing Joke graphic novel), Barbara Gordon reevaluated her place in the superhero community and decided to anonymously assist her former colleagues by acting as an information broker behind a computer screen. Calling herself Oracle, she first reached out to Task Force X in Suicide Squad #23 (written by John Ostrander and Kim Yale, penciled by Luke McDonnell, read Suicide Squad #23 here). Many years later, when Barbara regained her mobility, she left her Oracle identity behind to resume her activities as Batgirl. Eventually Barbara saw the need for Oracle, and started operating as both Batgirl and Oracle in writers Julie and Shawna Benson's series Batgirl and the Birds of Prey. Is the Young Justice: Outsiders version of Barbara doing double duty or is she crippled? Perhaps future episodes will let us know.
Will or Roy?
For reasons unknown to us, Roy Harper is currently going by the name "Will". While Dick has a hard time getting used to the name, it's not entirely unfamiliar to Roy. Will is his middle name in the comics.
The Lightning Family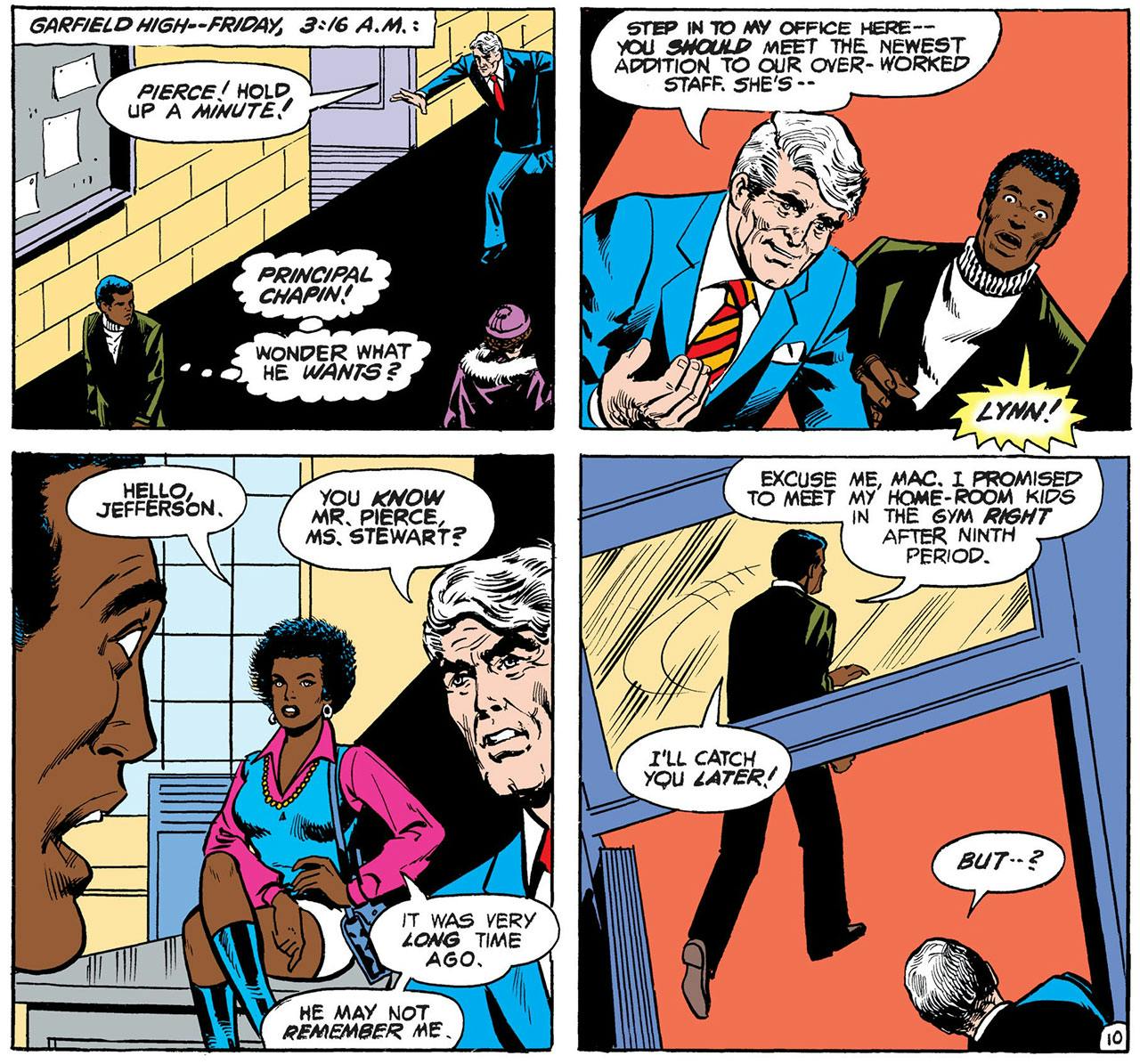 Black Lightning had previously been seen in past episodes of Young Justice, but "Princes All" was the first time viewers got to meet his family. Lynn Stewart was introduced as a new teacher who had a mysterious past with Jefferson in Black Lightning #3 (written by Tony Isabella and penciled by Trevor von Eeden). It was eventually revealed they had once been married, and things hadn't ended well. At the time, neither of them had children, but that changed when 2003's Outsiders #1 (written by Judd Winnick and penciled by Tom Raney, read Outsiders #1 here) introduced their grown daughter Anissa. Her sister Jennifer was introduced in Justice Society of America #12 (written by Geoff Johns and Alex Ross, penciled by Dale Eaglesham). Anissa and Jennifer would follow in their father's superhero footsteps, fighting crime as Thunder and Lightning. Interestingly enough, Young Justice: Outsiders is the first time a connection has been made between Lynn Stewart and the Green Lantern John Stewart! 
Space Trek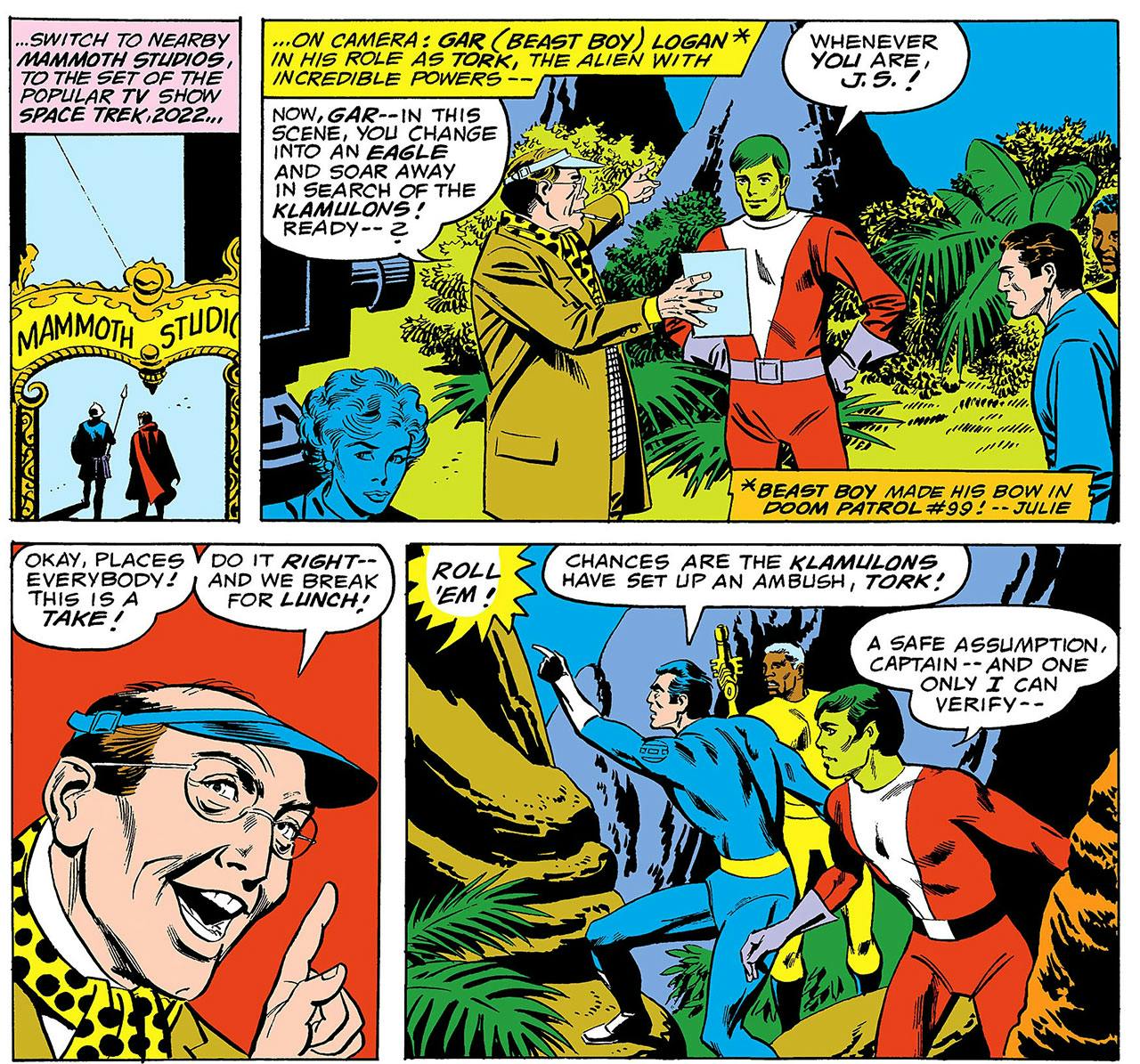 In "Royal We", viewers see Garfield Logan follow in his mother's footsteps by starring in a science fiction show called Space Trek 3016 as the shapeshifting Tork. As popular as Beast Boy is now, comic readers didn't see him for nearly ten years after the Doom Patrol title ended in 1968. When readers reunited with Gar Logan in 1977's Teen Titans #50 (written by Bob Rozakis and penciled by Don Heck), he was indeed playing Tork, on "Space Trek 2022". 
Jaculi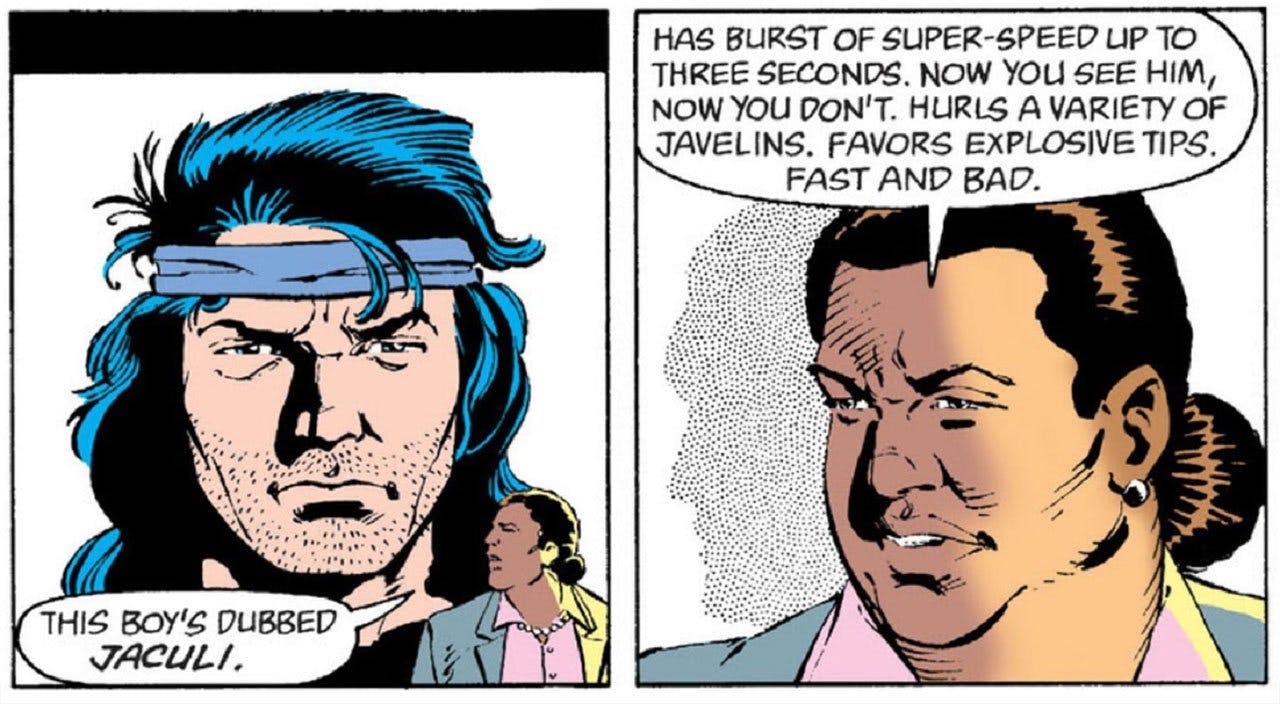 The speedster assassin who murders the Markovian king and queen in "Princes All" is a ruthless killer named Jaculi. Comic readers first met him in Suicide Squad #1.
United Nations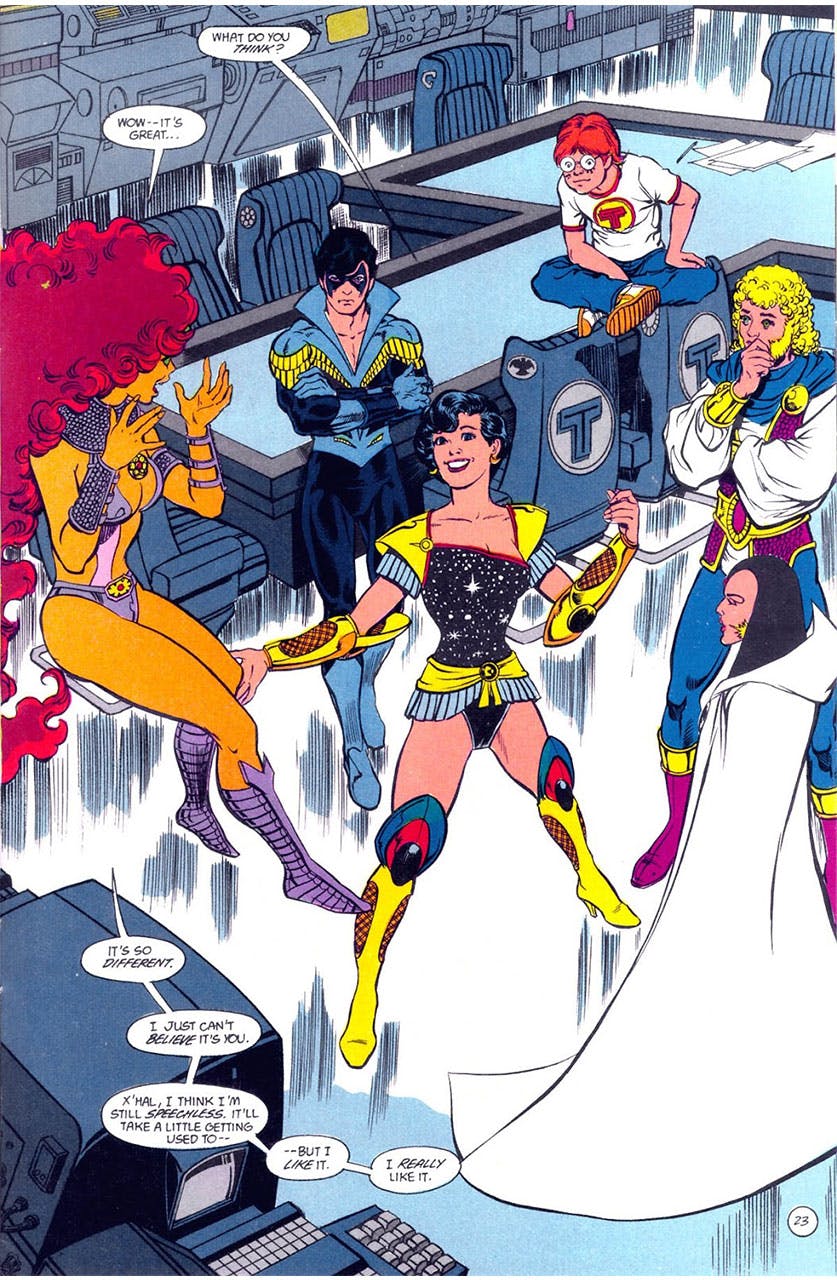 The United Nations scene in "Royal We" was filled with tons of comic book references! Viewers already know the Atlantean ambassador Garth, whom we first met in the season 1 episode "Downtime". Markovian ambassador Zviad Baazovi was a Kremlin spy who first appeared in Outsiders #3 (written by Mike W. Barr and penciled by Alan Davis). Bialya ambassador Sumaan Harjavti was a wannabe dictator first seen in Justice League Europe #29 (written by Keith Giffen and Gerard Jones, penciled by Darick Robertson). Although this is Sumaan's first appearance in the Young Justice animated series, he was previously seen in issues 23, 24 and 25 of the tie-in comic. Rhelasian ambassador Kaizen Gamorra was a dictator who first appeared in Stormwatch #40 (written by Warren Ellis and penciled by Tom Raney). Last, but certainly not least, Themysciran ambassador Troia is Donna Troy's debut in the Young Justice universe! Donna made her comics debut as Wonder Girl in The Brave and the Bold #60 (written by Bob Haney and penciled by Nick Cardy, read The Brave and the Bold #60 here) and took on the Troia identity in New Titans #55 (written by Marv Wolfman and penciled by George Perez). 
Simon Ecks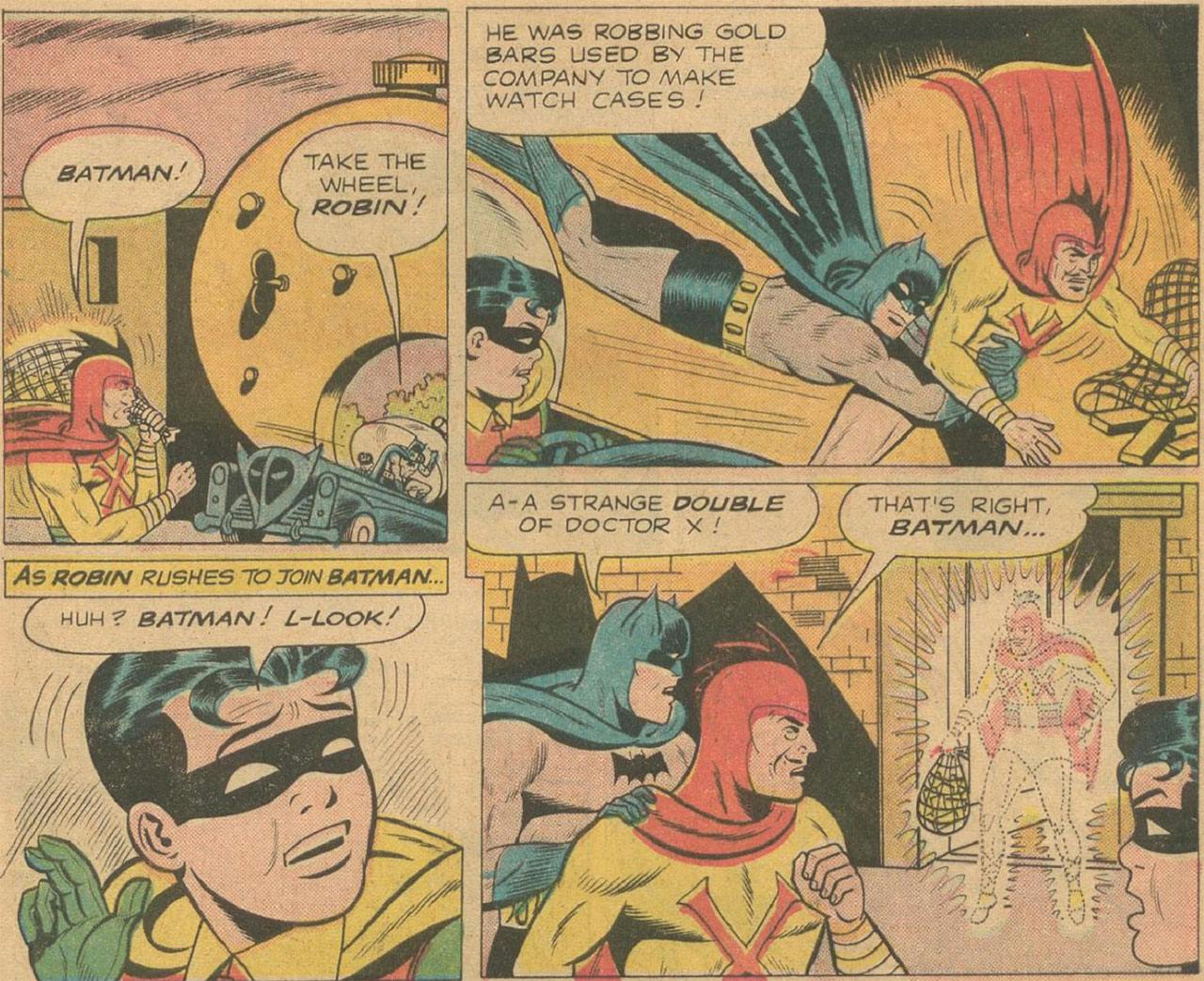 Simon Ecks, the geneticist working for Baron Bedlam, dates all the way back to 1958's Detective Comics #261 (written by Dave Wood and penciled by Sheldon Moldoff). Simon was a Batman rogue known as Doctor X, who had the power to create an energy twin of himself. 
Helga Jace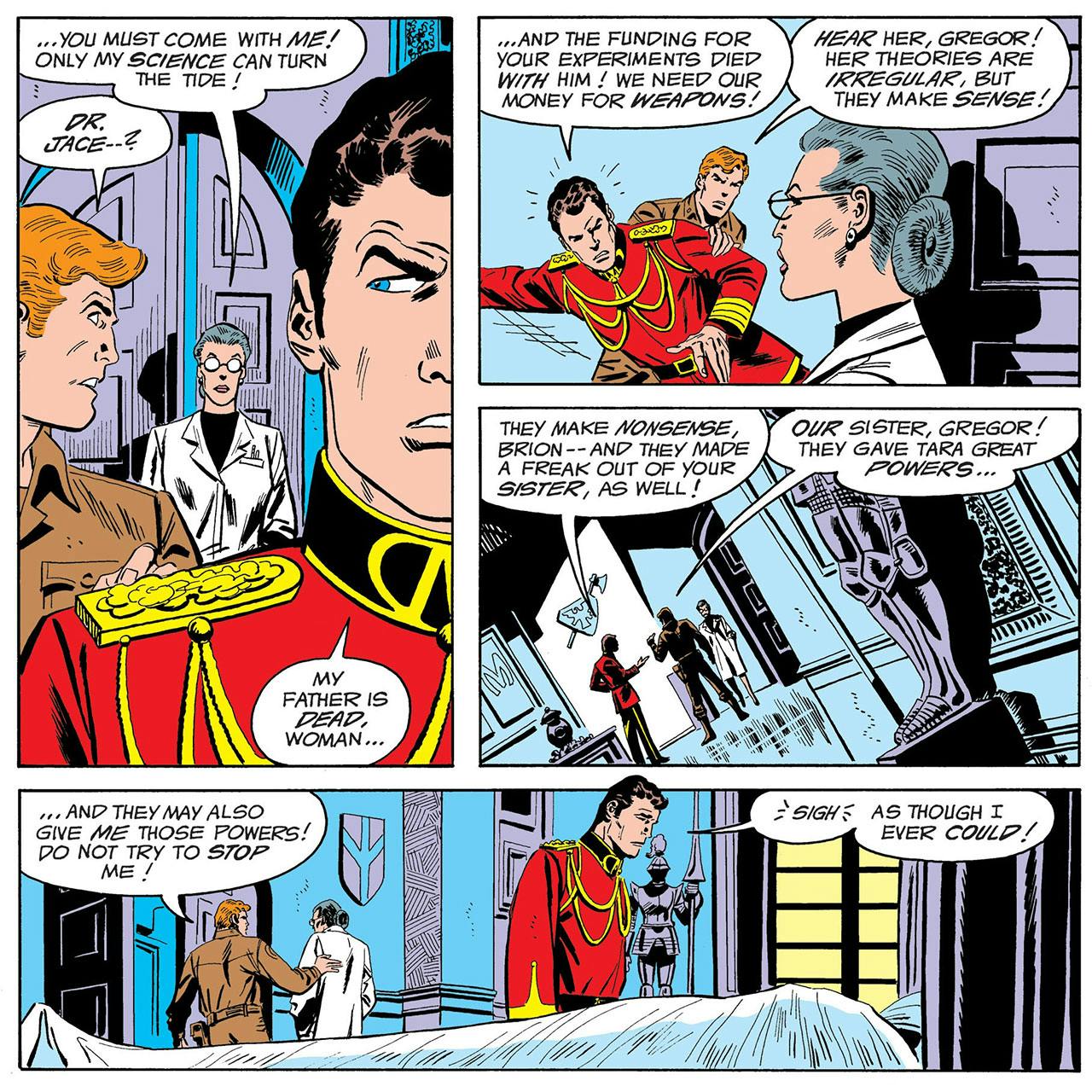 Dr. Helga Jace's depiction in Young Justice: Outsiders is very similar to that of her comic book counterpart. First appearing in Batman and the Outsiders #1, Dr. Jace is the royal family's physician, whom Brion pressures into giving him powers so he can stop the coup from Baron Bedlam. 
Nikolas Stofka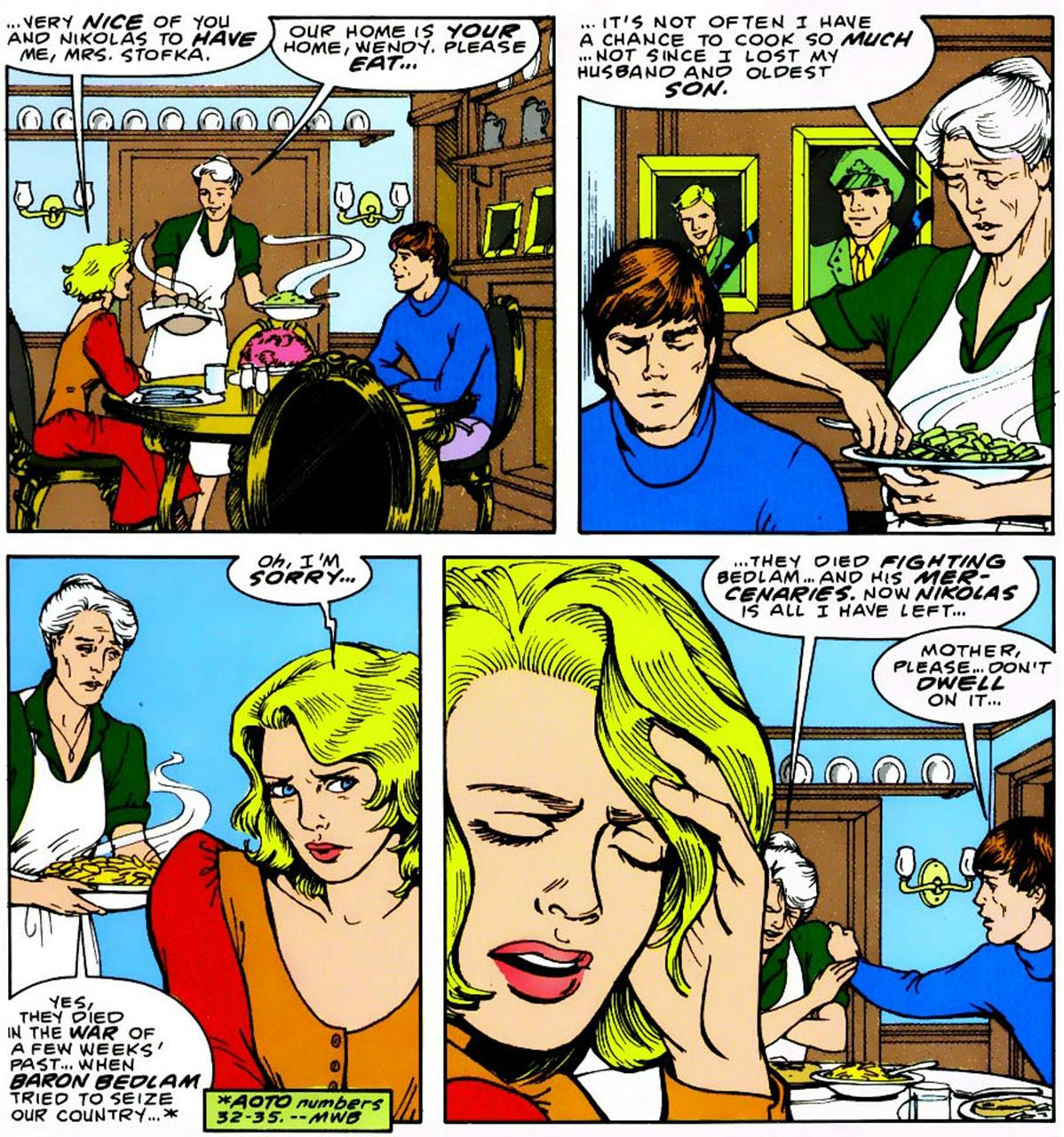 The old man who shot Plasmus is Nikolas Stofka. His comic counterpart was a much younger man whom we met in Outsiders #14 (in a backup story written by Mike W. Barr and penciled by Mary Wilshire). He was a Markovian youth who befriended the hero Windfall and helped her escape a group of angry villagers. 
Halo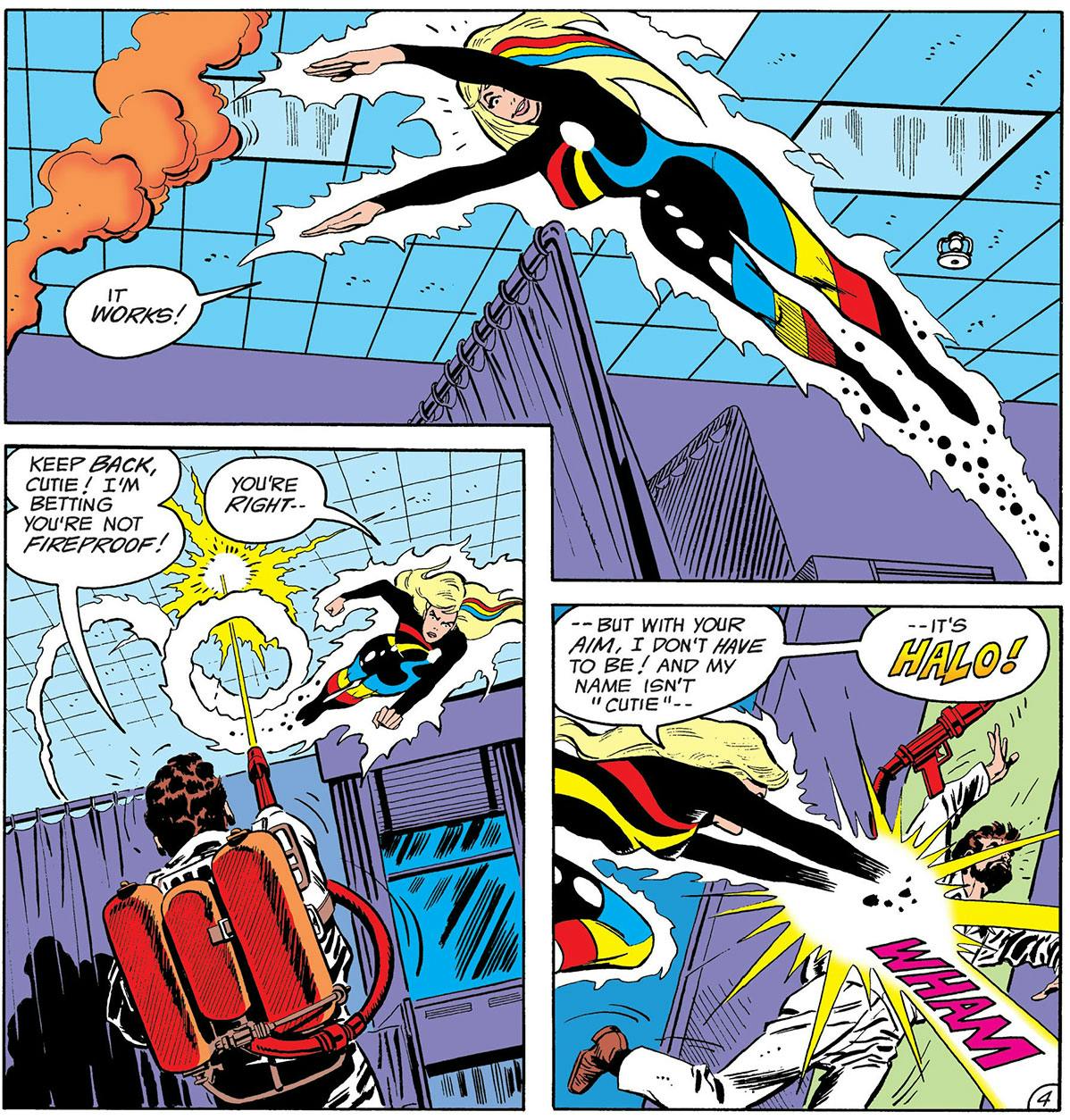 In "Royal We", Artemis rescues a youth from being buried alive by metahuman traffickers and is soon shocked to discover she possesses light-based powers. The youth Artemis names "Halo Girl" is based on Halo, whom readers first met in The Brave and the Bold #200 (written by Mike W. Barr and penciled by Jim Aparo). Batman first met the amnesiac Halo under similar circumstances when he and Black Lightning head to Markovia in Batman and the Outsiders #1. Luckily for Batman, the comics version of Halo knew English. 
Spyral Tech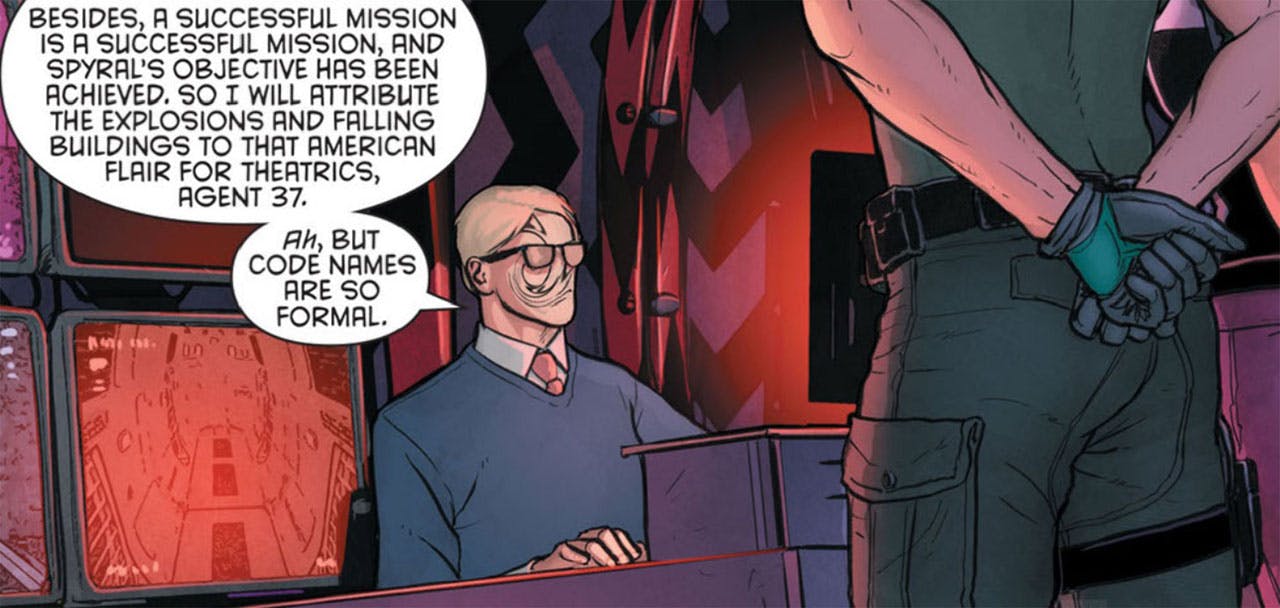 While in covert ops mode, Alpha Squad disguises their faces using some sort of blurring effect. This practice was a common tactic from the organization Spyral, who was first seen using it in Grayson #1 (written by Tom King, Tim Seely, and James Tynion IV,  and penciled by Mikel Janin, read Grayson #1 here).
Steve Lombard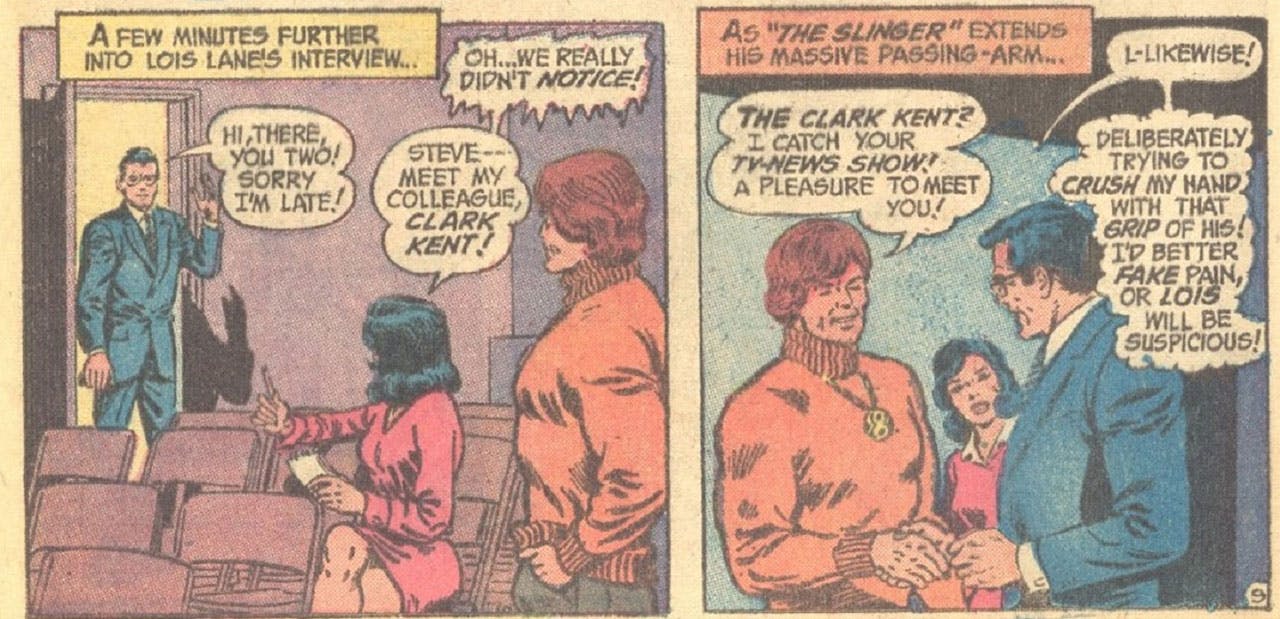 During the opening sequence for "Eminent Threat" a few different television shows are advertised, including a sports show by Steve Lombard. Steve was a former athlete turned sportscaster who first met Lois Lane and Clark Kent in Superman #264 (written by Cary Bates and penciled by Curt Swan). Steve was convinced he was the ultimate ladies man, and took every opportunity he could to try to impress Lois and show up Clark. He was rarely successful at either. 
Courtney Whitmore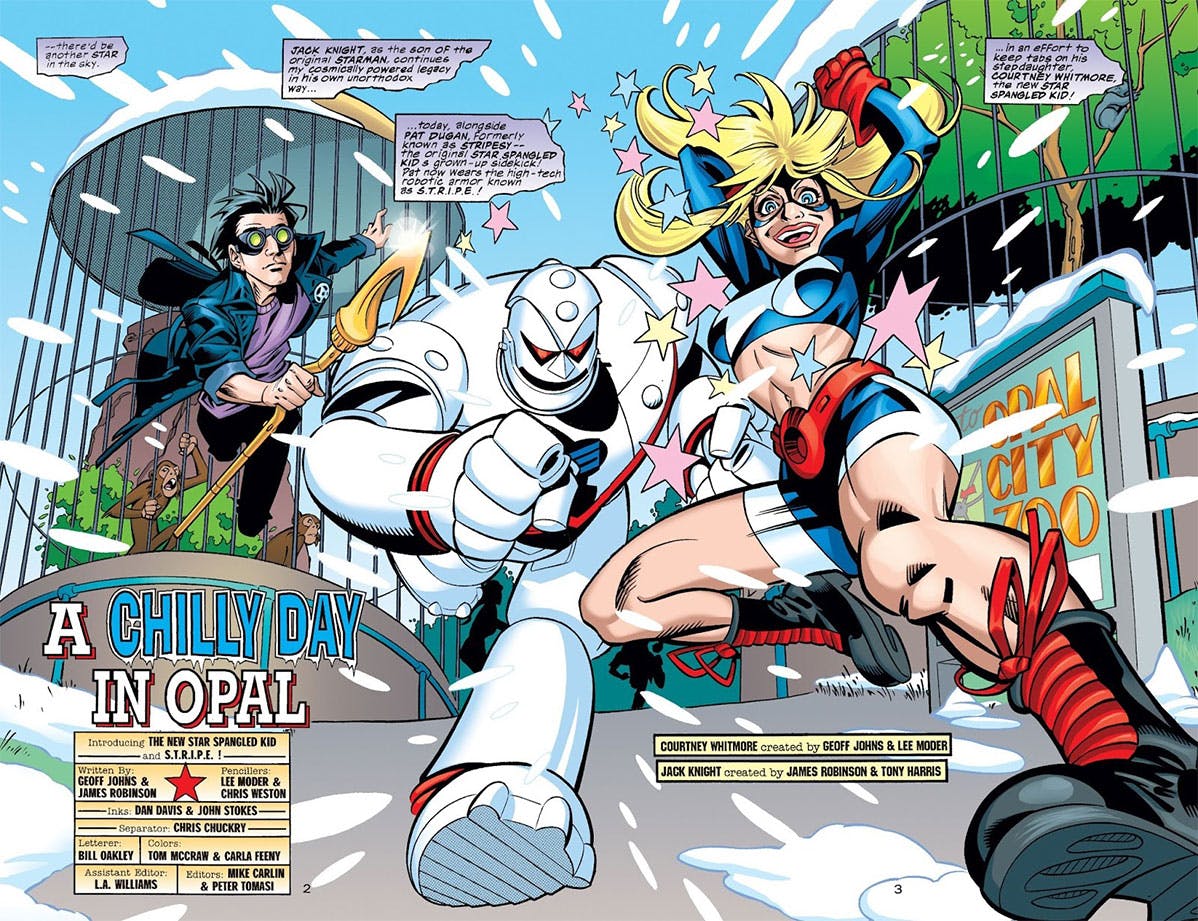 The host of the Star Girl program is none other than Courtney Whitmore, who becomes theyoung heroine Stargirl in the comics. DC readers first met Courtney as the Star Spangled Kid in Stars and S.T.R.I.P.E. #0 (written by Geoff Johns and James Robinson, penciled by Lee Moder and Chris Weston, read Stars and S.T.R.I.P.E. #0 here). If you were intrigued by Courtney, you'll be happy to know she's headlining her own live-action Stargirl series later this year! 
Are you a Young Justice fan? Let us know in our Community!