#WeAreAllOutsiders! Beast Boy's new team has already taken the nation by storm, but this week the Outsiders went global and rescued a group of new metas imprisioned in Cuba, helping prevent an international incident. Not only has Miss Martian's "kid brother" grown up, but he's proven to be quite the leader! Each week we've been taking a look at all the comic book references scattered throughout every episode, so let's take a look at all the Easter eggs in the 'Young Justice: Outsiders' episode "Early Warning."
Halo's Struggle with Mortality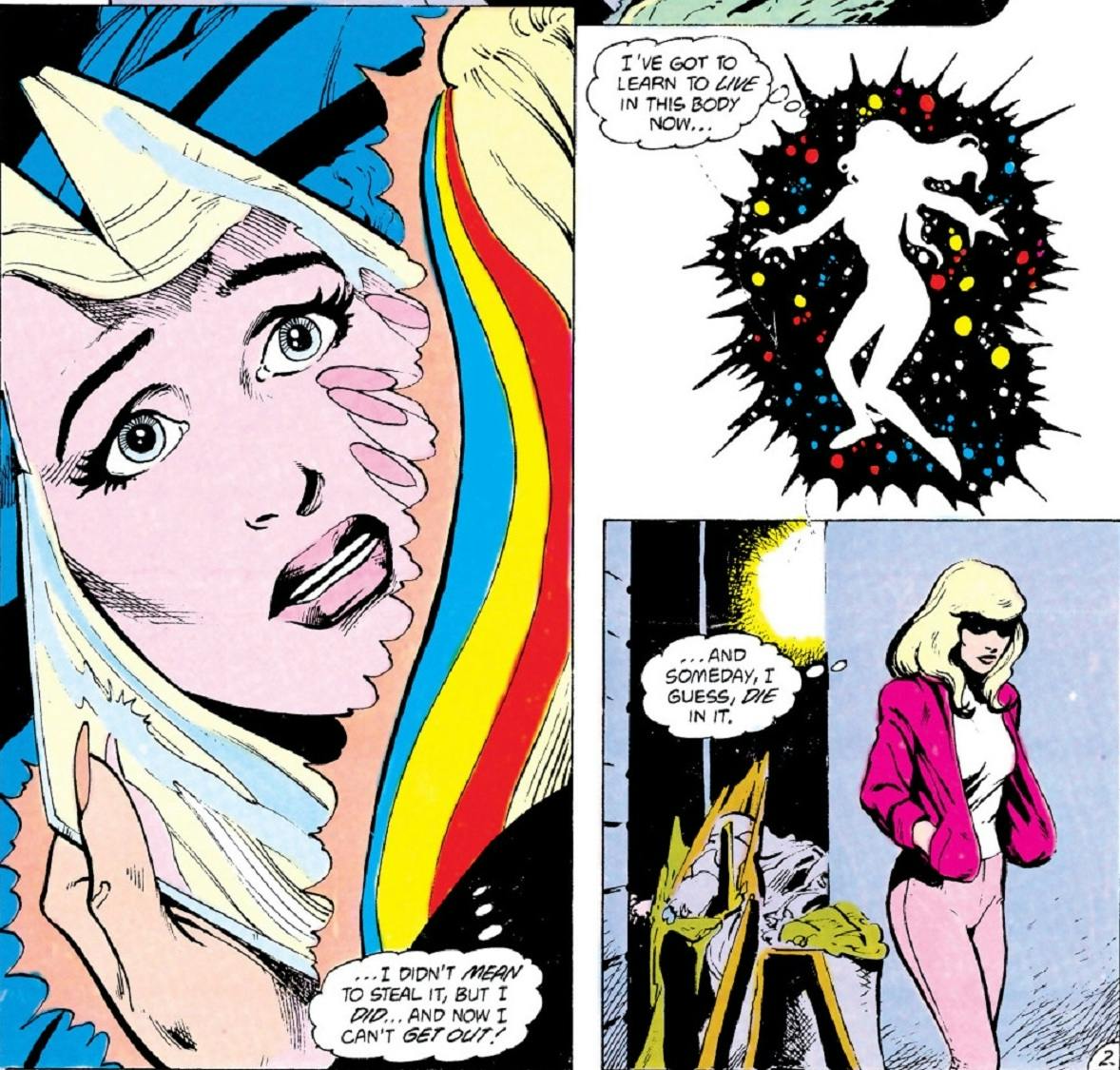 Things haven't been easy for Violet lately, and they didn't get any easier this week after Dr. Jace told her she was dying. Halo had a hard time coming to terms with her impending death, and began acting out with her classmate Harper Row. Halo's comic book counterpart had her own difficulties coming to terms with her mortality, as chronicled during a storyline in writer Mike W. Barr's classic 'Batman and the Outsiders' run. Halo had been amnesiac for the Outsider's earliest adventures, until she learned that she a light based creature called an Aurakle, trapped in the body of a human girl. Although Halo didn't want to give up her new body, her regained memories led to her having an existential crisis. As an Aurakle she was immortal, but as a human she was going to die one day, and that thought terrified her. Like her screen counterpart, the comics' Halo acted out until she could come to terms with her fate. She joined a cult, and begin a whirlwind romance with another cult member. Thanks to her Outsiders teammates, Halo was able to make peace with her mortality and embraced her life as a teenage superhero. Hopefully her screen counterpart will be able to find similar peace, and without the help of a dangerous cult!
Heckuva School Commute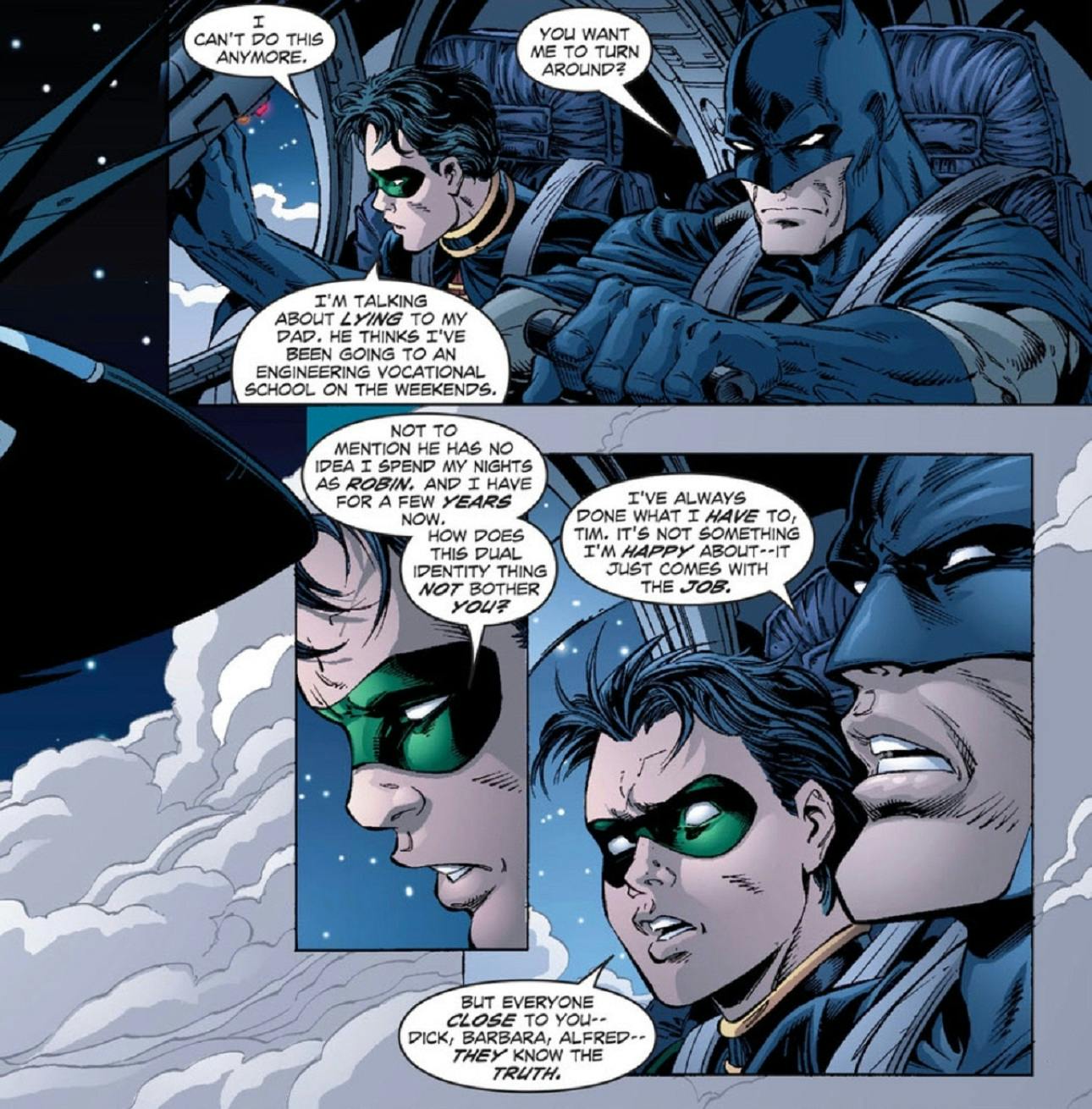 It's never easy for a teenager to wake up early for school, and it's even harder when you have to deal with a 3-hour time difference. Although the Outsiders are headquartered in California, they're still attending high school on the East Coast back in Happy Harbor. While it might be easier to change districts, the teens don't want to give up their new social circle, so now they face a commute from California to Happy Harbor for school, forcing them to wake up at 4am. While this arrangement may seem odd, the Teen Titans had a similar arrangement during the early issues of their 2003 Geoff Johns-written series. Titans Tower was located in California, but many of the heroes still attended high school in their East Coast series. While Beast Boy's Outsiders are able to use Boom Tubes to teleport from state to state, the Teen Titans were forced to rely on long airplane trips for their commutes. Robin had a hard time balancing life on two different coasts, and shared his frustrations with Batman in 'Teen Titans' #7 (written by Johns and penciled by Tom Grummett). Being a superhero is tough, but being a teenage superhero comes with a completely different set of challenges.
Bethany Lee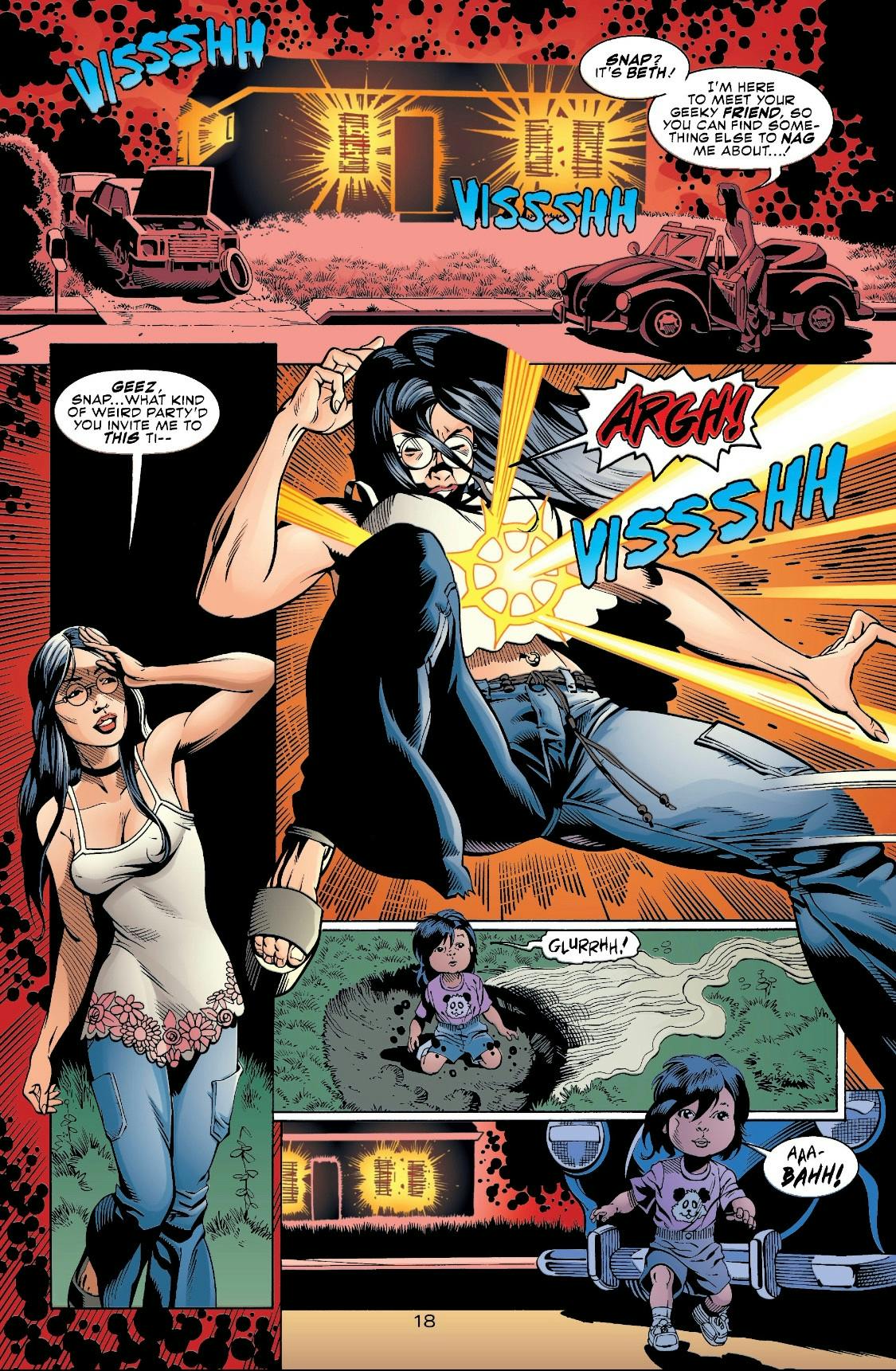 The Happy Harbor officer who brought Violet home was named Bethany Lee, and she has a special connection to Lucas "Snapper" Carr, another Happy Harbor resident who has been featured frequently in this series. Bethany Lee first appeared in 1999's 'Hourman' #1 (written by Tom Peyer and penciled by Rags Morales), where a stray chrono-blast de-aged her to a toddler. Although she was able to become an adult again, her association with Snapper caused her to be put in the crossfire of more than one superhero skirmish. Bethany's mother was a police chief, so it seems that her screen counterpart has decided to follow in her mother's footsteps. Bethany and Snapper were married for a time, but it didn't work out. Since Snapper and Bethany are both in Happy Harbor, perhaps 'Young Justice: Outsiders' will give their relationship a chance to work out in a different medium.
Good as Garcia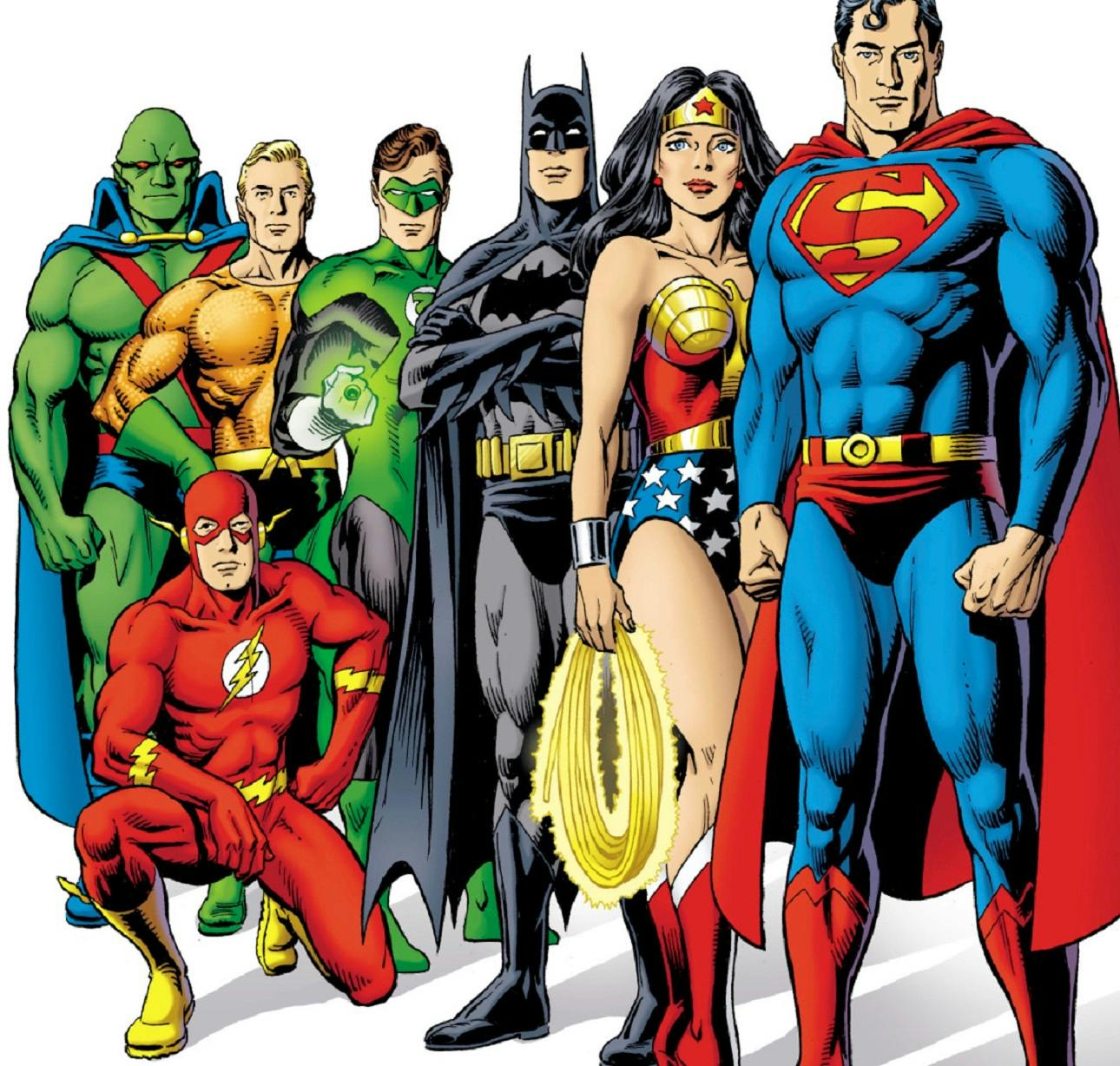 This week, Beast Boy and his Outsiders helped rescue a young metahuman named Luis Garcia. The lad's name was a tribute to Jose Luis Garcia-Lopez, one of DC Comics' most iconic artists. Throughout his famed career, Garcia-Lopez has drawn stunning images of Batman, Superman, Wonder Woman and the many of DC's greatest heroes and villains. His work was so extraordinary, that it was presented as a gold standard in DC's style guides. Licensing made extensive use of Lopez-Garcia's iconic drawings, and featured his artwork on tons of DC merchandise. His images served as the basis for the 1980s Super Powers action figure line. If you see an official DC product with Bronze Age art, chances are it's a Garcia-Lopez piece.
Oooh...Bracuda!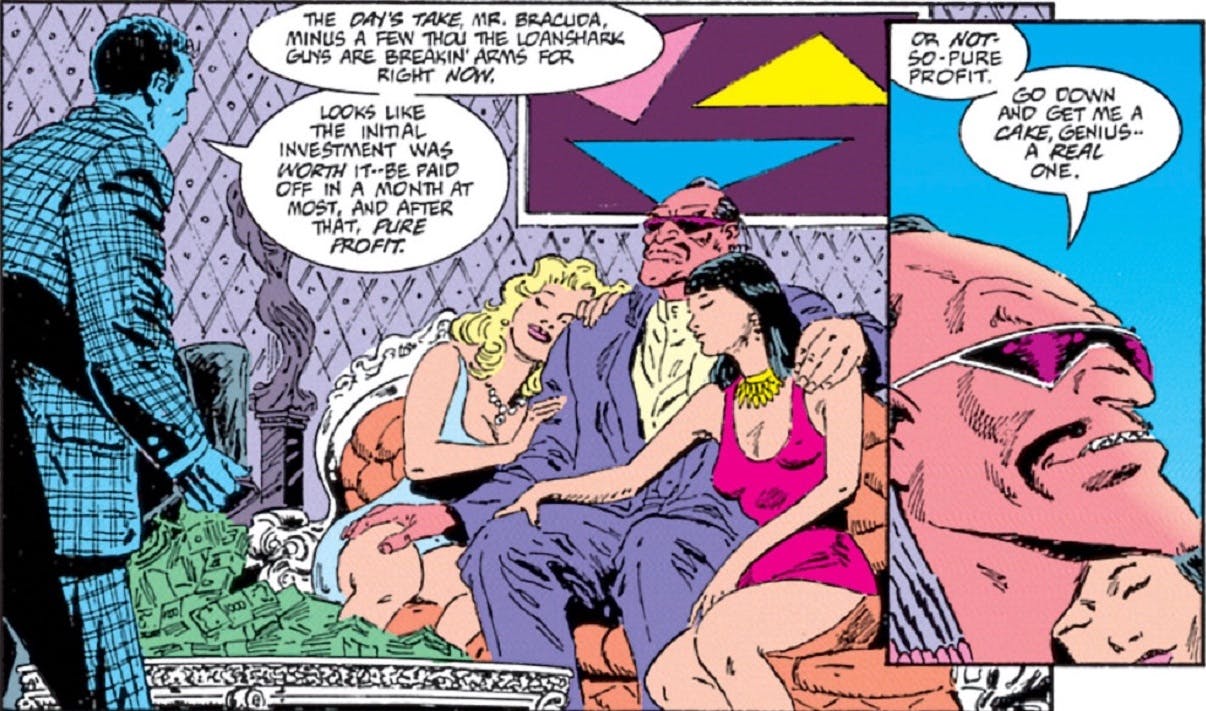 This episode featured a Cuban military colonel named Ramon Bracuda, who has his roots in a 1993 Robin/Catwoman team-up story. Bracuda first appeared in 'Showcase '93' #1 (written by Doug Moench and penciled by Ed Hannigan), when Robin and Catwoman joined forces to take on his criminal empire. At least his animated version made better life decisions, choosing the military over a career in crime!
Dolphin Safe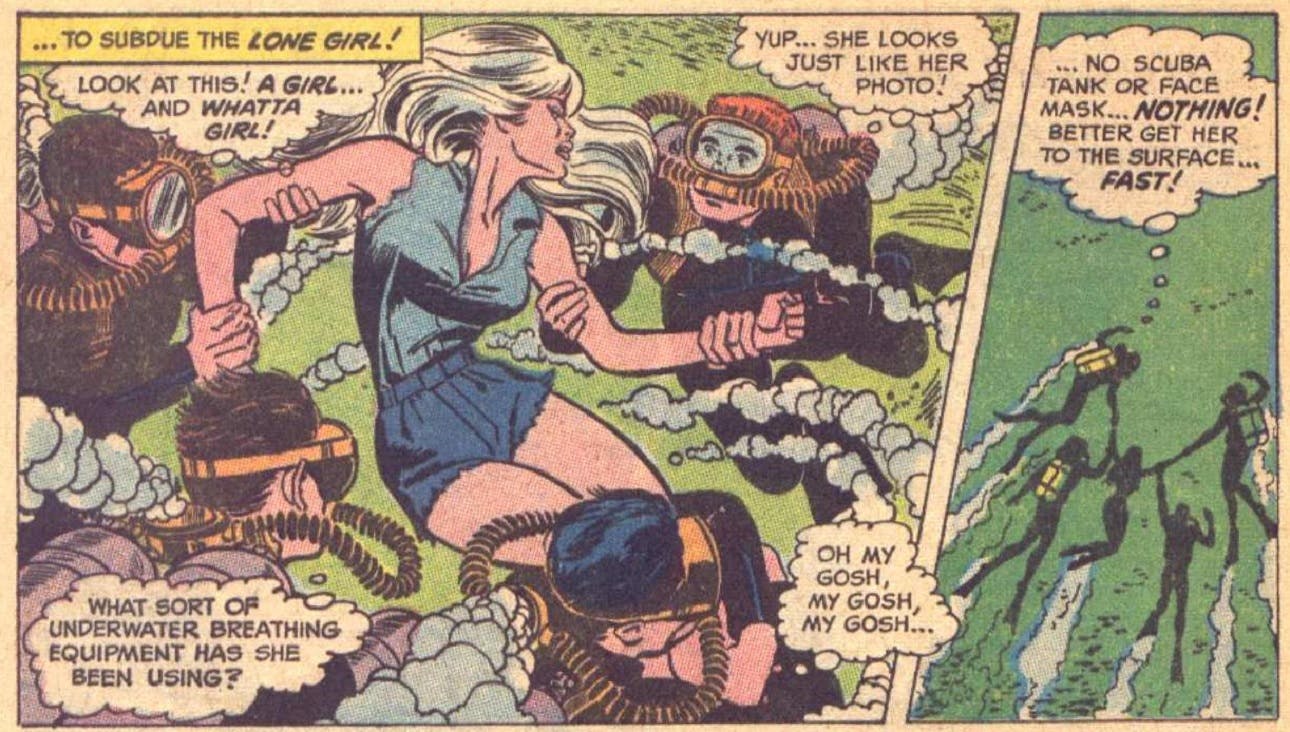 In addition to Luis Garcia, Gar also saved a water-breathing silver-haired girl by turning into a dolphin. Although this young lady wasn't named, her water-based powers and appearance have led viewers to hypothesize that she's the classic DC character Dolphin. The graceful Dolphin first appeared in 'Showcase' #79 (story and art by Jay Scott Pike), where she startled a group of divers with her ability to survive underwater without scuba equipment. Writer Peter David brought Dolphin in as a central character in his legendary 1990s 'Aquaman' run, where she became involved in a love triangle between Aquaman and Aqualad. She eventually chose Aqualad, who graduated to the identity of Tempest, and the two married and had a child.
The other teenagers with Dolphin weren't identified, but there are currently a few theories about who they are. Head on over to our Community and put your guess in. Maybe future episodes will prove you right!
16 Watch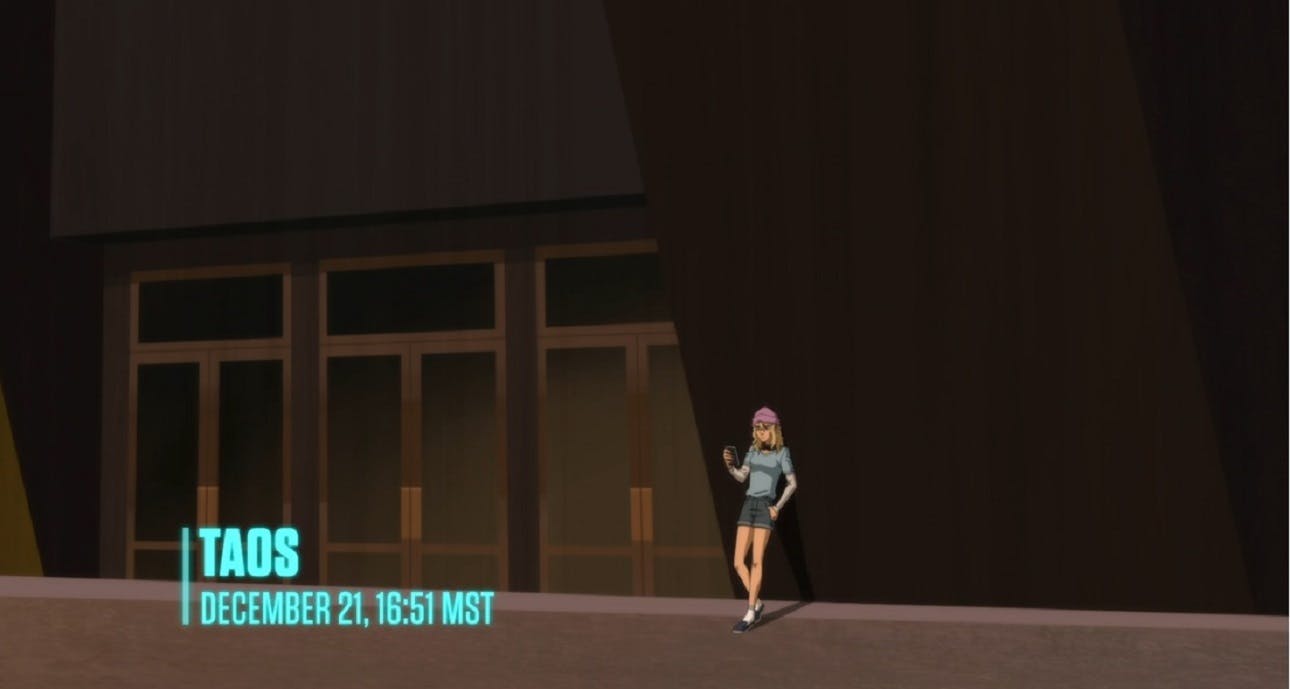 Did you know that the number 16 is hidden throughout every 'Young Justice' episode? This week the number was used during the timestamp when the team took the new metas to the youth center in Taos. Sometimes the number shows up more than once per episode. So keep your eyes opened – you may find a few we missed!
Honorable mention: Did anybody notice Beast Boy turning into a hornet? Even Static couldn't resist making a Green Hornet joke.
Did you catch any Easter eggs we missed this week? Let us know in our Community!