It's going down, we're yelling, "Timber!" Is anybody else still pumped from the latest episode of DC Universe's Stargirl? The Justice Society took on Sportsmaster and Tigress, and it was AWESOME! In addition to a lit fight scene, this episode also gave us some deep dive Easter eggs -- so let's break down all the things we found in "Justice Society."
WHAT A CROCK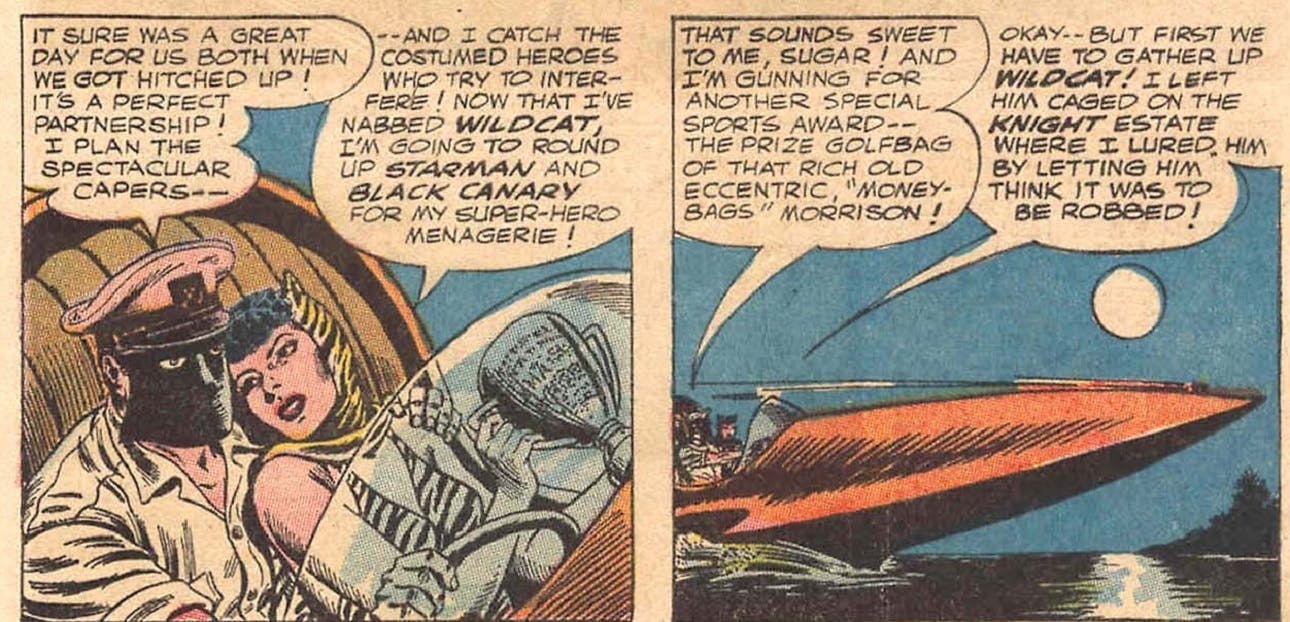 Here's a hot take – Tigress and Sportsmaster have a better marriage than Pat and Barbara Dugan. Think about it, they have no secrets from each other, and are perfectly in sync when it comes to raising their daughter Artemis. The villainous gym rats first met when they joined the Injustice Society in All-Star Comics #41 (reprinted in Justice League of America #113). There was no apparent love connection at the time, so you could imagine Black Canary's surprise when the two revealed they were married in The Brave and the Bold #62. The villains explained that they had bonded over their love for hunting heroes, which led to them getting hitched. Their daughter Artemis was introduced in Infinity Inc. #34, bringing Crock villainy to the next generation.
BOXING CHAMP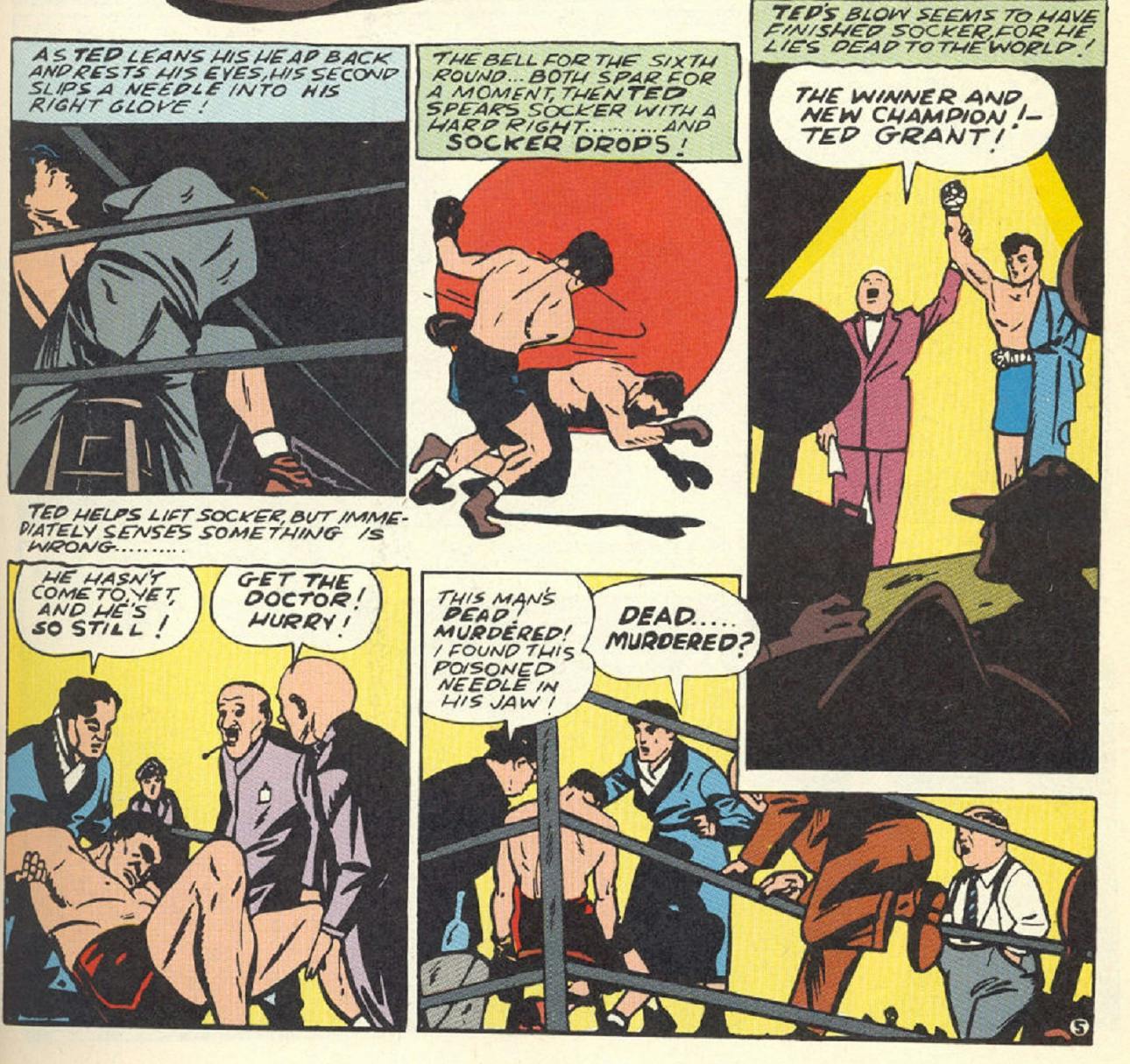 Yolanda Montez might be grounded, but that didn't stop her from sneaking a phone to school and showing Courtney some footage from Ted Grant's greatest fights. While Courtney was watching Ted kick some butt, Yolanda told the story of how Ted was framed for fixing a fight, and was able to clear his name. Yolanda is referring to Wildcat's origin story from Sensation Comics #1, but she's actually underselling what happened. Ted was accused of doing more than fixing a fight – he was arrested for murdering his opponent! Luckily Ted was able to catch the real culprits, in an adventure which officially kicked off Wildcat's career.
CALVIN COLLEGE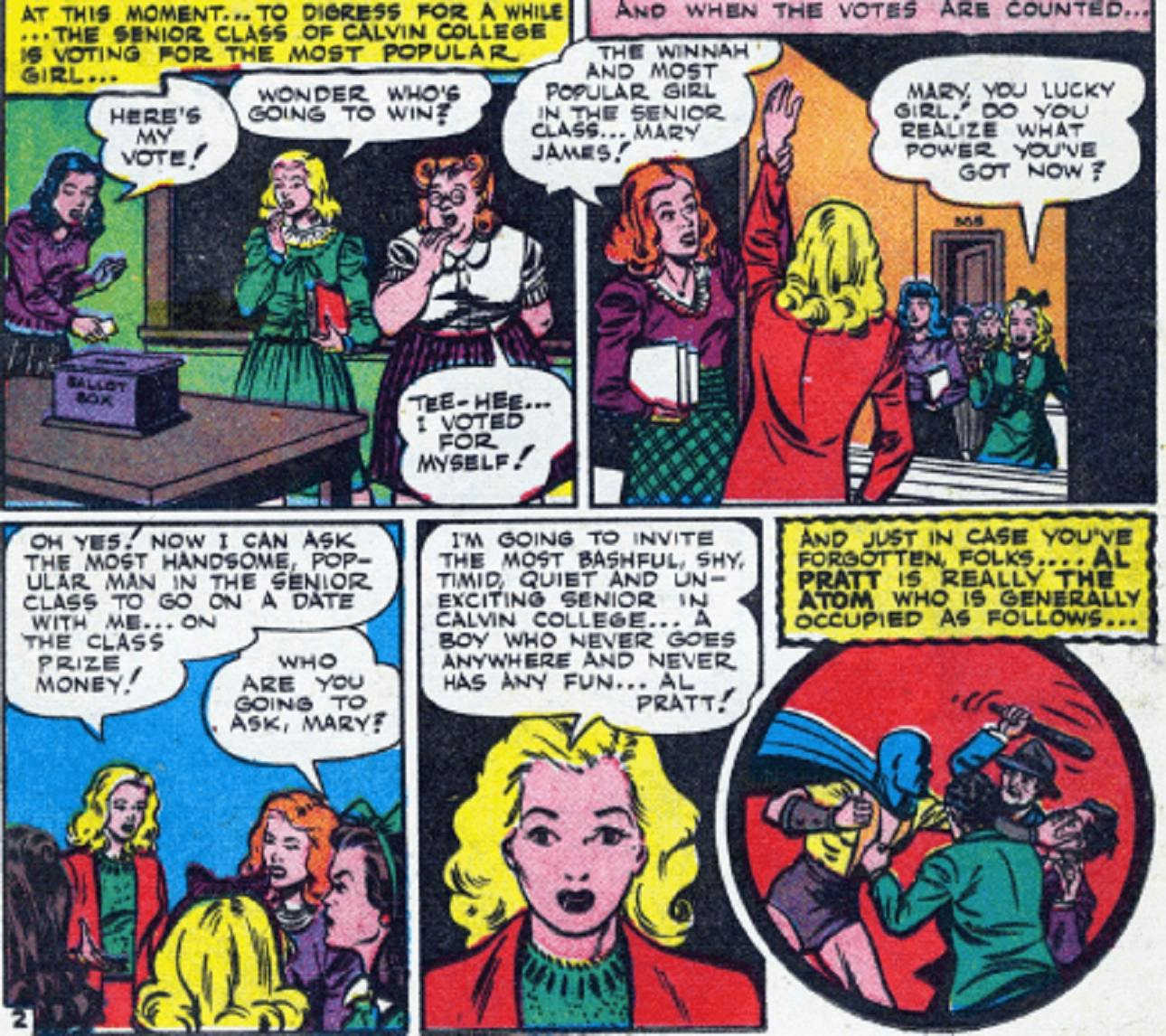 While he was trying to crack the code in Rex Tyler's journals, Rick mentioned Calvin College. The prestigious university was first seen in All-American Comics #19 during the Atom's debut. The Golden Age Atom didn't have shrinking powers like his successors, he was just short and strong. Despite his stature, the Atom was an important part of the Justice Society's early stories, serving as a founding member. Calvin College served as a backdrop for most of his early stories, as the preppy student body teased poor Al Pratt (the Atom's secret identity) about his height.
RED DEVILS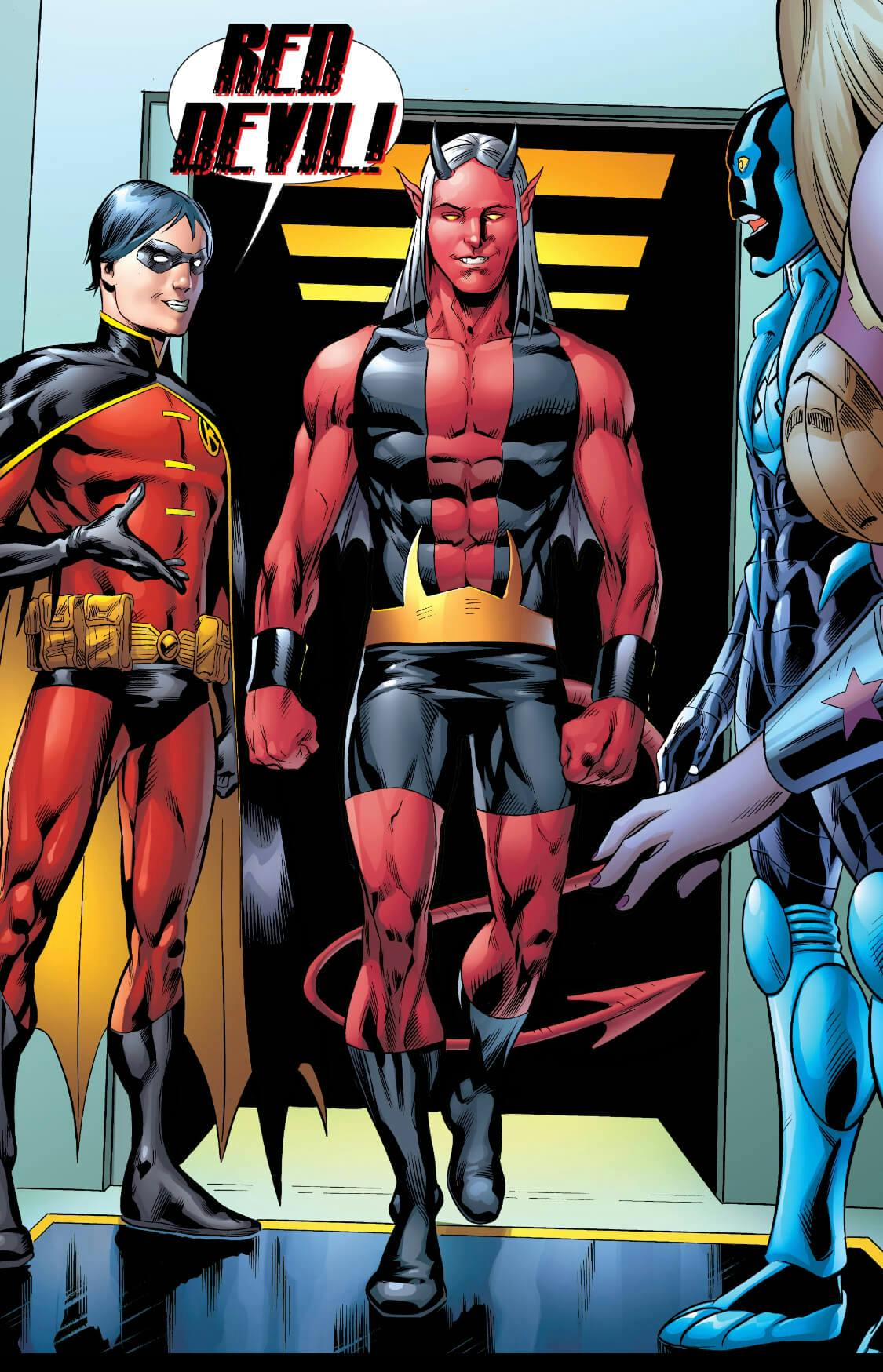 Speaking of schools, this episode took us to Blue Valley Middle School for Mike's science fair. It was hard to take our eyes off of Mike's sugary volcano, but if you did you might've noticed a Red Devils logo. This is a reference to Eddie Bloomberg, a character writer-producer Geoff Johns rescued from obscurity during his Teen Titans run. Eddie was originally a supporting character in Blue Devil, who suited up to help his mentor as the sidekick Kid Devil. Kid Devil was just a kid in a devil suit who had no powers of his own, until he was reinvented in 2006's Teen Titans #34. Kid Devil had been powered up by a Faustian deal, changing his appearance so he no longer needed a costume. By 2008's Teen Titans #61 he had worked out some of his personal issues, and changed his moniker to Red Devil. It appears that during his journey of self-discovery, Eddie also became a middle-school mascot. Dream big.
LET'S ALL GO TO THE LOBBY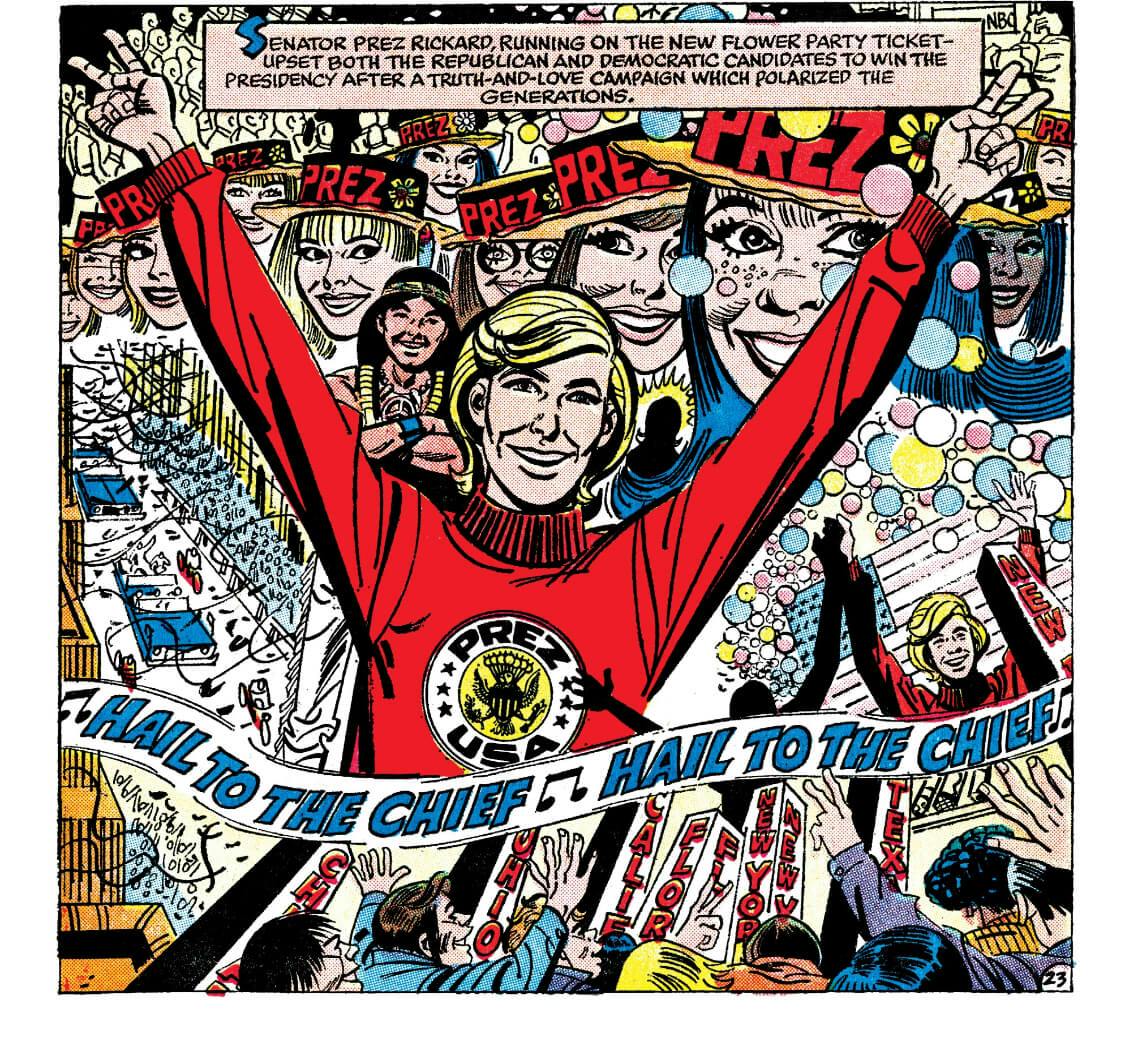 Blue Valley's downtown movie theater continues to be a treasure trove of Easter eggs! Truth be told, we could spend an entire article talking about nothing but the movie posters and marquee! This week that marquee featured a movie called Strange Adventures, a reference to DC's science fiction anthology title. And while we shouldn't expect a Strange Adventures motion picture in theaters anytime soon, a streaming series from HBO Max has been announced.
We also got movie posters for Prez, the Unknown Soldier, and GI Robot. Prez was a short-lived DC series that explored what would happen if an 18-year-old became President. It's even more bizarre than you're imagining, and we recommend reading it. The Unknown Soldier was a war feature that began in Our Army at War #168. GI Robot is exactly what you imagine – a robotic soldier! If you're looking for something fun to watch until the next episode of Stargirl drops, check out the Batman: The Brave and the Bold episode "The Plague of the Prototypes" to see GI Robot and the Caped Crusader fight Nazis. For a high-res look at the movie posters, check out this Twitter post from Stargirl Aftershow.
CRACK THE CODE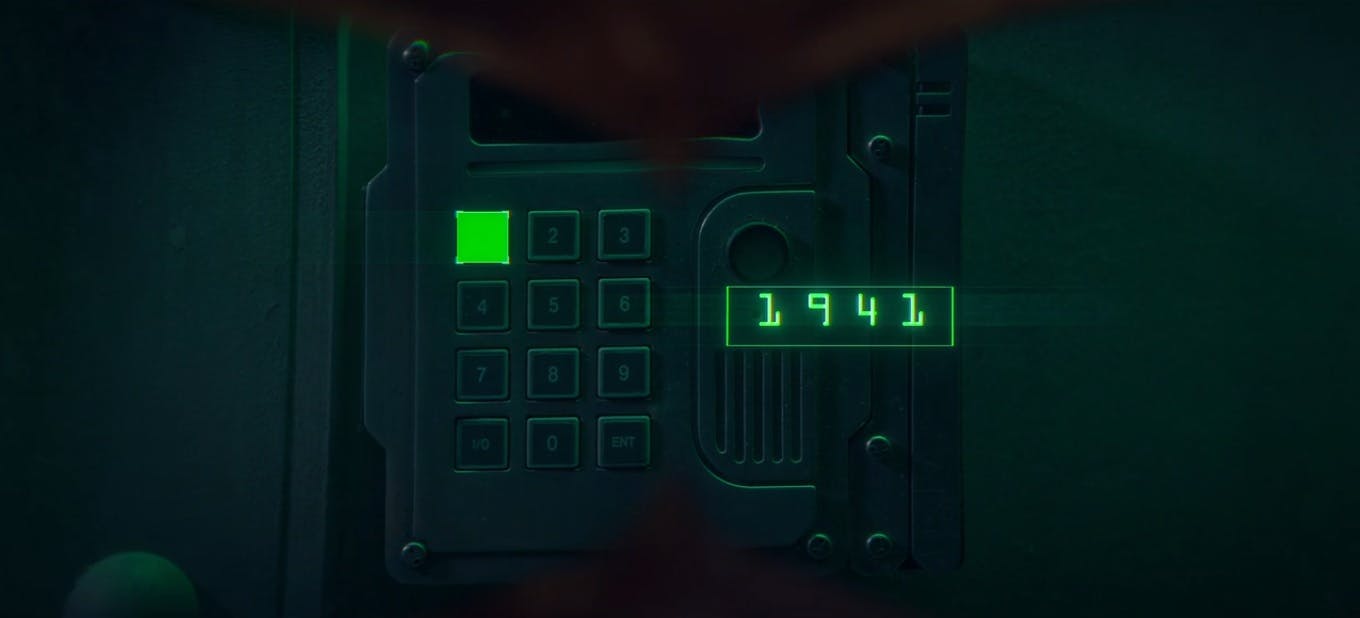 Were you paying attention to the access code when the Justice Society entered the Empire Enterprises building? The code was 1941, an Easter egg that the show has used a few times. 1941 was the year that the Star-Spangled Kid and Stripesy debuted, and the year the Justice Society was founded. So it's only fitting that the year is referenced during the new team's first mission together.
That was intense, and we're just getting started! Don't forget, "Shiv Part One" airs next week, and we have a feeling this episode is going to be a big one.
Did you catch any Easter eggs we missed? Let us know in our Community!