Things are building up to a big finish on DC Universe's Doom Patrol. This week's episode "Flex Patrol" featured the Man of Muscle Mystery himself, Flex Mentallo! We flexed our comic fandom muscles to find some of the comic book references and Easter eggs sprinkled throughout the episode. Let's break them down…
The Duplicitous Doctor Saucer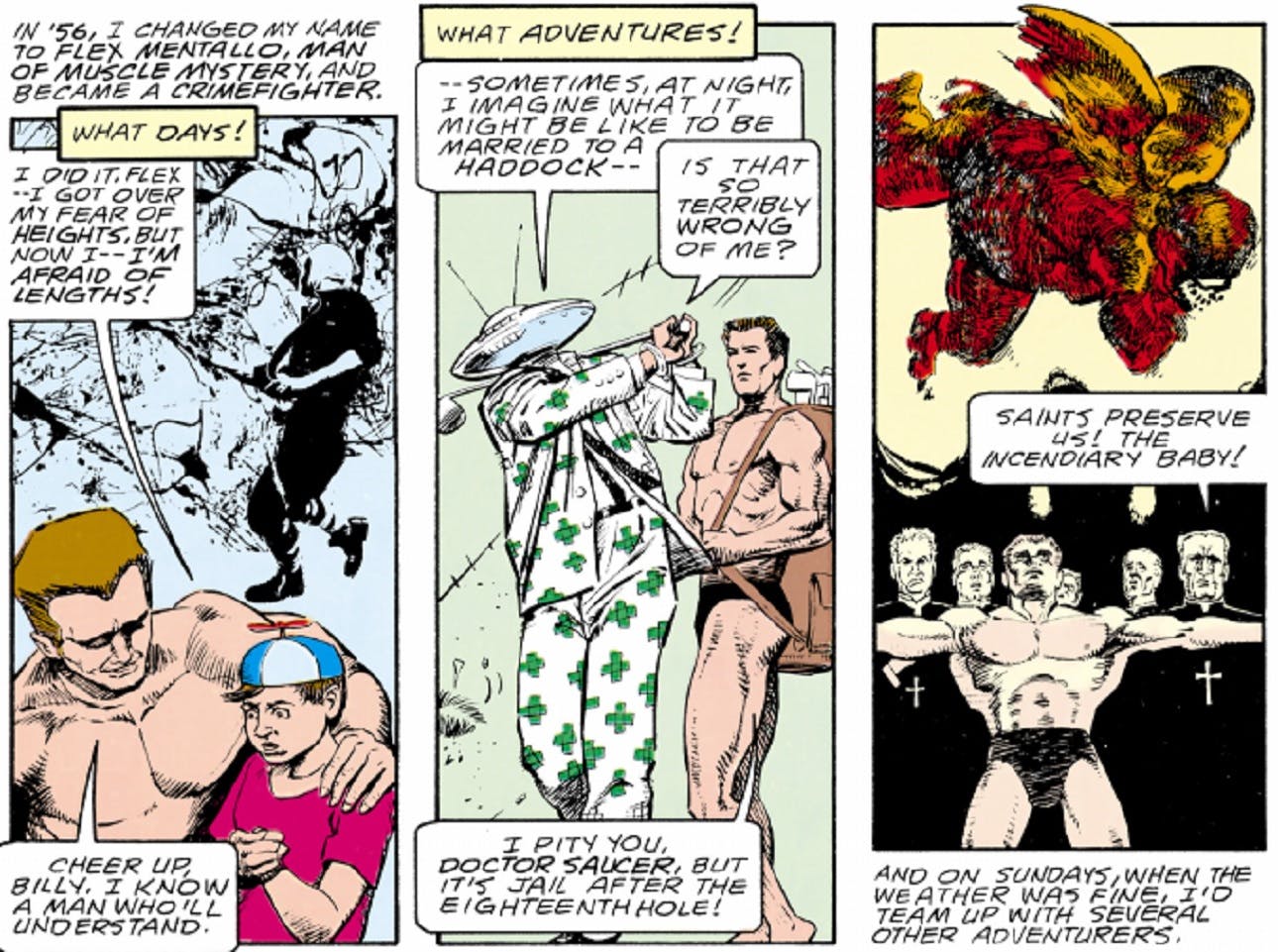 Viewers were treated to great intro sequence showing a peaceful afternoon for Flex and Dolores as they strolled through town for a picnic. Along the way an admiring fan gave Dolores a newspaper which marveled at Flex's recent battle with Doctor Saucer. Readers briefly met the oddball villain during 1991's Doom Patrol #42 (written by Grant Morrison, penciled by Richard Case and Mike Dringenberg) as Flex's old superhero life was expanded on. Apparently Flex and Doctor Saucer had a cordial enough rivalry that they were able to play golf between his arrests.
Wally Sage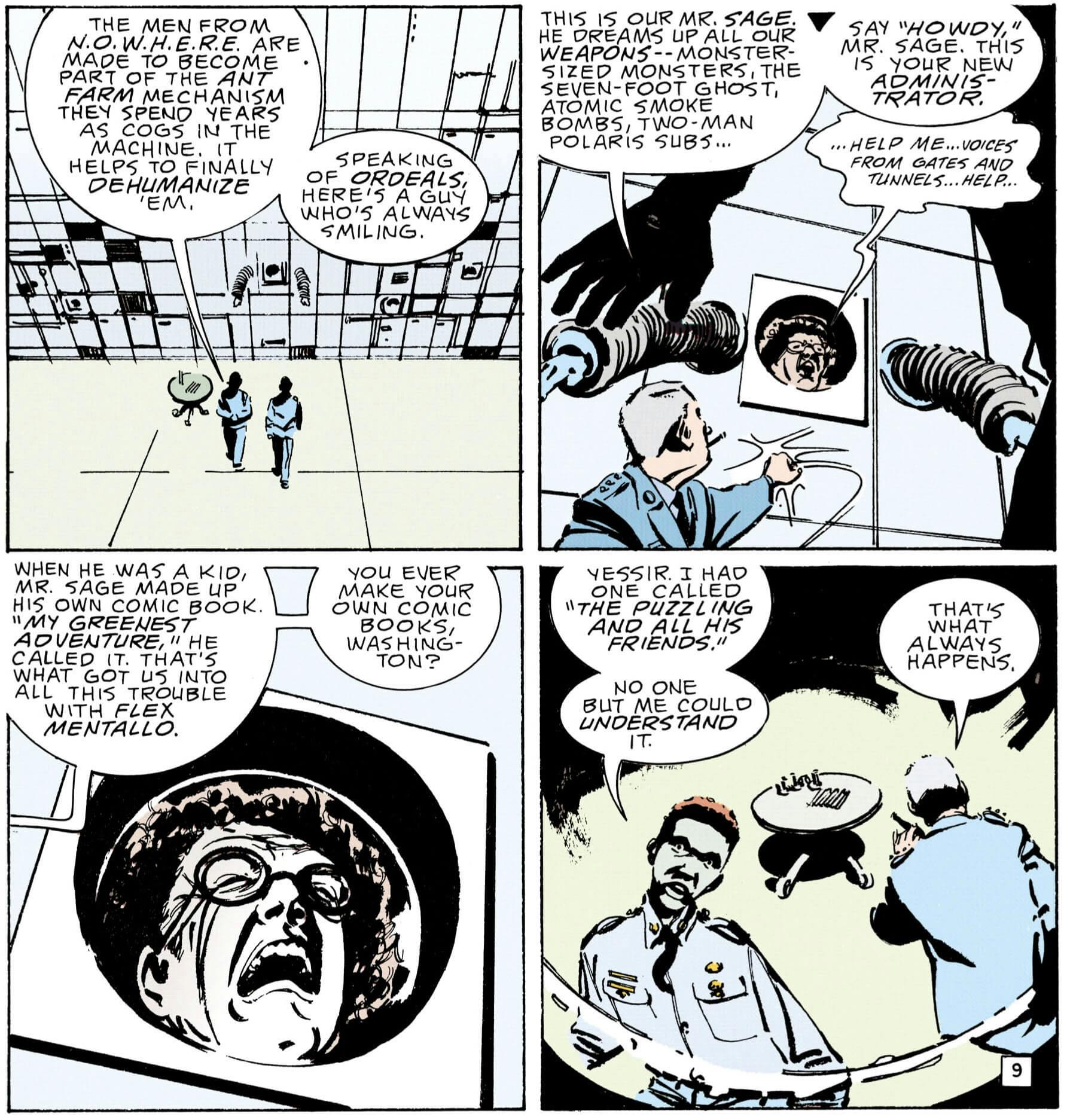 While Cliff and Jane are trying to jog Flex's memory, they mention an advertisement artist named Wally Sage. While the name doesn't ring a bell to the amnesiac Flex, it should mean something to longtime DC readers. Wally was first shown as a prisoner of the Ant Farm in 1991's Doom Patrol #43 (written by Grant Morrison, penciled by Richard Case and Steve Yeowell). As a child Wally was able to bring characters to life with his green crayon, which resulted in the creation of Flex. Unfortunately, Wally dies before he could escape the Ant Farm, but he was able to restore Flex to his full power before passing on. Did anyone ever find the green crayon?
Where is the Negative Spirit From?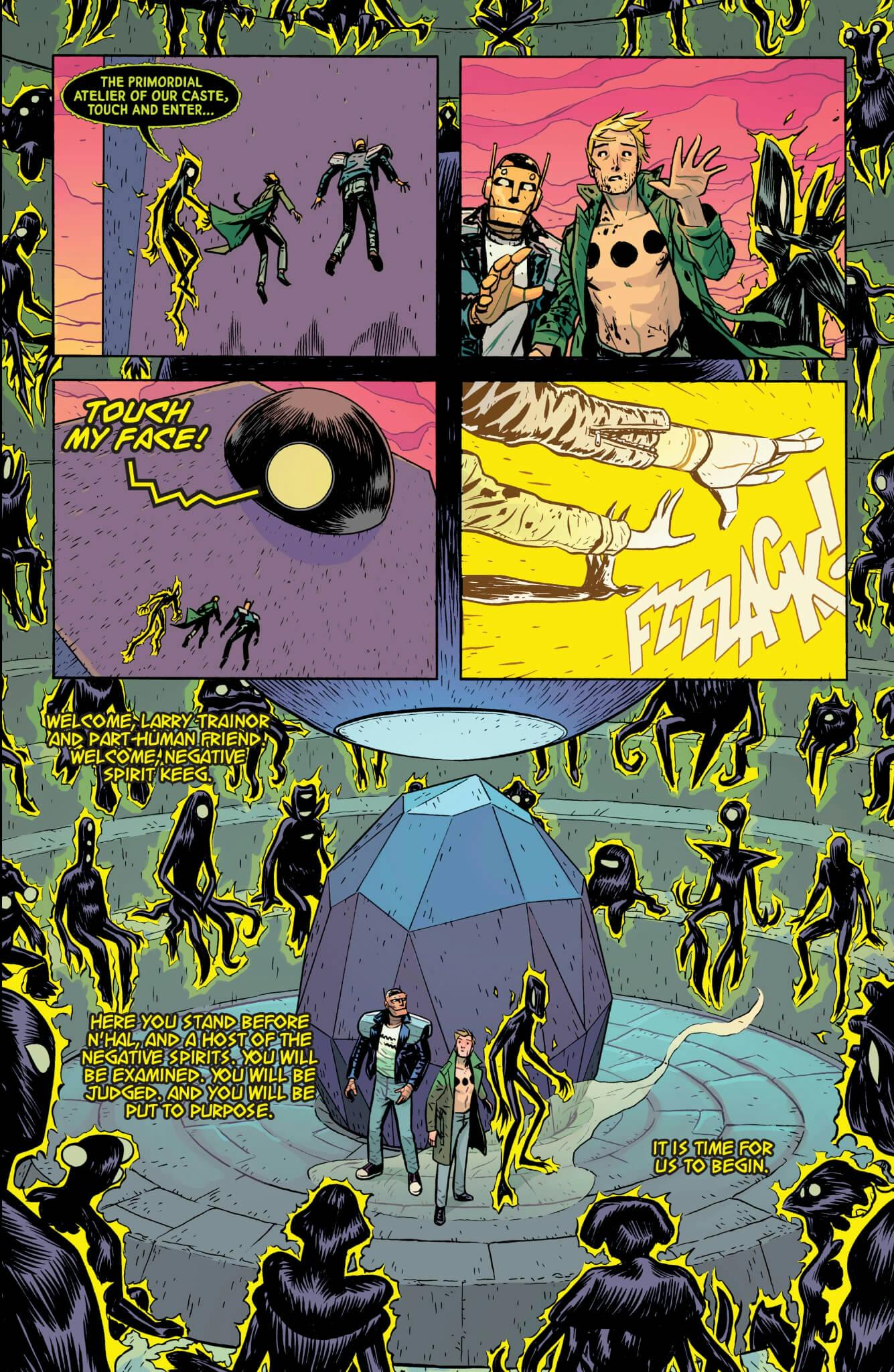 Flex Mentallo may not be the brightest member of the team, but he's the only one who thought of asking the Negative Spirit where he came from. Since we don't speak his language, we aren't sure what the Spirit answered, but Flex replied by asking if it was another dimension. Flex was absolutely right and readers got to visit it during 2017's Doom Patrol #4 (written by Gerard Way, penciled by Brandon Bird and Nick Derington). The dimension was called the Negative Space, and the Spirit brought Larry and Cliff there for a ceremony to reunite himself with Trainor. As you can see by the image above, the dimension was occupied by different Negative Spirits of all shapes and sizes. Is it considered rude that the Negative Spirit waited so long to introduce Larry to his home world?
Farewell Delores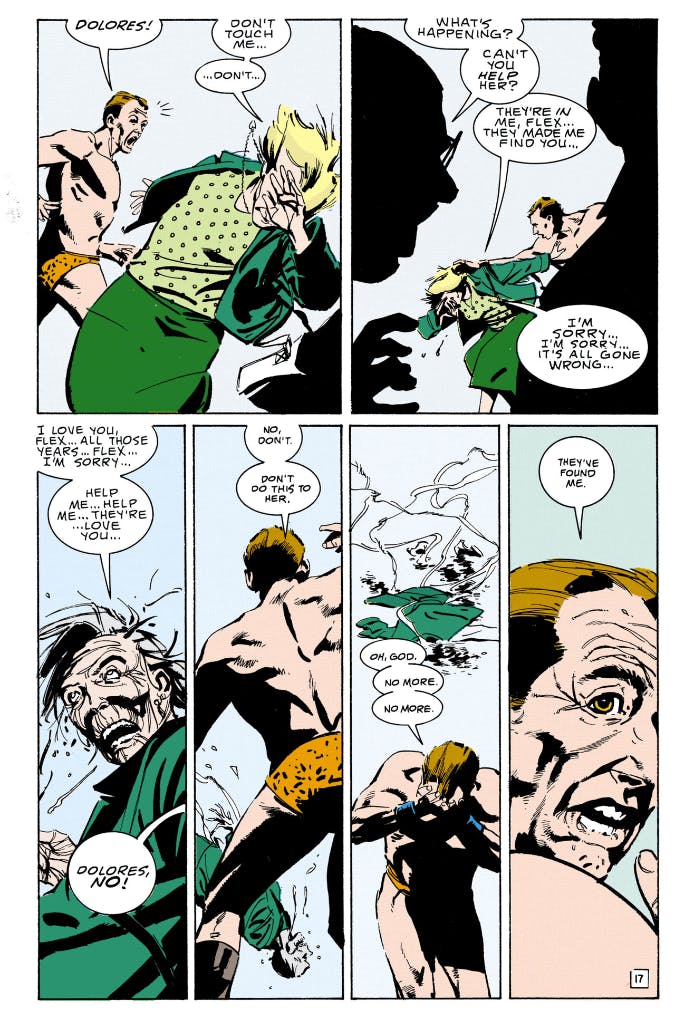 Poor Dolores, she only got to enjoy a brief reunion with her Flex before meeting her untimely end. Some viewers might feel her endgame is reminiscent of a marvelous motion picture, but the moment came straight from 1991's Doom Patrol #43 (written by Grant Morrison, penciled by Richard Case and Steve Yeowell). As we mentioned during our column for "Frances Patrol", the Bureau programmed Dolores to ensure she wouldn't have a happy ending. Upon finding Flex, her body was set to self-destruct in both the comics and television series; the poor girl can't catch a break in any medium. At least she got to see him flex his smile one last time.
Larry's Survival

One of the most interesting things about this season has been the exploration of Larry's relationship with the Negative Spirit. This week we learned just how dependent Larry is to the Spirit, with prolonged separation leading to his death. This goes back to an early core concept of Negative Man from his introduction during My Greatest Adventure #80 (written by Bob Haney and Arnold Drake, penciled by Bruno Premiani). In these early Doom Patrol stories, Larry was only able to be separated from the Negative Spirit for 60 seconds before he would die. This rule later got relaxed, presumably because Larry's body adapted to the powers. In 1987's Doom Patrol #3 (written by Paul Kupperberg and penciled by Steve Lightle), Larry's body is weak and comatose because the Negative Spirit has bonded with someone else. As time has gone on, Larry's dependence on the Spirit for survival has varied depending on their power level or the writer, but it's clear that keeping them apart is hazardous for Trainor's health!
Did you catch any Easter eggs we missed? Let us know in our Community!