Hola! You're one of the lucky few outsiders who've been chosen to experience the splendor of Themyscira! Virtually untouched by the horrors of man (give or take a Crisis or two), few places on Earth radiate with the natural grace and beauty of Paradise Island. The island's fascinating megafauna, rich culture and history, and boundless opportunities for adventure all add up to a vacation no one will ever forget. While male visitors are usually forbidden, we've received a special royal dispensation so that men and women can experience the magic of Themyscira. Here are the seven best ways to maximize your Supercation stay in Paradise...
#7. GET A LIVING HISTORY LESSON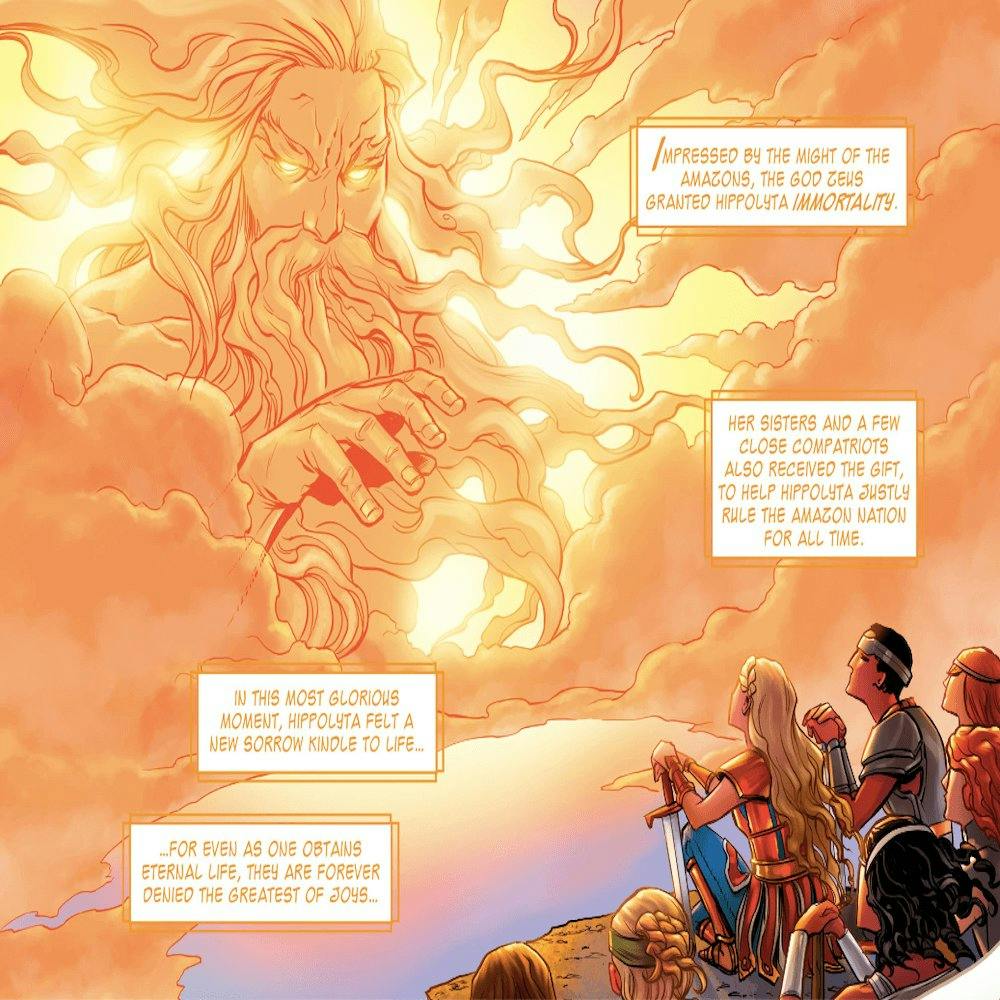 Thanks to a blessing from a pantheon of the gods, many (if not all — accounts vary) of the Amazons who populate the island of Themyscira are thousands of years old, having migrated to Paradise Island for refuge from the cruelties of mankind. Temples to Athena, Aphrodite, Hades, and the rest can be found throughout the island as active sites of worship, their ritual practices virtually unchanged. If you're lucky, you may be able to catch a long forgotten play at their Theatre of Dionysus. Perhaps most exciting of all to the historians among you, Themyscira's Great Library rivals the ancient one of Alexandria, containing a boundless trove of texts long thought lost to time. Very little of these texts have been translated, mind you… but the librarian on duty may be able to assist if you ask her politely.
#6. FIND A NEW PERSPECTIVE ON CRIMINAL JUSTICE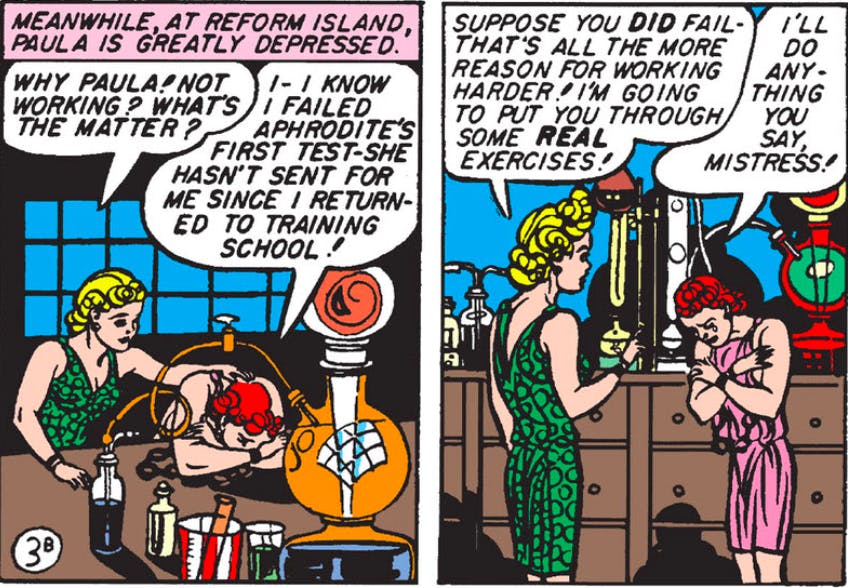 Wonder Woman once said that unlike Superman and Batman, there's a reason most people have never heard of her enemies. While some may interpret this as a threat, nothing could be further from the truth. The people of Themyscira deeply believe that despite the tragedy and terror they have faced, all people are basically good at their core. To those ends, Themyscirans founded Reform Island, a place where criminals and evildoers are not punished, but rehabilitated into functioning members of society by bringing out the best in them. Some of the methods they use to accomplish this may seem controversial to outsiders. But to them, our own punitive system appears cruel and barbaric. For those interested in the field of criminal justice, we highly recommend taking a tour of Reform Island with an open mind.
#5. VISIT THE ROYAL STABLES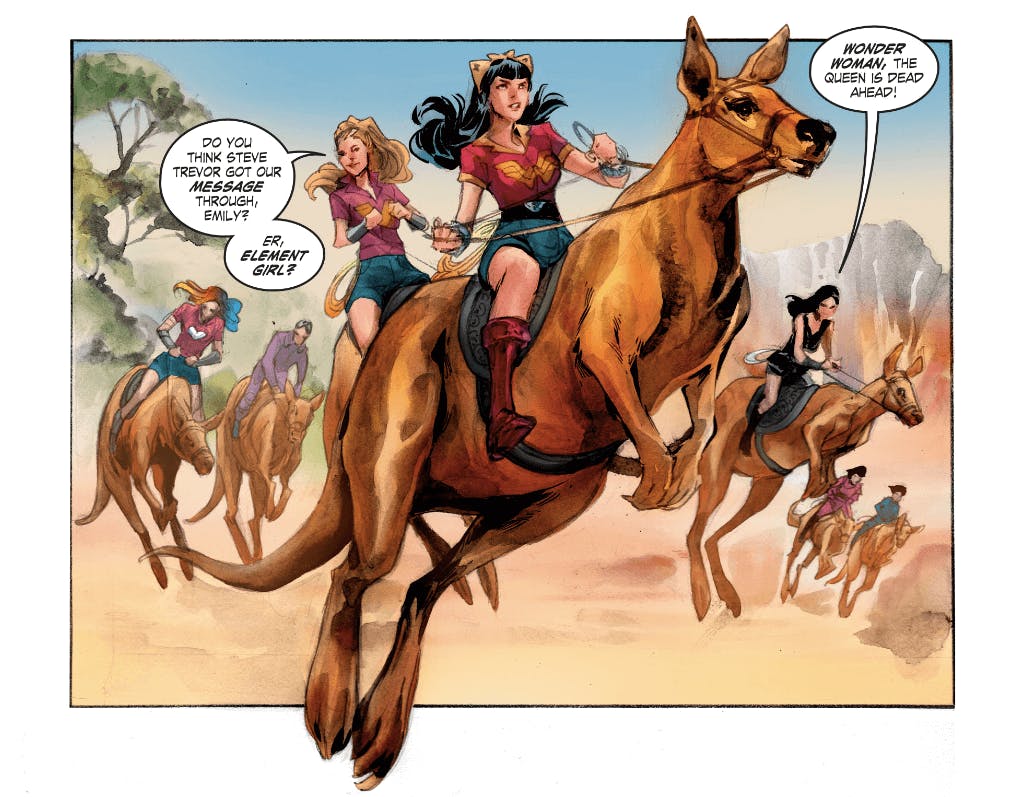 Have you ever read a story of a winged horse, and dreamed of what it would be like to soar through the air on its back? Then a visit to Queen Hippolyta's royal stables will be an equestrian's dream come true. Themyscira's skilled animal trainers can guide you in riding the beasts of myth. The truly daring might choose to ride a griffin, reaching speeds that rival an invisible jet. Or if you'd like, you could try leaping tall buildings in a single bound on the back of a sky kanga, Themyscira's native kangaroo-like creatures which support human riders. There are even tales that a few species from Dinosaur Island have made their way to the stables over the years. Suffice it to say, if there's an animal you've dreamed of riding, Themyscira is your best place to find it.
#4. WATCH (OR ENTER) A TOURNAMENT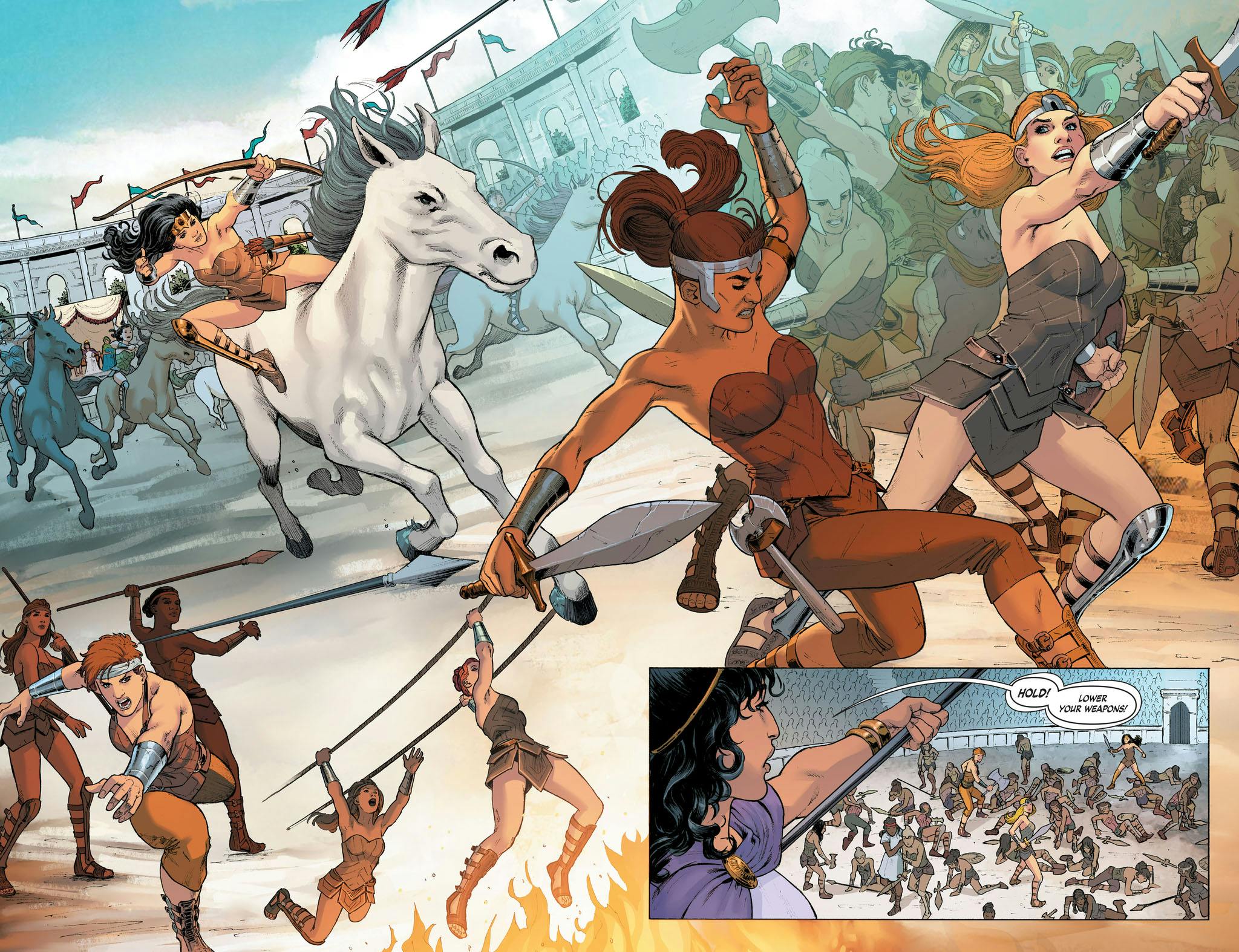 Nearly every version of Wonder Woman's origin story includes a tournament. There's a very good reason for that. Because the Amazons are a warrior culture with few enemies, they've stayed in fighting shape over the centuries by honing their abilities against each other. The strength, skill, and experience of an Amazon is unparalleled by fighters anywhere else in the world, making their competitions a sight to behold. A ceremonial Amazon tournament is one that puts any Olympic or Mixed Martial Arts event to shame, displaying the true pinnacle of what a human body can achieve. If you're feeling particularly bold, you may even want to enter the games yourself. If you've made it as far as the shore of Themyscira, then you'll be welcome to join them. And when you inevitably learn just how outclassed you are, trainers will be available to improve your skills. Just ask Supergirl, who some say learned to fight in the battle pits of Paradise.
#3. DELVE INTO THE LABYRINTH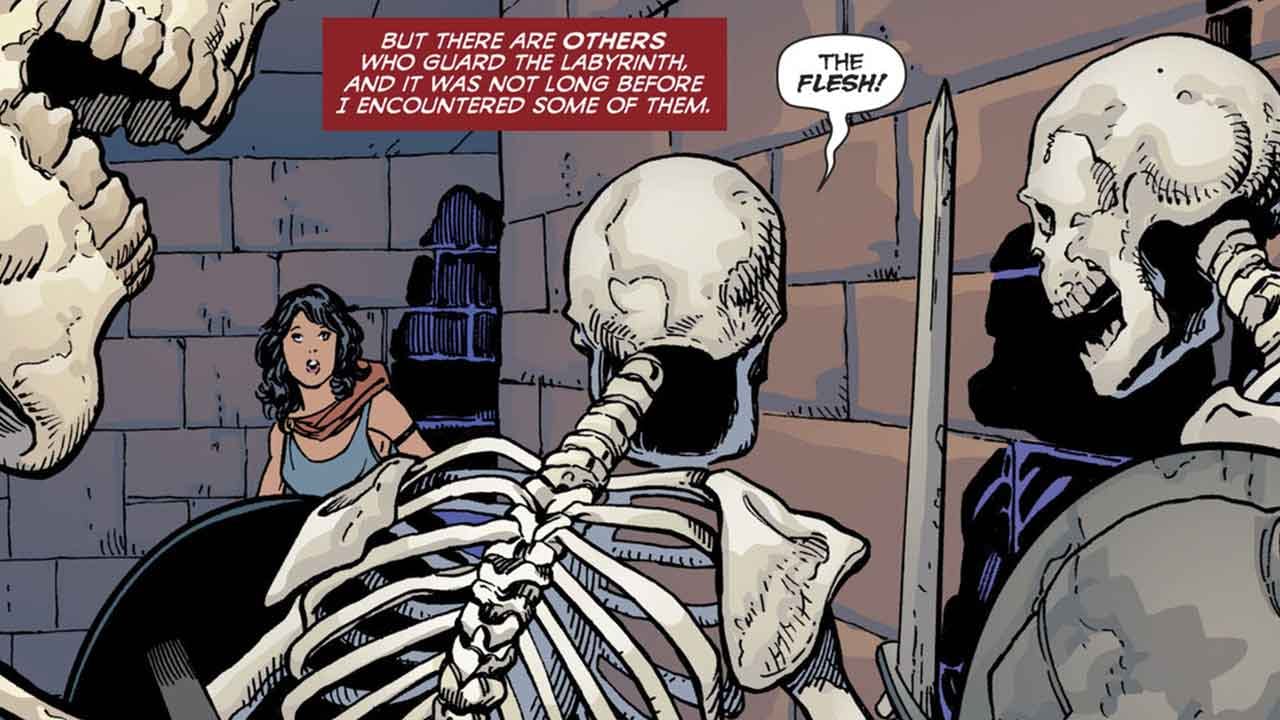 If adventure is what you seek, you may be less interested in the sights ON Themyscira than the ones BENEATH. Monsters, elementals, and even deities too dangerous for the surface world are kept in the winding labyrinth below the surface of Paradise Island. We do not recommend venturing below without a skilled party of native Amazons to guide you — the challenges of the labyrinth are not meant for mere mortals. But if you've come to Themyscira with something to prove, here is where you'll find what you're truly made of.
#2. CURE WHAT AILS YOU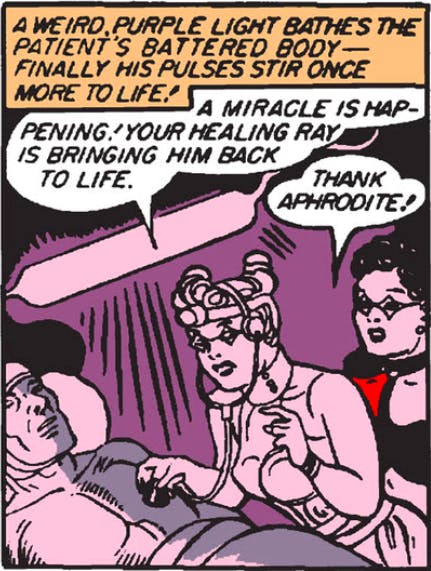 The Amazons are a people often associated with ancient magic. But as those who've toured Reform Island well know, they have their own impressive technological advancements as well. Perhaps their most significant invention is one they call the "Purple Ray," a violet beam of light emitted from a complex device with regenerative properties. In fact, some have said that the Purple Ray was invented by Wonder Woman herself. The Purple Ray can be used to heal virtually all wounds, and even in some cases return the dead to life. (Just in case you had a particularly nasty encounter in the labyrinth.) Be warned, however, that many internal diseases, or injuries inflicted by god or magic, may fall beyond the scope of the Purple Ray's restorative abilities. But if Western medicine has failed you, then a Purple Ray tan might be just what the giatrós ordered.
#1. MARRY YOUR WONDER WOMAN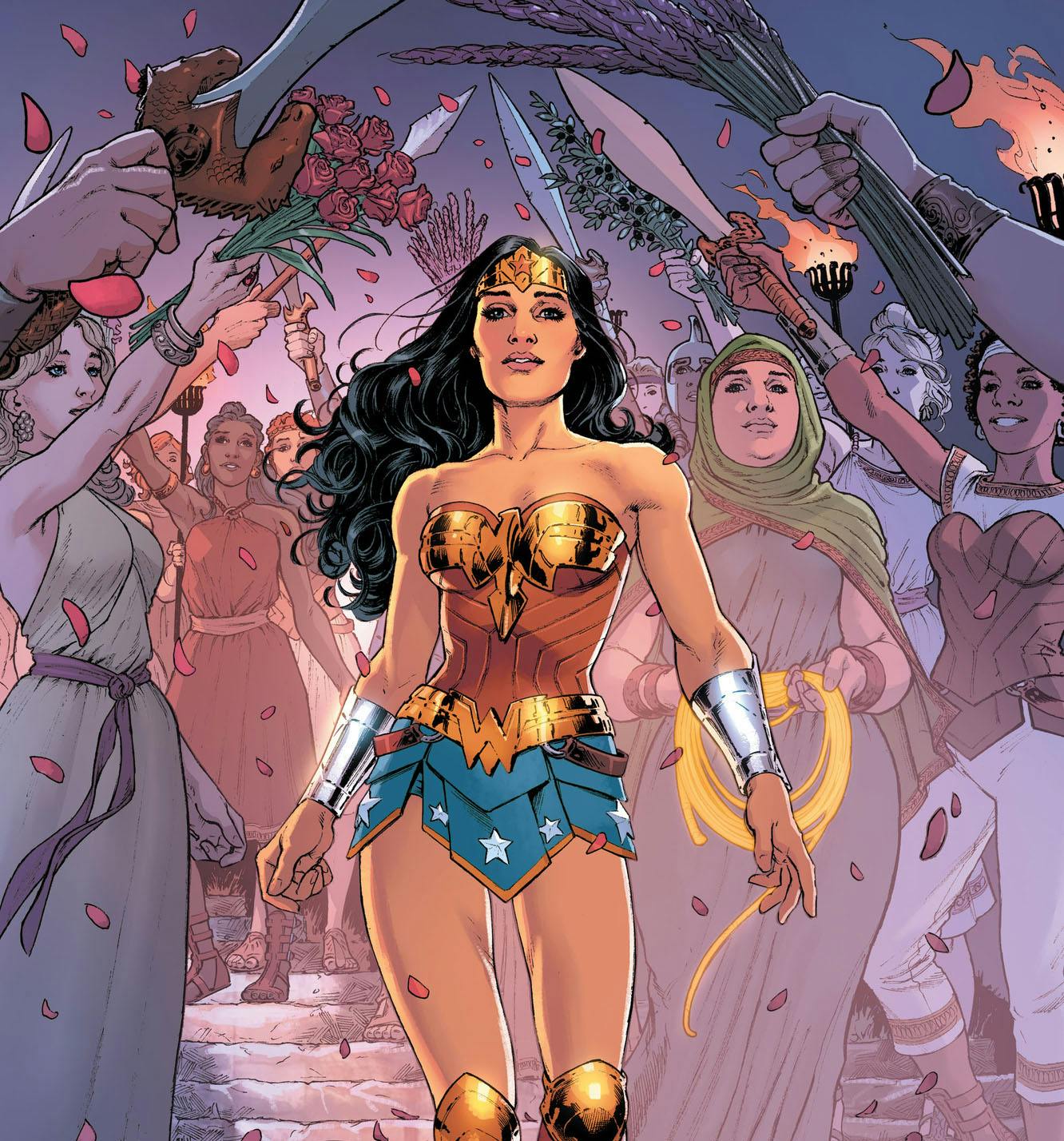 For many marriage-minded women, planning a wedding can be a suffering sapphic nightmare. Determining the traditions, aesthetics, and even the location that best represents your love often feels like an ordeal worthy of the ancient heroes of myth. Sister, why not consider a marriage to your bride at Themyscira's Temple of Aphrodite? No culture on Earth has so rich and celebrated a history of love and partnership between women than the people of Paradise Island. And no day is more joyous on Themyscira than a wedding day, as all of its people congregate and celebrate a love that will last an eternity. You can ride down the aisle on twin pegasi, have your marriage sanctioned by Queen Hippolyta herself, and literally tie the knot by reciting your vows over the Lasso of Truth — all followed by a reception of mythical proportions. As for the honeymoon, well… you're already in Paradise, aren't you? For two women in love, there's no more perfect place.
How will you spend your Supercation on Themyscira? Let us know in our Community!