Greetings to all lovers of magic, mystery, and heroism. Unless you'vd been locked up in the Rock of Eternity, you've probably heard all the buzz about a new DC film called Shazam! Looking for a primer before catching the movie? Have you already seen it and want to dive deeper into other incarnations of Shazam? You're in luck -- DC Universe has TONS of Shazam, in the fom of comics, television series, and animated movies. Not sure where to start? We've got you covered there too. Here are seven stories (one to battle each of the new Shazam! film's Deadly Sins) to start you on your magical journey…
Shazam!: Origins (2012)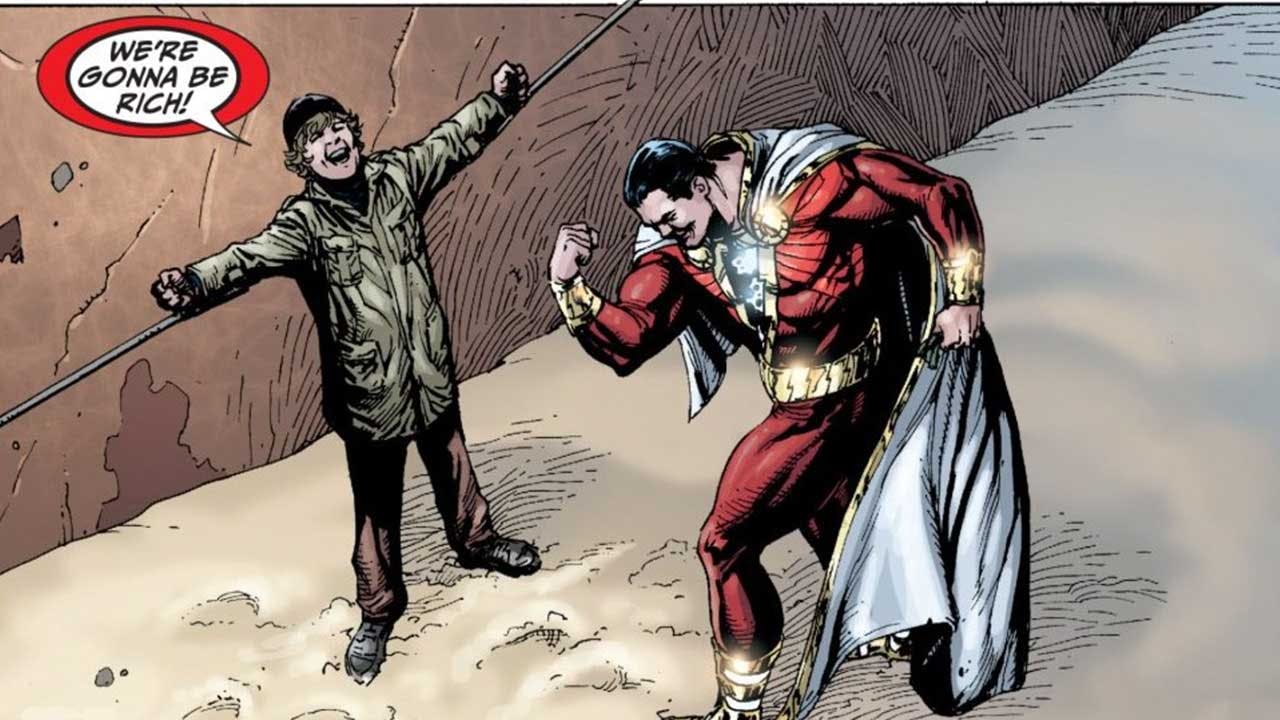 WHAT'S IT ABOUT?
Shazam!: Origins (written by Geoff Johns and penciled by Gary Frank) is a retelling of Shazam's origin for today's generation... Back in 2011, the history of DC Comics' characters was reimagined in the publishing initiative called the New 52. Prior to the New 52, Shazam was known as Captain Marvel. A year after the New 52 launched, the original Captain Marvel was reborn under the name "Shazam," and given a new origin in a story serialized in the New 52 Justice League comic. So if you're worried about not being a DC expert, don't sweat it -- because this is a fresh take. The story follows Billy Batson, a foster child whose life is turned upside down when an ancient wizard grants him the powers of Shazam. When he says the magic word, Billy has the super powers and the body of an adult, but mentally (unlike the original Captain Marvel) he still has some maturing to do. Billy is forced to grow up fast when he faces the combined might of Dr. Sivana, Black Adam, and the Seven Deadly Sins. If you think this sounds like the Shazam! movie, there's a good reason -- the film took many of its story beats from this comic, including the introduction of a foster family (and supporting cast) for Billy. So you'll find many of your favorite scenes from the movie when you read this comic.
WHAT ISSUES SHOULD I READ?
Justice League (2012) #7, 8, 9, 10, 11, 0, 14, 15, 16, 18, 19, 20 and 21
Batman: The Brave and the Bold -- "The Power of Shazam" (2010)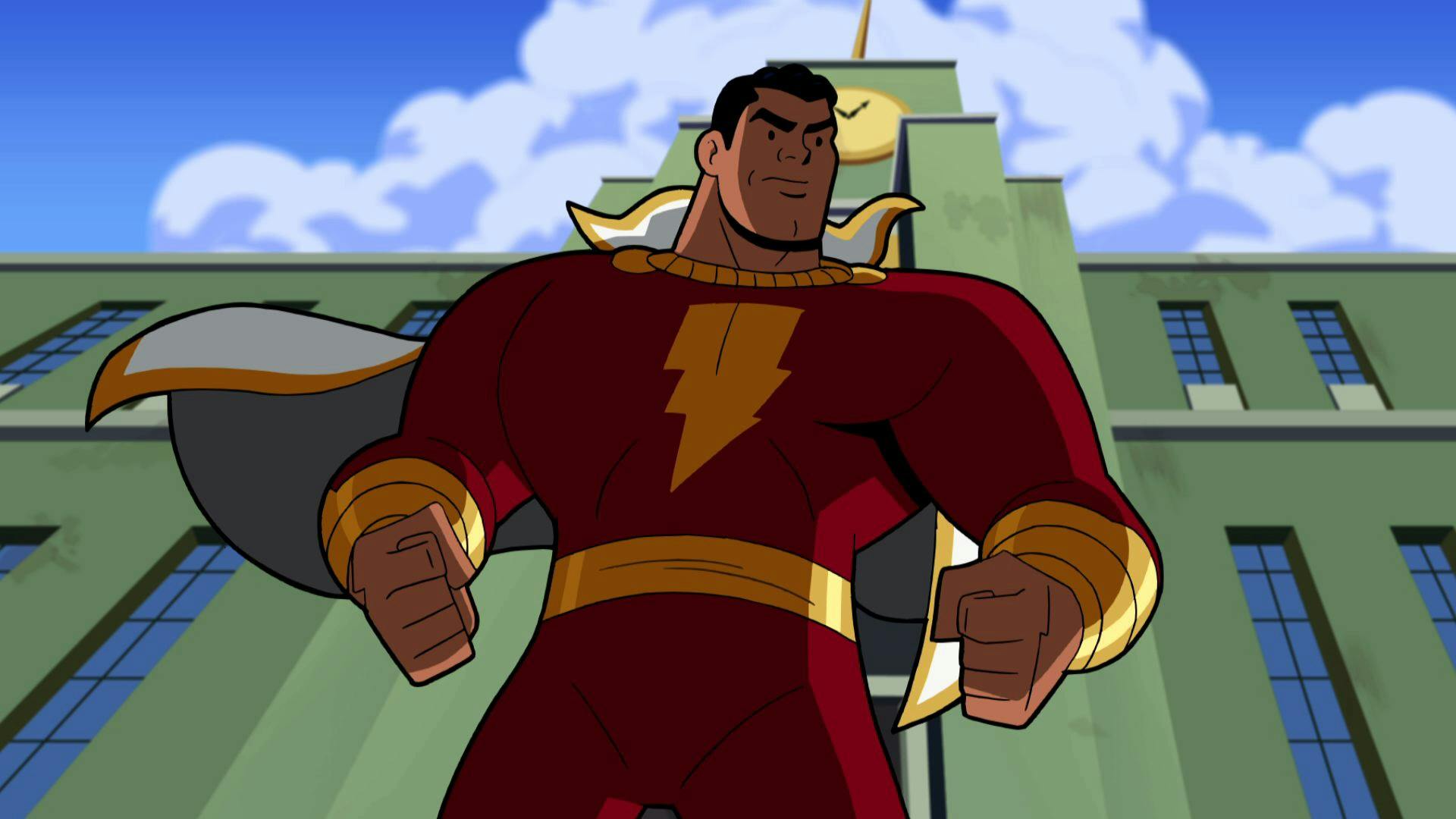 WHAT'S IT ABOUT?
Dr. Sivana and his family attempt to steal Captain Marvel's powers for themselves. This all leads to an epic showdown in which Batman and Captain Marvel face the Sivana Family at the Rock of Eternity. The Batman: The Brave and the Bold episode "The Power of Shazam" is a great crash course in the world of Billy Batson, featuring many elements from his 1940s and '50s Golden Age adventures. In a mere twenty minutes, viewers learn everything they need about Billy, Captain Marvel, the Sivana family, the Rock of Eternity and more. Plus it's a great Batman team-up tale, with a heartwarming ending we won't spoil here...
BONUS
If you love this story, Captain Marvel returns to Batman: The Brave and the Bold in the episode, "The Malicious Mr. Mind."
Superman/Shazam: The Return of Black Adam (2010)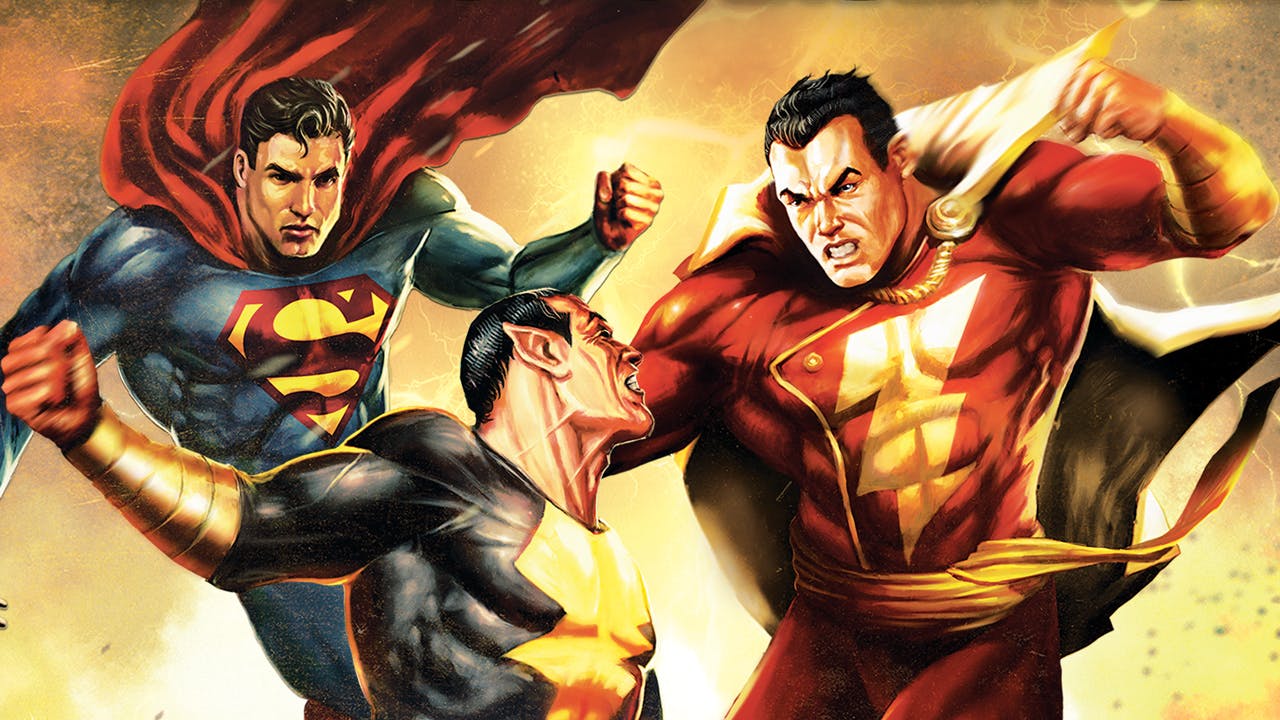 WHAT'S IT ABOUT?

Another Shazam origin tale begins when Black Adam returns to Earth after centuries exiled in space, and a wizard gives orphan Billy Batson the power to stop him. Billy struggles to master his new abilities, and teams up with Superman and another unlikely ally. The animated film Superman/Shazam: The Return of Black Adam reunites Jerry O'Connell (Shazam) and George Newbern (Superman), who had previously voiced the characters in Justice League Unlimited (see below). Headlined by three powerhouse characters, this movie is perfect for action fans. Black Adam doesn't pull any punches and viewers will quickly learn why he's one of the most dangerous villains in the DC Universe. The film is more than a slugfest, however, as Billy gives it an emotional heart, struggling with both life on the streets and the greater destiny that's calling him...
BONUS
When you watch the film on DC Universe, stay tuned after the credits for some great animated shorts starring Jonah Hex, Green Arrow, and other heroes.
The Power of Shazam! (1994-1995)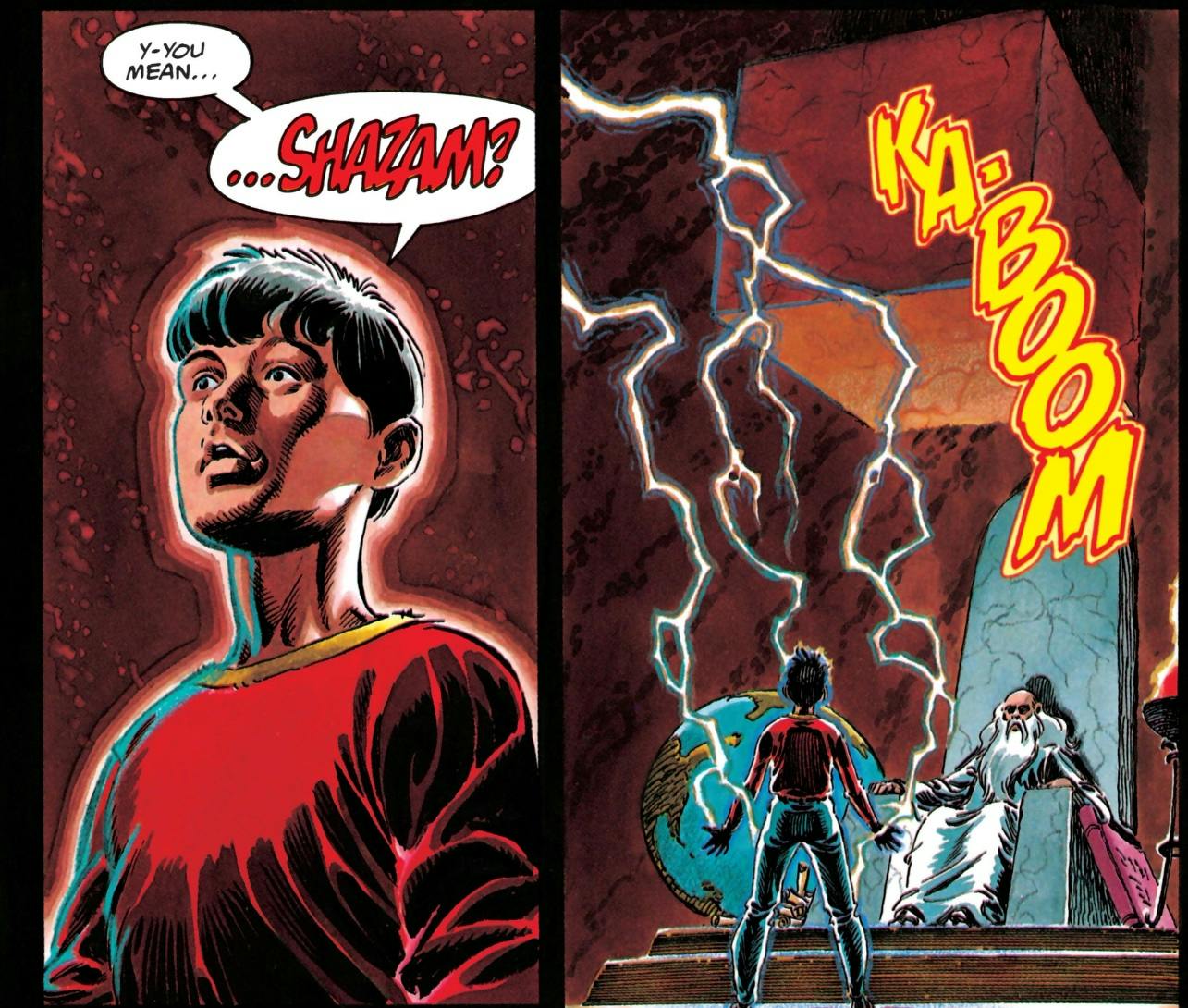 WHAT'S IT ABOUT?
The Power of Shazam! (story and art by Jerry Ordway) is a 1994 graphic novel that reestablished Captain Marvel's origin for the modern DC Universe. Its success resulted in a 1995 ongoing series (also written by Ordway) that explores the further adventures of Captain Marvel, in addition to reintroducing Captain Marvel Jr., Mary Marvel, Tawky Tawny, and many other classic elements of the Shazam mythos. The Power of Shazam! series built a new universe for the Marvel Family while honoring the best elements from their previous incarnations. Now available here on DC Universe, it's perfect for binge reading.
WHAT ISSUES SHOULD I READ?
The Power of Shazam (1994 graphic novel) and The Power of Shazam (1995 ongoing series).
Justice League Unlimited -- "Clash" (2005)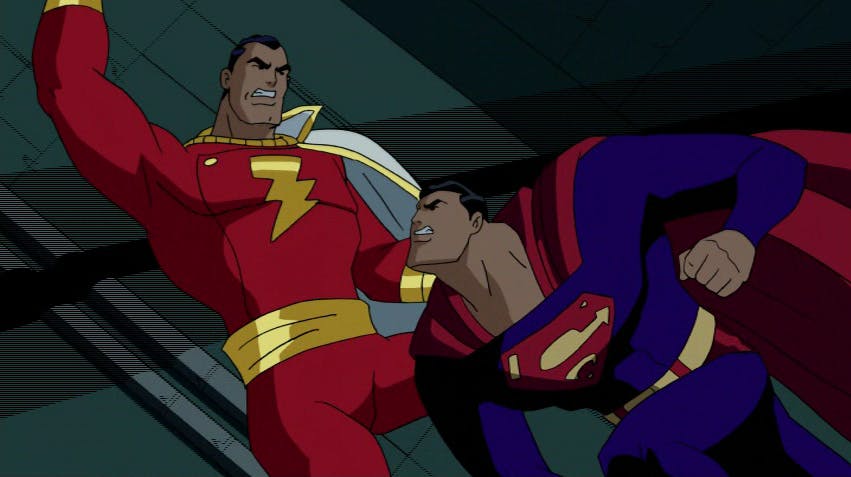 WHAT'S IT ABOUT?
The Justice League Unlimited episode "Clash" features one of the DC Animated Universe's most memorable fights. Captain Marvel is the newest member of the Justice League, but he can't seem to get on Superman's good side. Presidential candidate Lex Luthor takes advantage of their personality clash, fanning the flames until it turns into a very physical conflict. Captain Marvel and Superman unleash all their powers against each other in a brawl that shakes Lexor City. When this episode premiered, the Warner Brothers Animation team had been wanting to do a Superman/Captain Marvel fight ever since Superman: The Animated Series, so this is a battle years in the making... The episode also gives fans a good look into Billy's head and heart as his youthful optimism is well played against Superman's noble maturity.
 
BONUS
This episode's Superman vs. Captain Marvel battle was inspired by the 1996 limited series Kingdom Come (written by Mark Waid and penciled by Alex Ross). Voice actors Jerry O'Connell and George Newbern would return to their roles as Captain Marvel and Superman, respectively, in the animated film Superman/Shazam: The Return of Black Adam.
Superman/Shazam: First Thunder (2006)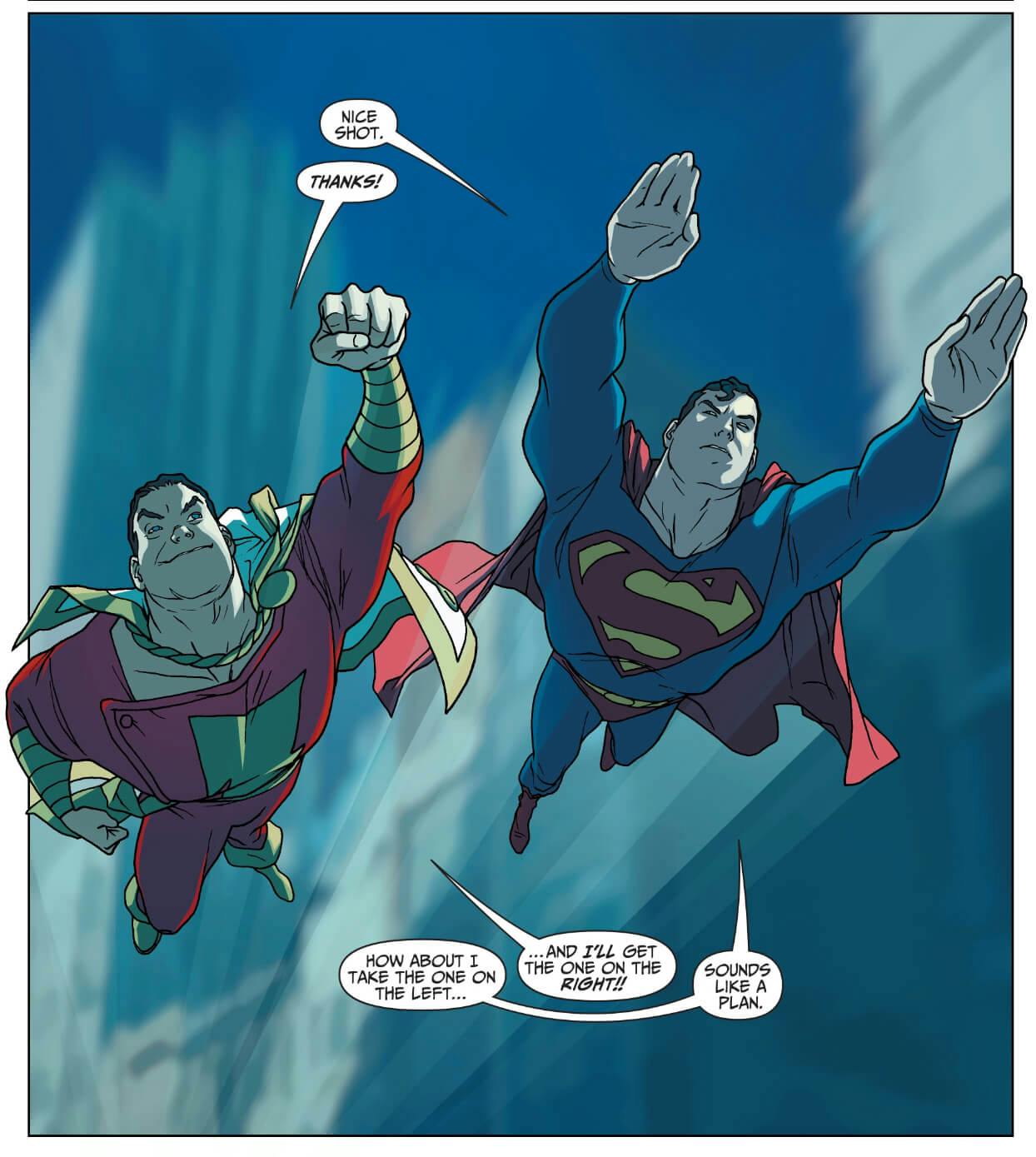 WHAT'S IT ABOUT?
Taking place in the early days of their careers, this limited series details the first meeting between Superman and Captain Marvel. Superman follows some criminals to Fawcett City where he comes face to face with Captain Marvel. The two heroes immediately form a kinship, with Cap looking to Superman for guidance on how to be a true hero. A young friend of Billy Batson's is killed by one of Dr. Sivana's hired guns, and Billy lets his emotions get the better of him. When the Man of Steel discovers Captain Marvel is really a young boy, he asks the question many fans have wondered over the years -- why did the wizard Shazam choose a child for such a dangerous mission? This story explores the answer to that question, and justifies Billy's place in the superhero community.
WHAT ISSUES SHOULD I READ?
Superman/Shazam: First Thunder (written by Judd Winnick and penciled by Josh Middleton) #1-4
Shazam!: The Monster Society of Evil (2007)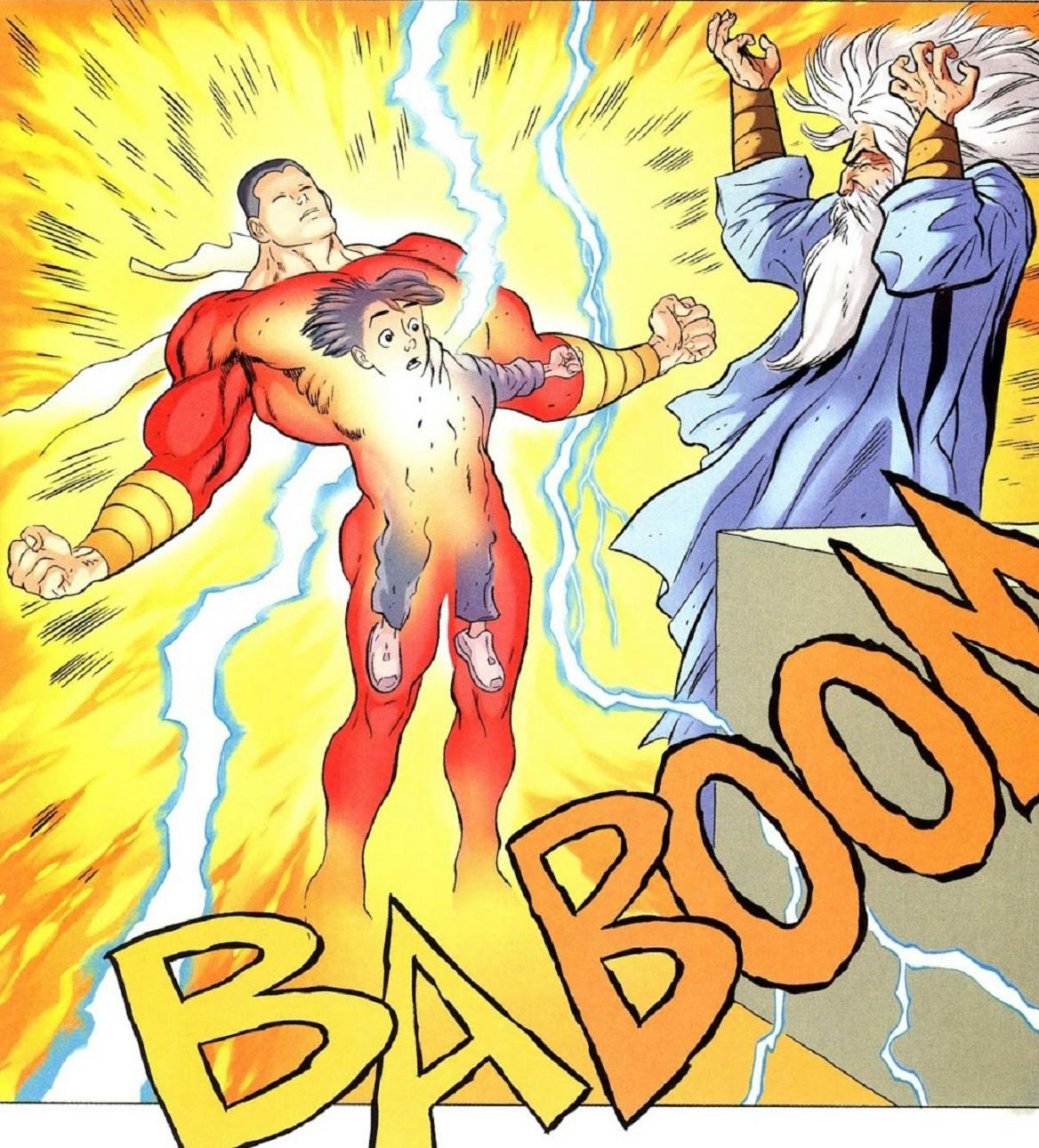 WHAT'S IT ABOUT?
Written and illustrated by Jeff Smith (the creator of Bone), Shazam!: The Monster Society of Evil is a modern, all-ages-friendly retelling of Captain Marvel's origin set in its own continuity outside of the main DC Universe. Smith's dynamic art gives readers a fresh take on Billy Batson and his sister Mary, and villains are reimagined in a scarier version of the 1940s-era Monster Society. Unlike most contemporary takes on Shazam, in this version Billy and Captain Marvel have separate personalities, as they did in the original '40s comics. Even if you've experienced Captain Marvel's origin several times over, you've never seen it like this.
WHAT ISSUES SHOULD I READ?
Shazam: The Monster Society of Evil #1-4 
BONUS
If you enjoy this mini-series, check out the ongoing comic that continued its continuity, Billy Batson and Magic of Shazam!
HONORABLE MENTION
1974 saw the debut of a live-action Shazam! TV series featuring the adventures of Billy Batson as he traveled the country with his guardian, Mr. Mentor. Whenever young Billy ran into trouble, he'd shout the magic word "Shazam" to transform into Captain Marvel and save the day. Not only are all three seasons available here on DC Universe, but they've been remastered for your viewing pleasure!
Do you have any Shazam recommendations of your own? Let us know in our Community!